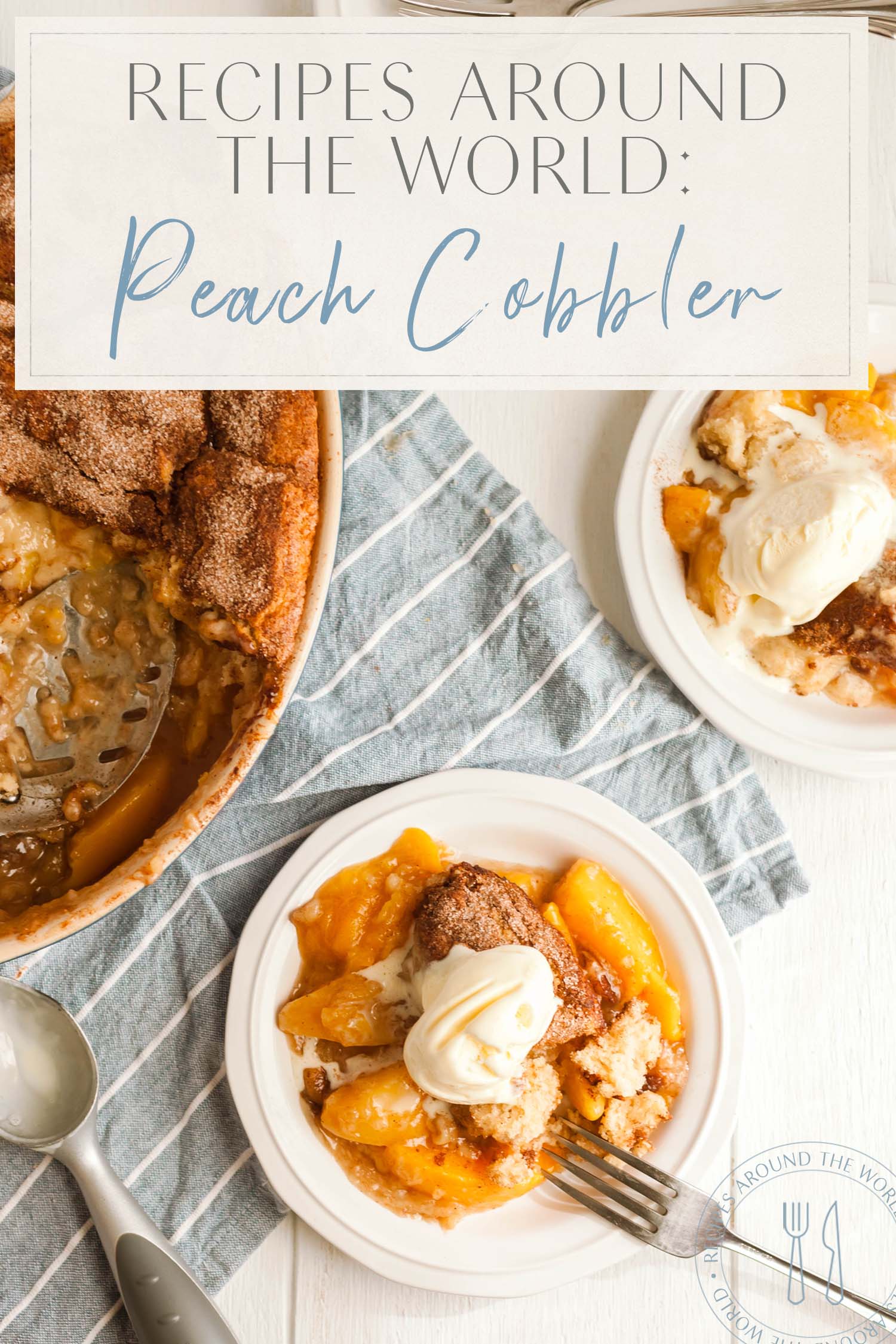 Lauren of Lulu's Everyday Life is bringing a delicious Southern dessert to the 'Recipes Around the World' series!
Growing up, my family always had peach cobbler at gatherings. Because I love baking and I helped my grandma and parents make cobbler, I memorized the family recipe, which my grandma learned from her grandmother, when I was pretty young.
It's a super simple recipe and peaches can be replaced with so many different fruits.
The perfect way to eat any cobbler is fresh out of the oven with a scoop of vanilla ice cream. Leftovers can be stored in the fridge (for about 3 days at most) or in the freezer (for about two months), and all you have to do is reheat it to enjoy it again!
Here's the recipe for how to make old fashioned Peach Cobbler at home!


Cultural Context
It's believed that cobbler was created by American settlers in the early 1800s.
Because the settlers, who were moving westward, didn't have the proper tools and ingredients to make puddings or pies, they put fruit in a Dutch oven and placed clumps of biscuit dough over it. They baked it over a fire until it was golden brown and delicious!
While folks in the 1800s thought of cobbler as a breakfast dish, it became known more as a dessert in the 1900s. Now, peach cobbler is usually topped with a scoop of vanilla ice cream and is a common dessert in the southern part of the US. You can find cobbler (usually peach) at practically any Southern or barbeque restaurant in the South!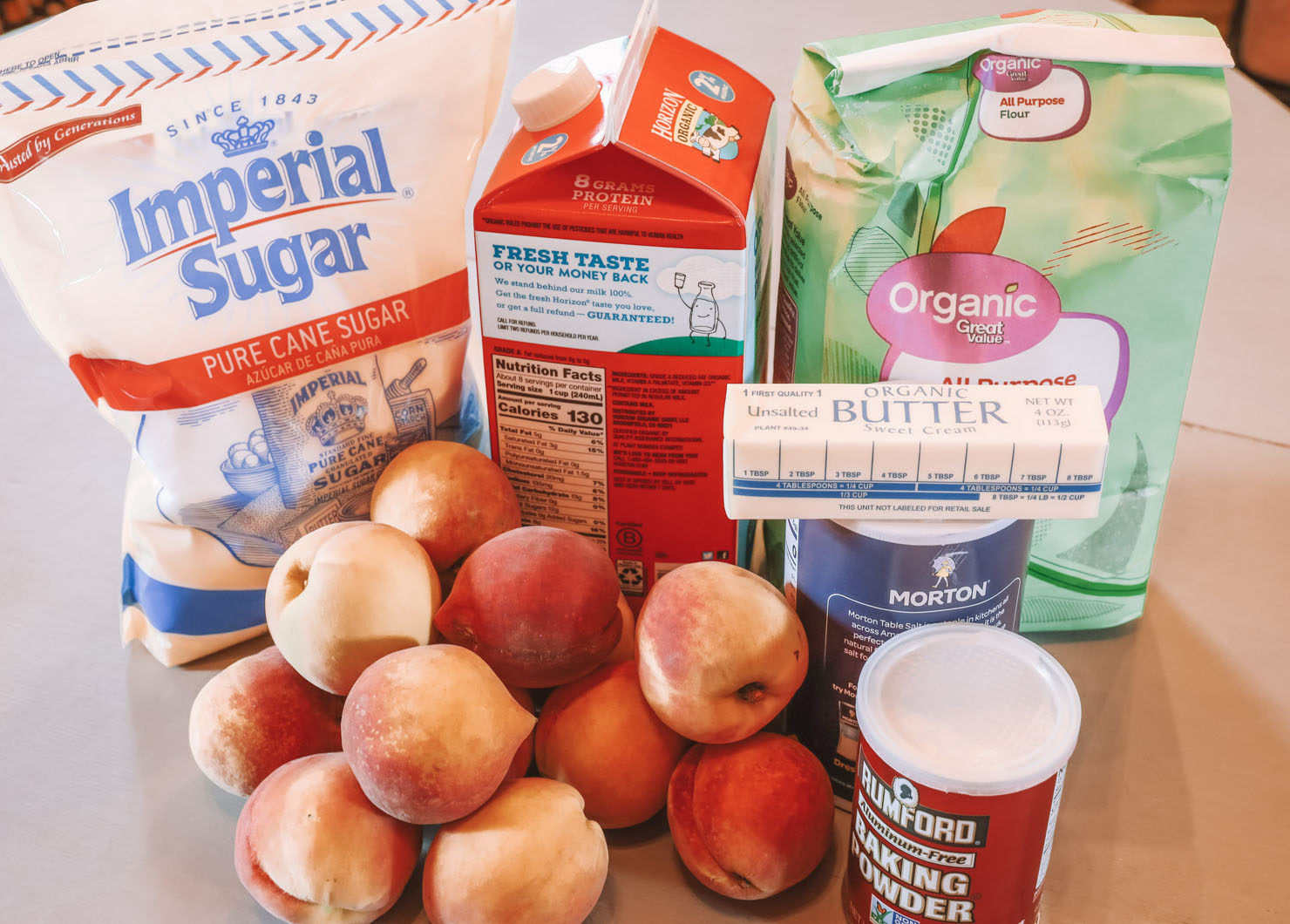 Ingredients
1 cup of all-purpose flour
1 cup of sugar
Pinch of salt
A heaping teaspoon of baking powder
3/4 cup of milk
1 stick of unsalted butter
2 1/2 cans of fruit (or 4-5 cups of fresh fruit depending on how much fruit you'd like to have in it)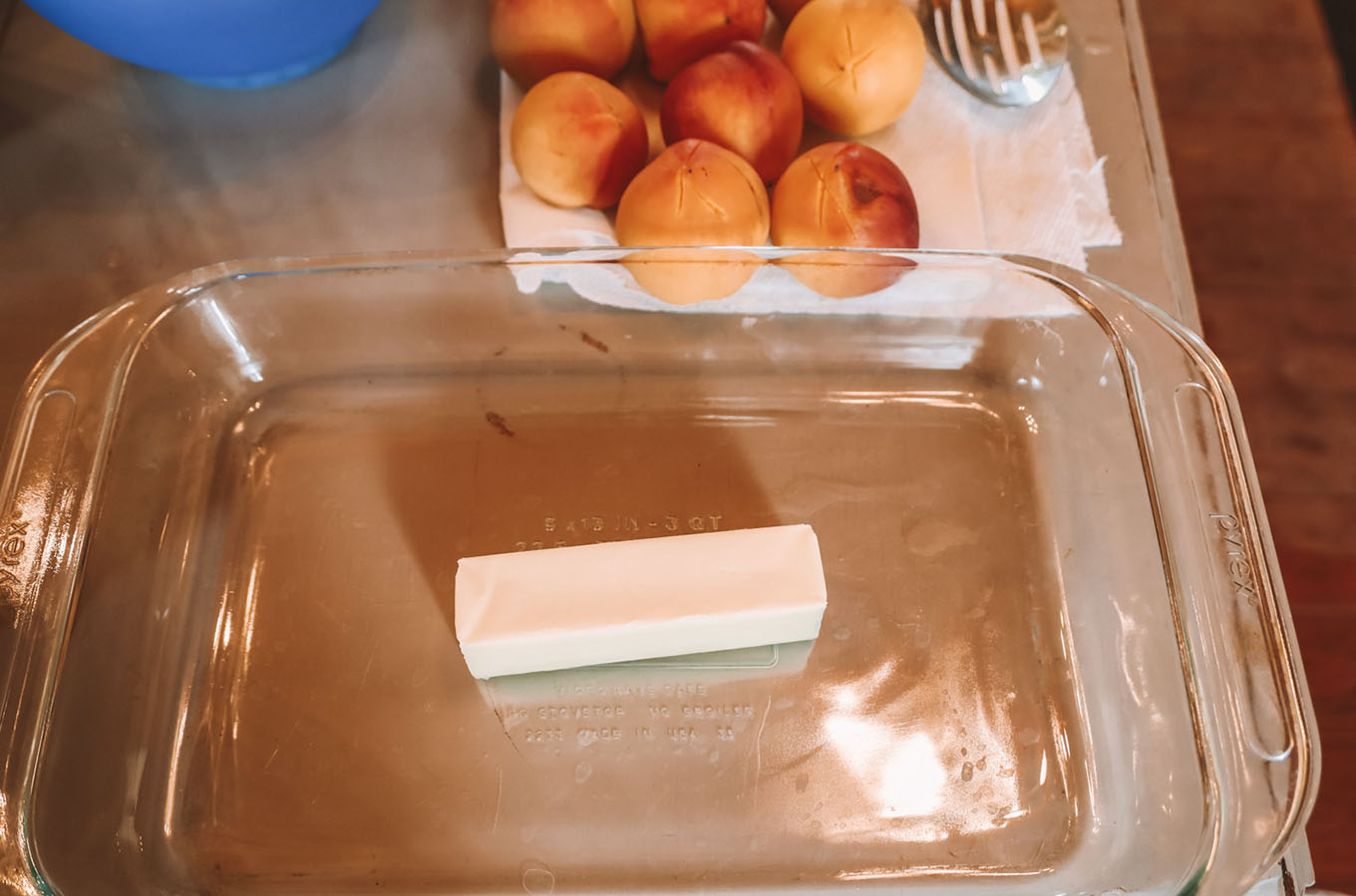 Look at all that crispy, golden goodness!
Recipe
Preheat the oven to 350 degrees Fahrenheit.
Place the stick of butter in an 11 x 7 x 2-inch baking dish and place in the oven (while preheating) until the butter is melted.
If you're using canned fruit, skip this step. If you're using fresh peaches, skin, pit, and slice them.
Mix the flour, sugar, salt, baking powder, and milk in a large bowl.
Once the butter is melted, take the dish out of the oven and pour the mixed batter into the dish.
Place the fresh fruit over the batter. If you're using canned fruit, pour the fruit and juice over the batter. If you want your batter to be less runny, you can drain some of the canned fruit juice, but it's a purely personal preference.
Place the baking dish in the oven and bake for roughly 40-45 minutes or until golden brown.
Let cool for 2 minutes and serve with a scoop of vanilla ice cream, if desired.



Tips and Tricks
 The best way to skin peaches for this recipe is by blanching them. Also, my favorite cobbler is peach blueberry—definitely worth trying!

Want to find other delicious foods from around the world to make? Check out these recipes!