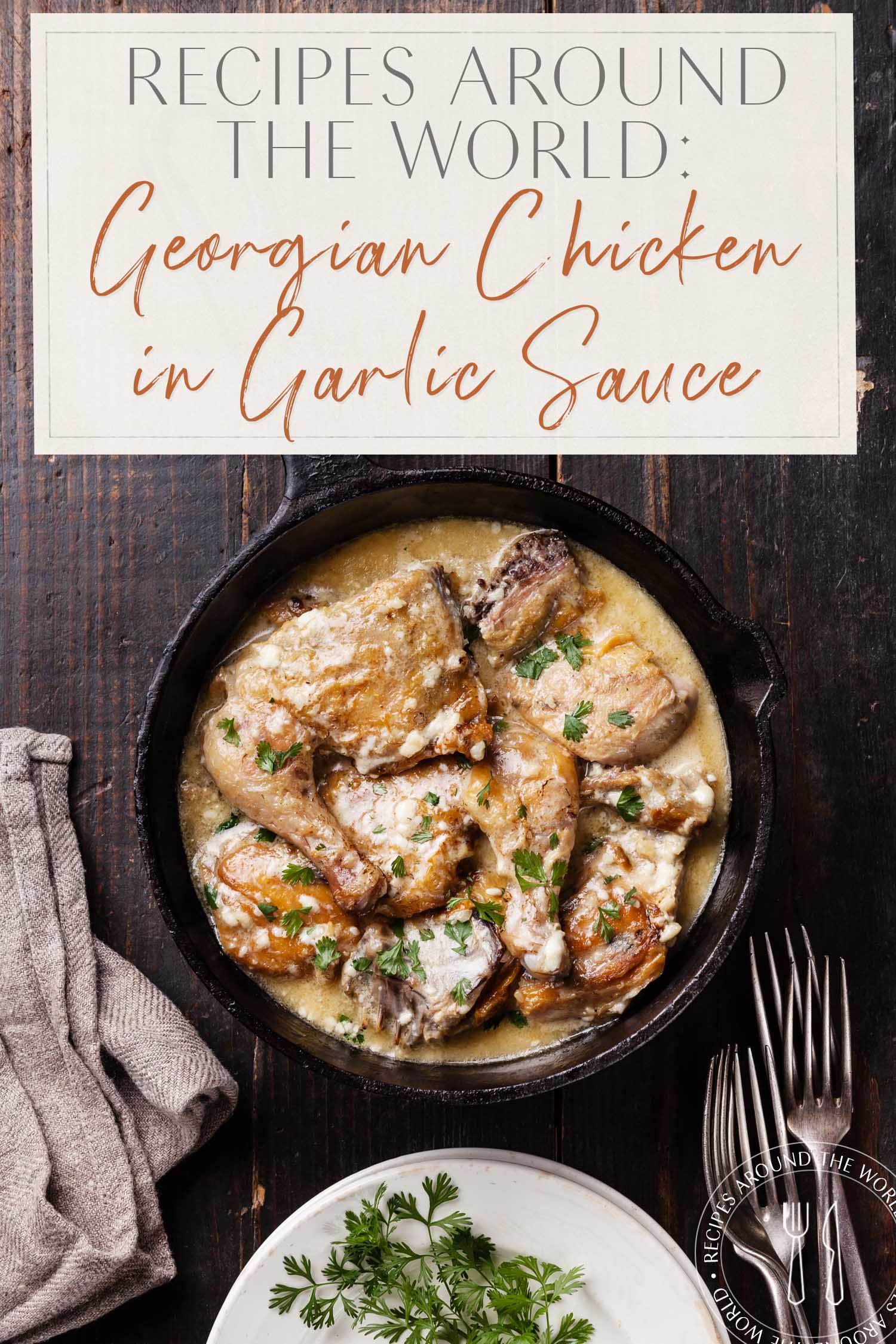 Melanie Hamilton of Savor & Yore is bringing a delicious garlic-infused dish from Georgia (the country, not the state) to the 'Recipes Around the World' series!
Scattered across Georgia's northwestern highlands is a mountain village heaven known as Racha. The region is famous for its rugged alpine scenery, medieval ruins, gorgeous Orthodox churches, and of course – delicious food. It's no secret that Georgia's food varies greatly between regions.
Adjara's copious use of dairy, Samegrelo's generous spices, and Kakheti's endless vineyards are just a few things that make Georgian cuisine so varied and colorful.
Racha, of course, is no exception and is home to some of the most loved delicacies the country has to offer. From the famous rachuli lori, a 40+ day smoked ham whose roots date back millennia to the potato stuffed khachapuri; there's something for everyone.
The real winner, though, is Racha's shkmeruli. This mouthwatering chicken dish hails from a teeny tiny village named Skhmeri and is known for its sharp garlic taste and deliciously smooth creaminess.
Here's the recipe for how to make shkmeruli—Georgian Chicken in Garlic Sauce—at home!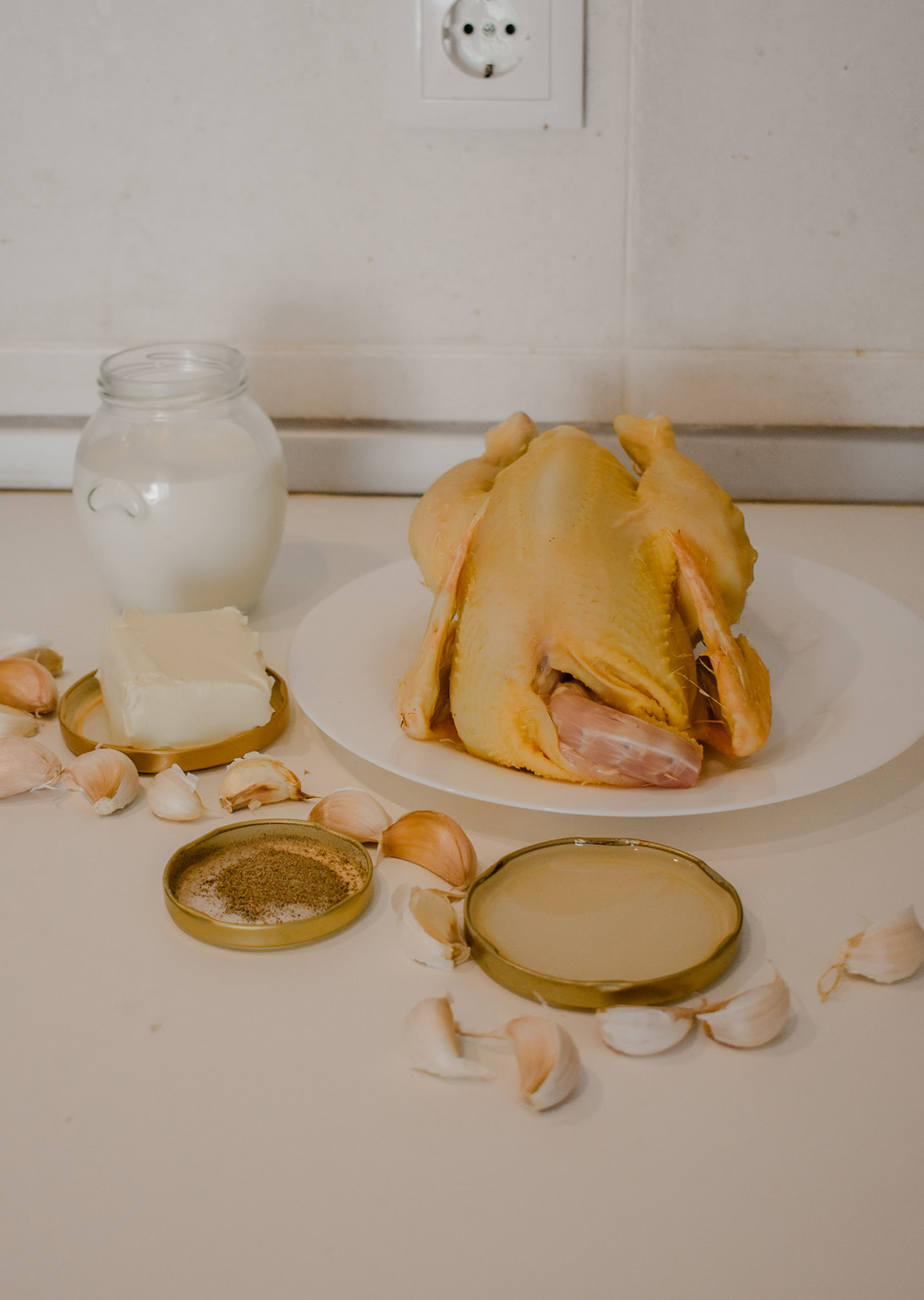 Ingredients
Unlike many other Georgian recipes, shkmeruli is incredibly straightforward and simple. No complicated ingredients, no difficult technique, just some much-needed patience to keep you from eating it straight out of the oven. Here's what you'll need:
1 1 kg whole chicken
1 1/4 cup whole milk
1/2 cup butter
15 cloves garlic (yep, fifteen!)
4 tbsp olive oil
1 tbsp black pepper
1 1/2 tsp salt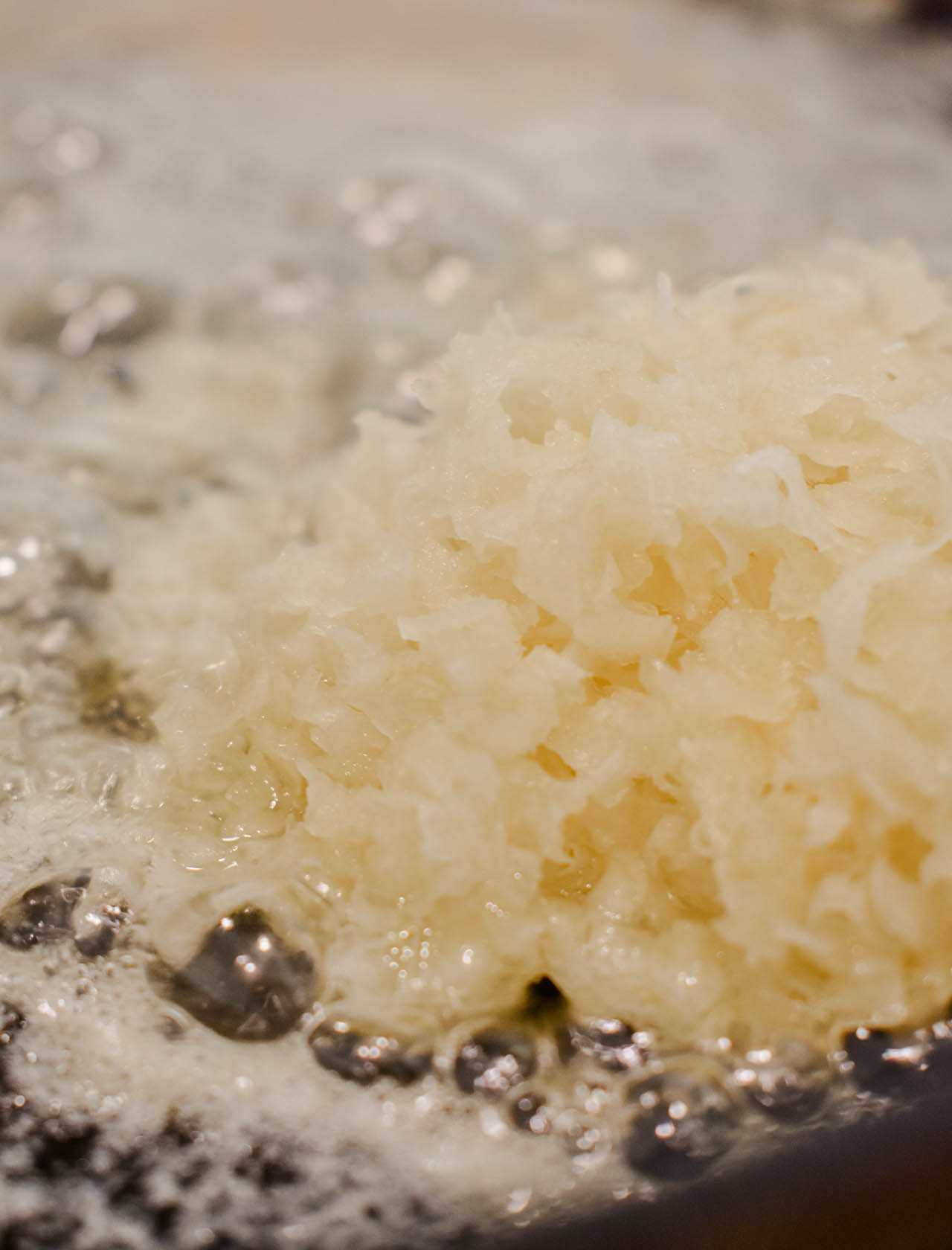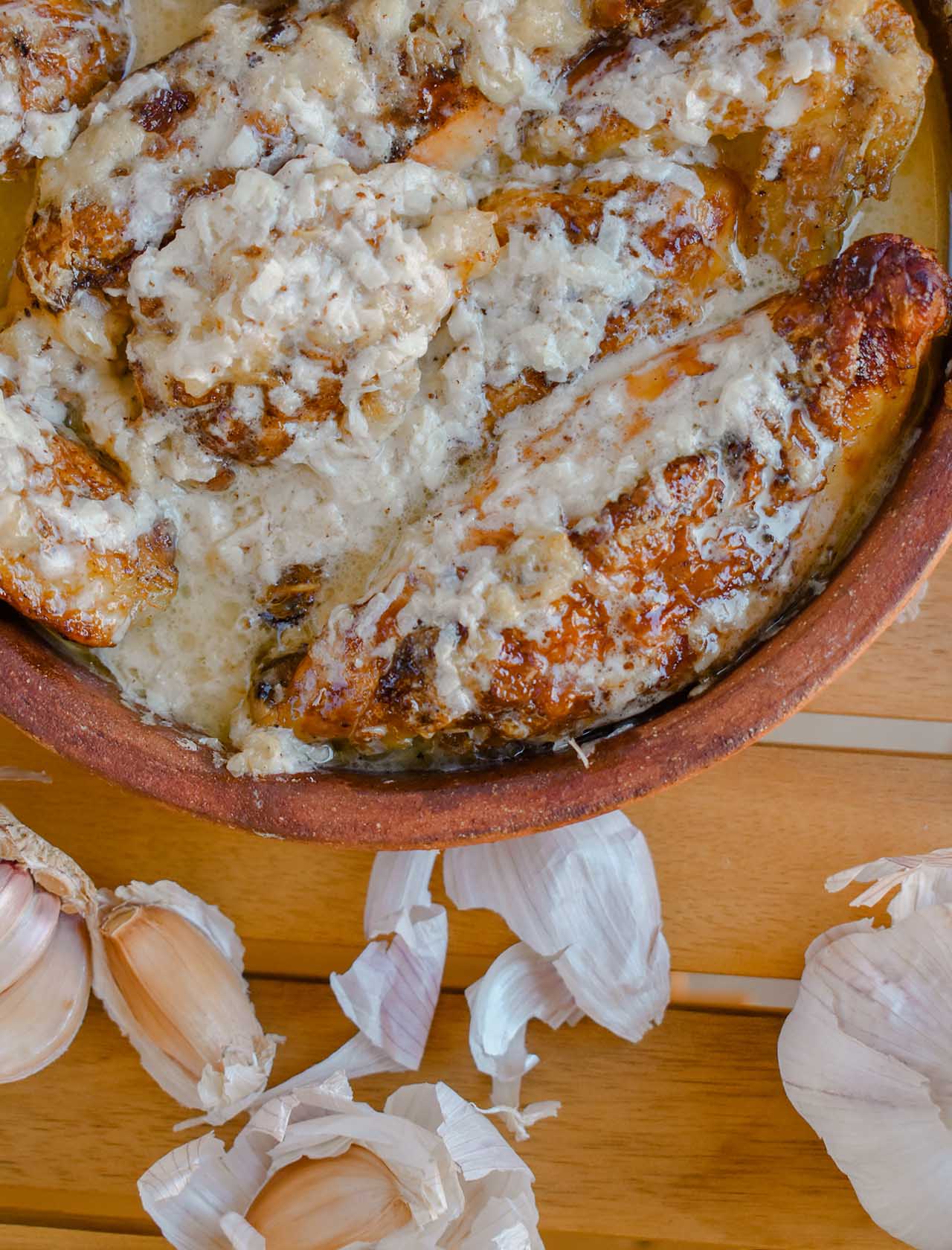 Recipe + Preparation
Start by washing and patting dry your chicken. Divide the chicken into standard eight pieces (drumsticks, wings, etc.).
Season the chicken with salt and pepper, then heat the olive oil in a large skillet.
Cook the chicken on each side for 10 minutes. In the meanwhile, preheat your oven to 200C/400F.
Once the chicken is finished browning on the stove, add the pieces to a baking pan and bake in the center of your oven for 30 minutes.
Peel and grate the garlic. Add butter to stovetop saucepan and heat on medium. Once melted, add garlic and simmer for 1-2 minutes, then add the milk. Bring it all to a boil and reduce to a low simmer for 5 minutes.
Once the 30 minutes are up, place the baked chicken into a new baking pan – traditionally, Georgians will use a shallow clay pot (pictured), but alternatively, cast iron works great.
Gently pour the sauce over the chicken and bake again for 5 minutes until crispy brown.
Serve and enjoy!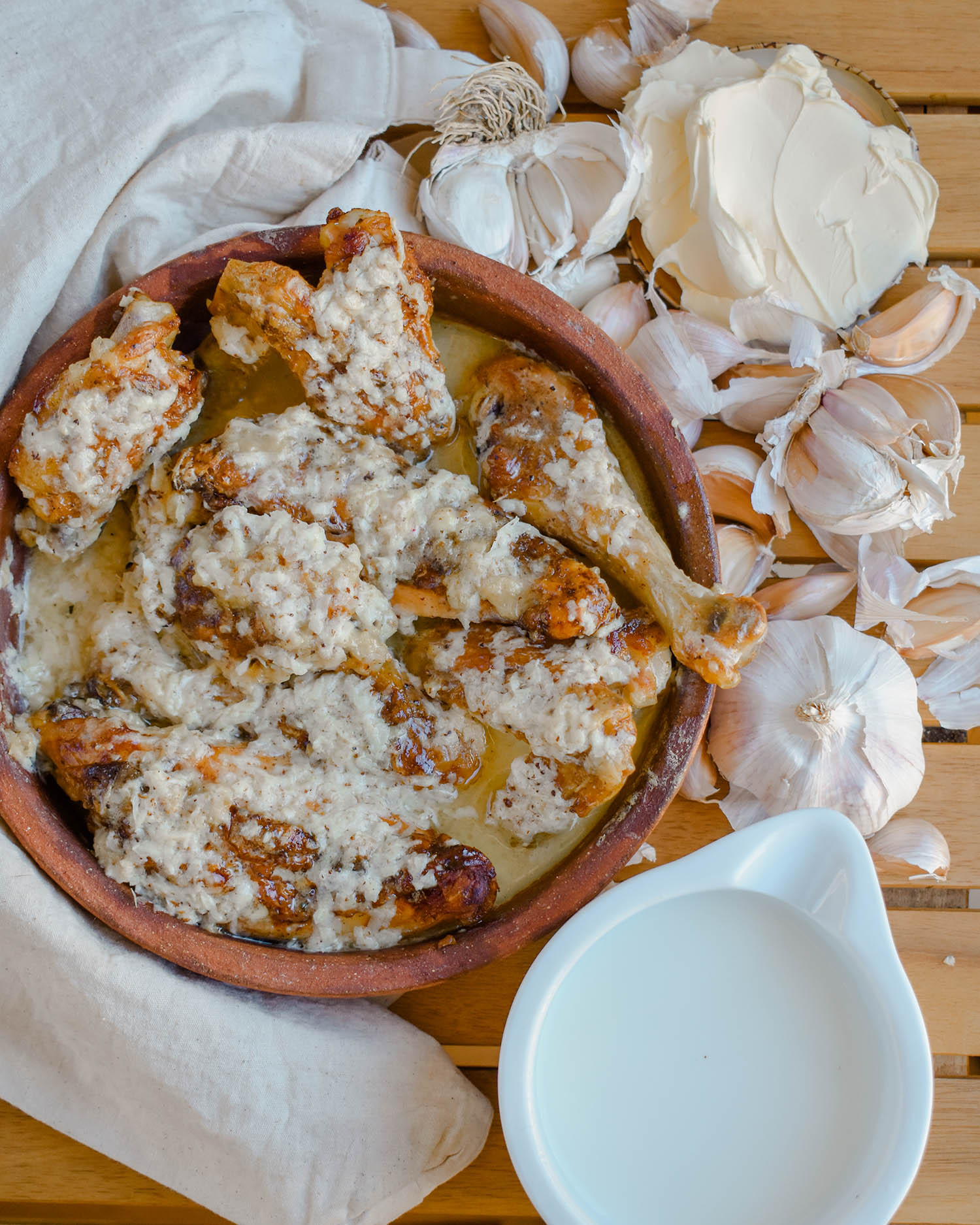 Notes
There aren't really a ton of Georgian wines that go with shkmeruli as the garlic and cream are both too overbearing to pair, so it's often enjoyed with some old school chacha. Otherwise, Rachans will occasionally pair it with a dry red wine like Mujuretuli. If neither are available to you, vodka or merlot are a good exchange.
Don't waste! The spine is a great use for chicken stock. Pop it in your freezer and save it to make stock or broth later.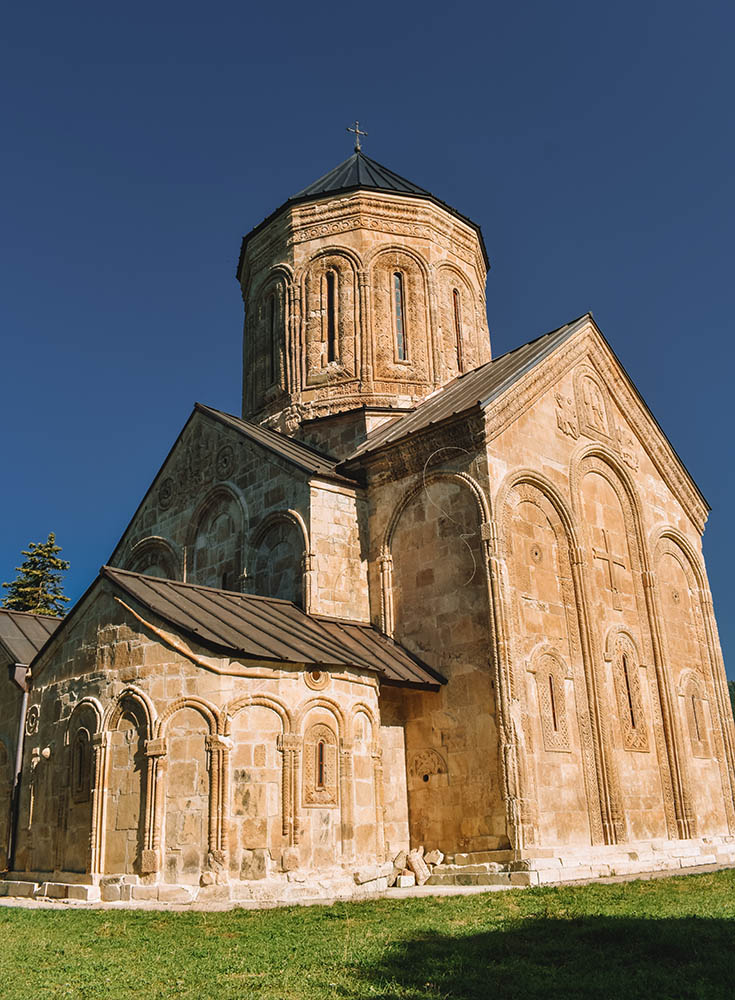 Final  Thoughts
With more than 50 types of cheese bread and humble dishes like ajapsandali (stewed eggplant) and rachuli lorit (beans with ham), it's no wonder the nation is home to one of the world's most unique cuisines. I hope you enjoyed this Georgian classic and felt a bit of vibrant Caucasian culture in your kitchen.
Pictured above is the famous 10th-century church in Racha—Nikortsminda
Want to find other delicious foods from around the world to make? Check out these recipes!