After spending the last two days on the Uyuni Salt Flats tour, I literally couldn't imagine what else was in store for us. Be sure you read my last post on Days 1 & 2 of the tour as we leave Tupiza and get up close and personal with pink flamingos, natural hot springs and volcanic geysers!
Day 3 of our tour was action-packed and on Day 4, we beat the sun to the Salar de Uyuni: the world's largest salt flats!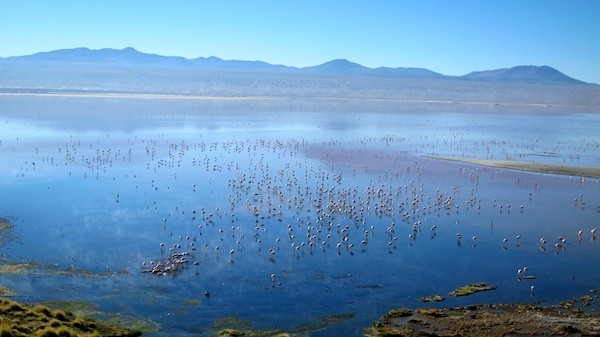 Day 3: Stone Trees and Black Lagoons!
Our third day on the road started off with pancakes, dulce de leche and an incredible view at an alternate lookout point of Laguna Colorada. My kind of morning! The pink flamingos were getting their day started early too! We took our time watching the sun creep up over the distant mountains as we prepared ourselves for the long day ahead!
It was another long day on the dusty roads of Reserva Nacional de Fauna Andina Eduardo Avaroa. We were definitely more prepared for the journey after spending plenty of time in our 4×4 over the past two days.
Our next stop was at Valle de Rocas which is home to the famous Arbol de Piedra or Stone Tree. We climbed, jumped and crawled our way along the massive rock formations. They are pretty unbelievable and almost seem to be placed there in the middle of the desert. I suspect… aliens.
Our timely and strategic guide, David, was on a mission this morning to get us to Uyuni tonight so we revised the itinerary ever so slightly. We would normally have stopped along a series of small lagoons including Laguna Hedionda, Chiarcota, Ramaditas, Honda and Cañapa. Instead, we set full speed ahead into the dusty distance!
At least I was able to snap some quick photos along the drive!
Normally we would have driven north to the base of the Uyuni Salt Flats and spent the night at a salt hotel in Chuvica, but because of recent rain, the roads were in poor condition. Instead, we took an alternate route heading east towards Uyuni.
We stopped for lunch at our last lagoon, Laguna Negra, where the water is almost black due to the igneous rock from volcanic eruptions.
After getting back on the road, we had a minor breakdown (to be expected!), but our handy driver had everything fixed in no time. We made it to Uyuni just before nightfall and turned in early so that we could be up to watch the sun rise at the salt flats in the morning!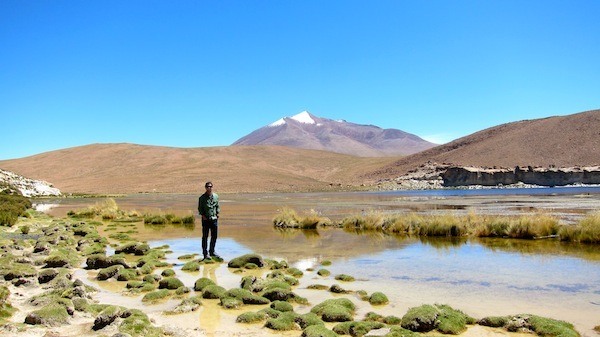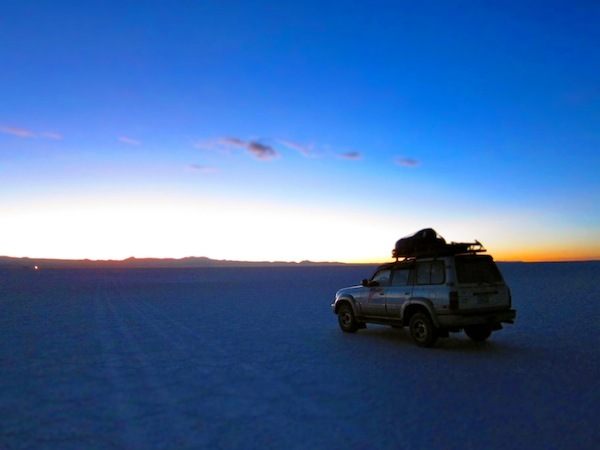 Day 4: The Uyuni Salt Flats
We started our day heading west in the pitch black of the early morning towards the Uyuni Salt Flats. I literally couldn't tell where we had ended up until the sun slowly set itself on the vast salty Salar and I realized, unmistakably, that we had arrived at the world's largest salt flats.
There was salt as far as the eye could see!
We got about 30 minutes of low light with no shadows just as the sun began to rise and took advantage of the photo opportunity. Breakfast of cake and coffee was then served and I was most appreciative. Things just don't work right for me before 6 am. After caffiene-ating and carbo-loading we got to work on our funny salt flats photos!
I know everyone does it, and it's oh so touristy and lame, but we had a BLAST taking hilarious optical illusion shots of ourselves guzzling entire bottles of wine and shrinking down to the size of a toy rickshaw. Don't be a downer… get weird and have a little fun!
After a long morning on the salt flats we made a quick stop at the famous Salt Hotel. It's basically just as it says… a Salt Hotel. The hotel itself, along with all of the furniture and even the floors, is entirely made of salt!
According to our guide it has a ridiculous waiting list for reservations and costs somewhere around $100 a night to stay there! I settled for a peak in the window and was pretty much over it.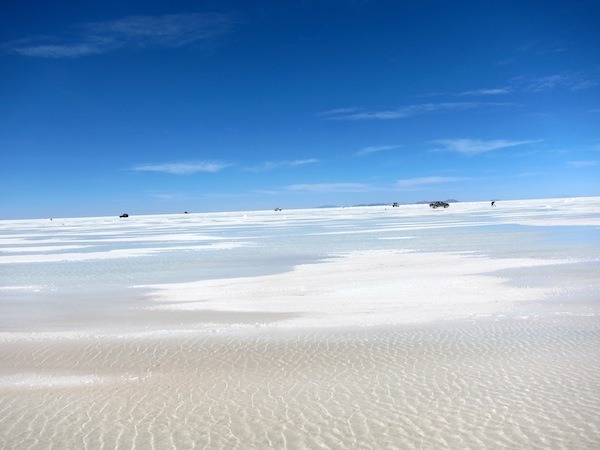 We made it back to Uyuni for lunch and as we drove through the last bit of the salt flats we hit rain water. We had heard from fellow travelers that the flats are especially beautiful after the rain and WOW were they right! The salt reflected off the pools of water as the wind blew across the surface rippling the reflections. It looked absolutely unreal!
After lunch we drove just outside the city to the Cementerio de Trenes (Train Cemetery). It was a ghost town of rusted train carcasses that had once been steam trains. There are parts of the train that have been turned into playground equipment like swings and see-saws so I took full advantage of unleashing my inner child.
We got dropped off after our last day on the tour and said sad goodbyes to our guides. It was by far the best tour (and tour group) I have ever experienced in all of my travels! The only thing left to do in Uyuni (literally) was see what the famous Minuteman Pizza, located inside the Toñito Hotel, was all about.
As soon as we walked in, the place was PACKED with tourists and we were ready to walk right back out… until I smelled the garlic bread! We grabbed a pesto pizza and an ice-cold beer and "cheers"ed to a tour well done!