Here's the first part of the tale of an amazing and unforgettable 4 day journey ending at the world's largest salt flat in Uyuni, Bolivia!
First piece of advice: Call or email a tour company to check on making a reservation for the Uyuni Salt Flats Tour ahead of time! Gareth and I were relaxing at a cafe in Sucre when we made a minor, shall I say, mis-assumption that we could take a night bus down to Uyuni that night from Sucre. Not possible. There are only morning buses!
That would mean we would have to leave the following day, with an entire wasted day on a bus and an entire day missed of the tour! Instead, we were instructed to take an early afternoon bus to Potosi and then get a night bus from there down to Uyuni.
UPDATE: A reader has informed me that there are now night buses directly to Uyuni. I started my tour in Tupiza, which I highly recommend, but you can also start in Uyuni with another company.
Once we arrived in Potosi, after a longer than expected bus from Sucre (surprise surprise!), we found that there were only buses to TUPIZA, not Uyuni. Both Gareth and I try to plan as little as possible, go with the flow so to speak, and we hadn't even heard of Tupiza. Luckily there is a lovely bus terminal in Potosi with decent WiFi, and we discovered that Tupiza Tours came highly recommended and we booked our night bus to Tupiza.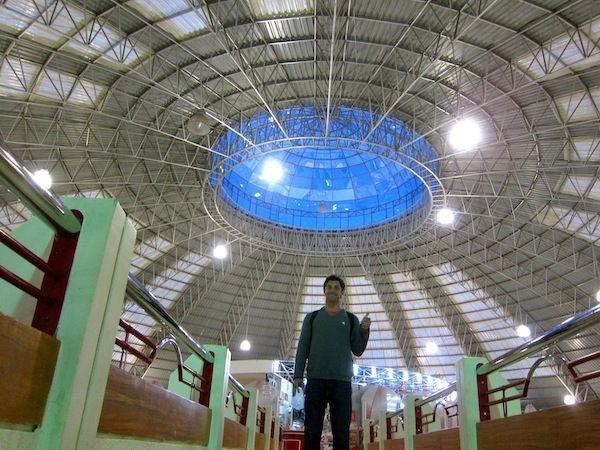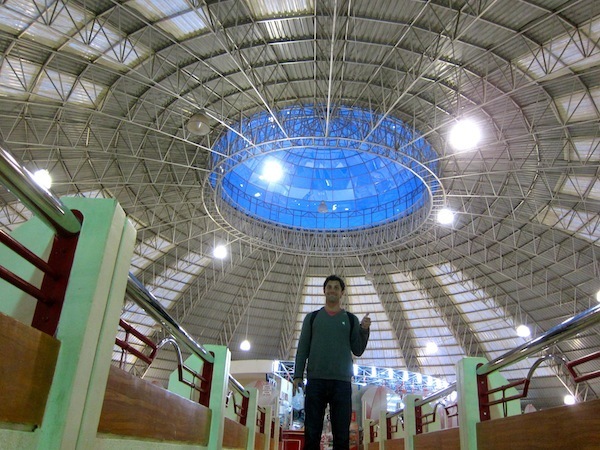 We arrived in Tupiza before sunrise and started the scavenger hunt of finding Tupiza Tours. Why would we bother writing down the address or phone number while in Potosi? That would make things too easy. It turns out the office is located nearby in The Mitru Hotel. After grabbing breakfast at the hotel and waiting for the office to open, we pulled a classic travel move and washed up in the bathroom in hopes to begin our first day on the tour.
The office opened and we were informed that all tours for the day were full. WHAT?! It was Thursday, we had planned on taking the 4 day tour and I was flying home on Wednesday. After being informed that we could get on the tour the next day, I realized I would literally finish the tour and get back to Sucre the day before I flew home out of La Paz. It was taking a HUGE chance considering the fallible transportation system in Bolivia, but I couldn't miss this once in a lifetime opportunity.
Our tours were booked!
Four days of traveling through the most beautiful scenery in Bolivia (transport, food and accommodation included) all for around 1300 B's or just under $200.
So my advice is to call ahead, DEFINITELY go with Tupiza Tours (read on and you'll know why!), and write down helpful information like the office phone number and address. The obvious stuff.

Day 1: Welcome to the Wild Wild West!
Our first day of the tour started off early and our 4×4 was also stocked with fellow travelers, Paul and Jen, as well as our driver and cook, David and Agostina. We set off in a caravan of 3 Tupiza Tour jeeps headed out into the unknown… well sort of. We had a little illustrated map. The landscape quickly transformed from the small city of Tupiza into a picturesque image of the Wild Wild West, complete with towering red rock formations and dry brush-lined desert.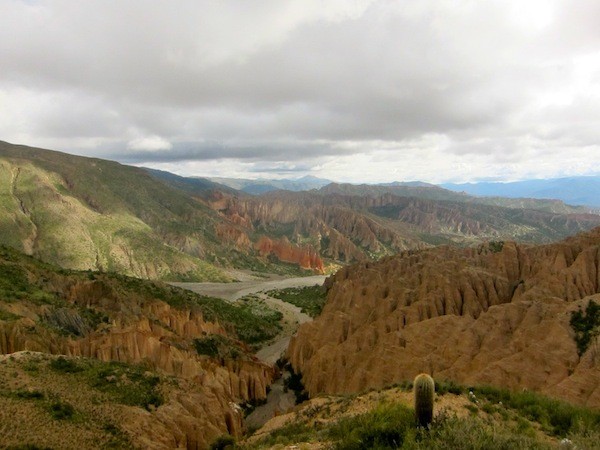 I had heard horror stories of travelers getting stuck with drunk drivers and as I watched our driver crack open a cold one along a sharp turn of a canyon my stomach sank. I quickly realized it was a non-alcoholic malt energy beverage that's popular in Bolivia and got my bearings back. Our day was long, stretching for miles upon miles of vast desert with quick stops to enjoy lunch with the llamas and a few potty breaks.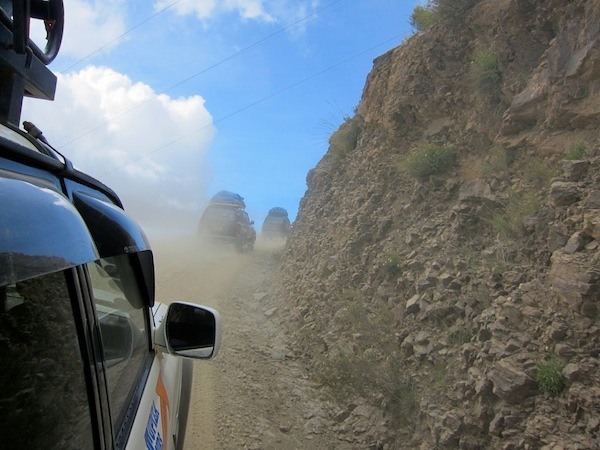 We arrived at 4200 meters in San Antonio, our destination for that night's sleep, and collectively decided as a group to press on! We drove another three hours, made a quick stop at the ruins of Puebla Fantasma and then watched the sun set behind the beautiful snow capped mountains.
As informed beforehand by the tour company, we would need to pay 150 B's to enter the Reserva Nacional de Fauna Andina Eduardo Avaroa, so we made a quick stop to pay for our entry. Shortly after entering the National Park, we found refuge at our hotel. It was after 10 pm when we finally sat down for a delicious and seriously appreciated dinner. A VERY long first day totaling in over 10 hours!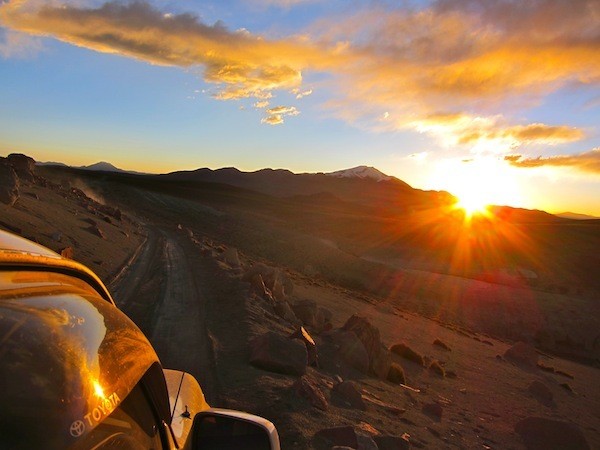 Day 2: Overstimulated by Amazing!
Because we decided to take more time driving yesterday we were able to get some extra shut-eye and had an easy start around 7 am. We had surprisingly comfortable beds and I slept like a baby! I admittedly have a mild obsession with llamas. They're like living anime cartoon creatures.
We stopped at a local farm where they had TONS of them gated up before being released to graze for the day. After getting my llama fix we passed a few lagoons and had our first sighting of beautiful pink flamingos before reaching Laguna Verde.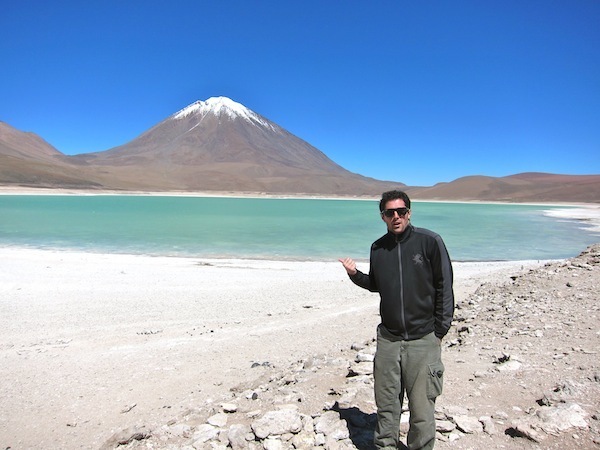 Laguna Verde was absolutely breathtaking. The turquoise lagoon sits at the base of an inactive snowcapped volcano. It's like a true oasis in the middle of a barren desert. This was the first stop on our trip where the wind started to pick up which made things a bit chilly!
We got back on the road and backtracked towards Aguas Calientes. On our way, we passed the surreal Desierto de Dali. The desert is sprinkled with giant boulders and looks much like something out of the magnificently twisted mind of famed artist Salvador Dali.
We arrived at Aguas Calientes just before lunchtime and jumped right into the natural hot springs. The water was perfectly heated by natural volcanic activity and their was a perfect view to match!
The hot springs opened up to crystal blue waters inhabited by pink flamingos and snow capped volcanoes. I think this might be the world's best road stop! After our skin began to wrinkle we hesitantly decided to say so long to the incredible hot springs.
It wasn't far until we reached the Geisers "Sol de Mañana" and I was literally blown away! The winds really picked up here and blew the smell of sulfur into our car before we even caught sight of the geysers. Smoke was billowing up through tons of crater-like formations in the ground from the intense volcanic activity.
I had a blast taking photos with nature's very own fog machine. Once the smell of rotten eggs started to get a bit overwhelming we, yet again, hit the road!
If I hadn't already seen some of the most incredible natural sights in my life on this trip already… we arrived at Laguna Colorada. The lagoon is a brilliant red color resulting from pigments of algae and thin sediment deposits. The flamingos absorb the color through their diets here and that's how flamingos get their beautiful pink color!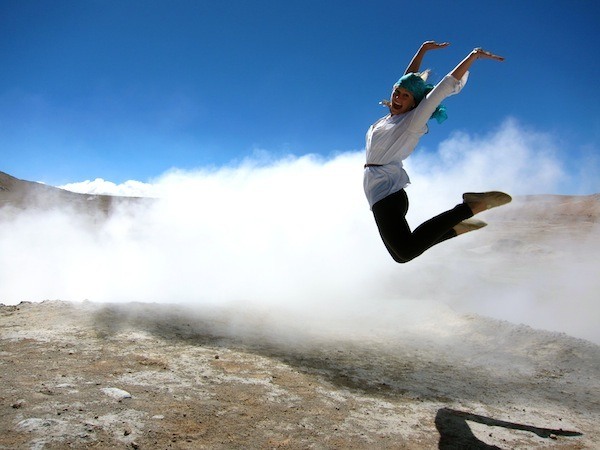 I've seen some of the most beautiful places in the world and was hardly expecting half of what I experienced in just two days on the Uyuni Salt Flats tour in Bolivia. We still had two more days of the tour and I was literally left speechless from the past 48 hours. Mother Nature you are one sexy lady!