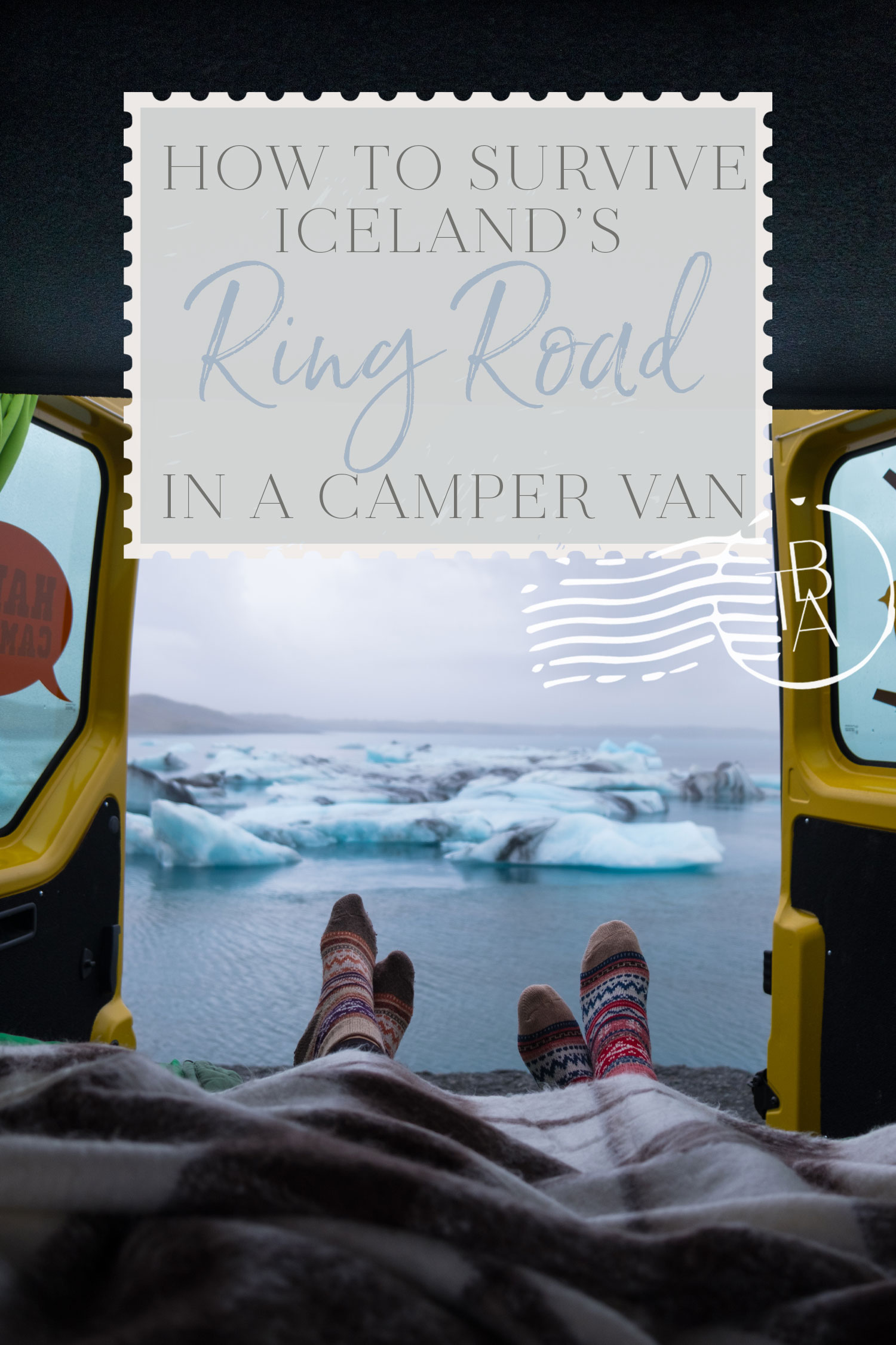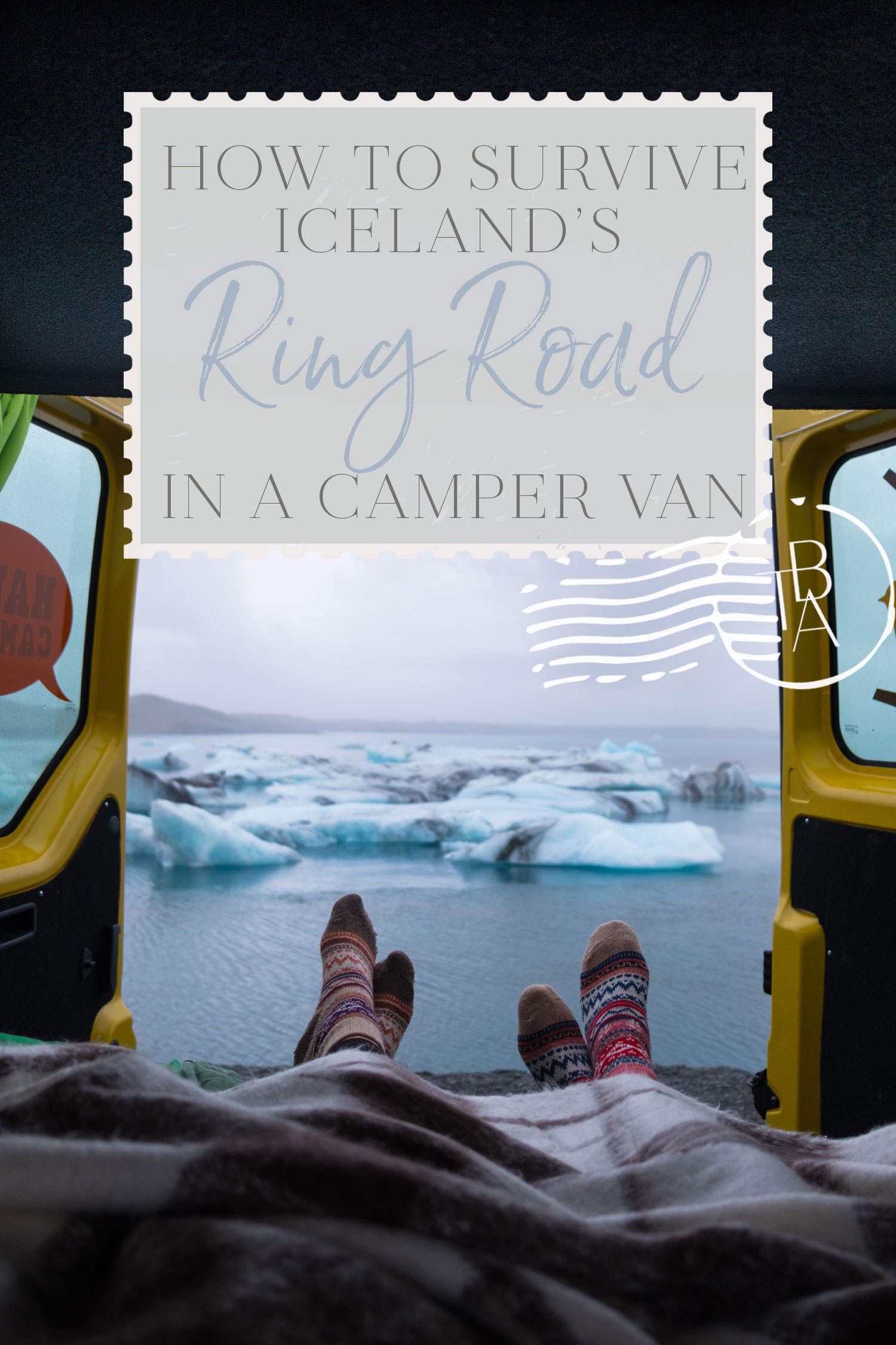 Updated: January 2020
Ready to get back to nature? There is no place better to enjoy the great outdoors than in Iceland. This Scandinavian country is absolutely stunning and perfect for nature lovers and adventurers alike.
Iceland's Ring Road, a.k.a. Route 1, circles the entire island and will show you the best of Iceland. Spanning 800 miles, this route is one of Europe's top spots for road trips, and most people choose to explore via camper van.
So, here's how to survive Iceland's Ring Road in a camper van!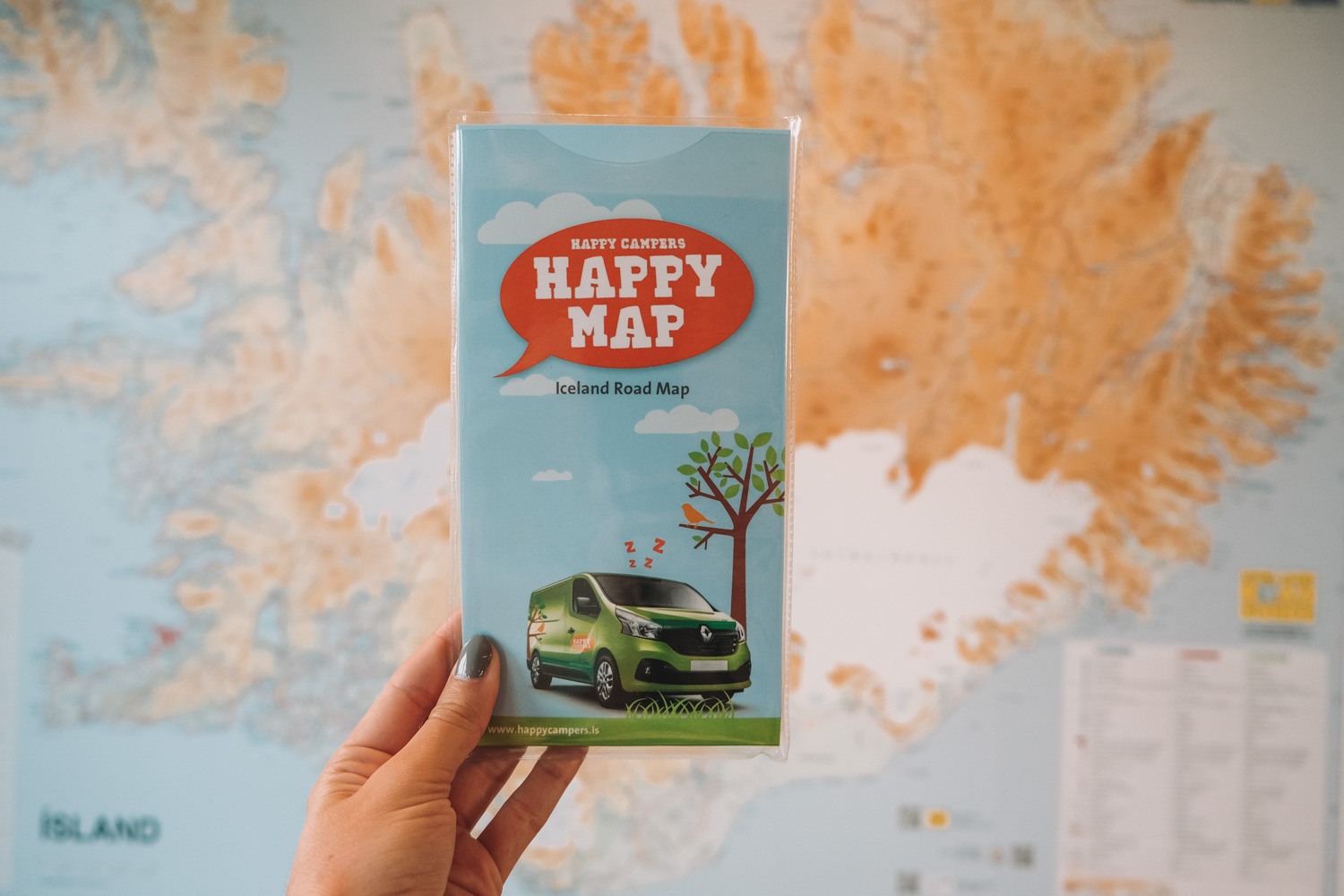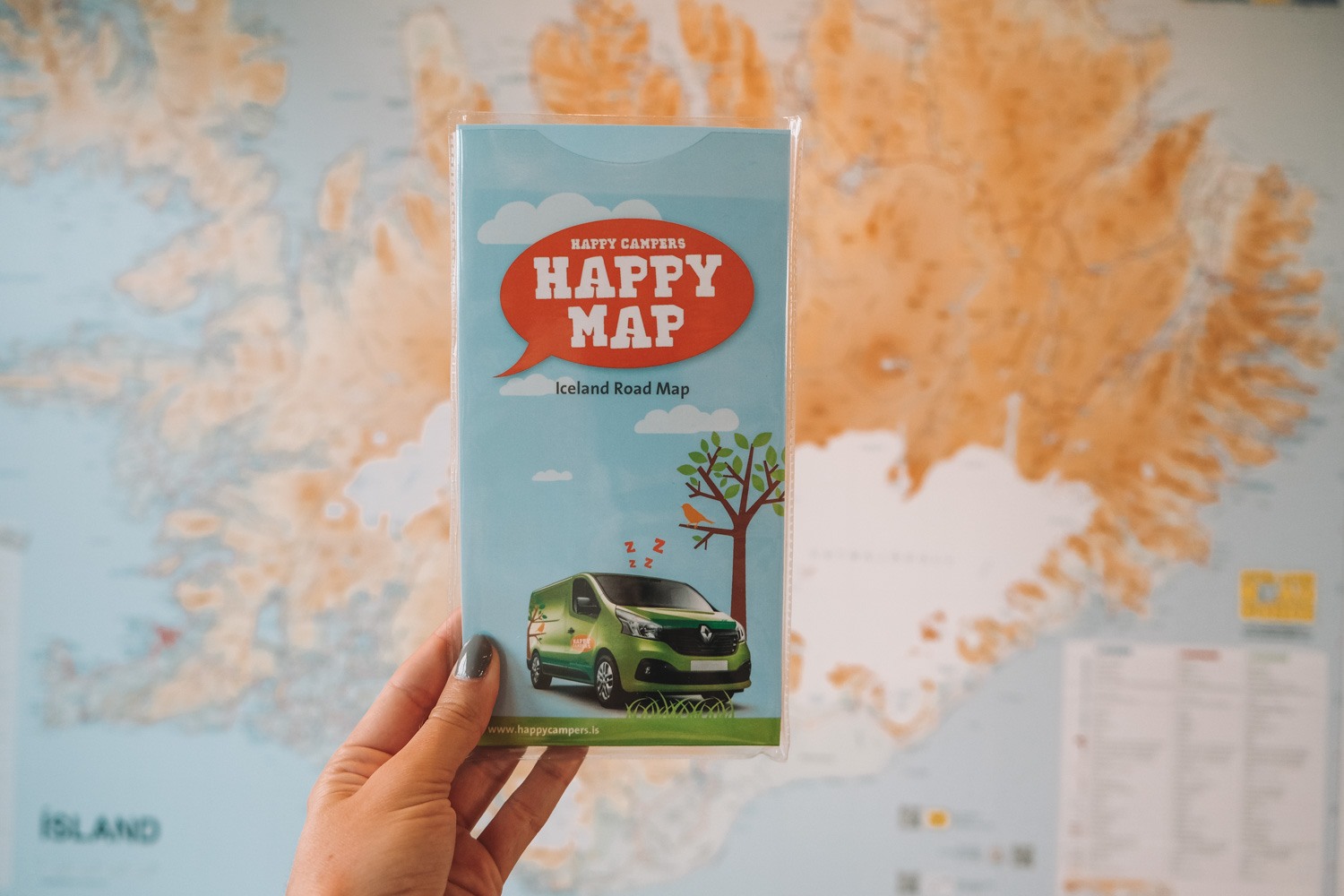 Your Itinerary
There's no "right" way to drive the Ring Road. Do it at your own pace, and stop whenever for however long you choose!
My advice is to map out your stops ahead of time (consider driving times, lighting for photos, and breaks for meals). Also, plan a rest day halfway through your trip. It made a huge difference. We recharged our batteries (literally) and took a break from schedules and driving.
Know that you'll have unplanned stops. A lot of them!
There will always be fun surprises along the way, so avoid rushing through anywhere. We also cut out some of the bigger highlights of the trip (like the beach plane wreckage) because road conditions vary during different times of the year. If you have your heart set on seeing a particular area, be sure you can get there during the time you are visiting.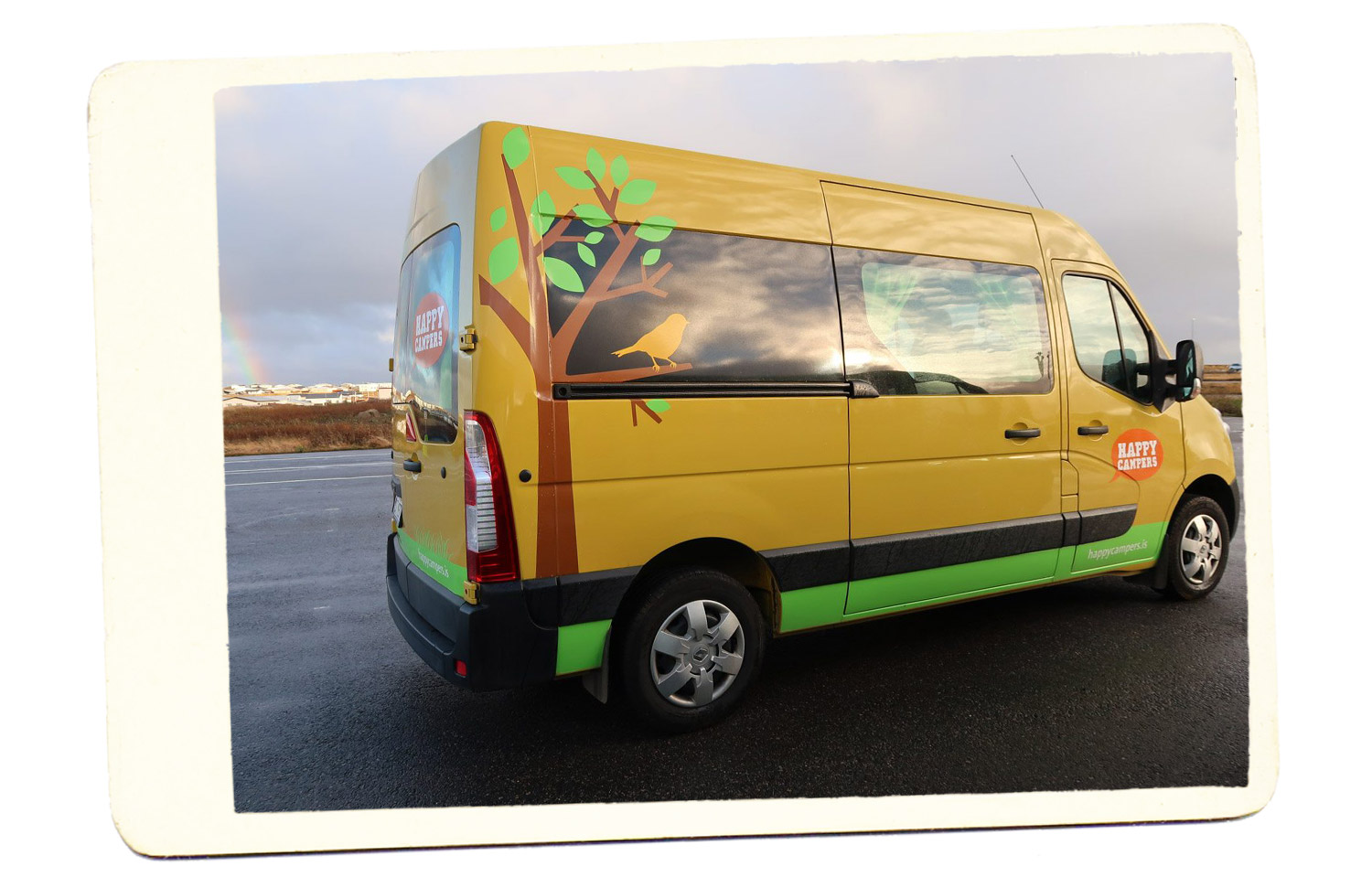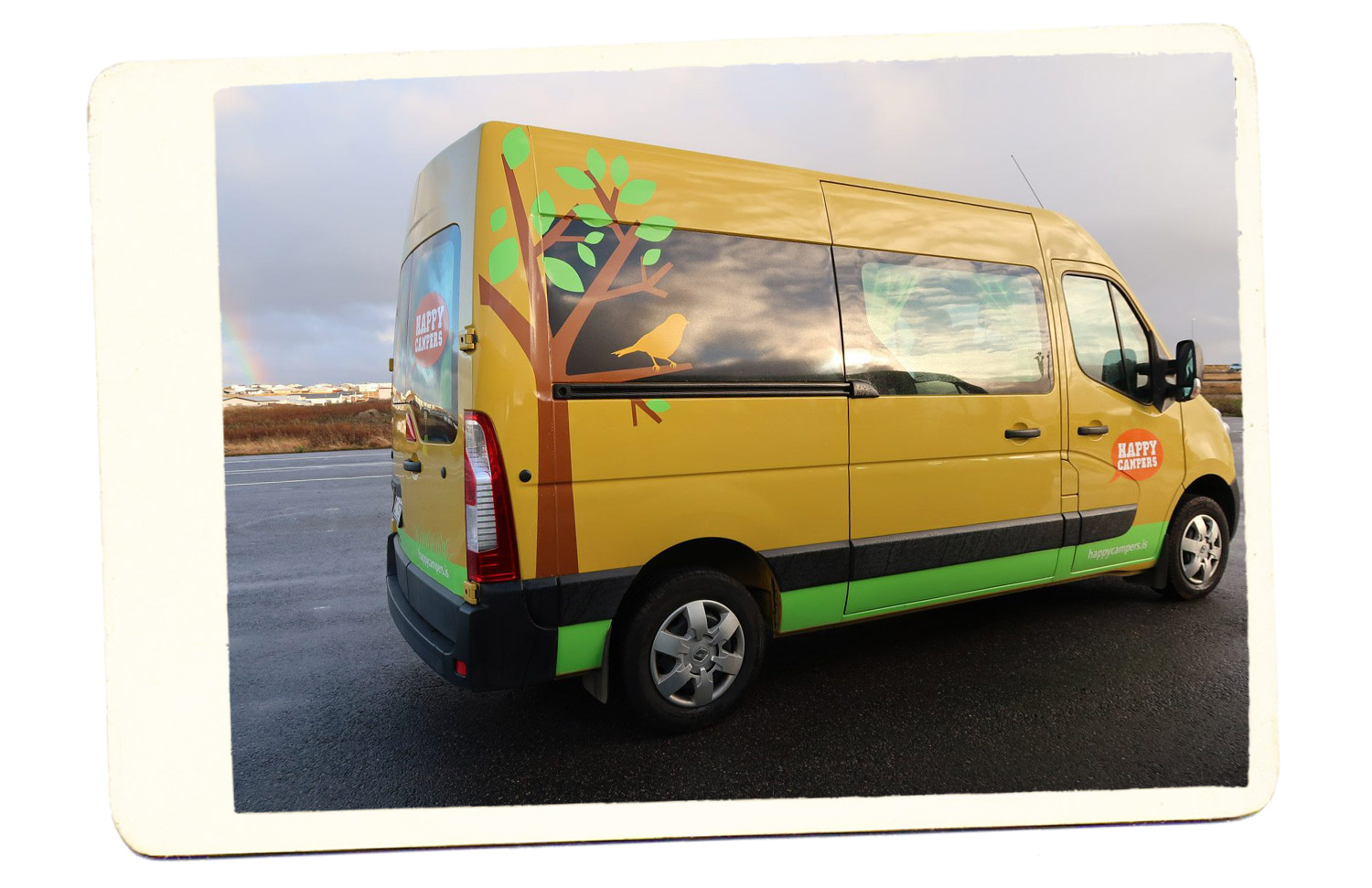 Pick Out Your Camper Van
Size matters! When we are talking about comfort and gas consumption, the size of your camper van is important, so you will want to give some real consideration to which camper you choose.
On one hand, gas is expensive. Really expensive.
If you do the math and translate the krona and liters into dollars and gallons, you'll find fuel prices to be around 200 ISK per liter which is about $7.50 per gallon. While that's obviously much higher than most of us are used to paying for transportation, it's still a pretty good deal if you consider that you'll have zero accommodation costs.
We decided to go for the five-person van from Happy Campers because we were carrying a lot of photography gear in addition to our luggage. It was really spacious, and we never felt cramped at all, so we were really happy with our choice.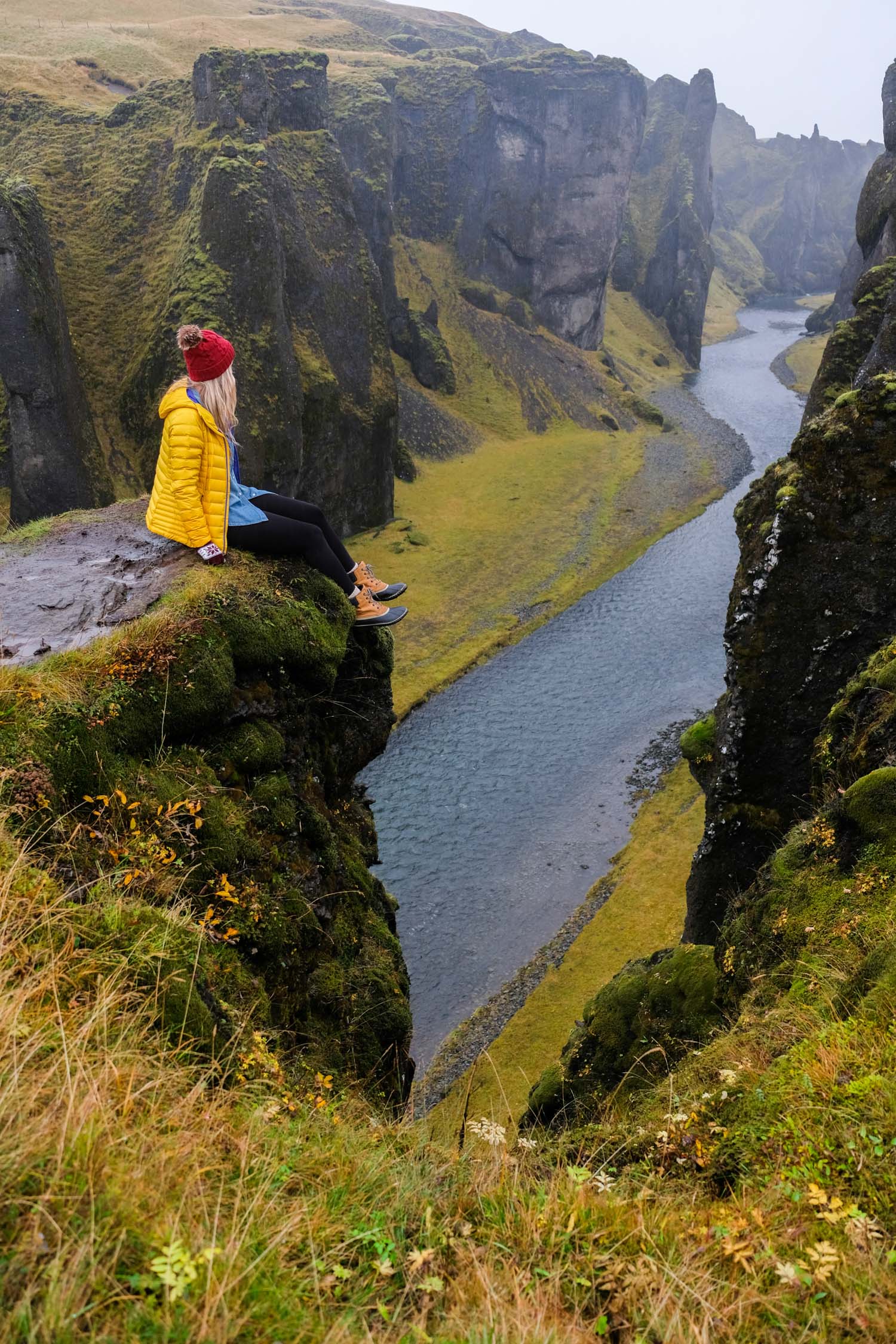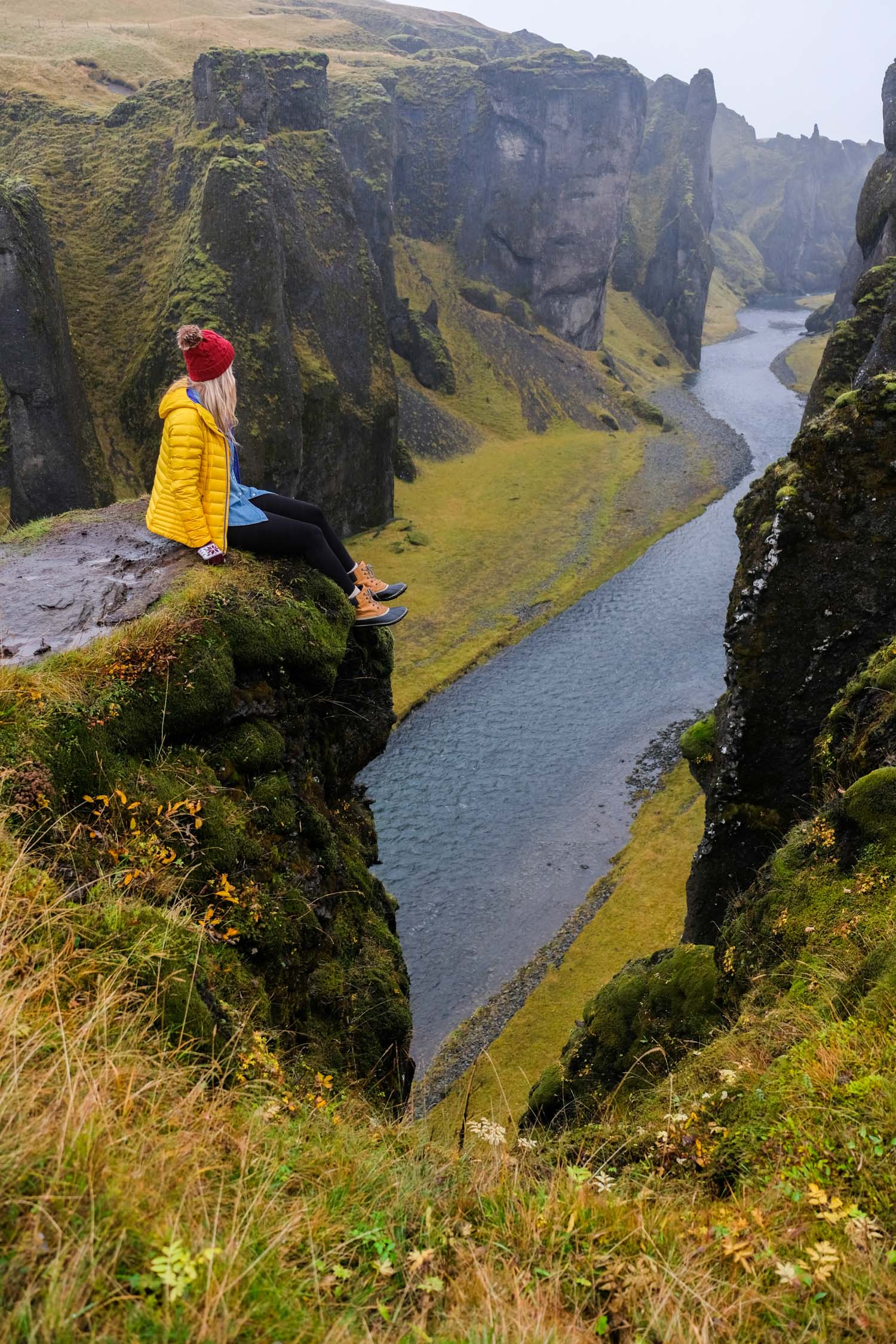 Pack Light
The smaller your camper is, the less you will want to pack. Obviously, warm gear is essential, and you'll want to have a good camera. Beyond that, less is more. If you can't see yourself using it daily, you probably don't need.
Admittedly, I didn't take my own advice. I brought it all but we had a big camper so it worked out. If you are going for a smaller camper, stick with the essentials so you aren't crowding yourself out.
Photographers, you will want to consider the amount of photography or video gear you plan to bring into the size of your camper van. If you're debating on what to bring, at the very least, make sure you bring a tripod to capture the Northern Lights!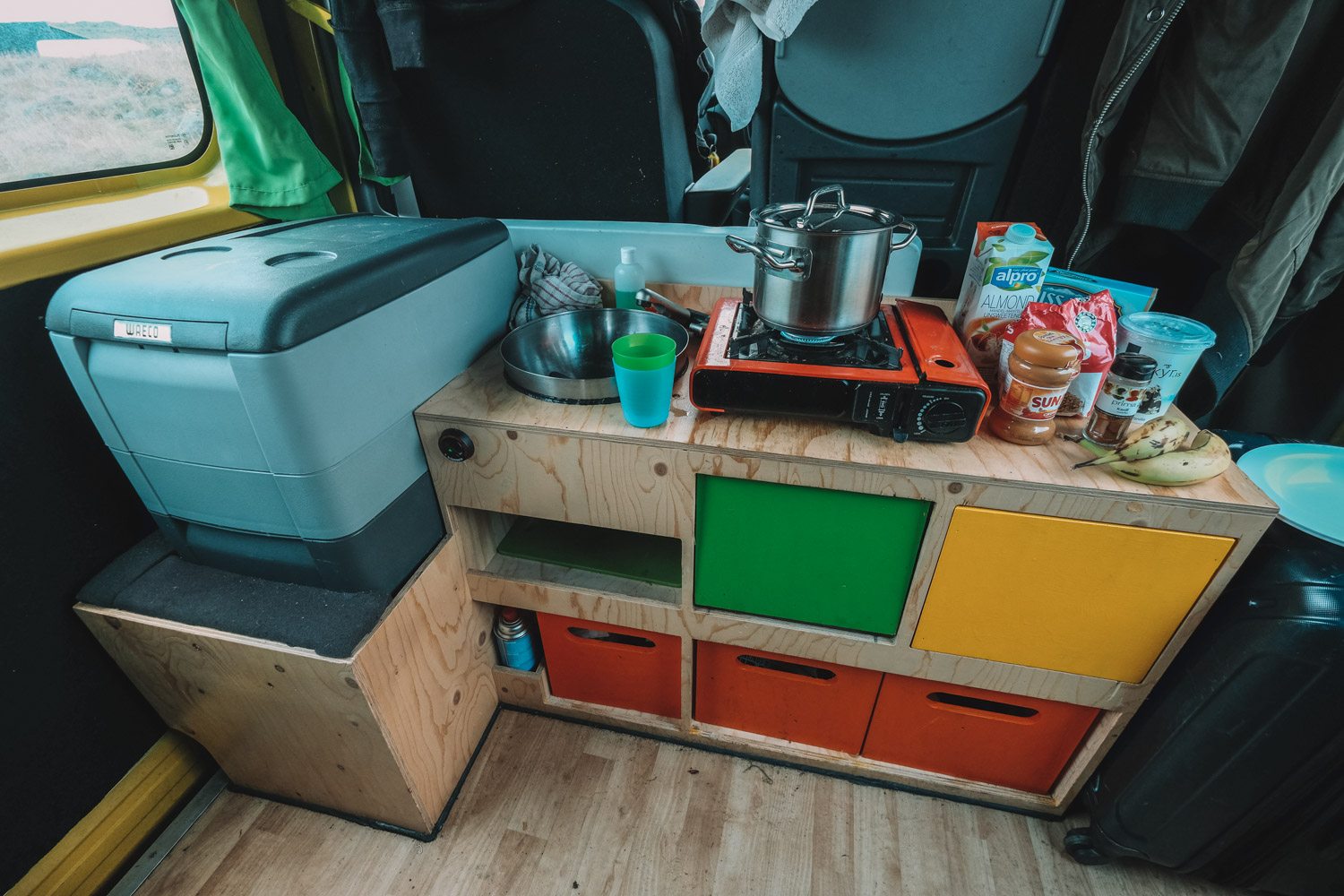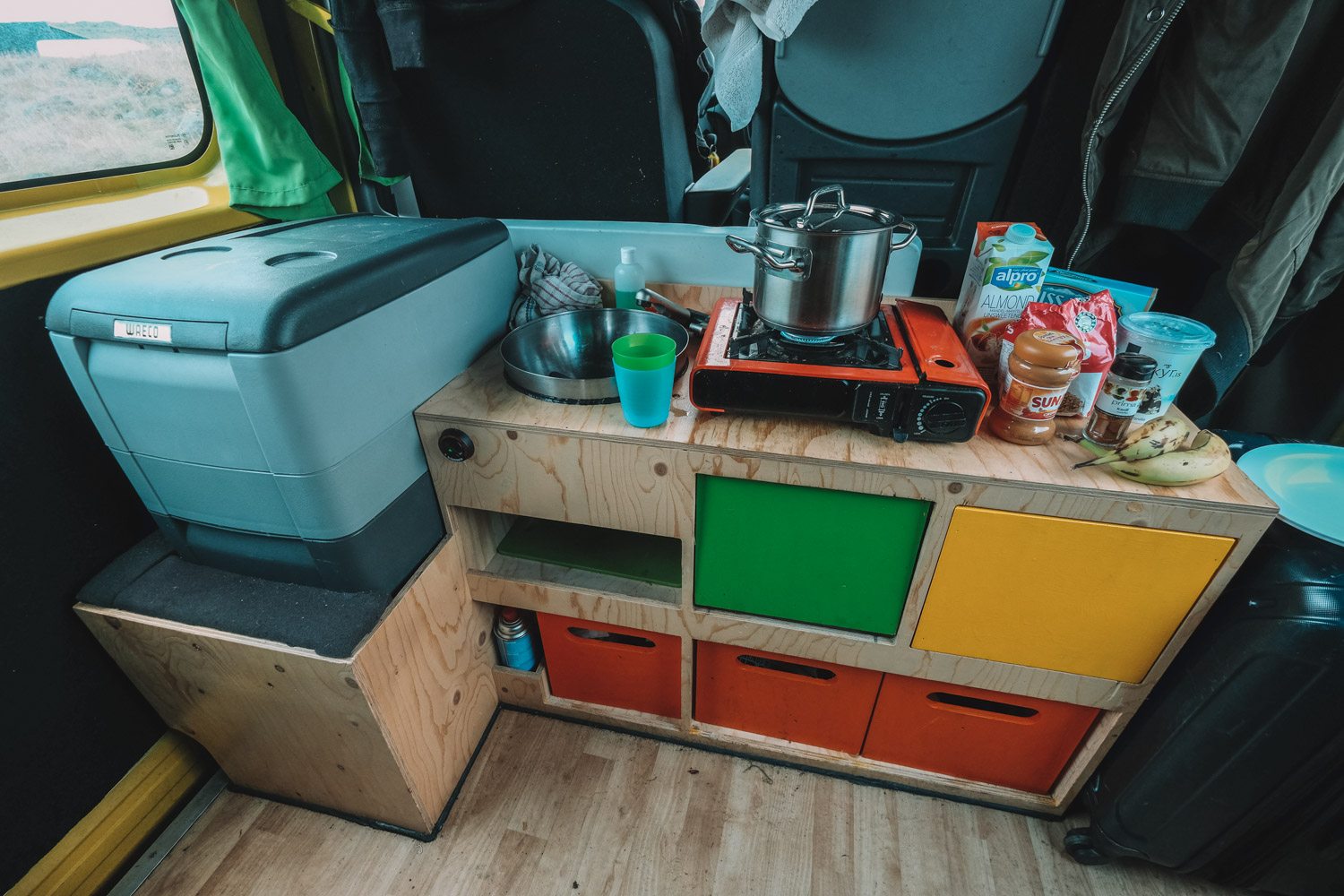 Stay Organized
It is important to keep things packed and stored securely while you are driving. You don't want luggage flying if you have to hit the brakes. Keep things packed away, and designate one small bag for essentials that you will always want to have handy.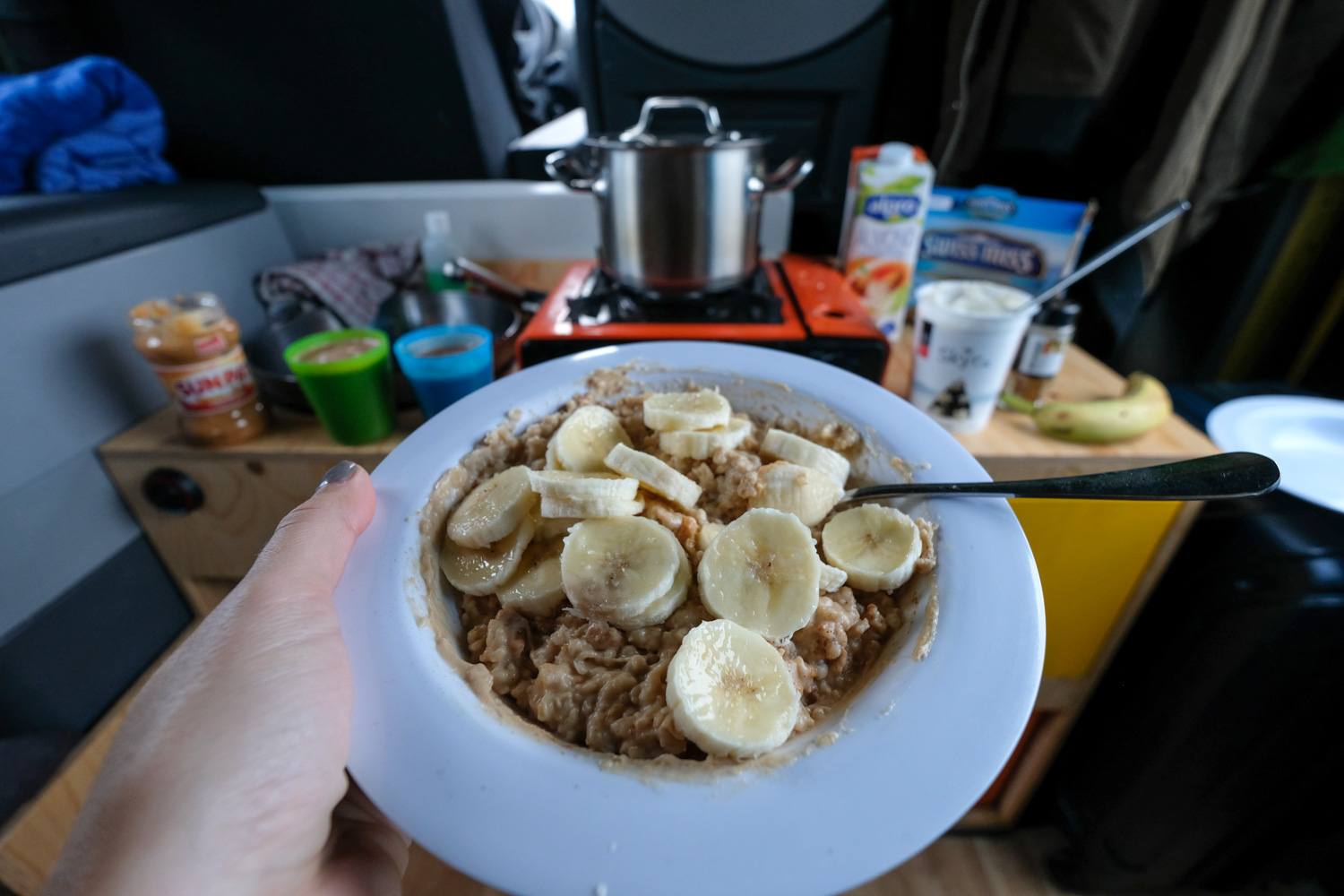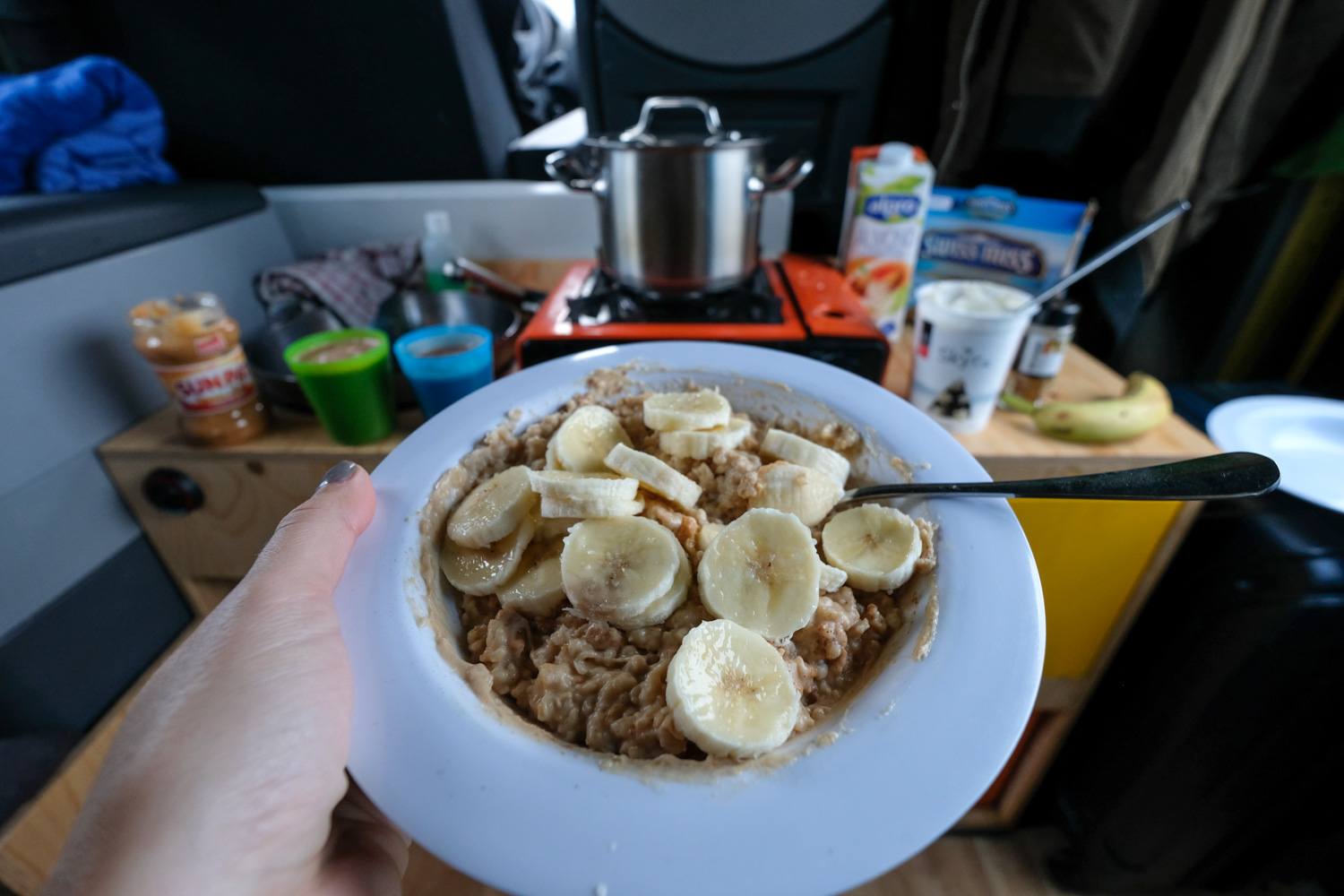 Prep Easy Meal Plans
Even the most spacious camper won't give you a ton of room for food prep, so keep it simple. Think grilled cheese sandwiches, eggs, pasta, and Food Doctor cups.
Helpful  Tip
Iceland has some of the cleanest water on earth. You can refill your water bottles at campsites so you'll really just need to keep a few on hand.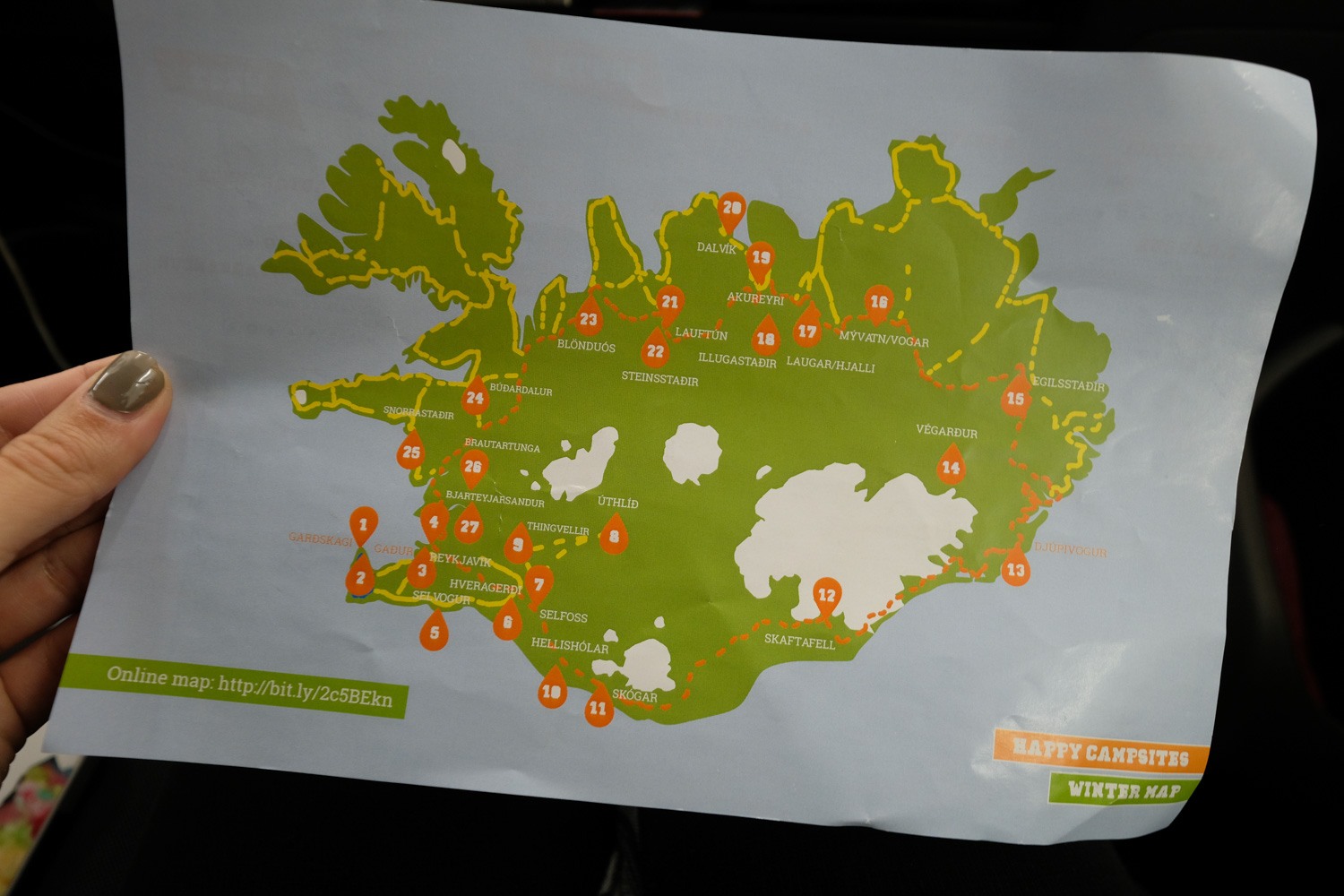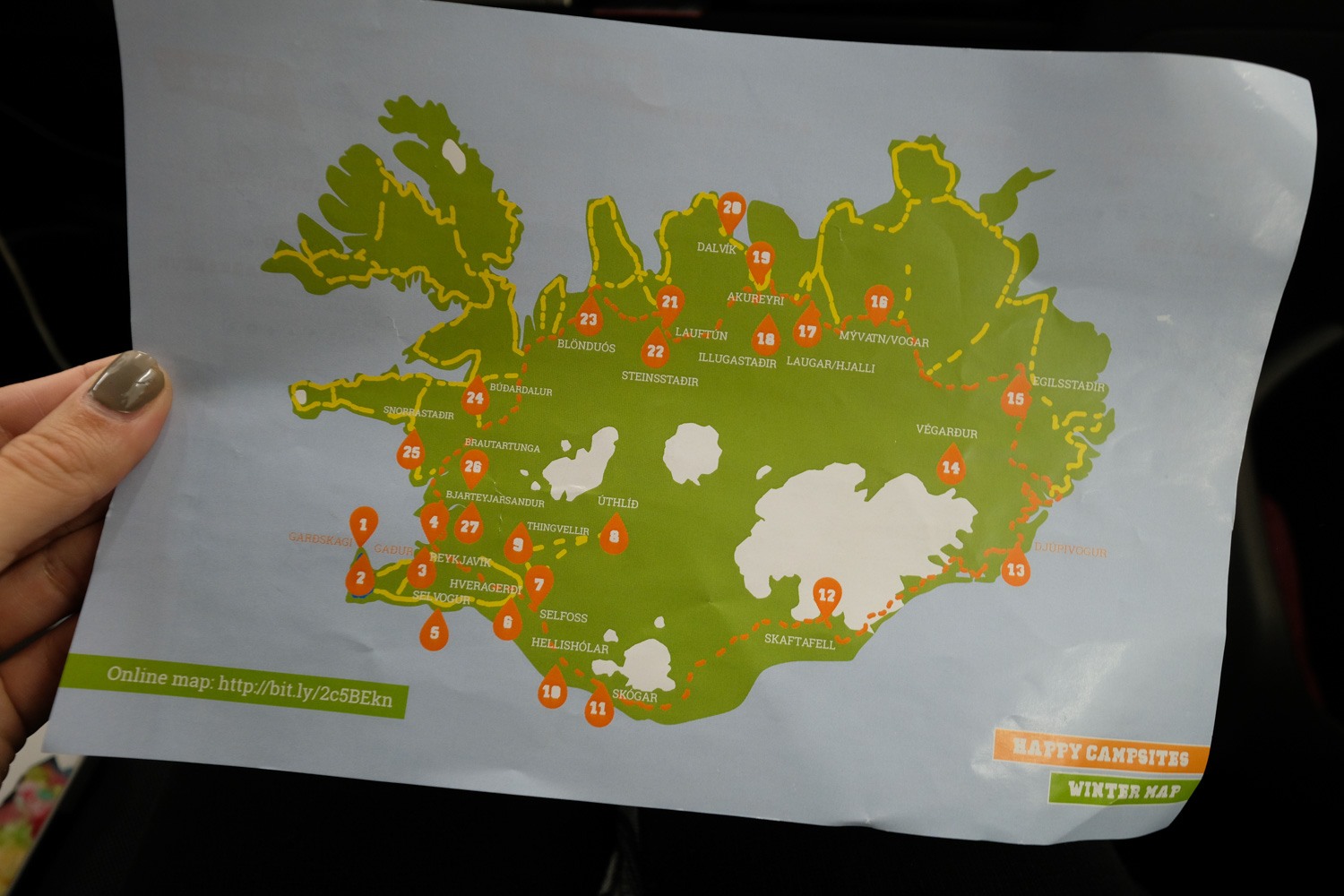 Pick Your Campsites
The availability of campsites will depend on the time of year. Traveling in October, we found it to be hit or miss. The good news is that you can still camp at sites 365 days a year; you just won't have access to facilities like toilets during the offseason.
The best way to plan your stay is with a local map.
You can get a campsite map from your camper van company, and you'll definitely want to keep it handy. The majority of Icelandic campsites are well equipped. Nearly every campsite on the Ring Road has showers and toilets while a few have laundry units too. We even found one that had Wi-Fi and Jacuzzis!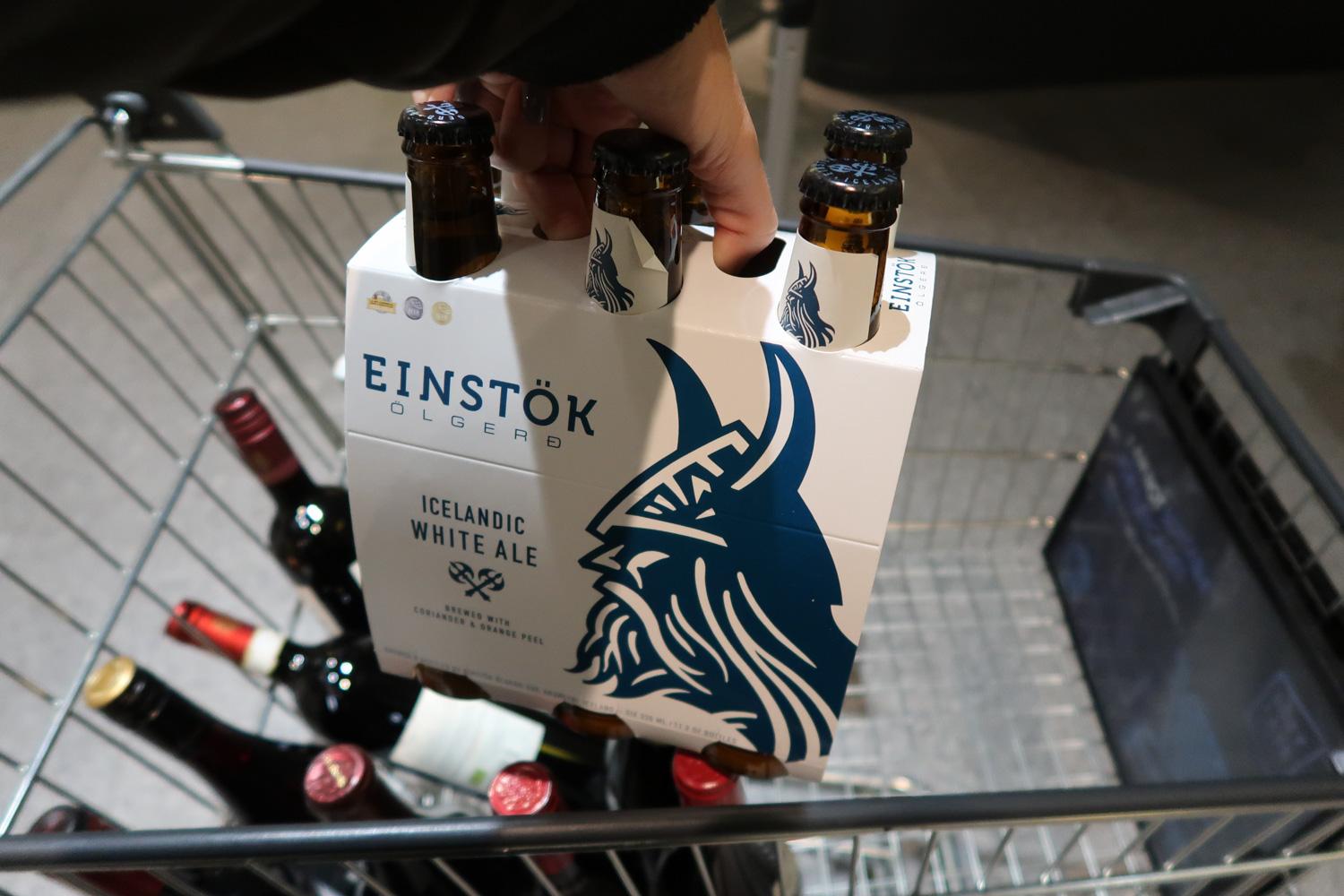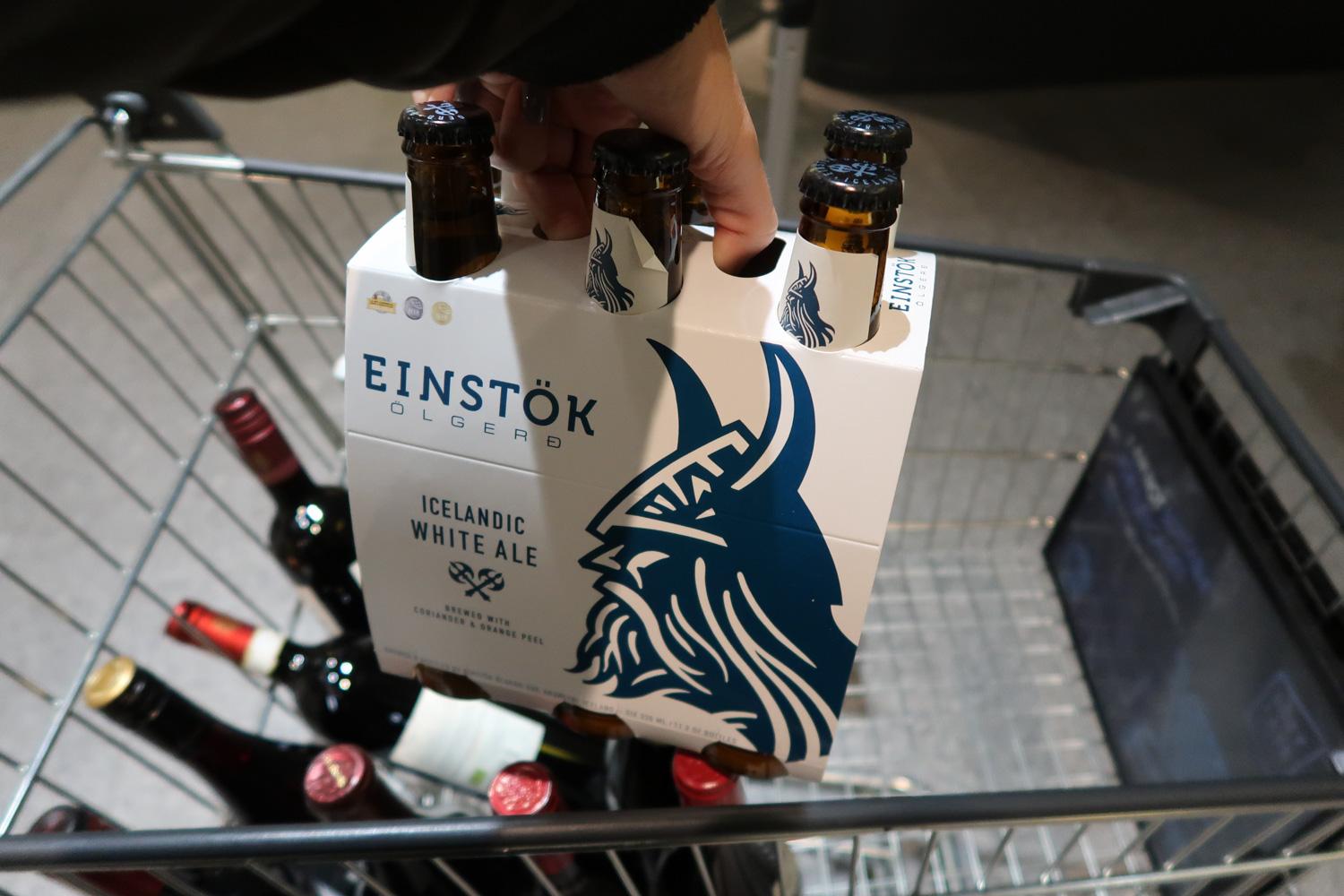 Buy Your Alcohol at Duty-Free
Alcohol is crazy expensive in Iceland. You can expect to pay $8 for a pint of beer if you go out. While I'd recommend checking out at least one Icelandic pub, your best bet is to have a well-stocked liquor cabinet.
Plan to buy alcohol at the airport. You won't pay tax at the duty-free store, so it's far and away the best place to stock up. If you miss the duty-free, keep your eye for Vinbudin stores for the best deals on liquor!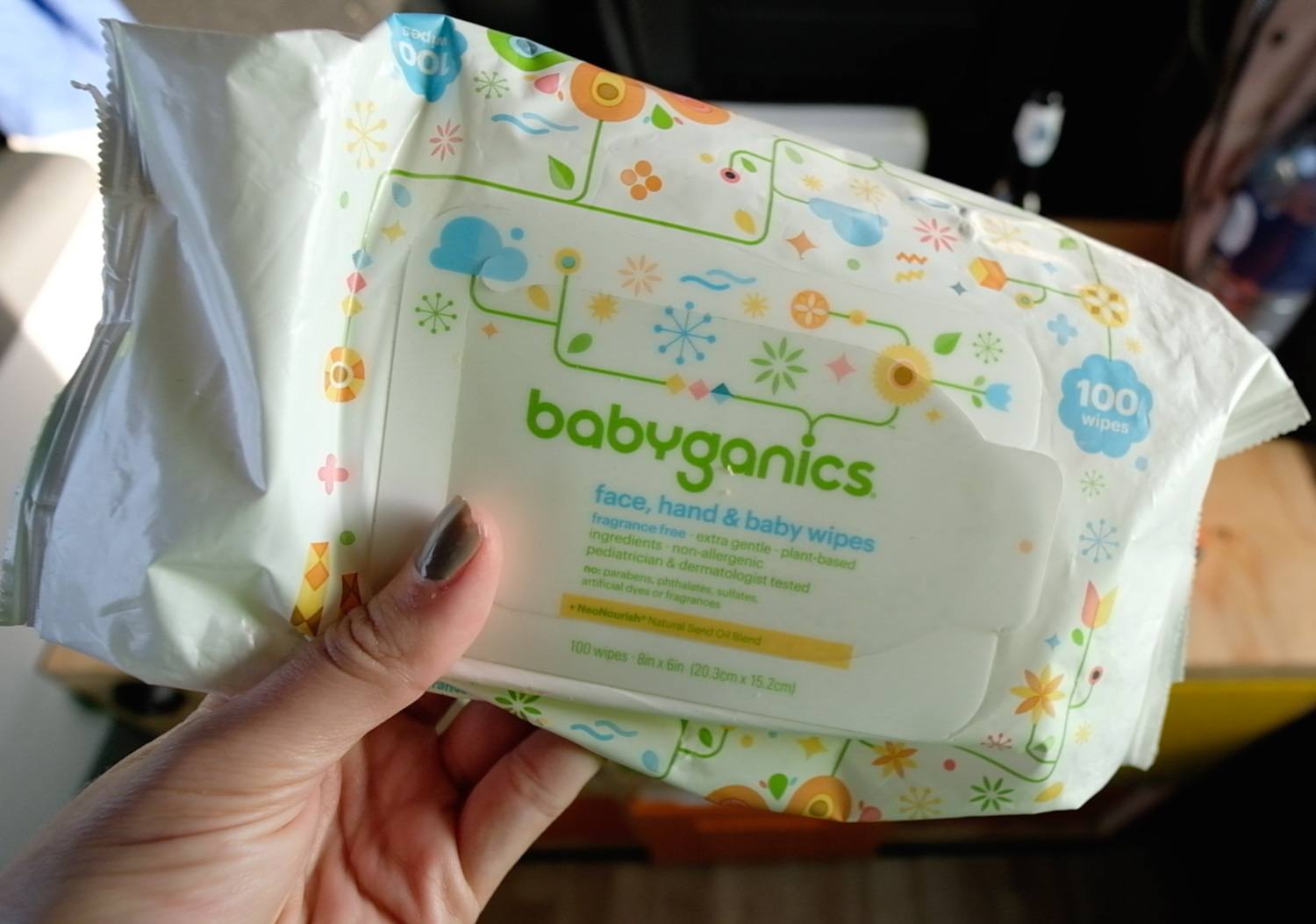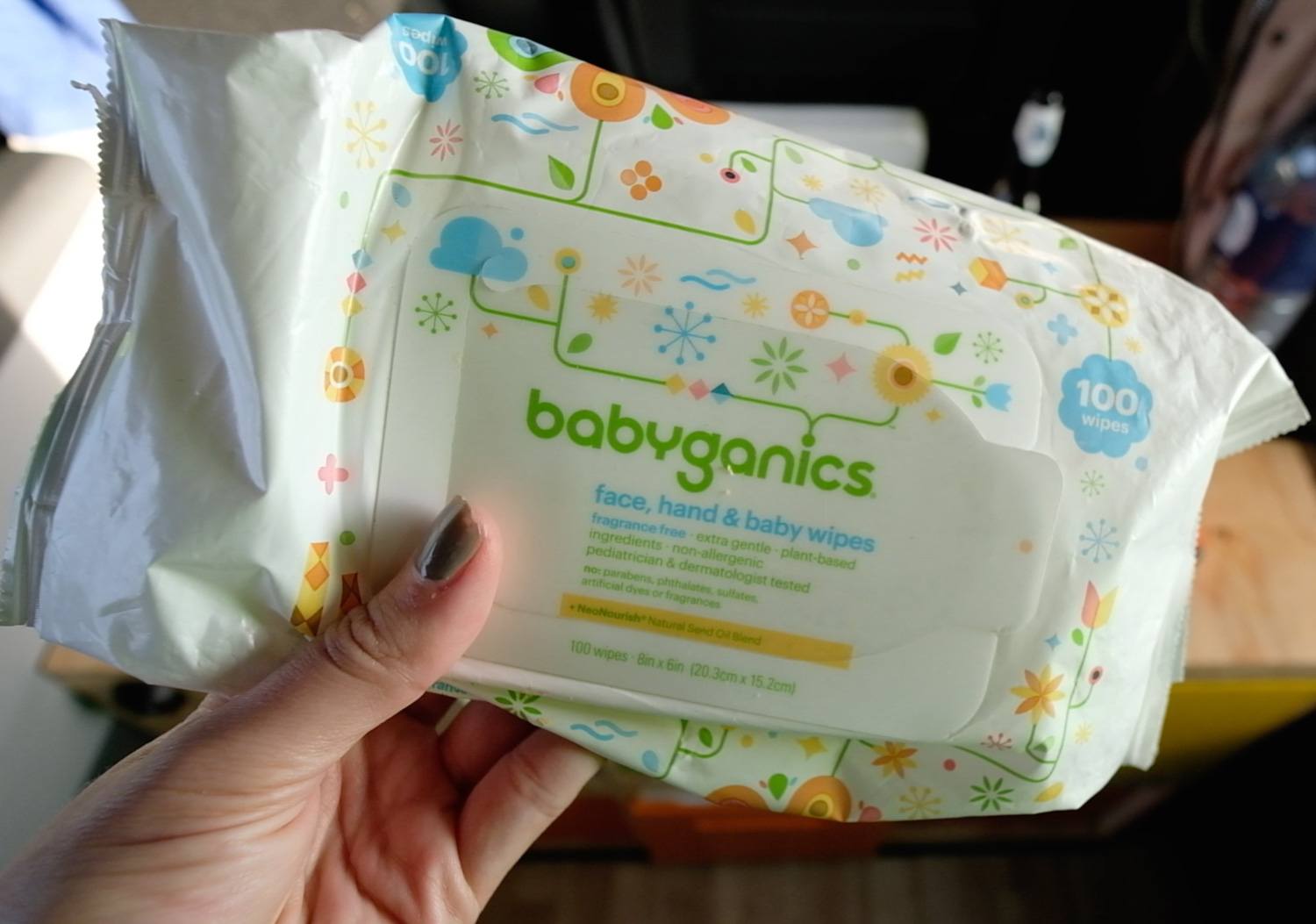 Keep it Clean
Baby wipes are essential, and you will want to bring your own towel. Most campers come with a brush but do a quick look inside to see what you have got and what you need so you can stock up on day one.
Helpful  Tip
Pack dryer sheets to tuck away and keep the van smelling fresh. We tracked a lot of water into the van each day from the rain, so they helped keep the van from smelling damp.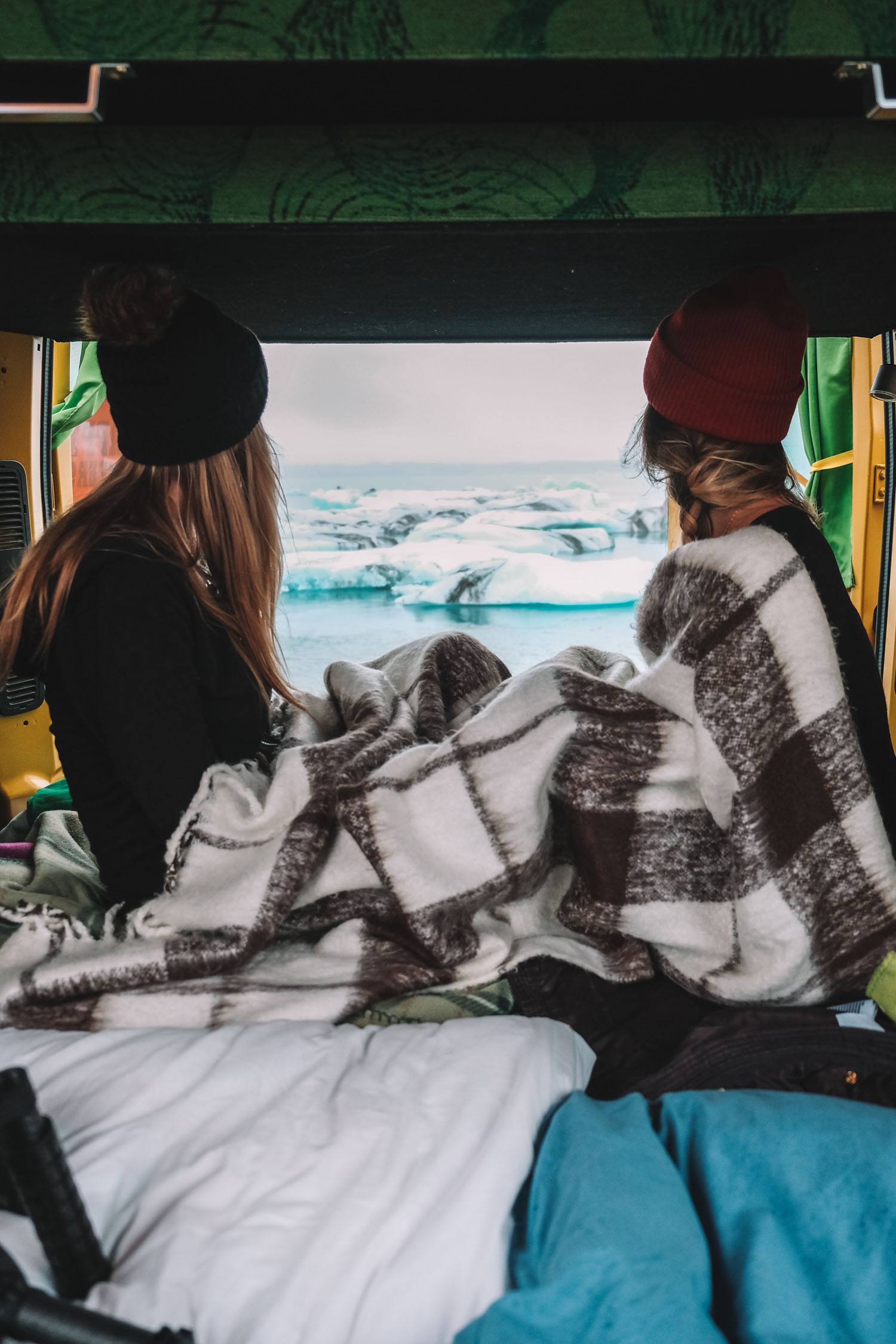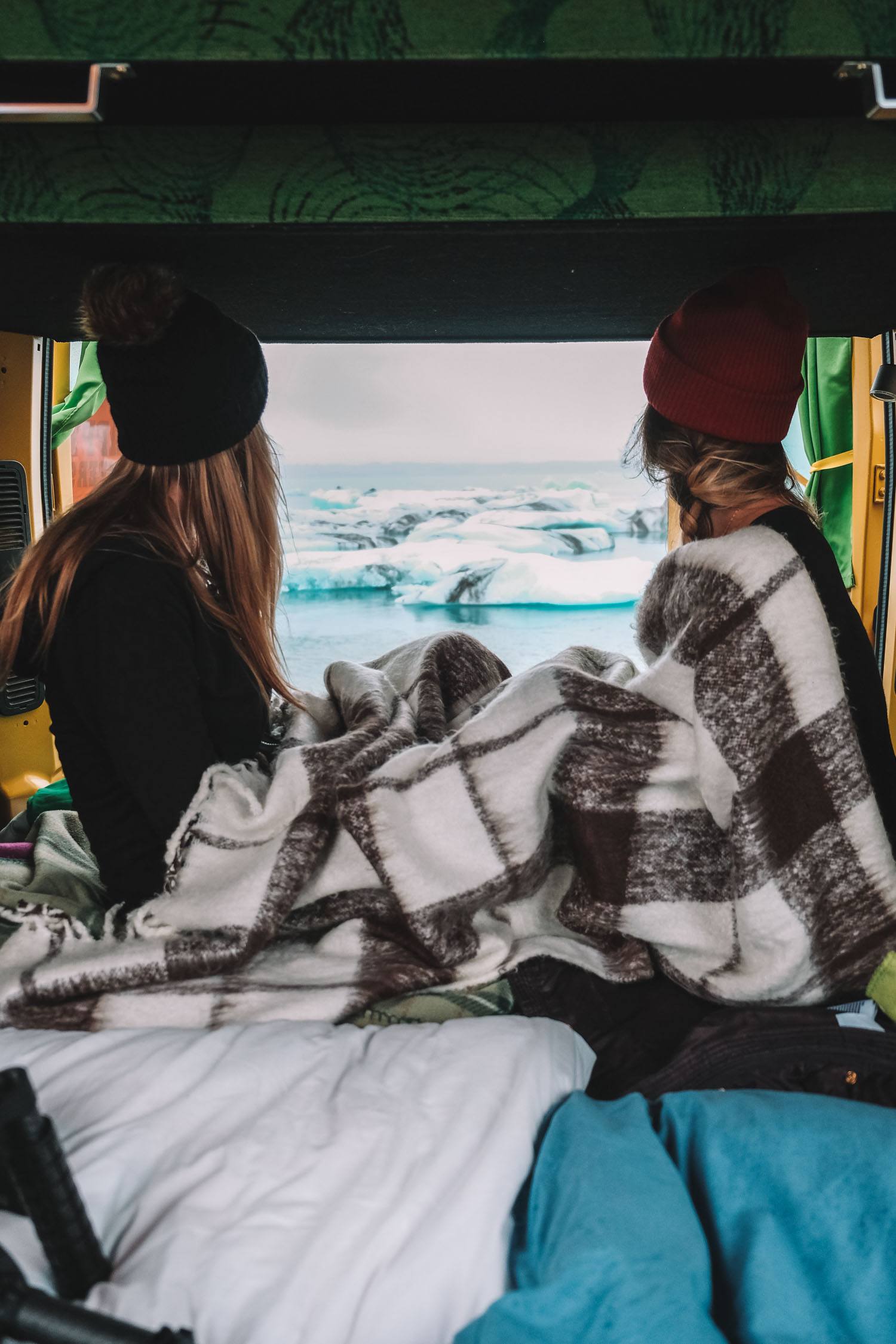 Sleeping
It gets COLD at night! You will want to have lots of blankets and a sleeping bag. If you are a light sleeper, bring earplugs or buy them at a pharmacy in Iceland.
When you are ready to call it a day, park the van on level ground so you've got a flat surface to sleep on. We had a big enough van that we didn't need to fold up the bed each day but you may need to convert your bed each evening and morning, so plan on needing extra time.
Helpful  Tip
Roll your sleeping bag up with your blankets for easy unfolding later.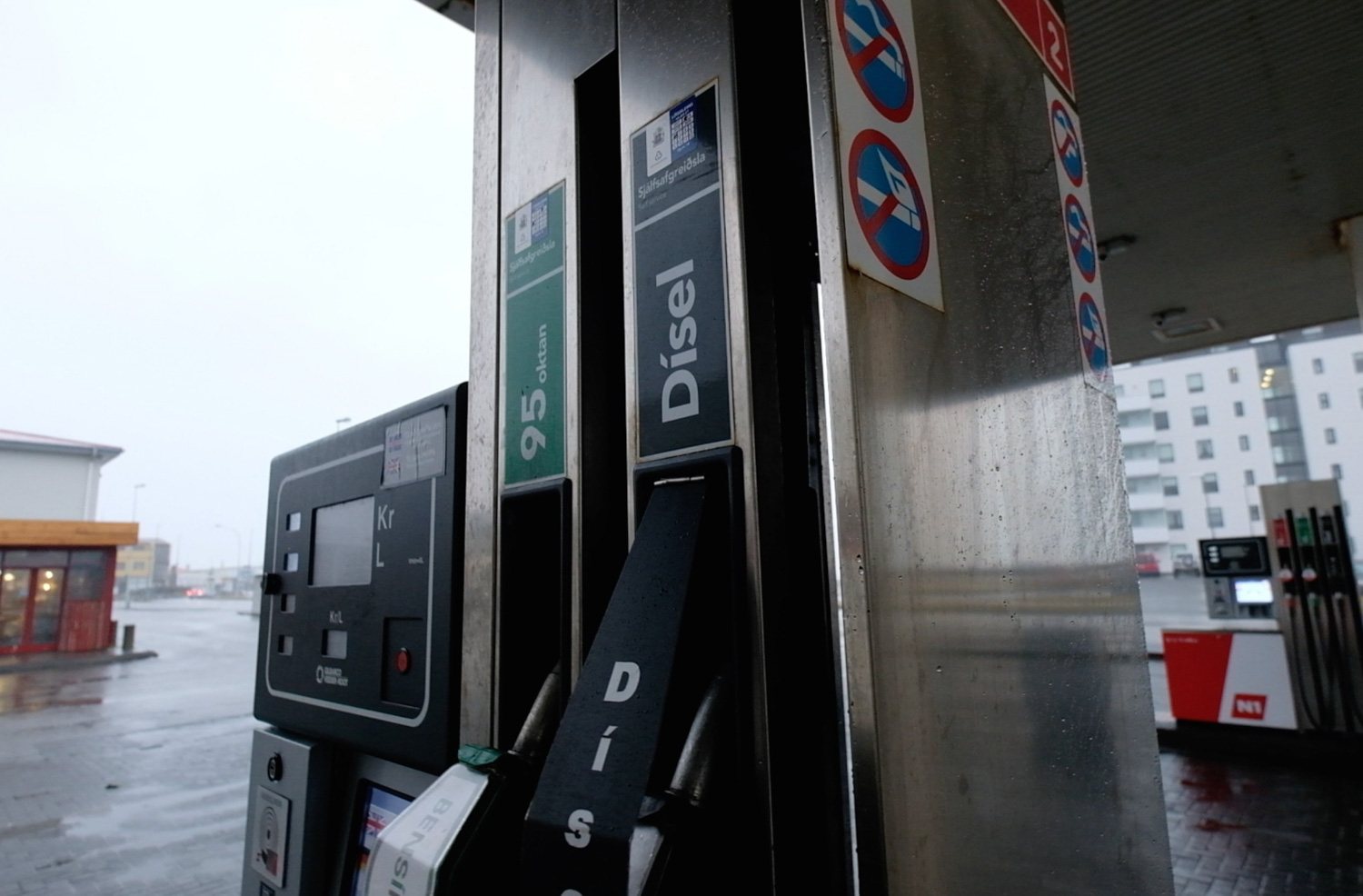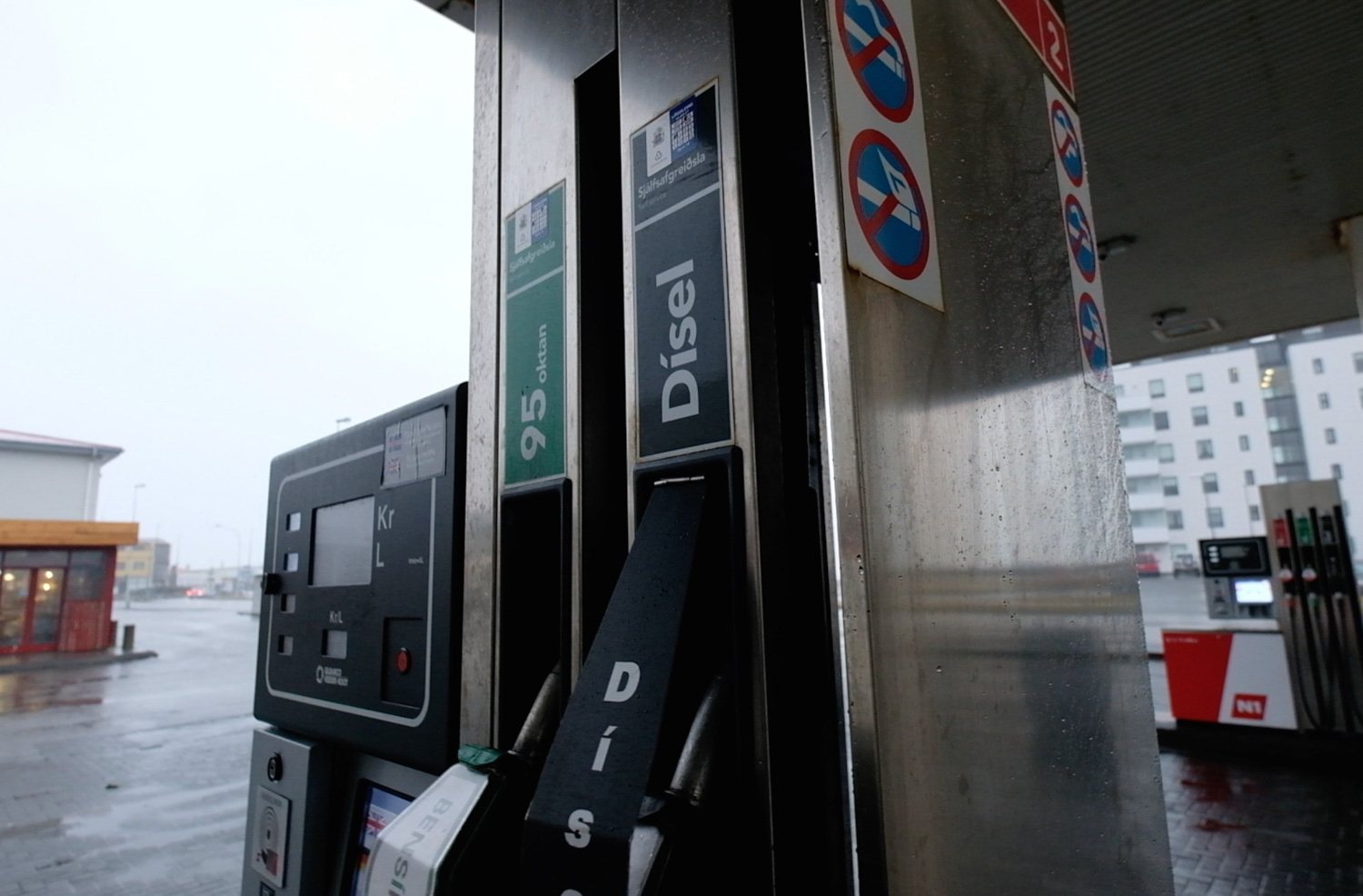 Getting Gas
Your van may require diesel, so be SURE to confirm with your rental company. Unlike in the US, the diesel pumps in Iceland are black and regular gas pumps are green. Your rental company may give you a discount card on your keys. It is nice to have, but we found that the card only worked at two out of five gas stations we went to.
Helpful  Tip
When you fill up, go inside to have an attendant turn on your pump, and then pay after filling up. International cards won't always work outside, so it's easier to just pay inside.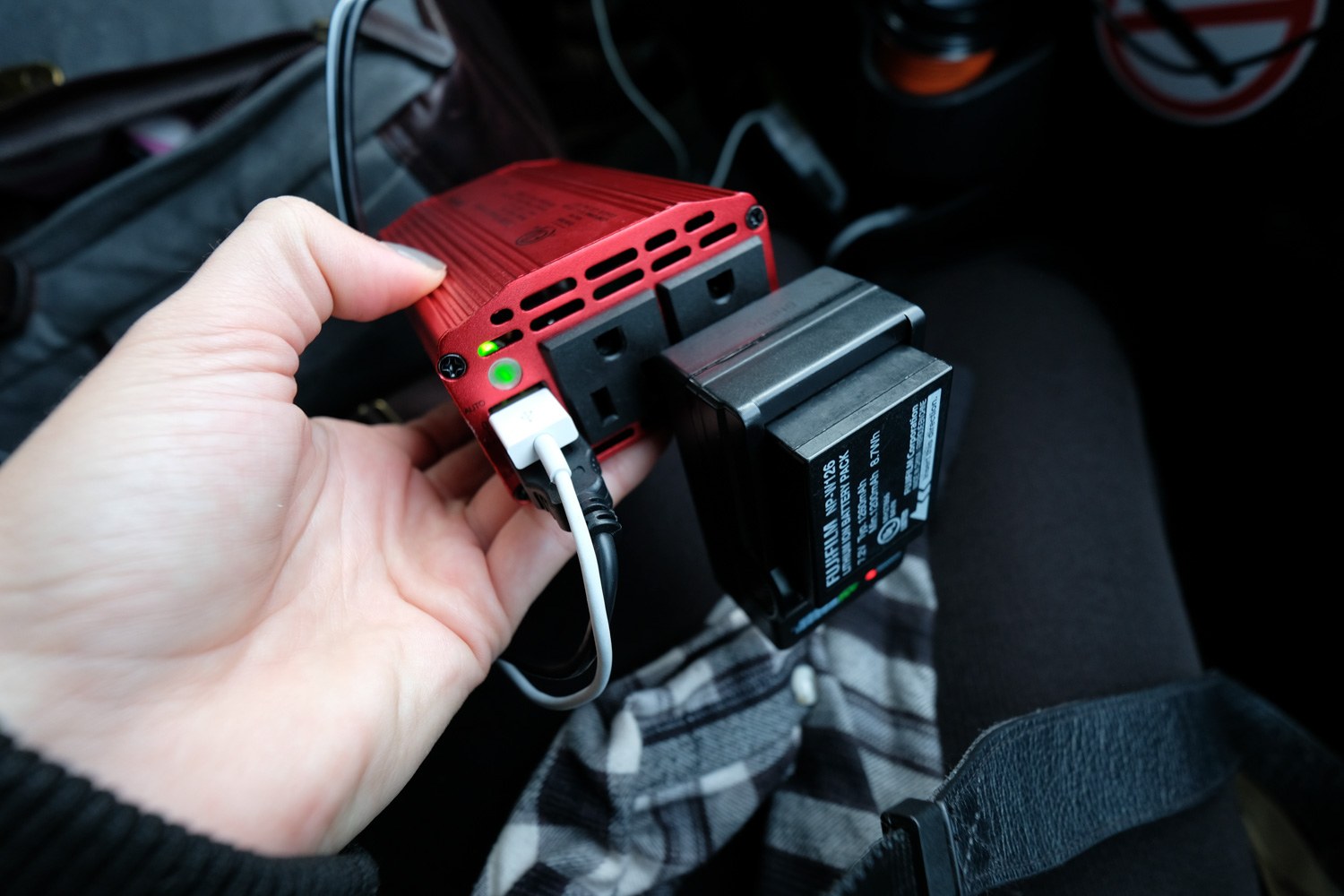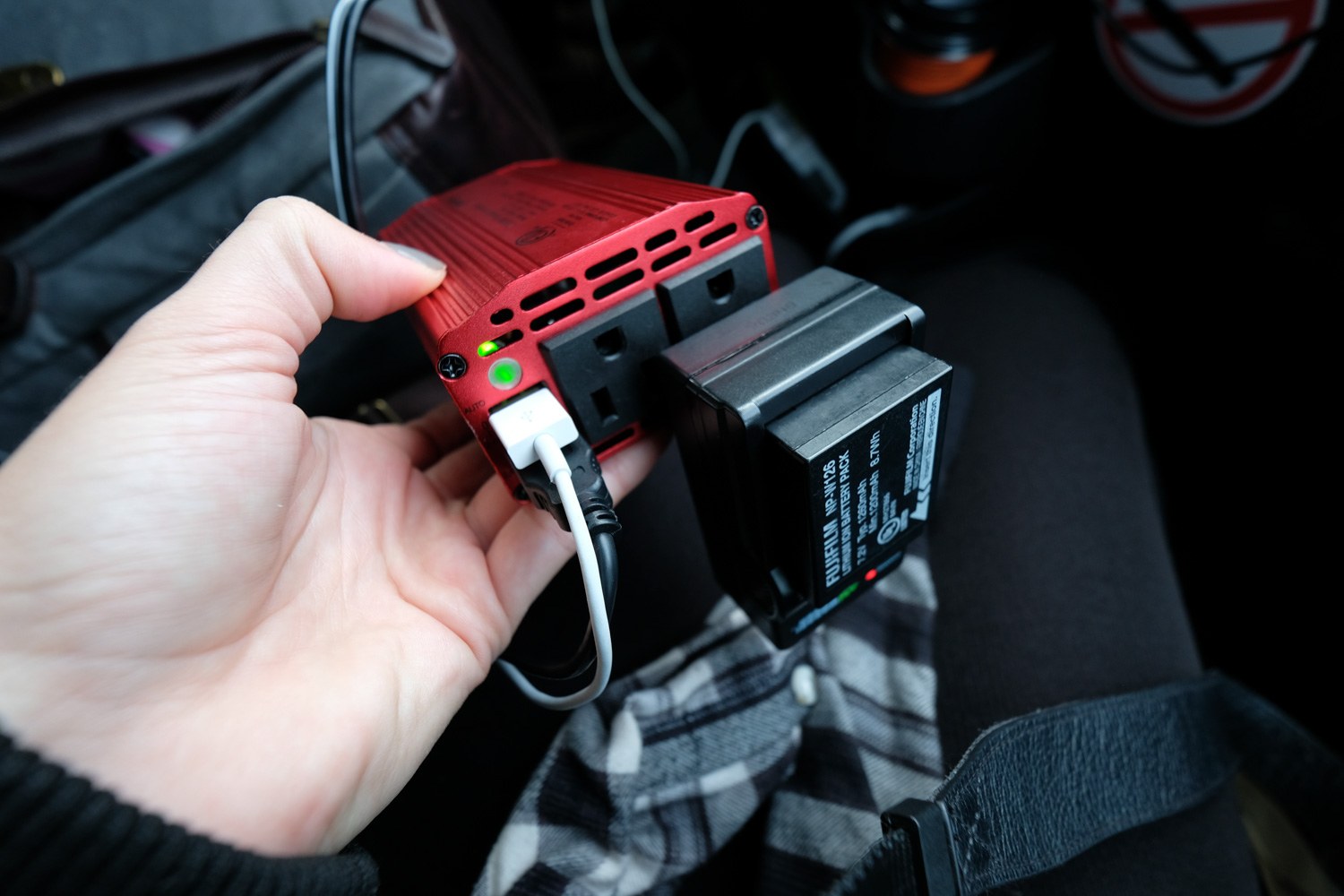 Bring an Inverter
Charging cameras and gear means that you'll need extra plugs. We rented an additional single outlet inverter from Happy Campers, which was very handy to have. This two-USB-post + two-outlet inverter worked perfectly for us. If you are bringing a lot of electronics, plan to bring two of them.
Helpful  Tip
Don't charge everything at once. We blew all three of the cigarette lighters in our car from charging too much. Fortunately, you can get replacement fuses at gas stations so it's an easy fix.

Stay Connected
Even if you want to get away from it all, it's still important to have Internet access for navigating. Get a Skyroam Wi-Fi hotspot or a local SIM card so you can find your way around and post your favorite shots of Iceland. I used a Skyroam hotspot on my whole trip and it worked perfectly.
For a limited time, get an unlimited Skyroam subscription for $99/month!
If you're traveling in a group, Skyroam can connect up to 5 devices, so it's a great investment to split it among your fellow adventurers.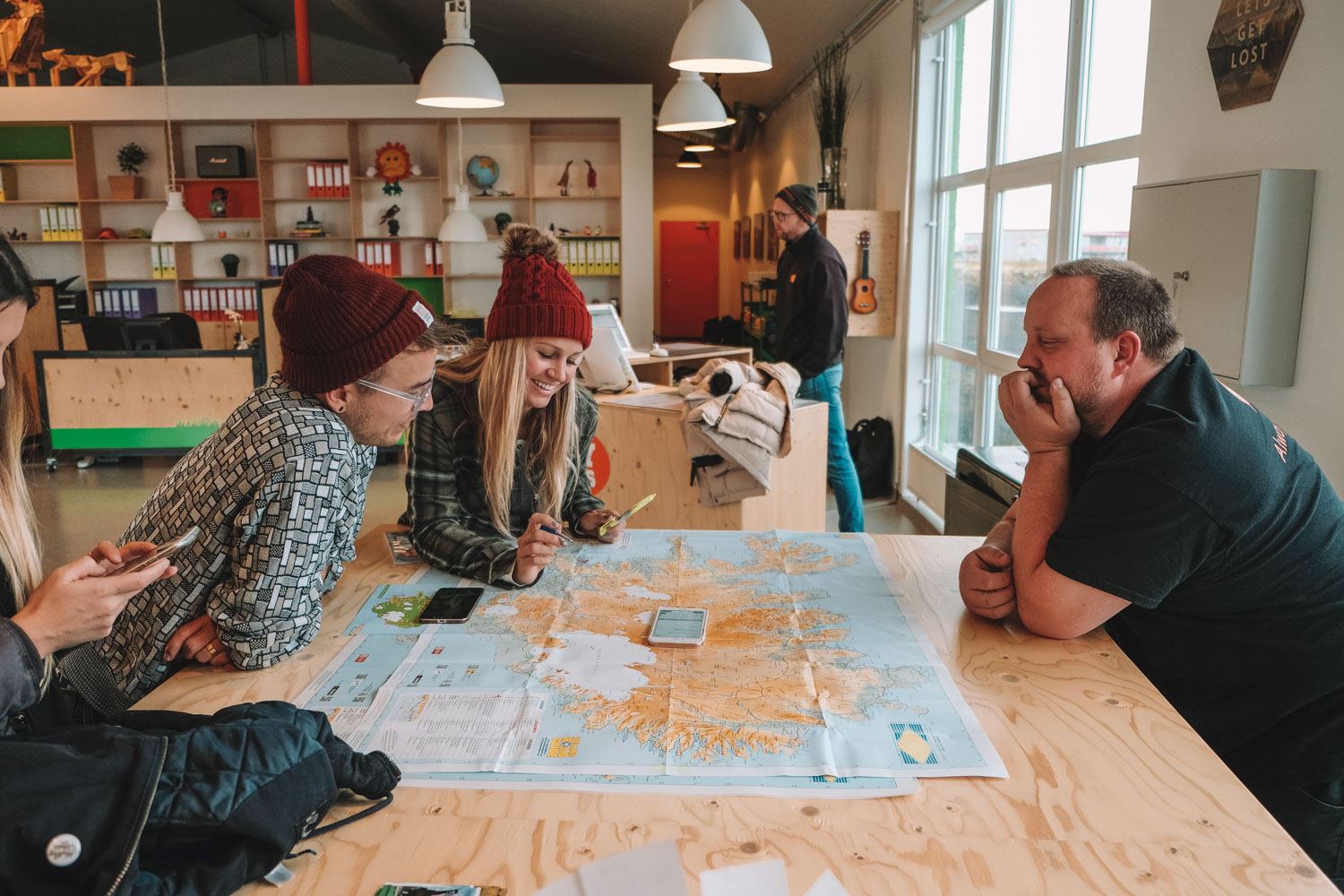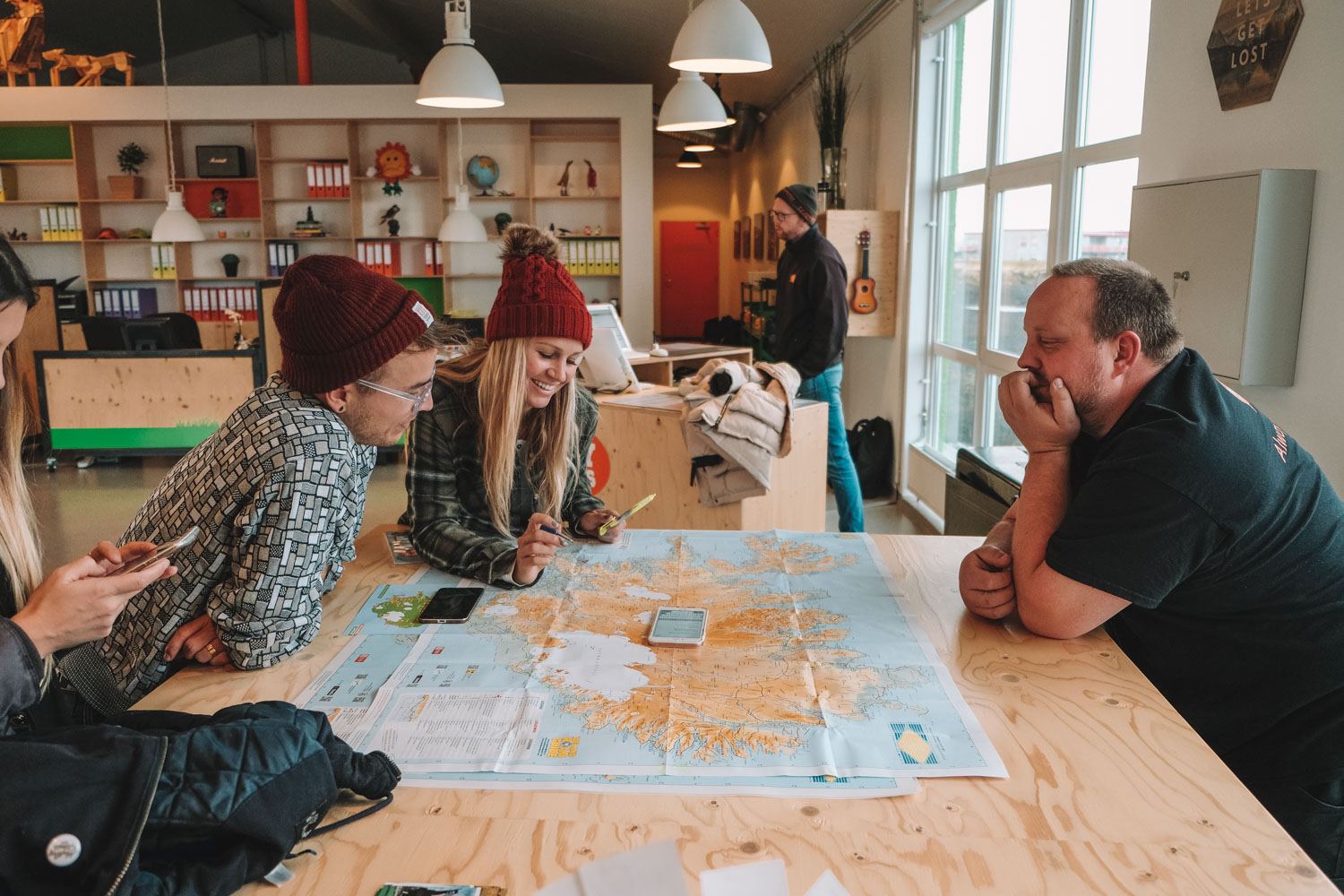 Navigation
It's important to get a physical map for your drive to cross-reference with your phone map. Sometimes it's easier to look at the bigger picture on a map rather than just trusting your phone for turn-by-turn navigation.
We actually used our physical map more than our phones because it was nice to see where we were headed.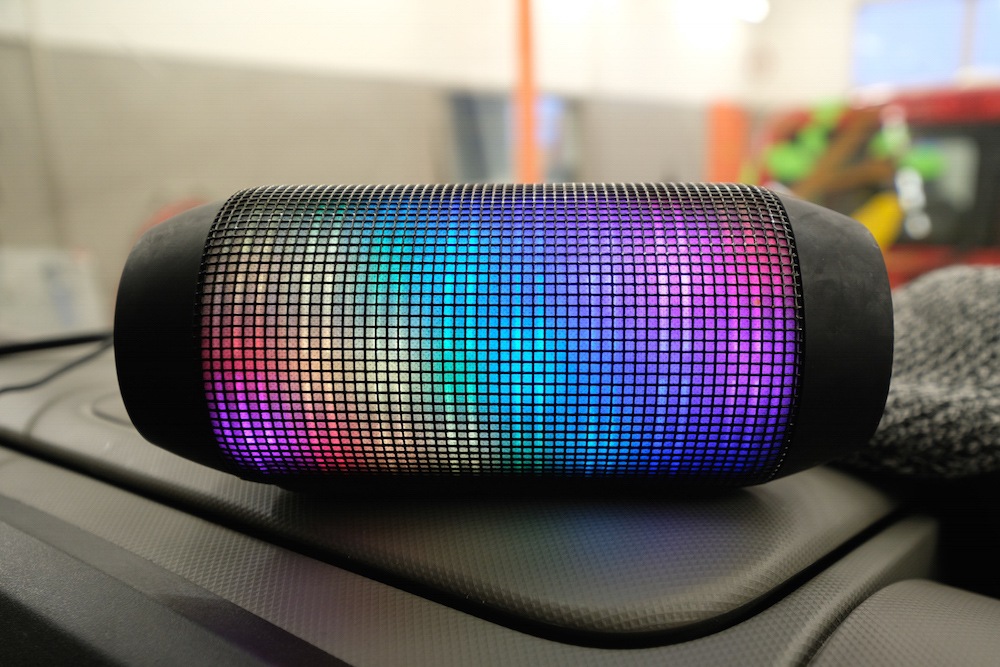 Download Playlists
You will be in your van for a LONG time, so create a ton of playlists before you go. It's good to have different music for different moods, so download a bit of everything.
Helpful  Tip
If you're using Spotify, be sure to download your favorite playlists to use in offline mode so you don't need to use data to listen along!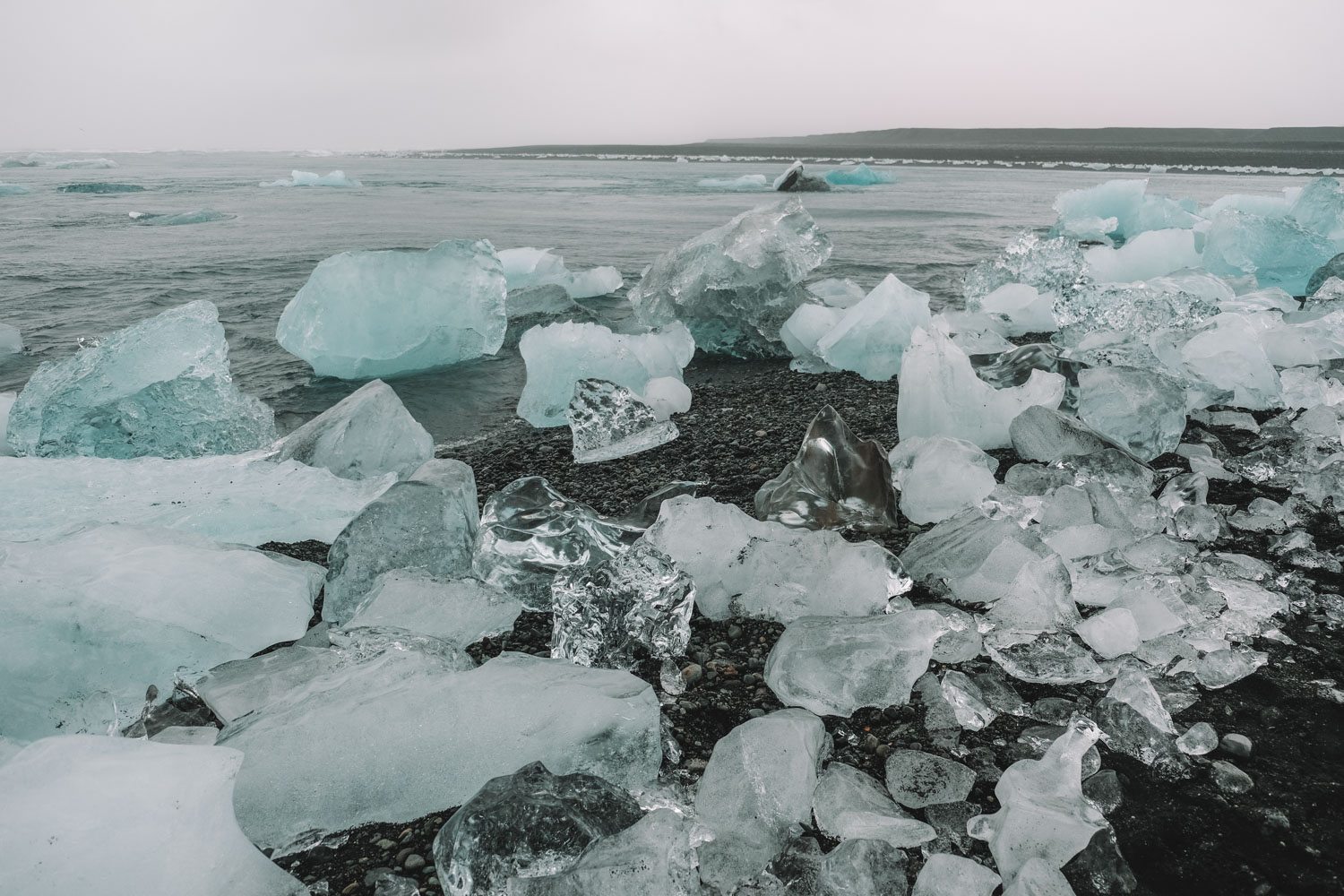 Take Caution
Road signs in Iceland are in Icelandic, so come prepared. It won't take long to familiarize yourself with all of the common street signs, and it is worth every minute spent.
It's also incredibly important to be confident driving a manual transmission. You won't find any automatic campers in Iceland, so be ready. You definitely don't want to have to learn to drive a stick shift after you arrive. If you need to, practice at home before you go. It's a really useful skill for international travel since automatic cars are few and far between.
CAUTION: When you are on the road, expect sheep and serious WIND. While driving in Iceland is incredibly fun, it is not like your daily urban commute.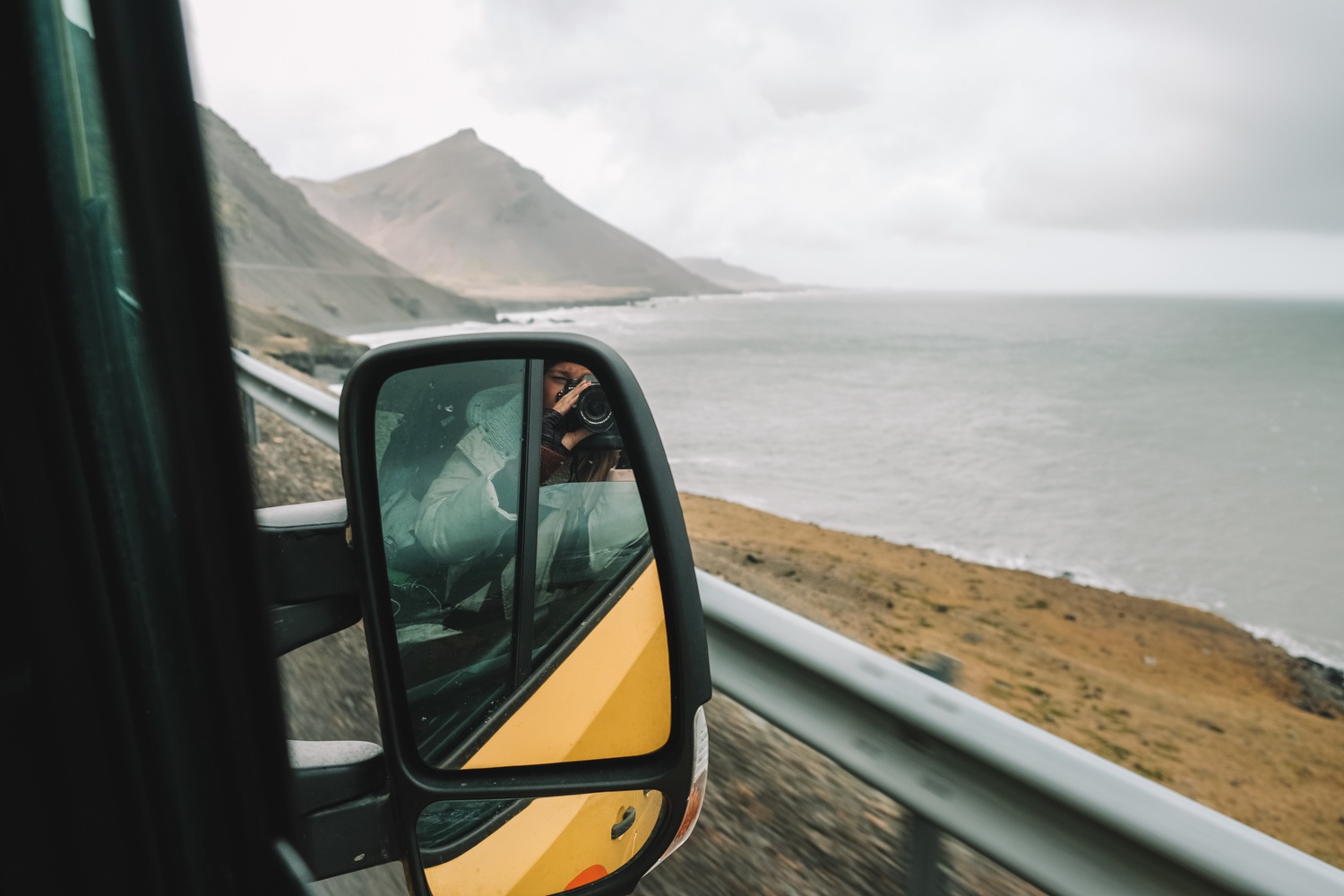 Get Travel Insurance
This is a personal decision but insurance is something that I recommend. Your camper is likely to see some damage. With the wind and gravel, it's hard to keep a vehicle pristine.
We had the wind blow our car door open and bend the frame. It was over 3,000 euros in damage and my World Nomads travel insurance policy covered it. World Nomads covers personal loss, theft, damages, and medical as well, so when I also had to see a doctor in Iceland, I was reimbursed for that visit!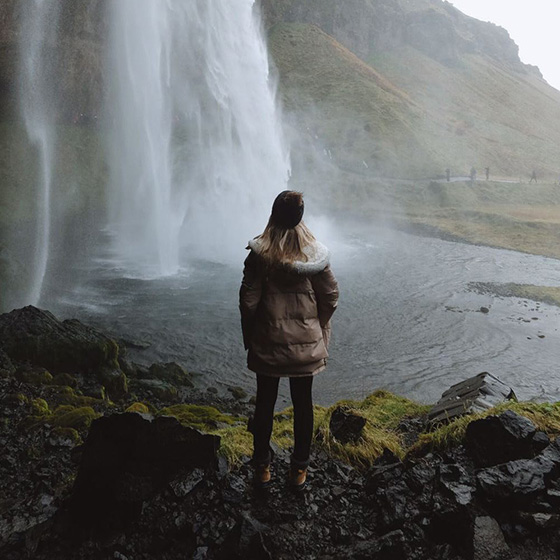 Ready for the adventure of a lifetime? One of Europe's most magical and unforgettable spots; Iceland is the ultimate road trip destination.
Read More