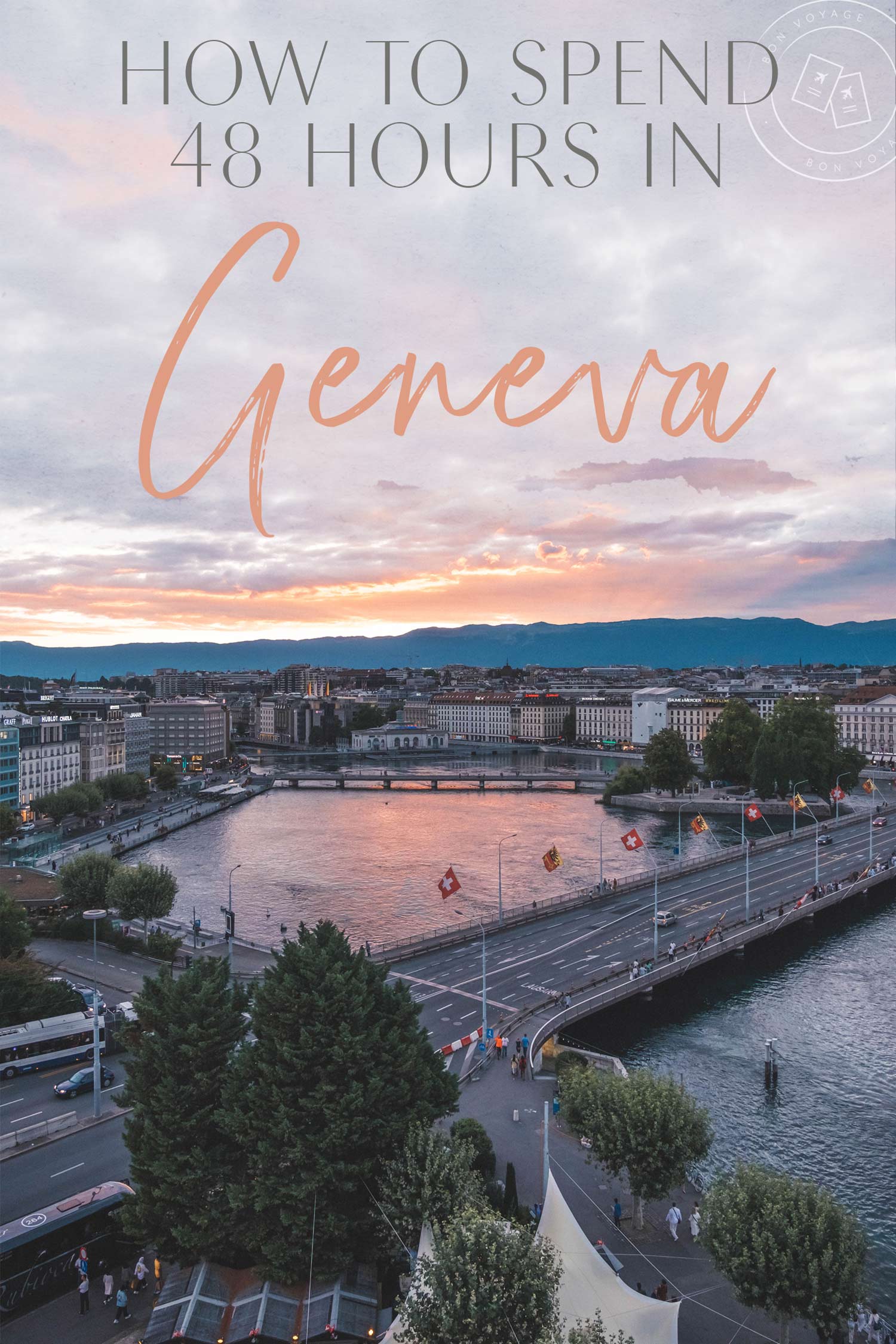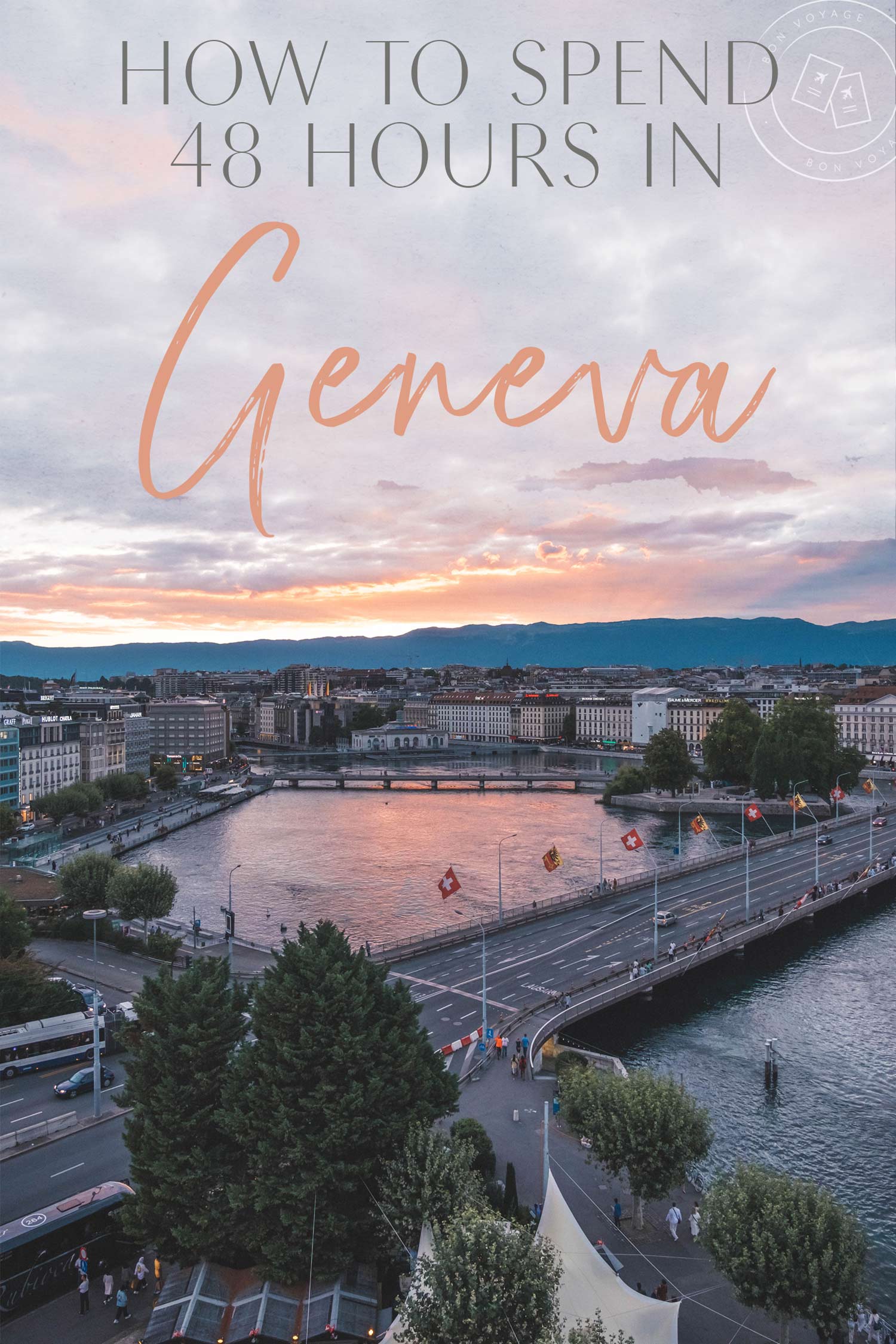 With endless amounts of chocolate, an incredibly rich history, and one of the most beautiful mountain ranges in the world, Geneva is the perfect place to begin your adventure in Switzerland. While there's so much to see and do when visiting, there are a few highlights that are must-see's when you're on a time crunch.
Here's how to spend 48 hours in Geneva, Switzerland!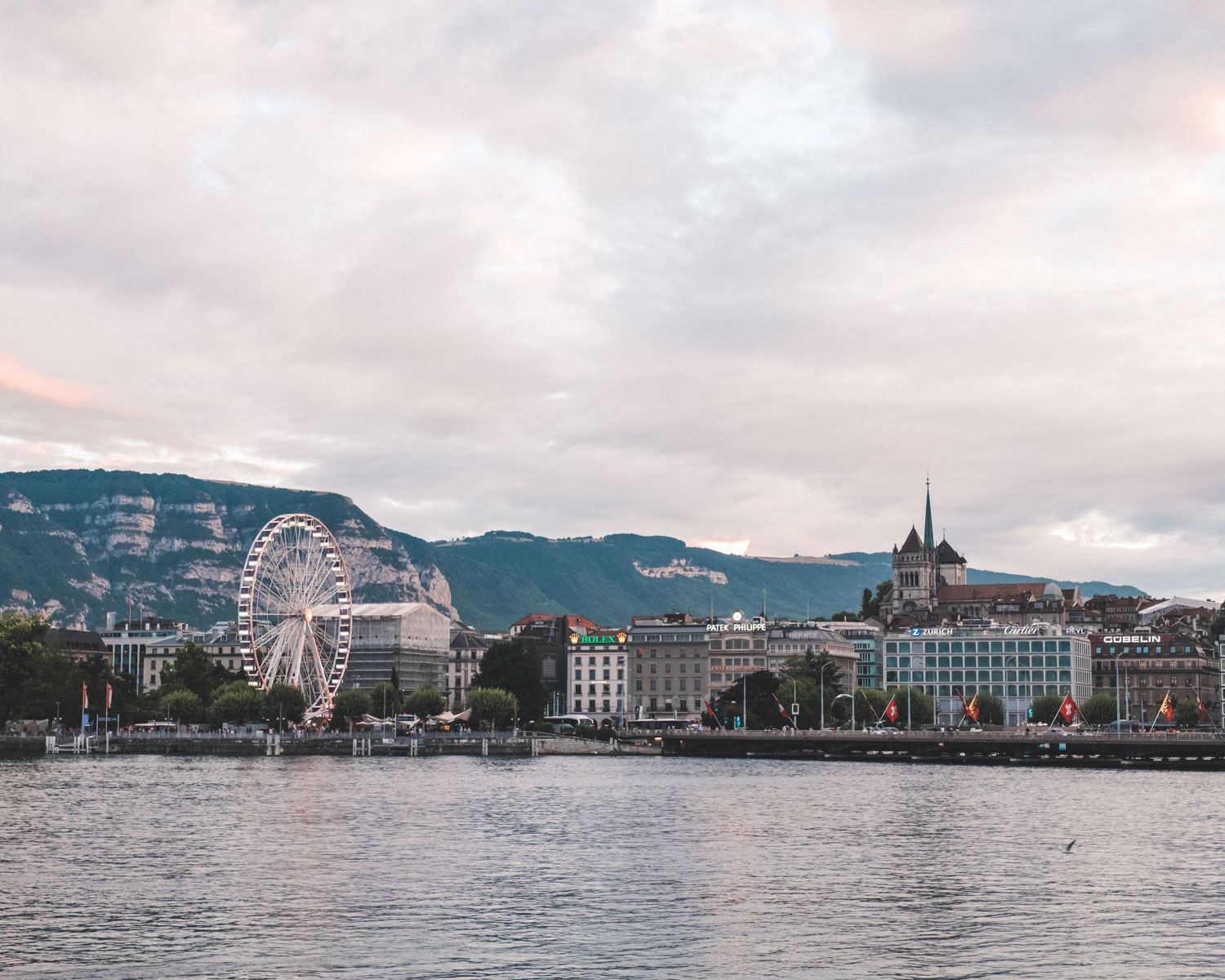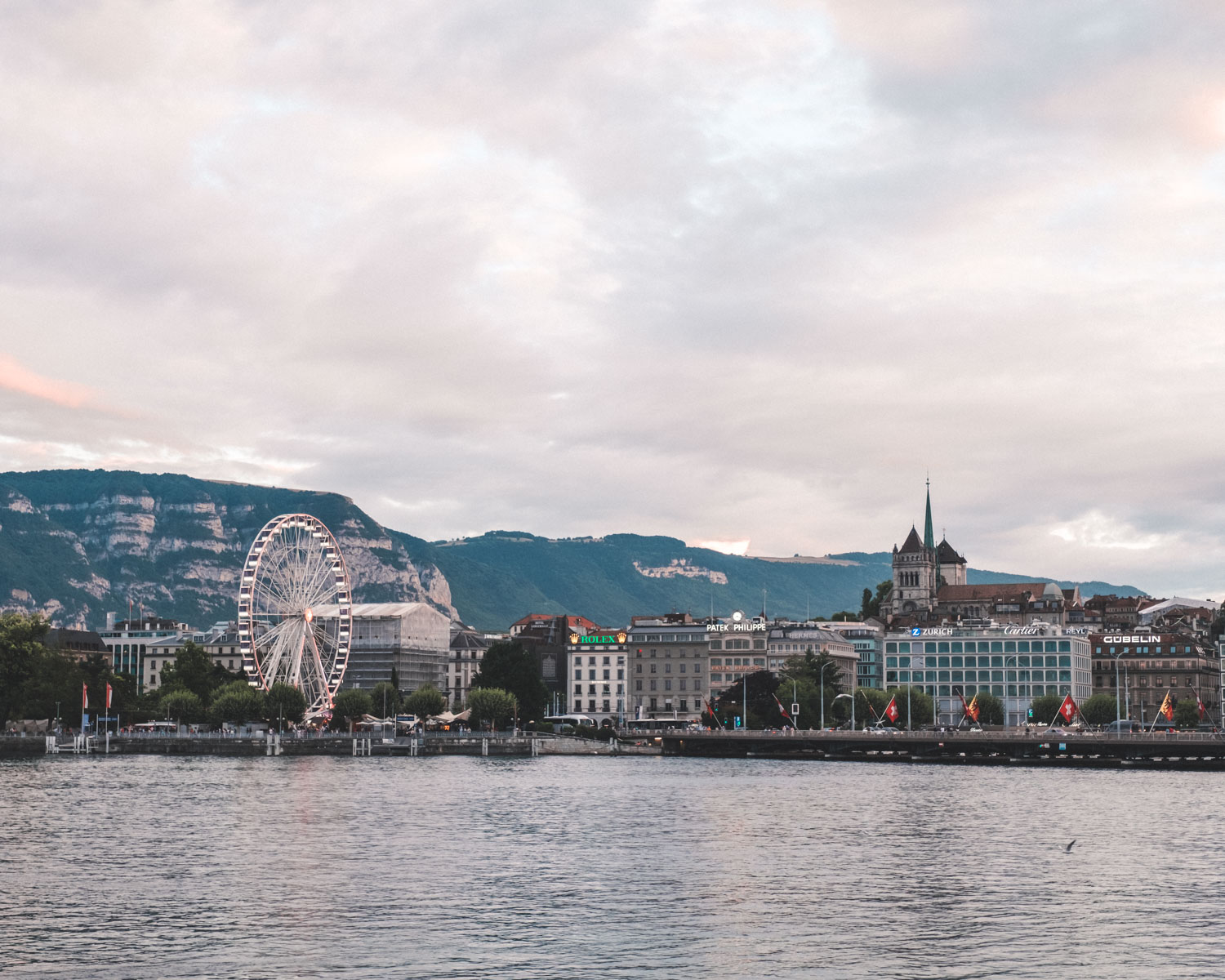 Getting to Geneva
The easiest way to get from Geneva Airport into the city is with the train. You can pick up your free ticket from the baggage reclaim hall and avoid the expensive taxi fare.
The train departs the airport every 10-20 minutes, and the journey takes six minutes to reach the Genève-Cornavin station in Geneva's city center. Once you arrive, you can catch a local bus or the tram to your hotel.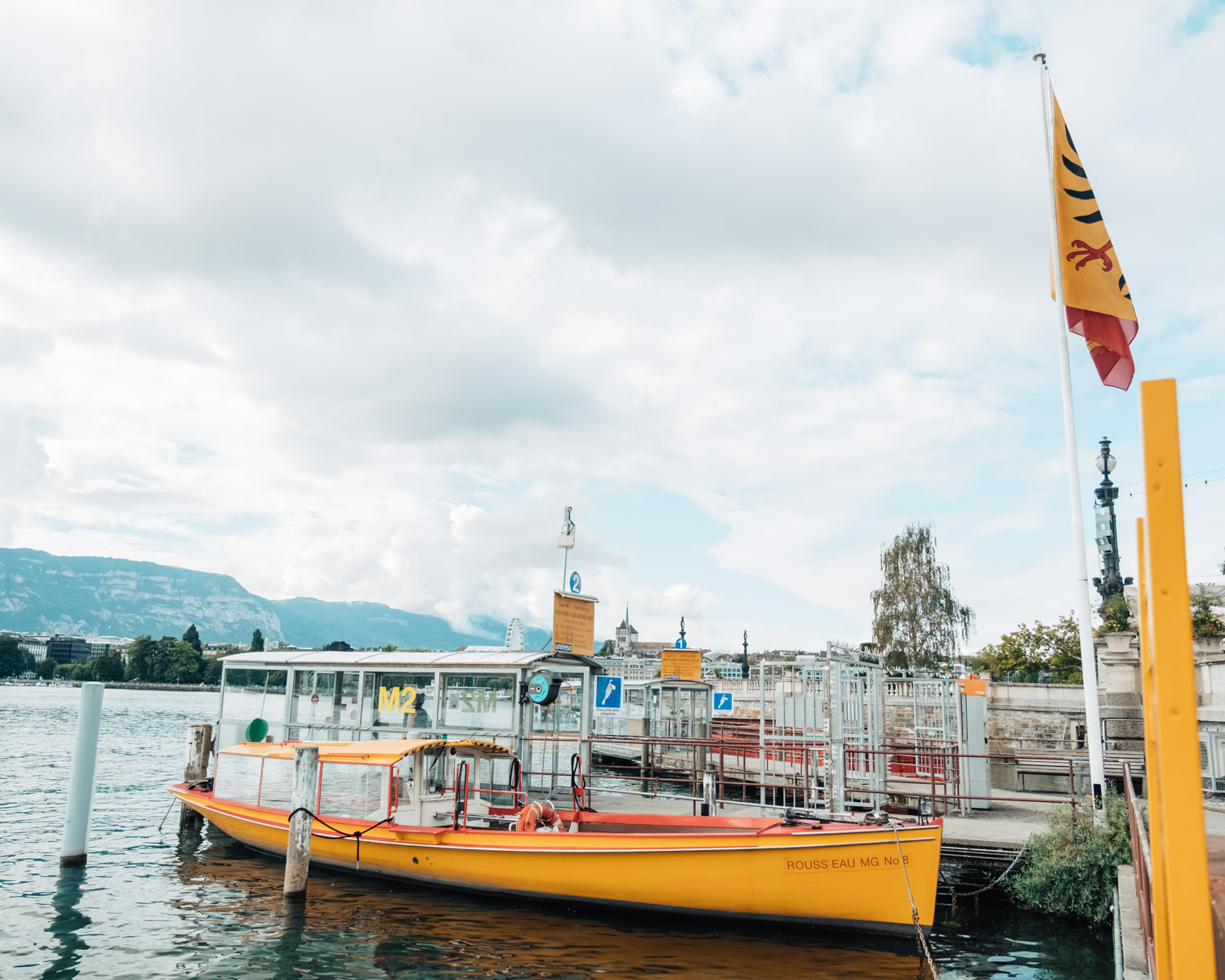 Getting Around Geneva
One of the best ways to get around in Geneva is with a bicycle. You can get four hours of free rental with Genève Roule between April and October.
However, if you're not a cycling fan, you can use your free Geneva Transport Card to explore the city. Every visitor to the city receives it upon check-in at their hotel, hostel or campsite.
It's valid for the entire duration of your stay and includes the city's buses, tramways, boats, and trains.
If you're passing through Geneva, you can also buy a one-day pass for the city's public transportation system at any CFF station, TPG Sales Offices or Tourist Information Desks.

Where to Stay in Geneva
Hotel Les Arcades
If you're traveling to Geneva on a budget, Hotel Les Arcades is an excellent option. It's only a 20-minute walk from the city center and has all the basics you'll need.
Tiffany Hotel
Located in Geneva's art district, the Tiffany Hotel is just a 10-minute walk to Lake Geneva. You'll also be near a bunch of trendy cafes and bars. It's the perfect choice if you're looking for a boutique hotel that's close enough to attractions and anything else you might need.
Mandarin Oriental Geneva
The Mandarin Oriental Geneva is my absolute go-to anytime I visit! Situated right on the Rhone River, it's only 5-minutes away from Old Town and the cultural and touristic districts.
The 189 modern rooms feature plenty of art and some beautiful views of the river. There's also an on-site Michelin star Indian restaurant!

Day One

Breakfast at Cafe Restaurant du Parc Des Bastions
The late 19th-century pavilion offers some of the best breakfast in the city and is the perfect spot to kick off your short time in Geneva. There is a great indoor seating area or a beautiful outdoor terrace if you're looking to soak up some sun.
Tour the Palais Des Nations
After breakfast head over to the Palace of Nations which houses the United Nations Office. The best way to see it is to take a guided tour.
Proof of identity is needed for the tour so pack your passport! Tour times vary so check ahead before you go and don't worry about making reservations.
Have a Picnic
If you want to cut down on costs while in Geneva, you can opt for a picnic by Bains des Paquis. Head to Migros, a local grocery store, and stock up on all your favorites. I highly recommend grabbing some local cheese and chocolate!
Explore Bains des Paquis
Bains is an artificial peninsula that's surrounded by a beach. It's the perfect spot to spend the afternoon, and the entrance fee is only CHF 50.
You'll get access to the saunas, the La Bouvette des Bains restaurant (which is super affordable and delicious), the beach and you can book a massage for CHF 60. It's also one of the best places in Geneva to grab a cocktail and watch the sunset!

Day Two
Explore Old Town
Grab an early breakfast at your hotel and head to Old Town Geneva for the morning. It offers everything from a stunning cathedral to a number of unusual art galleries.
Some of my favorite highlights include Cathedral St. Pierre, La Place du Bourg-de-Four, Maison Tavel, and the Old Arsenal.
Fish on Lake Geneva
No trip to Geneva would be complete without spending a few hours exploring Lake Geneva. You can hire a paddleboard, go kayaking or buy a fishing permit for only 10 CHF.
Tip: If you want to paddleboard, get the Geneva pass! It allows you to visit over 50 attractions and it comes with free paddleboard rental!
Explore the Carouge Neighborhood
Carouge is considered Geneva's bohemian neighborhood. You'll find lots of beautiful restaurants, bars, and cafes, making it the perfect place to wind down after a day at the lake.
Get Fondue at Cafe du Soleil
If you're a foodie, like me, don't miss out on trying from fondue in Geneva. I went to Cafe du Soleil for a late afternoon snack and highly recommend it!
Go Paragliding
If you have a little extra time, you absolutely need to paraglide in Geneva! What better way to see the city than from the sky?
From the Saleve mountain in France, you'll make your way over Lake Geneva, the Alps, and more! 

Other Activities
If you have extra time in your Geneva itinerary, here are a few other things to do in the city:
Explore the Plainpalais market
Make your own swiss army knife at Victorinox (you need to book months in advance)
Visit the Red Cross Museum and Physics Museum
Visit Geneva during one of the city's festivals like Fete de la Musique or Le Escalade
Go to the Pointe de la Jonction
Visit the Flower Clock

Overall
Geneva is an amazing city to visit if you have a stopover in Switzerland. There's plenty to see and things like the Geneva Pass and the free Geneva Transport Card, make it a super affordable destination!

Do you have any tips for spending 48 hours in Geneva? Let me know in the comments!