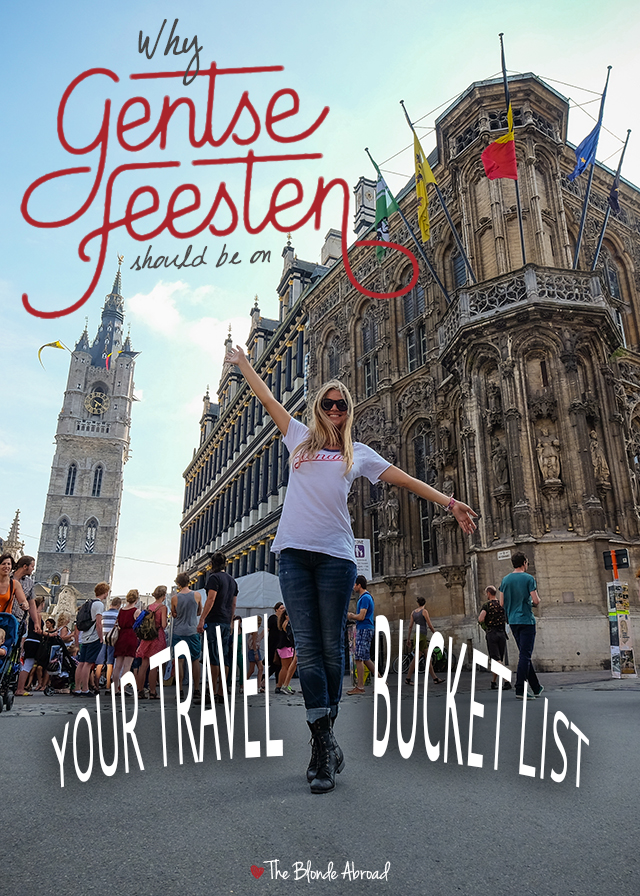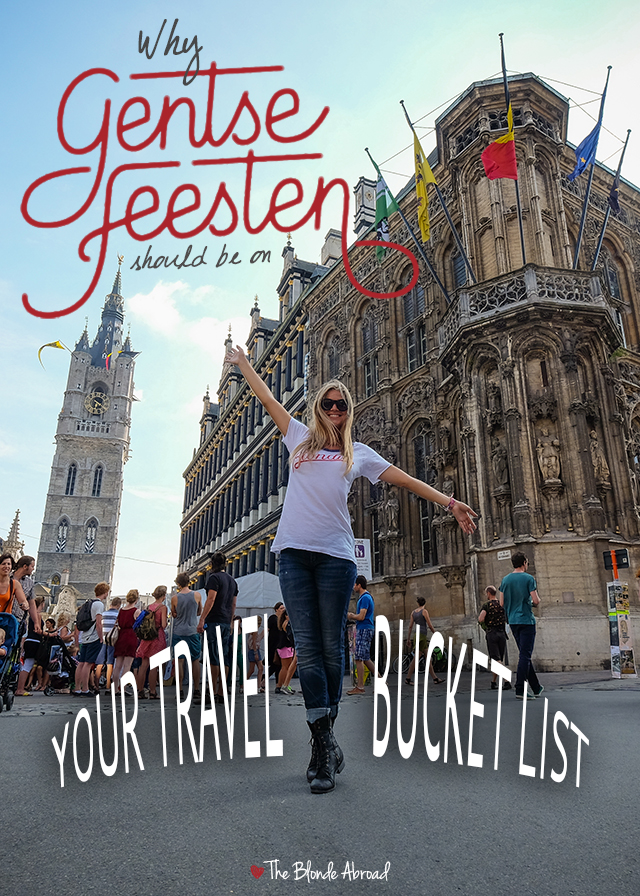 The Gentse Feesten has been around for over 150 years and, with over 2 million annual visitors, is one of the biggest and most popular cultural festivals in Europe.
Never heard of it? Keep reading.
Gentse Feesten is Flemish for "Ghent Festival" and is held in Ghent, Belgium annually over the course of ten days. It's no secret that I'm a HUGE fan of Belgium. With incredible beer, delicious treats, beautiful towns and friendly locals, it's become one of my all-time favorite destinations in the entire world.
I first traveled to Ghent a few years ago on a journey to discover the best beers in Belgium and, along with visits to the cities of Bruges and Brussels, I was successful in my mission.
This summer I was thrilled to have two of my very best girlfriends from California traveling with me in Europe and I insisted we fly to Belgium so that I could play tour guide.
Three blondes abroad in Belgium!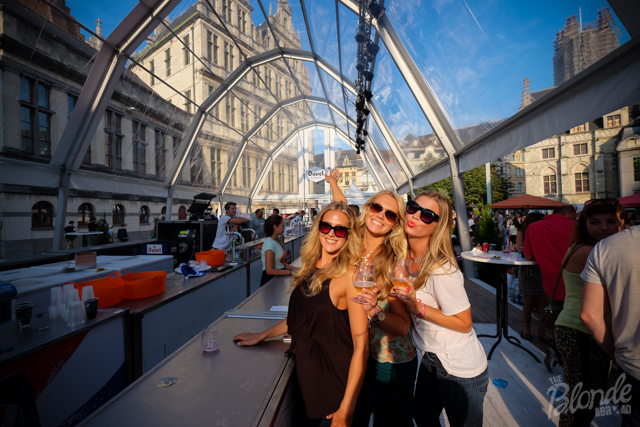 We based ourselves in Brussels and used the quick and inexpensive Belgian rail system to take a day trip to Ghent for the Gentse Feesten. Since the last time I had seen Ghent, it had transformed into a completely different city! Buildings were turned into concert venues, stages showcased performers and artists took to the streets.
It was absolute madness!
While I firmly believe everyone needs to see Ghent outside the dates of the festival for it's charm and beauty, the city dressed in the excitement of the festival is something to be marveled at.
Our day started at a small cafe for some sustenance, a beer (or 2) and a plan. Immediately after being seated, a local dressed as a clown approached our table for a laugh and was greeted by a bit of shock and terror from my friend Chantal.
After that experience, I knew it was going to be a fun day.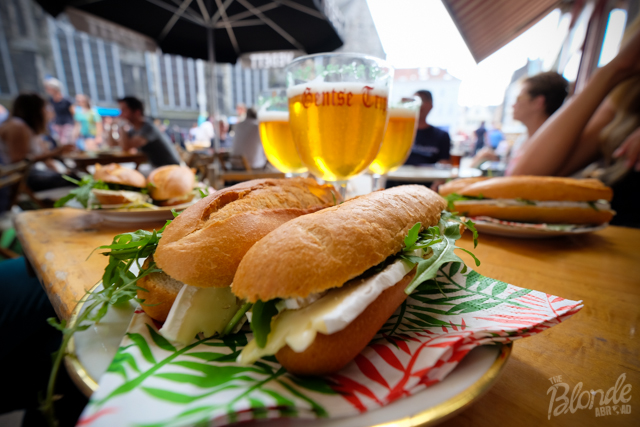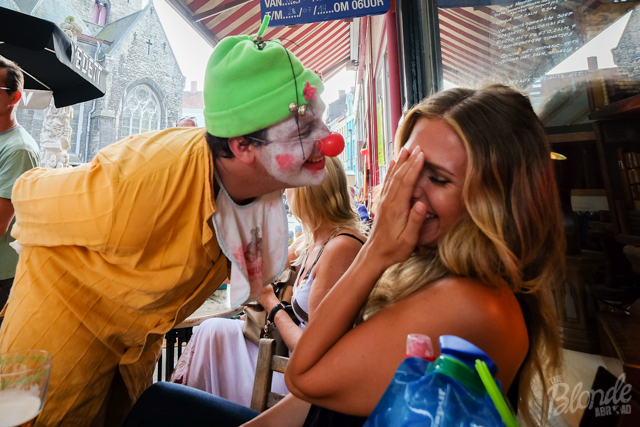 We decided the best plan was to lose ourselves in the streets and see what Ghent had in store for us. We stumbled upon many more street performers that ranged from jugglers to musicians. The mood was cheerful and celebratory and we couldn't help but dance through the town to the beat of our own drum.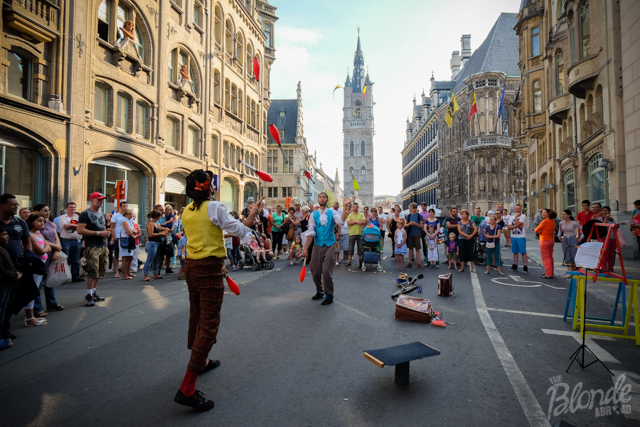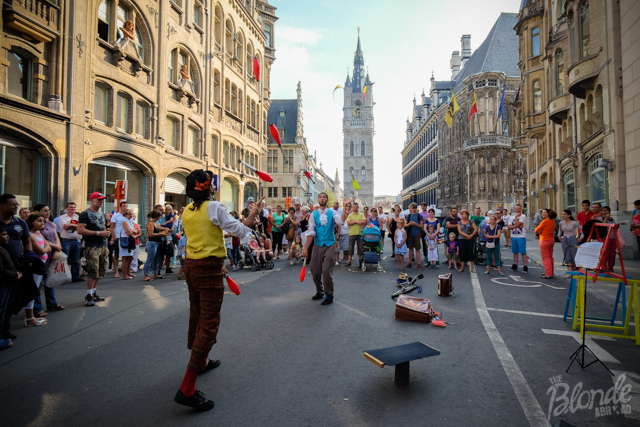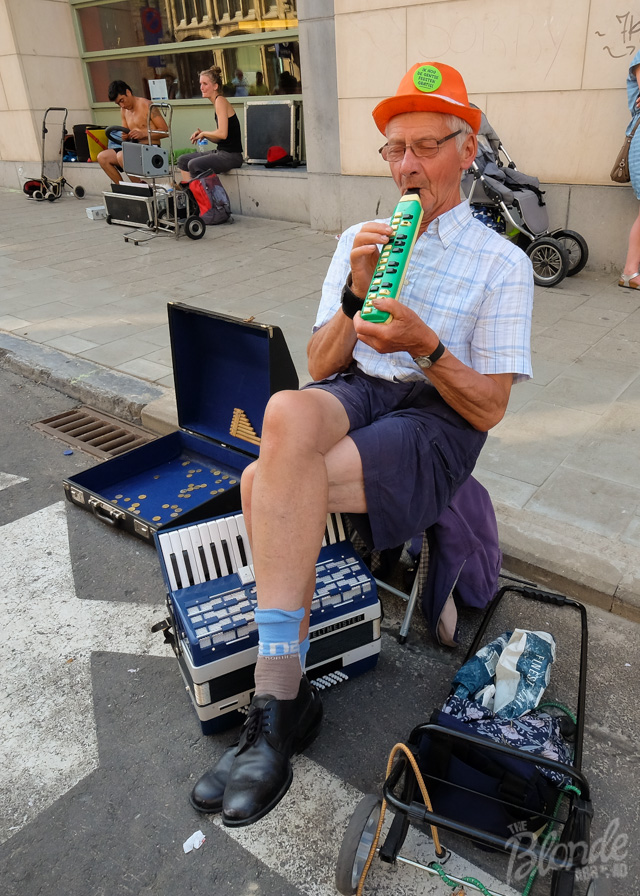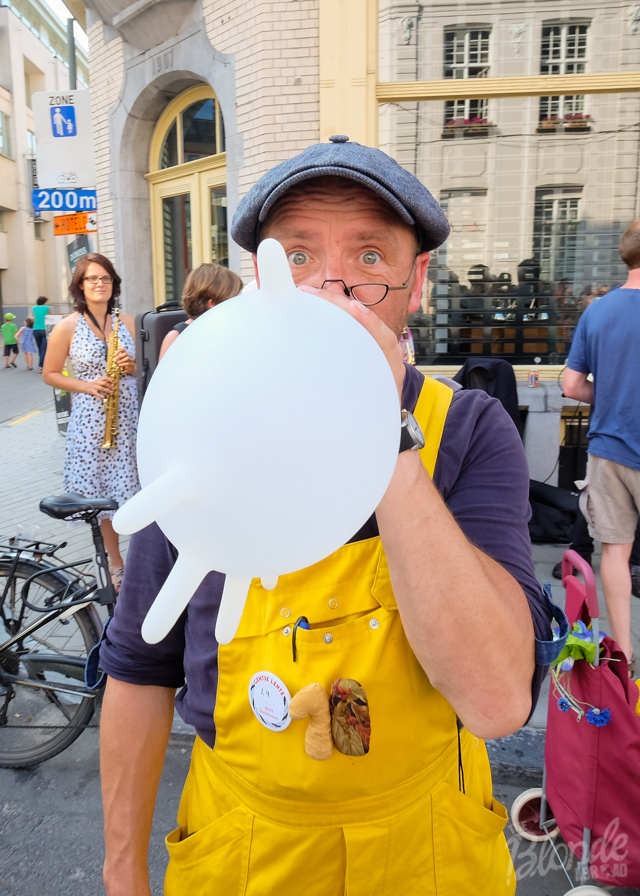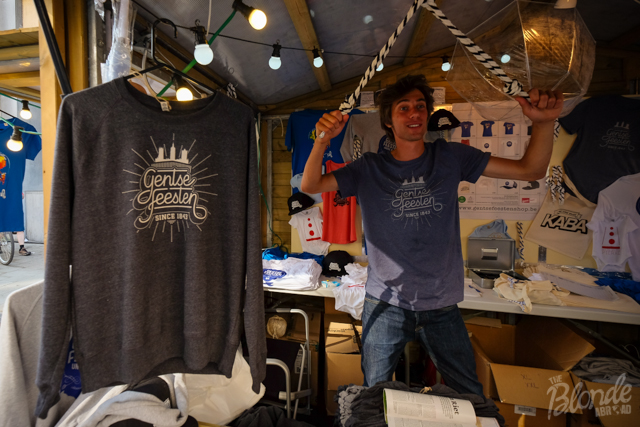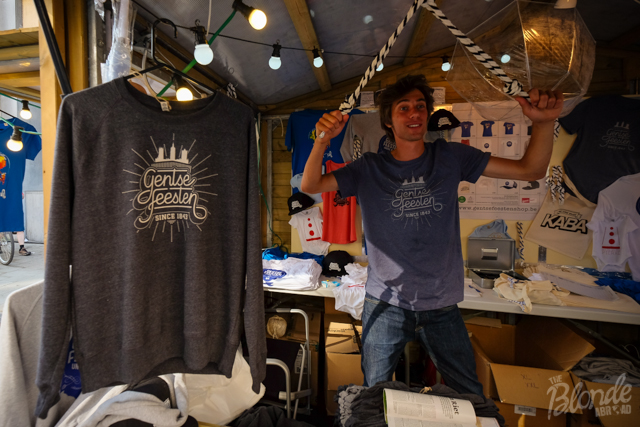 One of my favorite things about Gentse Feesten was how truly Belgian it felt. It's not often you have such a massive festival and nearly everyone you meet is actually from the region.
I continued my role as tour guide, exploring the city and stopping for photo opps at some of the most famous sites, like the Gravensteen Castle and St. Michael's bridge.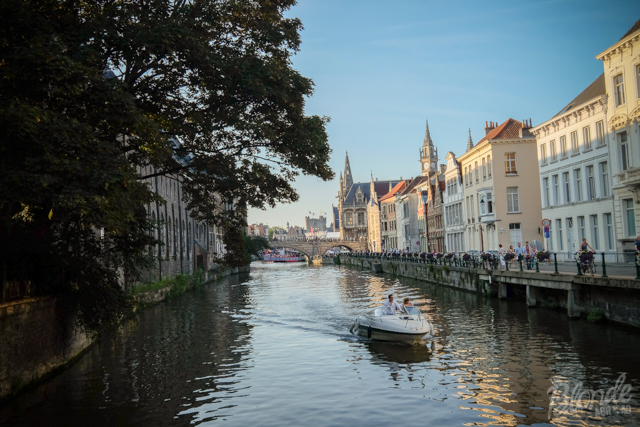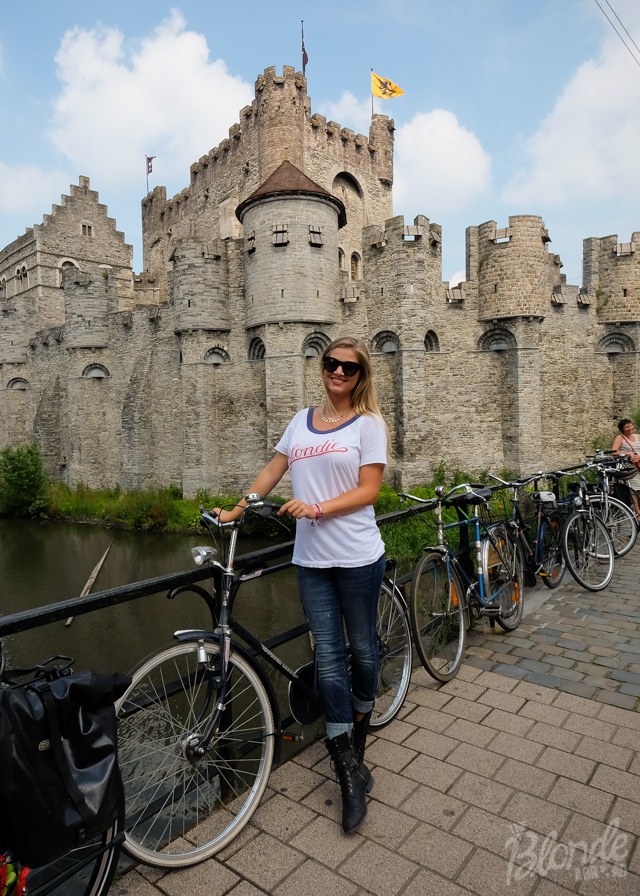 I took the girls to my favorite chocolate shop in the entire world, Chocolaterie Luc Van Hoorebeke, located just next to the Belfy for one of their crème brûlée chocolate cups.
Naturally, we ended up leaving with three bars of chocolate… each.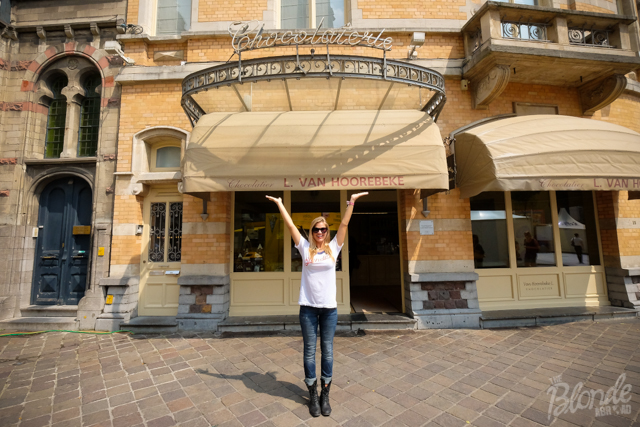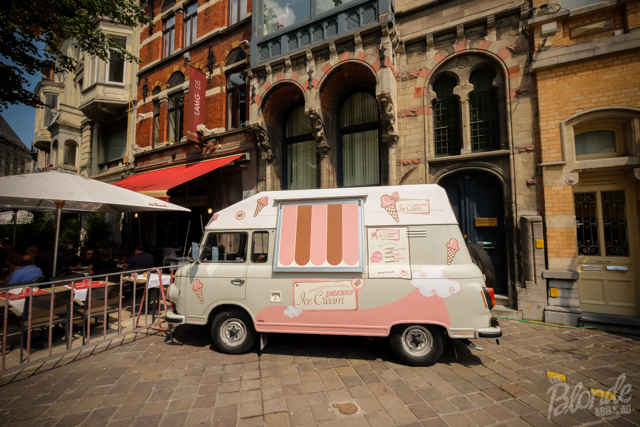 We spent the rest of the day partaking in the activities and festivities of the festival. A mojito at the bar across for Polé Polé was a must, as well as another Belgian beer (or 2) at the Duvel tent.
Just along the river, the restaurants were completely packed with people visiting for the festival. Luck would have it, a little oyster cart was set up just outside one of the dining establishments for those who preferred to shuck-and-go.
It was both of my friends' first times trying fresh oysters and, while I go weak in the knees for their buttery deliciousness, Chantal and Charisse needed a little coaxing. I'm still not sure if Chantal enjoyed them, but I think Charisse and I could have eaten a dozen to ourselves.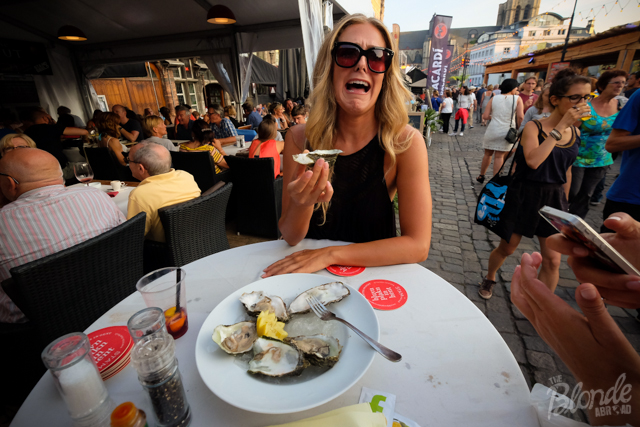 We decided to end our visit just after sunset, though I've heard that's when Gentse Feesten really comes to life. During the day, the festival caters to visitors of all ages, with tons of children's activities and even a "seniors" programme.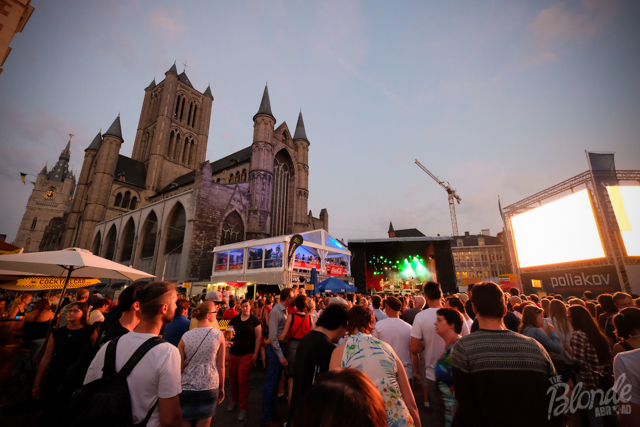 Clubs and musical performances carry on until the wee hours of the morning and are meant to be some of the best parties of the year. I was a little sad to have missed it but, as they say, you gotta save something for next time!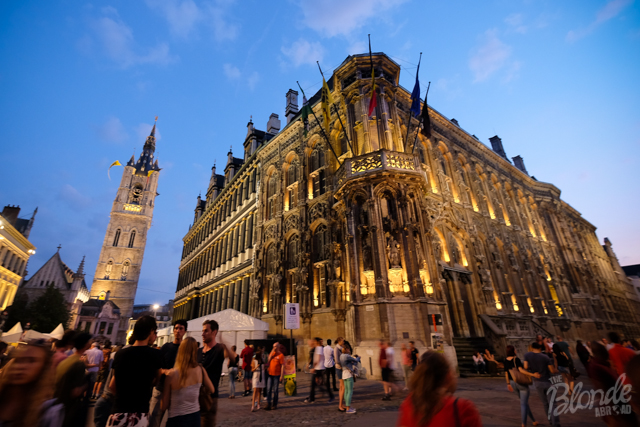 Helpful Tips for Visiting Gentse Feesten
Dates: Starts on the Saturday before July 21 (Belgium's national holiday) and lasts ten days. Getting There: Train tickets to Ghent from within Belgium can be purchased from the train station the day of.
Getting Around: Ghent is super walkable and the local trams are cheap and easy to navigate.
Plan at Least 2 Days to Visit: There's so much to see!
Stay for the Last Day: Known as de dag van de lege portemonnees (the day of the empty wallets), it's famous for cheap food and drinks and is the "locals" day.
There are Festivals within the Festival: There's truly something for everyone at the festival! Don't miss the Jazz Festival, the world music from Polé Polé or the Comedy Festival.
Festival Menus: Many pubs and restaurants limit their menu offerings (and raise prices) during the festival to keep up with the insane amount of customers.
For More Information: Visit the Gentse Feesten website.


Have you been to Gentse Feesten?