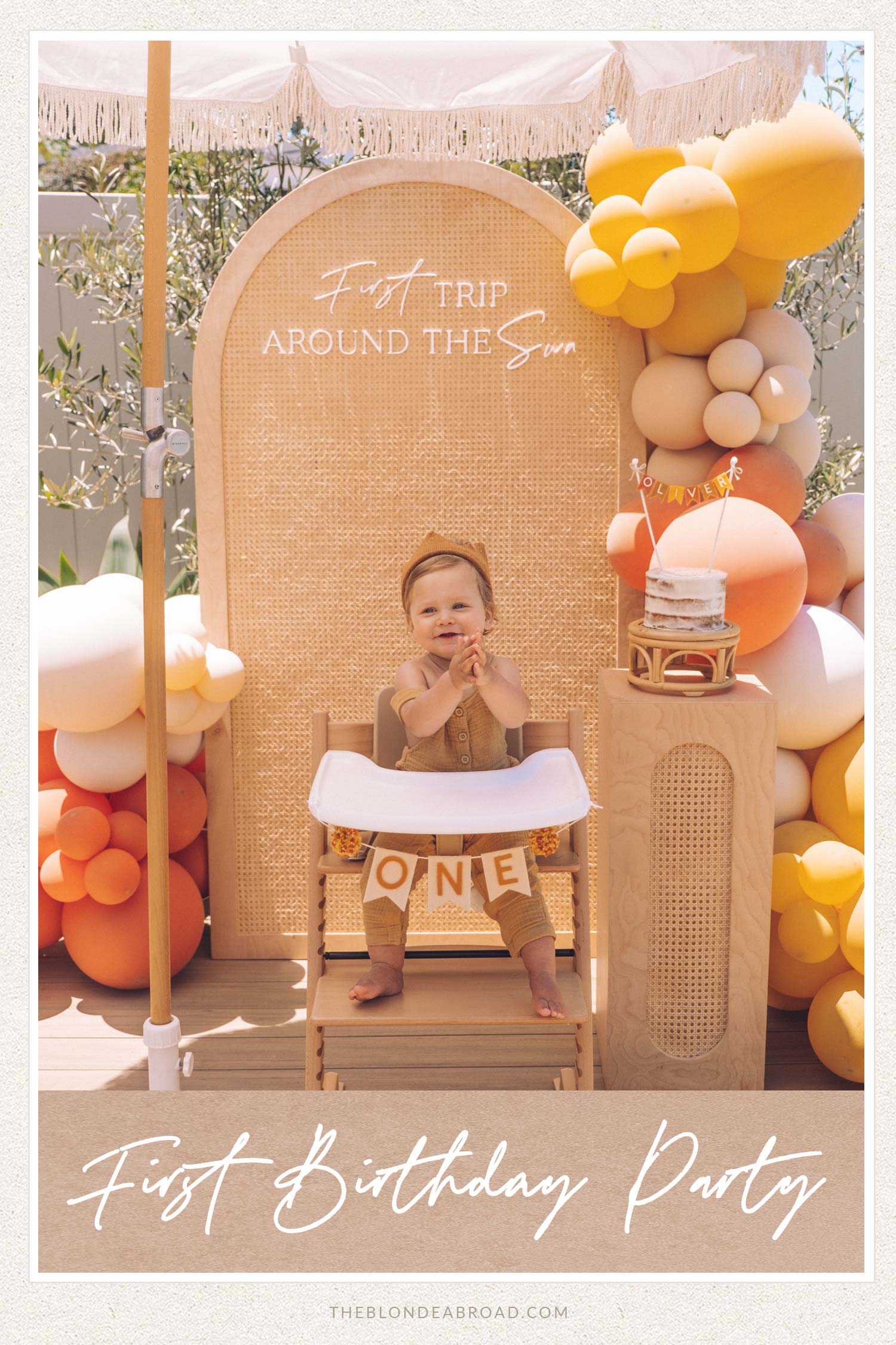 My sweet boy's first trip around the sun!
We spent the most perfect sunny day celebrating our own little sunshine's first birthday with family and friends. I'm not sure if I'll ever be able to look back at these photos without tearing up.
If you're looking for inspiration for your own "First Trip Around the Sun" 1st birthday party
— from decorations to party favors to food —
I'm sharing all the details of Oliver's special day in San Diego!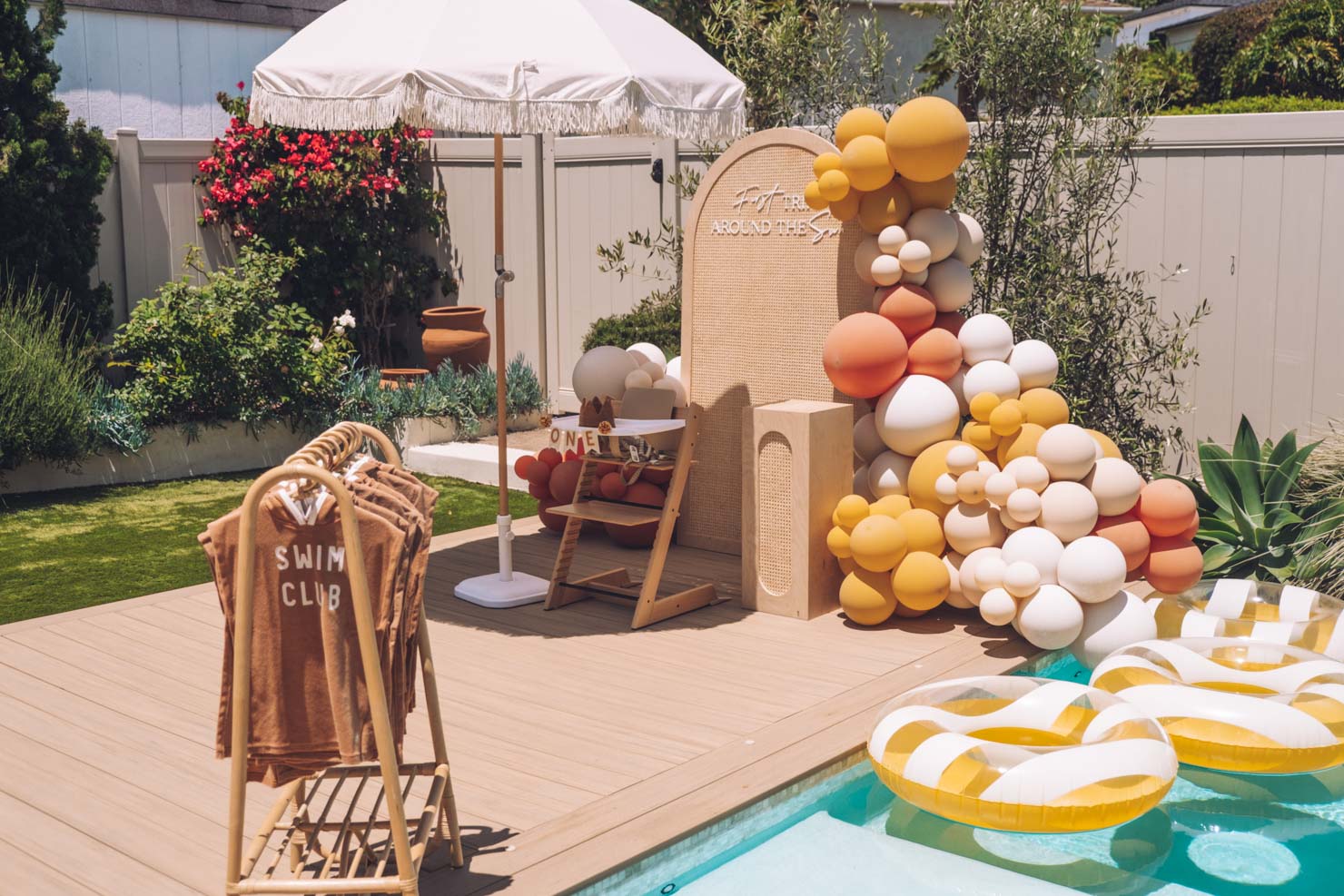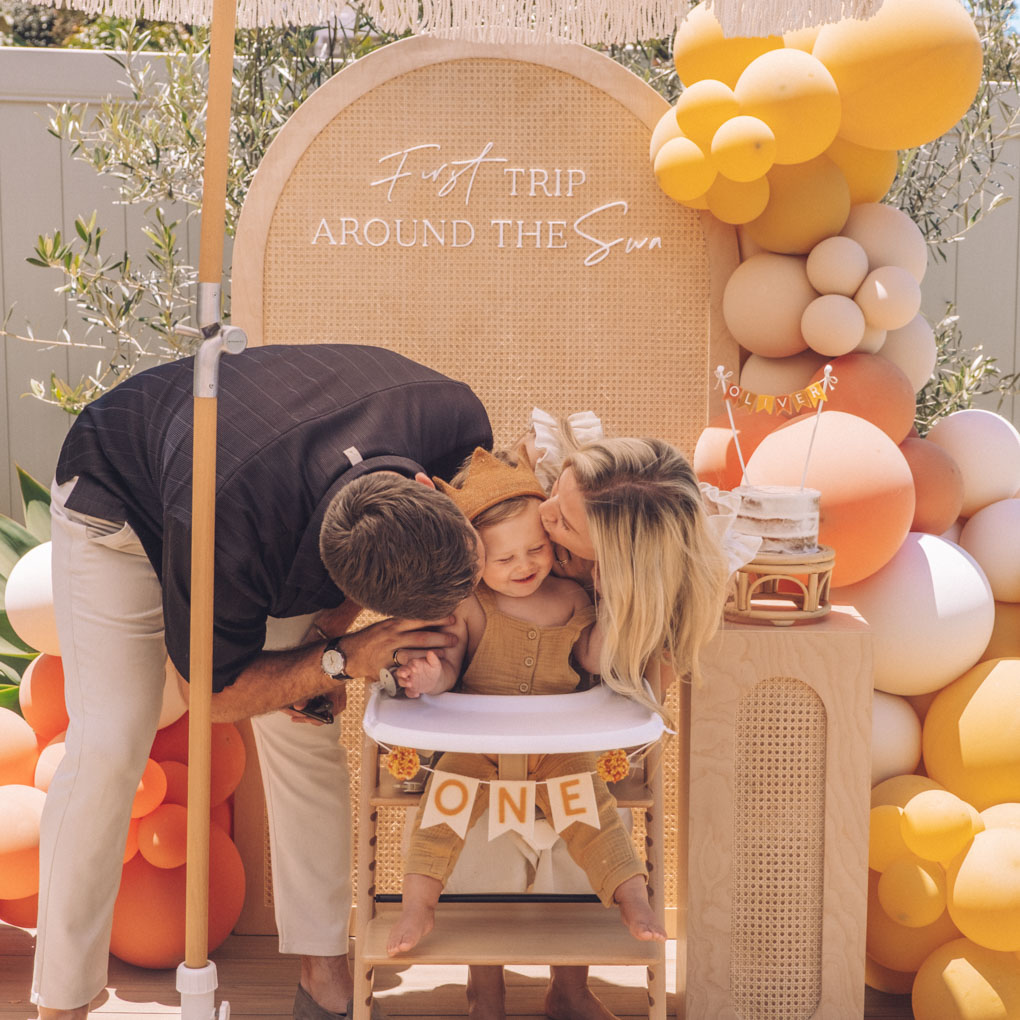 Party Details & Decorations
When it comes to party decorations, a few amazing local San Diego female-owned brands (many of whom I used for my baby shower!) helped make the day so special!
They create biodegradable balloon installations that make the whole setting seriously *pop*. We added gorgeous trains of balloons to the arch backdrop of his cake smash station and his bounce house. Keeping with the "sun" theme, we opted for warm and bright colors!
We went through Boho Babes to rent the cane backdrop, cane cake stand, and umbrella for his cake smash area. And the adorable mini attan clothing rack for the pool ponchos for the kids.
They were able to design the "First Trip Around the Sun" sign for the backdrop which was the perfect touch and brought the theme together beautifully!
I absolutely love furniture rentals for parties—it's such an easy way to transform a space like your backyard into whatever you dream of!
Soft play items are perfect for first birthdays! Oliver LOVED running around his bounce house and the older kids jumped for hours. It also made for ADORABLE photos!
I'll talk more about Little Fox's ice cream tacos in the food section, but I love that this doubled as dessert and decor!
The rental from Little Fox included the darling bike with a floral arrangement for the basket.
Sensory Bins
My friends run an incredible company, SD Little Wonders, that does speech and sensory play pop-up events and private parties around San Diego. They set up water and kinetic san sensory bins for the kids to play with in the yard!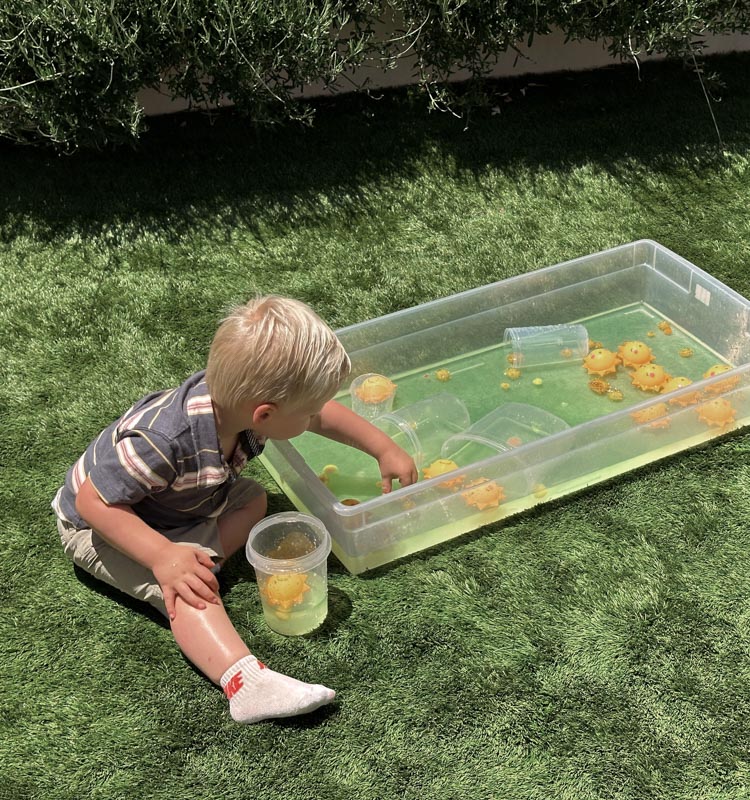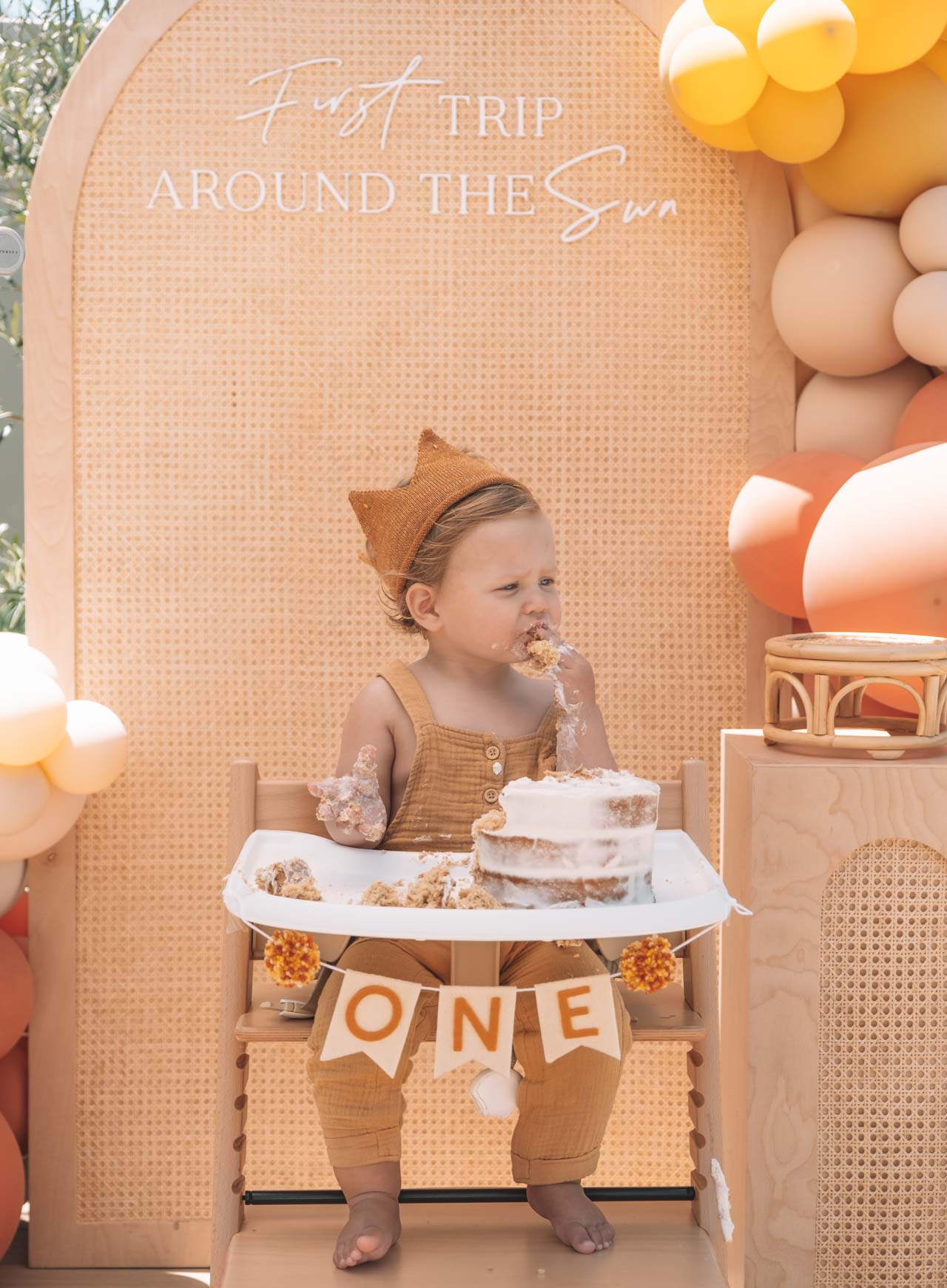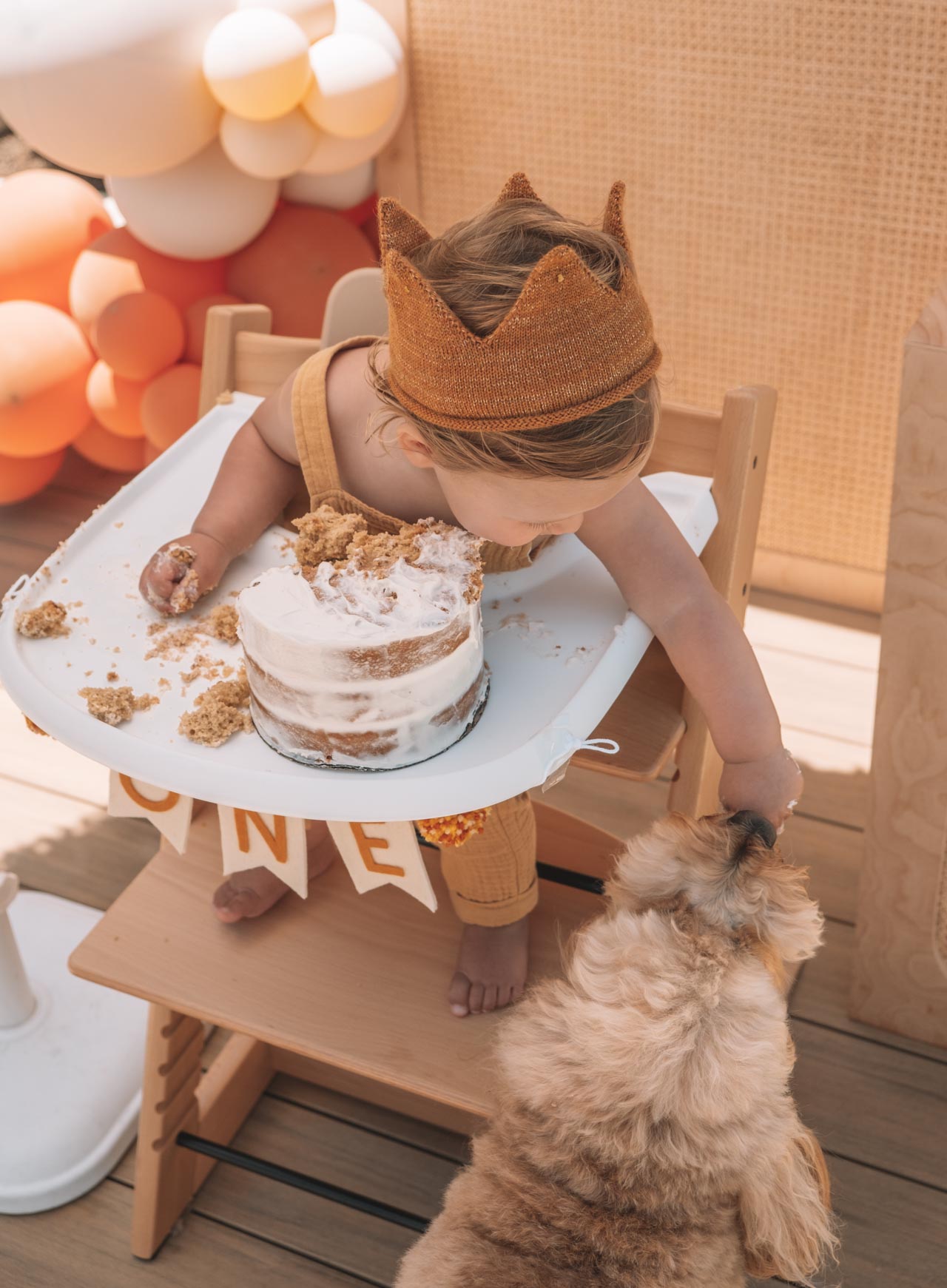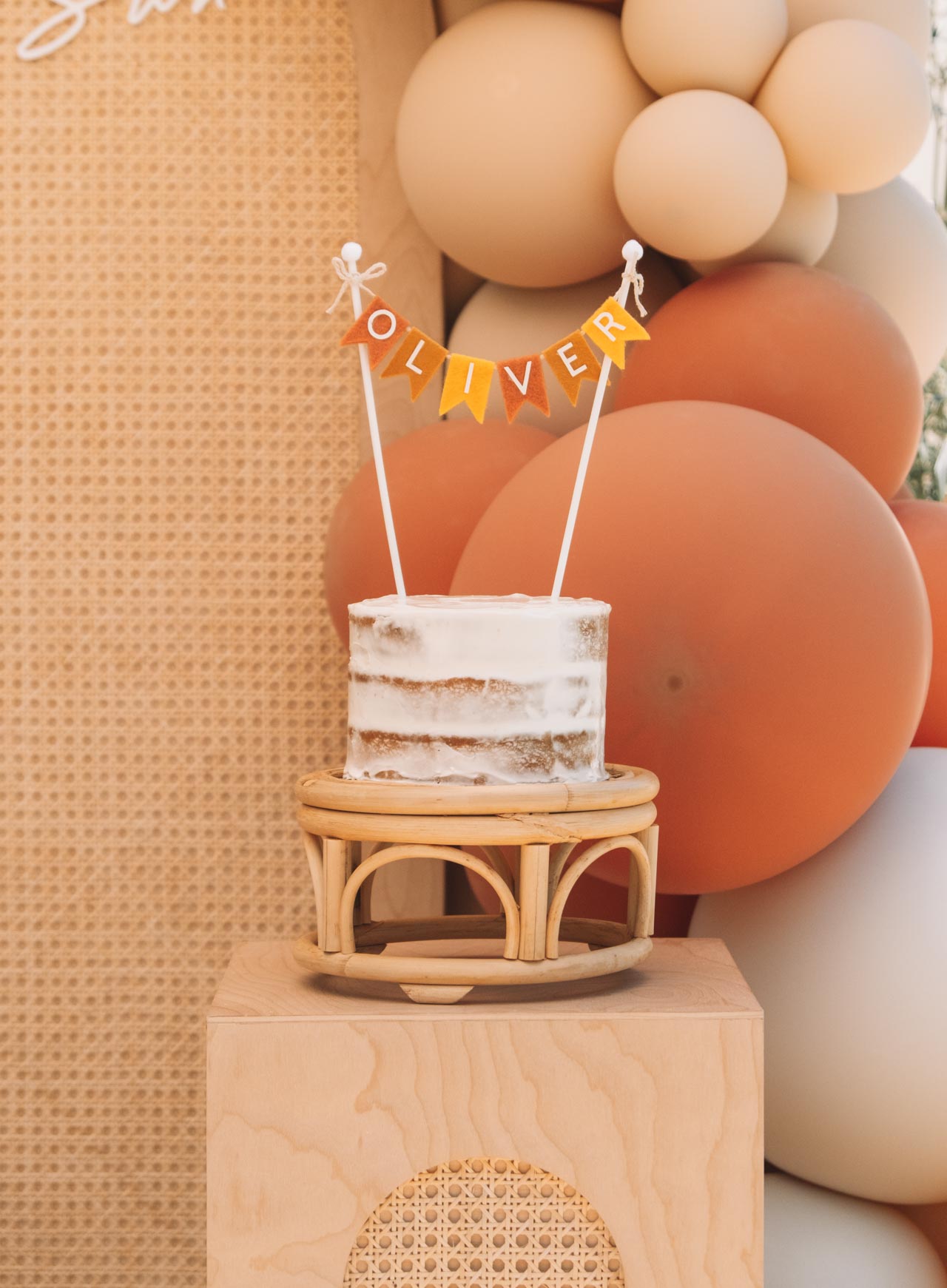 1st Birthday Smash Cake
My mom made his cake using this healthy smash cake recipe sweetened with maple syrup instead of sugar. The "naked cake" style is actually super easy to DIY. You could always fully cover it with the yogurt frosting for a more finished look.
Honestly, I was worried the cake might not be very yummy but it was really delicious. And, as you can see, he nearly finished the entire thing himself!
This was actually a rattan flower pot stand that I found on Amazon and it worked perfectly!
Etsy, of course!
Custom order details:
String Type:

White Cord

Flag Color(s): CREAM
Letter Color(s): GOLDENROD
Pom Pom Color(s): BURNT PUMPKIN, GOLDENROD, YELLOW, CREAM
Etsy strikes again!
Custom order details:
String Color:

Cream

Font Color:

Cream

Cake topper Flag color(s): Pumpkin Spice/Goldenrod/Gold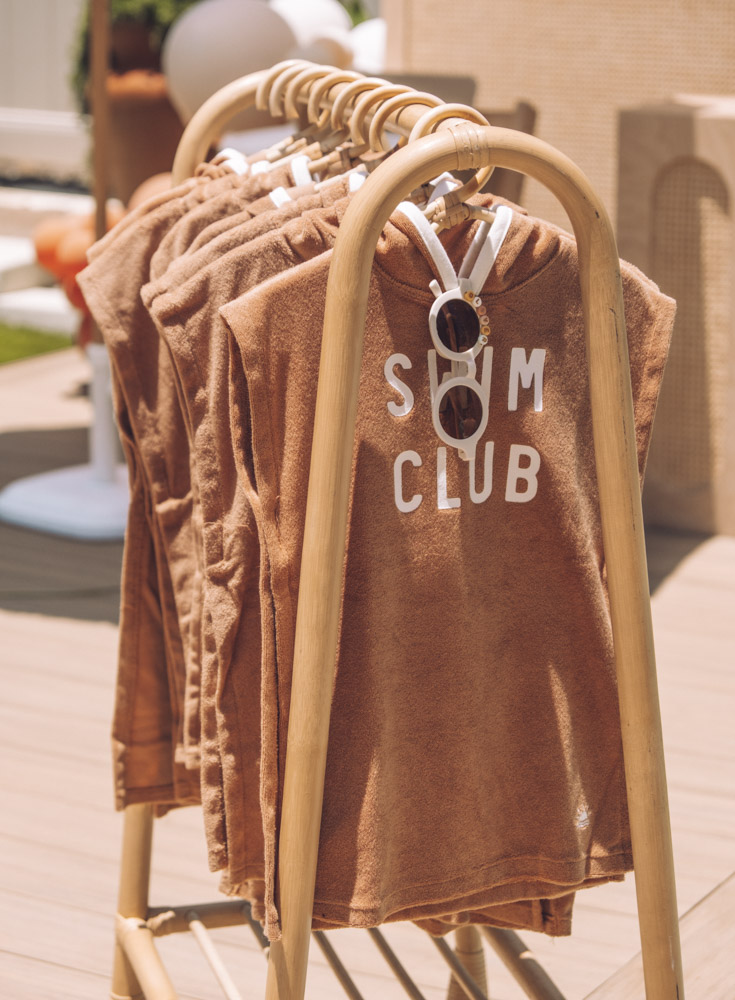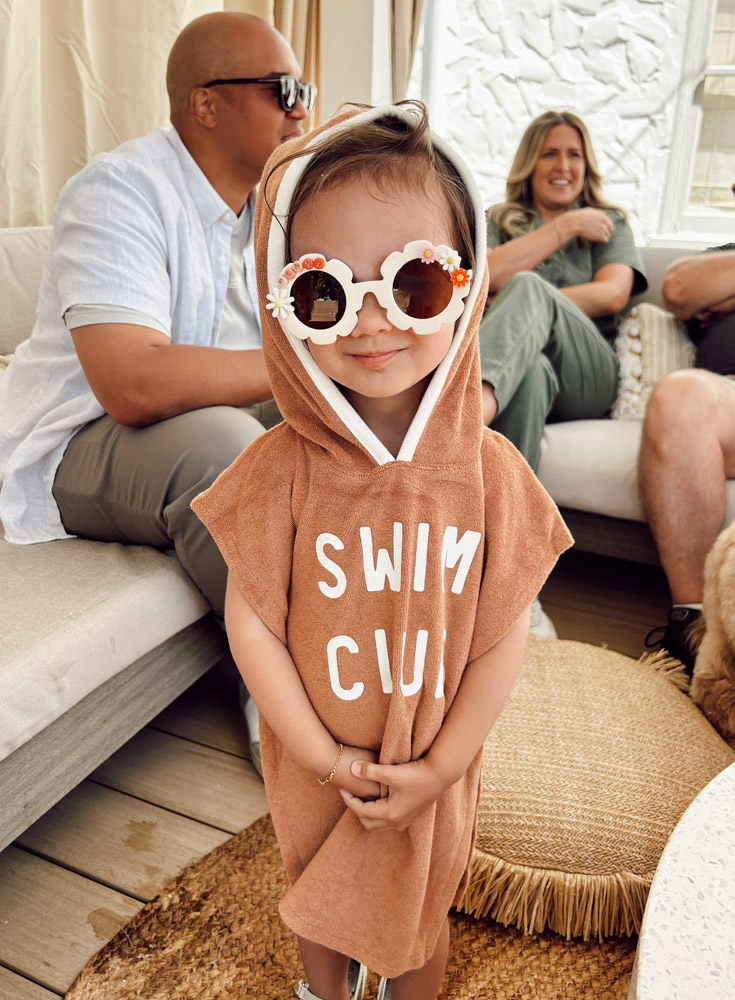 Party Favors
Since the party was a "pool" party, I opted for these adorable little swim ponchos and my bff made the custom kiddie sunglasses! We displayed them on the little rattan clothing rack (from Rent Boho Babes) by the pool—it was the perfect touch!
I love this so much that I want to do matching outfits or accessories for all of his birthdays. The kids were thrilled and they made for adorable photos!
Best part? They were actually pretty affordable. I found these on sale at Kohl's and had one of their big 30% off coupons, making them around $14 each.
DIY Name Sunglasses
These are super easy to make! We bought this pack of kids' sunglasses (I could've bought less in the end because there were only 8 kids) and these flower slime charms.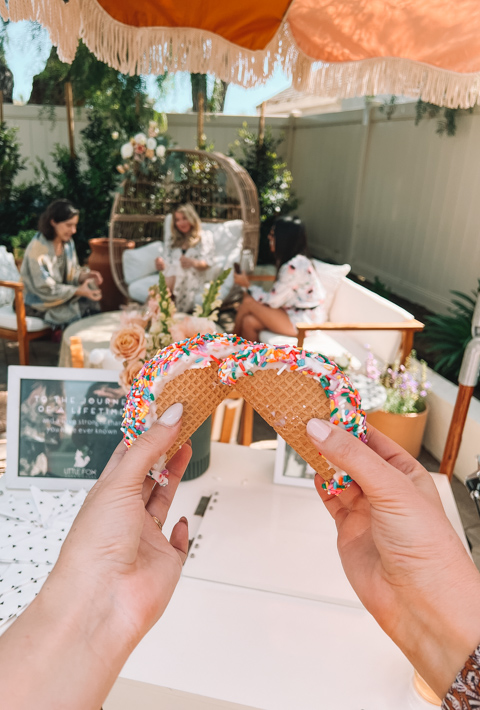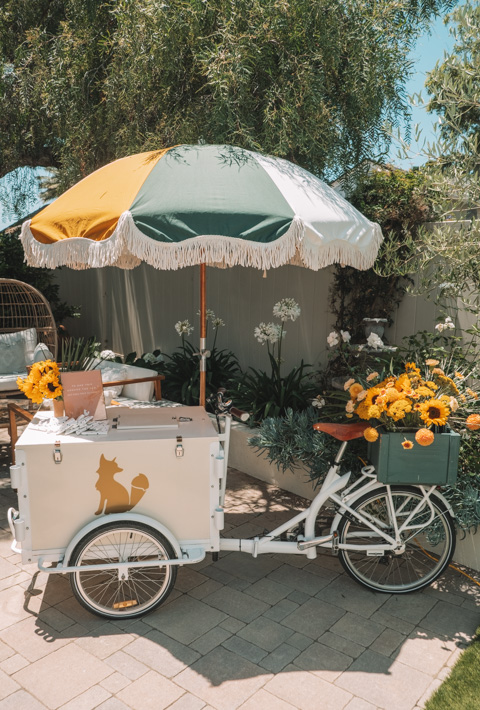 First Birthday Party Food and Drinks
We opted for the "minimal effort" route for party food. Instead of a cake to serve, we had the Little Fox ice cream taco cart which was self-serve. For food, we placed a big Costco with sandwiches and lots of snacks. And, I made fairy bread and sun butter and jelly sandwiches for the kids.
Food from Costco
We were hosting around 30 people, so placed a big Costco order with drinks, snacks, and sandwiches. Here's our list for inspo!
Juice boxes
Coconut water
Sparkling water
Seltzers (alcoholic)
Beer
Water bottles
Applesauce pouches
Pirate's Booty
Variety Pack of Chips (Hippeas or PopCorners)
Chicken Swiss Rolls
Veggie Platter
Kids' Sandwiches
We made allergen-friendly sandwiches for the kids. Fairy bread is an Australian snack made from a slice of white bread topped with butter (modify if you have a dairy or nut allergy) and sprinkles. We also made DIY sun butter and organic strawberry jelly "Uncrustables."
NOTE: We have a lot of allergies to be mindful of in our friend group and learned the hard way that gluten-free bread is sometimes made with eggs. If you have a child with egg allergies and a child with gluten intolerance, you might need to buy two types of bread.
Ice Cream Tacos
This was such a tasty treat from Little Fox Cups & Cones! You can pick which flavor ice cream tacos you want — we opted for the plant-based gluten-free "Let Them Eat Cake" flavor (which I love that they can do!).
Gotta love the rainbow sprinkles!
Helpful Tip:
Organize 1-2 outdoor trash cans and have wipes for messy hands readily available in multiple areas!


Custom Cookies
As a parting "thank you" gift, we gave out "First Trip Around the Sun" themed cookies from Christina's Confections.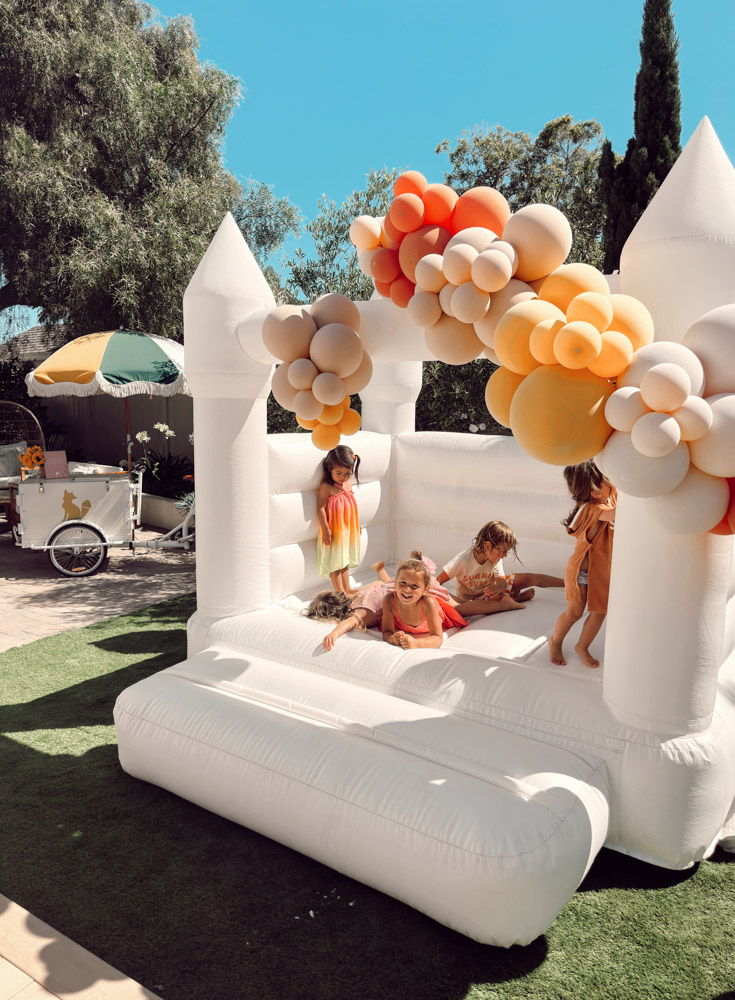 There you have it!
Oliver's "First Trip Around the Sun" 1st Birthday Party in San Diego! It was the perfect day spent celebrating our little sunshine!
I also shared a reel on Instagram from the special day. Be sure to check it out!