While I typically write on more cultural experiences abroad we all deserve a "vacation" once in a while. Mexico is definitely a cultural destination, but for many people, it's a popular vacation destination. Inexpensive flights, luxurious resorts and adventurous activities are just a few reasons to visit the sun soaked coast of Mexico! One of my favorite spots in Mexico for a little R&R is Cabo San Lucas.
Cabo is famous for its beautiful beaches, vibrant nightlife, delicious food and countless adventure activities! A return flight out of Southern California can cost less than $300 and resorts are always giving great deals on stays. Timeshares are also very popular in Cabo and, although I've never rented through a timeshare, I know you can find rentals on tons of websites at low prices. A vacation in Cabo can be anything you make of it! Whether you're looking for an all-inclusive resort getaway or a fun-filled nightlife experience, Cabo has it all!
Resorts in Cabo San Lucas
The coastline is lined with luxurious resorts complete with infinity edge pools and five star day spas. You literally never have to leave the resort if you don't want to! I typically never travel fancy but if you can round up a group of friends, travel with your family or plan a romantic getaway, it cuts cost down dramatically. It's also possible to rent a car and stay just outside of the main area in Cabo. We went to the local Costco and stocked up on snacks and cocktail necessities to save a few bucks. You get a taste of the good life without breaking the bank.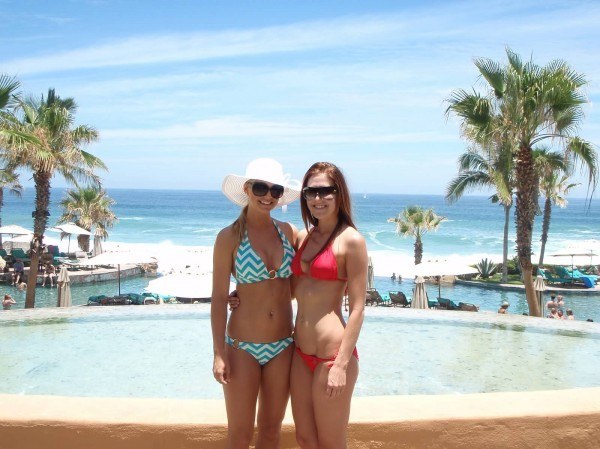 Nightlife in Cabo San Lucas
Aside from the beautiful resorts and their amenities, the central area in Cabo is lined with famous bars and restaurants. Some of the most famous bars are The Giggling Marlin, El Squid Row, The Nowhere Bar and Cabo Wabo. You're sure to have an awesome time and might even get groped by one of the cocktail waitresses as they come by with Jello shots. If you're looking for more of a club scene or lounge than a bar, check out Passion Club & Lounge or Pink Kitty.
Activities in Cabo San Lucas
There is a ton of stuff to do in Cabo for all ages! There is world class golfing, sport fishing, ATV tours, Sea-Doo rentals, surfing, horseback riding and parasailing to name a few! You can organize trips and activities online, at your hotel or hit up a tour company on the beach. We scored a package that included parasailing from the back of a speedboat, a catamaran trip with snorkeling and an ATV tour that took us to a beautiful private beach.
Other Things to Know
While there are many places in Mexico that are unsafe for travel, popular travel destinations like Cabo, Puerto Vallarta and Cancun remain fun and friendly destinations.
The sun is HOT! Do not think that because you don't burn you won't in Cabo. My friend got a gnarly heat rash our first day at the pool and ended up spending the night covered in oatmeal to soothe the pain. Layer on that sun cream and stay hydrated!
There is room to haggle with tours and souvenirs, but that's about it. Be street smart about what goods and services should cost because on occasion you may be getting the "gringo" price. Don't try and negotiate your dinner bill but also be wary of an obvious rip-off.
You will most likely see iguanas. No they are not dinosaurs and no they will not eat you.