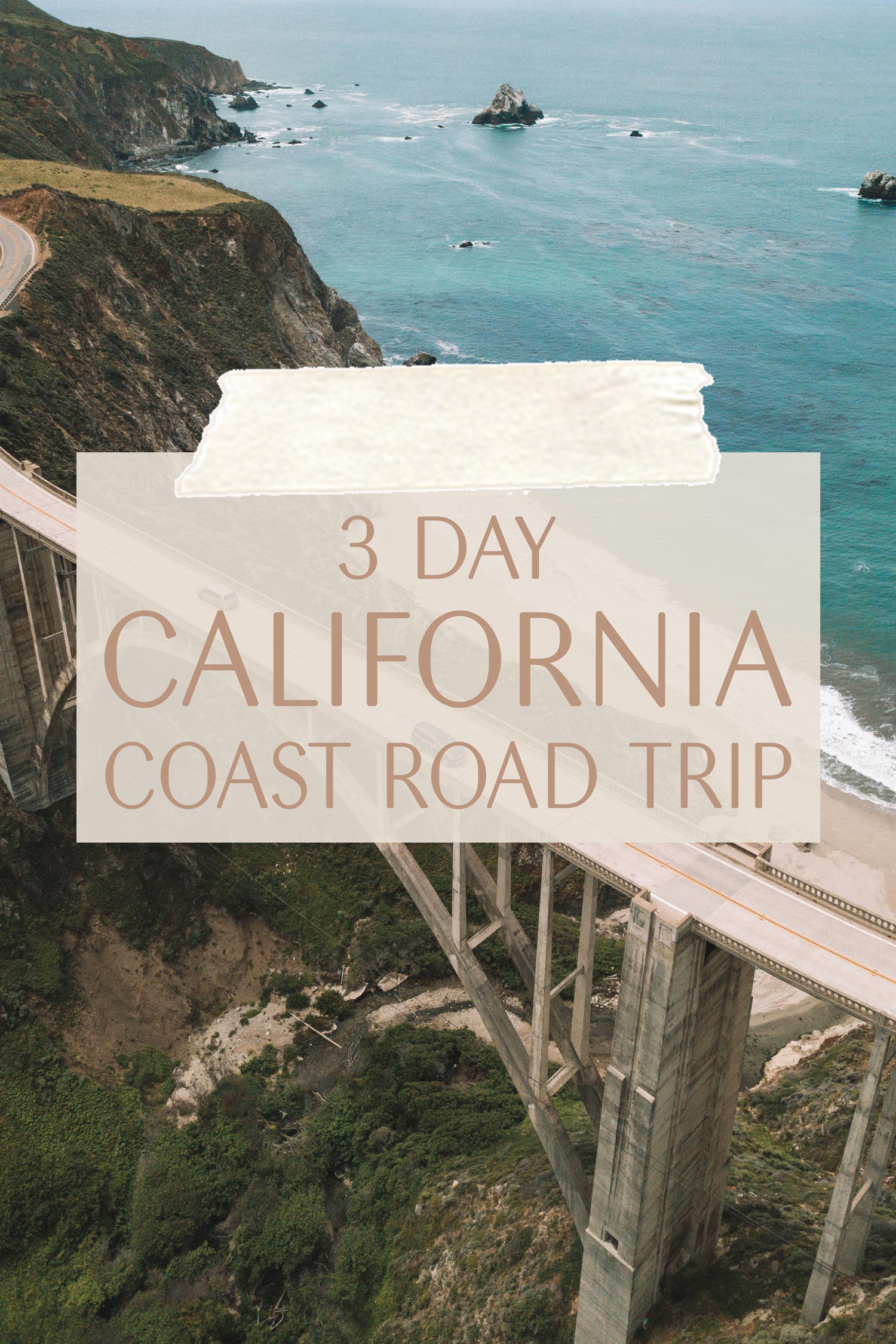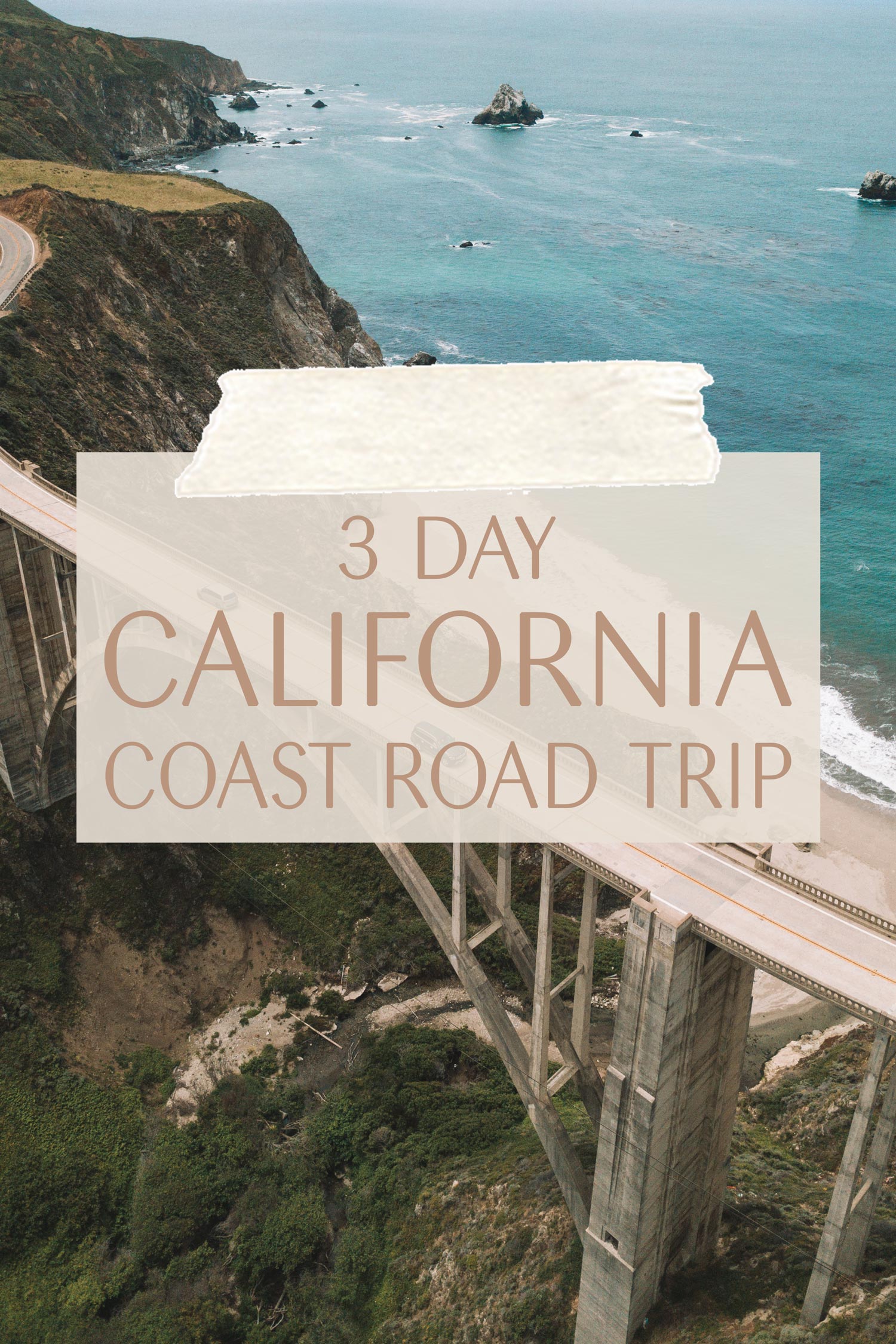 A visit to California wouldn't be complete without a road trip on the Pacific Coast Highway. This iconic highway continues along most of the California coast and can be enjoyed at any pace… whether it's over the course of 1 day or a 2-week road trip.
For the perfect "sampler platter" of sights and activities along this scenic drive, I recommend planning 3 days from Los Angeles to San Francisco. Here are my suggestions for an unforgettable California coast road trip!

Day 1: Los Angeles to San Luis Obispo

Santa Barbara
101 North from LA to Santa Barbara
Santa Barbara is a must-see when driving from Los Angeles north along the California coast. It has it all- from beautiful beaches to gorgeous gardens. Leave LA bright and early to get to Santa Barbara for breakfast.
Top Things to See and Do in Santa Barbara: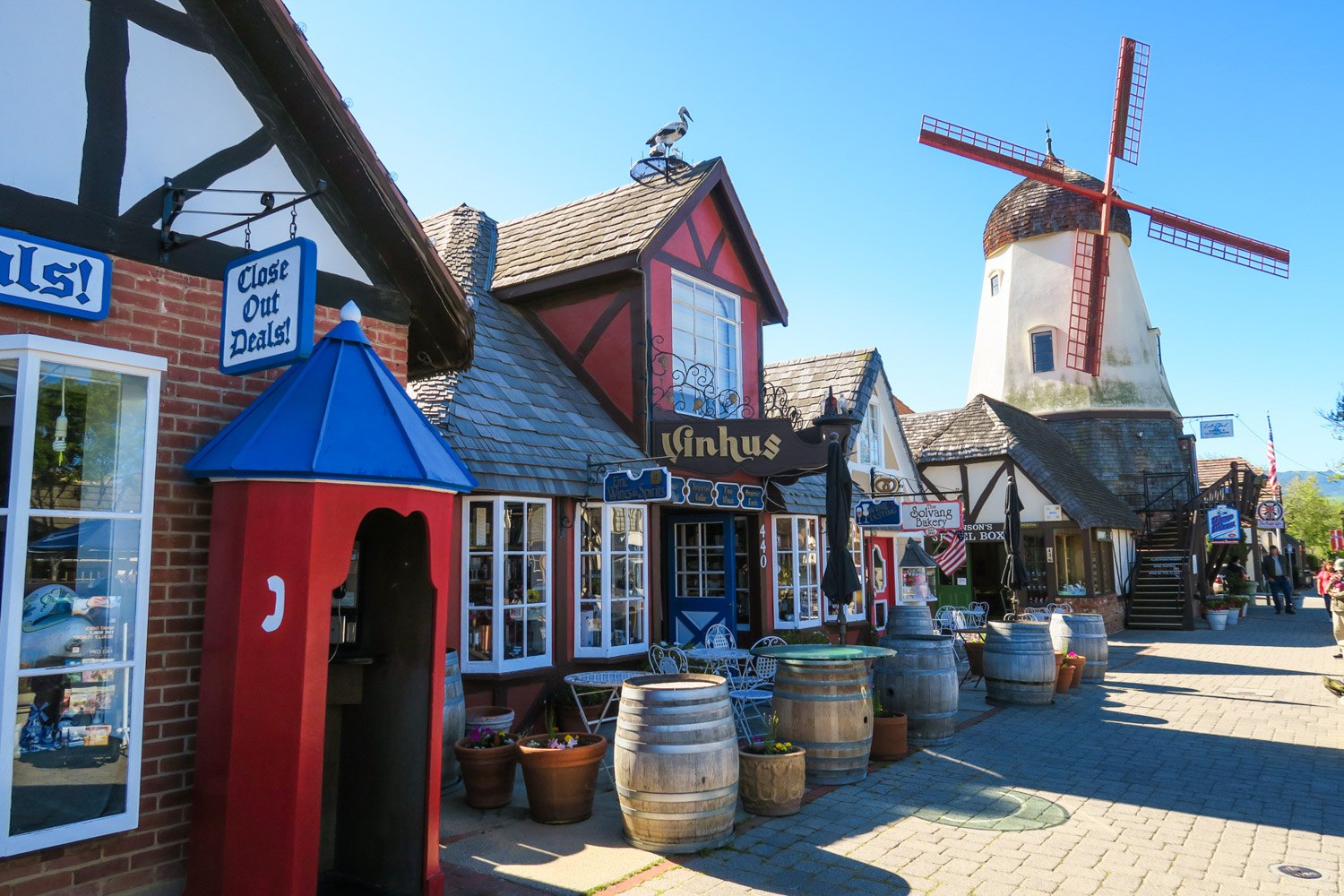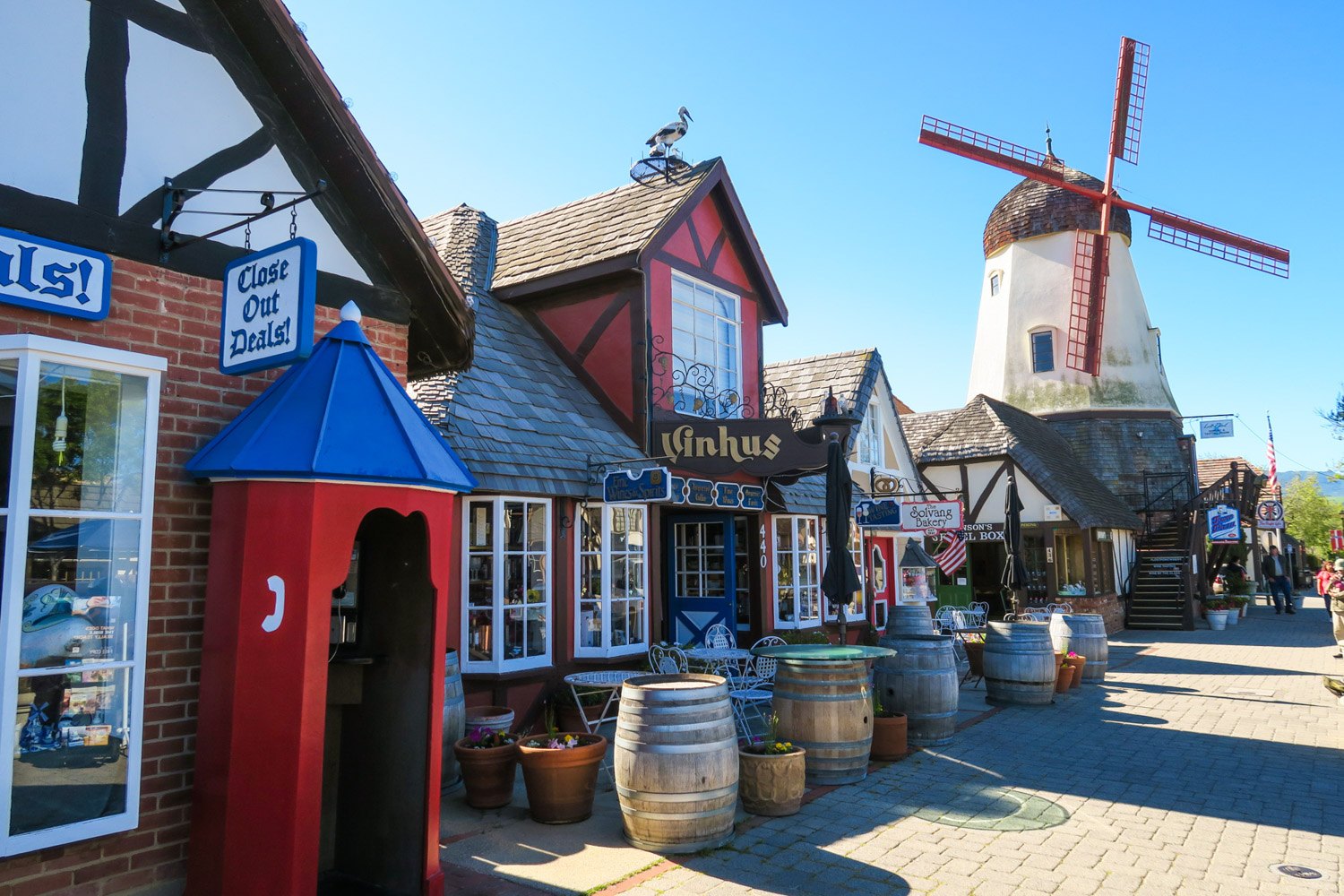 Solvang
101 North to 154 West from Santa Barbara to Solvang (Approx. 35 miles | 40 minutes)
Solvang "California's Little Denmark" is a quaint little city founded by Danish settlers in the early 1900s. While Danish bakeries, shops and windmills are an amazing attraction, the town is best known for its wine and craft brew culture.
Top Things to See and Do in Solvang:

San Luis Obispo Area
101 North from Solvang to San Luis Obispo area (Approx. 70 miles | 1 hour)
There are many beautiful areas located near San Luis Obispo to finish the first day of your road trip. Book a night at the Madonna Inn in San Luis Obispo for a one-of-a-kind hotel experience. Enjoy a romantic sunset at one of the wineries in Paso Robles. Or, head to Pismo Beach or Morro Bay for a beautiful beach-side stay.
What to Do Around San Luis Obispo:
Places to Stay Around San Luis Obispo:

Helpful  Tip
California has some of the BEST camping in the entire country. Choosing to pitch a tent along the Pacific Coast Highway at one of the many campsites could very well prove a more enjoyable experience than even a 5-star hotel. For the best California campground booking website, I use Hip Camp. They provide helpful info on campsites and you can book directly from their website.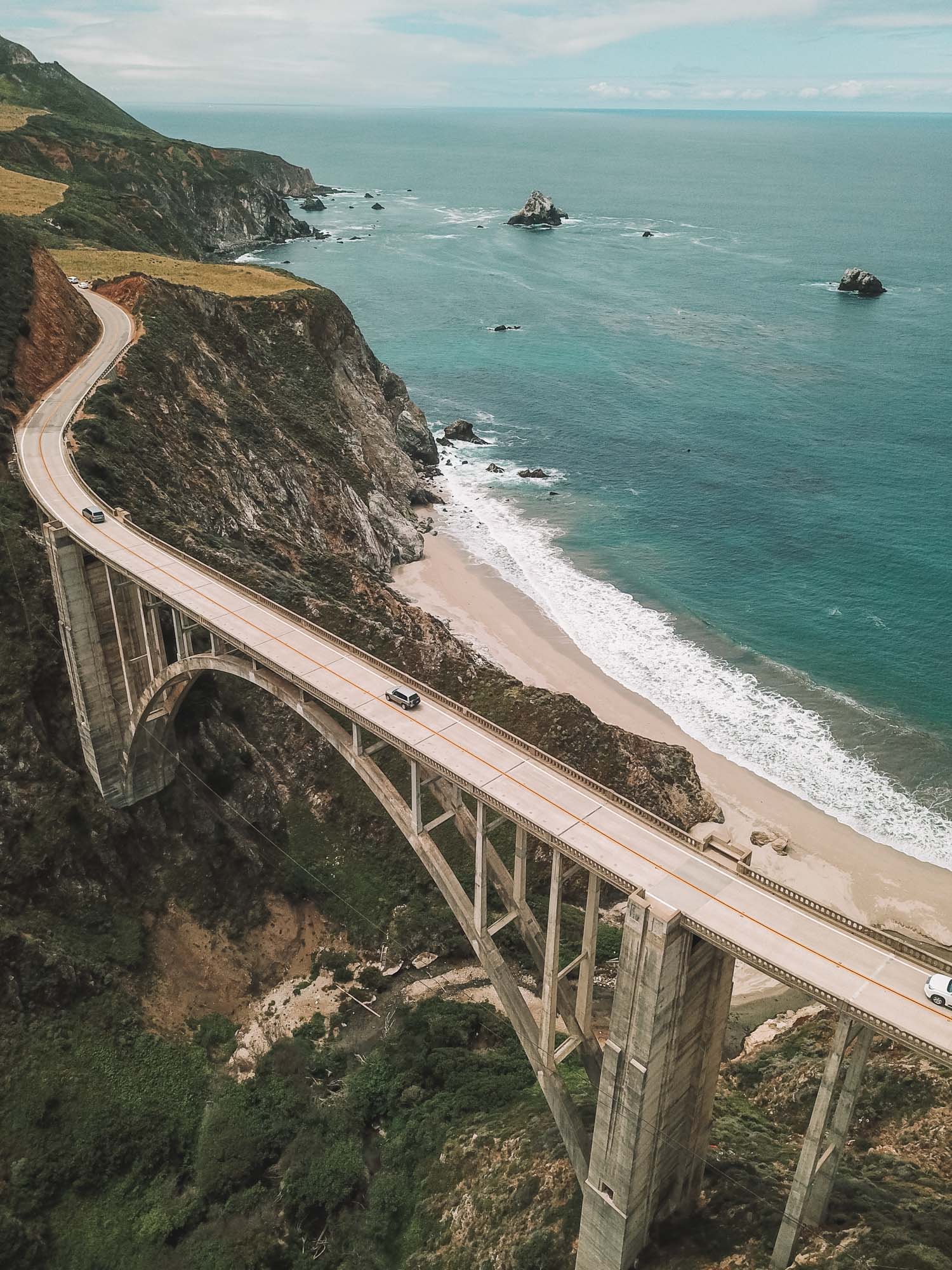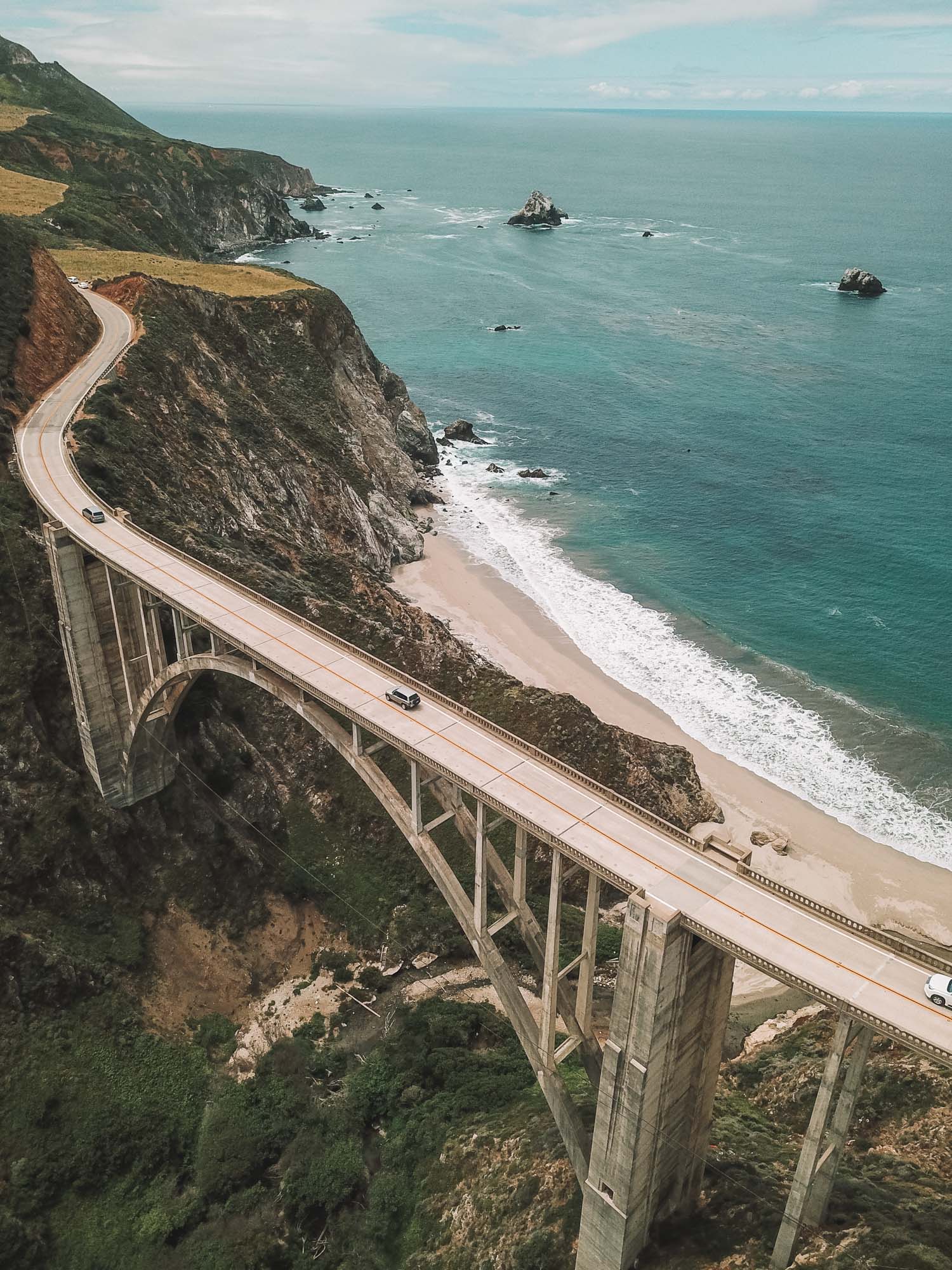 Day 2: San Luis Obispo to Big Sur
Hearst Castle / San Simeon
CA-1 North from SLO to San Simeon (Approx. 42 miles | 45 minutes)
For one of the most popular tourist destinations in California, book a tour of Hearst Castle. Originally built as the private estate of W.R. Hearst, this state park features lavish furnishings & authentic art pieces. You might even spy some exotic creatures (such as Zebra) roaming the property.
Whether you choose to visit or skip Hearst Castle, be sure to pull off the road at the Piedras Blancas to see the elephant seals. You can see them all year long but the best time is from mid-March to mid-September when the seals come to molt. They're hilarious looking creatures and it's a pretty impressive showcase of one of nature's oddities!
Big Sur
CA-1 North from San Simeon to Big Sur (Approx. 50 miles | 1 hour 20 minutes)
Big Sur is by far one of my all-time favorite places in the world. There are some killer ocean views along the highway and countless State Parks just waiting to be explored. For outdoors lovers, be sure to spend at least a full day at one of Big Sur's California State Parks for amazing hiking and some serious natural beauty.
Top Things to See and Do in Big Sur:
Where to Stay in Big Sur:

Day 3: Big Sur to San Francisco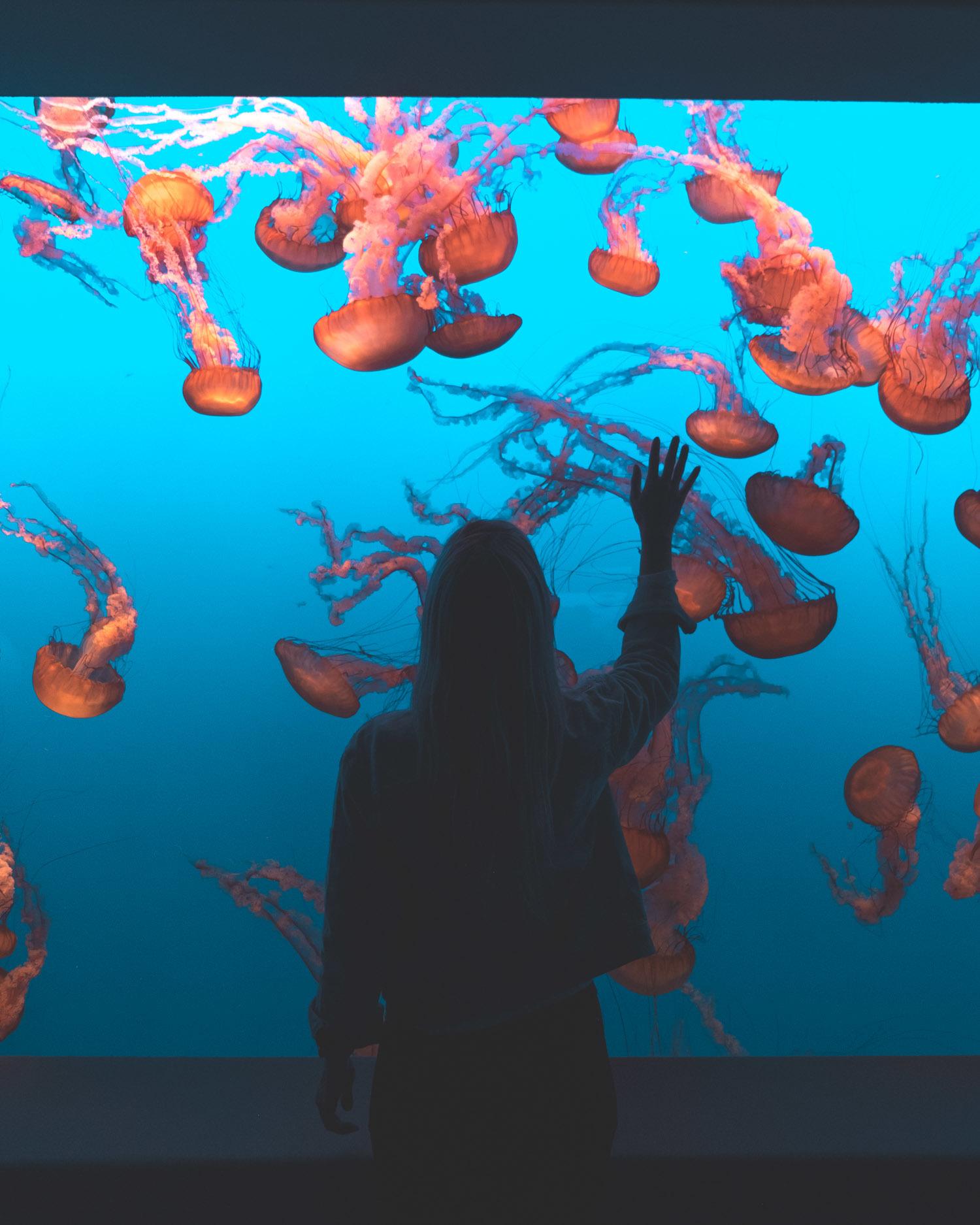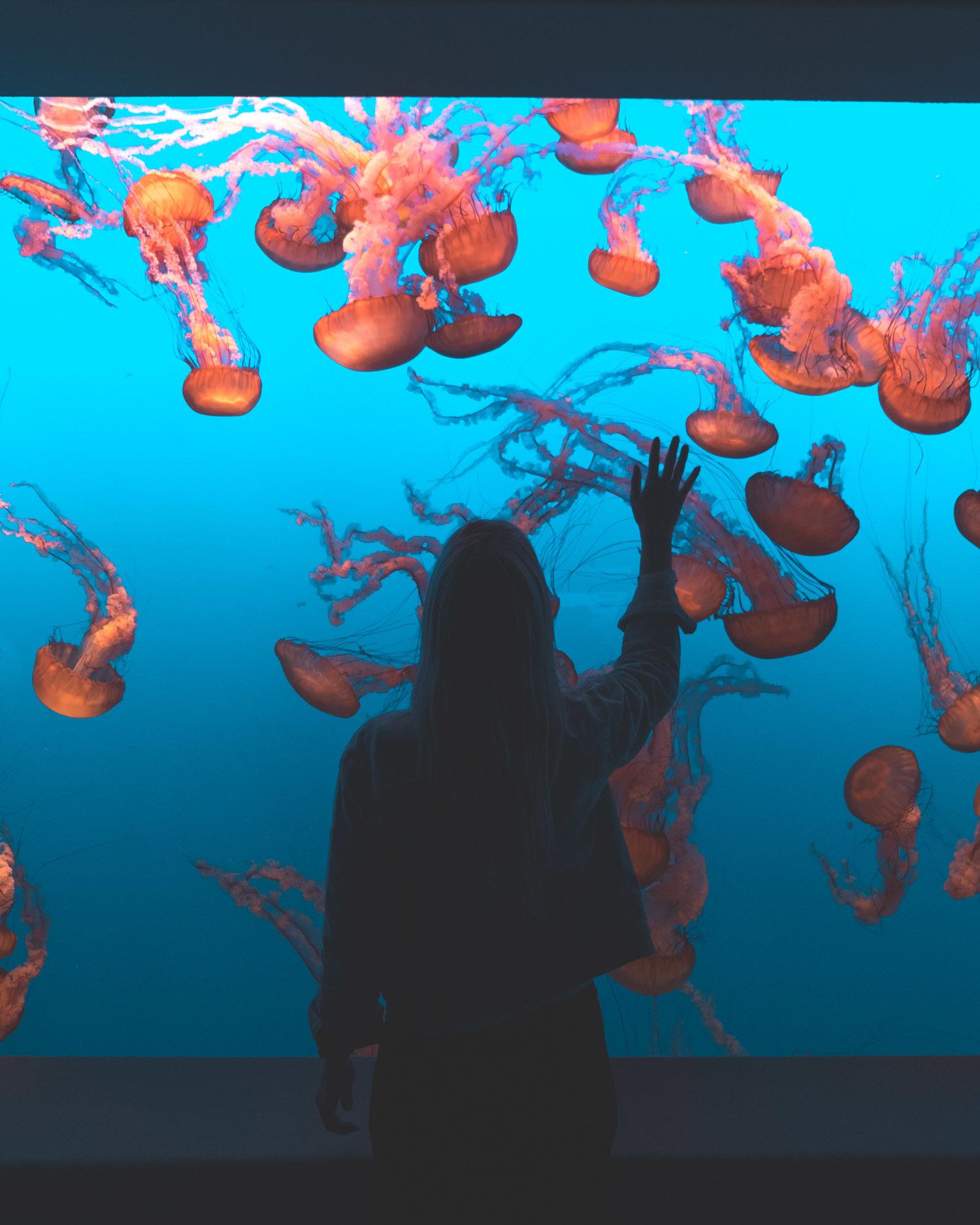 Monterey
CA-1 North from Big Sur to Monterey (Approx. 45 miles | 1 hour)
Monterey is best known for its beautiful coastline, its world-class aquarium and from the many John Steinbeck novels set there, including Cannery Row and Tortilla Flat. Spend the morning exploring the countless historic buildings or discovering life unda-da-sea at the famous aquarium.
Top Things to See and Do in Monterey: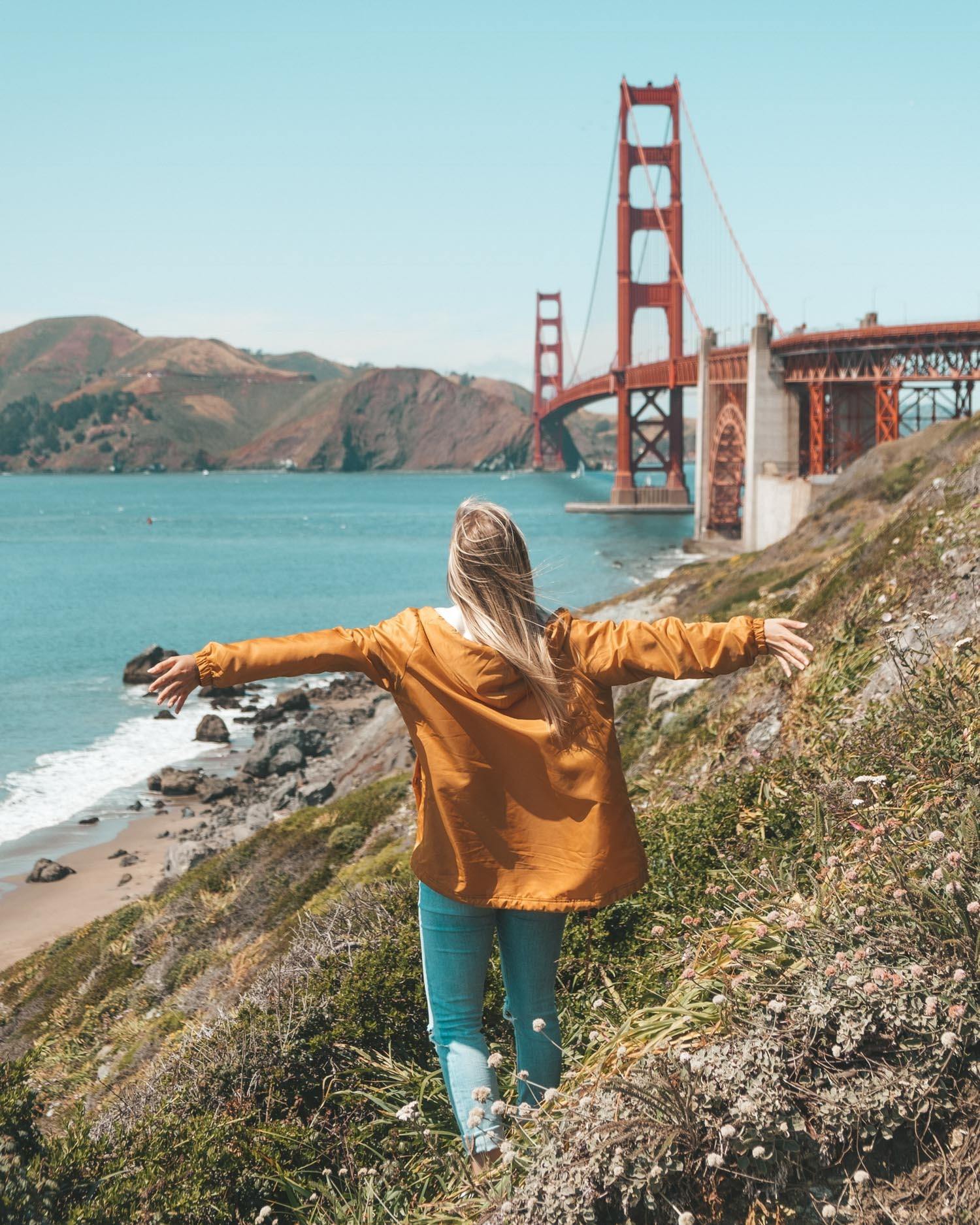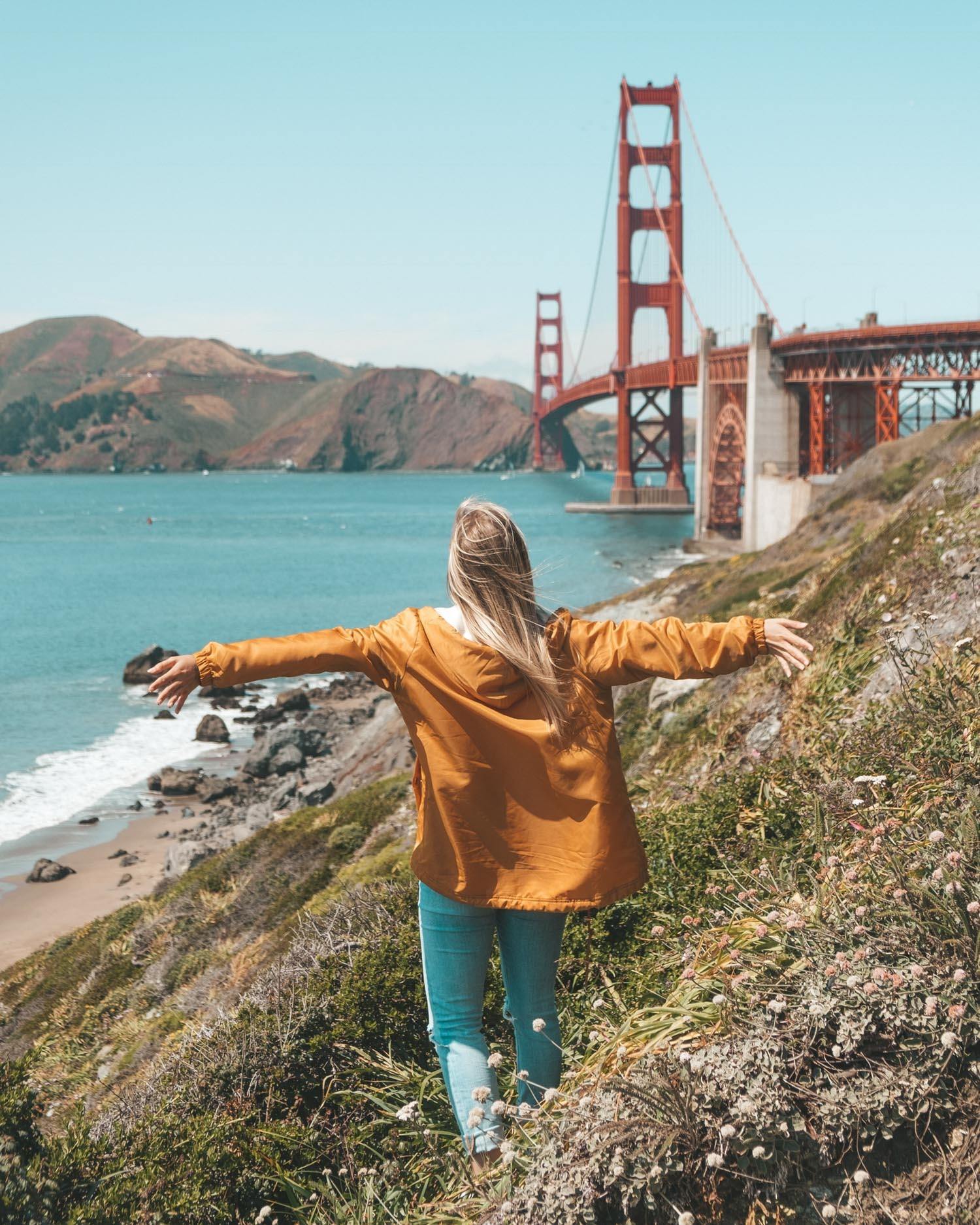 San Francisco
CA-1 North to 101 North from Monterey to San Francisco (Approx. 120 miles | 2 hours)
San Francisco is one of the most iconic cities in all of California. Eat your heart out at some of SF's unique restaurants and explore the city's history, art, and eclectic counter-culture.
Top Things to See and Do in San Francisco:
There are tons of places to stay in San Francisco, as well as Airbnbs. Be sure to make reservations as far in advance as possible! San Francisco is not cheap, and prices will continue to rise closer to your arrival date.

Day 4: San Fran to LA (Return)
I-5 South from San Francisco to Los Angeles (Approx. 400 miles | 6 hours)
If you rent a car, you might consider flying to your next destination from San Francisco. While not nearly as beautiful as the California coastal drive up CA-1, if you need to return to LA by car, cut down your drive time by taking the I-5 south. There are much fewer "scenic" stop-offs but the countryside is vast and beautiful!
Be sure to grab some In-N-Out Burgers! 😉

Some links in this post are affiliate links—at no extra cost to you, I earn a small commission if you purchase products through these links. Additionally, as an Airbnb Associate, I earn when you book through these links.