Sydney, Australia is a dream travel destination. There are plenty of things to do in Sydney — from exploring the gorgeous beaches to finding the best surf spots to all the historic drinking holes, and of course, its storied past.
Although the Harbour Bridge is definitely a highlight of the city, there's so much more you can add to your Sydney itinerary.
Here are ten of the best places to visit in Sydney that aren't the Harbour Bridge.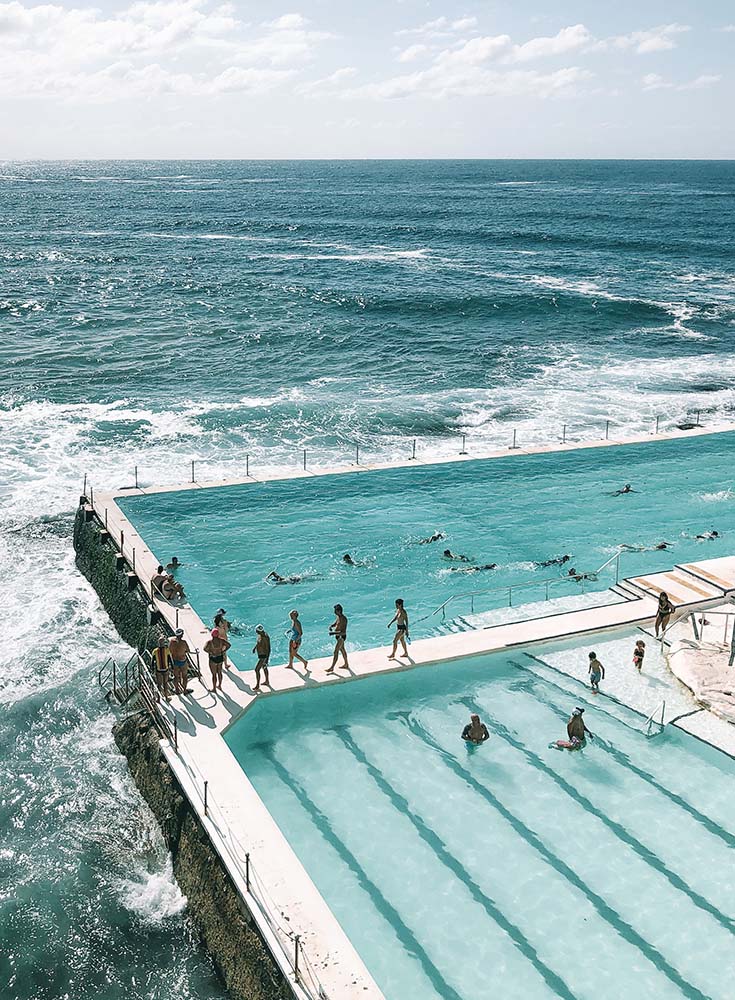 Swim at Bondi Icebergs Club Pool
Often considered to be one of the most beautiful man-made swimming spots in the world, the pool at Bondi Iceberg's Club is a definite must for your trip to Sydney.
This traditional swimming club is open for members but guests are allowed to visit as well, provided they have a form of identification that shows their address (so your passport will work!).
The club was first opened in 1929 by a group of locals who wanted to find a way to keep up their fitness during the winter months and today, the Bondi Iceberg's Club is the only licensed winter swimming club in the world.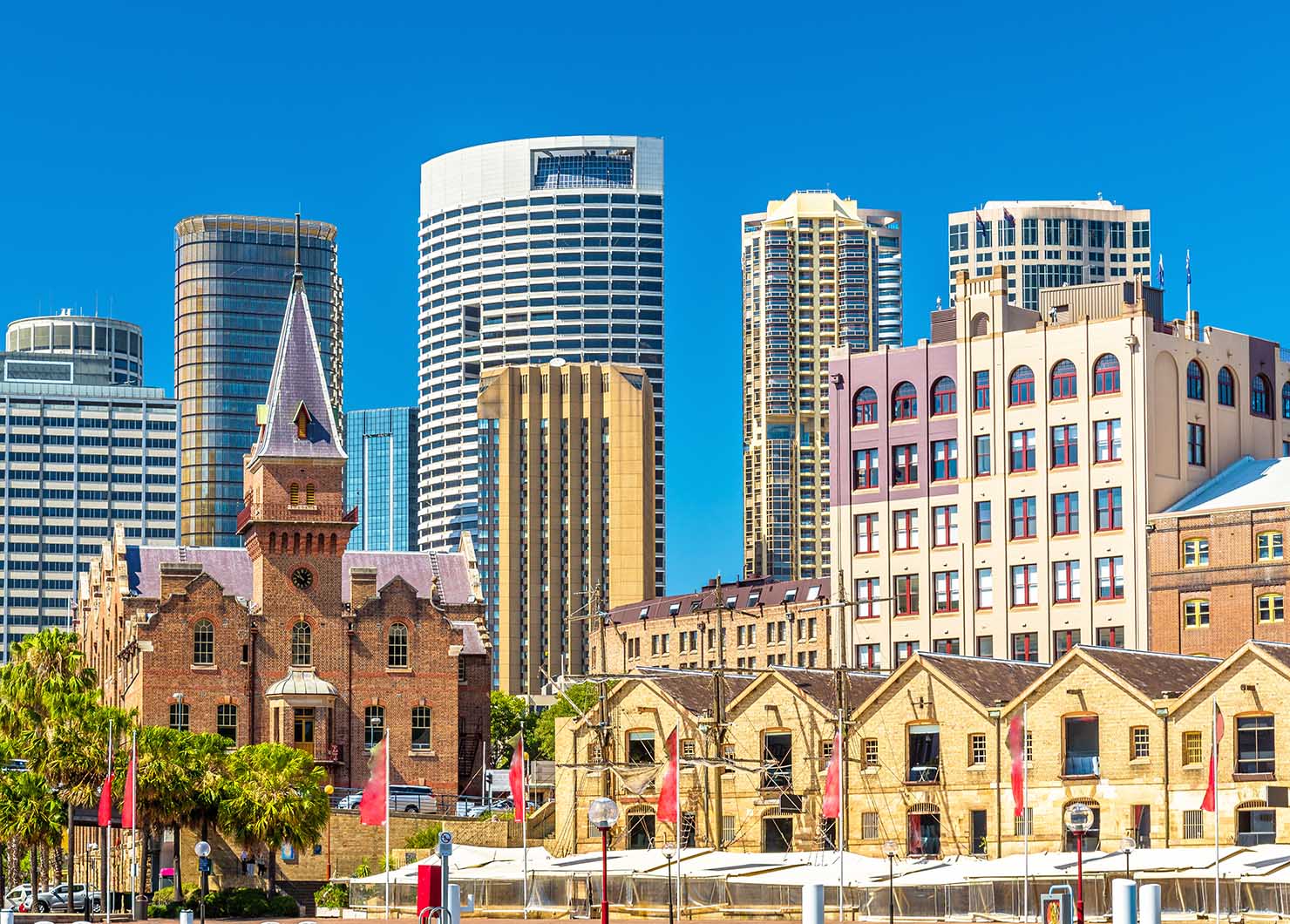 The Rocks
The Rocks is the oldest part of Sydney, and is filled with historic sites and some great pubs!
It was established in 1788 when the British first arrived in the country, and although some parts of it have been torn down to make way for modern builds, there are several areas that have been preserved.
You can visit the Rocks and wander the historic alleyways and streets any day of the week, but if you come during the weekend you can experience some great markets and street entertainment.
Make sure you step into one of the pubs in the area as many of them are over a hundred years old. One example is The Lord Nelson, which dates back to 1841, which makes it the oldest continually licensed pub in the country.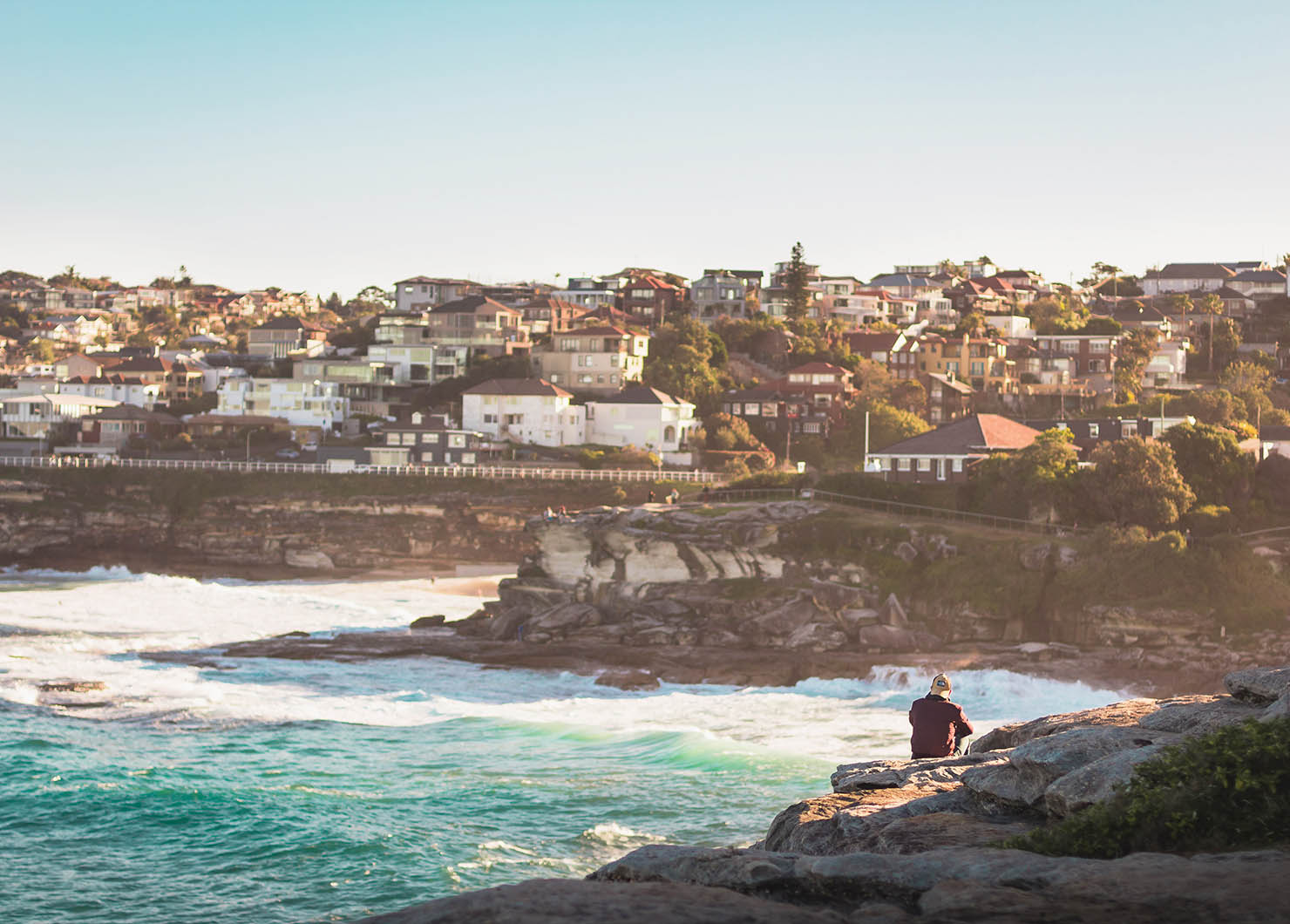 Bondi to Bronte Coastal Walk
Do a Coastal Walk
Australia's coastline is a gorgeous sight to experience in person, and one of the best (and easiest!) ways to see it up close is by walking along it.
There are several great routes you can take that are all relatively doable for any fitness level and can be done in one to three hours, giving you the rest of the day to explore other parts of Sydney.
Here are four of the best coastal walks you can do during your trip:
Rose Bay to Watson's Bay (2.5 hours)
Watsons Bay to Dover Heights (1.5 hours)
Chowder Bay to Balmoral Beach (1 hour)
Jibbon Beach Loop Track (2 hours)
Bondi to Bronte Coastal Walk (30 mins)

Go on a Diving Tour
If you're in an adventurous mood, consider going on a scuba diving tour of the coral reefs! It's a cool way to see a side of Australia you wouldn't get to see normally, and you can even get your PADI license during your time in Sydney.
PADI stands for the Professional Association of Diving Instructors and is definitely what I would recommend — it's globally recognized and regulated so you know for sure you're learning the most up-to-date information and techniques.
There are many great dives in Sydney that you can do after taking a course and getting your certification. While the information you learn in the course is important and you need to pay close attention, it's probably easier than you'd expect!
If you're up for a road trip, or planning to fly to Northern Queensland, Cairns is a prime spot to dive and explore the Great Barrier Reef!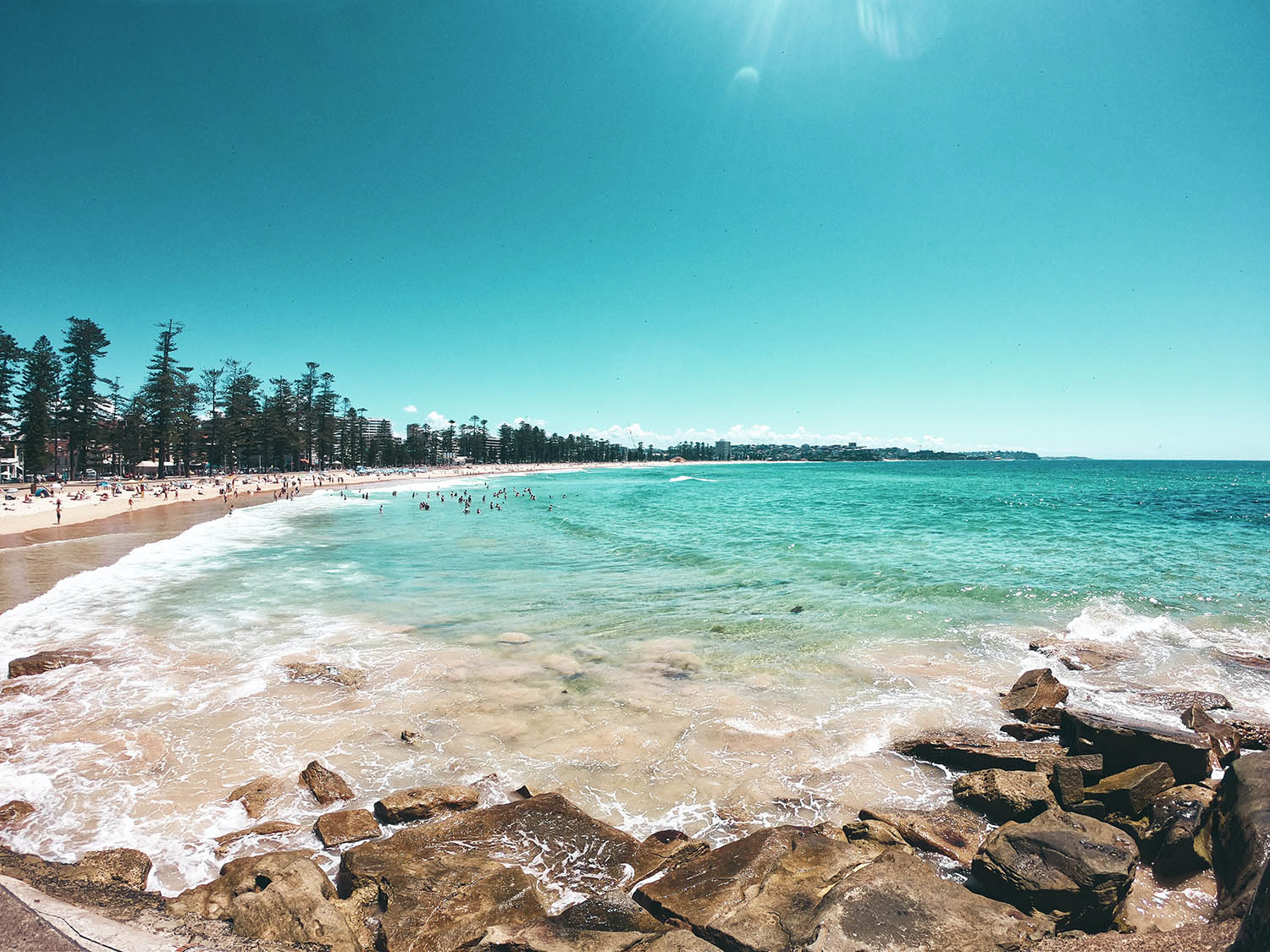 Manly Beach
Manly Beach
Australia is known for its great surfing beaches, and Manly Beach is considered to be one of the best.
It was where the first world surfing championship was held in 1964 and if you've ever seen the 2000 Mary Kate and Ashley movie, Our Lips Are Sealed, Manly Beach is where the surf contest at the end of the movie is set!
Take a surfing lesson when you visit, or simply enjoy relaxing on the beach. Manly Surf School is a great option if you want to learn how to surf as they offer both group and private lessons.

Sydney Fish Market
The Sydney Fish Market is one of the biggest in the world — the third largest, to be exact! It's a fun spot that is worth visiting, and you can spend a morning exploring the various food stalls and vendors.
Although the market is most famous for all the fish and fish-related vendors, you can also find fresh produce, souvenirs, and baked goods.
The market is open every day throughout the year from 7:00 AM to 4:00 PM.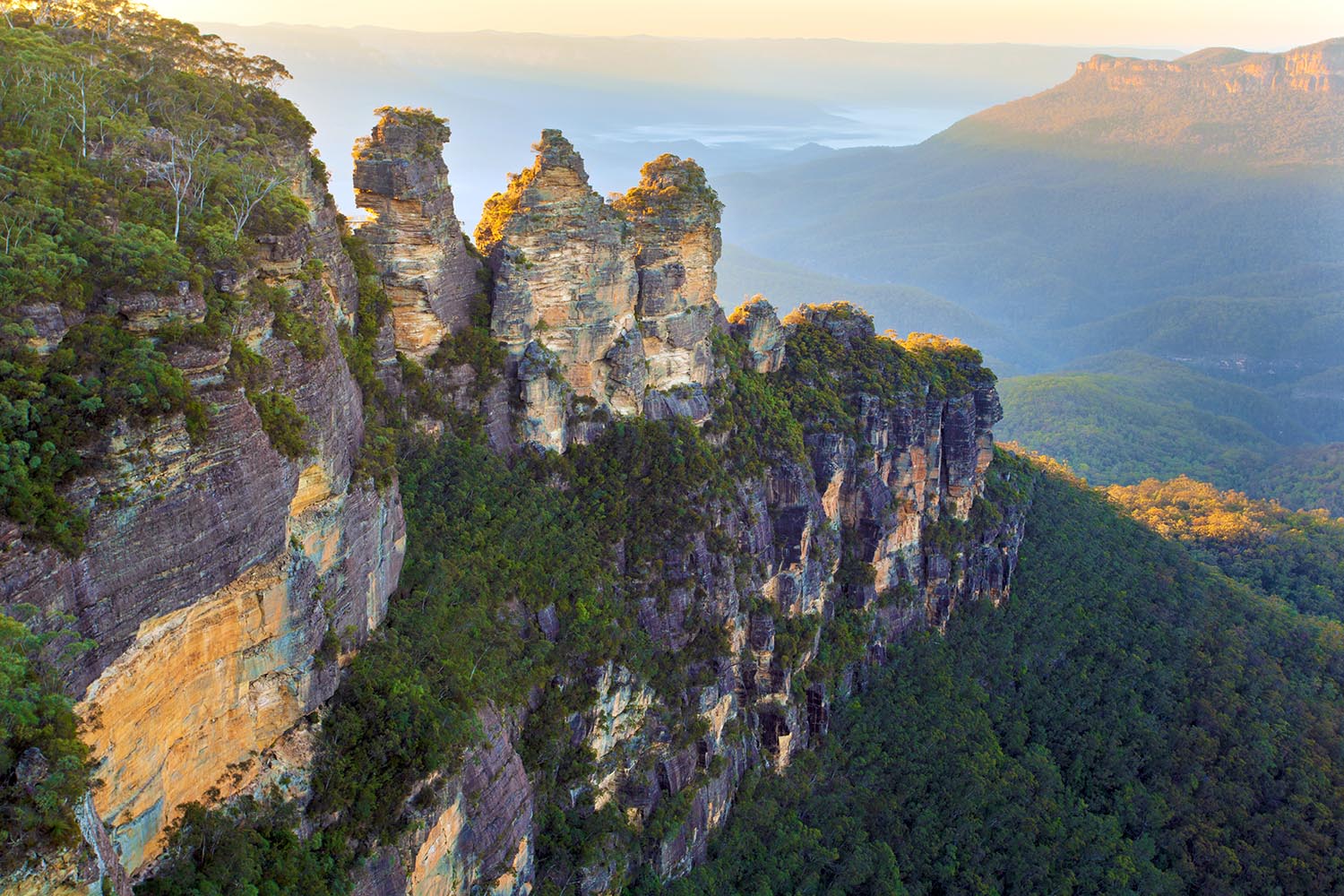 Three Sisters in the Blue Mountains
Blue Mountains
If you're looking for the perfect day trip from Sydney Blue Mountains are a fantastic option that offers a chance to explore the rugged mountains of New South Wales.
One of the highlights is the Three Sisters, which is a trio of sandstone rock formations.
If you start at Echo Point, you can follow a trail to the Three Sisters and down to the valley floor. The trail is really well-maintained and includes steps made out of steel and stone that have been named "the Giant Stairway."
If you're not quite sure about the hike back up, don't worry — there is a Scenic Railway that you can take for a small fee that will take you back to where you started!


Royal Botanic Garden Sydney
Dating back to 1816, Sydney's Royal Botanic Gardens is a gorgeous collection of ferns, flowers, and trees that is perfect for a relaxing afternoon. The gardens are popular with tourists and locals alike, and it's one of the most visited places in the entire country.
Make sure you visit Lady Macquarie's Chair, a bench that was carved into the limestone formations in 1810 for Elizabeth Macquarie, wife of the then-governor of New South Wales, Lachlan Macquarie.
It's a great viewpoint where you can see the Sydney Opera House and Sydney Harbor Bridge on clear days. Go on a Historic Pub Crawl
There are many amazing pubs in Sydney, so how do you know which ones you should definitely make time for? By taking historic pub crawl that will take you to the most historic pubs in the city!
Not only will you get to visit some of the oldest pubs in Sydney and sample the beer they're serving, but you'll also get to learn about their macabre history which may include gangs, brothels, and unsolved murders!
Your tour will be led by an experienced guide who will share these historic stories with you, and they can even recommend the best things to order at each of the pubs.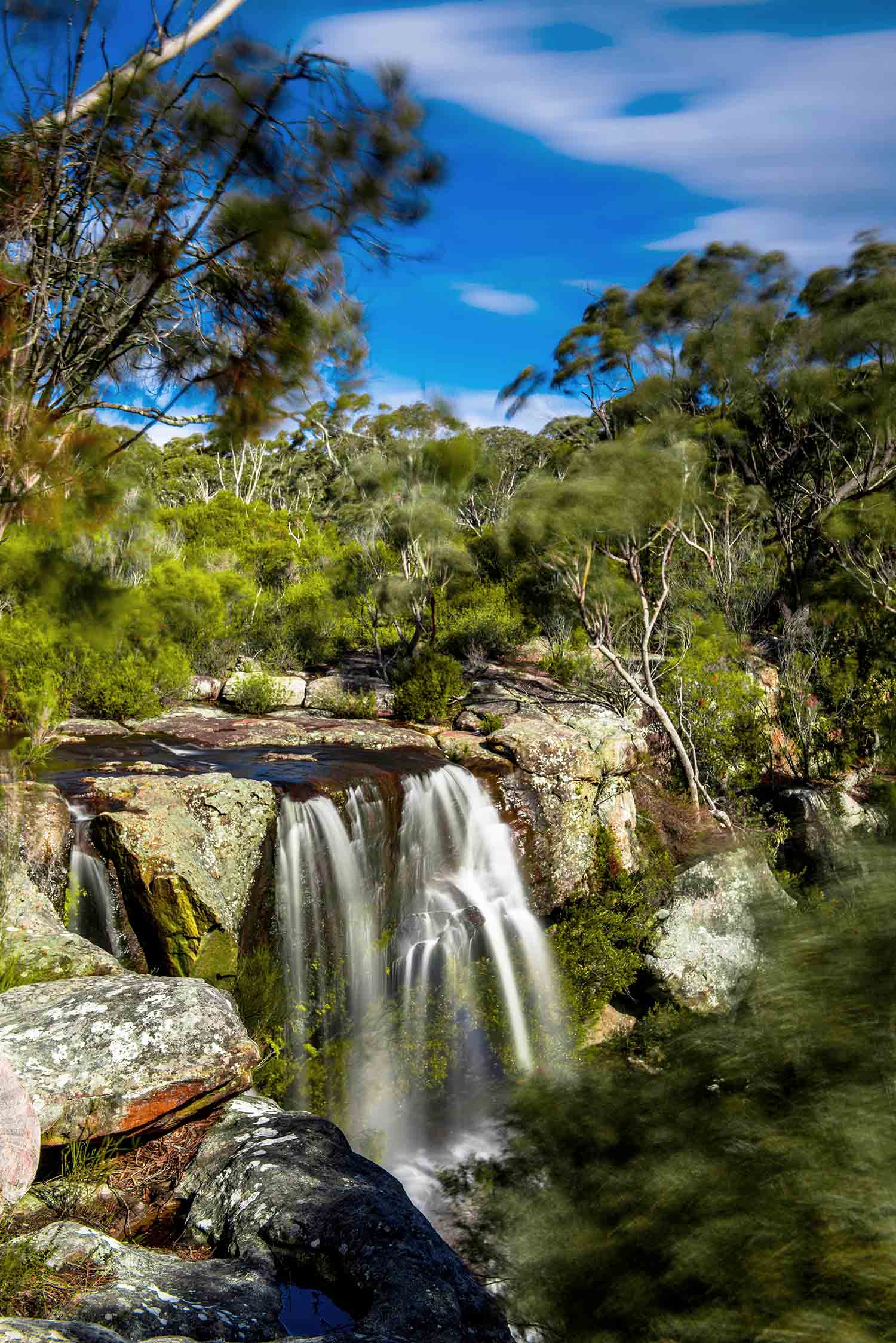 Maddens Falls in Dharawal National Park
Take a Walking Tour of Dharawal National Park
Dharawal National Park is about an hour away from Sydney, and it has a uniquely preserved environment because public access was restricted until very recently.
On every second Saturday of the month, you can take a guided tour of the park led by an Aboriginal Discovery Ranger.
They have the knowledge only a local can have, and will share information about the environment and stories about the Dharawal people who are Indigenous to the area.
Check out Minerva Pool — it's a sacred place for the Dharawal people and only women and children may enter the pool.
You can take a short trail here; if you bring a picnic lunch, the land near the pool is a great place to enjoy it! Although open to the public, it's important to remember that the pool is sacred and treat it with respect.

Bonus: Take a Helicopter Tour of Sydney
Want to get a lay of the land and see all the sights from above? Take a helicopter tour over Sydney Harbour!
You'll have panoramic views of the Congee Beach, Bondi Beach, Manly Cove, the city skyline, Sydney Opera House, and more!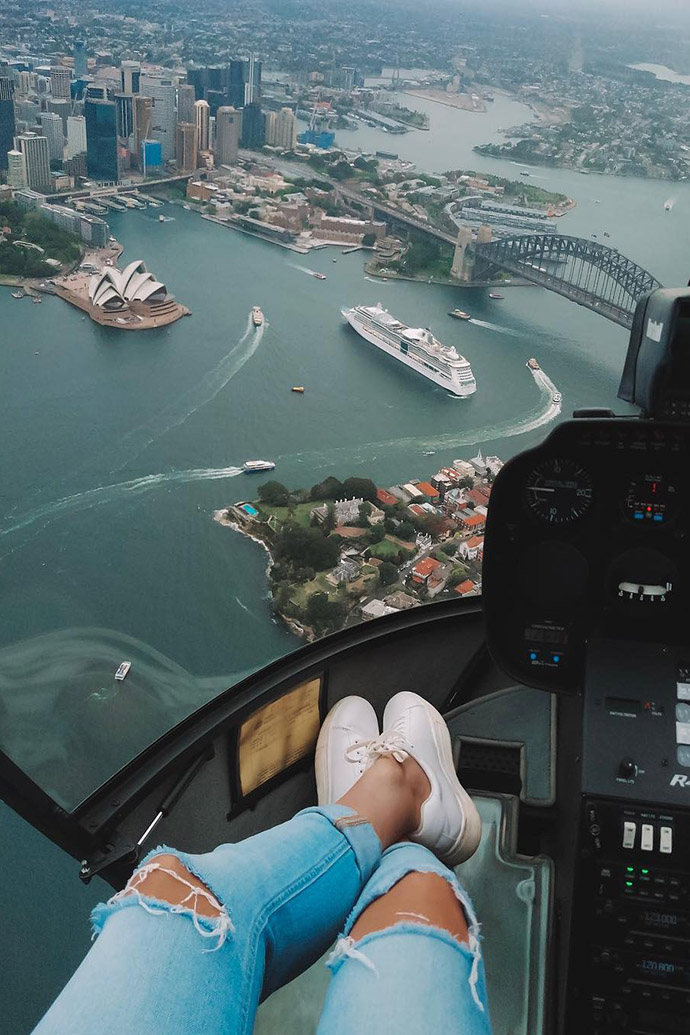 These are some of the top things to do Sydney — you can learn about history, see the natural beauty of Australia, or pick up a new skill like scuba diving during your visit! 
What would you add to this list? I'd love to hear what you're planning for your trip! Make sure to check out these tips for traveling to Australia.