San Francisco is one of the true cultural capitals of the United States. Packed with world-class museums, a rich countercultural history, fabulous art galleries, and more wonders that you can explore in a lifetime, this city can truly be everything to everyone.
Even if you've never explored the City by the Bay, you probably can name countless historical sites and iconic spots around town. Now, it's time to dig deeper. Eat with the locals, travel off the beaten path, and see a fresh side of the city.
Whether it's your first time or your 100th visit, there's always more to see in San Francisco.
Wondering what to do in San Francisco? Snap your pics of the Golden Gate Bridge then dig deeper. Here is your guide to the best of the best in SF.



Ferry Building
Since 1898, the Ferry Building has welcomed travelers arriving at the City By the Bay. Today, it continues to be a core transit hub that'll take you around to the key neighborhoods and the surrounding cities.
It's a great place to eat! Dotted amongst the trendy souvenir shops, you'll find local chefs and artisans serving up premium cheese, incredible coffee, gourmet snacks, and more. It's the perfect place to get a souvenir, or just to grab lunch.
And, when you're looking for things to do in San Francisco that are off the usual tourist path, look to the local farmers market. California produces some of the best food and drink in the world. And, of course, the local growers and producers of SF are at the top of their game.
One of my favorites is the Ferry Building Farmer's Market. Swing by Tuesdays or Thursdays from 10 am to 2 pm, or on Saturdays from 8 am to 2 pm.
Just keep in mind that the Ferry building is mostly a lunch spot and many of the places close early. When it's time for dinner, head over to one of San Francisco's best restaurants.

Conservatory of Flowers and Japanese Tea Garden
This Botanical garden is home to a stunning collection of exotic and rare flora. Located inside of Golden Gate Park (which, of course, is one of the best things to do in San Francisco) you'll find this gorgeous space.
Explore the Victorian greenhouse as you wander amongst literally thousands of plants. It's a peaceful oasis in the middle of a sometimes crazy city.
Built for the 1894 World's Fair, the Japanese Tea Garden is a marvel! The oldest public Japanese garden in the US is definitely a must when visiting Golden Gate Park.



*image courtesy of Foreign Cinema
Eat at Foreign Cinema
When locals want a special night out, they head to Foreign Cinema. With private dining options and an ultra-romantic vibe, this is a perfect date night spot. There's also a cool patio where you can watch movies on the outdoor screen.
They are famous for the duck, and I highly recommend trying their fancy-schmancy fruit pop tarts!
Planning Tip: Sure, SF can be expensive. With a few tricks up your sleeves, though, you can see it all without breaking the bank. Check out my Tips for Traveling San Francisco on a Budget to help stretch your dollar.

Musée Mécanique
In Fisherman's Wharf, you'll find the biggest collection of antique penny arcade machines and antiques. There are a whopping 300 games here to check out, and it's a fascinating glimpse back into the good old days of gaming.
Best of all, you can actually play the games! Bring a bit of cash, get some change, and try your luck with some unique oldies-but-goodies.

Science Night at Cal Academy
If you are lucky enough to be in San Francisco on Thursday night, you've got to check out NightLight. You'll get a peek into the lives of 40,000 nocturnal animals who come alive at night.
From 6 to 10 pm every Thursday, this cool all-ages event is the place to be. But, it's popular with locals and tourists alike to buy your tickets in advance.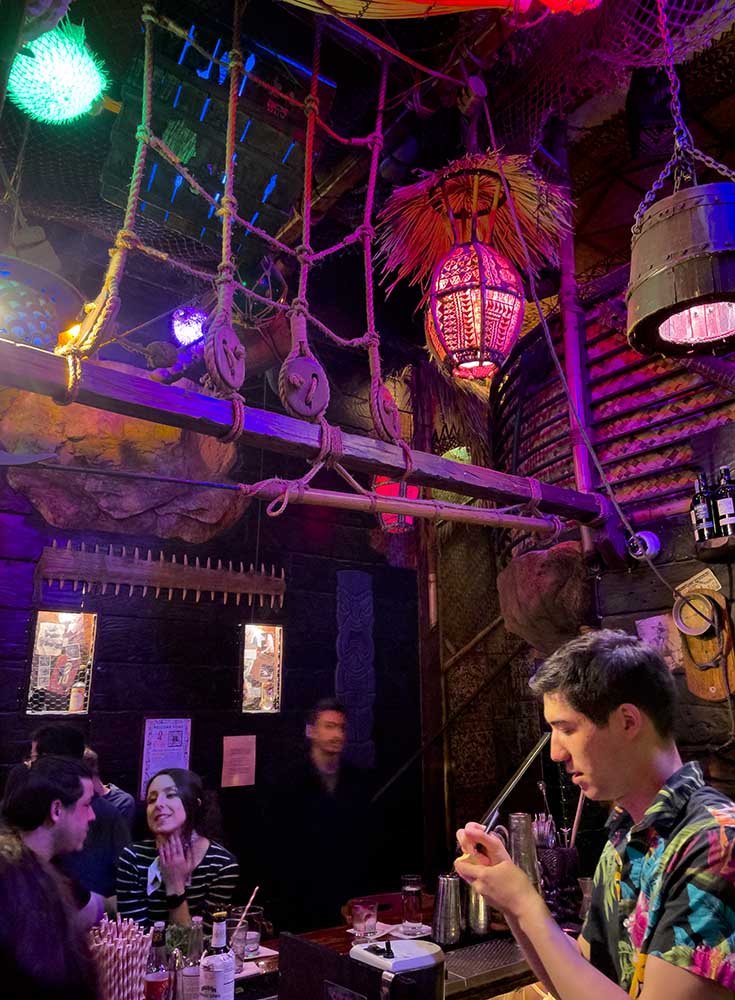 Smuggler's Cove
Looking for unique things to do in San Francisco? Live it up like a pirate while you sample your way through the 700+ rum varieties that this nautical nightspot has on hand.
Smuggler's Cove is a kitsch bar that's famous for its rum cocktails. They're serving up more than a few craft cocktails that you've never heard of, so sip your way through a few options.
And, be sure to try the famous scorpion bowl, AKA the tiki punch for an amazing (and very Instagram-able) drink.
Traveling with little ones and looking for some more PG activities? Jump over to my Top Things to Do in San Francisco with Kids post.


Off the Grid Friday Food Night
At Fort Mason Center, you'll find the biggest street food festival in California: Off the Grid.  And that is saying a lot in a place that loves curbside delicacies as much as we do!
Live is up every Friday night from 5 to 10 pm (April 1 to Nov 11 each year) with a wine garden, live music, and dozens of food trucks serving up some of the best food in town.

Hunt for Mosaic Tiled Steps
All around San Francisco, you'll find little explosions of colorful art.
From the Lincoln Steps at Lincoln Park Golf Course to Hidden Garden Steps at 16th Avenue and Kirkham to the 16th Ave Tiled Stairs on 16th Ave and Moraga Street, it's worth going out of your way to see these beautiful pieces of urban art.

This photo may not look like much, but...
Jackson Square Historic District
Wondering what to do in San Francisco that's a bit off the beaten path?
Head downtown to the impressive Jackson Square Historic District. Surrounded by Italianate and classical revival architecture, this beautiful little neighborhood will bring you back in time.
In Jackson Square Historic District, there are a handful of buildings that survived the earthquake of 1906. You'll also find the one-block Hotaling Place, which is said to be the oldest alley in San Francisco.
Fun Fact: Hotaling Place actually got its name during the 1906 earthquake.
During the chaos of the disaster, a businessman with a warehouse full of whiskey saved the building to protect his precious product. His bravery (and business-savvy) was immortalized in a poem:
If, as they say, God spanked the town
For being over-frisky,
Why did He burn His churches down
And spare Hotaling's Whiskey?
This neighborhood is also the site of the infamous old Barbary Coast, the former red-light district of the eighteenth and early twentieth century in San Fran.
Once you have explored the hidden treasures of this historic neighborhood, tuck into San Francisco's favorite dinner club, BIX, for live jazz, craft cocktails, and top-notch eats.

Ready to hit the ground running? Grab my complete guide to San Francisco for everything that you need to know before you go.