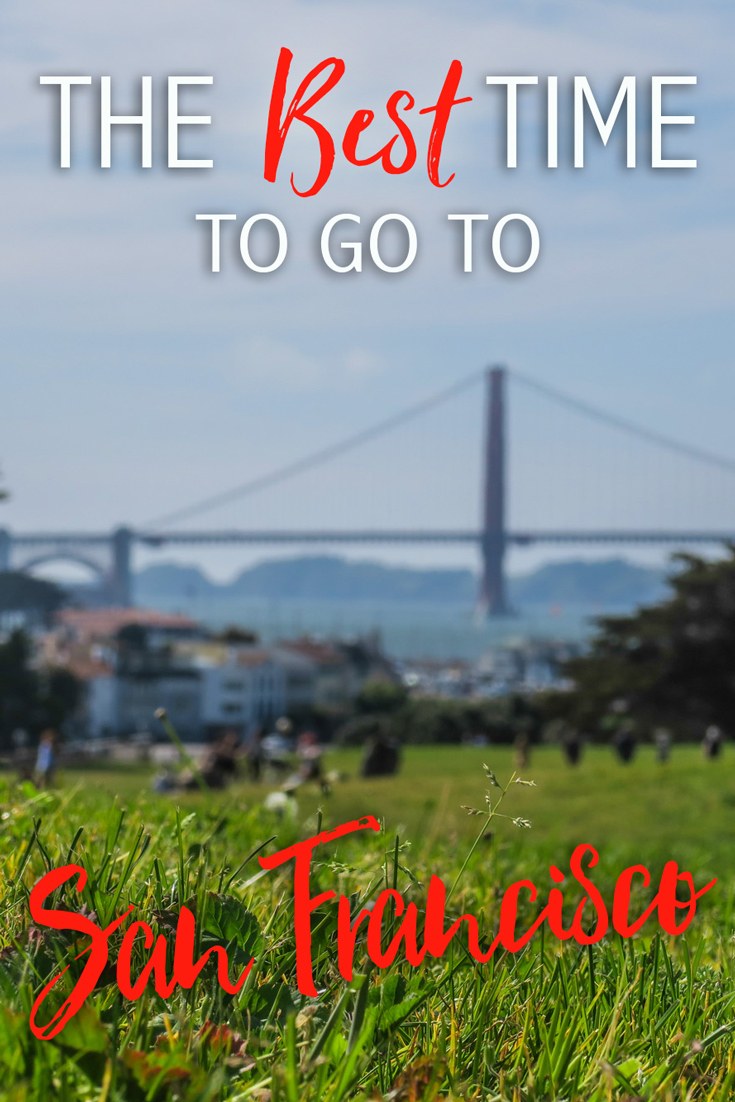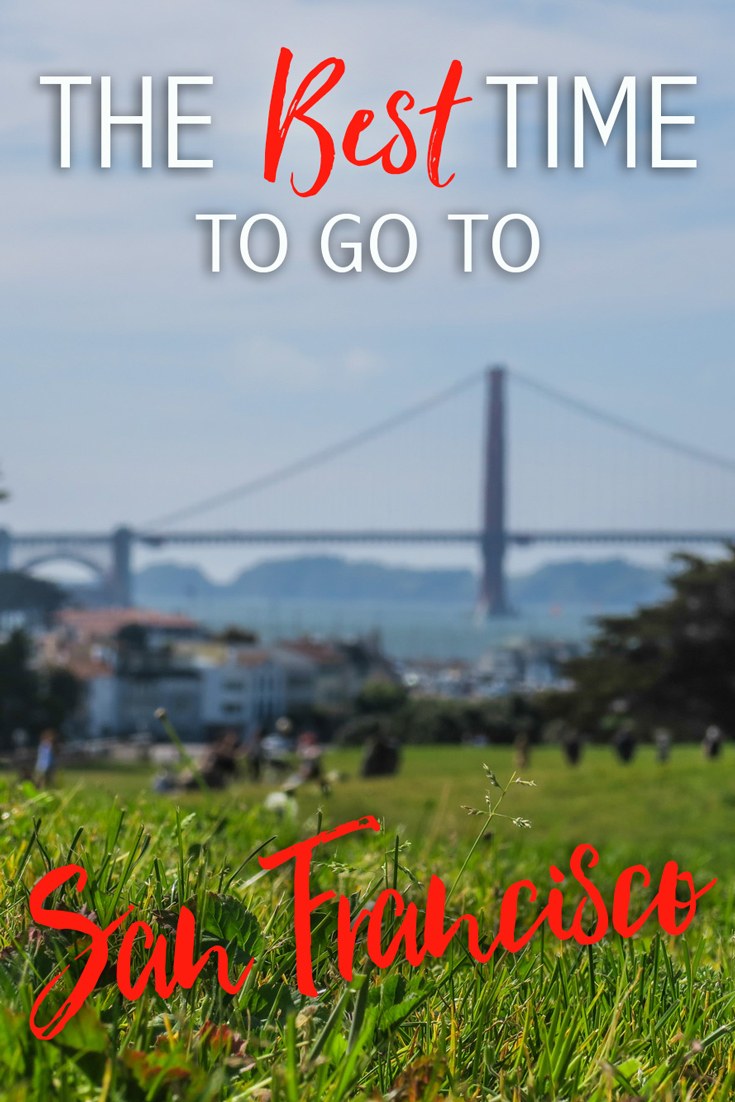 There is a reason why nearly twenty-five million people visit the City by the Bay every year. Cosmopolitan, modern, and trendsetting, San Francisco is a city with so many faces. Whatever you are into, the city has got it.
With idyllic weather nearly every day of the year and countless events filling up the local calendar, it's always a good time to check out San Francisco.
So when is the best time to go to San Francisco? It just depends what you're in to!

January
January in San Francisco can be a bit wet as it is in the middle of the rainy season. Bring along your heavy jacket, gloves, hat and scarves for the cooler mornings but shorts and light jackets for warmer afternoons. You may encounter some stormy skies and rainfall, but it is also a bit unpredictable so you could have a chance of crystal clear days as well. It's totally unpredictable!
January marks the sea lions return to Pier 39, so wandering around Fishermans' Wharf is a must! The California Grey Whales are migrating in January, so it is also a prime time for whale watching off the coast.
Fun Events
San Francisco Sketch Fest: Throughout the city, local favorites and awesome newcomers put on countless stand-ups, sketches, and improv shows all month long.
San Francisco Beer Week: More than 150 events featuring the best local craft beer and amazing pub grub are held throughout the city during one of California's best beer fests.

February
The rainy season carries into the month of February so expect some rainfall and cloudy mornings around the bay. You'll find temperatures in the low-60's, and perfect cuddling weather for Valentine's Day! It's still a great time for spotting whales off the coast, so consider a whale watching tour.
The Chinese New Year is a big annual celebration, so keep your eye out during your visit. The parade and festivities can happen in January or February and even early March, so check before you go.
Fun Events
San Francisco Independent Film Festival: Also known as SF IndieFest, this film festival brings together the top films from all over the area and it's the perfect place to get an insider look into the film industry.
Noise Pop: San Francisco's top independent cultural festival will blow your mind. With tons of art shows, designer trunk sales, films, and panels, you'll never be able to take it all in.

March
San Francisco starts to warm up in March and you'll see much fewer rainy days– unless it's an off-year, which again, is unpredictable! You'll find temperatures in the mid-60's so pack light layers.
The Irish community in SF goes all out for St. Patrick's Day, so be ready to rock green everything, and join in on the celebrations!
Fun Events
San Francisco International Chocolate Salon: Who needs to be sold on a chocolate festival? Featuring artisan and gourmet chocolate from more than fifty different confectioners alongside top local wines, this alone is well worth the trip!
Union Street Easter Parade Spring Celebration: Often called the "the biggest little parade in San Francisco," the event hosts more than 30,000 spectators getting into the spring spirit.

April
Typically, all the winter rains have gone away by the month of April. However, in California, there's this fun (sense the sarcasm) weather phenomenon call the "El Nino". It causes ocean currents to bring California more rain than usual, so there's just no guarantee you'll have dry skies.
Historically, April brings lots of sunshine, so keep your fingers crossed! Bring warmer clothes for evenings, but break out the sundresses and shorts for hotter days.
Fun Events
Rock n' Roll Half Marathon San Francisco: Even if you aren't a regular marathon runner, you will definitely want to make an exception for this one. Starting along the Great Highway at the northwest corner of Golden Gate Park, the Transamerica Rock n' Roll Half Marathon runs through some of the most beautiful spots you'll find anywhere on the West Coast.
Art Market San Francisco: As the Bay Area's only modern art fair, the Art Market is much loved by local galleries. With a range of established artists as well as up-and-coming new artists, this is the place to find the next Picasso.

May
May means sunshine! Don't miss the Bay to Breakers, one of the most popular 12K races in the country, made famous for its route through San Francisco, and the over-the-top, eccentric costumes the runners rock.
Crowds swarm into the city for the Memorial 3-Day Weekend, so book your accommodations early if you plan on visiting during the last week of May!
Fun Events
Carnaval: Who needs New Orleans when you can go to the Mission? Live it up at San Francisco's take on Mardi Gras. One of the largest festivals of the year, this impressive Carnaval celebration is always buzzing.
Alcatraz Challenge Swim: Ready to cool down? Why not jump in and try to make the one-and-a-half-mile swim from Alcatraz Island to the East Beach of Crissy Field! Even if you aren't quite up for it, this is a really fun event to watch.

June
June brings the heat in San Francisco. But it also brings the fog, so there are days where you may not see the sun, but you'll feel it! Temperatures can range anywhere in the 70's so layer, layer, layer.
The Pride Festival is a huge event in the city in June– it celebrates the heritage and culture of the LGBTQ community with one the biggest and best parades of the year. Get ready to party!
Fun Events
Ethnic Dance Festival: Held at the Palace of Fine Arts and San Francisco City Hall over three weekends, this festival has dance performances and music from all over the globe. Every weekend is different and full of fascinating shows that are unlike anything you've ever seen before.
North Beach Festival: Held outside of Washington Square Park, this is San Francisco's oldest street fair. Full of beer gardens, arts and crafts, live entertainment, and gourmet food stands, this is the perfect place to spend a summer afternoon.

SHOP my favorite San Francisco inspired styles!


July
July isn't the best month to go to the beach in San Francisco since it's usually filled with fog, and the water is freezing. However temperatures will soar to the high-70's all month long as it is the driest month.
July is full of festivals and big Independence Day celebrations, so look out for fireworks and fairs!
Fun Events
Fourth of July Waterfront Festival: With a breathtaking fireworks display, this annual waterfront party is one of the best Fourth of July celebrations in the country. Come for dinner, watch the fireworks, and then stick around for the live music.
The Renegade Craft Fair: Dive into the Bay Area indie-craft culture! Check out the impressive handmade goods and join one of the cool interactive workshops.

August
Weather in August will be warm and dry, much the same as July. Summer tourism is in full swing in August, so be prepared for higher prices for flight, accommodations and bigger crowds at the popular sights.
San Francisco is home to the Outside Lands Music Festival in August, so if you're a fan of Indie and Alternative Rock, Electronica and Hip Hop, look into tickets!
Fun Events
Noe Valley Wine Walk: Head to Castro Street and Twenty-Fourth Street (from Diamond to Chattanooga) to try some world-class Cali wine and gourmet goodies.
San Francisco Street Food Festival: Bask under the sun for two days while you join this intoxicating celebration of music, food, and drink.

September
September is the best time to visit San Francisco if you're looking for clear skies! Less fog and warmer temperatures all around.
Labor Day Weekend brings lots of people to the city to end summer with a bang. Enjoy all the food and wine festivals and fairs throughout the city!
Fun Events
Fringe Festival: Forget Scotland! San Francisco's Fringe Festival has thirty-five different groups performing 150 shows throughout September every year. Whether you are a theater nerd or just looking for a fun outing, you can't miss this grassroots theater festival.
Oktoberfest by the Bay: At the end of September, come to SF's Pier 48 for all the German food, beer, and entertainment that you can handle. It's a blast every year so plan on spending at least a couple days checking it out.

October
October is usually clear in San Francisco but it does mark the beginning of rainy season, so you may see some drizzles here and there.
October is Fleet Week in SF, so you'll see military pride everywhere from tours of ship to air shows from the Blue Angels. Halloween is a big occasion in the city, so be ready to go all out with your costume!
Fun Events
Castro Street Fair: Eat, drink, and dance the night away at this celebration of the much-loved Castro neighborhood. If you only make it to one street fair this year, let it be this one!
San Francisco Barbecue Festival: Come hungry and head over to the The Yard at Mission Rock for some amazing local BBQ, live entertainment, and so much more.

November
November is a wet month, so bring your rain jacket and boots. The city is in full swing for fall, so don't miss the Christmas is Coming fair that leads up to Thanksgiving!
Fun Events
Illuminate SF: See the city in a whole new way when dozens of eco-friendly light art installations transform the night sky. Bring your camera and come ready to explore the entire citywide gallery of light.
The Great Dickens Christmas Fair: What better way to get into the holiday spirit than to explore an old Victorian Christmas village? With everyone in period costumes and the streets full of shops, taverns, and live entertainment, this is unlike any Christmas fair you've ever been to.

December
December is in the rainy season so you can expect winter storms– just don't expect any snow. It's the coldest month by far!
Christmas and New Years festivities and fairs are reason enough to be in the city in December, but if you're looking for a snowy holiday, you can head to Lake Tahoe to hit the slopes and sip hot cocoa by the fireplace!
Fun Events
Union Street Fantasy of Lights: Explore one of San Francisco's most famous streets when it comes alive with the Christmas spirit. Take in the gorgeous holiday lights, pose for pics with the elves, and browse the merchant open houses.
NYE in SF: If you are lucky enough to be in San Francisco over New Year's Eve, go to Fireworks Over the Bay. Bundle up and head to the SF Bay Bridge for a stunning view. Want an excuse to pull out your old ball gown? Get to San Francisco Symphony's annual Masquerade Ball.

Read More