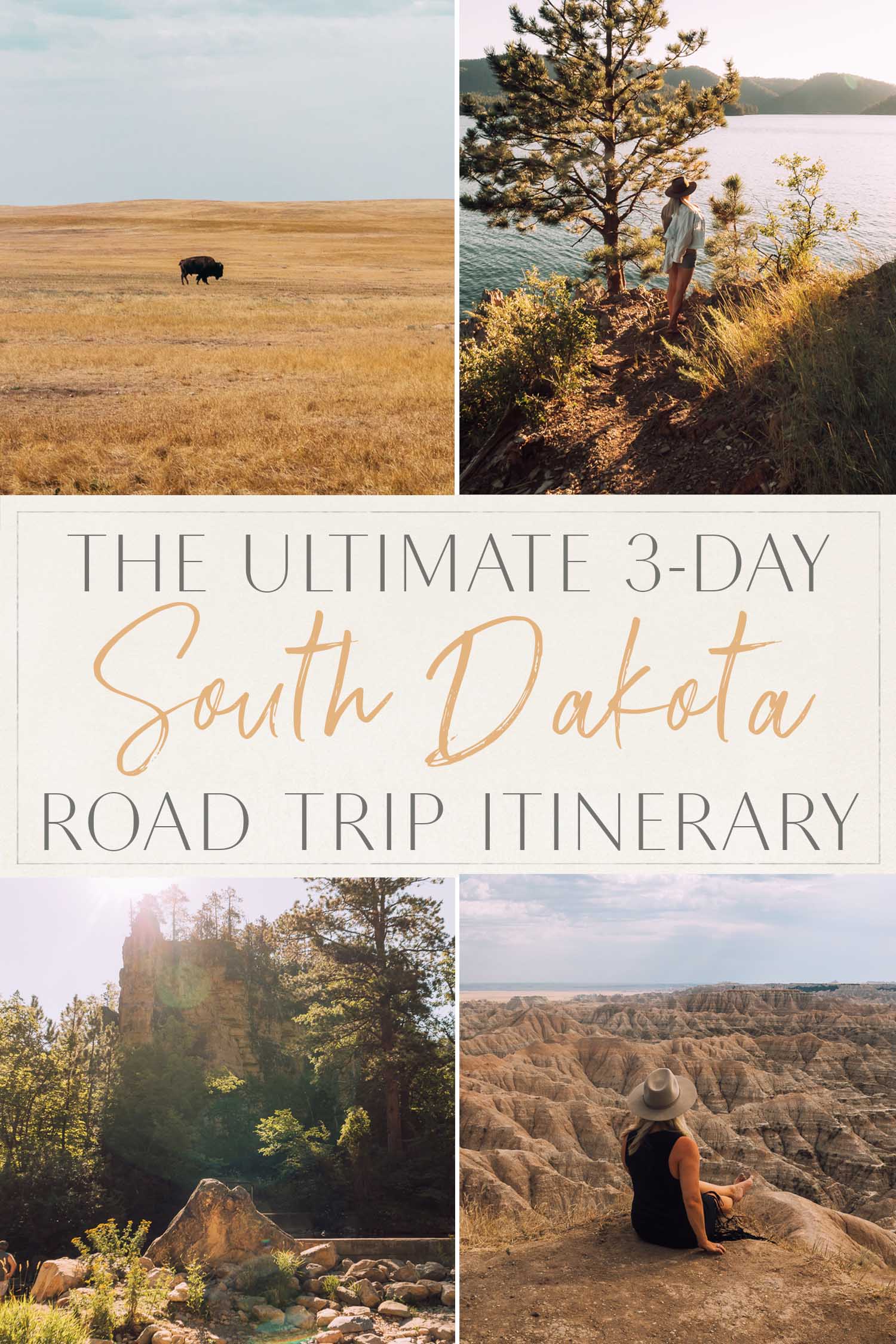 Kylee of Passports and Preemies is sharing her South Dakota road trip itinerary!
One of the most underrated states in America, South Dakota is insanely beautiful, affordable, and easy to road trip through. With the highlights of the state being the Black Hills mountain range and the Badlands National Park, you'll start and end this road trip in Rapid City.
As you travel through South Dakota in three days, expect to see an abundance of wildlife and have ample opportunities to pull over on the side of the road to take in scenic overlooks. On this trip expect to be able to hike, visit waterfalls, and learn about US history from historic monuments.
Along the way, as you move from small town to small town, there will be opportunities to "glamp," stay in a hotel, or even rent a cozy log cabin.
Here's the ultimate 3-day South Dakota road trip itinerary!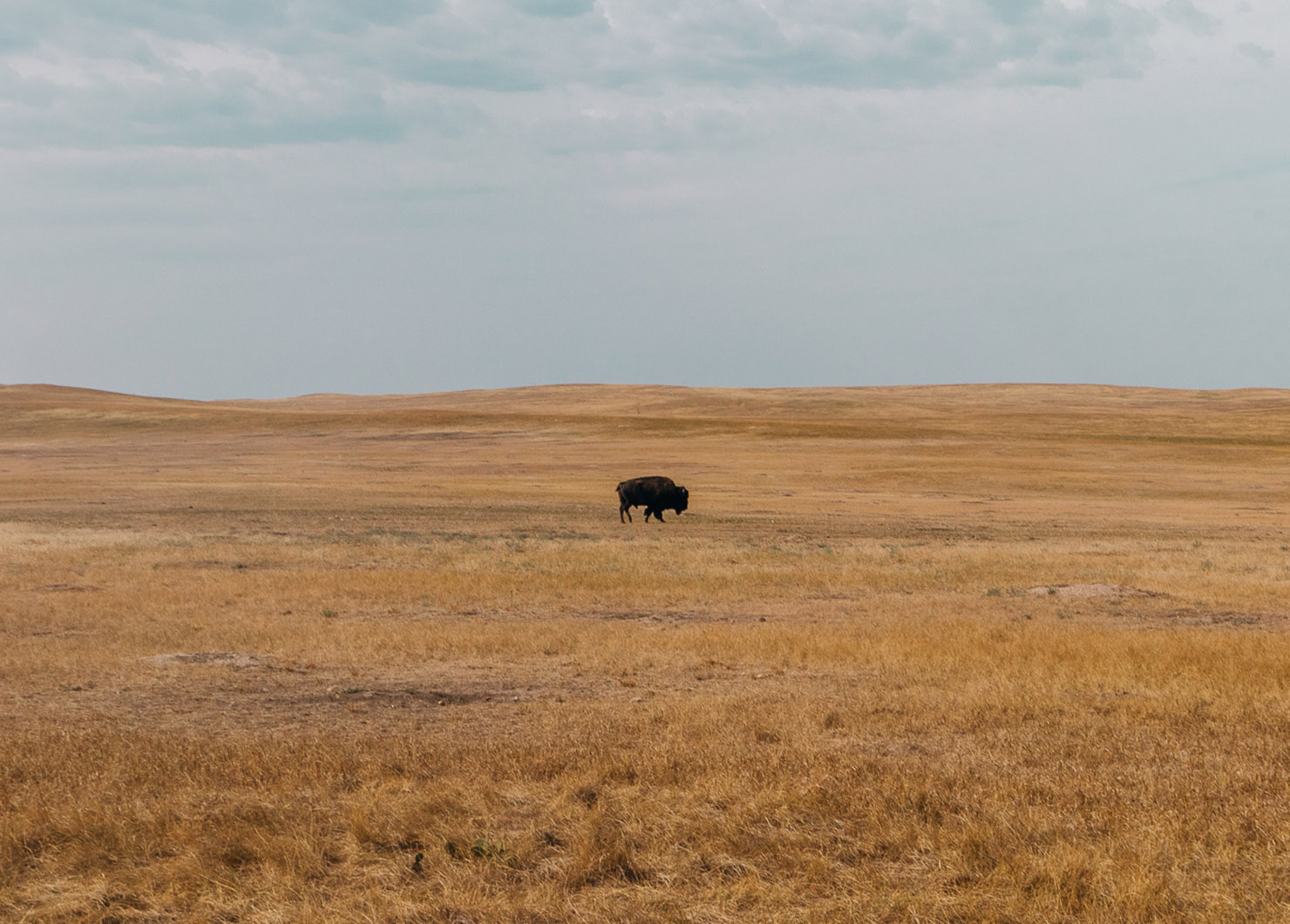 The Best  Time To Go
The best time to road trip through South Dakota is during the spring, summer, or fall. There's a lot of outdoor activities so visiting from late spring to early fall is ideal.
I would recommend avoiding this road trip in the winter because some of the most scenic highways are closed at this time due to snow.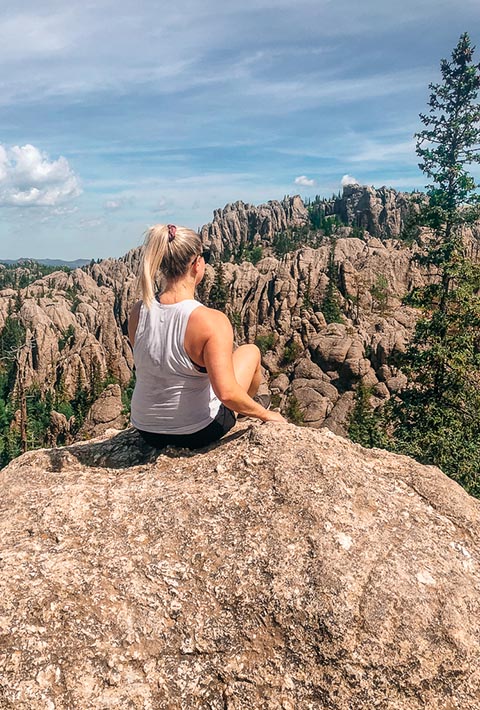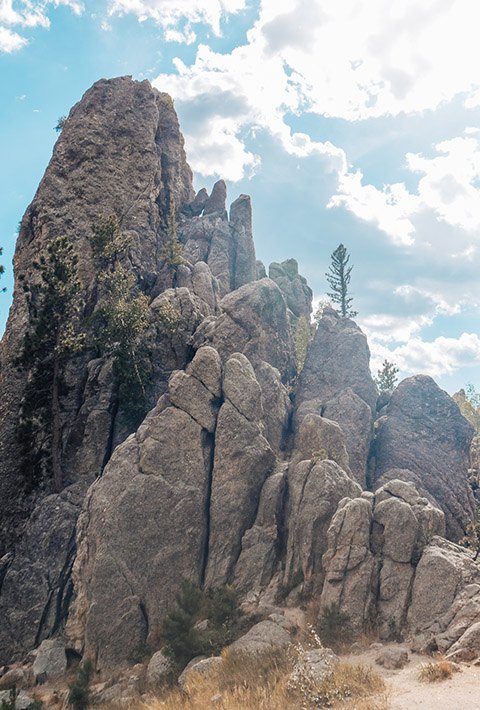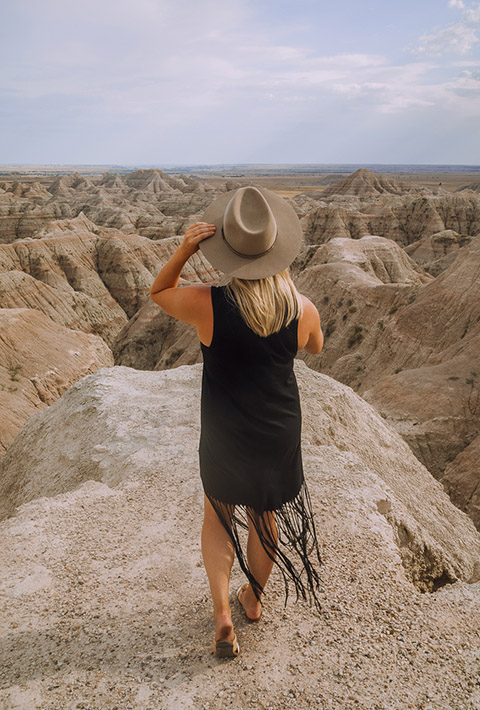 My 3-Day Itinerary
Day 1: Spearfish Canyon Scenic Byway + Deadwood + Pactola Lake
Day 2: Mount Rushmore + Needles Highway + Black Elk Peak + Sylvan Lake
Day 3: Cathedral Spires + Badlands National Park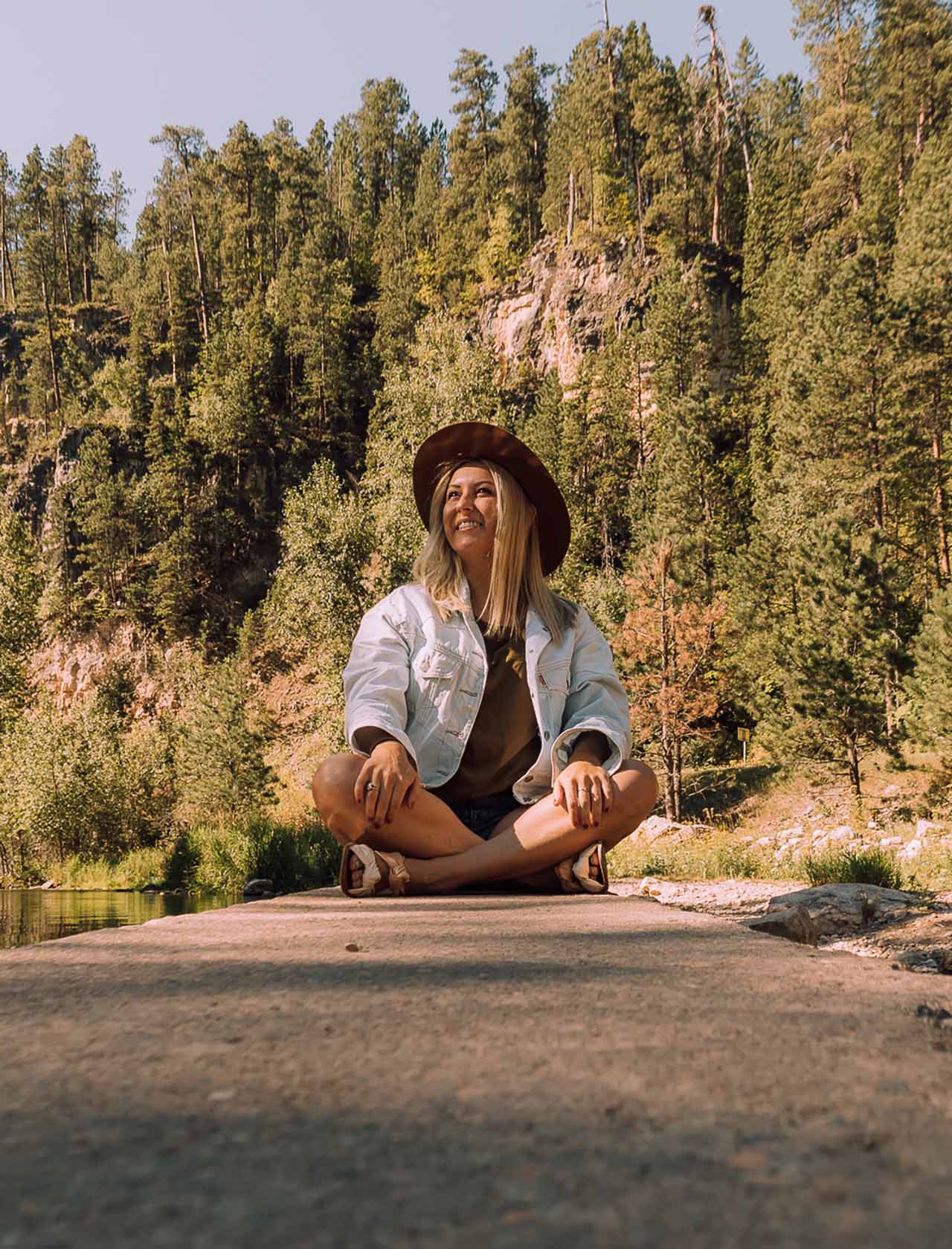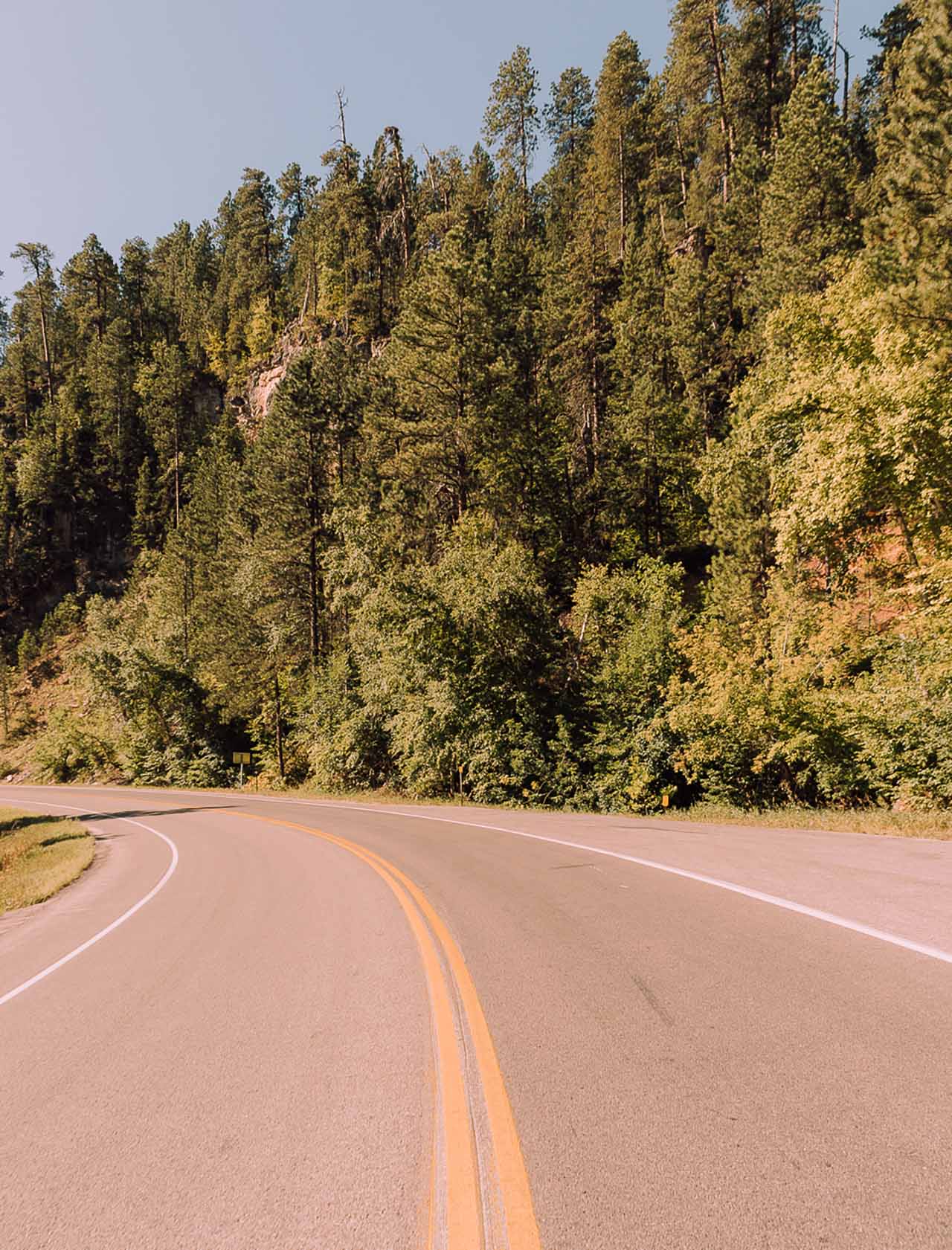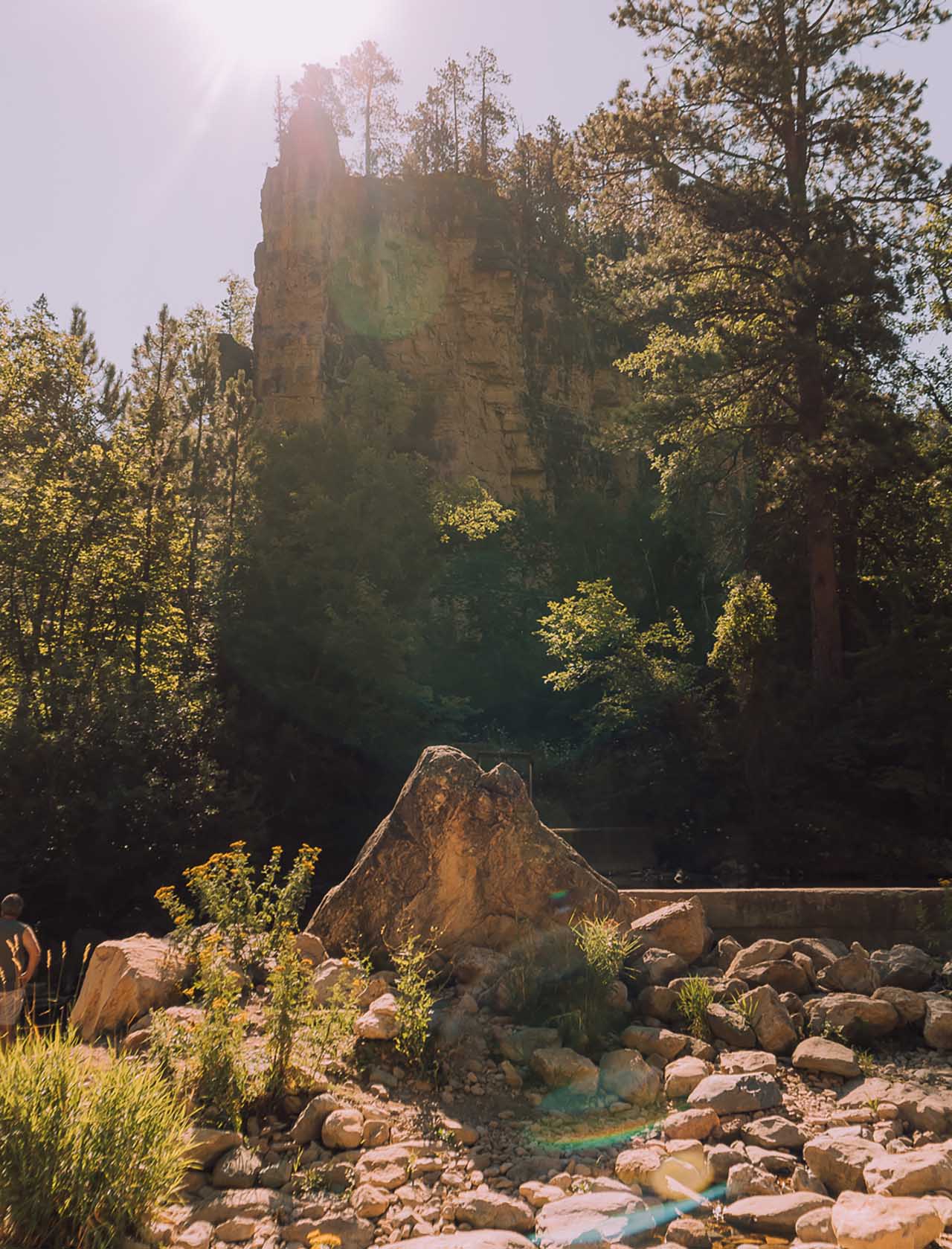 Day 1
The best way to start your South Dakota road trip through the Black Hills is by arriving in Rapid City, which has one of the main airports in the state and is located just east of Black Hills National Forest.
Spearfish Canyon Scenic Byway
When you leave Rapid City you'll be heading northwest to drive the Spearfish Canyon Scenic Byway, Highway 14A. This scenic drive takes you 22-miles through some of the prettiest landscape in South Dakota, where you'll have plenty of opportunities to pull over on the side of the road to get out and explore.
While driving along Spearfish Canyon make sure to stop at Bridal Veil Falls and Devils Bathtub if you like fishing. At Devils Bathtub, with a valid South Dakota fishing license, you can catch and release trout.
If you plan to visit these stops, make sure to bring water shoes—to access Bridal Veil Falls you'll need to cross the creek. 
Once you come to the end of the drive there will be a fork in the road. On the left, you'll see the Latschstring Restaurant where you can stop for breakfast/lunch, or if you head right you'll come to a boardwalk where you can get out and view Roughlock Falls.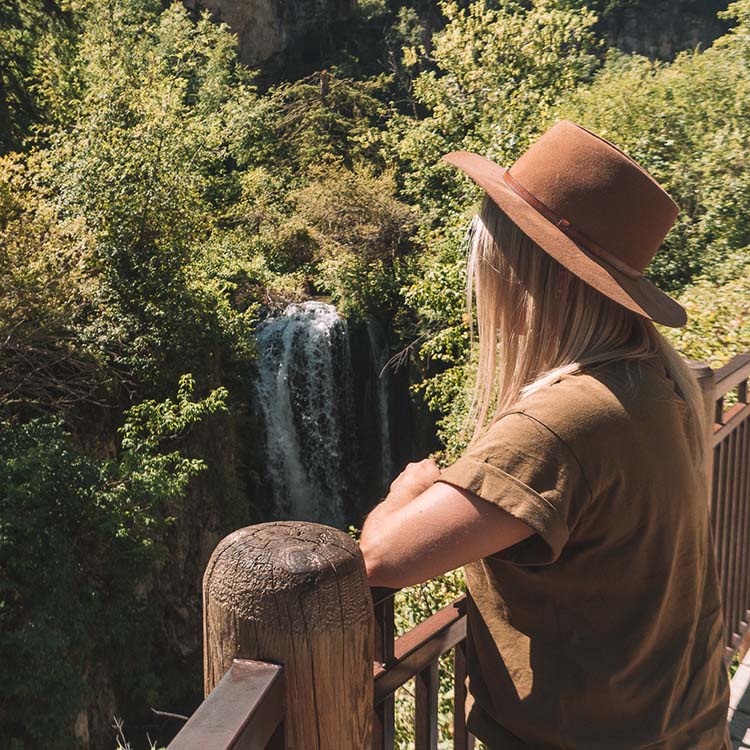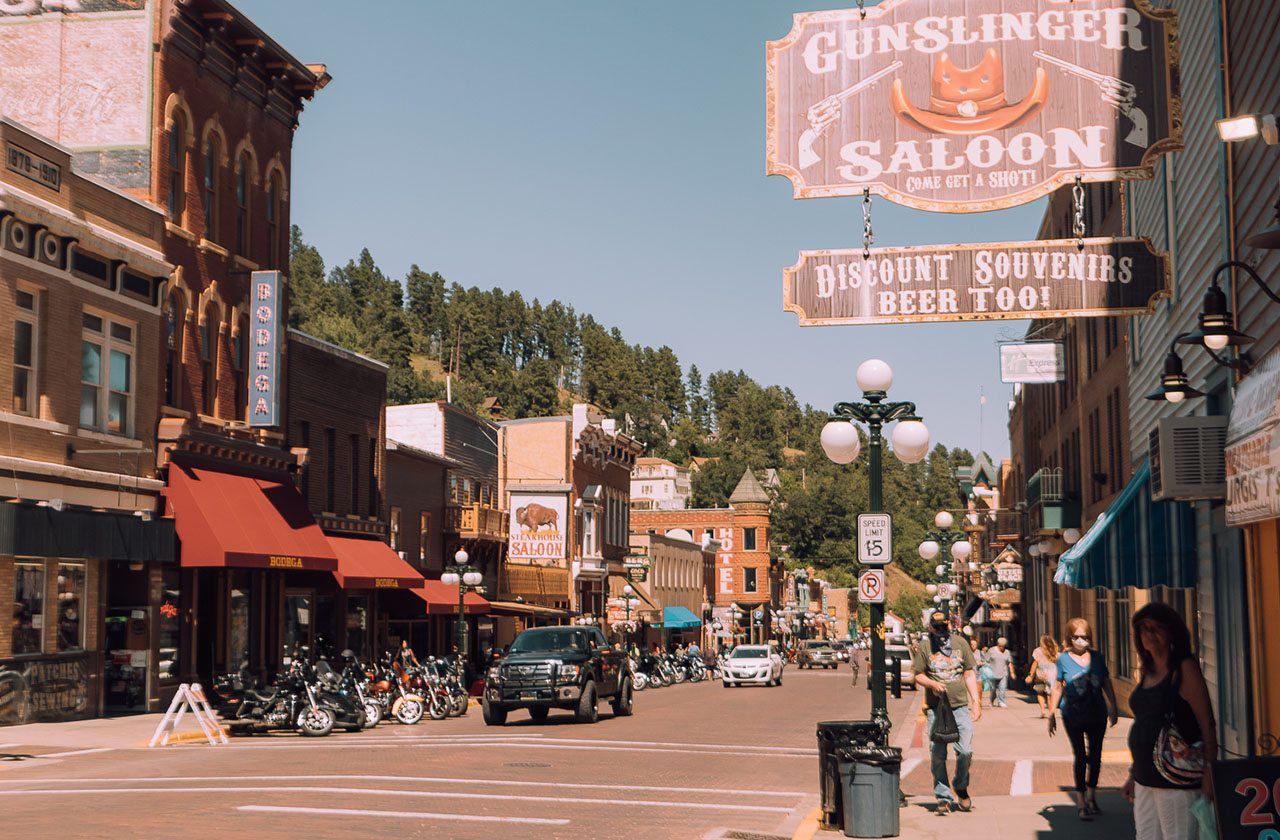 Deadwood was founded in 1876
Deadwood
Once you've completed the Spearfish Canyon drive, head south to check out one of the most historic towns in South Dakota, Deadwood. Deadwood is mostly known for gaining fame when gold was discovered causing an influx of people during the gold rush.
Many famous gunmen and Wild West figures like Wild Bill Hickock and Calamity Jane came to town, and both of these people are buried in the Mount Moriah Cemetery.
As you walk through Main Street, don't miss stopping in at Saloon No. 10, where Wild Bill Hickock was murdered. There are tons of artifacts and pictures plastered on the walls, giving you a vivid story of the colorful past of the town.
If you're looking for somewhere to eat, grab a table on the outdoor patio of the steakhouse restaurant Stockade.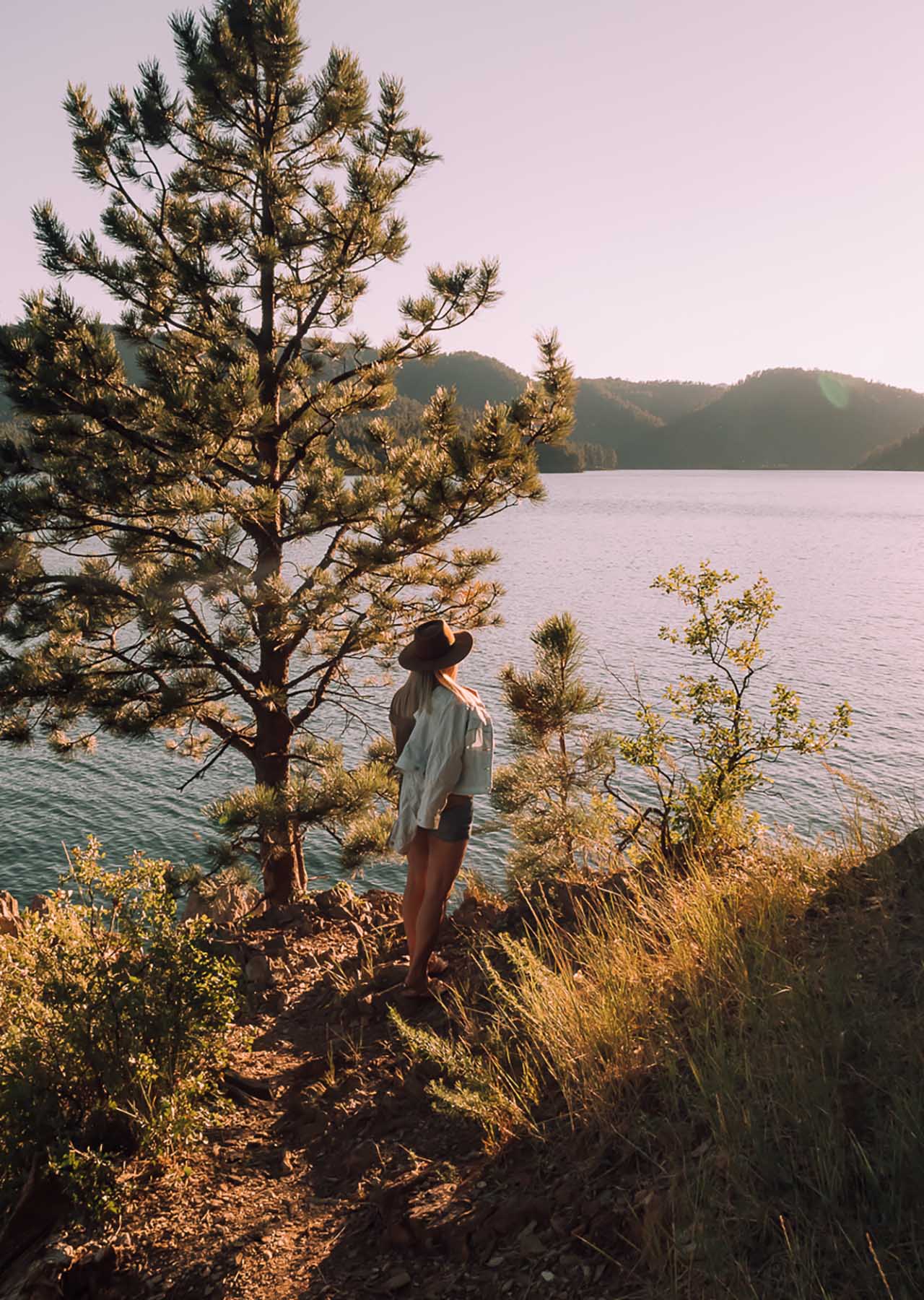 Pactola Lake
Before sunset, make your way further south to Pactola Lake, the largest reservoir in the Black Hills.
There are free parking lots available around the lake and stairs that lead you down to where you can veg on the beach or sit at a picnic table. I recommend coming with drinks or a small picnic as you watch the boats drive by and the sunset. You are also able to get into the lake, so don't forget a bathing suit!
I recommend ending the night in Keystone. There are many different types of lodging options in Keystone, you can opt for a small log cabin at Powder House. Or splurge on a luxury tent at Under Canvas Mount Rushmore.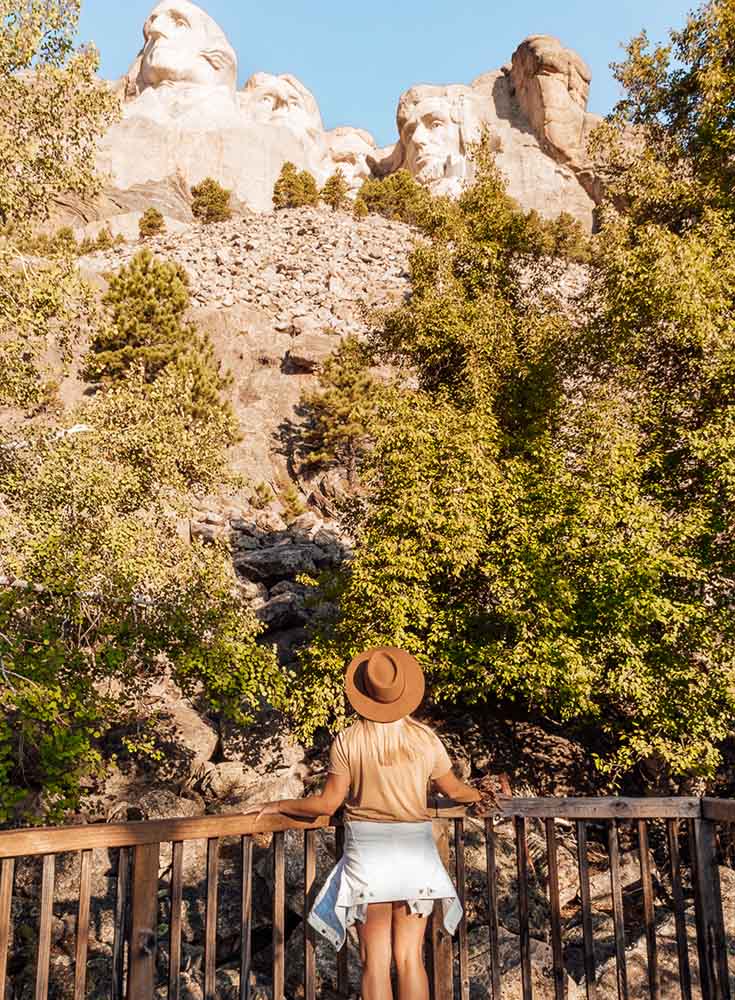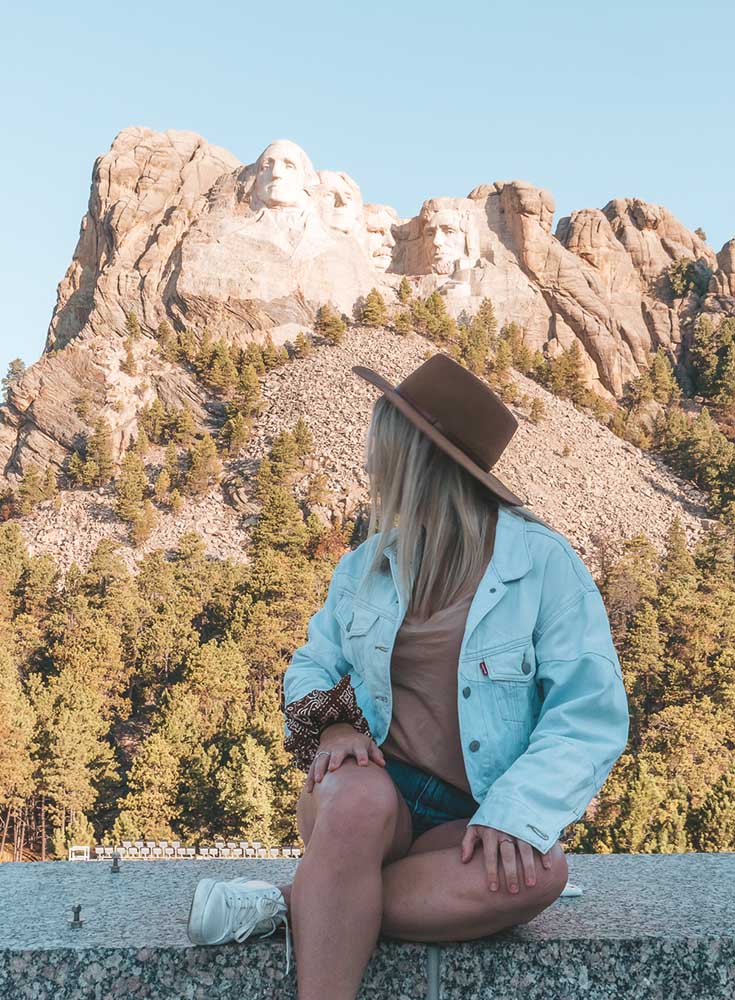 Day 2
Before exploring the main attractions of Keystone, fill up on a hearty breakfast at the Powder House Lodge Restaurant.
Mount Rushmore
Once you've eaten, make your way to the historic monument – Mount Rushmore. Mount Rushmore opens at 5 am and crowds begin to gather close to 8 am, so if you want to see the area with fewer people around I recommend arriving around 7 am.
You will be required to pay $10 for parking outside of the monument, but the entrance to the monument is free. Once you're inside make sure to walk the 0.6-mile Presidential Trail, which will take you around the park and get you up closer to the monument.
(Note: If you want to visit the monument without crowds, eat breakfast after visiting the monument and before your next stop).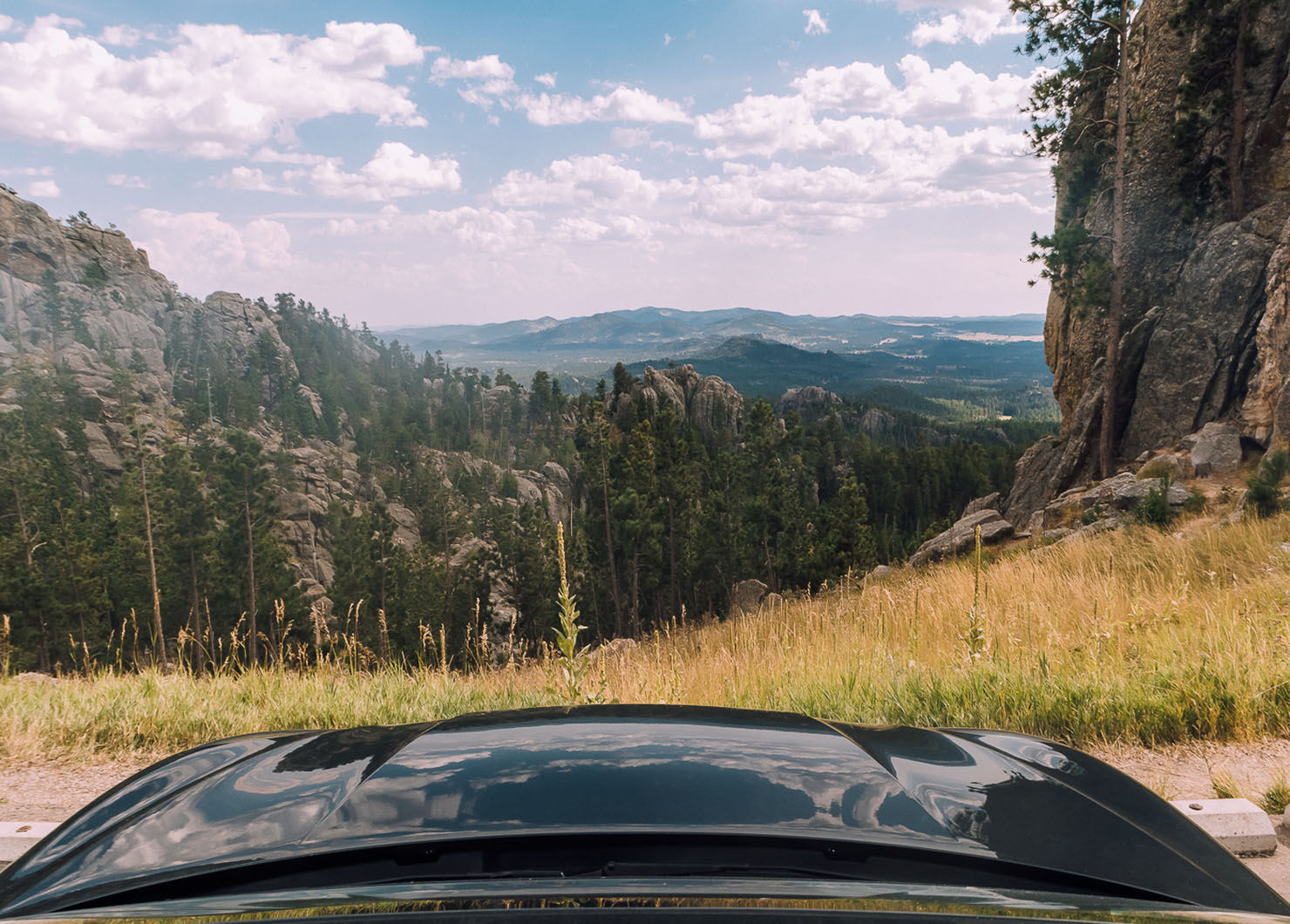 Needles Highway
After viewing Mount Rushmore hop on Highway 87 – Needles Highway. It's one of the most unique drives in the state stretching through Custer State Park for 14-miles.
It's a narrow highway leading you through tunnels carved through mountains, with views of spire-like rocks. Please note that this highway is closed in the winter months.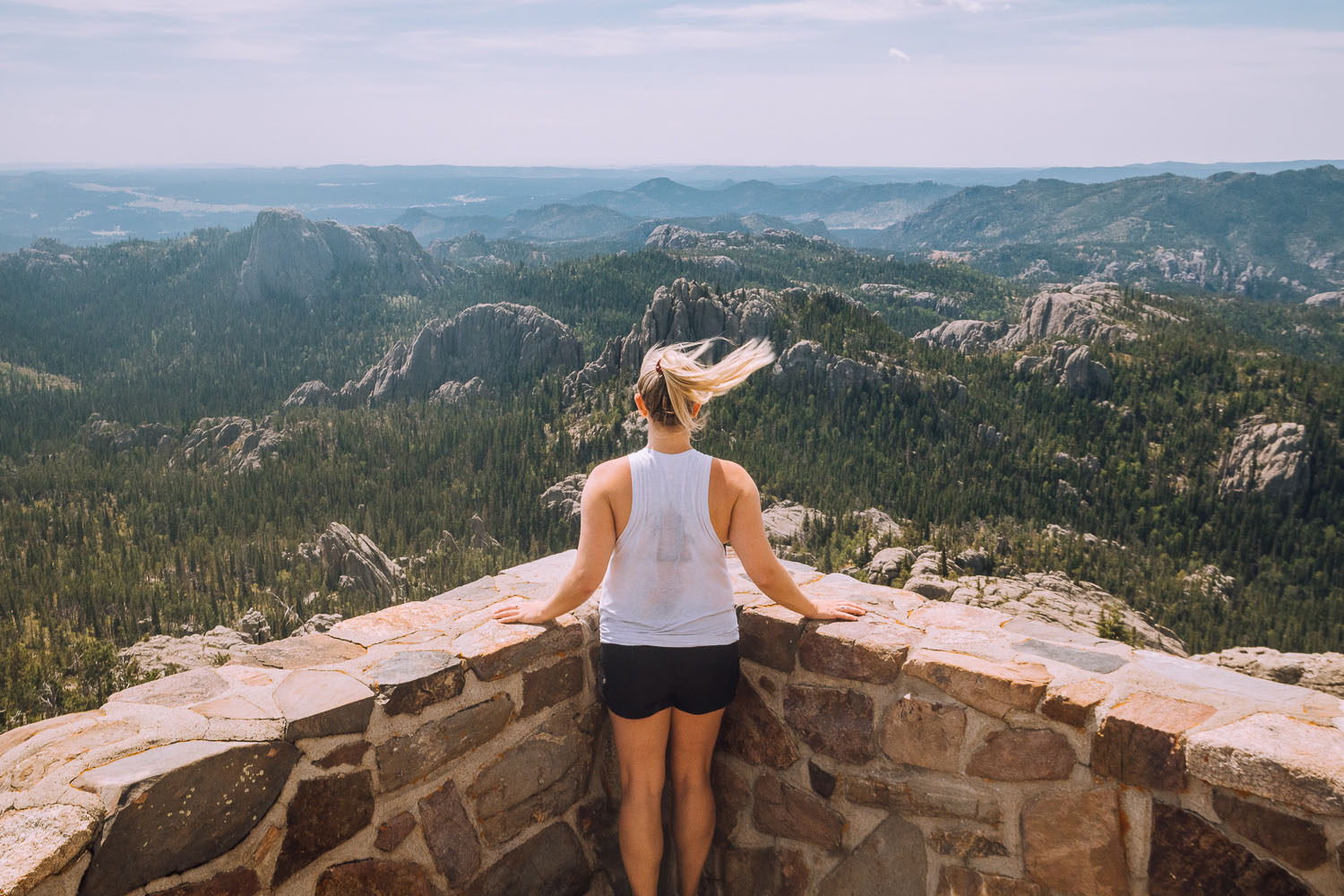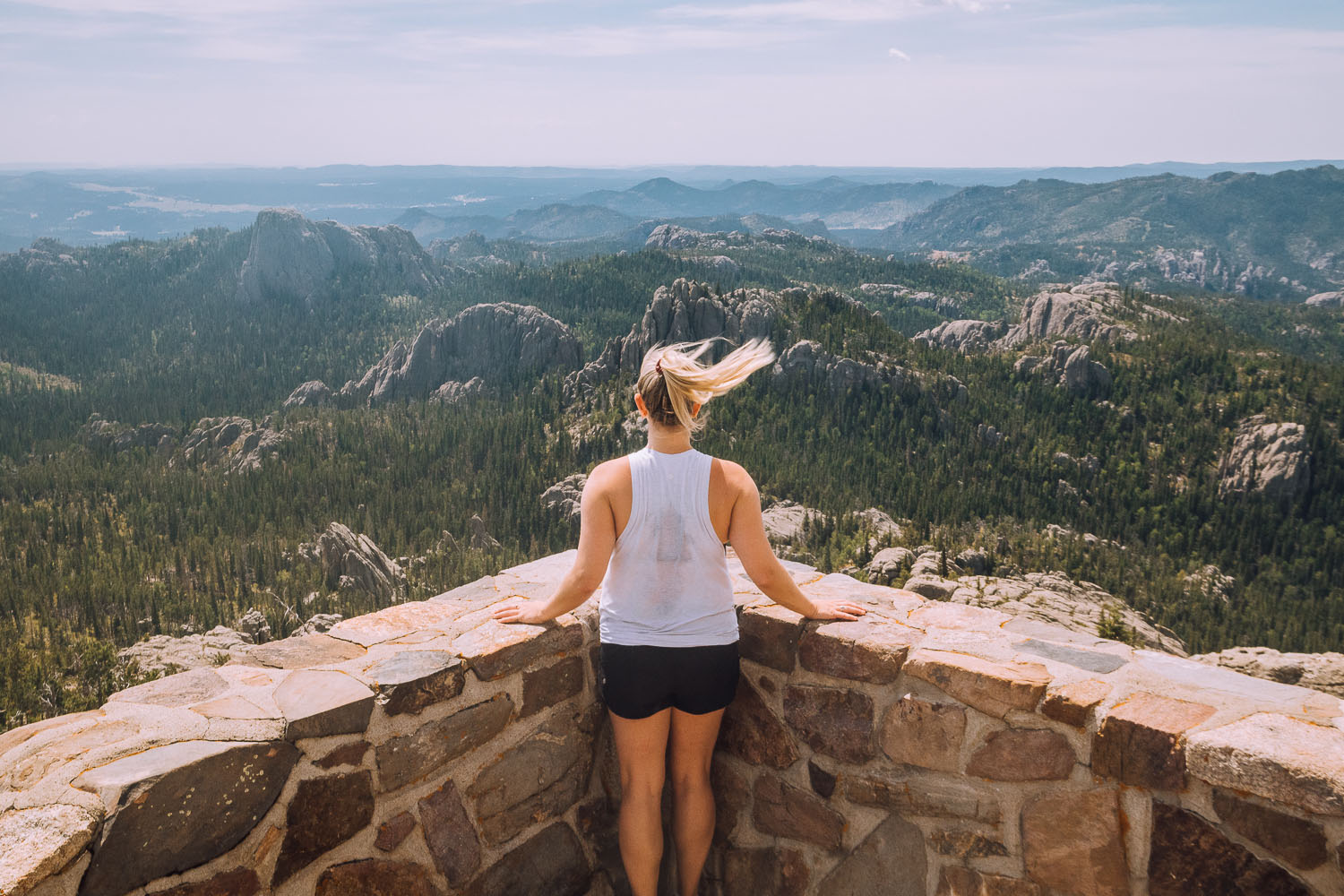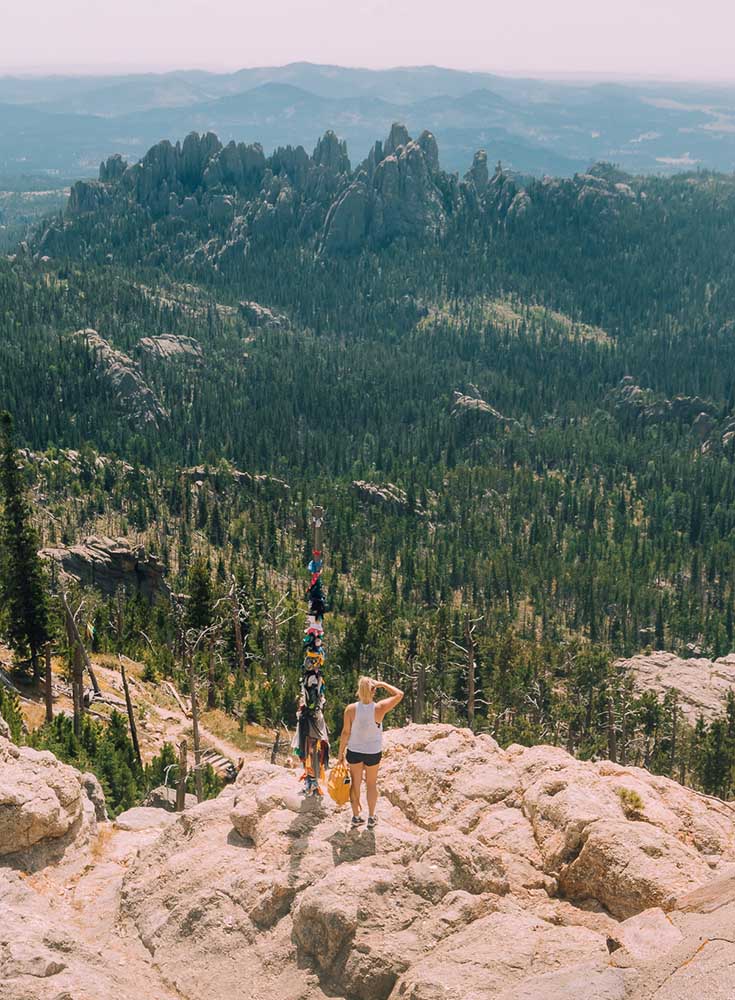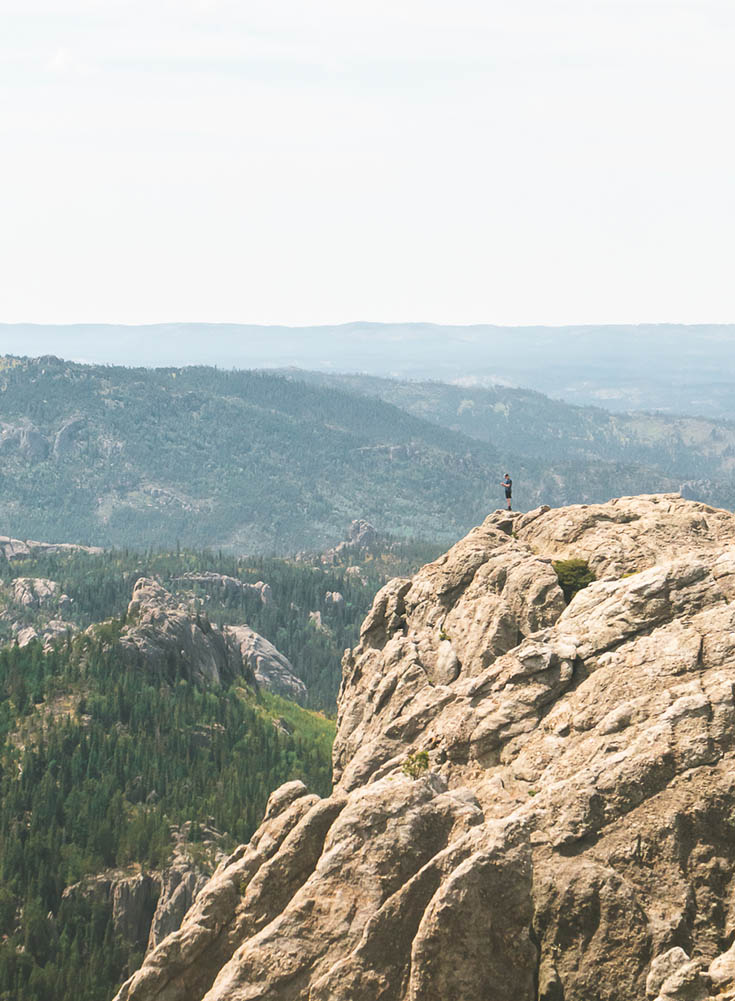 Black Elk Peak
Once you complete the Needles Highway drive, head south towards Sylvan Lake where the Black Elk Peak trailhead is. Entrance into Sylvan Lake is $20 and your ticket is valid for up to a week.
Black Elk Peak is the highest point in South Dakota and once you hike up to Harney Peak Lookout, you're on the highest peak east of the Rockies and west of the Pyrenees Mountains in Europe. The trail is a loop trail about 7-miles long, with an elevation gain of nearly 1,500-feet.
Sylvan Lake
After you've completed the hike and you make it back to Sylvan Lake, stay to enjoy the lake for the rest of the day. You may have heard of this lake before, or seen it in the movie National Treasure. Near the lake, there are bathrooms and even a small convenience store where you can get food and drinks.
At the lake itself, there are picnic tables available, paddleboards and kayaks to rent, and the ability to fish with a valid South Dakota fishing license. You're also allowed to swim in the lake, weather permitting.
If you want to stay in the area you can spend the night at Sylvan Lake Lodge, or overnight in Hill City to experience more of the Black Hills. If you stay in Hill City check into a room at the Alpine Inn right on Main Street.
When in Hill City Make sure to check out Prairie Berry to taste the local South Dakota wine, and eat dinner at the Alpine Inn which is known for its expansive dessert menu.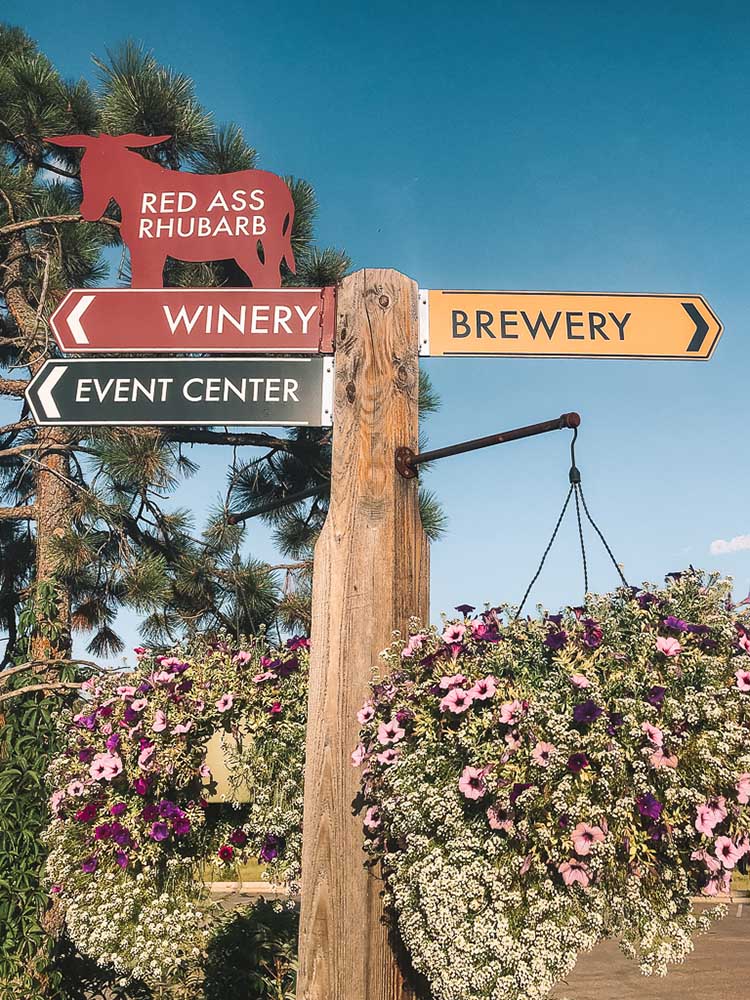 Day 3
Before leaving the Black Hills and heading 80+ miles east to the Badlands, make your way to Custer to eat breakfast at Baker's Bakery & Café.
Cathedral Spires
If you want to get out for some fresh air before driving to and around the Badlands, stop at the Cathedral Spires trailhead on Needles Highway.
Cathedral Spires is an easy, out and back, trail that is 1.5-miles with an elevation gain of 455-feet.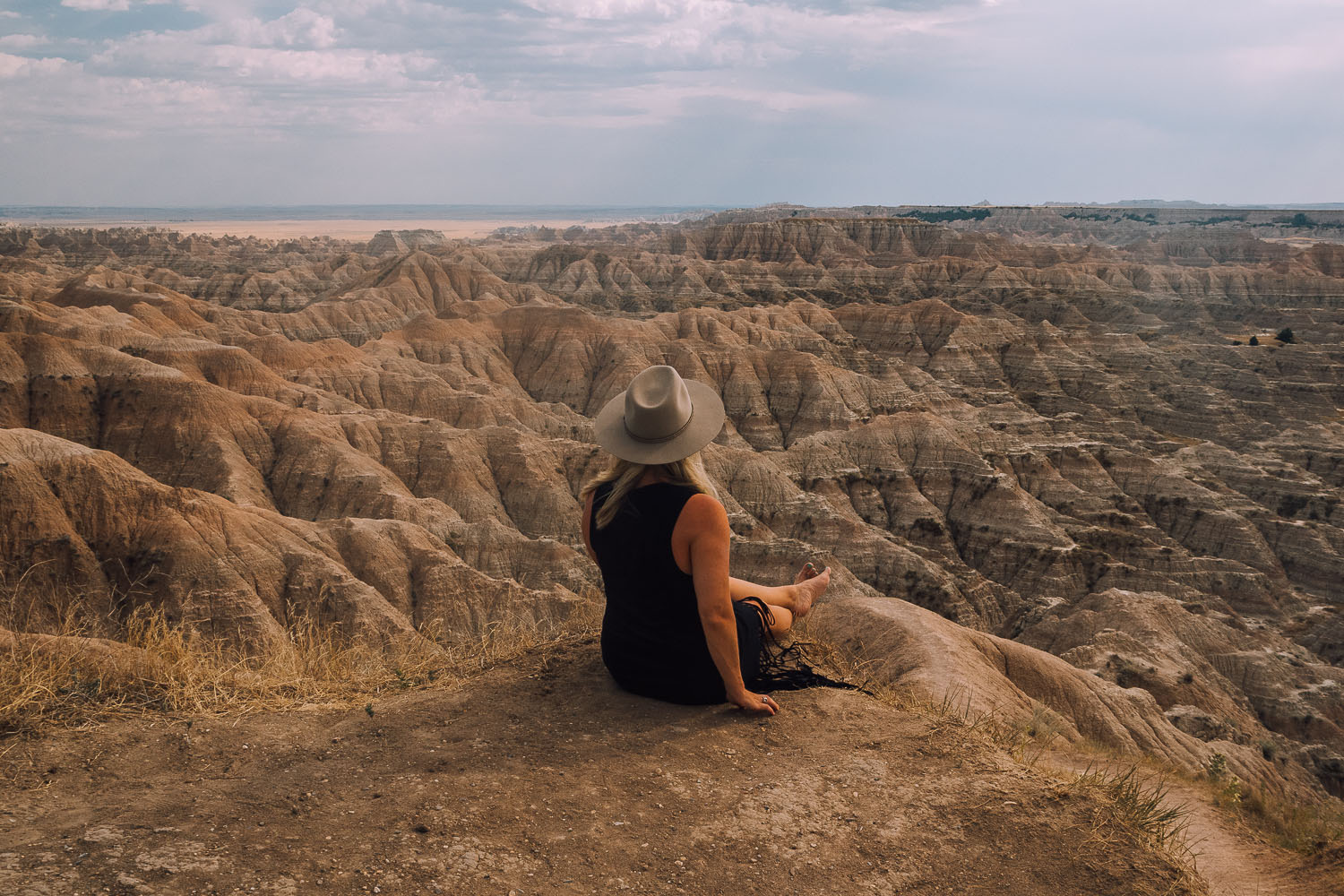 Badlands National Park
Badlands National Park
Now head to the Badlands National Park. On your way, it's common to see bison, prairie dogs, bighorn sheep, and other wild animals. Please remember that these are wild animals for a reason and keep your distance.
The Badlands is a dramatic landscape of rock formations and canyons where you can hike or drive around admiring the beauty from your car.
To see all that the Badlands offers, drive the dirt road Sage Creek Rim Road. The drive will take you 1-2 hours depending on how often you stop, and there are many scenic lookout points along the way.
If you want to hike in the Badlands you have many options!
Some of the more popular trails include Fossil Exhibit Trail, Window Trail, and Castle Trail. If you do plan on hiking make sure to bring plenty of water! The area is quite a bit hotter than the Black Hills due to the lack of shade.
Once you're done exploring the Badlands, drive the 60+ miles back west to Rapid City to head home.

Trip Additions
If you have additional time to spend in South Dakota I'd recommend spending extra time in the Black Hills. Don't miss the Crazy Horse Memorial, Wildlife Loop Road, and Jewel Cave.
If you're looking to see more of South Dakota and are into kitsch, cheesy places make sure to check out Wall Drug Store in Wall, South Dakota. And finally, don't miss The Corn Palace in Mitchell.
South Dakota is truly one of the most unique areas in the United States. With historic, Wild West towns frozen in time, wildlife sightings, hiking, and scenic drives; visiting this state is well worth your time.
If you're planning a visit and looking for more information on which towns to visit and why make sure to check out The Best Towns in South Dakota.