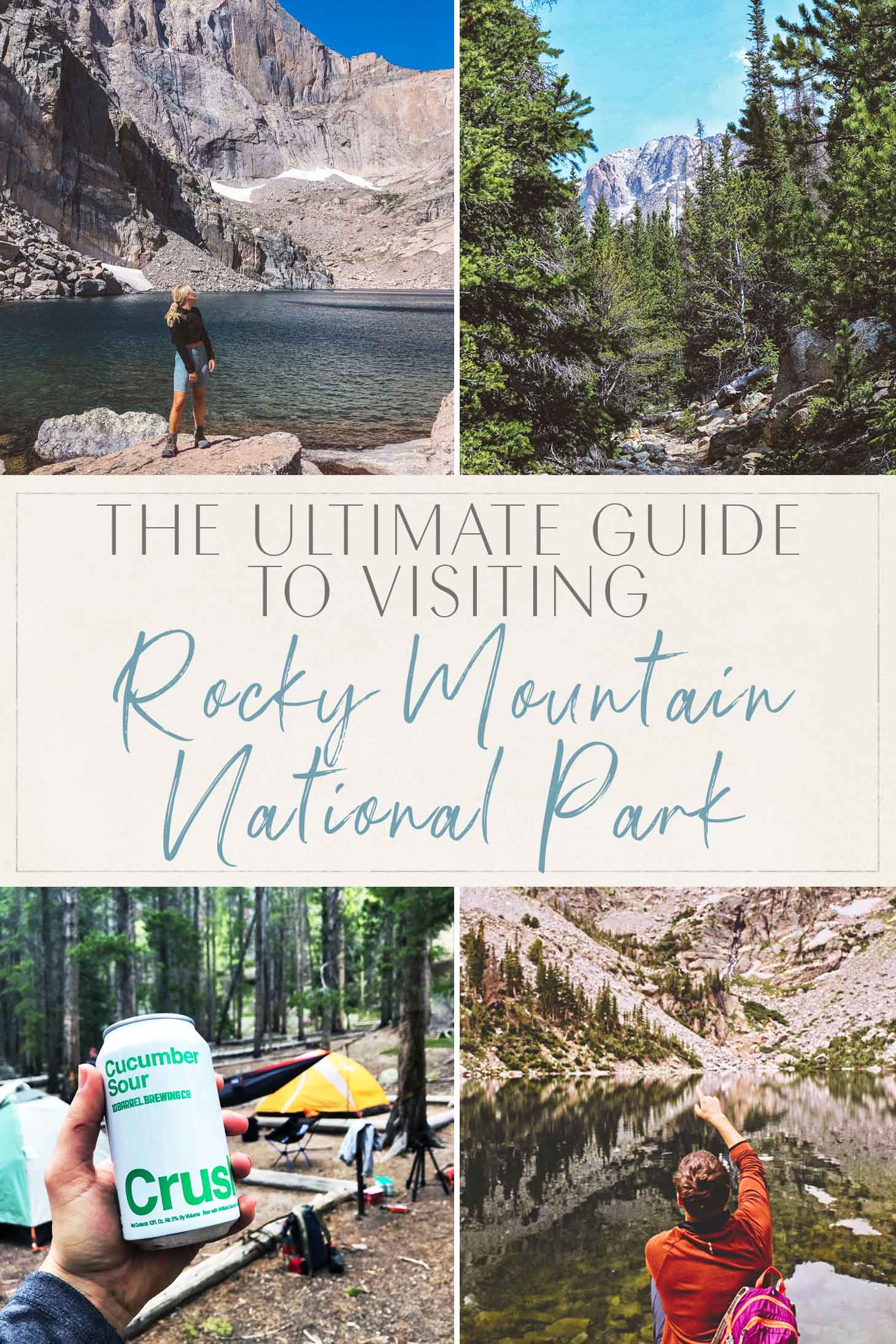 Elizabeth of The Travelogue is sharing all about visiting Rocky Mountain National Park!
I live in Denver, Colorado – which is just an hour and a half drive from beautiful Rocky Mountain National Park (RMNP), making it an awesome weekend or day trip for both Coloradans and visitors.
RMNP is the third most visited national park in the United States, and for good reason: high alpine lakes, insane peaks, tons of wildlife, and miles on miles of trails to explore. There's truly something for everyone!
Here's the ultimate guide to visiting Rocky Mountain National Park!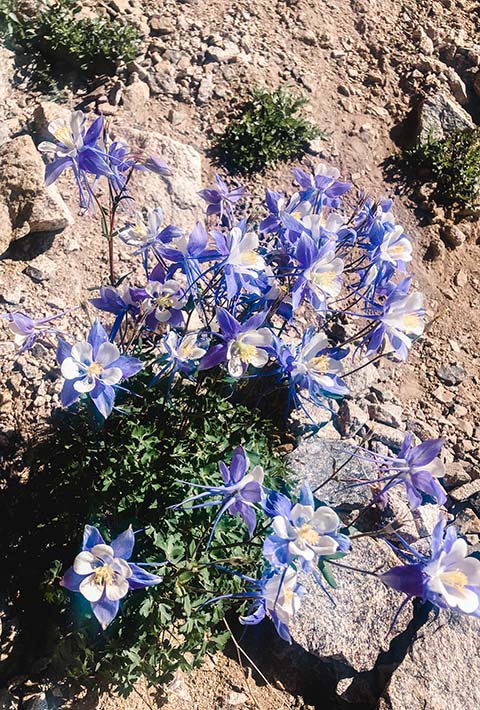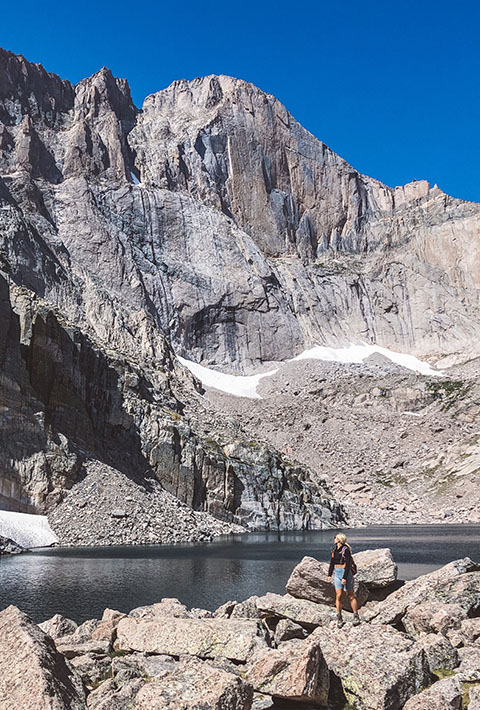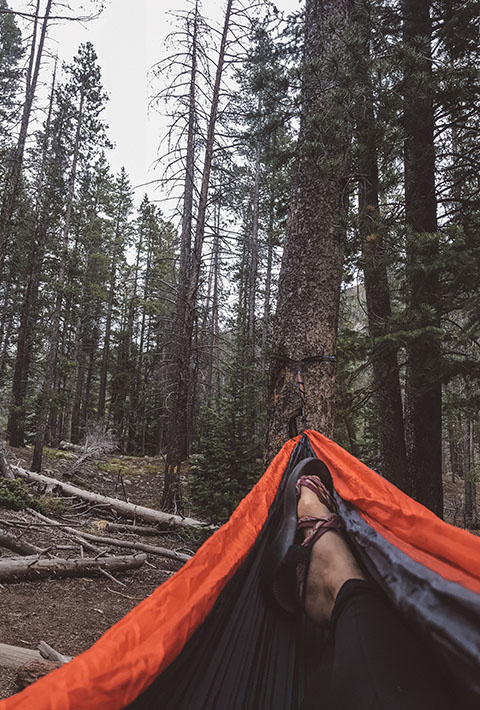 The Best  Time to Visit
RMNP can be visited year-round, 24/7, and has something to offer for every season.
Summer
Summertime is arguably one of the best seasons to visit the park, as by this point all of the trails will be clear of snow. You'll get clear, blue skies, and the most comfortable temperatures of the year.
Wildflowers will be covering the park grounds, and wildlife will be out and about. Summer is also the best opportunity to camp or go backpacking, as temperatures at night don't drop too low. As it's so accessible and the weather is so great, summer is definitely the most popular season of the year.
Fall
Fall in Colorado is unlike any other, as the yellow Aspens peak sometime in September – lighting up the park with color.
This is also the best time to see "fall-rut," or elk mating season, where they can be seen clashing horns and bugling. During the leaf-peeping season, it's recommended to come on a weekday if possible.
Winter
A much quieter time in the park, but still *snow* much to do. Though most of RMNP will be covered in a white sheet, you can rent snowshoes from Estes Park for the day so you can explore the park in a new kind of way.
Know that from mid-fall, through winter, and into spring, many facilities and roads are closed down.
Spring
Since the park is at a higher elevation, many of the trails are still covered in snow until June – the first time I completed Sky Pond in early May, I was sinking up to my knees in snow!
If hiking is your main goal, wait until summer. Trails can be hit or miss during the spring for accessibility.
*Please note: due to COVID-19, RMNP is limiting visitors into the park by requiring daily permits on a timed entry system from 6 AM to 5 PM. Plan ahead and visit Recreation.gov to purchase your permits.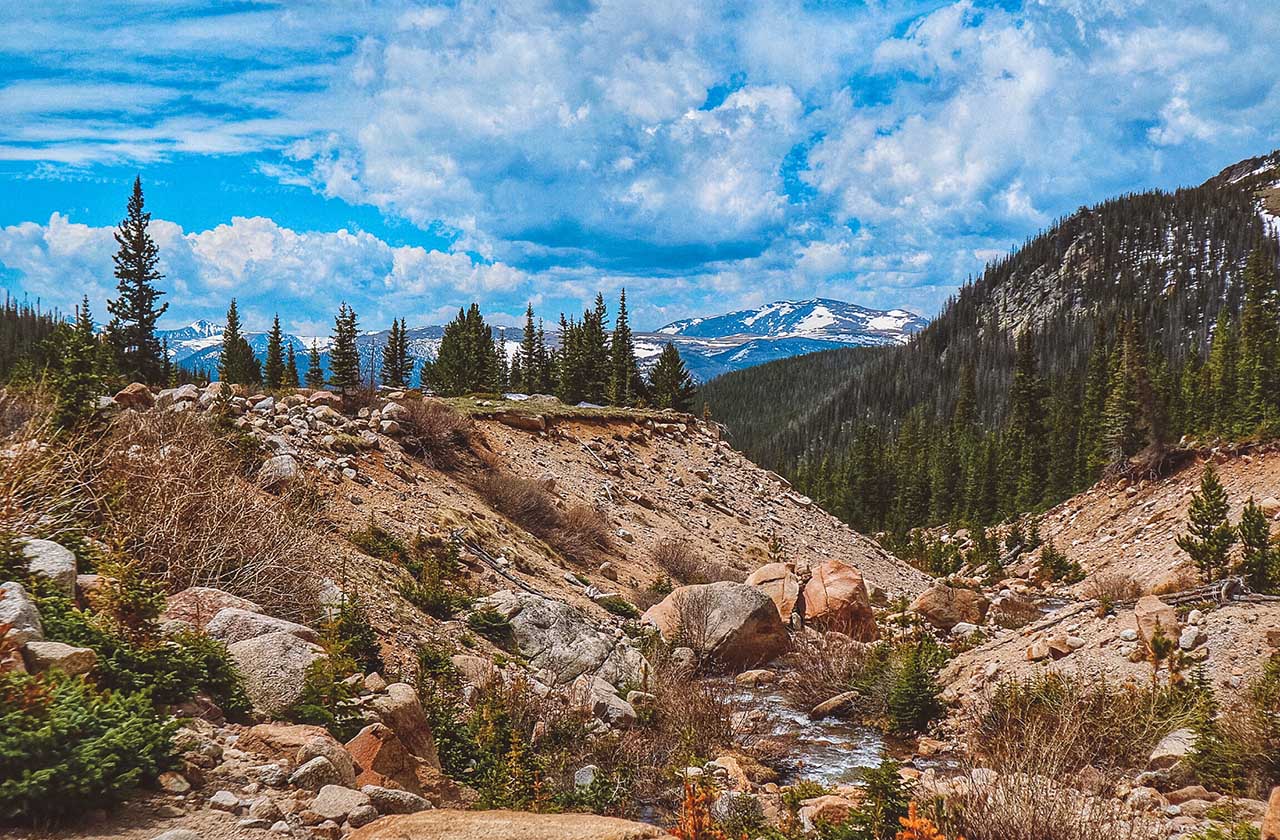 How gorgeous is Lawn Lake Trail?
Getting Around
How to Get There
The best way to get to RMNP is to fly into Denver International Airport and rent a car. From there, you'll reach Estes Park in under two hours. Once in the park, the free shuttle will take you to some of the most well-known trailheads.
You can also enter RMNP from Grand Lake, but for ease of access to the park and the most popular trails, the Estes Park entrance is the way to go.
Taking the Shuttles
RMNP has multiple trailheads to explore – but most of them fill up early. To combat this, there are two bus stops in RMNP – one at the Estes Park Visitor Center, and one at the Park and Ride.
From the visitor's center, you will be taken to the Park and Ride, and choose either the Moraine Park or Bear Lake Route. Though Estes Park does provide shuttles to the visitor's center, I recommend driving into the park for the sake of time.
All of these shuttles are free, and RMNP is well marked to find your way around!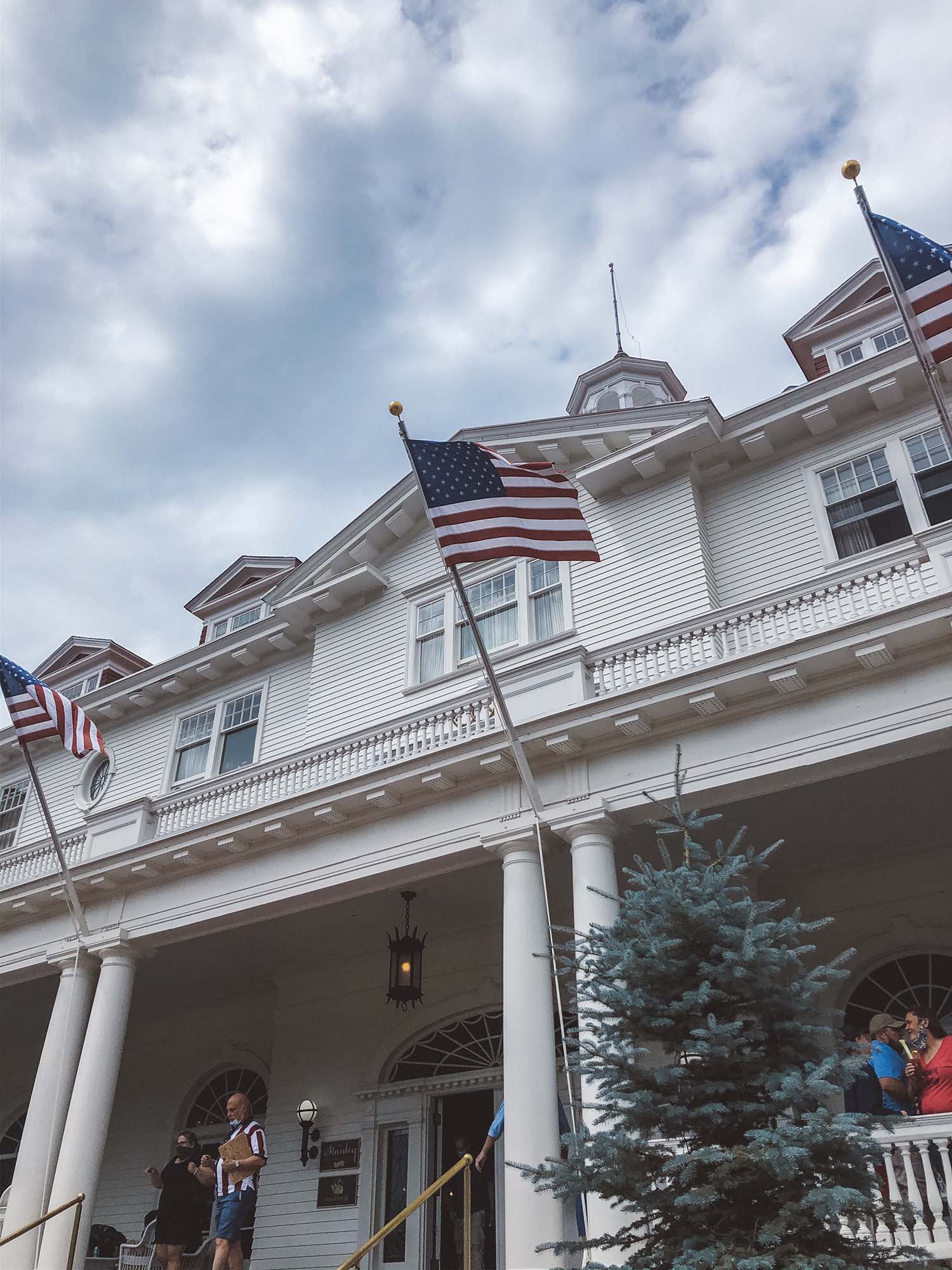 Stanley Hotel - Estes Park
Where to Stay
Estes Park
For an iconic stay where Stephen King was inspired to write "The Shining," don't miss out on The Stanley Hotel. Perched on a hill, you'll also get tremendous views. Do note, they offer tours as well, so it is busier and an overall pricier option.
An affordable option nestled on the river with plenty of patio area and games is Murphy's River Lodge.
Airbnb is also a great option to find homes when views and quiet space.
Camping
If you truly want to immerse yourself in the park for a weekend, camping is the way to go! RMNP provides opportunities to stay in your RV, pitch a tent next to your car, or wilderness camp, meaning, you'll carry everything in and out on your back.
Most spots are reservation only and fill up quickly, but some are first come first serve. These are only open during the summer season.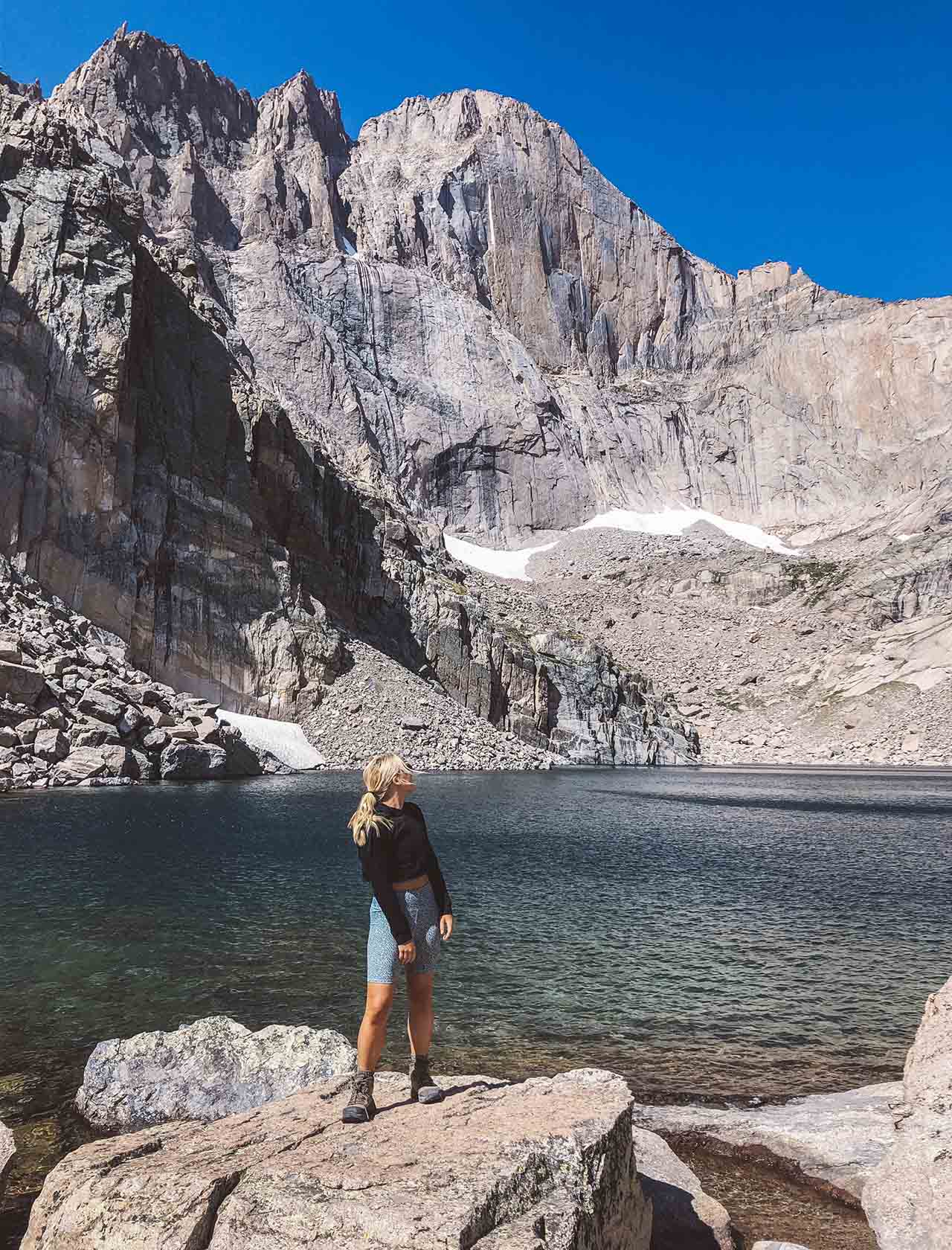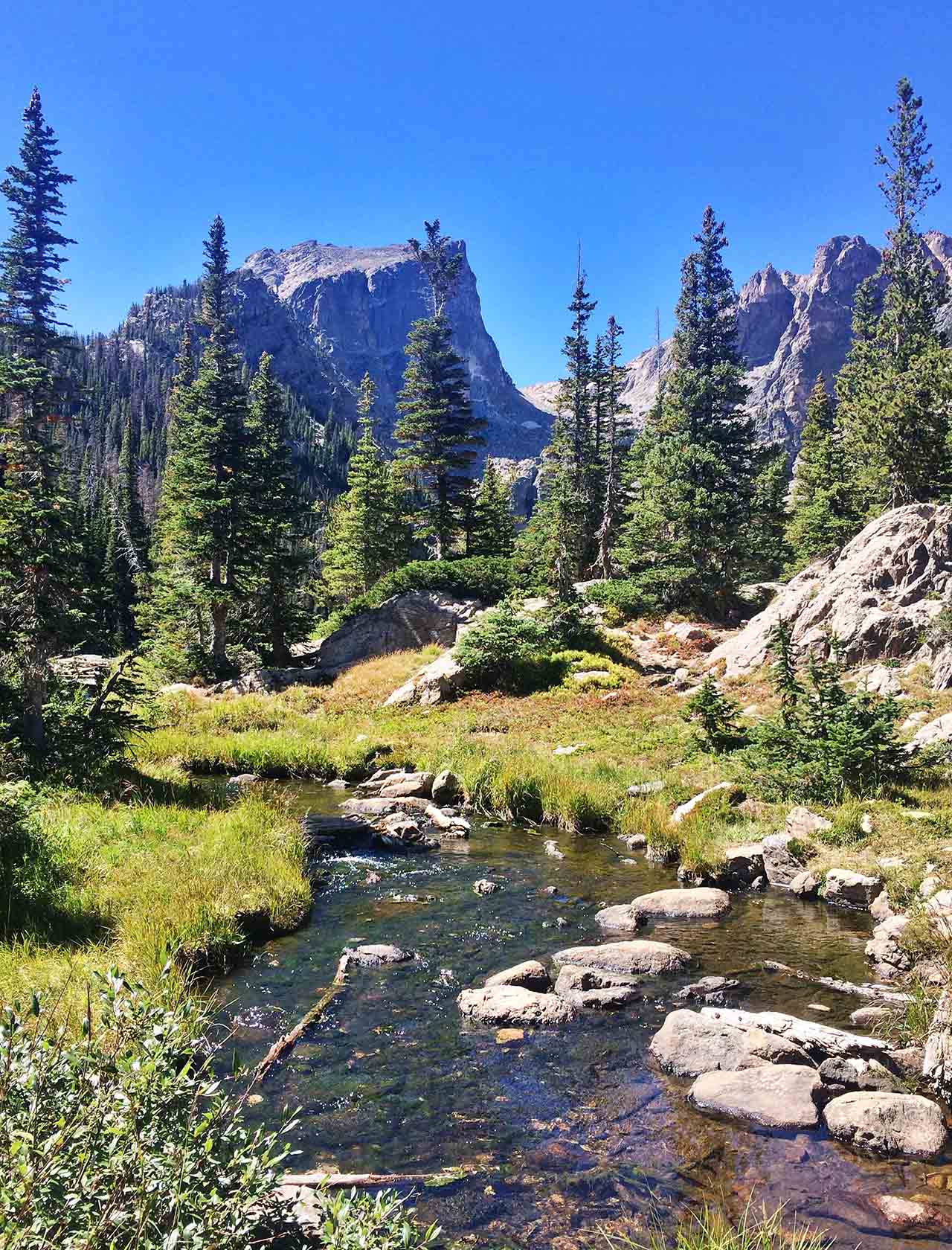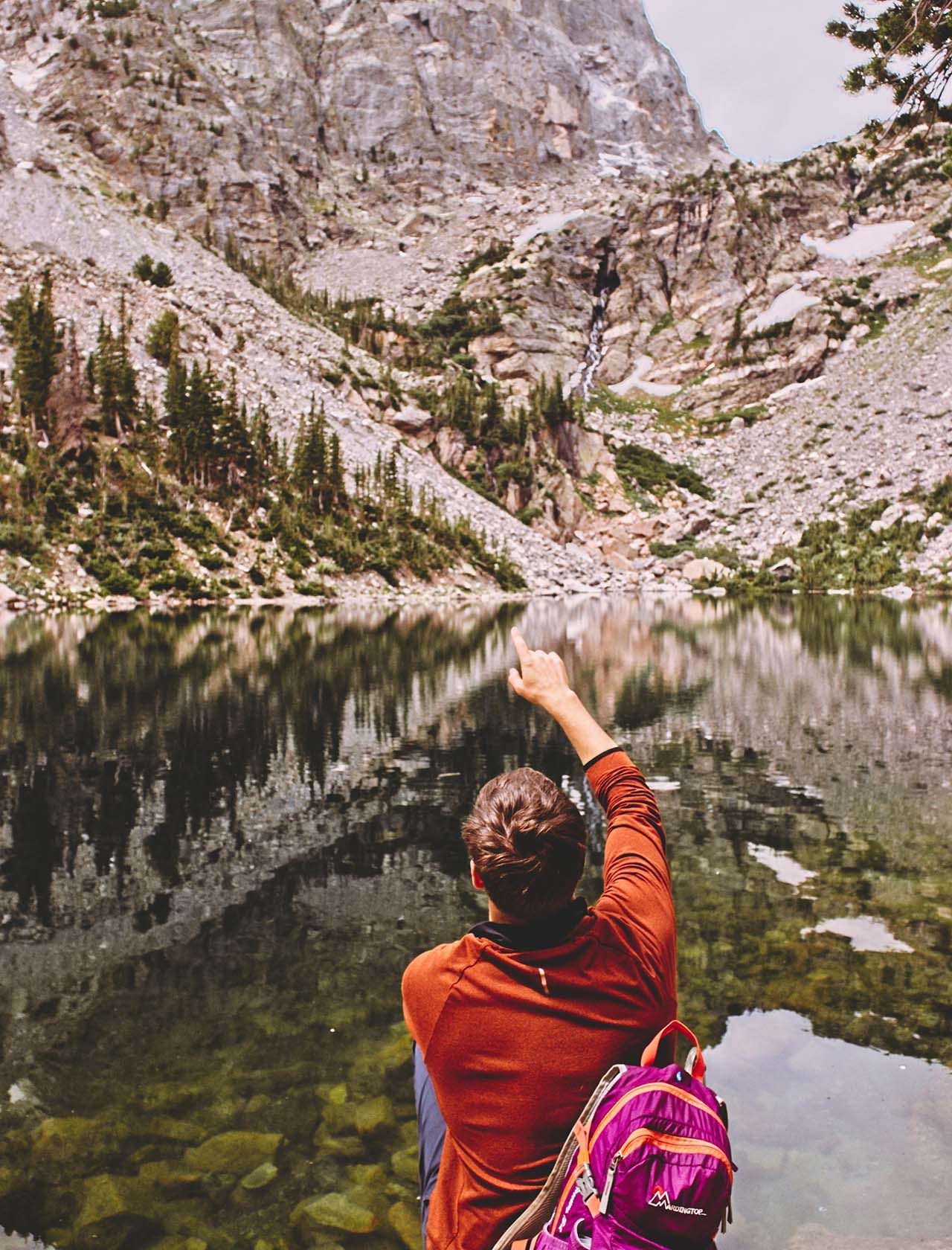 What  to Do
Hiking
You can't visit RMNP without hiking. Below I'll break down some of the most accessible and beautiful hikes by the trailhead.
Bear Lake Trailhead: One of the most popular areas in the park, and for a good reason – these lakes are beautiful!
Start your hike off by walking around Bear Lake – if you're feeling ambitious, get there for sunrise. Then, with your final destination as Emerald Lake, hike by Nymph and Dream Lake on your way.
In total, you'll come in under 4 miles – this hike is great for everyone including families and those who aren't used to hiking at elevation. Make it all the way to Emerald Lake for the iconic RMNP photo opp!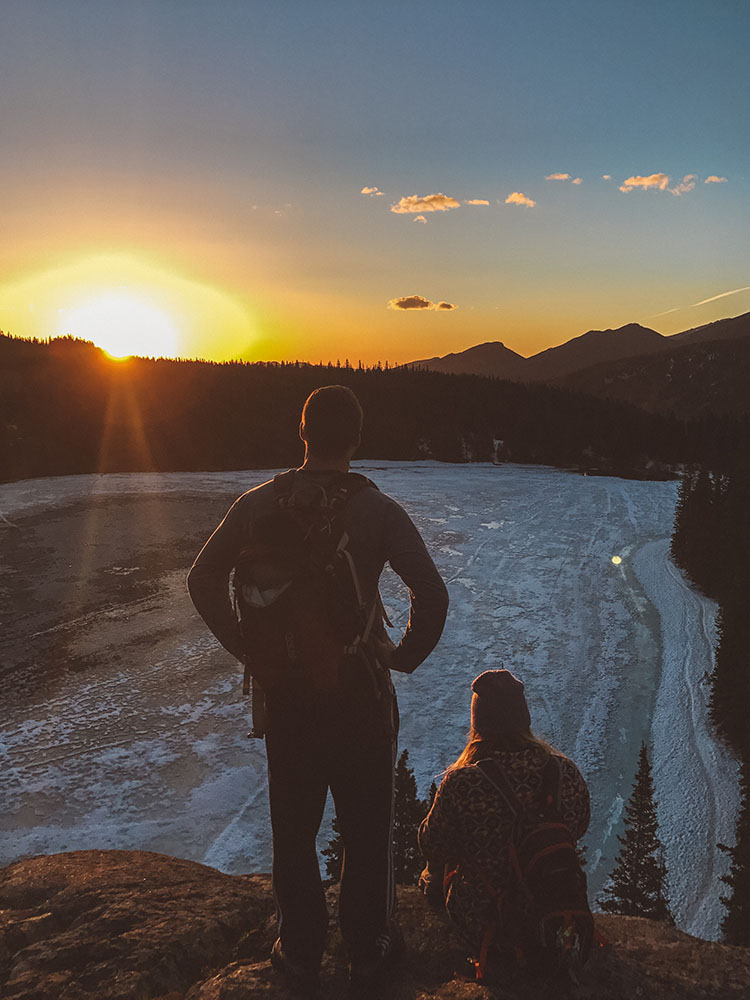 Glacier Gorge Trailhead: Under a mile from the trailhead, Alberta Falls is a way to get in a quick waterfall fix. From there, continue on to the staggering Sky Pond for a 9.5-mile round trip hike. Sky Pond is one of the more difficult but worth it hikes in the park. It is also very popular
Lawn Lake Trailhead: A quieter trailhead, the trek to Lawn Lake leads you through gullies and gorges and gives you a pristine lake with this 13-mile round trip hike.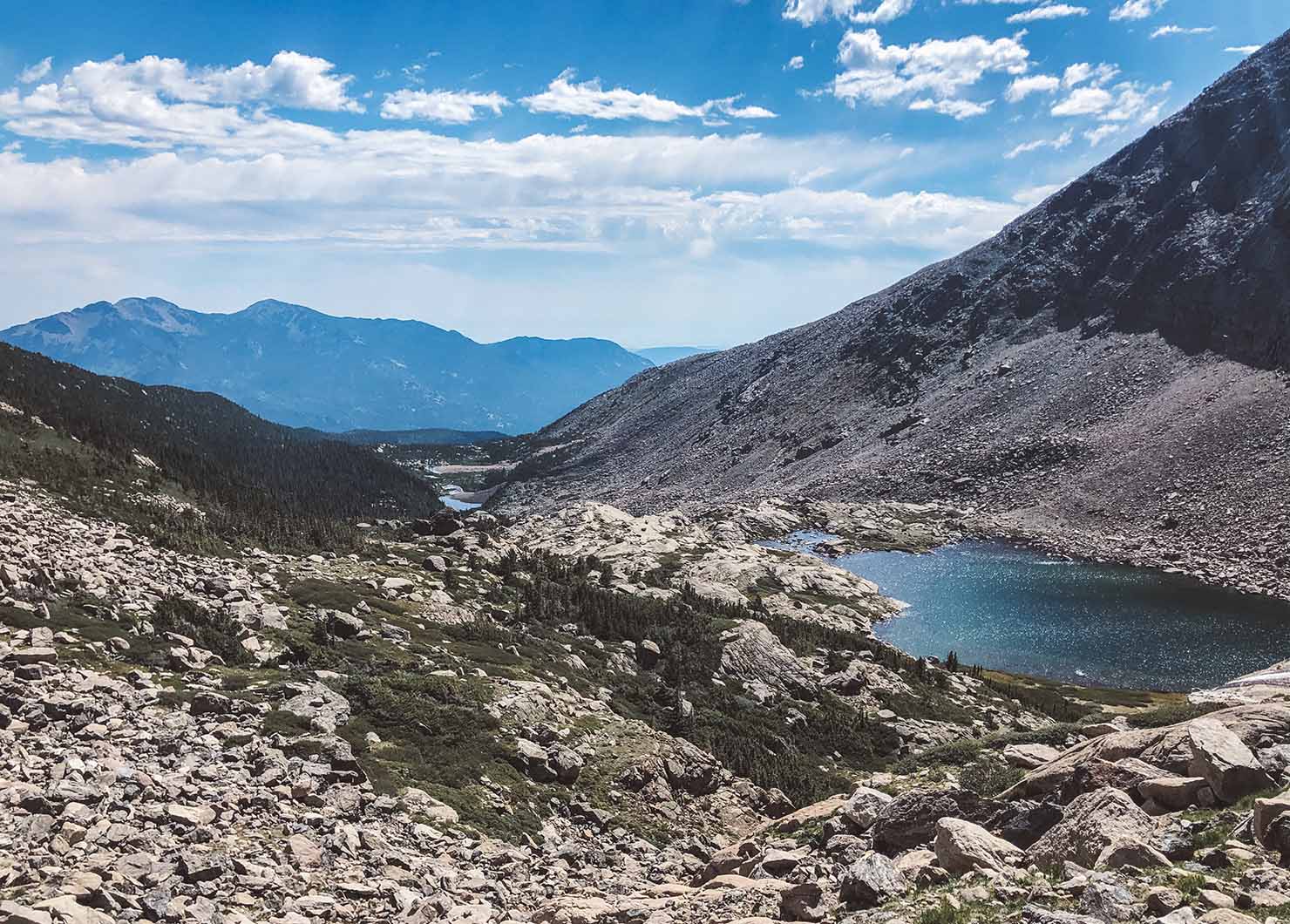 Long's Peak Trailhead: This is the only trailhead you can get to without driving through the Visitor's Center (though you still need a pass to enter). Chasm Lake clocks in at about 10 miles and takes you through forests as well as high terrain.
If you're an experienced hiker, Long's Peak is at 14,000 feet and some routes require some technical climbing skills. For better views of Long's Peak, hike Mount Lady Washington at 7.8 miles. Beware, most hikes around this trailhead are extremely windy above the tree line!
The above hikes are the most accessible well known, and incredibly gorgeous. To find other hikes, download the All Trails app – which allows you to filter by difficultly, length, and features.
Scenic Drives & Wildlife Watching
Old Fall River Road & Trail Ridge Road are both over 11,000 feet above sea level, giving you tremendous views of the park – and an awesome chance to spot wildlife! Trail Ridge Road is a common spot for engagement photos due to the sweeping vistas.
Snowshoeing
In the winter, this is a fantastic option to get outside. Shops in Estes Park will provide day rentals. Bear Lake and Emerald Lake are perfect trails for this.
Estes Park
The town of Estes Park is adorable and shouldn't be missed! Stroll around the main street to grab souvenirs, candies at Rocky Mountain Chocolate Factory, and grab a local craft beer from Wapiti Pub.
For a view, take the Aerial Tramway, and to spend a relaxing day on the water, rent a kayak on Lake Estes.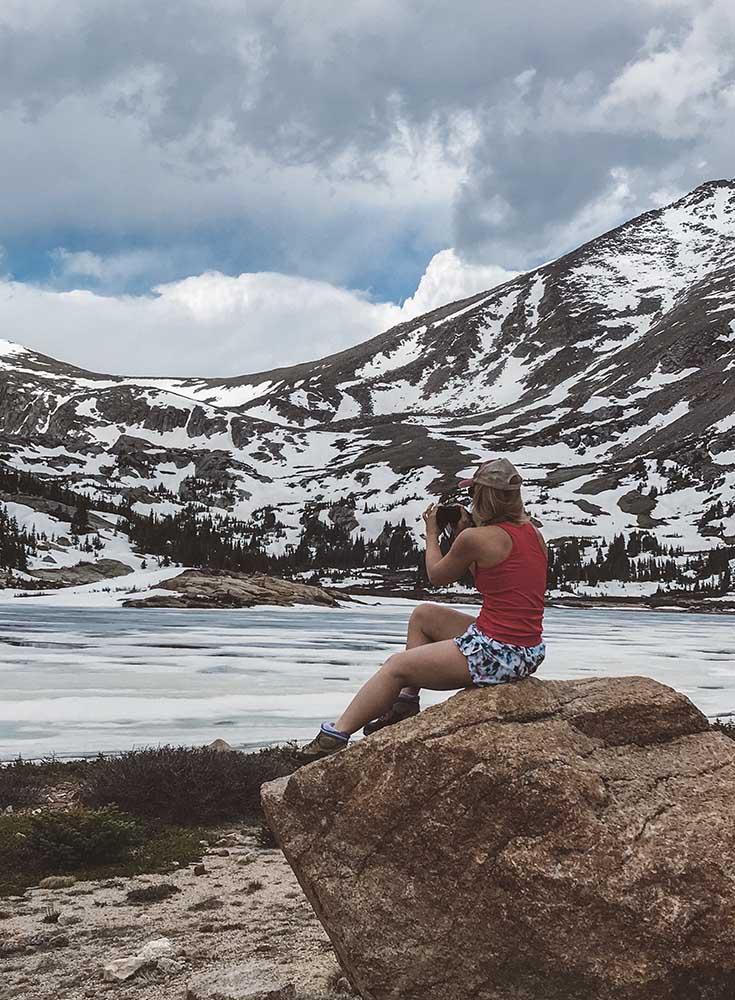 What to Pack
Layers, layers, layers!
Weather at high elevation is often unpredictable, and thunderstorms commonly roll in around late afternoon (another reason to start your hikes early). Pack your hiking boots or something with good ankle support, and make sure to bring an extra jacket.
Depending on the season, you might want additional shirts, gloves, and hats. For hikes over 11,000 feet, you'll definitely want a windbreaker and sunscreen. And don't forget the snacks and water! If you have a hydration pack, bring it, along with high nutrient foods like nuts, fruits, and protein bars.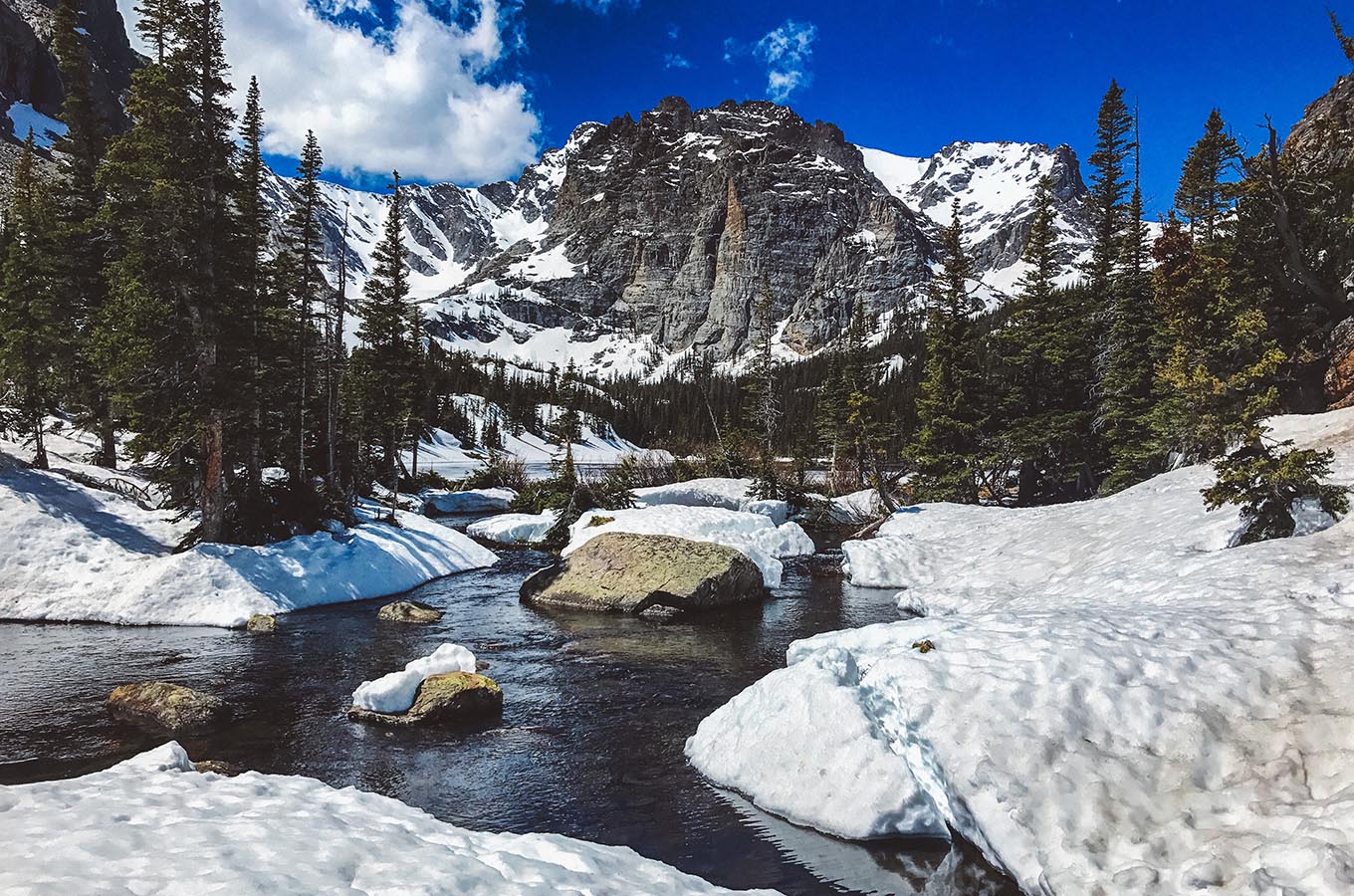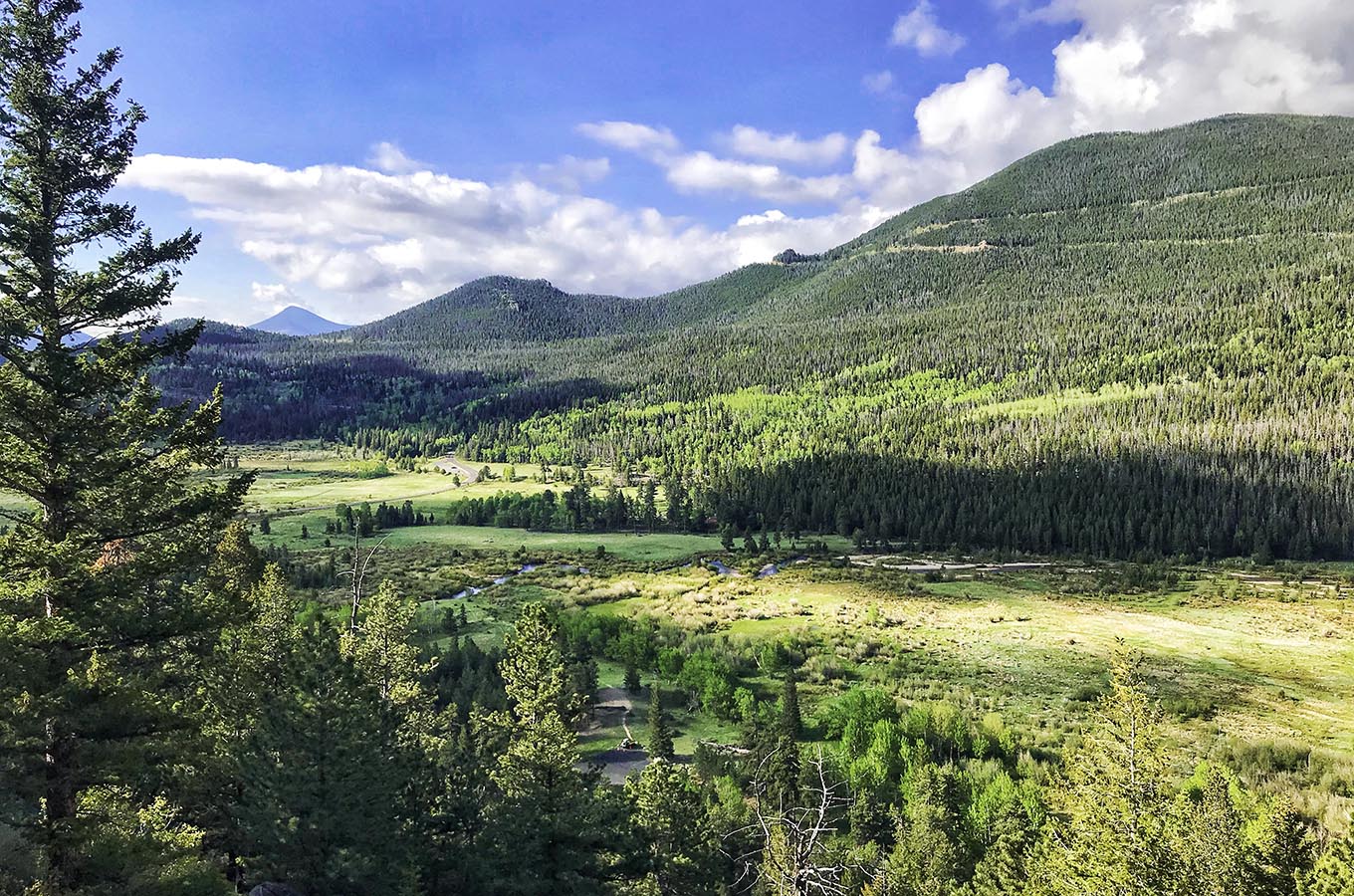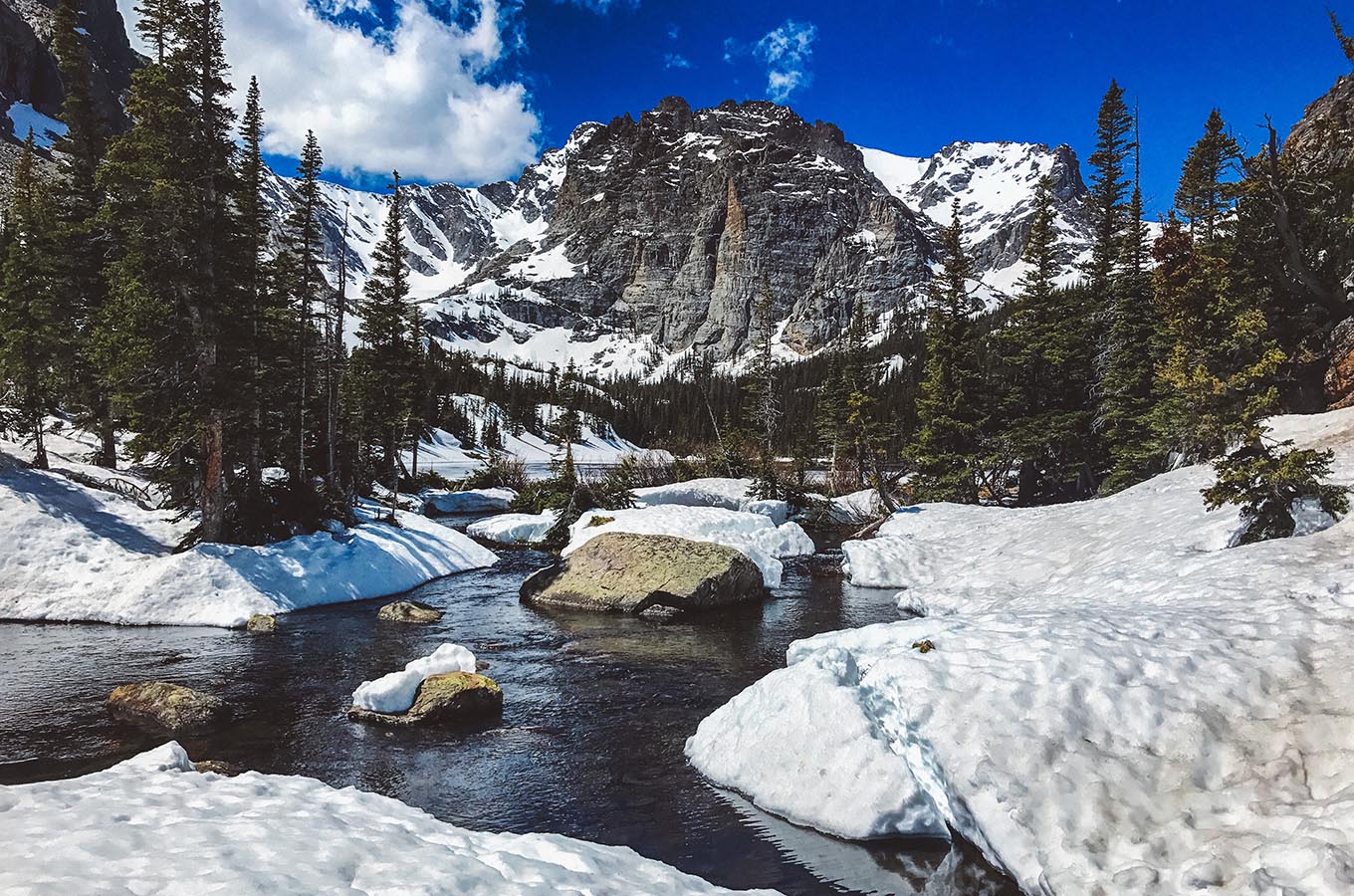 Helpful Tips
RMNP is open 24/7 but only requires a reservation or entrance fee from 6 AM to 5 PM. If you want to skip these fees, get into the park before or after these hours!
You likely won't have service in the park! Download your maps ahead of time.
Though you can easily visit RMNP and Estes Park in one day, if you're coming from out of town, I'd recommend a full 3 days in the park: two days to hike from two different trailheads, and another to drive around the park and explore Estes Park. And trust me, you'll want to come back for more even then!
Remember, in the park, follow Leave No Trace Rules to keep RMNP beautiful and clean!

Overall
If you want to make RMNP a part of a great Colorado trip, don't miss out on cities like Denver and Boulder.
For things to do in other Colorado cities, check out The Travelogue Online's Guide to Colorado.