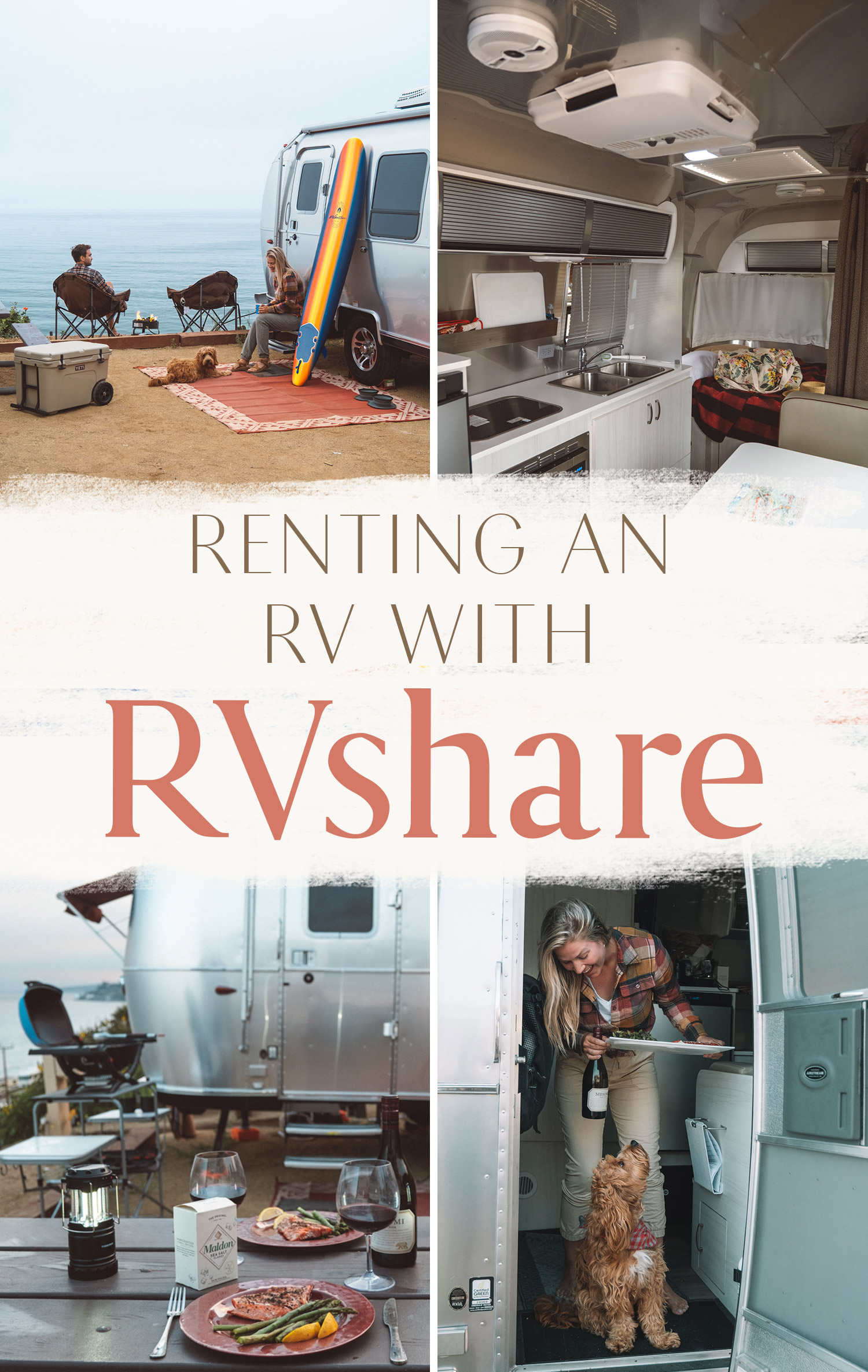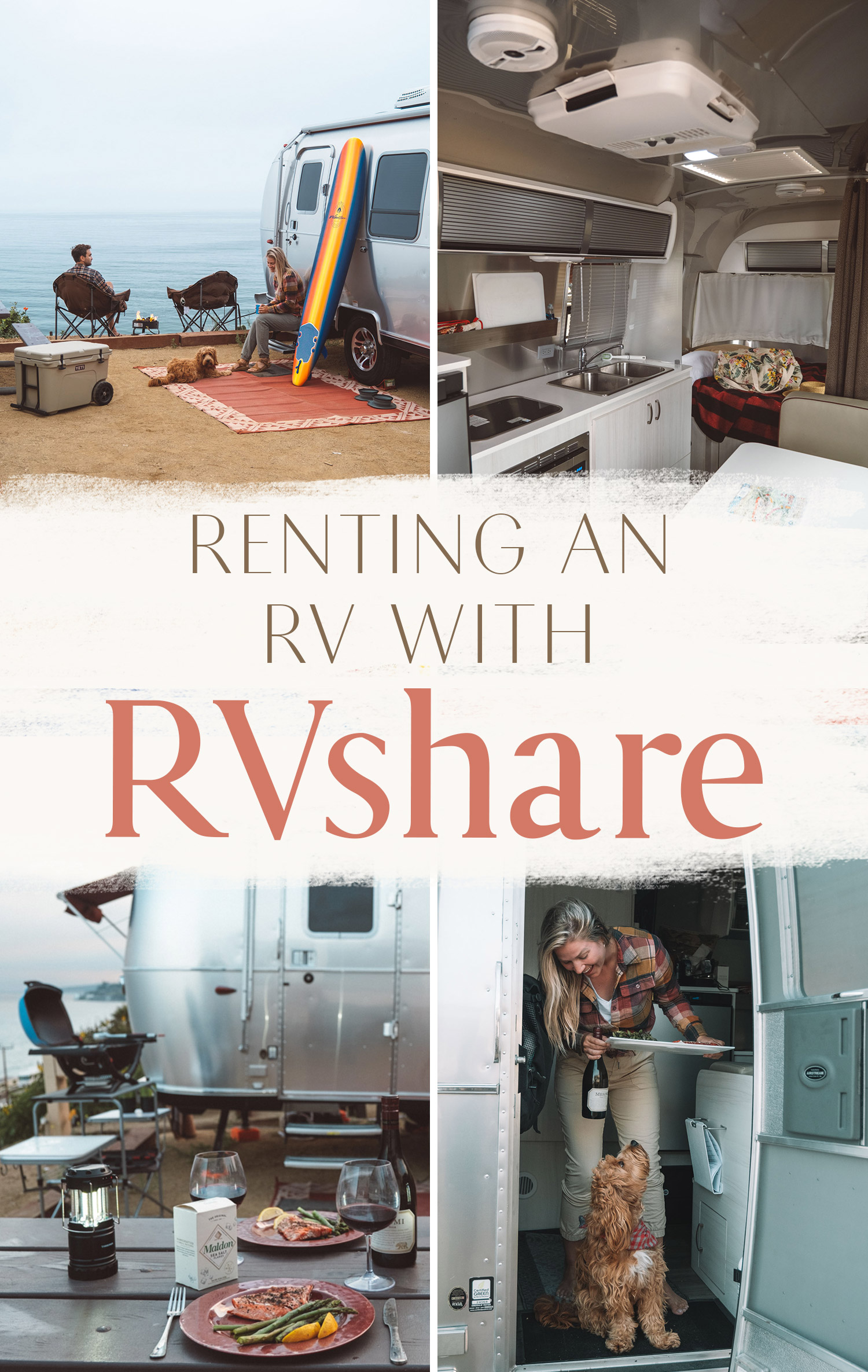 This post was sponsored by RVshare. As always, the thoughts and opinions expressed in this post are entirely my own.
While international travel is at a standstill, I've been looking into how to plan the perfect staycation. There are so many cool campsites in California and national parks to explore — but I knew I wanted something by the beach… and I was really digging the idea of staying in an Airstream.
RVshare offers all types of recreational vehicles, from ones that you can tow yourself to affordable pop-ups to luxury motorhomes. Whether you're looking to plan a staycation, get off the grid, or have an epic adventure, there's an RV for everyone.
While I'm comfortable driving an RV, for this particular trip I really wanted to relax — same with Meyer. Which meant neither of us wanted to go through the complexities of towing a trailer.
The best news?
Many of RVshare's vehicles are DELIVERABLE.
Yep. You read that right. We opted for RV delivery, which, in my opinion, is one of the coolest features. If you don't want to drive a huge RV or you're just renting one for the night, this is the perfect way to cut out any stress of physically moving your RV and just arrive at it already there.
There's no need to pack it out or tow it away. That's a major bonus in my book.
On top of that, RVshare's site made it extremely easy to find the perfect Airstream. Their site allows you to filter by if an RV is pet-friendly or suited for kids. And since Bailey goes everywhere with us, this feature was perfect for finding a pet-friendly rental.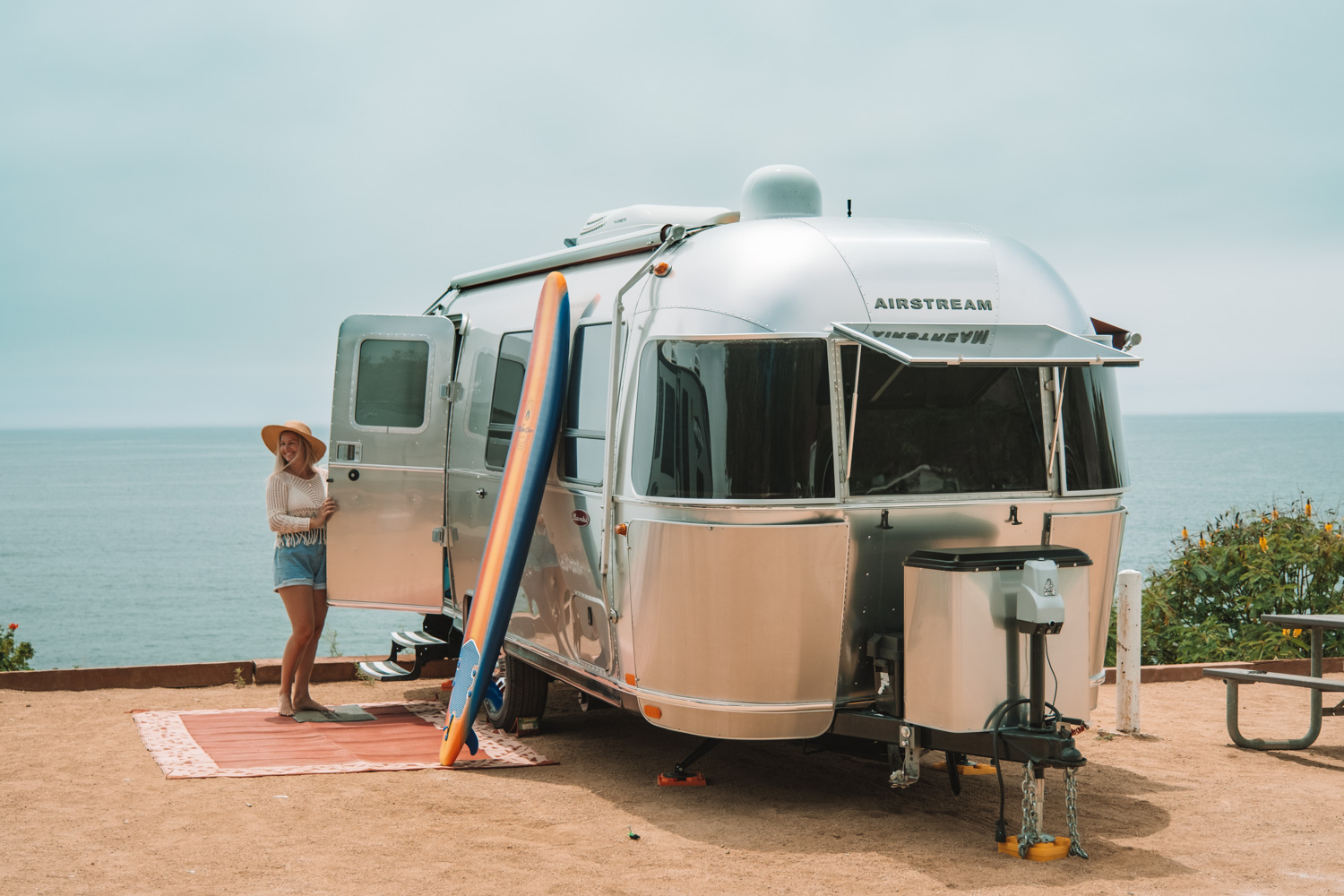 Malibu, California
So, then it was set—we were going to have a dreamy Airstream delivered to the campground we had chosen in Malibu. All we had to do was pack our bags, get Bailey in the car, and drive up the coast!

What is RVshare?
In a way, RVshare is like Airbnb or VRBO — folks can list their RV for others to use.
For those who love road trips, camping minus the tents, or simply want to try something different, RVshare is a wonderful solution!
Whether you're getting behind the wheel or staying put for a glamping experience, RVing gives you the freedom to choose where you roam…and stay. From a cliff by the beach to a night in the forest looking up at the stars — you dream it, RVshare will help you make it a reality.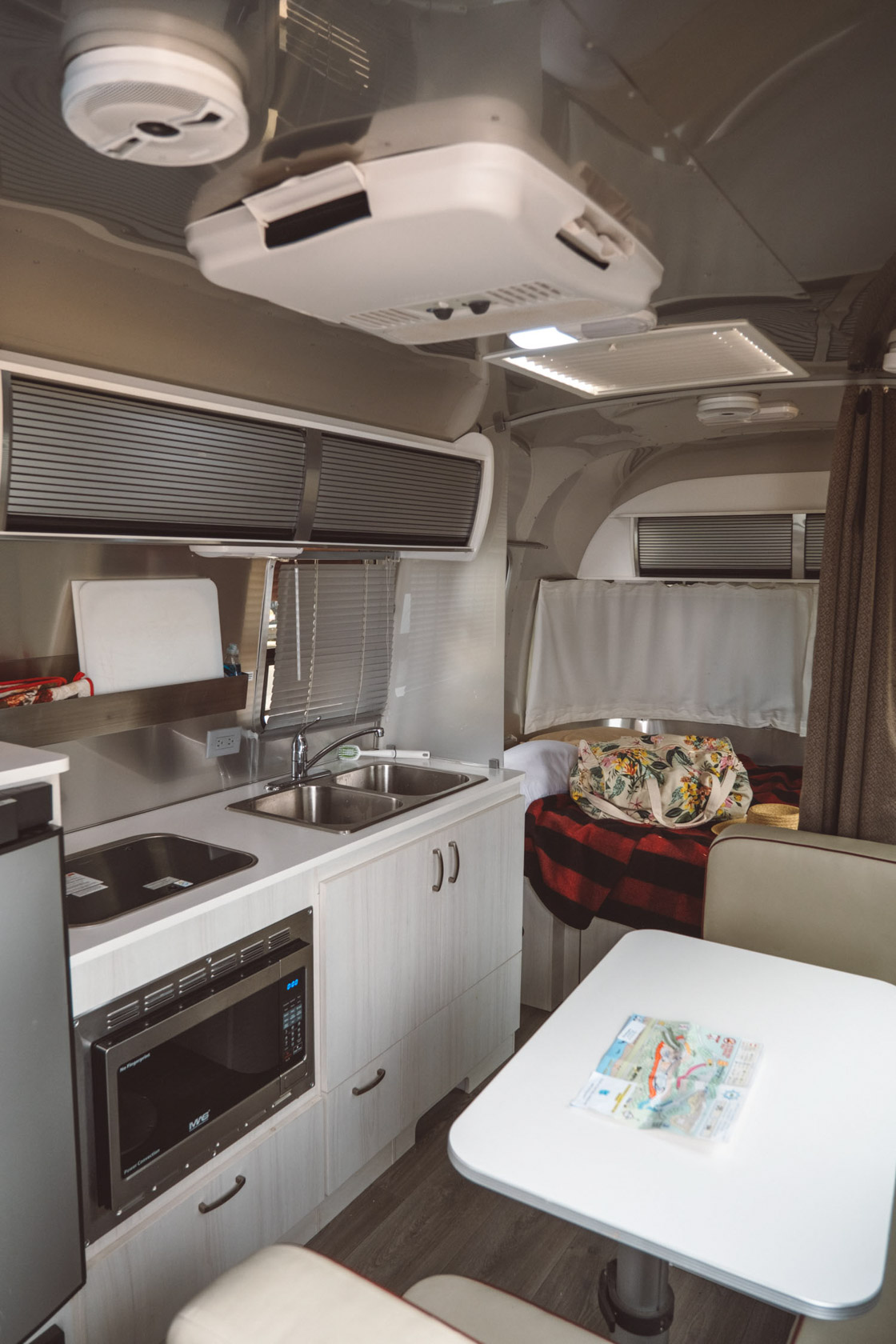 How Does it Work?
RVshare allows you to find RV rentals in your local area or at whichever destination you're traveling to. They've got different options available, like Luxury Class A Diesel Pushers, Class B Camper Vans, Class C Motorhomes, and Travel Trailers.
There are over 100,000 RVs listed on the site from all over the US — so wherever you want to go, you can find the perfect trailer or luxury motorhome.
I know, that can sound a bit overwhelming but their fantastic filters allow you to search and compare to find just what you're looking for. Narrow down your search by rental prices, features, reviews, if they allow pets and more!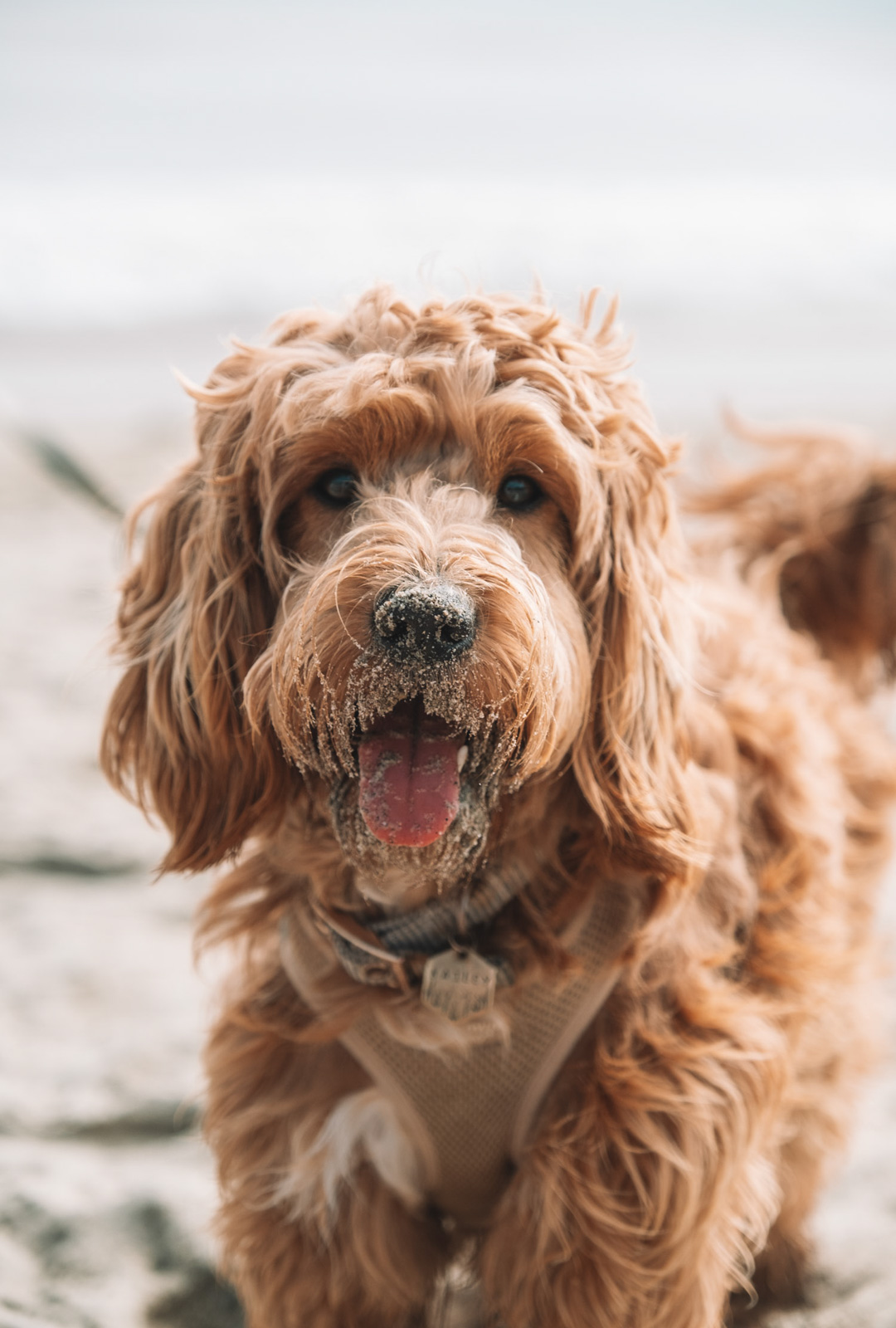 Bailey loves camping on the beach! RVshare makes it easy to find pet-friendly RV rentals.
RVshare verifies all accounts to keep everything safe. They also offer industry-first rental insurance + 24-hour roadside assistance. So, if anything happens while you're on the open road — they've got you covered.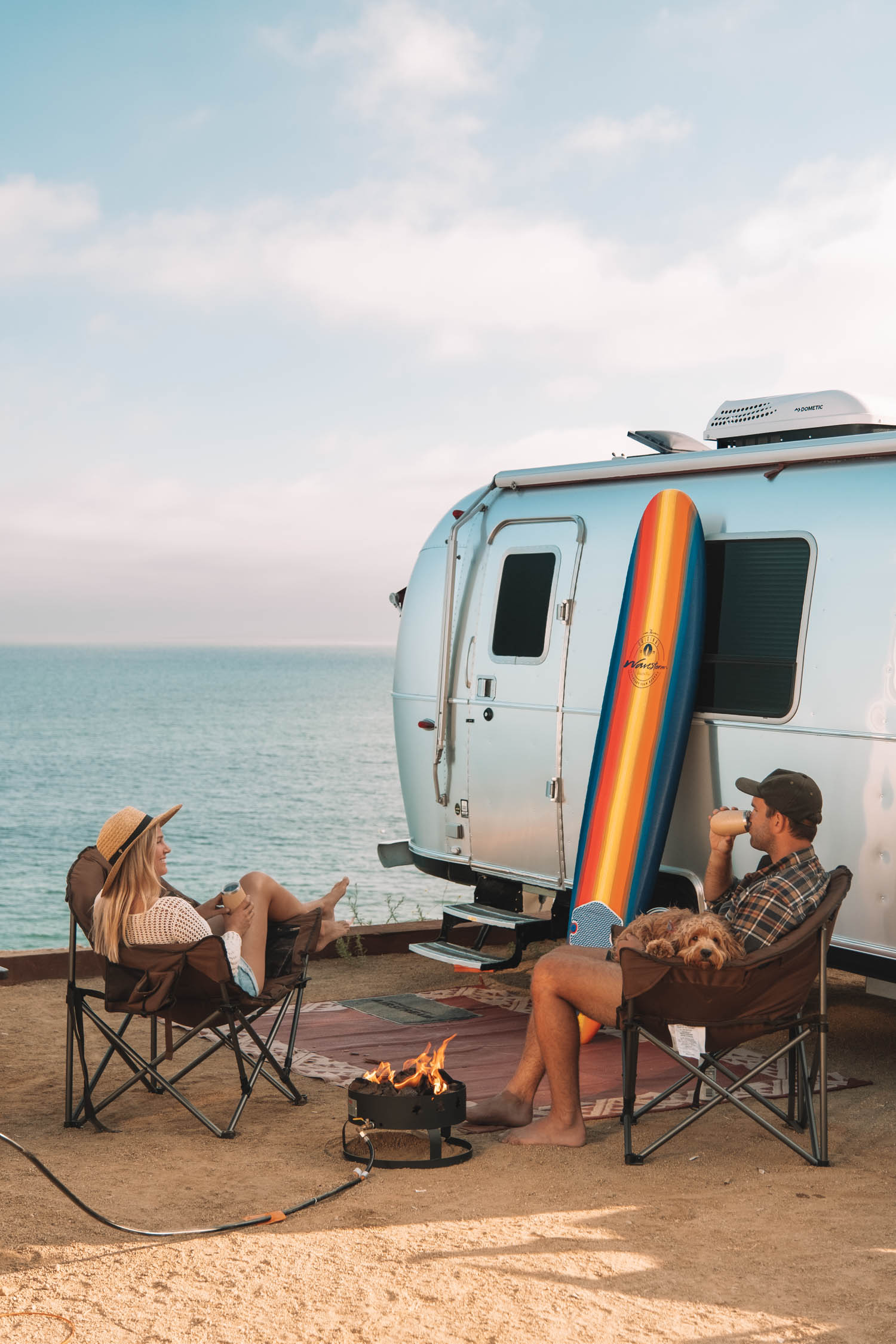 What Vehicles + RVs Can You Rent?
Like I mentioned above, you can find so many different options on RVshare: Luxury Class A Diesel Pushers, Class B Camper Vans, Class C Motorhomes, and Travel Trailers.
Essentially what this means is there are RVs you can hitch up to your car and tow, there are ones that are more "plug and play" and ready for use, and those where you can completely DIY your RV experience.
RVshare breaks it down into specifics, in case you aren't sure about what type of vehicle you're after.
Driveable RVs
Class A: Driver should be comfortable driving something as large as a bus
Class B: Comparable to driving and maneuvering an oversized van
Class C: Comparable to driving a truck and popular option for beginner RV drivers
Towable RVs
5th Wheel: Attaches to a tow vehicle via a gooseneck extension in the truck bed
Travel Trailer: Trailer options exist for every kind of SUV or pickup tow vehicle
Toy Hauler: Can be towed by many SUV or pickup tow vehicles
Popup: Can be towed by ordinary passenger vehicles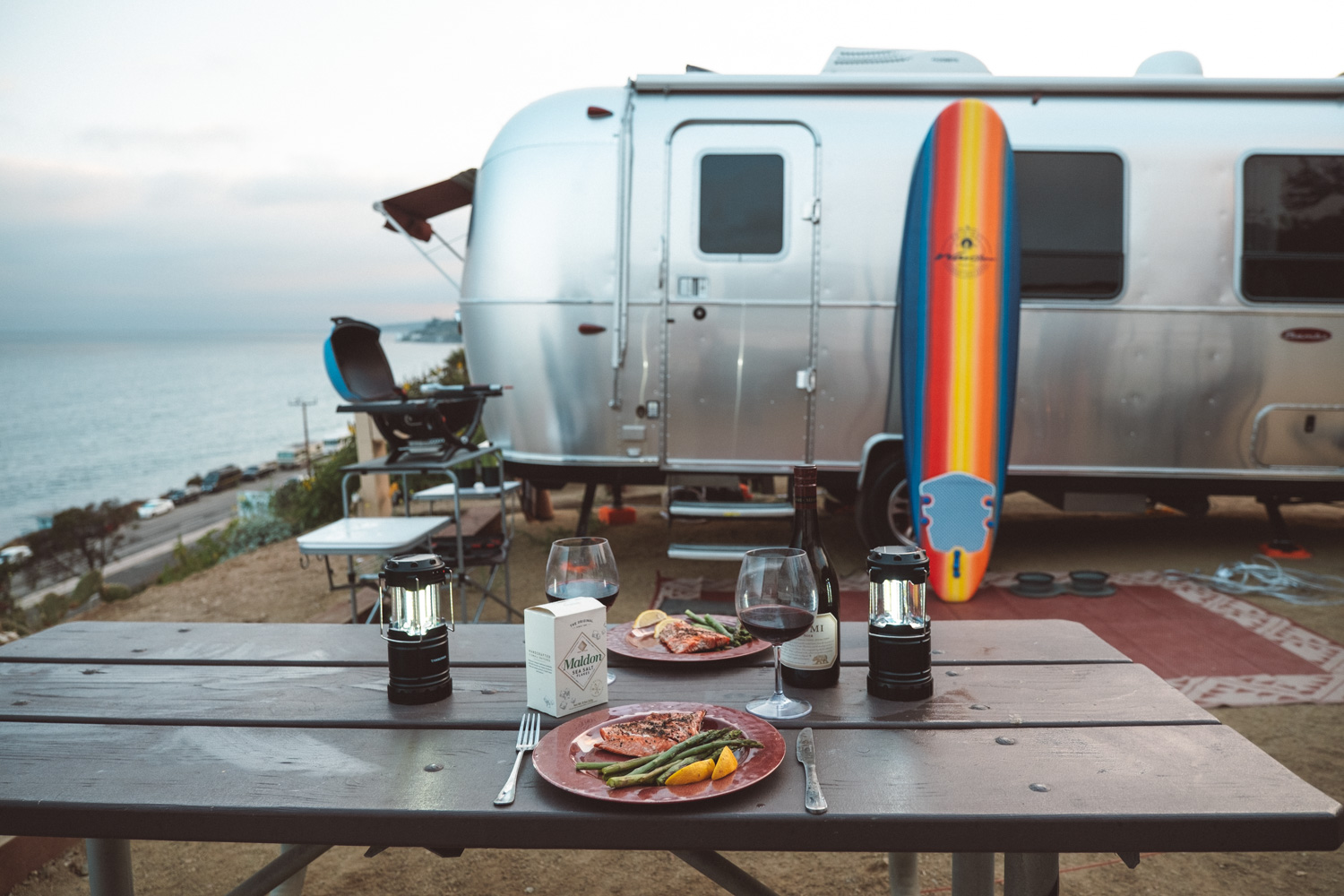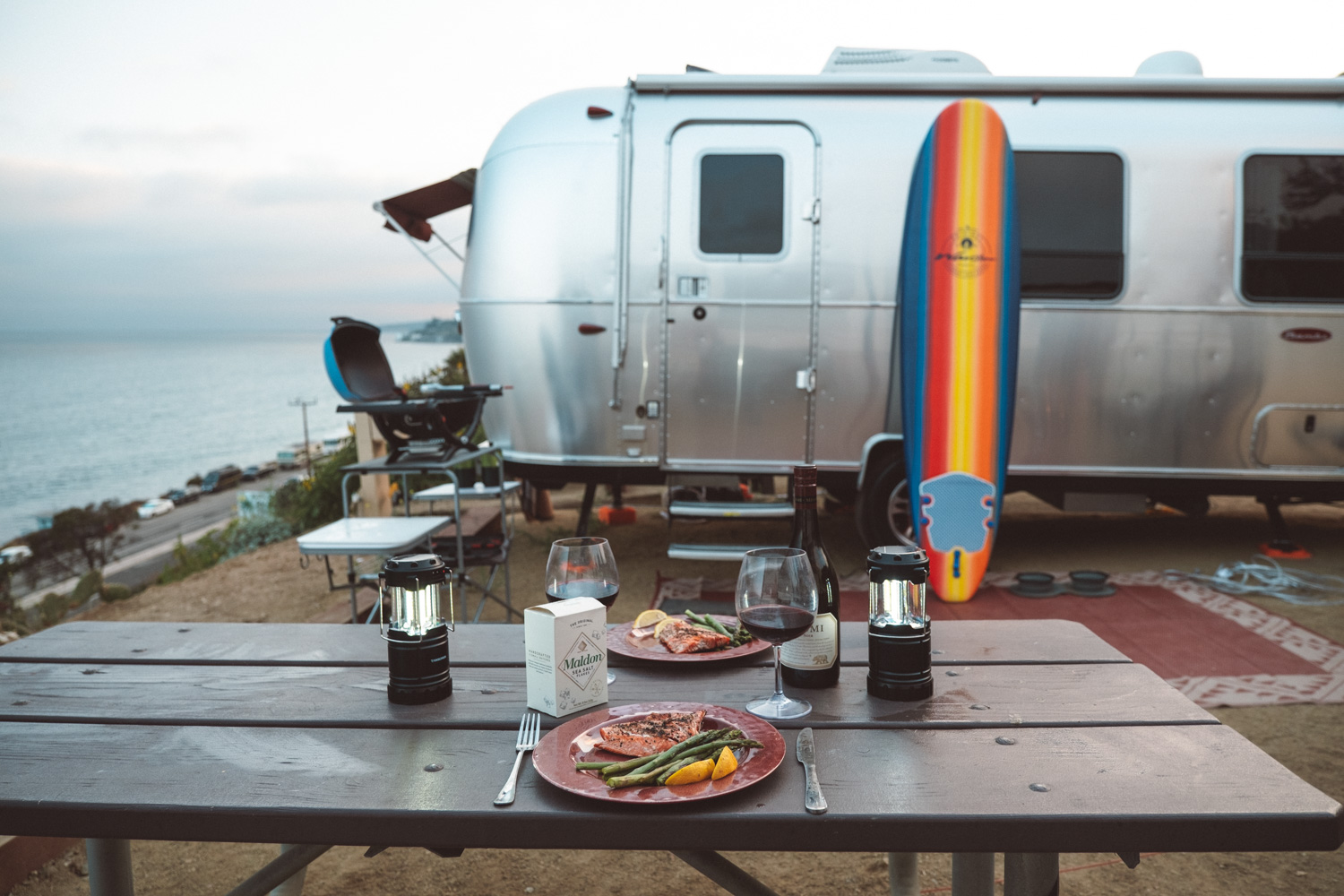 My Experience with Booking + Delivery
Because we were looking for ultimate ~staycation~ vibes, we opted to have the Airstream delivered to our campsite in Malibu.
While other trips — i.e. road trips — I would be totally on board with driving something, I really loved this option so we could relax and not think about getting it there… and rather pack up snacks, sunscreen, and sunnies!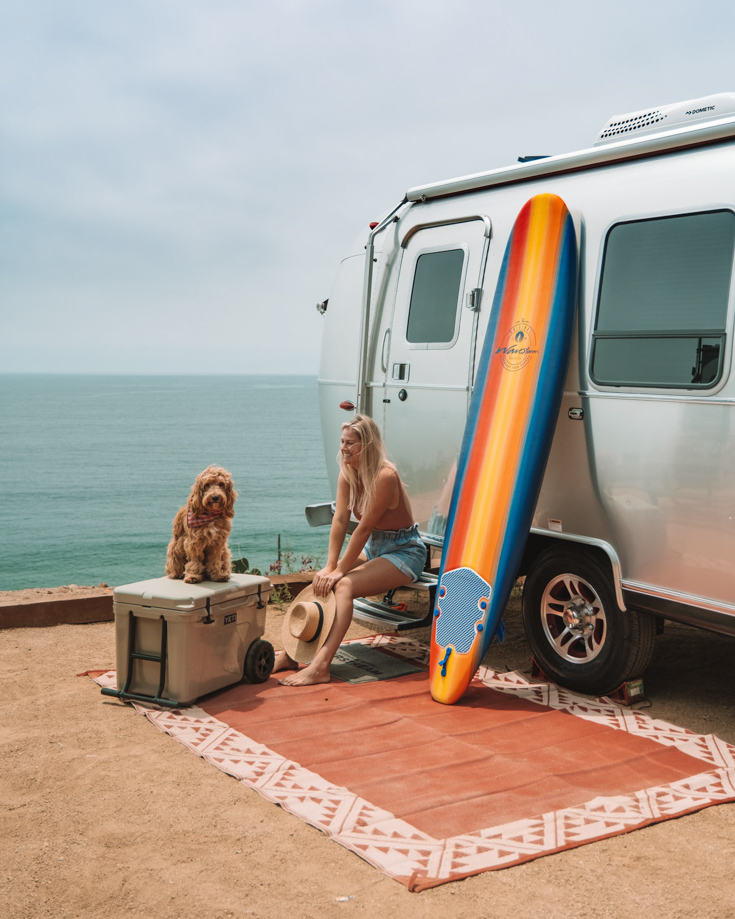 When we arrived in Malibu, to our beachfront campsite, we quickly chatted with the owners who walked us through some important details — and then we were good to go! 

Tips for Finding an RV Site
How do you find a place to stay in your RV? RVshare's website has a ton of inspiration for cool places to stay. While national parks are usually a top option, it can be quite difficult to find availability with short notice.
Check out campgrounds in the area where you're headed — there will probably be a mix of government campgrounds (national forest, BLM, or national parks) and private campgrounds. Be sure to check Google Maps for more options too!
That said, KOA (Kampgrounds of America) is a wonderful resource to find hundreds of options for private places to stay and park your RV! From back-ins to pull-thrus to 50-amp hookups, KOA offers tons of sites where you can park your rig.
If you're looking for a private place to stay and campgrounds aren't your vibe, Hipcamp offers lots of RV spots too.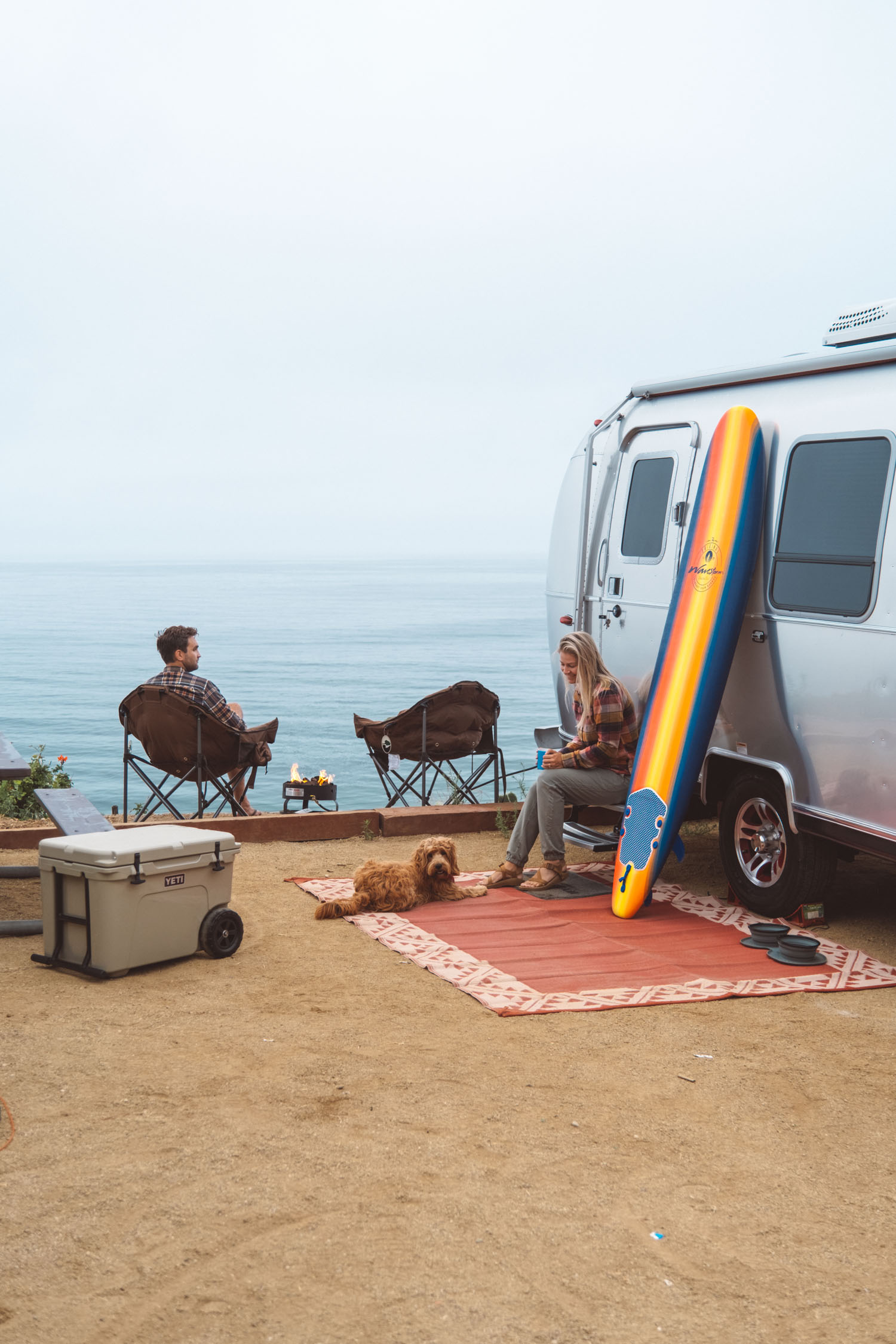 Tip for Renting an RV for the First Time
Is it your first time renting an RV? Are you a bit nervous and don't know where to start? Don't worry — I've got your back! Here are a few tips and things to consider when you're renting an RV for the first time.
Hookups
Just because you're in an RV doesn't mean you automatically have electricity or unlimited water. It's really important to look for a campsite that has these types of "hookups"…or not! It's purely personal preference depending on what you're comfortable with. You'll also want to learn how to access the hookups on the RV, which the owner can easily show you.
What Size
If it's just two people and a dog, a smaller RV or camper van is probably all that you'll need. But if you're traveling in a group or with kids, you'll likely want (and need) more space. It's all about personal preference!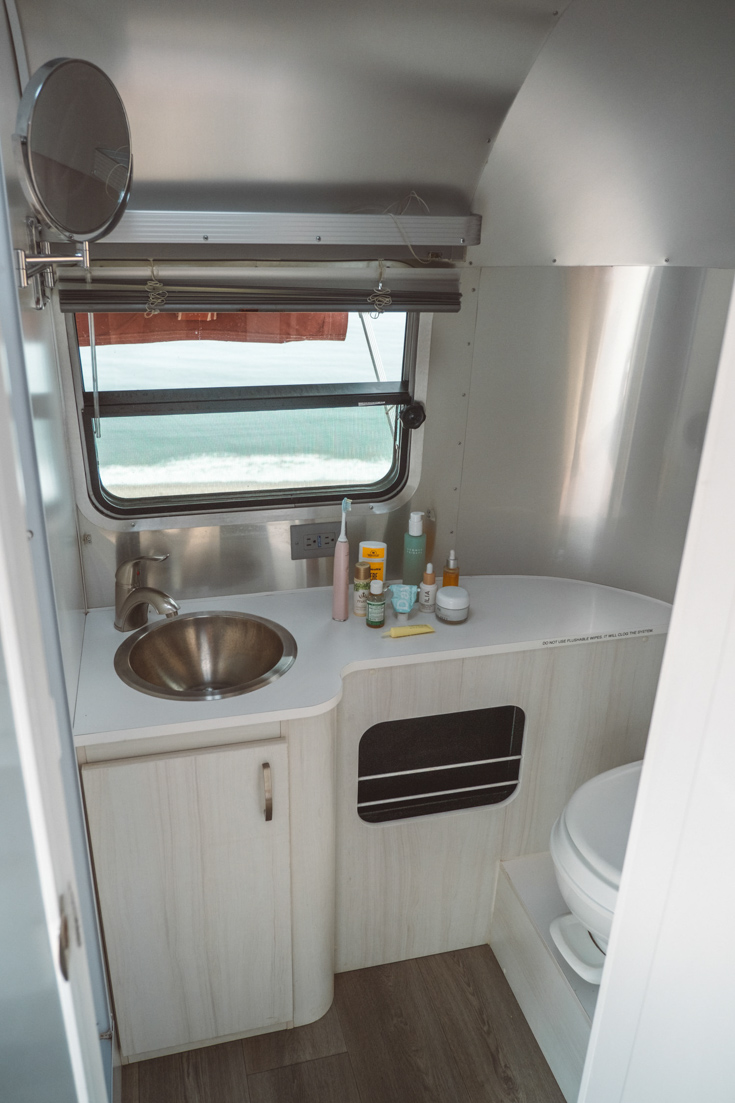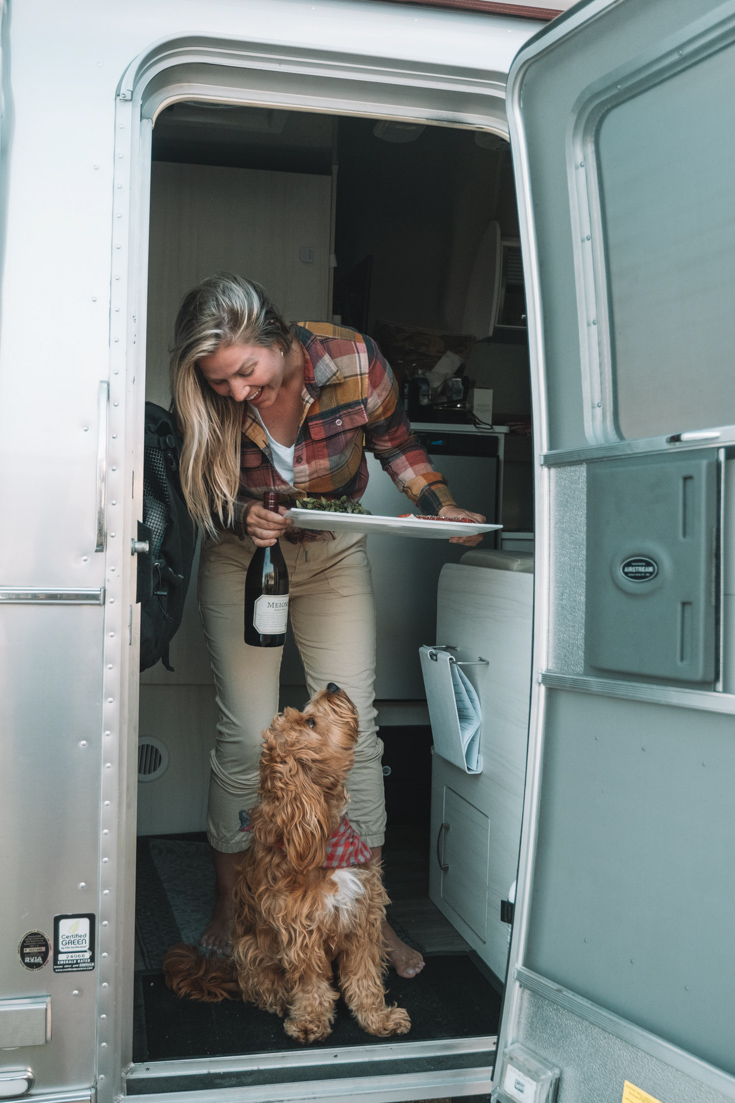 Driving
If you're apprehensive about driving an RV—in my opinion, it's not as scary as it seems! I would suggest taking a few practice loops around an empty parking lot so you can familiarize yourself with the size. Class C motorhomes are best for first-timers. They are wider and longer than wider than your typical car.
When it comes to backing up, I would suggest using a spotter — even if your RV has a backup camera.
And then for braking, keep a significant distance between you and the next vehicle. RVs need more time to stop than your average car because they're heavier.
Trailers can be a bit more of a learning curve when it comes to maneuvering and back up! Be sure that your car has a tow hitch/kit so that you're able to tow and know the weight limit for your car. Towing a trailer that is too heavy for your vehicle can cause some serious damage!
Learn About Dumping the Tanks
Be sure to learn how to access your blackwater (sewage) and grey water (sinks/showers) lines and where to refill your RV with fresh water from the owner — every RV is a little different. And then you'll need to dump the black and grey water from time to time!
While this isn't the most fun thing to do, it's part of getting out into the great outdoors. Most campgrounds have on-site dump stations for this purpose. Or you can use SaniDumps and search for the nearest dump station near you.
One of the benefits of us doing delivery and a trailer is we got to skip the cost of gas and the work of dumping—just ask the owner what the rules are for your rental and there's usually room for some negotiation.


What Trips To Take in an RV
RVshare has a ton of inspiration on its site for trips you can take in an RV! From planning an epic road trip with the family to a romantic getaway out in nature to sweet staycations — renting an RV is a really cool way to see and stay in different places.
Want to tour California's national parks while sleeping in an RV? You got it! How about exploring the Pacific Northwest in a cozy van? Perhaps the Southern USA is calling your name and you want to stop at all the delicious food joints along the way?
Wherever you want to go in the United States, RVshare can help make it happen.
Plan Your Trip
Want to use plan your own road trip? I love using Roadtrippers to plan out my stops—figure out how long I'm driving in between them, and find popular spots and pit-stops along the way.
With so many national parks, gorgeous vistas, and culturally unique places—what better way to explore the USA than hitting the open road?
Read More

Are you looking to rent an RV? Where are you planning to go… or stay? 😉
I'd love to hear in the comments below!