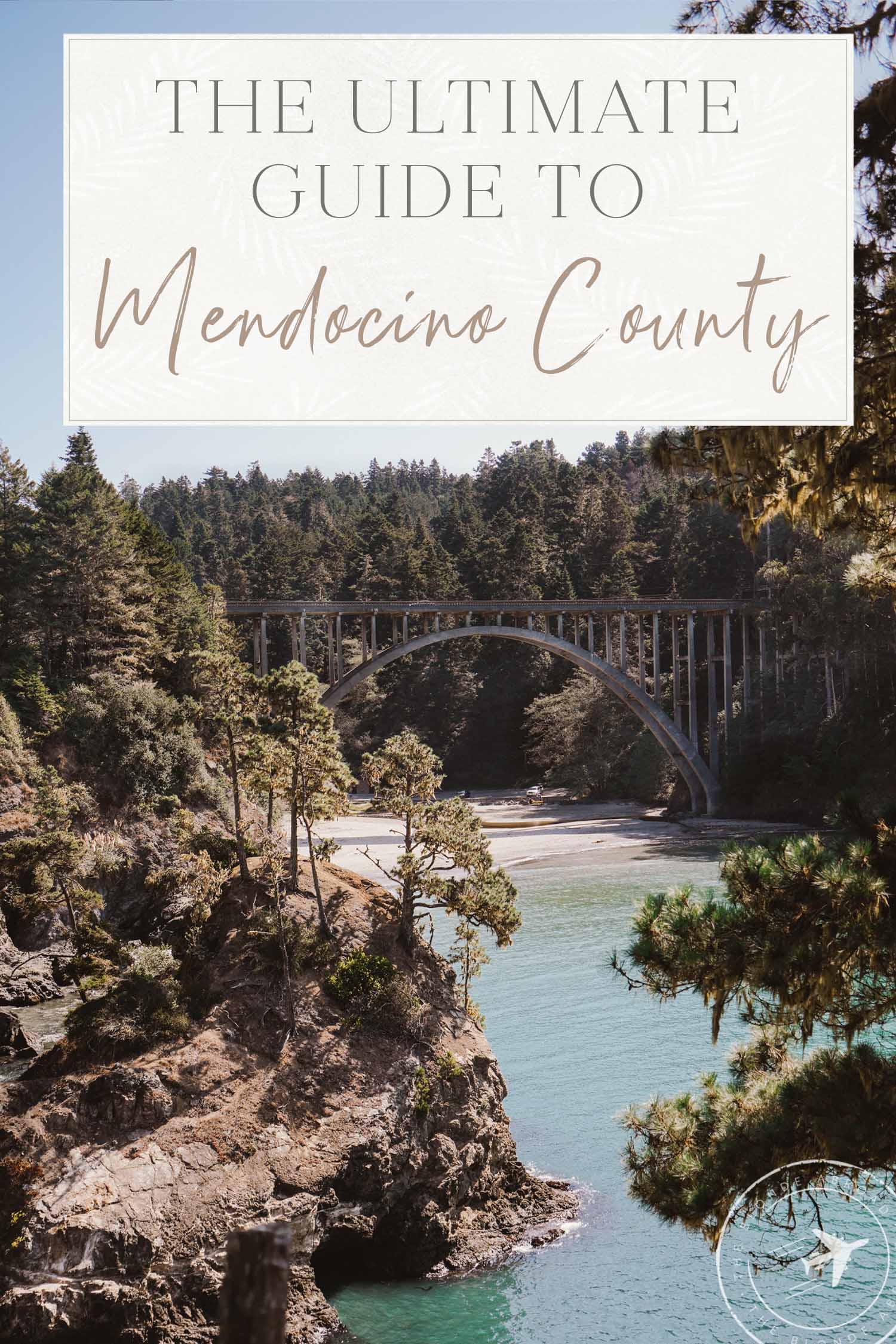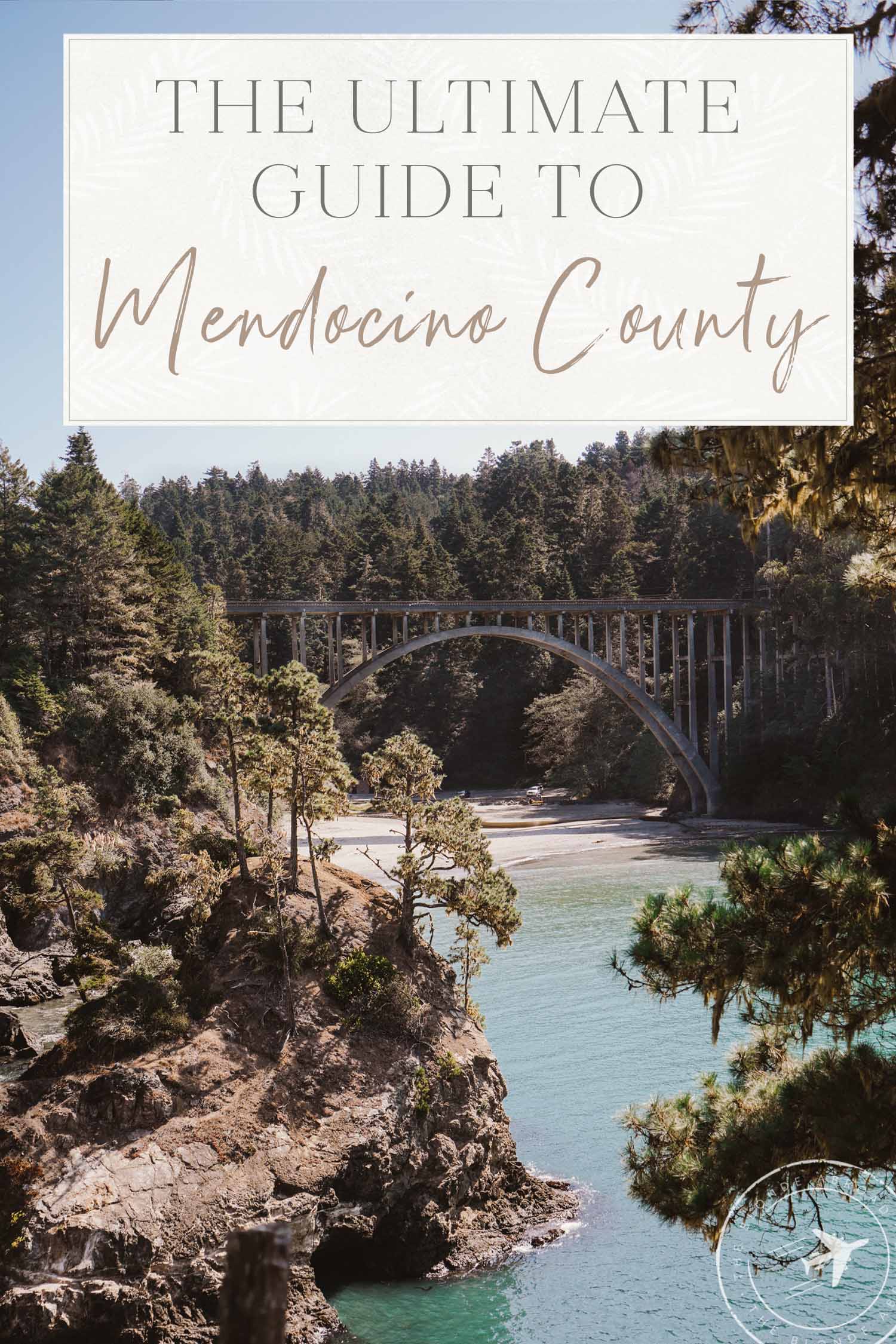 Hey I'm Jessica Wright, a Northern California native and the founder behind the travel blog, Bon Traveler. When I'm not abroad, I spend my weekends exploring my own backyard, getting out on road trips to explore.
Northern California is diverse—from national parks to dramatic coastlines—making it the perfect place to always have a new adventure.
Mendocino County is one of my favorite parts of California to explore as you get the best of coastal views and an opportunity to disconnect. Quaint towns, incredible seafood, and beautiful landscapes are just a few reasons to visit this part of California.
Here's a look at my ultimate guide to Mendocino County!


Best  Time to Visit
Mendocino County can really be a year-round destination depending on what you want to do. The northern coast of California tends to run colder than most areas, often with a layer of fog in the morning that will lift by the afternoon in the summer months.
My favorite time to visit is in the early fall, where the sun cracks through and the winds are lighter, making it the perfect weather for being outside.
I highly recommend packing layers for any time of year and always having a windbreaker to cut the wind chill.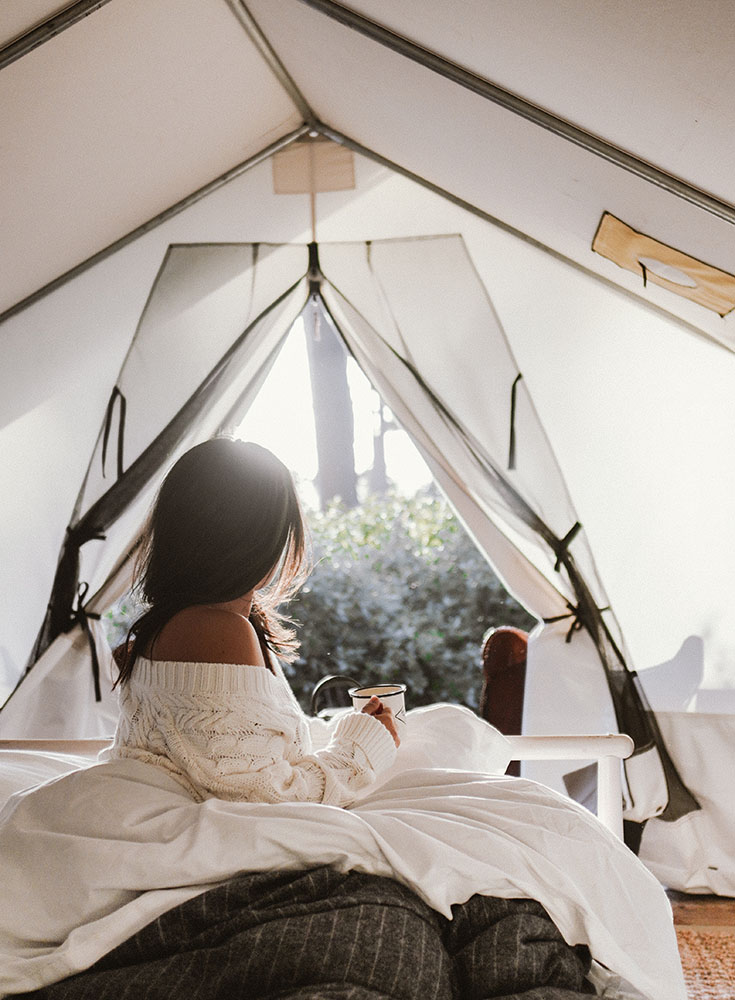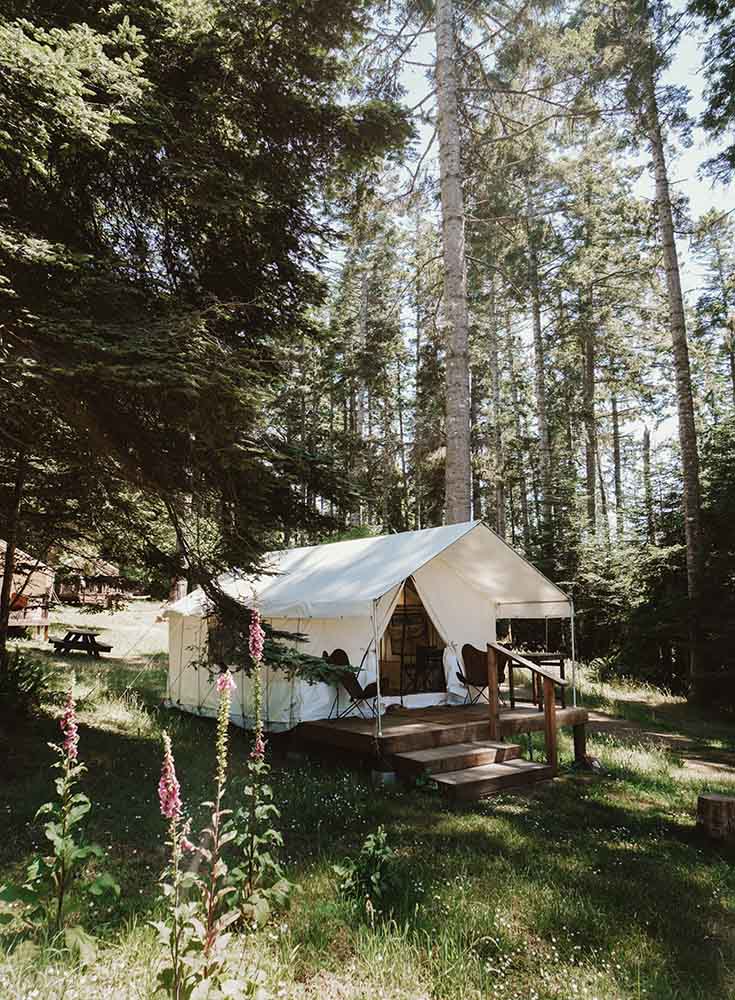 Where to Stay
My favorite part of Mendocino County to stay in is near the coastal town of Mendocino as it's well located for exploring the area. You can go up and down the coast to visit nearby destinations and head inland to be in the redwood forests.
Relaxing
On a recent stay, I checked into the Glendeven Inn & Lodge for the first time just a few minutes south of Mendocino. It's a hidden gem in the area as it sits tucked up on beautiful property off the road. The adults-only hotel has its very own farm and the renovated rooms are beautiful.
Plus, a hot breakfast gets delivered to your room each morning in a picnic basket!
Adventurous
For a more adventurous stay, I love Mendocino Grove Glamping. These glamping tents are ideal for those who want to be outdoors and get a camping experience without the fuss. There are communal bathrooms and they even offer a dinner around the campfire (at an additional cost) as part of the stay.
Coastal
If you want to stay further north on the coast, I'd recommend the highly-awarded The Inn at Newport Ranch set on the coastal headlands of Fort Bragg.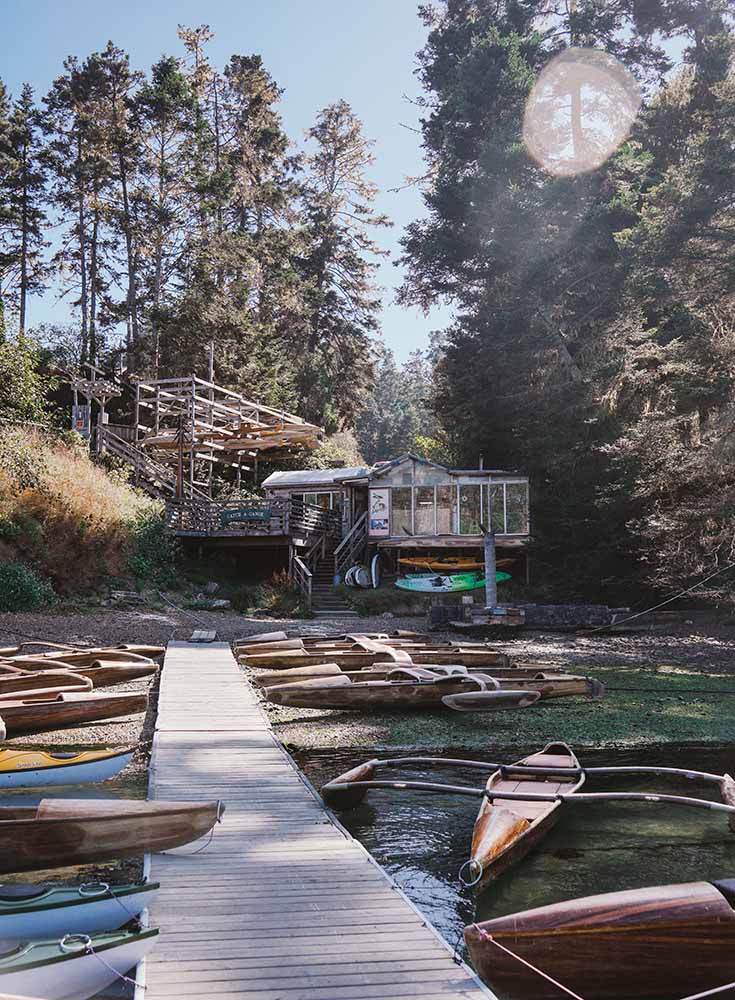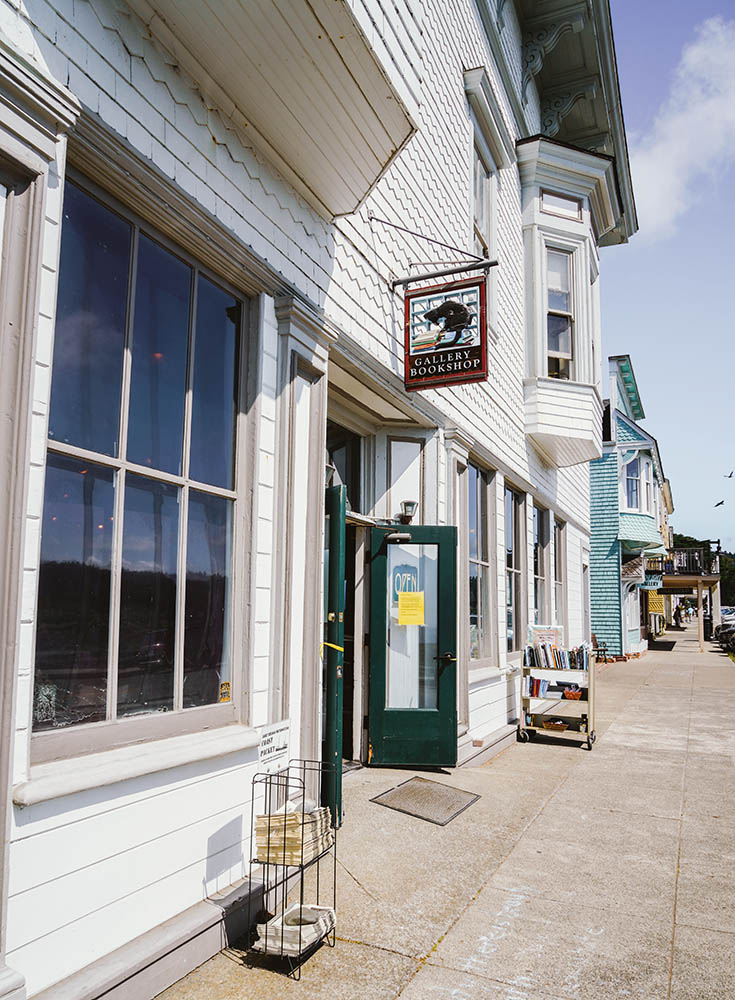 What to Do 
Rent an Outrigger Canoe and Go Up the Big River Estuary
This is a favorite morning activity in Mendocino. It's a chance to see wildlife and soak in the scenery. Head to Catch-A-Canoe and rent one of their wooden outriggers to row up the river. You could spend a few hours doing this and even bring along a picnic to enjoy out on the river.
Shop Local in Mendocino
The town of Mendocino is full of local artists and boutiques. The historic town has a few main blocks, where you could spend an hour or two exploring.
Explore Russian Gulch State Park
Certainly, one of the most scenic parks in the area, this one is great to get a mix of both coastal views and access to a small beach.
Head out to headlands and follow marked paths that wind along the coast. Make sure to keep an eye out for passing whales here!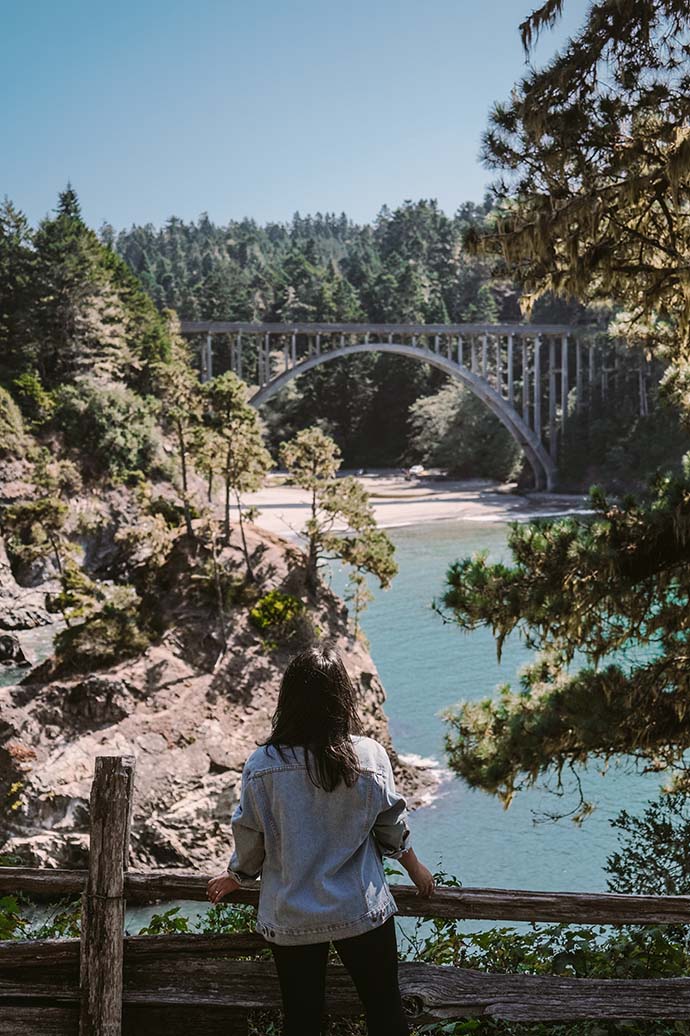 One of the most famous attractions in Mendocino County is the historic Skunk Train. They've now opened up a new experience that gives you a totally different perspective of the redwoods—a guided tour on motorized railbikes that sit on the rail tracks.
You coast through the forest and stop occasionally with your guide to learn more about the area.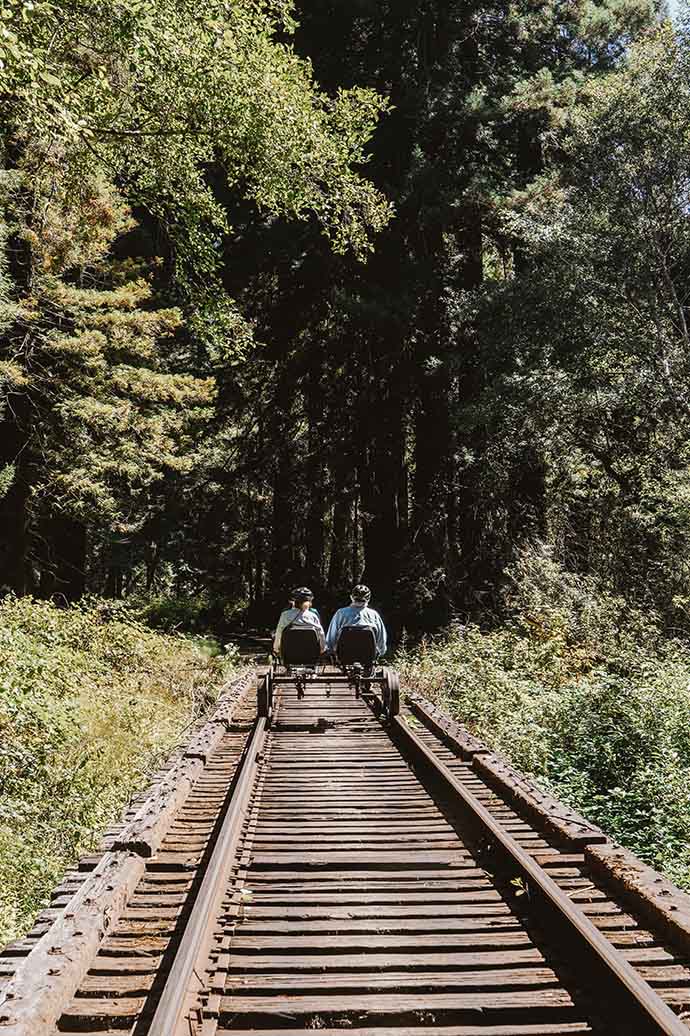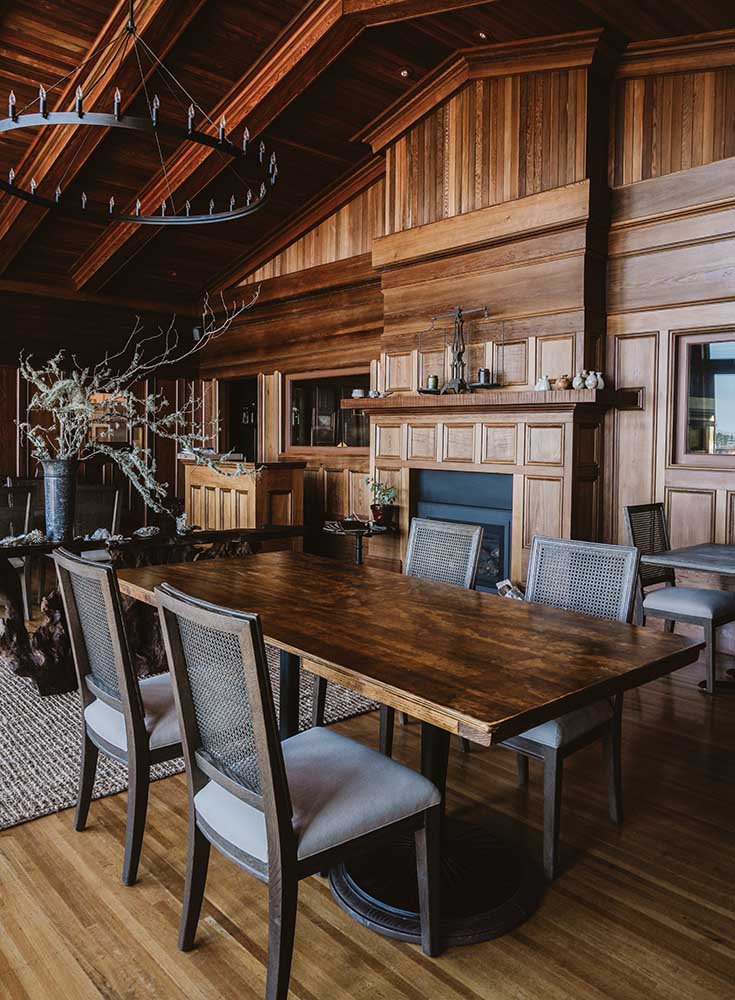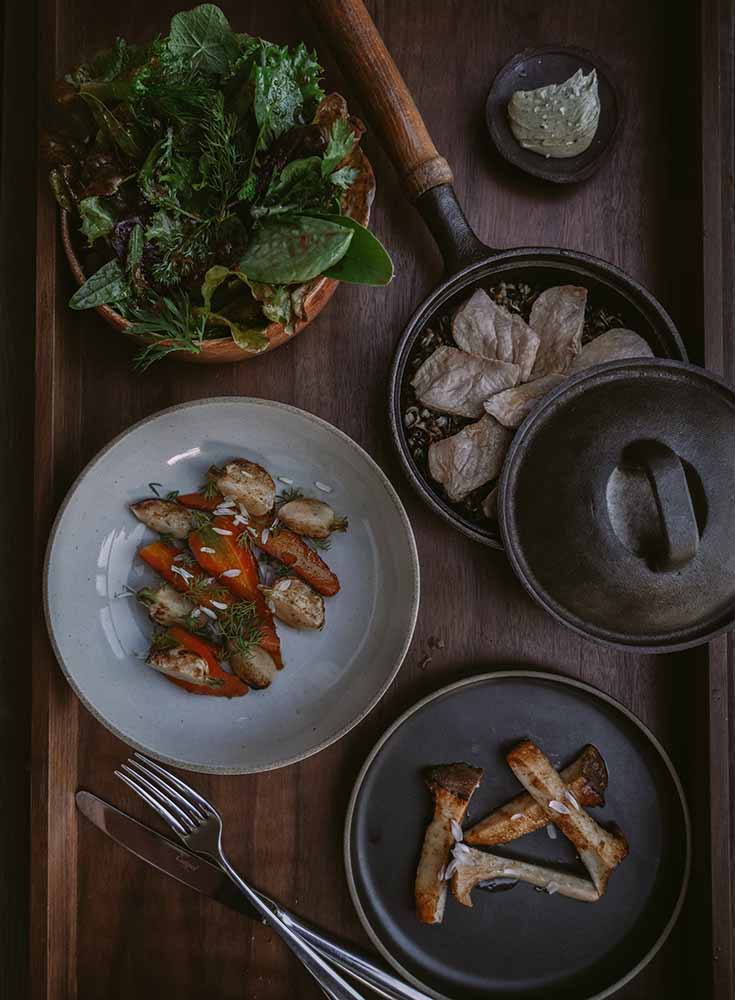 Where to Eat
Ole's Bar at Little River Inn — One of my favorite spots to sit up at the bar and take in coastal views, you may even spot whales from here. The food is local fare and the cocktail menu is great.
Café Beaujolais — For more upscale dining, make sure to book a reservation here. Known for its French-inspired menu using locally sourced ingredients, the seafood linguini is a favorite.
Flow — Right in Mendocino, this more casual restaurant is perfect for a lunch with a view. The fish tacos are wonderful here.
The Restaurant at Harbor House Inn — South of Mendocino is a Michelin-star restaurant in Elk. The experience is memorable and perfect for a special occasion.
Princess Seafood — In Noyo Harbor of Fort Bragg is this women-run seafood outpost. They go out daily to grab fresh seafood and their crab sandwich is out of this world. 

Helpful Tips
Getting Around + Amount of Time
For exploring this part of California, a road trip is the best way to see the area. You could easily spend two to three nights just in Mendocino alone and continue on to see more of the coast both north and south.
What to Expect
Mendocino County is a destination for those who want to get outdoors and slow down.
There is so much natural beauty here and open land to explore. Cell service may be spotty so I'd recommend downloading maps offline on Google before arriving. Also keep in mind that many restaurants and cafes will close early, so be sure to check opening hours ahead of time.

Overall
Mendocino County and its wonderful coastline is such a special place.
The ability to be outdoors in the stunning scenery and at the same time enjoy wonderful cuisine is unique to this part of California. It's the ultimate road trip destination for a family getaway, a trip with friends, or even a solo adventure.
There is so much to discover here, to find more recommendations head to my weekend guide on Mendocino.