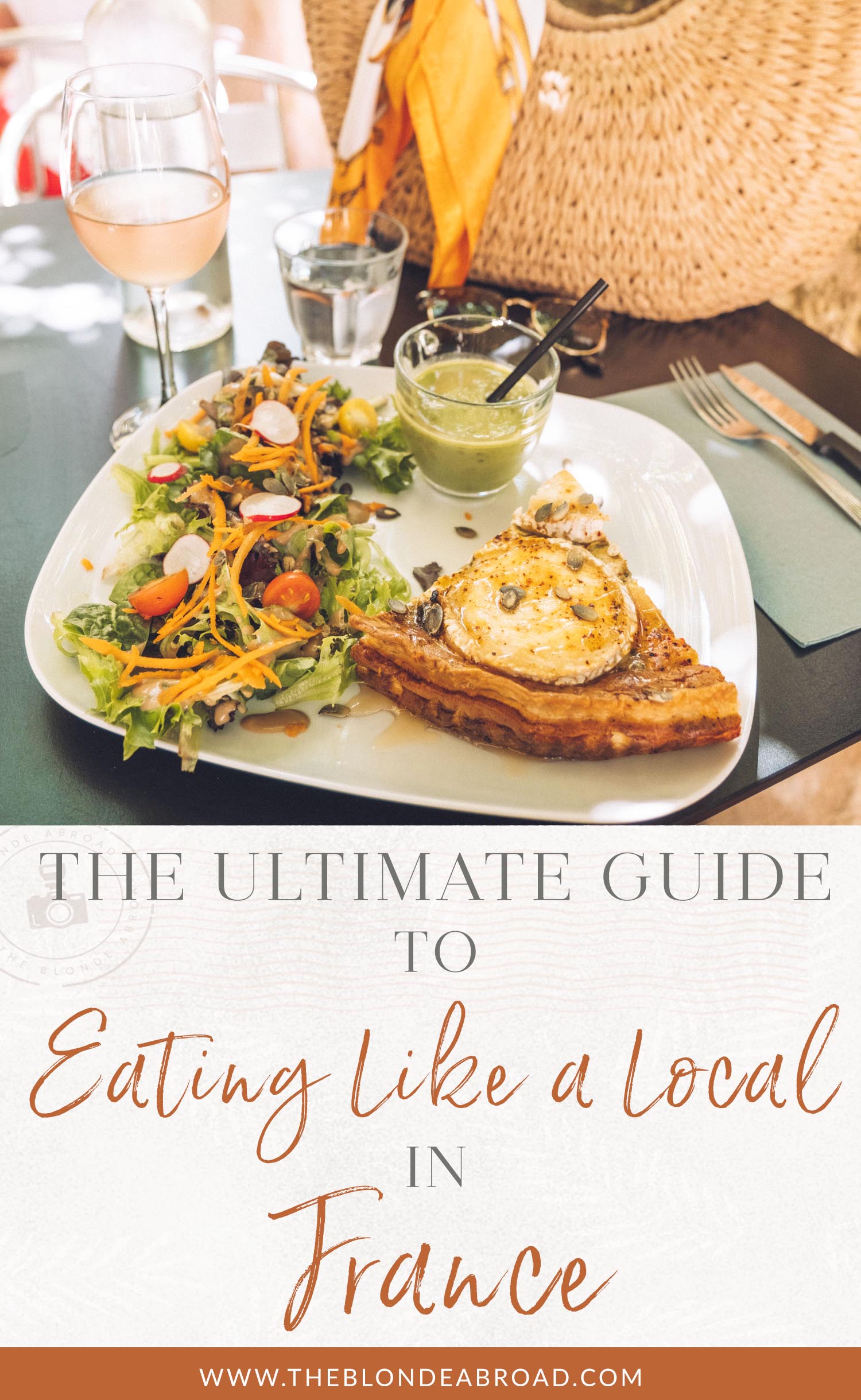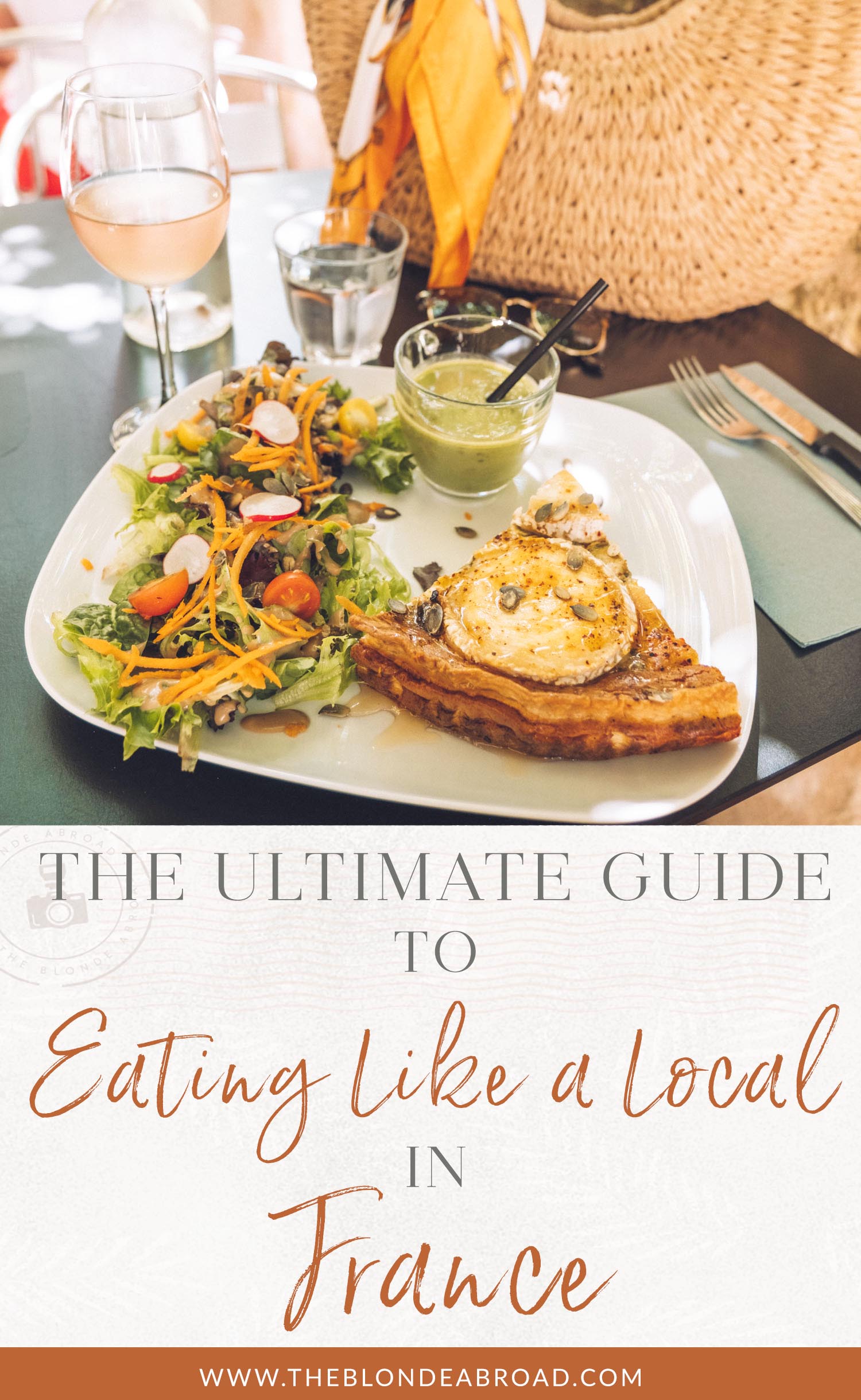 Breaking bread together is the fastest way to bridge any cultural divide. This is especially true in France where eating is quite the art! After tracing my roots to France, I've been looking to build a deeper connection with the country…
And what better way than digging into some of the best plates on the planet?
When it comes to France, and particularly eating like a local whilst touring the country, what should you know before you go to get a deeper appreciation for the culture and enhance your experience? I'm dishing up the goods!
Here is your ultimate guide to eating like a local in France. Bon appétit!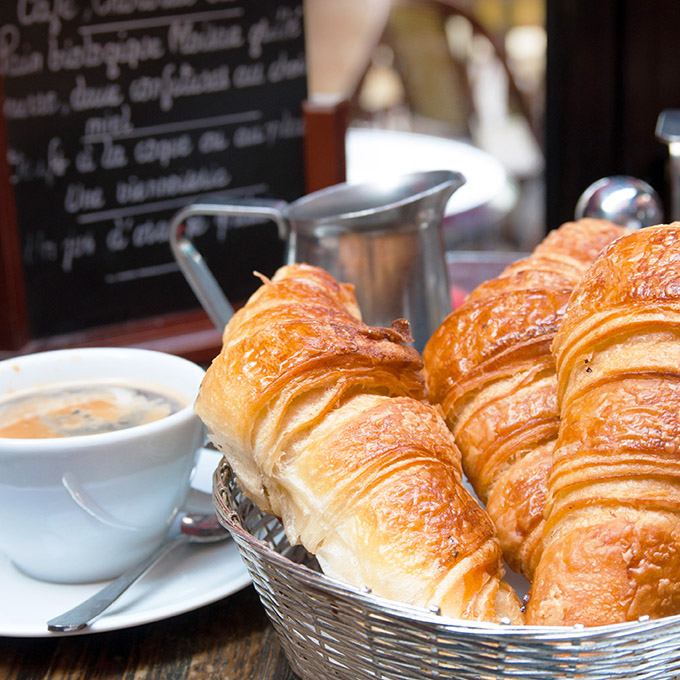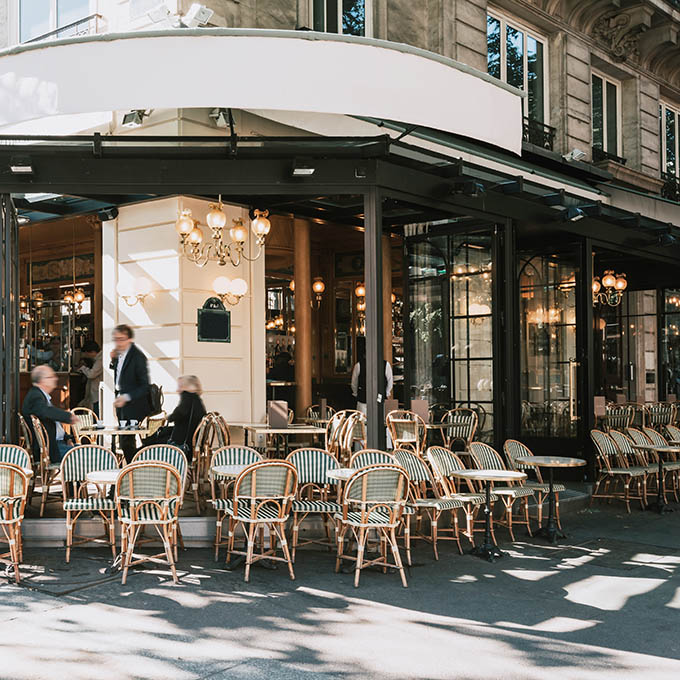 Best Food in Paris
Read More!
About the Meals
Breakfast
The French typically start their day with a pastry and a coffee. Quick picks like pain au chocolat or croissants are popular. Most locals pair it with a milky café au lait. While Starbucks and other chains are cropping up, the coffee options you find in most local cafes and eateries are very basic; think coffee beans, milk, sugar.
So simple yet decadent!
Coffee is usually cheaper at the bar than drinking at a table—there's actually a sidewalk tax for using the coveted French footpath space!
Lunch
Parisians have famous long lunches that can easily span over two hours. Even if it is a simple and light lunch, it won't be quick! You will find many French people who can spend 45 minutes with a baguette sandwich.
Meals are a very social affair and you won't see many people rushing through the streets alone with fast food. The French mentality is that you work to live, not live to work.
If you need a break from work, you take it.
That's not to say that the French don't get their jobs done! They often work later than Americans since they have long lunches. It is not unusual to finish work at 7 pm.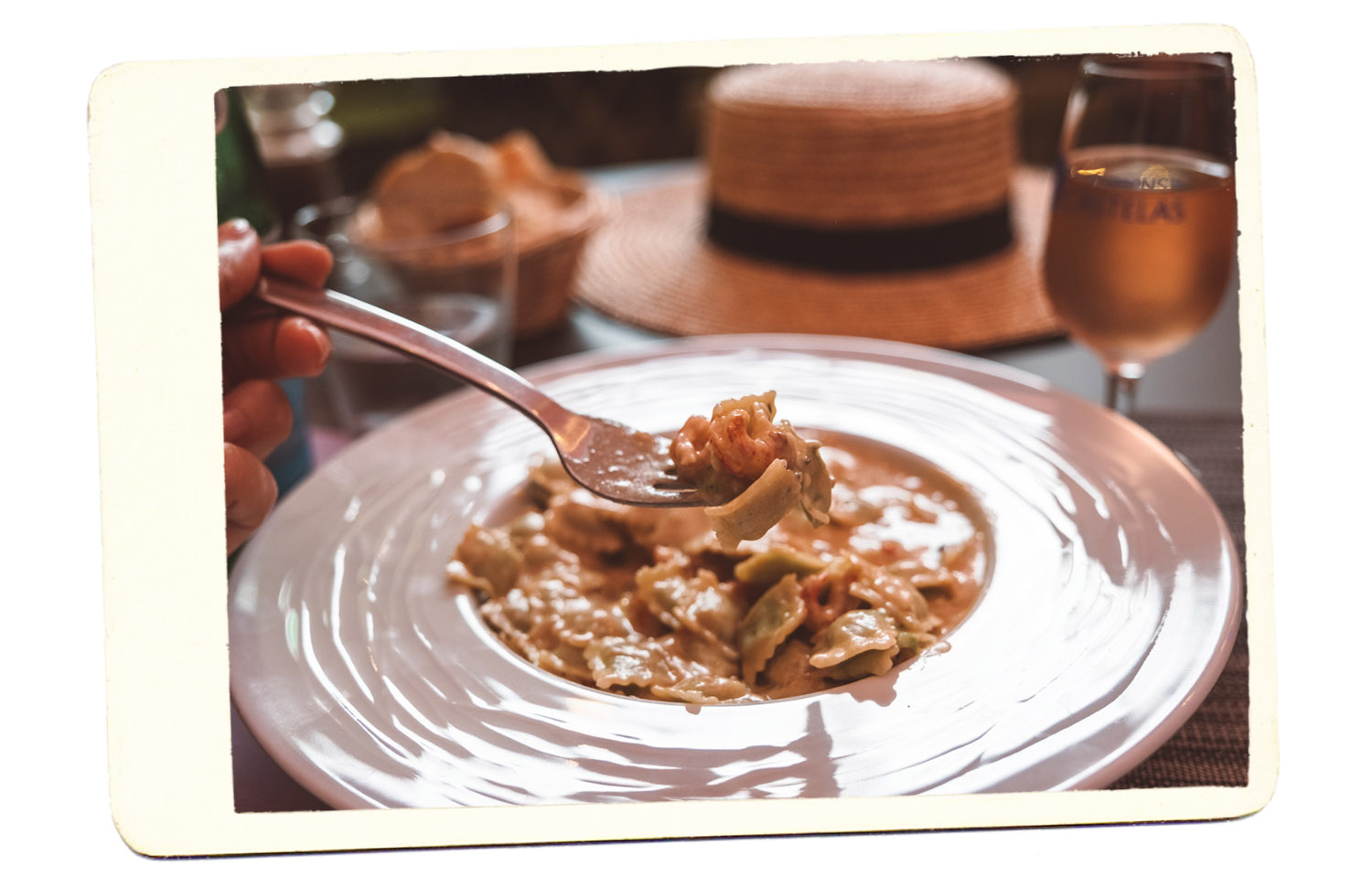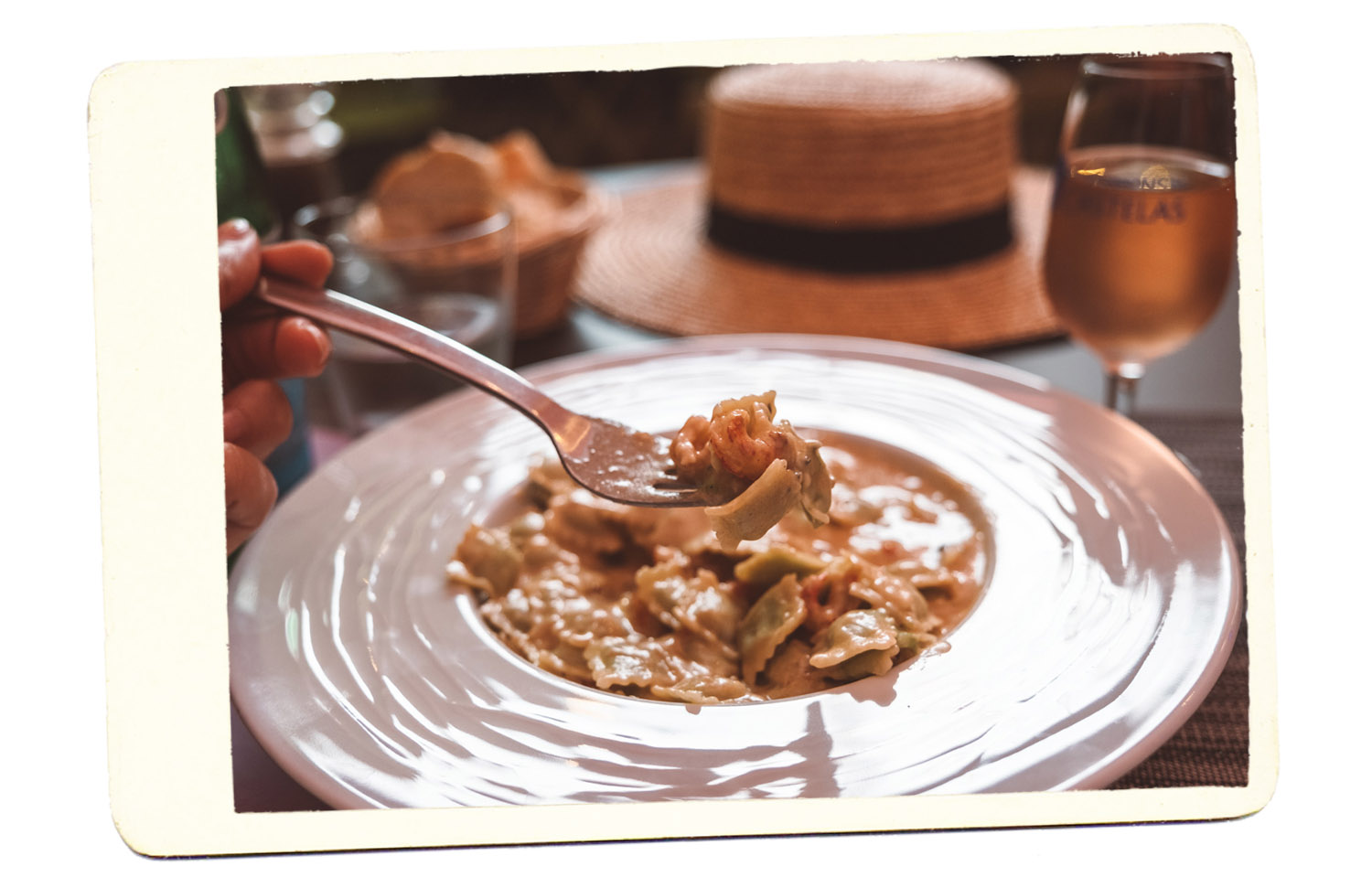 Dinner
After work, it is usually a two-course affair or more. While these might seem like big meals, it is important to know that snacking isn't the norm. It is common for kids but many adults stick exclusively to standard meal times.
Bread is often served with dinner—but not as an appetizer. It is meant for dipping and cleaning your plate! While there are a lot of amazing French desserts, cheese is a common post-meal treat.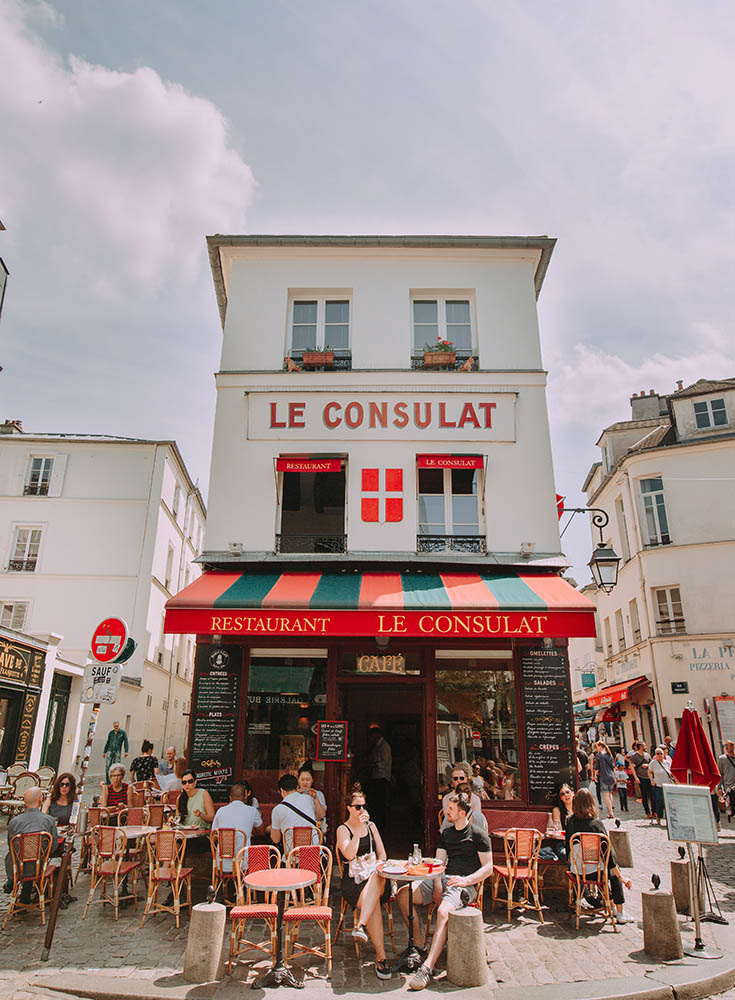 Eating Schedule
Even during the weekend, breakfast is a quick meal. You might see people lounging at sidewalk cafes with croissants and coffee but they won't be sitting down to huge breakfast. Brunch is becoming a trendy thing but it's not necessarily the norm.
In France, you might be surprised to see that restaurants are not open all day. Lunch service will usually go from 12 to 2:30 pm. It's common to then close and open up again for dinner service from 7-11 pm, or so.
If you are hungry between the normal service times, you can always pop in a patisserie or boulangerie. French lesson of the day: You might translate both of these words to 'bakery' but a patisserie is for pastries while a boulangerie is for bread.
While I usually love a bakery run, if you aren't in the mood for carbs, you will find groceries stores with other options like pre-made salads.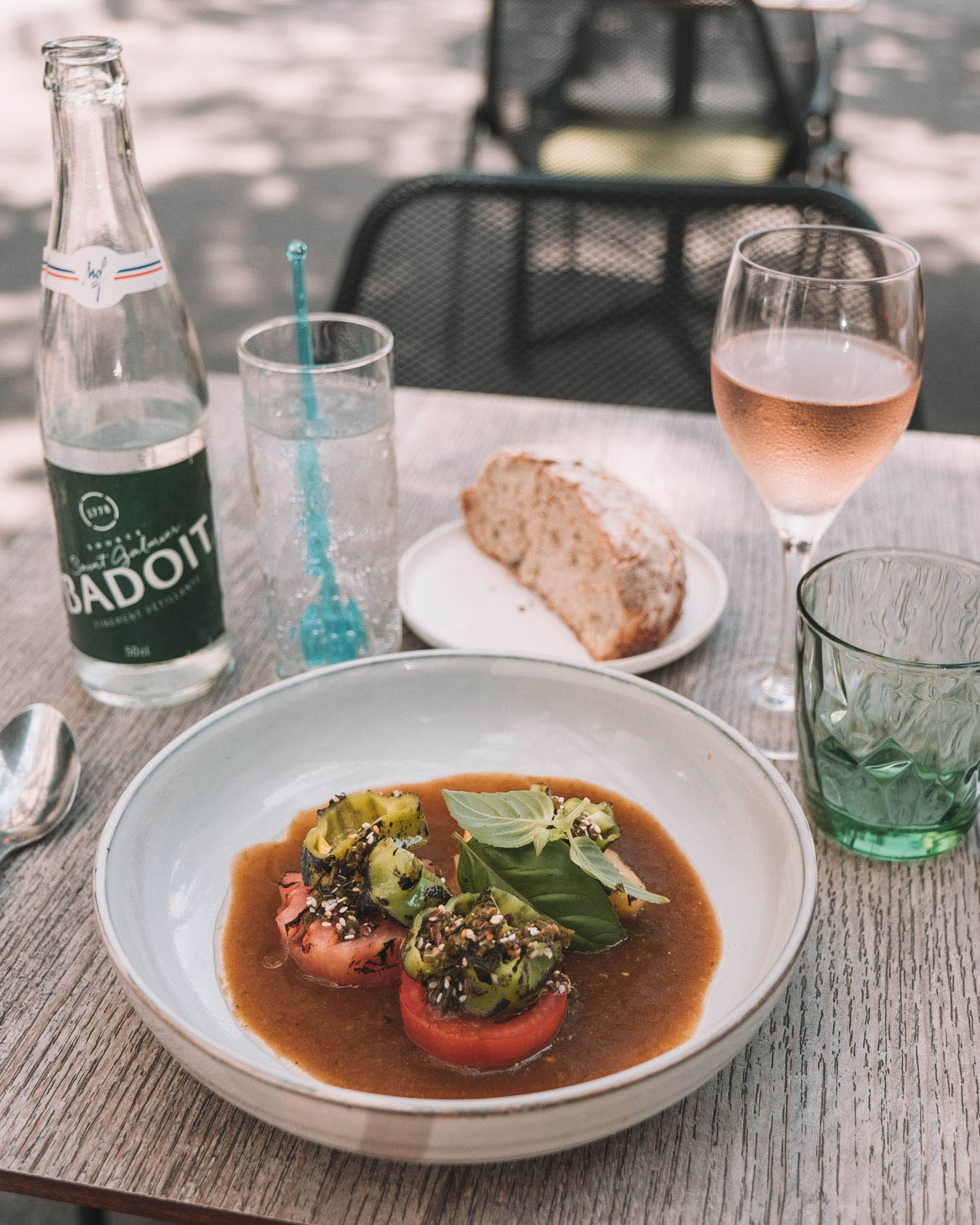 Marseille
Etiquette
While many places recommend reservations, I've generally been able to get a table quickly in most places around France. Unless it's a weekend dinner at a popular spot, it's usually just a short wait. That said, book a table to be on the safe side if you're really excited to go somewhere.
Like most of Europe, you will see French people eating with their fork in the left hand and the knife in the right. They pile food onto the back of the fork using the knife.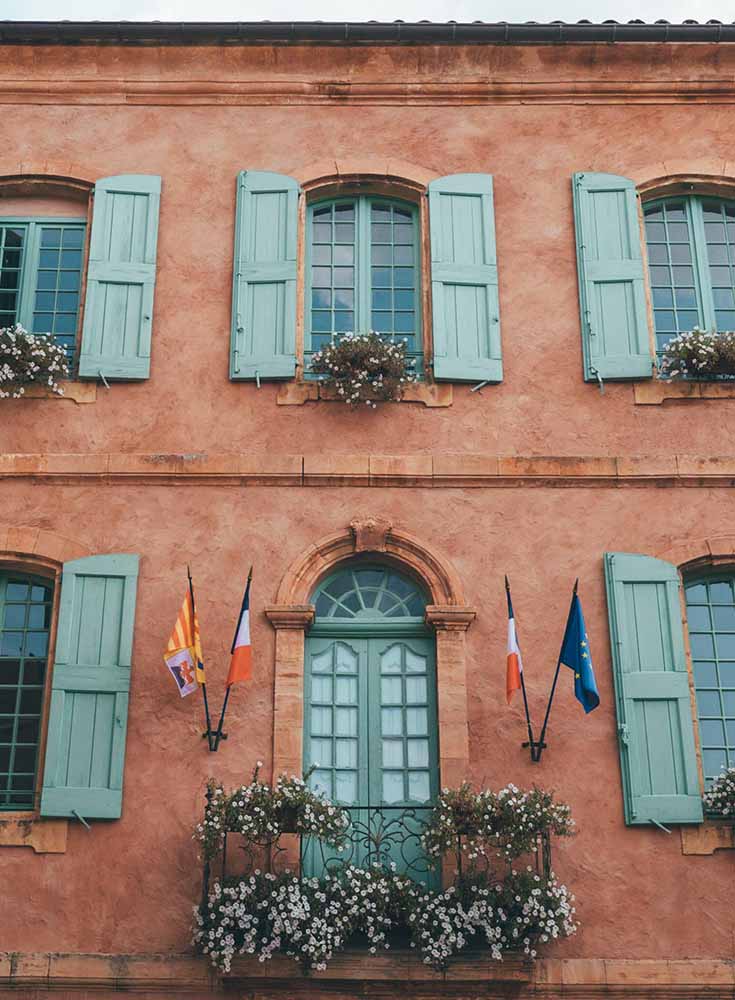 Tipping + the Bill
The staff at the restaurants make a full wage and tipping them is not expected by any means! If the service is great, of course, you are welcome to leave more. If the bill is 27 euros, you might leave 30. It is never expected though and across Europe tipping is seen as something of an American tourist tax!
You will always have to ask for the bill, the staff will never bring it to you or try to rush you out.
When you are ready, try saying, "l'addition s'il vous plaît" (if you're a newbie, listen to this to help with pronunciation). It is common for restaurants to bring a card machine to your table to process the bill. If you don't have a chip-and-PIN card, you may run into issues paying so it's smart to keep some cash on hand.

How Meat is Prepared
If you are shy about rare meat, keep in mind that French preparation methods keep meat pretty darn bloody compared to the US. What Americans would call rare, is more like medium rare in France. The most common American preparation—medium rare—is called "a point" in French. Here are a few words you might see:
Want to try a nice French steak?
It's essential to know how meat is cooked!
Bleu: Almost uncooked
Saignante: Rare
A Point: Medium rare
Bien Cuit: Medium well
If you love your meat well-done, wait until you get home!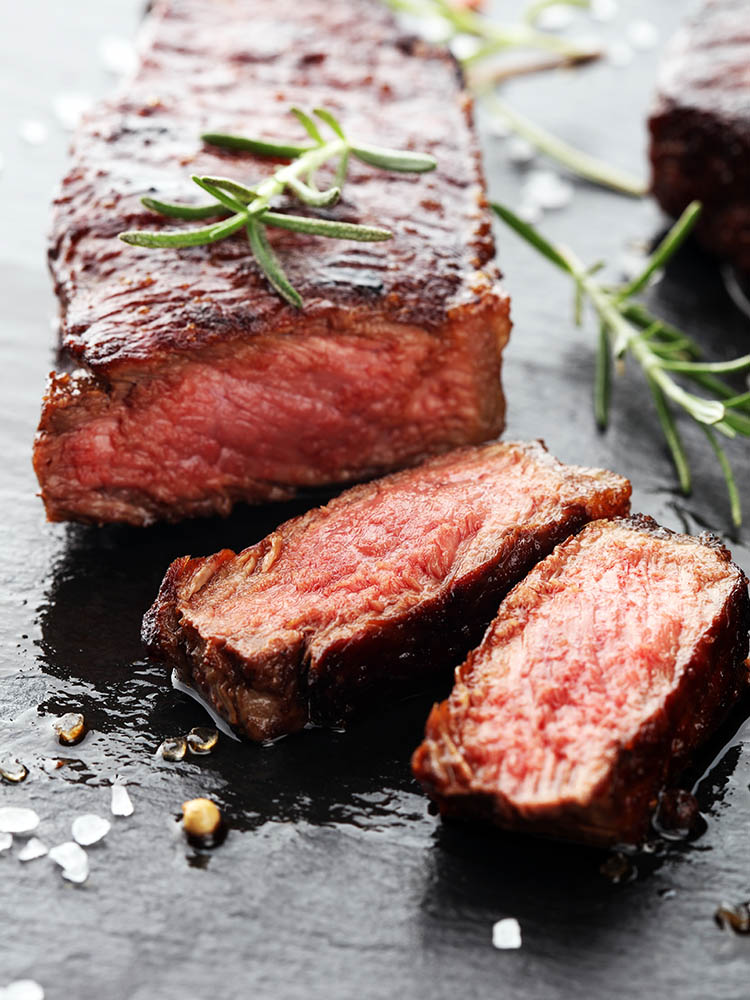 Quintessential French Meals  to  Try
Steak Frites: plain and simple, it's steak and fries. And oftentimes it's dressed with the tastiest sauce…ever!
Croque Monsieur: This is basically grilled cheese and another quick comfort meal option. You will often find ham in these along with gruyère cheese.
Steak Tartare: You might be shocked to see how common fresh meat is around France. It is properly prepared, however, and generally considered safe. Of course, trust your gut! If you are sensitive or it just doesn't look right, skip it!
Quiche Lorraine: This one is a bit less shocking to a non-French palette! This tasty omelette style dish is made with eggs, cream, cheese, and usually bacon.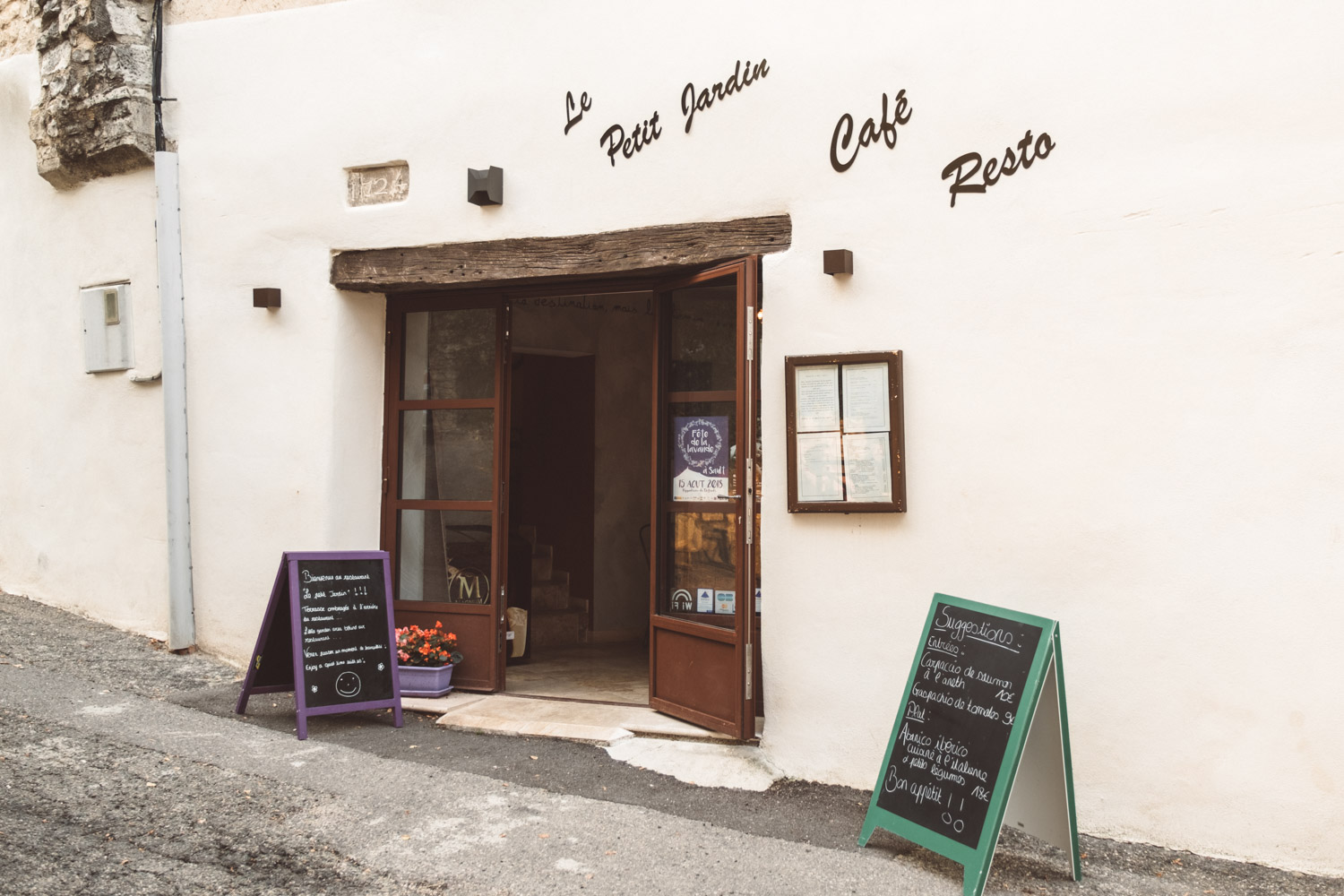 Sault, France
On Customization
In France, almost all people order directly from the menu without special requests. Chefs put a lot of thought and effort into dishes and will not be thrilled that you think you know better.
The idea that "the customer is always right" is very much an American thing. When it comes to food, the French believe it's best to leave it to the pros. You are better off, however, to find a place that has a menu you like.
If you have allergies or other dietary restrictions, you are very welcome to ask, of course. 

Shopping for Produce
In France, especially in small towns, it's all about specialty shops. There are special stores for wine, cheese, meat, bread, and anything else you might eat.
If you know a few words of French or are lucky enough to stumble onto an English speaking spot, ask for recommendations from the clerk. They aren't just randomly working at this shop. They tend to be very knowledgeable and are happy to help!


No Food on the Go
You won't find many French places offering food on the go. You will find some foreign fast-food spots where you can get something quickly if you're in need—it's okay in a pinch but it's definitely not a part of local's daily diet. That said, MacDo (aka McDonald's) is pretty popular with Parisian youth!
If you want something easy and quick, stop by any food shop for a bit of bread and cheese for an instant French picnic (which I am obsessed with!).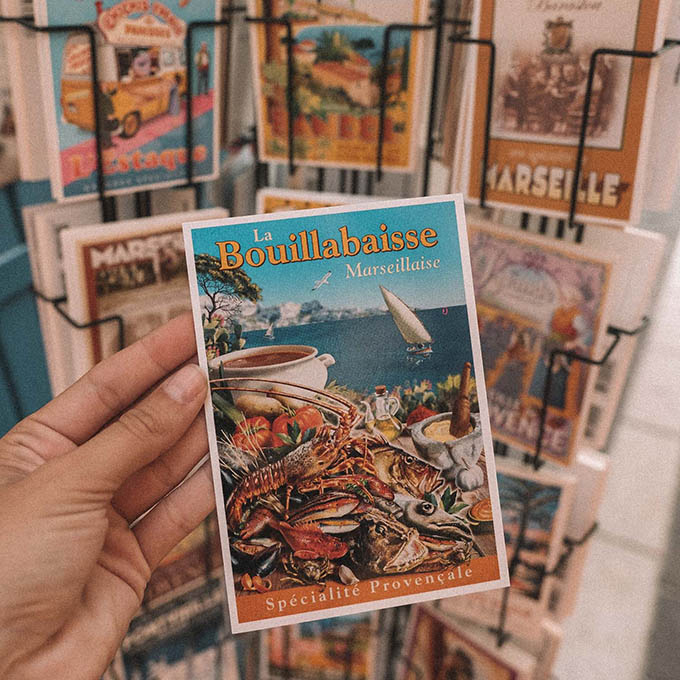 48 Hours in Marseille
Read More!
Overall
I know that French people can get a bad rap for people being rude, but I've had nothing but good experiences.
Even if you don't speak French, saying bonjour when you see someone for the first time and throwing in a merci (thank you), excusez-moi (excuse me), and s'il vous plaît (please) where you can will go a long way.