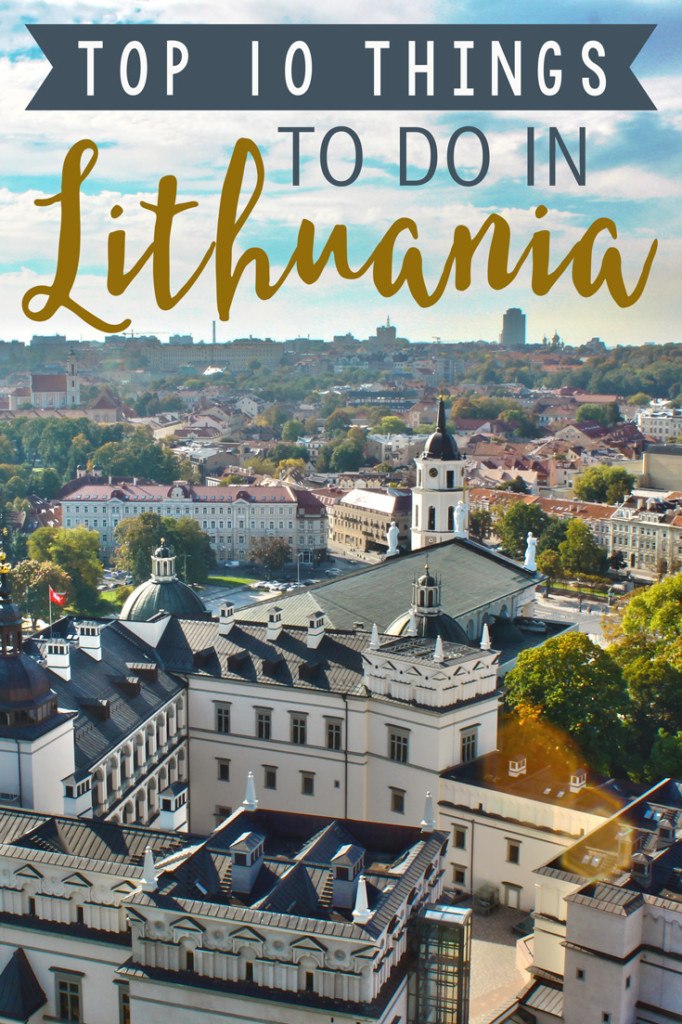 Lithuania is still fairly off the beaten path, but there's no reason for it to be! The ex-Soviet country is just beginning to blossom, with a cobblestone city center, Bohemian art town, and delicious restaurants serving food unique to the region. It's time to hit the Baltics!
Here are my top things to do while you're traveling in Lithuania!

– Artsy Times in Uzupis –
The artistic neighborhood of Uzupis is a kind of bohemian state outside of Vilnius. After the Soviet Union left Lithuania, a handful of eccentrics decided to create their own independent country of 148 acres, 120 residents, and its own president, bishop, churches and four official flags.
Dubbed the "Republic of Angels," visitors can enter the neighborhood by a love-chained bridge and wander past twisting streets, old military fortifications, and crumbling houses. There is even a statue of Frank Zappa, prolific musician, who took over an old site where a statue of Lenin once stood.

– Hill of Witches –
Adding to the repertoire of famous hills is the Curonian Spit's Hill of Witches. This is an old public trail that takes you though the woods past wooden statues of dragons, goddesses, and, most notoriously, devils.
The statues started as a community project in 1979 and features 80 different carvings. Walk through the legends of Lithuanian folk history and myth, and come by on Midsummer's Eve to watch locals gather here to sing and celebrate summertime.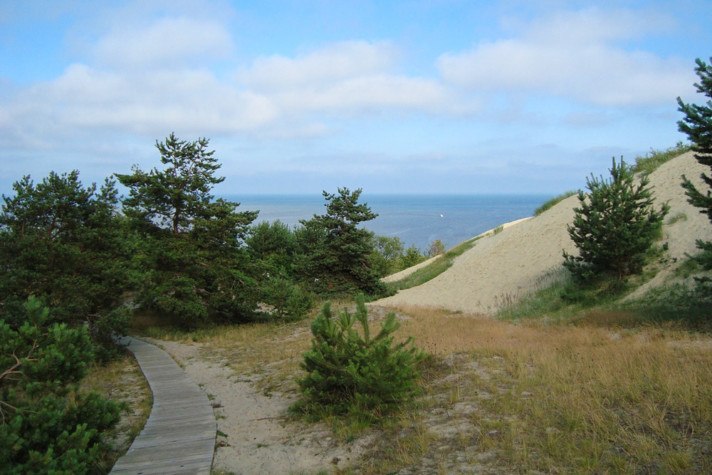 – Visit the Curonian Spit –
A treat in the summertime, the Spit is a long peninsula off Lithuania's bright western coast. Go for a handful of days and treat yourself to languid bike rides, dense forests, white sand dunes and cute beach villages. Renting a campsite or room is relatively uncomplicated and cheap. The food is nothing special, but you can't beat the view of beautiful sunsets every single day.

– Green Spaces –
Lithuanians have a fondness for nature and its no wonder, with deep forests, lakes and a shoreline to make any European envious.
One of the best places to sample local wilderness is Aukštaitija National Park. Located about 100 km from Vilnius, it contains 126 lakes, several islands and streams, and old traditional villages. In Stripeikiai you'll find the one-of-a-kind Museum of Ancient Beekeeping.
Step away for a day to explore the park by foot or kayak.

– Trakai Island Castle –
The fortress of Trakai, built in the 14th century, is a fun little day trip from Vilnius in both sunny summer or snowy winter. The castle is located on an island in Lake Galvé, accessible by footbridge or rowboat. The castle's interior tells the story of Renaissance life and history of the area. Most stunning is the reconstructed chapel, with its reddened tapestries and Romanesque chandeliers.

– Kaunas' Devil Museum –
Even if museums aren't your thing, Kaunas' infamous Devil Museum is still a worthwhile stop. This building houses a unique collection of 260 devil sculptures (mostly wooden) belonging to painter Antanas Žmuidzinavičius.
After his death, the exhibit expanded to include over 3,000 figurines! Now the museum houses three stories of devils: Lithuanian devils, the devil's strange jokes and pranks, and foreign devils. It's a memorable visit where you can learn all about local art, folk legends, and cultural ideas surrounding the devil and demons.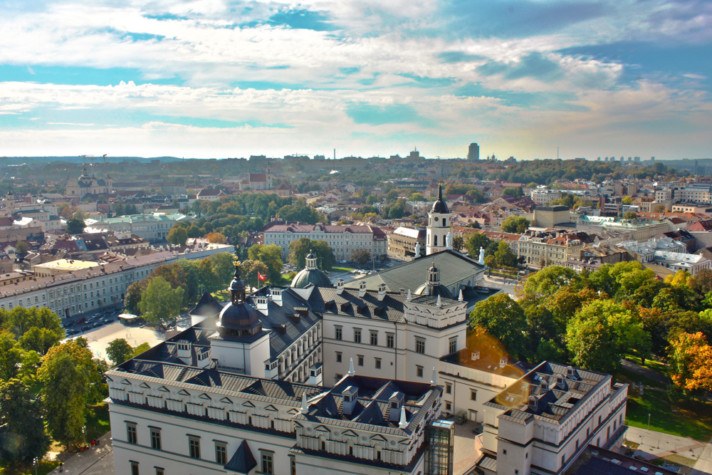 – Beer & Beer Snacks in Vilnius Old Town –
Lithuania might not be known for its beer (yet), but they sure know how to do beer snacks well. Most bars serve a hearty selection of užkandžiai prie alaus, or beer snacks.
Probably the most ubiquitous of them all is kepta duona, deep-fried rye bread served with cheese sauce and grated garlic. There are pretzels, beer soup, calamari, salted and dried fish. I even had pig snouts on one occasion, which still had bits of hair attached to it—though I admit I didn't get past a nibble.
Still, you know what they say— when in Rome!

– Hill of Crosses –
Probably Lithuania's most famous attraction is the Hill of Crosses. A modern site of pilgrimage, the hill is literally a green mound near the city of Šiauliai, that is stacked with more than 100,000 crosses from all over the world.
Though no one knows how the practice began, it is believed to have started in the 19th century. It was bulldozed several times by the Soviets, but finally at peace after independence.
These days it's a handsome, and a little mournful, tourist destination.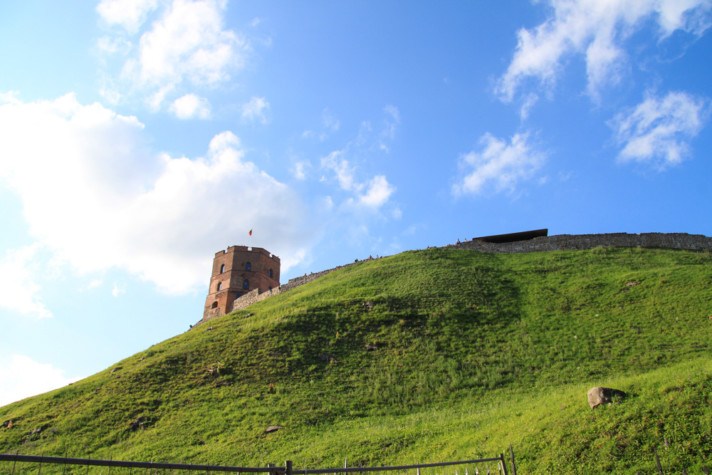 – Gediminas Tower –
There's no scarcity of historical sites in Vilnius, but if you want to get the origins of town, stop by the Gediminas' Tower, a symbol of national pride throughout Lithuania. The tower and its surrounding walls are all that remains of an old brick castle built here in the 15th century.
Legend has it that Duke Gediminas was hunting in the valley and, when he stopped to camp, had a dream of an old iron wolf howling on top of the hill where the tower stands today. He took this as a sign, and founded Vilnius around this very spot.
Visitors can walk up or hop on a funicular to the tower, which is now a museum with a small exhibit of medieval armor, miniature models, and photographs.

– Amber Museum –
In Vilnius' Old Town, you can spot many amber shops eager to sell their wares, and there's even the impressive Amber Museum-Gallery downtown.
To truly get at the heart of the amber trade in Lithuania, however, you'll have to take a trip to the Palanga Amber Museum out on the coast of the Baltic Sea. The museum was established in 1963 and showcases 4,500 pieces, familiar and unique, over 15 rooms in the elegant Tiškevičiai Palace.
In the summer, the terrace opens up to popular cultural evenings.

Read More
Top 10 Weekend Getaways in Europe
The Beginner's Guide to Backpacking Europe
How Much to Budget for Backpacking Europe