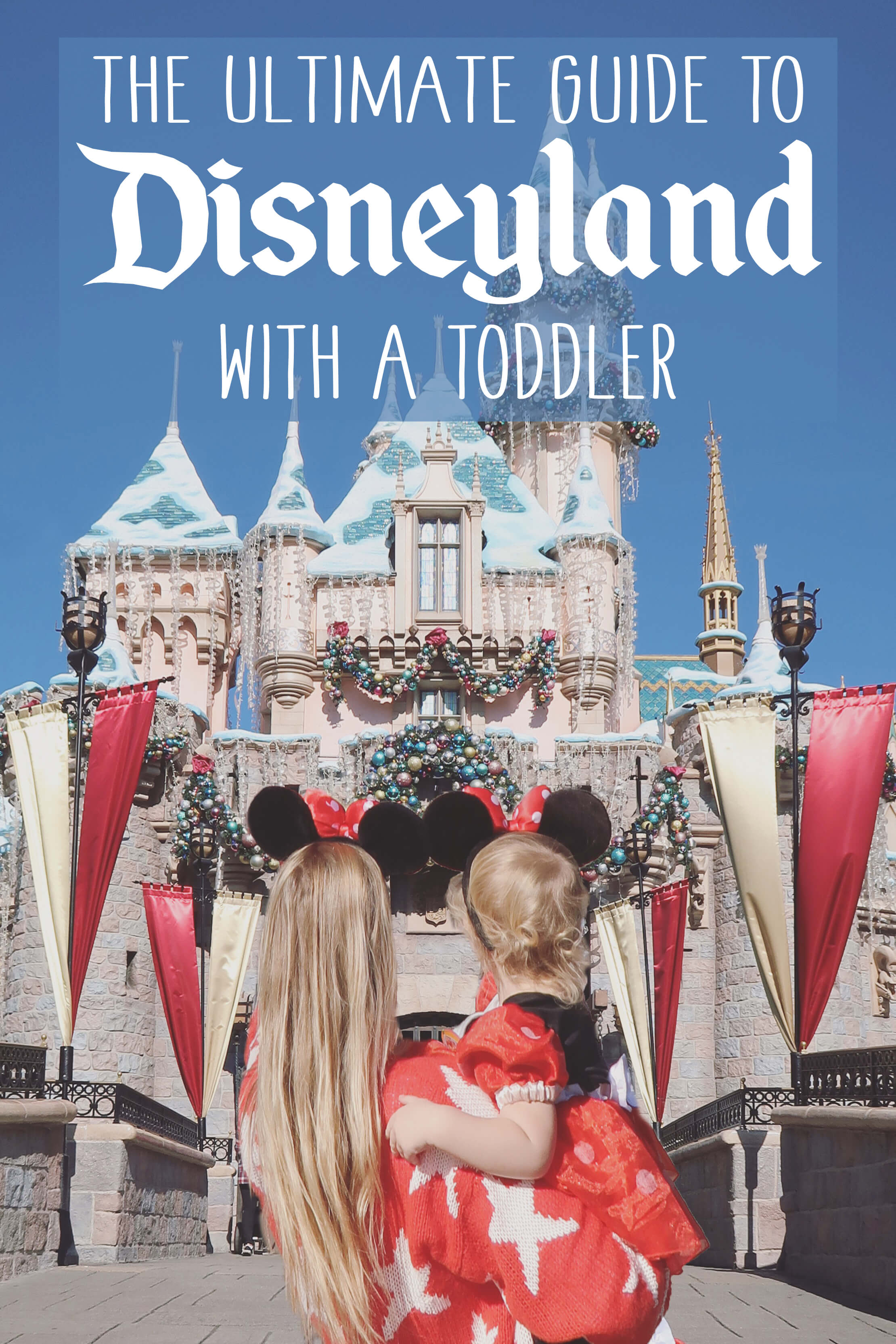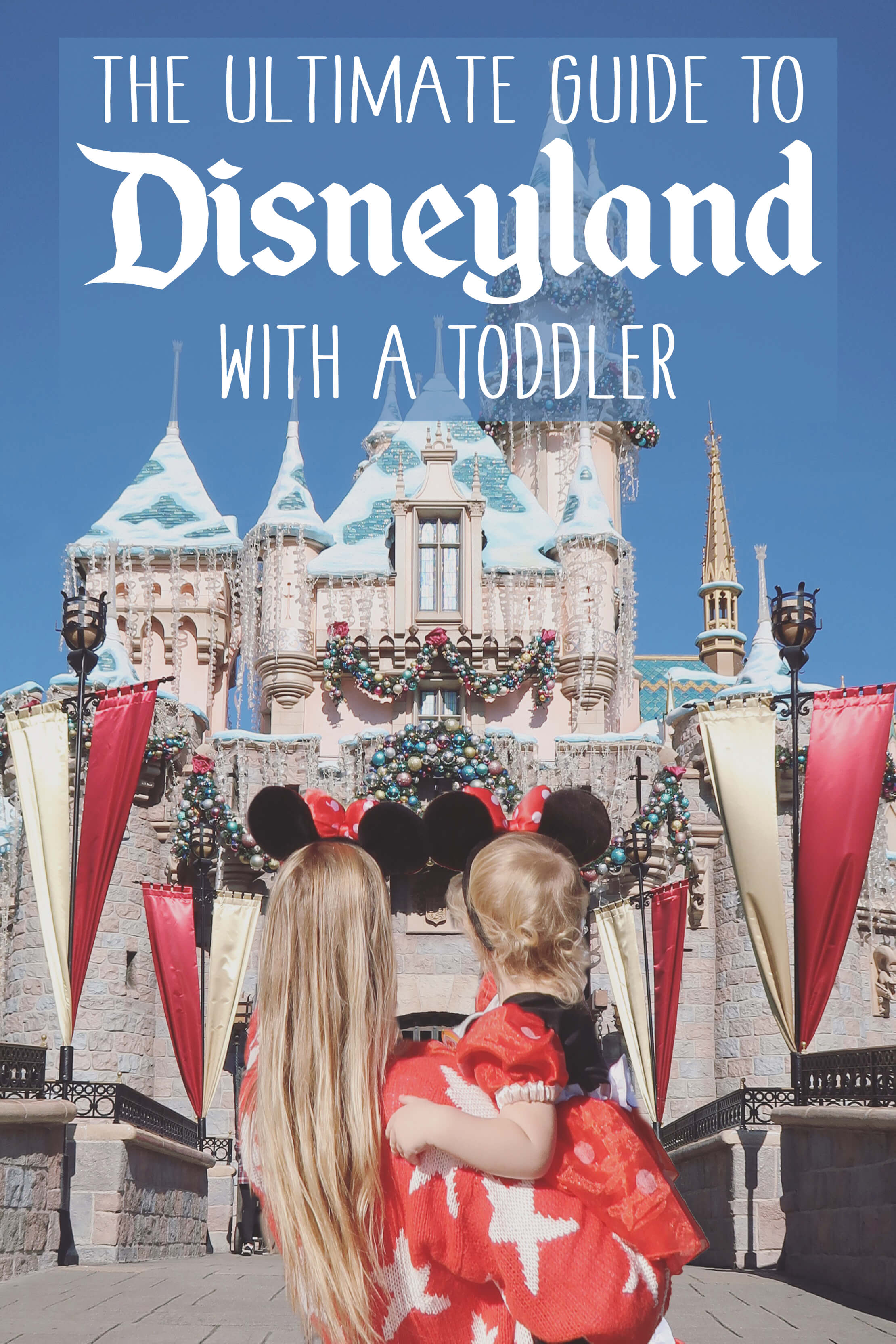 Disneyland is currently operating at limited capacity with COVID-19 restrictions. Check out my Tips for Visiting Disneyland with COVID-19 Restrictions for up-to-date information to help you plan your visit!
When you're a kid, there's nothing better than your first trip to Disneyland. Visiting The Happiest Place on Earth is a rite of passage, especially for California kids. As a kid that grew up in Southern California, some of my fondest childhood memories are from my family trips to Disneyland.
I've been an Annual Passholder for most of my life!
I recently got to take my niece on her first trip to Disneyland, and we had a blast. It's a memory we can both always cherish. That said, it's not exactly "a walk in the park." I definitely underestimated the challenge of taking a toddler to Disneyland by myself. Bringing little ones along requires some real preparation– especially when you're an inexperienced aunt with no toddlers of your own!
Here are some tips for going to Disneyland with a toddler!

What is the Best Age for a Child's First Trip to Disneyland?
Obviously, whenever you get the opportunity to bring a child of any age to Disneyland, it will be a magical experience. As an aunt, I realize I don't have enough experience to make expert claims, however, I believe the following points are important to consider before bringing a toddler to Disneyland!
If your toddler is at the age where he or she needs to be held constantly, visiting Disneyland is a lot of work. It's definitely doable, but it's more manageable to have at least one other adult with you.
My niece, Sadie, was two when I took her on her first trip to Disneyland, so we took advantage of her free admission. Kids under three are free!
I've heard many people say to wait to travel or to experience things until your child is "older" so they remember it. I don't know what that perfect age is, but I know that even at 2 years old (and nearly 6 months later), my niece is still talking about her trip to Disneyland with Aunt Kiki.
Most importantly, I think understanding your child's needs will determine if they're ready for a trip to the Happiest Place on Earth — whatever their age.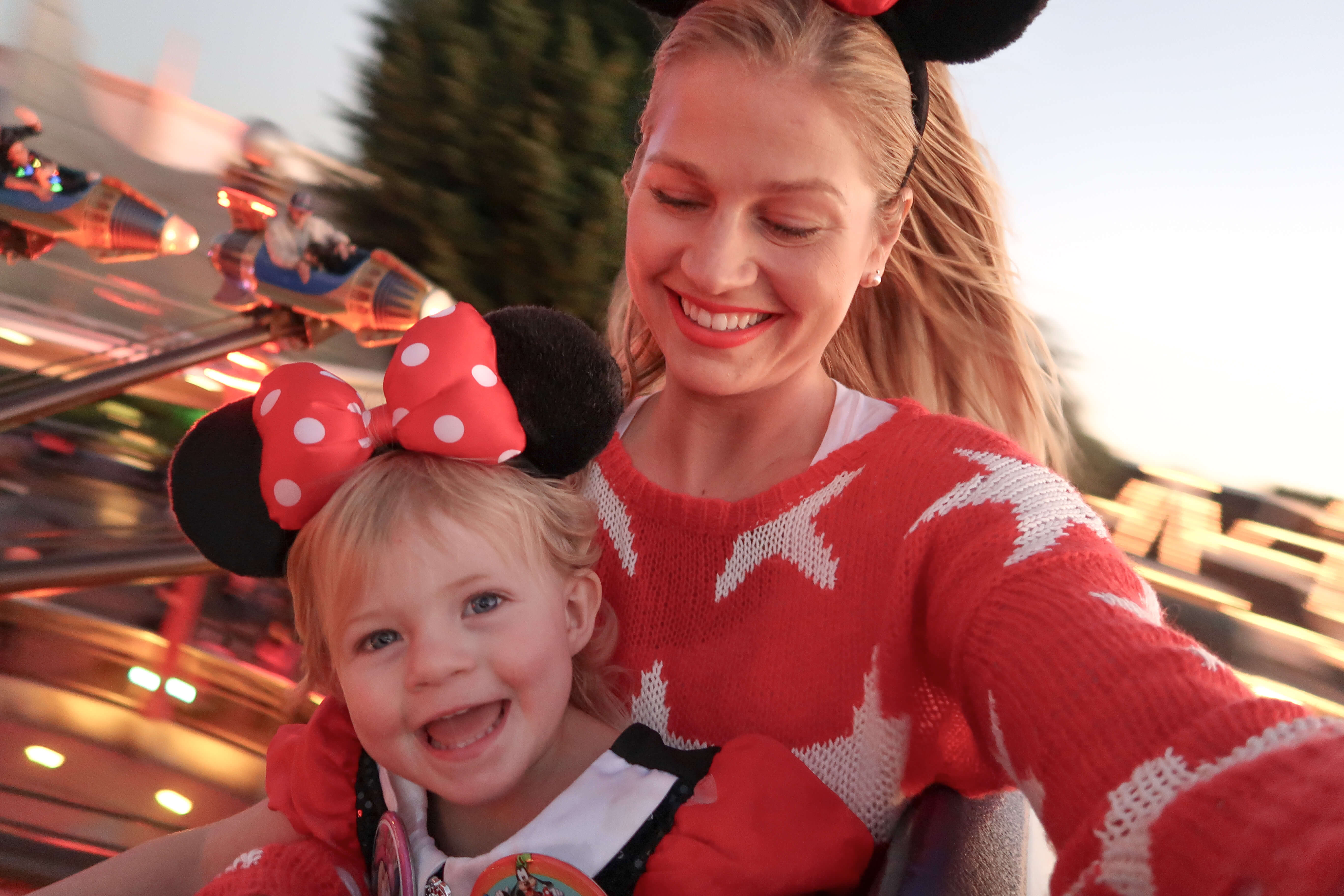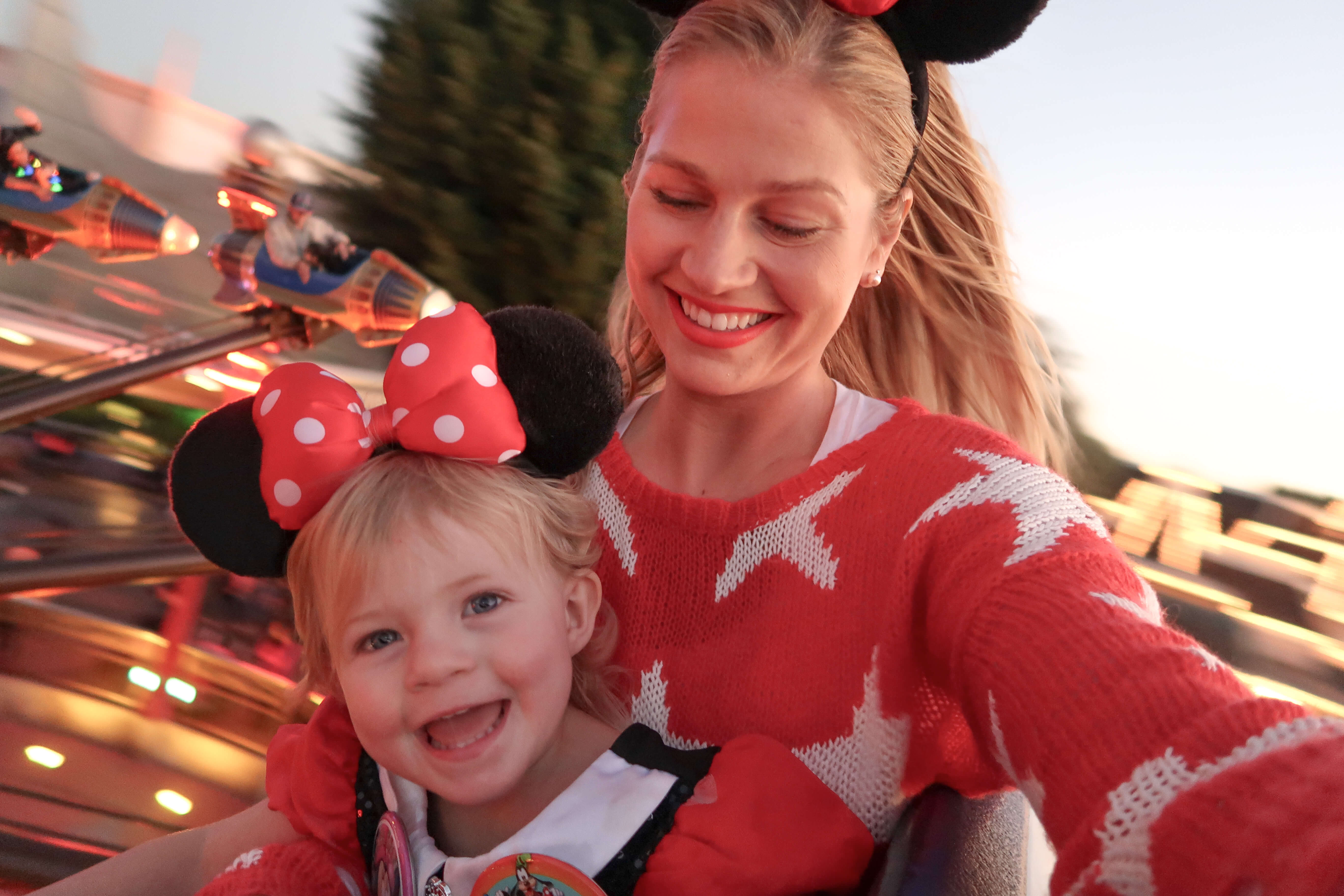 Arrive Early
Whether you drive to Disneyland for the day or stay at a local hotel, it's best to aim to arrive when the park opens. If you're celebrating something like "My First Trip to Disneyland," make a quick stop at City Hall (to the left just after you enter the park) for a souvenir button.
This was my niece's favorite souvenir from the day… and it was free!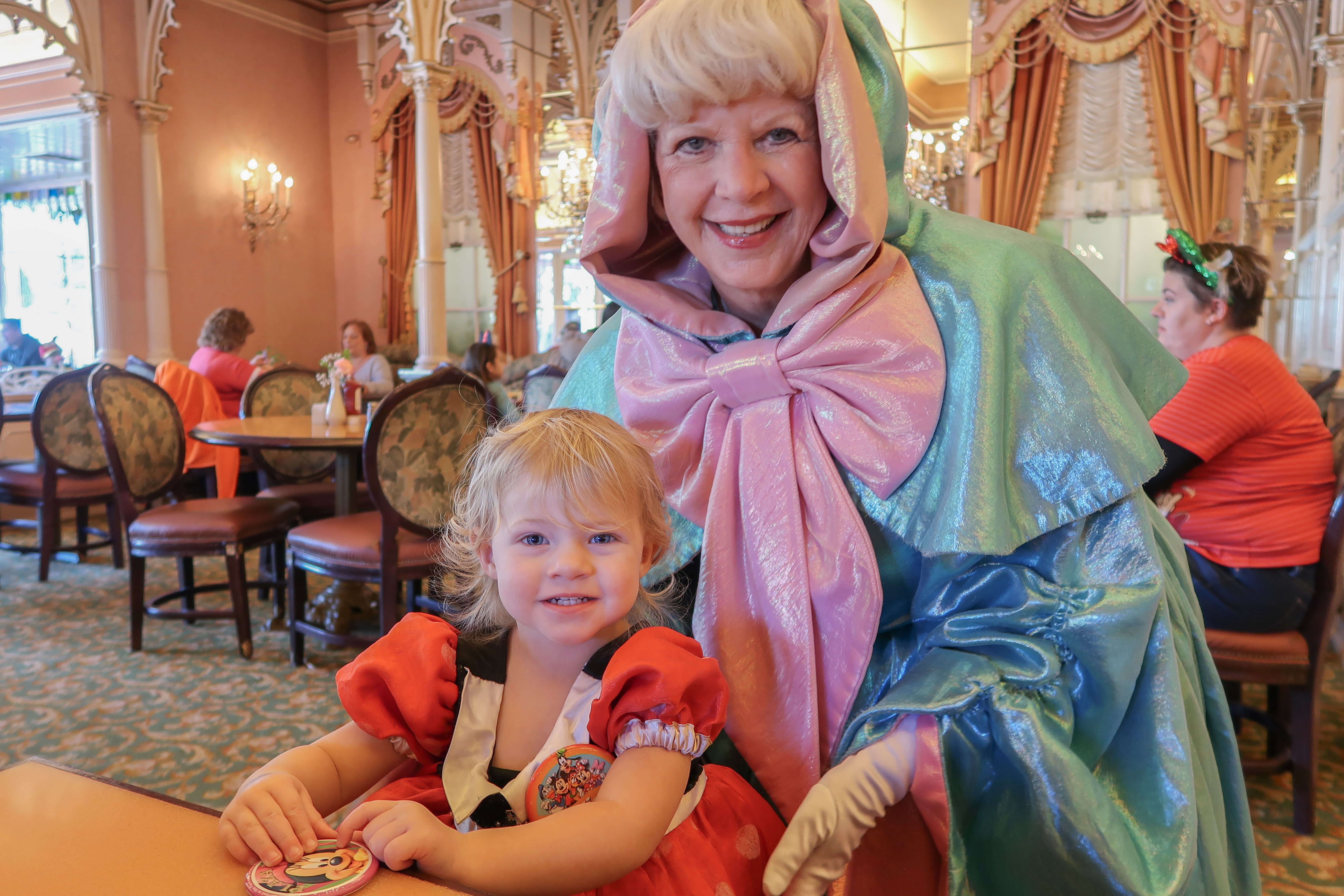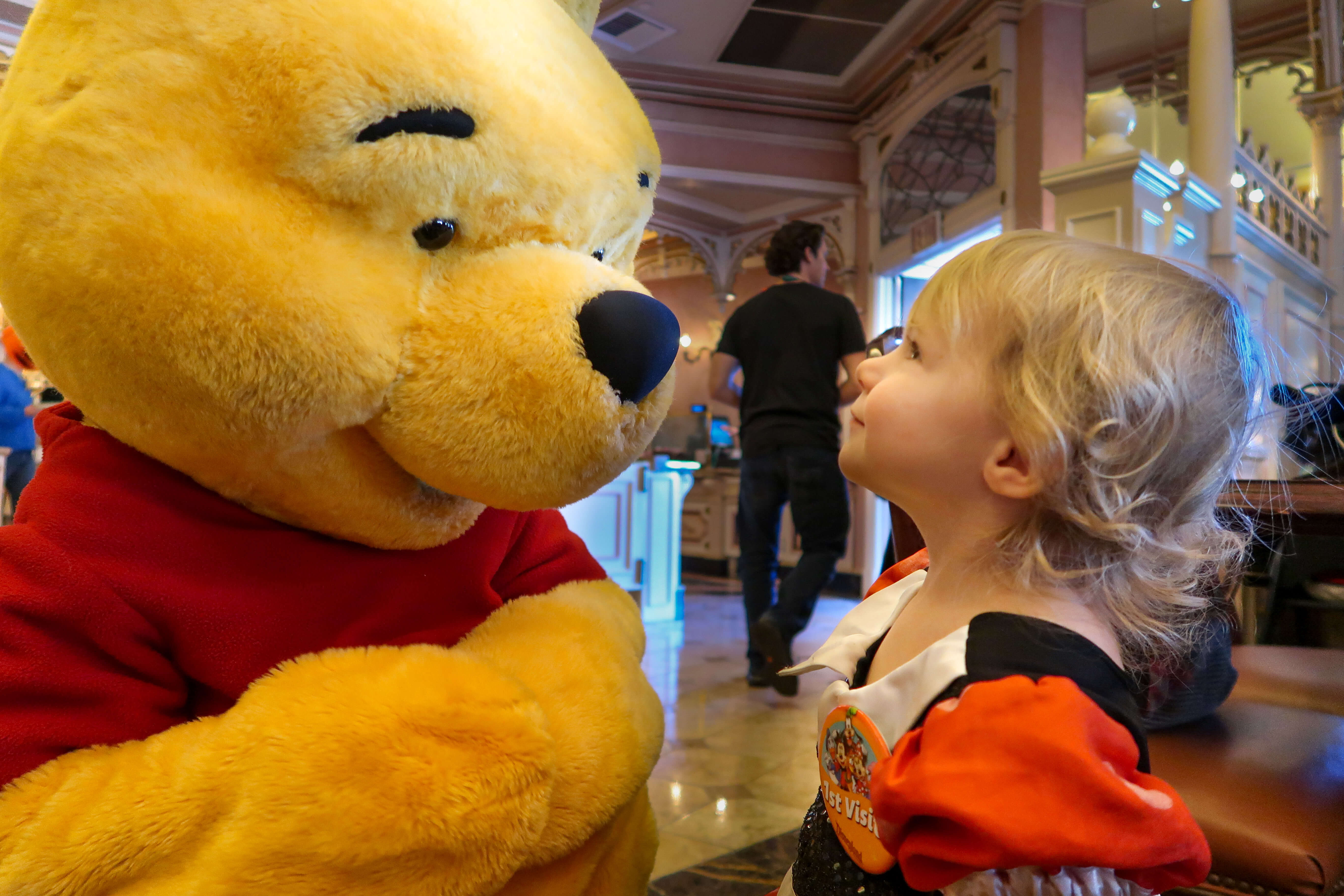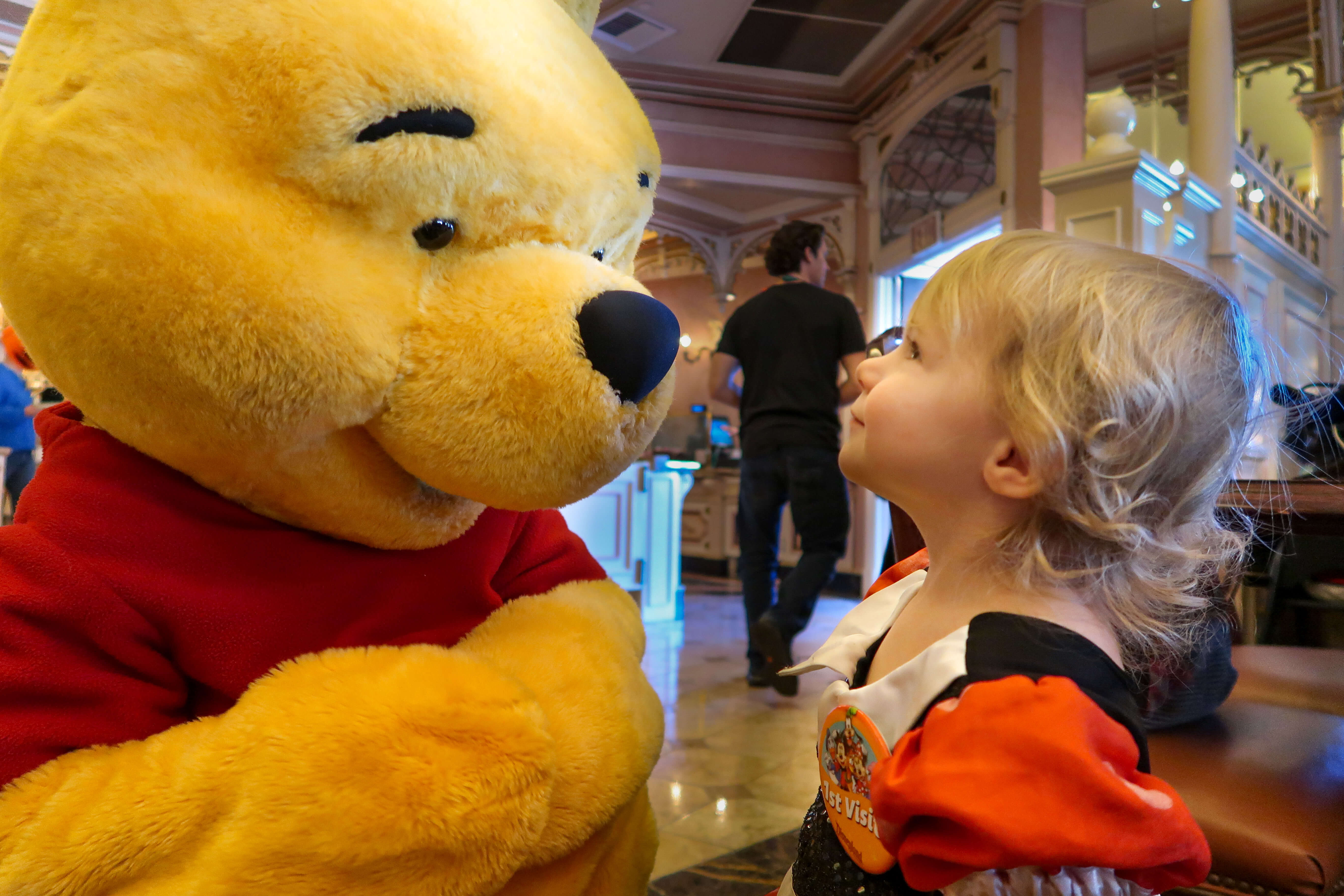 Reserve a Character Breakfast
The perfect way to start the day is with a character breakfast. Check out the Disneyland site to set up a celeb dining experience. Perfect for all ages, it's a fun buffet-style meal in a magical spot. (The Mickey Mouse waffles are so cute!) In fact, it was one of Walt Disney's favorite places to dine.
This is honestly one of the best hacks for visiting Disneyland with a toddler.
Sadie got to see all of her favorite characters in the first hour of the day, so we never needed to stand in a line to meet Mickey or his friends. Trust me, this is a huge time and tear saver!
Helpful Tip: The Character Breakfast books out months in advance, so don't hesitate to make your reservation!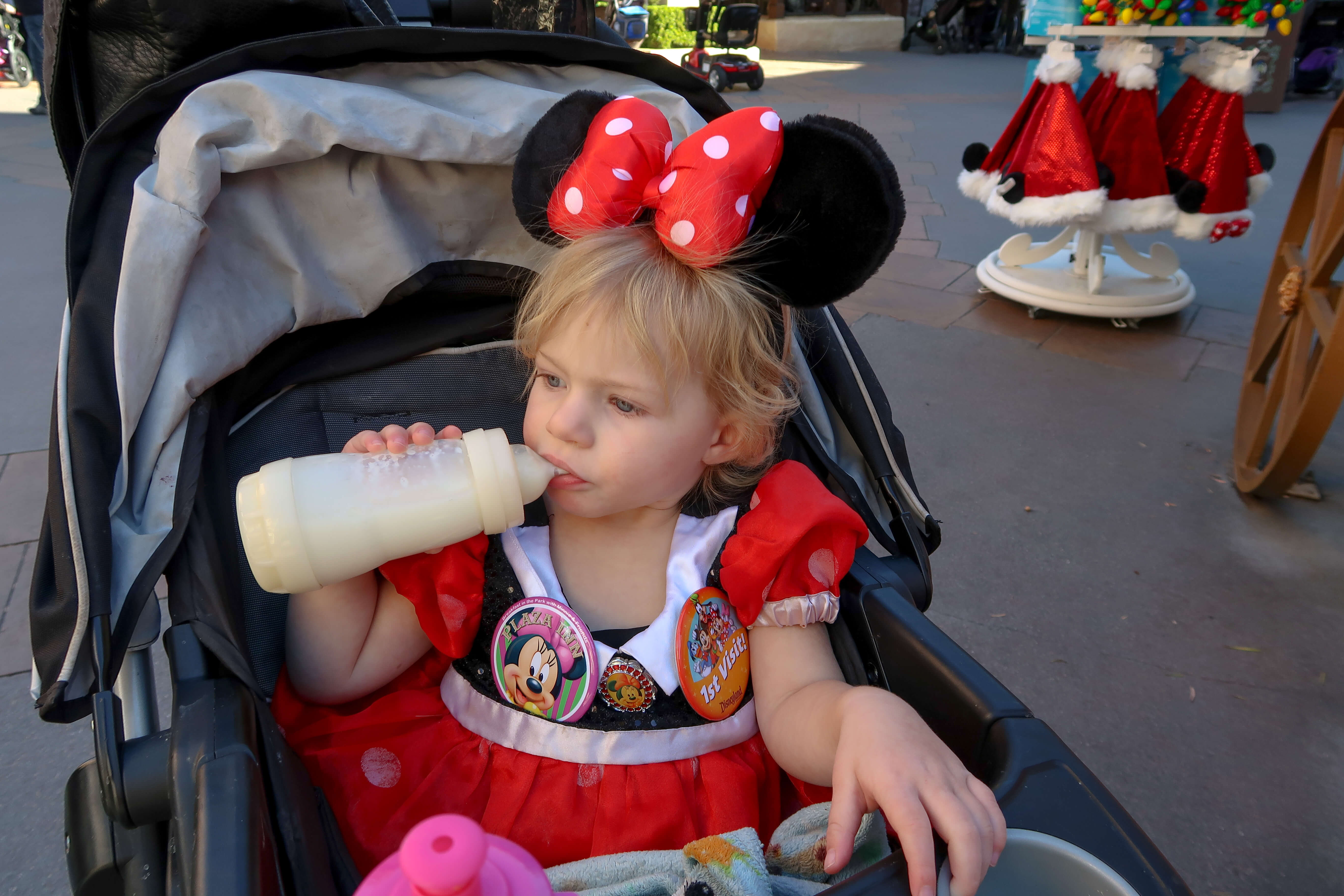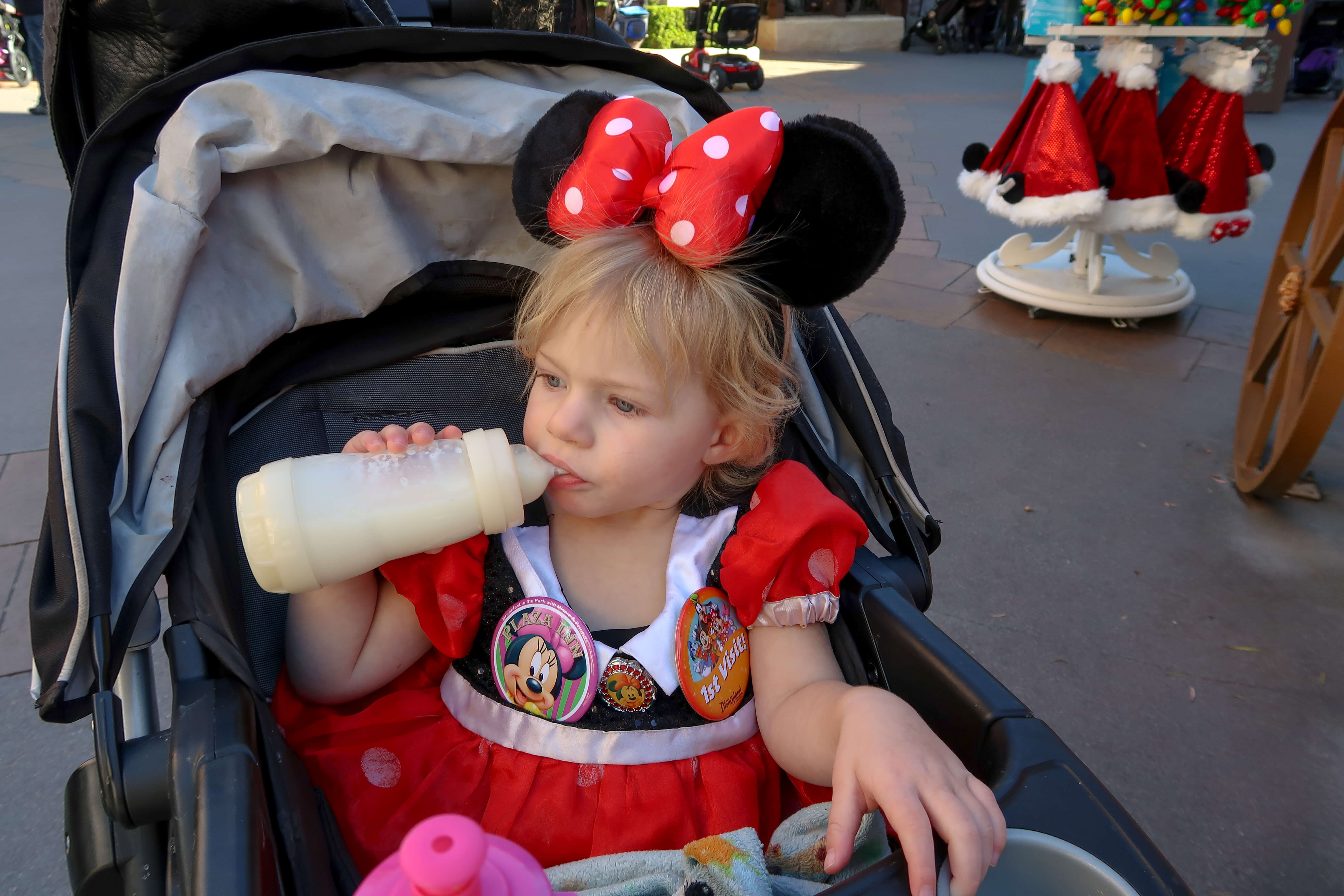 Tips on Strollers
Strollers are essential, but they are tricky. Keep in mind that you'll have to collapse your stroller when boarding the shuttles to and from the parking lots. I took my niece by myself. So, holding her (and all our things) while collapsing the stroller was an Olympic event.
I'm not a mom, so it was surprising to me how many moving parts there are to think about.
Remove toddler from stroller. Hope toddler doesn't cry while standing. Potentially hold toddler. Unpack stroller. Collapse stroller. Move everything+child onto tram. Carry everything off tram. Repack stroller. Replace toddler.
Trippin' solo with toddlers aiiiiin't easy!
As far as strollers go, you can bring your own or rent one on-site. You'll want to bring along two bags too. Pack one bag full of heavy stuff that you can leave in your stroller and pack a smaller bag with just your valuables that you can always keep on you.
If you have all of your things mixed together, you'll have to have a constant eye on the stroller, which isn't always easy.
I will say that with a 2-year-old, the stroller was absolutely essential. We were able to move through the park more quickly and it kept both of us going for longer. It also gives your little one an easy and comfy napping spot. Plus, there is plenty of stroller parking so if you plan to spend some time in Fantasyland, for example, your toddler can walk around within a given area until you're ready to move across the park.
My niece did well in her stroller for most of the day and when she was at her "hold me" stage of the day we took a break from rides.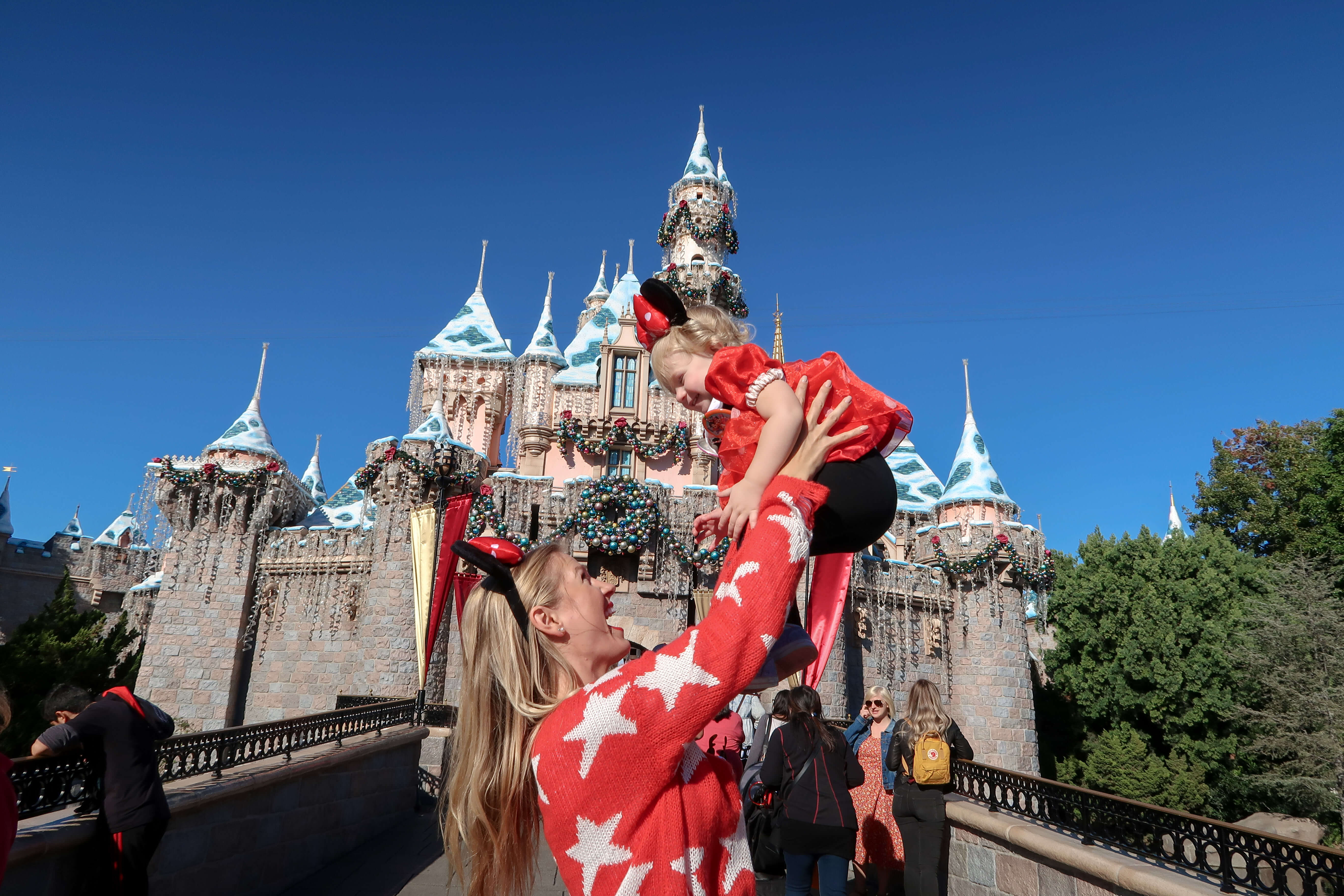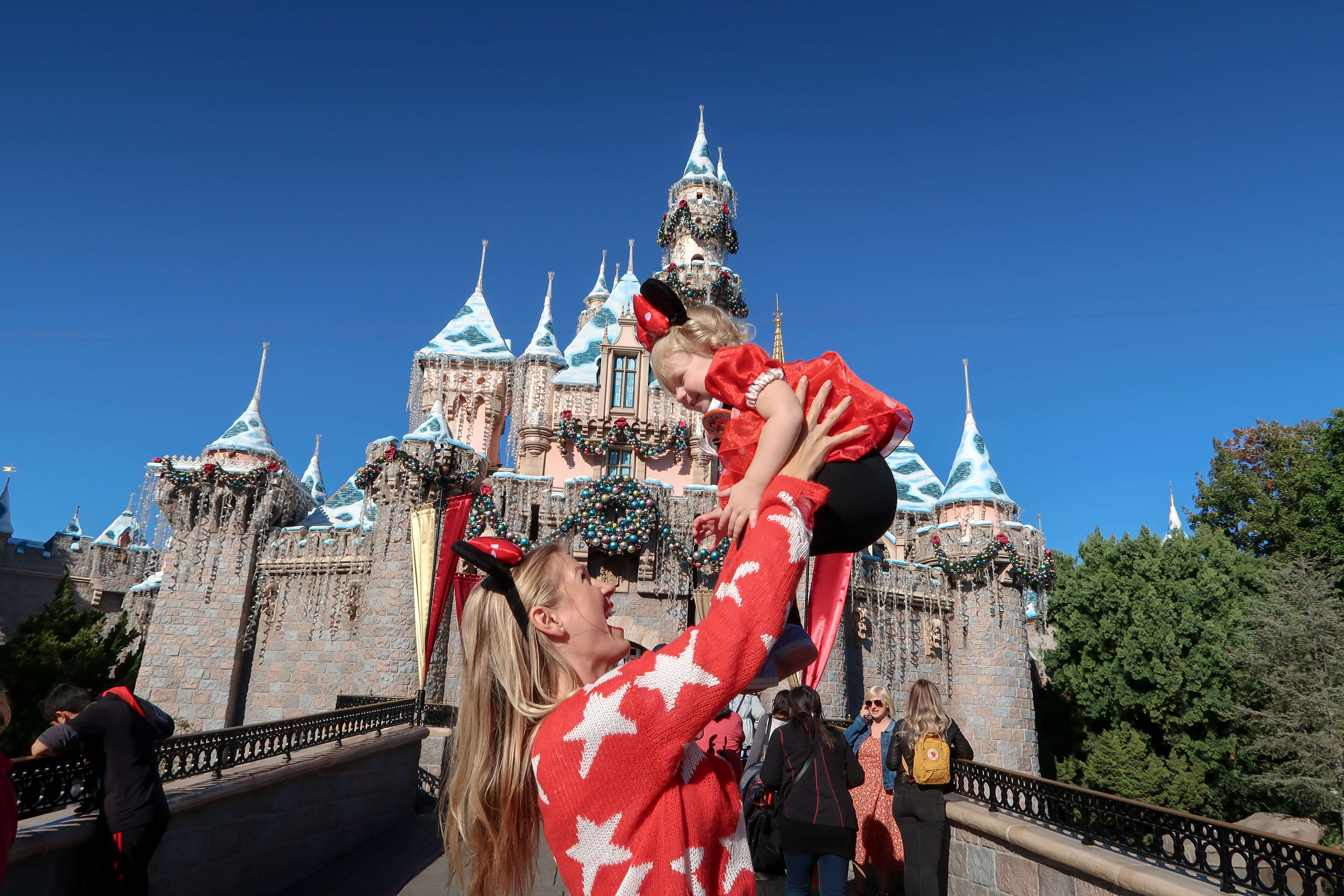 Clothes and Layers
Disneyland can go from super hot to really chilly from day to night. At any time of year, it's good to bring layers. In the winter, the temperatures can range from the 50s to the 70s. During the summer, days can go from the 60s to the 90s.
You'll be running around and standing in line, so comfortable shoes are a must-have. Wear the best ones you have, and plan for a long day on your feet.
Even as an adult, I always bring a full change of clothes (socks and shoes included). At the very least, bring a jacket for yourself in case it gets cold after dark. You're probably used to changing a toddler throughout the day, but bring 1-2 outfits (or princess dresses) so they stay comfortable.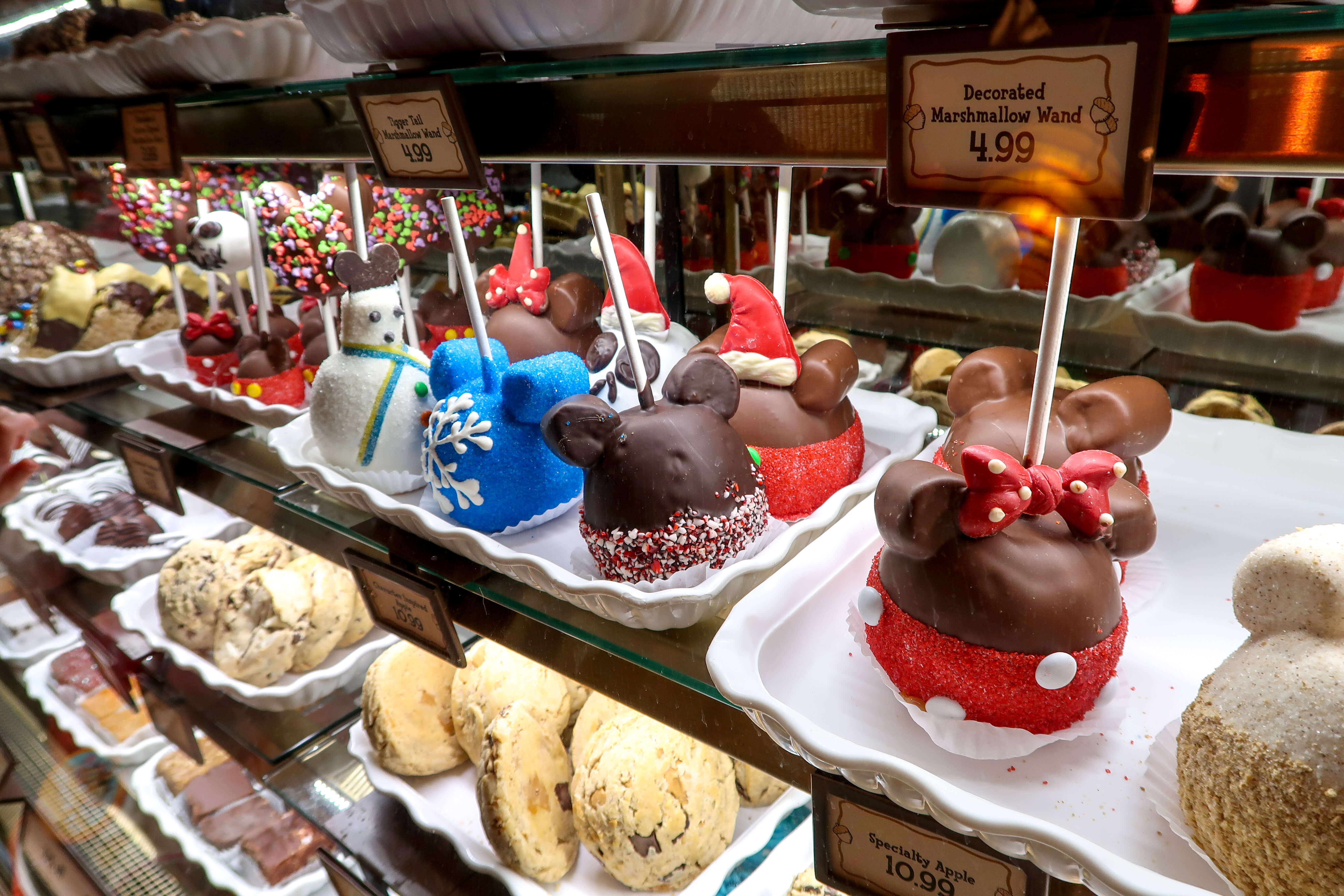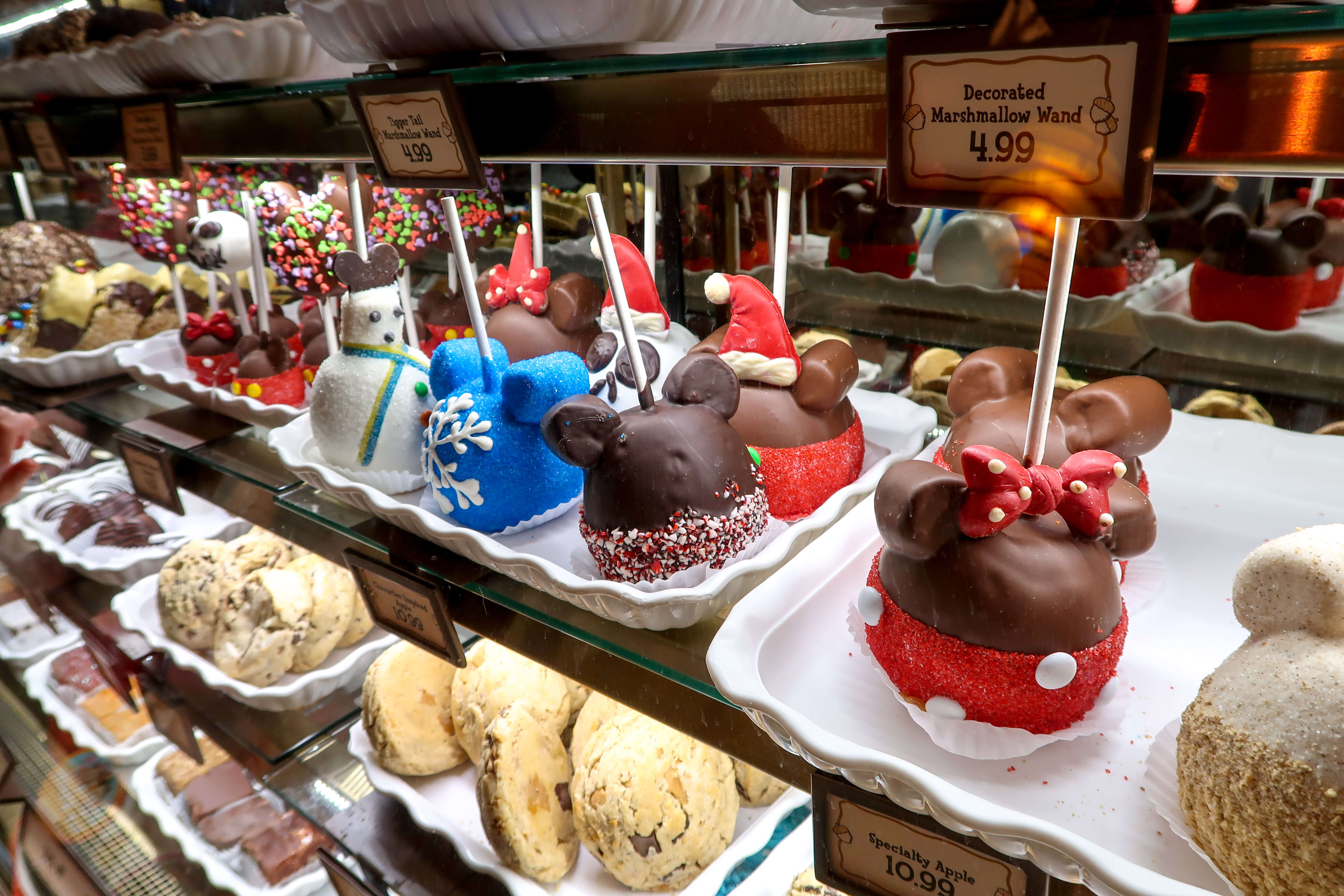 Pack Snacks
Bringing baby food and snacks to Disneyland is always a good idea. It saves money and guarantees that you have something that your toddler likes. While there are some tasty treats at the park, they are pricey, and you often have to wait in long lines for the popular ones.
You'll also want to bring along a bottle and cup to refill throughout the day.
I found that having Sadie's favorite snacks from home kept her from "overindulging" in everything Disneyland has to offer. I allowed her to pick a single treat for us to share at the end of the day during the fireworks, which made it more special and a lot less junk food for her little tummy.
Plus, it was a churro. So, after her 2 tiny bites, I got to eat most of it 😉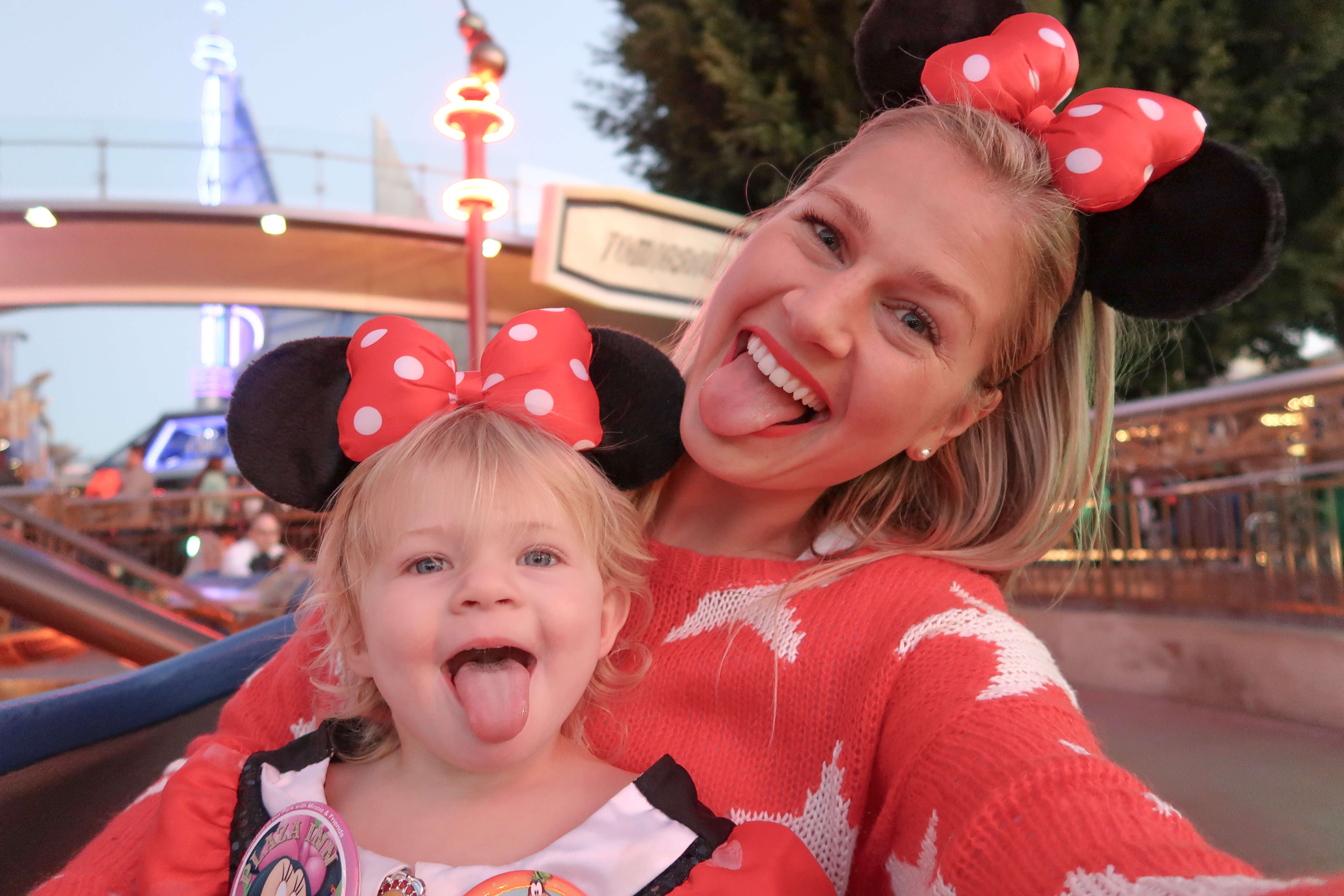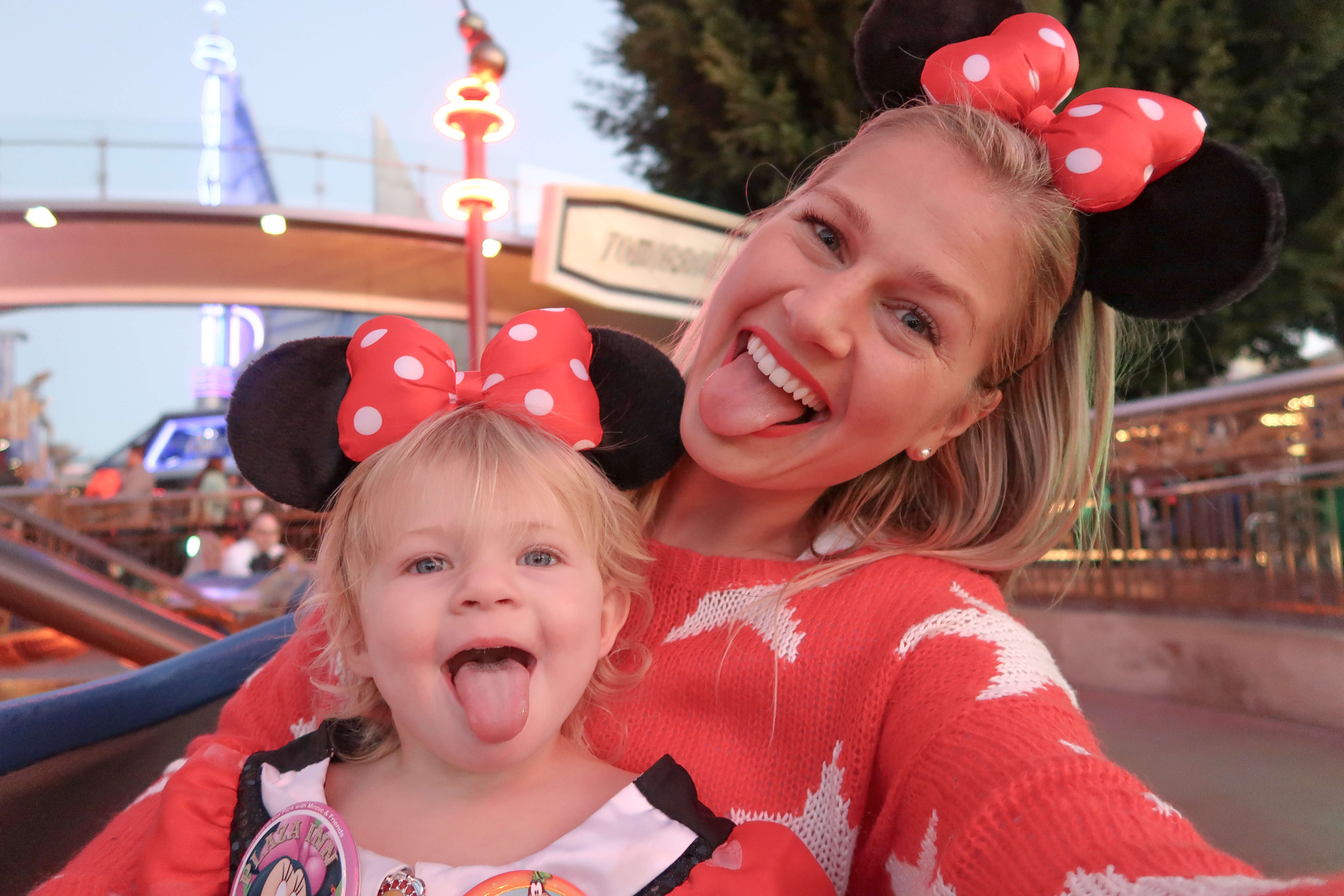 Buy Souvenirs Early
The stores at Disneyland are absolutely packed right before the park closes. Shopping earlier in the day makes it easier to browse; plus your little one can pick up something to play with and enjoy for the whole day.
I bought Sadie a Minnie Mouse ears headband, and myself one to match, and it made for cute photos all day. She surprisingly loved wearing them all day, but she's also a HUGE Minnie Mouse fan!
Other toddler favorites are the bubble wands (they light up at night) and the Mickey balloon-in-a-balloon!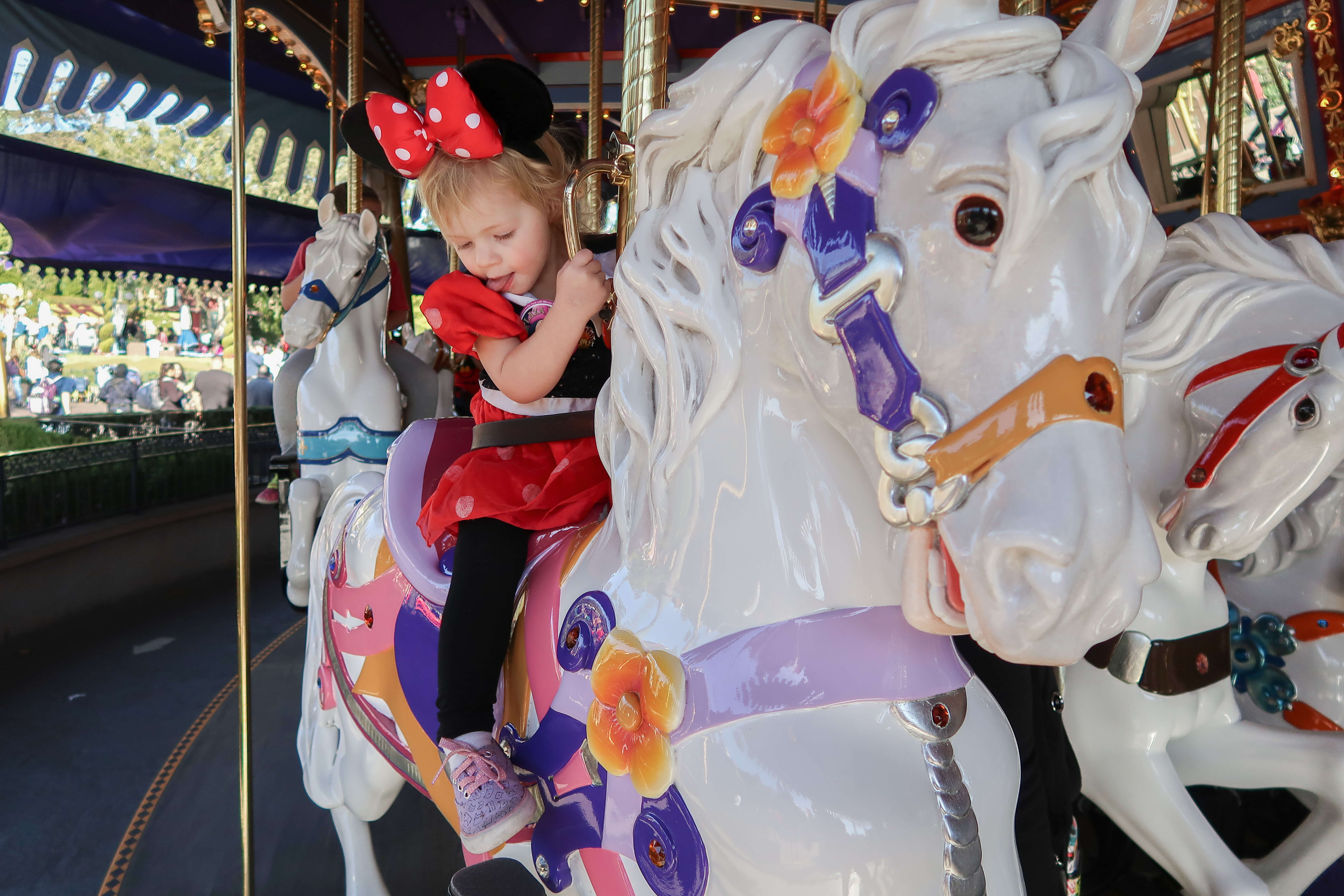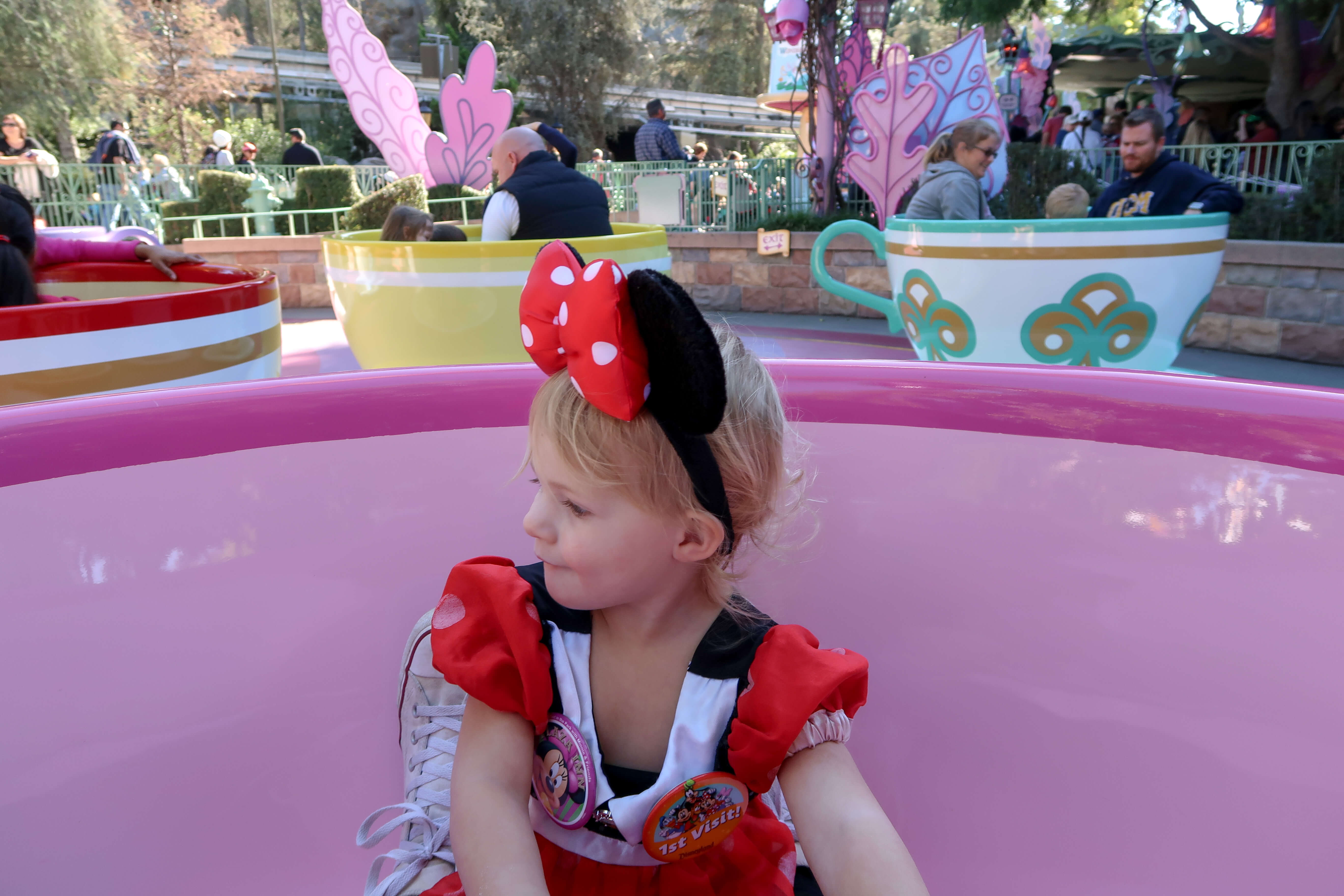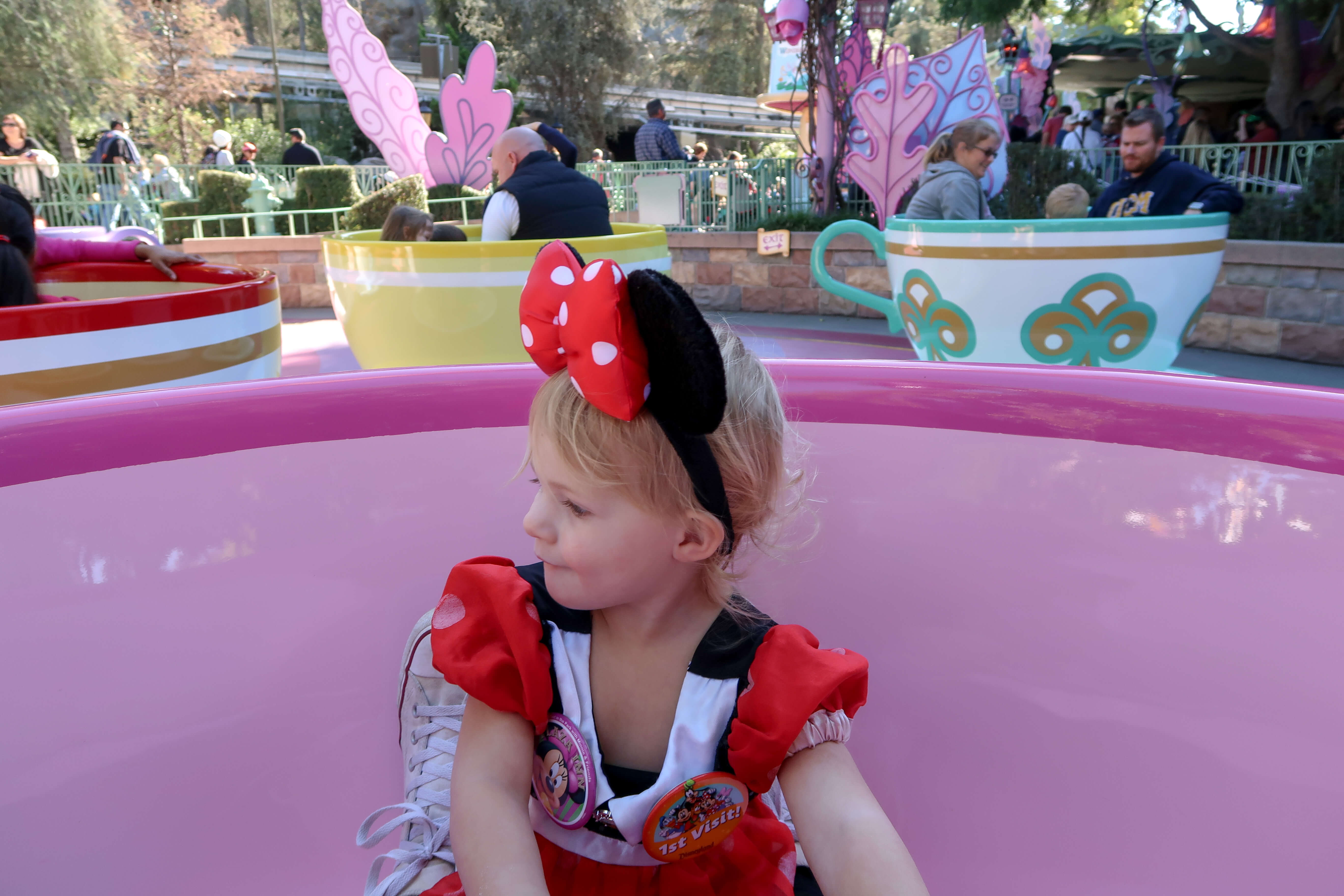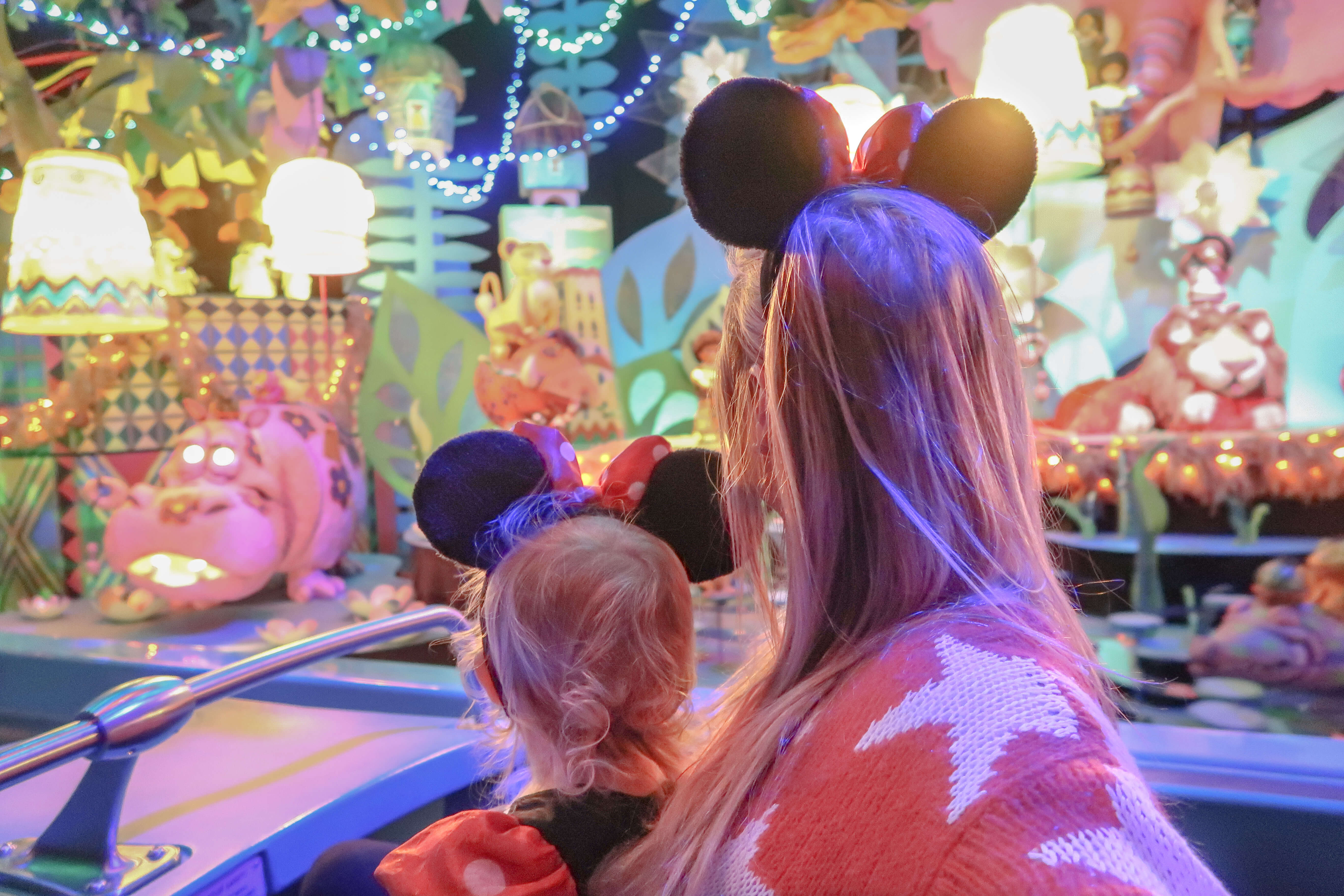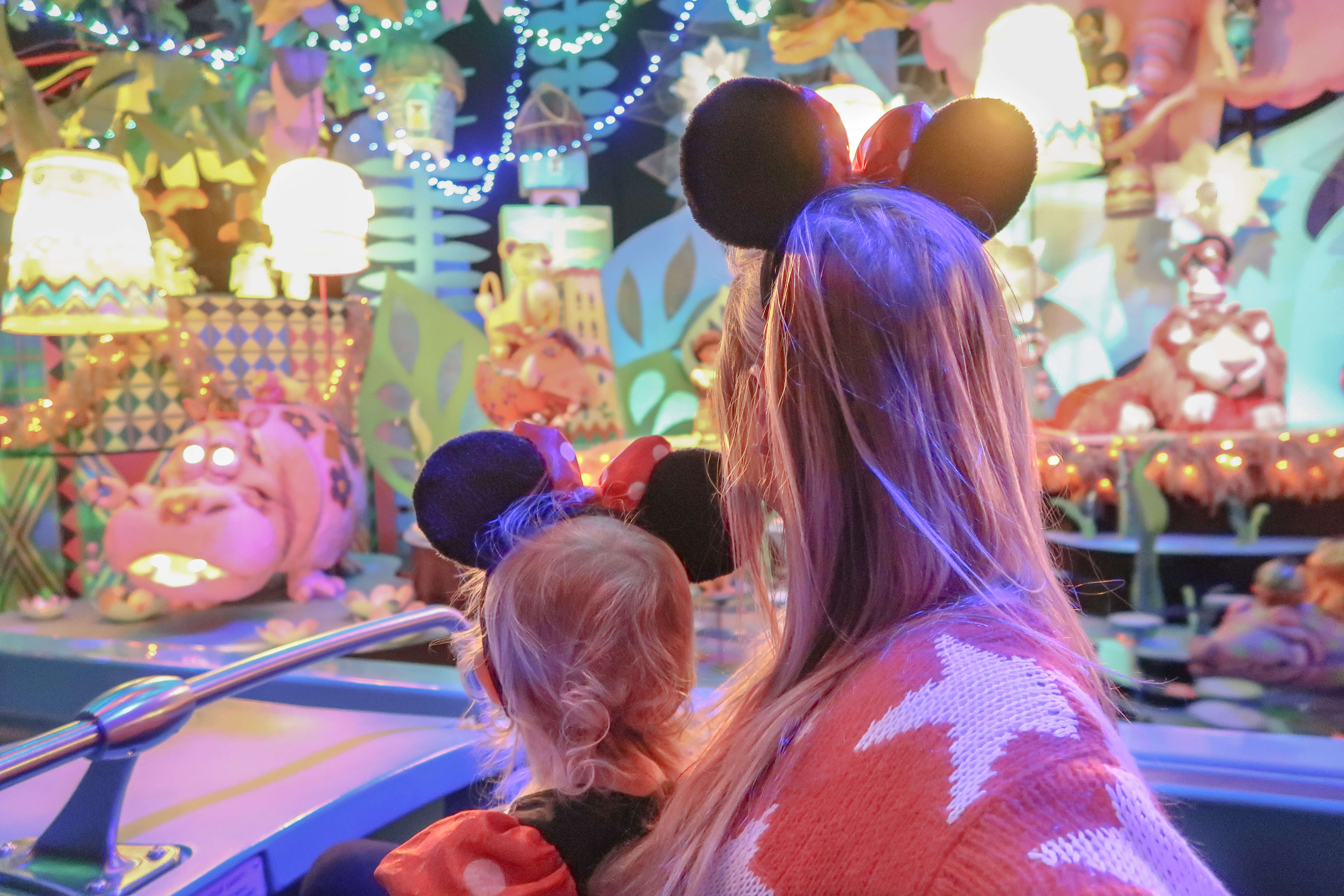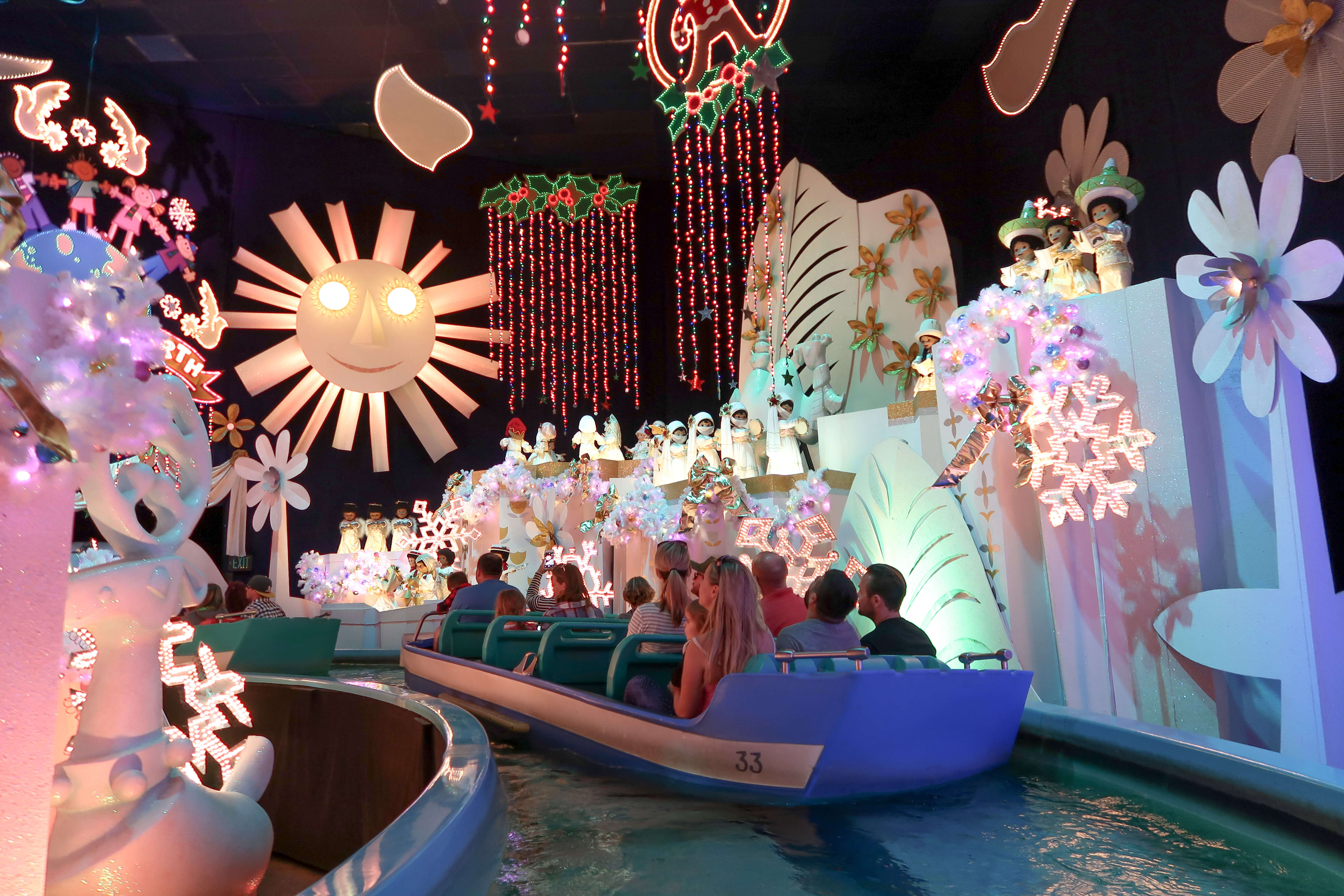 Hit Their Favorite Rides
My niece's fave rides were the teacups, rockets, carousel, and It's a Small World. She wasn't the slightest bit interested in the Dumbo ride (which I thought would be a sure bet).
Since there are more than fifty attractions scattered around the main park, it's easy to find something that will suit pretty much any age and thrill level.
If you have a little one that's easily frightened, keep in mind that many of the rides in Fantasyland (just like the animated films) have some dark/scarier moments. Do your research beforehand if you're worried your child might not enjoy all of the experiences.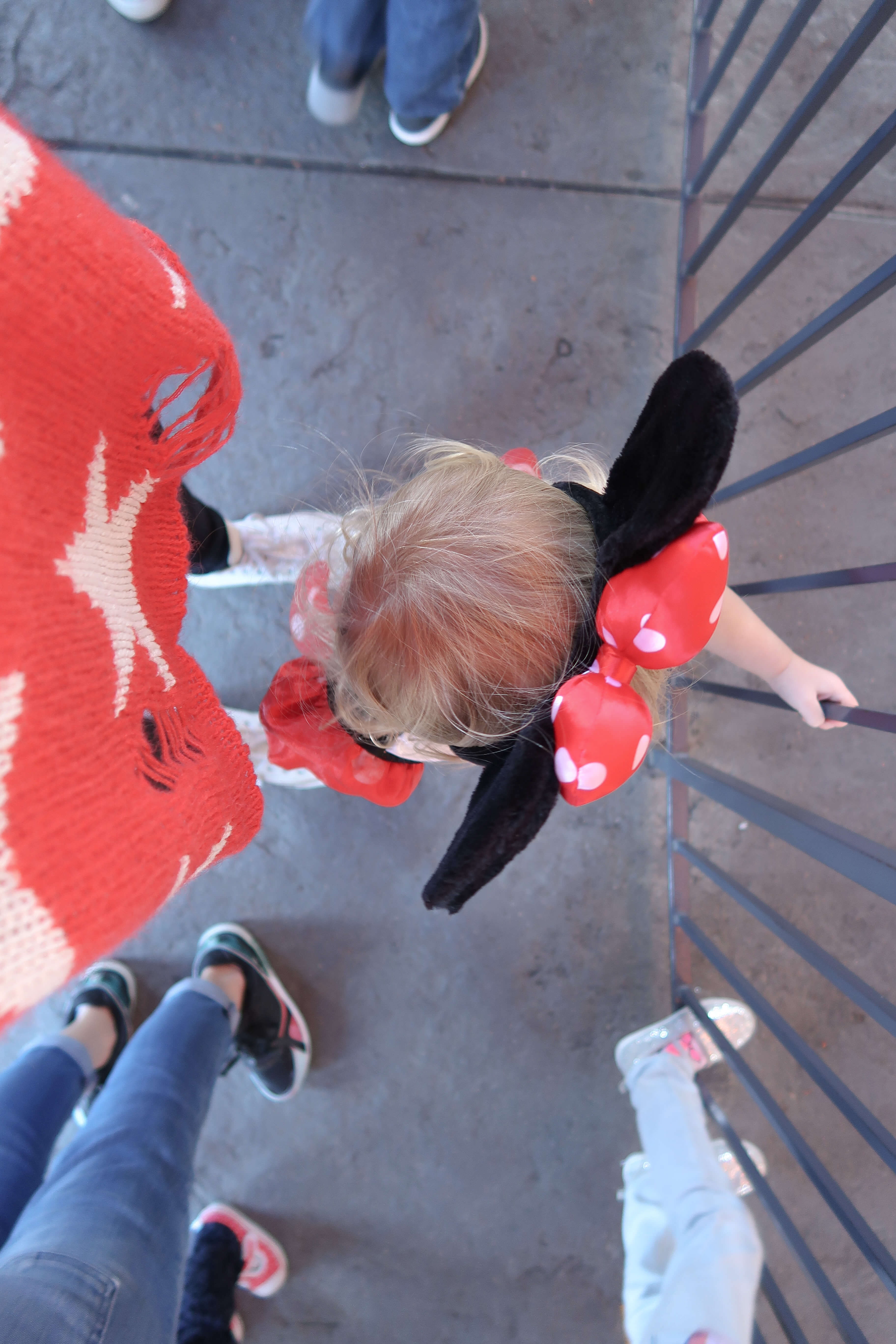 Avoid Lines and Wait Times
The official Disneyland app is essential for any visit. Download before your visit so you are ready to go as soon as you get inside. This app is awesome because it shows you how long the wait is for each ride.
Especially for toddlers, it's usually better to pick a ride with a short wait time that they can ride over and over again rather than just wander around or stand in line.
Helpful Tip: Disneyland offers Fast Passes for their most popular rides. They allow you to return to the ride at a designated time and jump into a shorter queue. Time your day around the wait times listed in the app and get Fast Passes whenever possible.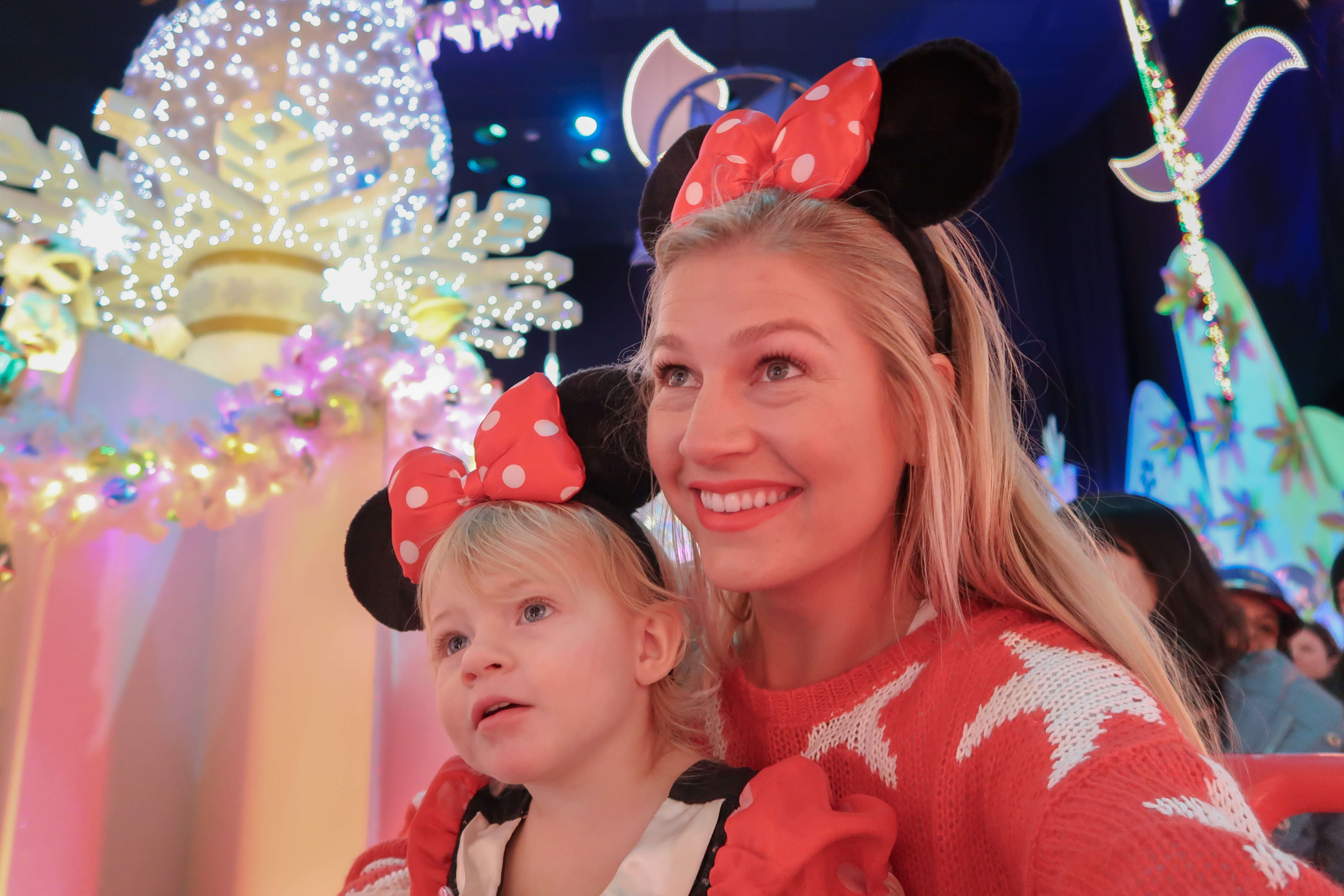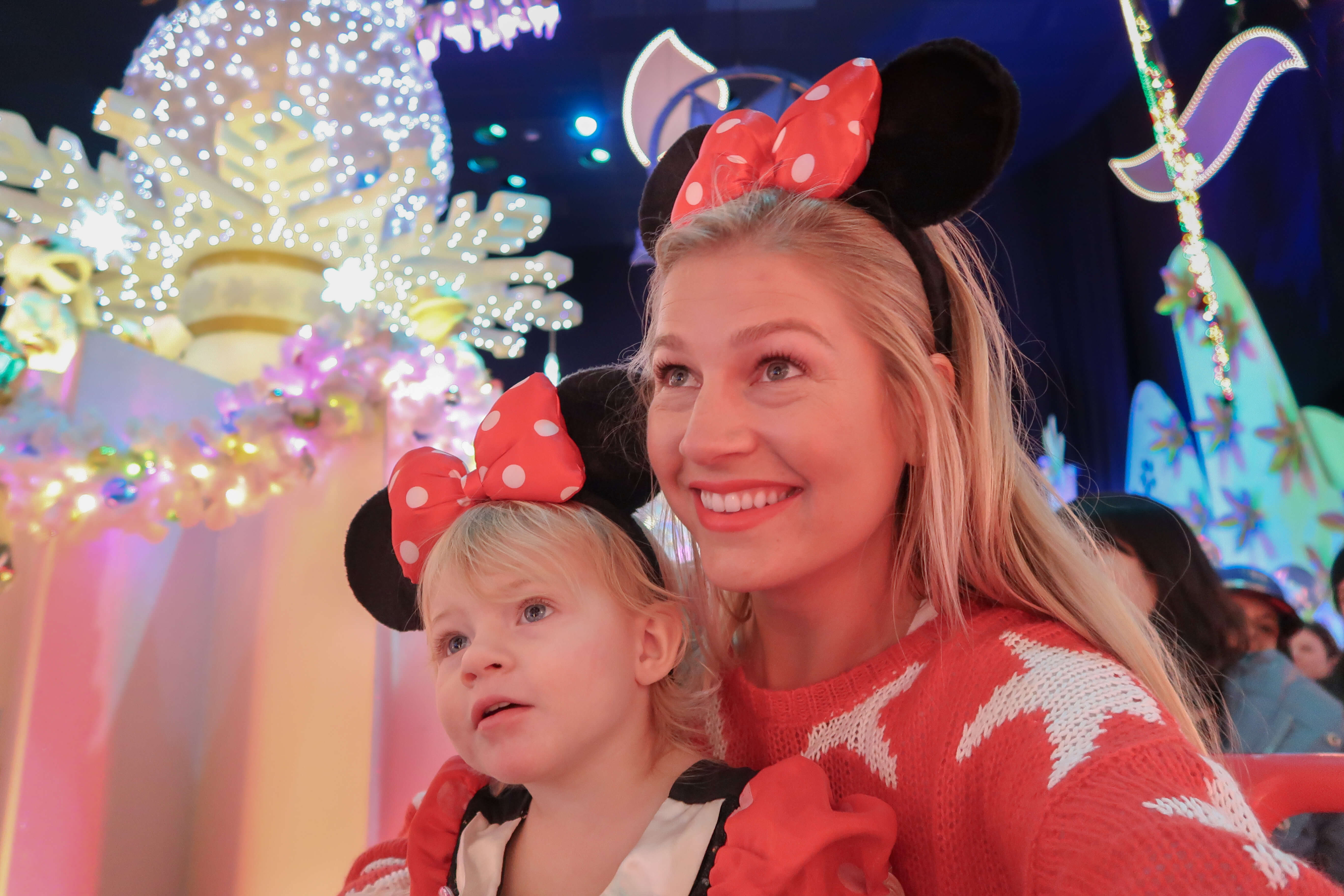 Best Places to Nap
Naps are essential, and your little one has a few good options to get some shut-eye. Check out Animation Academy in Disney California Adventure at Hollywood Land for a quiet space.
The Disneyland Railroad is also made for naps. It travels on a continuous loop all day and you can get a nice breeze on there. Likewise, the Mark Twain Riverboat offers a relaxing twenty-minute trip that'll cool you down and get you off your feet.
Another cool, dark spot is the Main Street Cinema. It's small and rarely crowded, which makes it a perfect spot for some quiet rest.
As far as nursing, the best spot to go is the Huggies Baby Care Center. It's on Main Street USA near first aid. There are rocking chairs, nursing areas, changing tables, toddler toilets, and even a kitchen for prepping formula.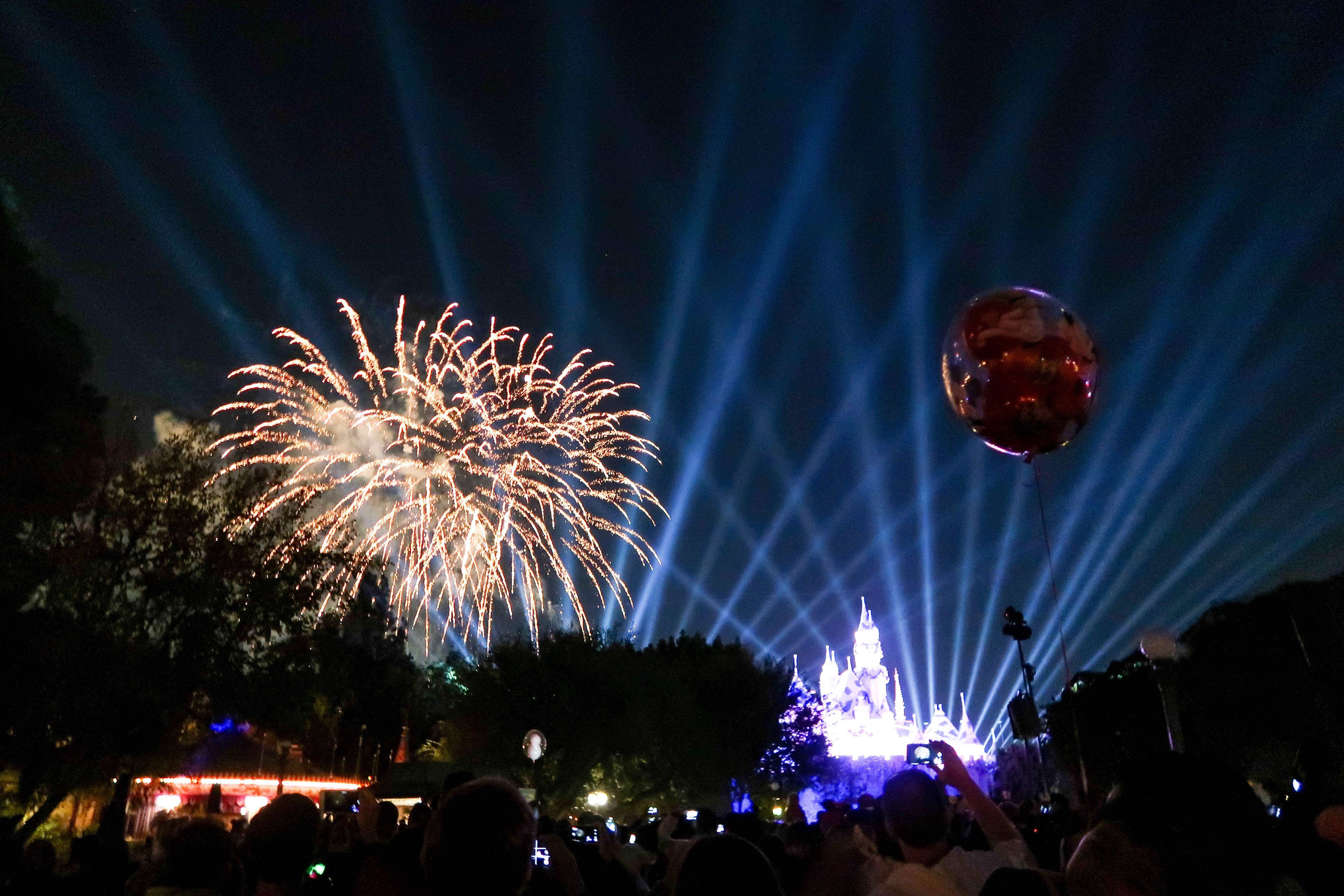 Change into Pajamas
A trip to Disneyland makes for a LONG day. Bring pajamas along so that your little one can get changed towards the end of the day, especially if you're driving a long distance home.

The most important thing is to have fun. Seeing a kid experience Disneyland for the first time is purely magic, so be sure to soak it all in!

Shop my essentials for your day at Disneyland!