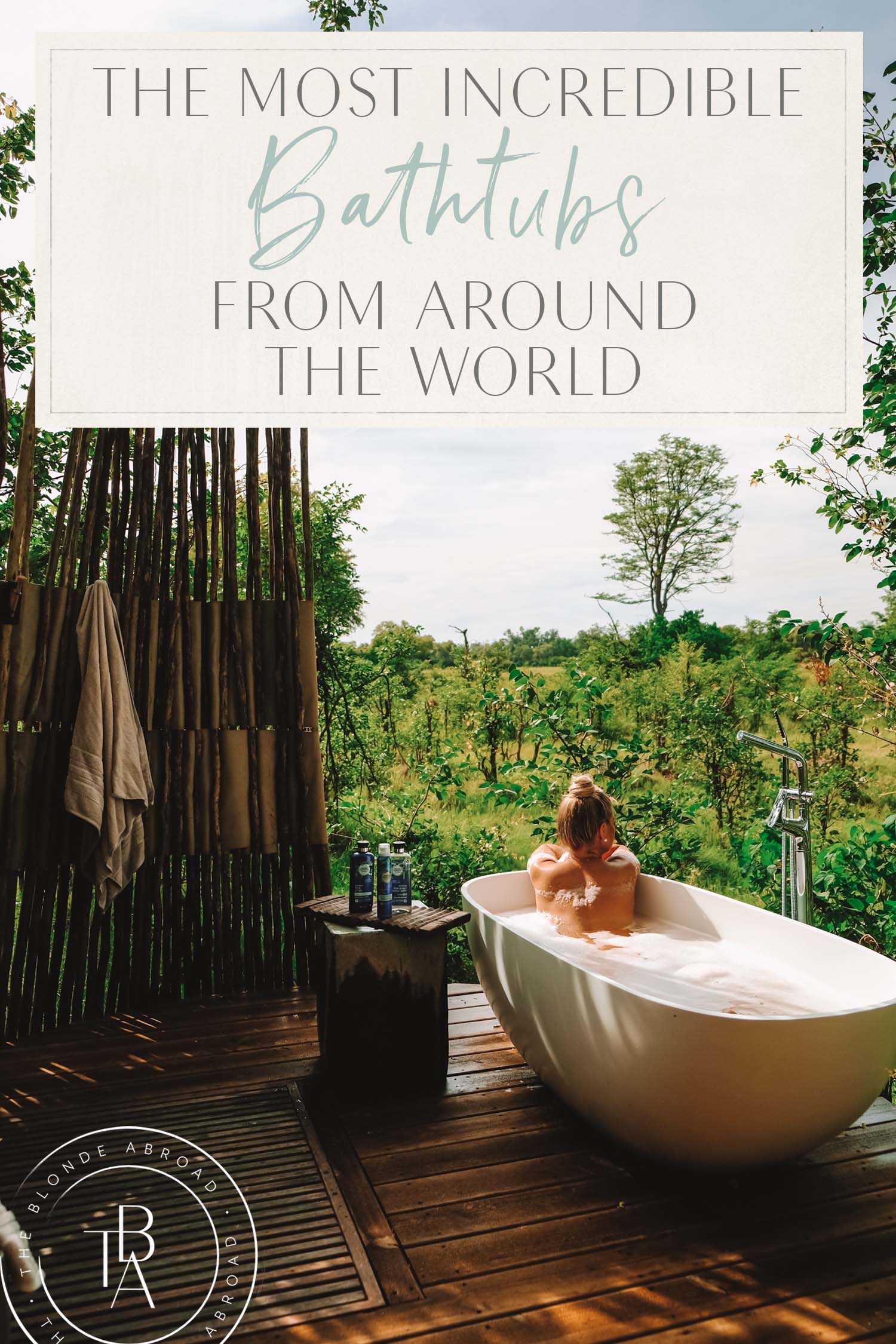 Note: Some of the properties below may be Airbnbs. As an Airbnb Associate, I'm excited to curate incredible properties around the world. At no extra cost to you, I earn a small commission when you book through these links which helps me run this blog.
One of the best things about traveling—aside from learning about other cultures and experiencing new places—is staying at incredible locations that you wouldn't normally come across. Especially if that location includes a luxurious bathtub!
I'm talking a magnificent clawfoot one, or one with gorgeous views, maybe even something rustic up in the mountains. Because why not? There's nothing more relaxing than enjoying a soak while on vacation. Oh, and that incredible bathtub up there? It's located at Sable Alley in Botswana.
Here's a roundup of some of the most incredible bathtubs from around the world!

Cottar's 1920s Camp, Kenya
Cottar's 1920s Camp Safari, Kenya
During my stay at Cottar's 1920s Safari Camp, I was immediately drawn to their canvas safari bath. The unique canvas baths are set up facing the savannah, allowing you to soak and relax after a long game drive. And who knows, maybe you'll see some wildlife while you take a dip.

Sable Alley, Botswana
Sable Alley Bush Bath, Botswana
In Botswana, you'll find the Sable Alley, a luxe camp complete with a luxe outdoor bath set up in the honeymoon tent. It's something straight out of Pinterest! With the tent being furthest away from the main area, you'll have extra privacy while you test out the waters.

The Ritz-Carlton, Singapore
The Ritz-Carlton, Singapore
Not every incredible bath has to be outdoors. The Ritz-Carlton in Singapore, named the best hotel in Singapore by Travel & Leisure, has some of the best views from the bathtub. The fabulous marble bathroom offers sweeping views of the cityscape while making you feel as if you've been transported to a spa.
If you feel like splurging a bit, the Ritz Suite is complete with an oversized jacuzzi tub in the master bathroom which will leave you feeling like a true VIP.

Thalia Haven, Tasmania
Image courtesy of Thalia Haven
Thalia Haven, Tasmania
Thalia Haven, an incredible home set up on a 130-acre wooded peninsula in Tasmania, is famous for not only its overall beauty but its bath as well. The bathtub sits on the deck outside the main pavilion where you can steam your cares away while overlooking the rocks and water of the Great Oyster Bay.

Mahali Mzuri in Kenya
Mahali Mzuri, Kenya
Does stepping into a clawfoot bathtub and relaxing while taking in the gorgeous views of Kenya sound like your cup of tea? Mahali Mzuri literally means "beautiful place" in Swahili, which hardly begins to do this place justice.

Sanctuary Baines' Camp, Botswana
Image courtesy of Sanctuary Baines' Camp, Botswana
Sanctuary Baines' Camp, Botswana
Sanctuary Baines' Camp in Botswana is a small camp set in a grove of trees, surrounded by papyrus beds. The six luxurious suites are complete with four-post beds, a sitting room, a large wooden deck complete with a private pool, and most importantly an opulent star bath where you can bathe underneath the African night sky.

Mystic Hot Springs, Utah
Mystic Hot Springs, Utah
You might have come across the Mystic Hot Springs on Instagram. Located in Monroe, Utah, you won't have to travel across the world for these baths. The soaking area consists of two concrete pools and six vintage cast iron bathtubs and the minute you arrive, you'll understand how they received their name.

Hamanasi Adventure & Dive Resort in Belize
Hamanasi Adventure & Dive Resort, Belize
The award-winning eco-resort on Belize's coast definitely didn't disappoint. And when I saw the bathtub overlooking the jungle you can bet that I was sold!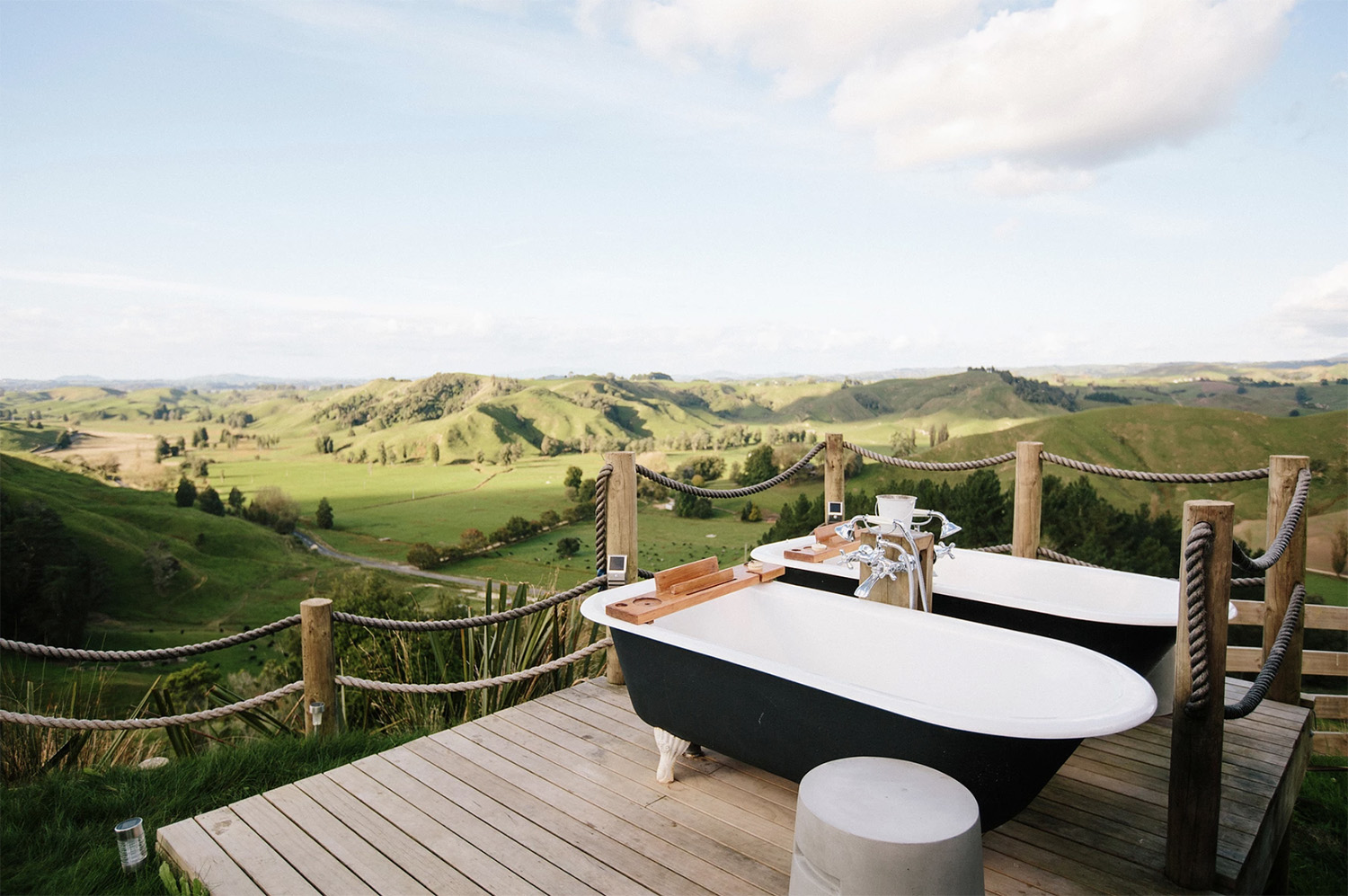 Waitomo Hilltop Glamping, New Zealand
Image courtesy of Waitomo Hilltop
Waitomo Hilltop Glamping, New Zealand
With panoramic views of the New Zealand farmland, the Waitomo Hilltop takes glamping to a whole new level. The clawfoot tubs sit on a private wooden deck, overlooking the lush green hills. They're the perfect place to end the night after making s'mores over your own firepit.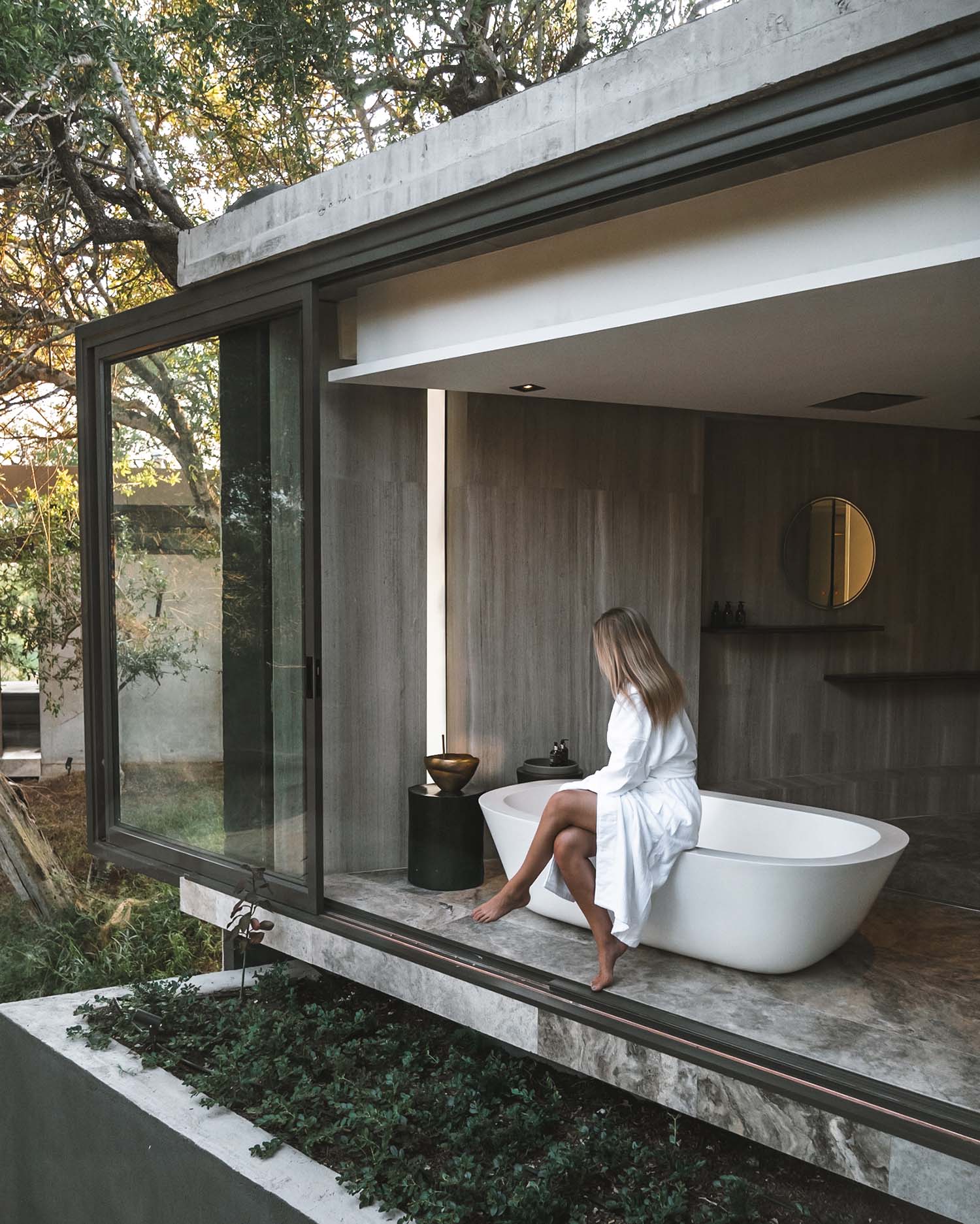 Cheetah Plains in Sabi Sands
Cheetah Plains in Sabi Sands, South Africa
The open-air bathtub at Cheetah Plains was my favorite (completely over-the-top but fully appreciated) design feature. The entire property really is one-of-a-kind, creating harmony between innovative design and the simplicity of nature.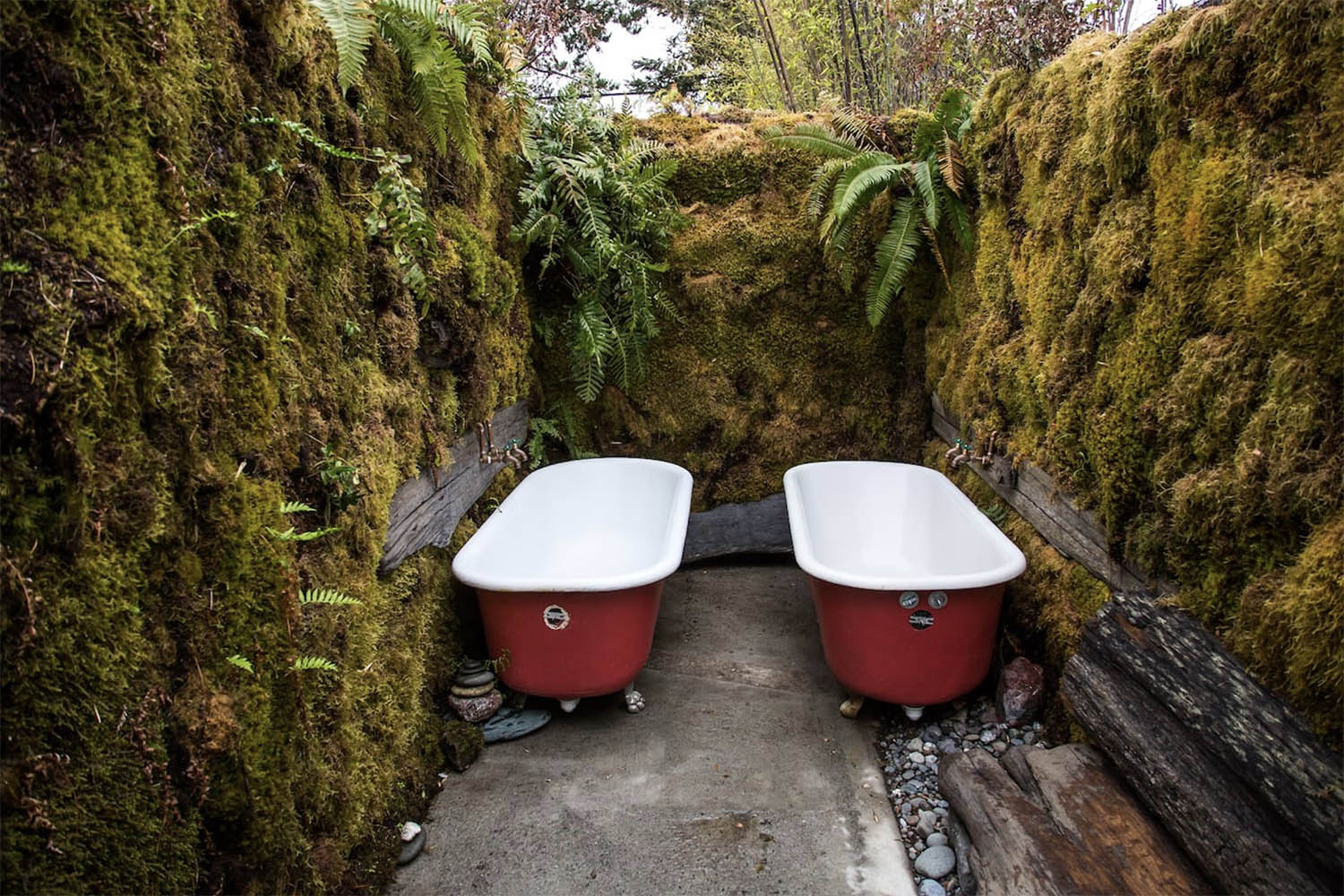 Arcata, California
Talk about the ultimate spa experience. This cute and cozy studio is within walking distance of exploring all the local shops, restaurants, and microbreweries of Arcata's Plaza.

Budapest, Hungary
Bonus: Budapest's Baths, Hungary
While it's not exactly a "bathtub," what list would be complete without the baths in Budapest? My favorite is Szechenyi Bath—Budapest's largest, grandest, and busiest thermal bath. It also happens to be the city's first bath, dating back to 1913.

Overall
What incredible baths do you know of around the world? I'm always looking for a relaxing getaway so please share in the comments below! 🙂