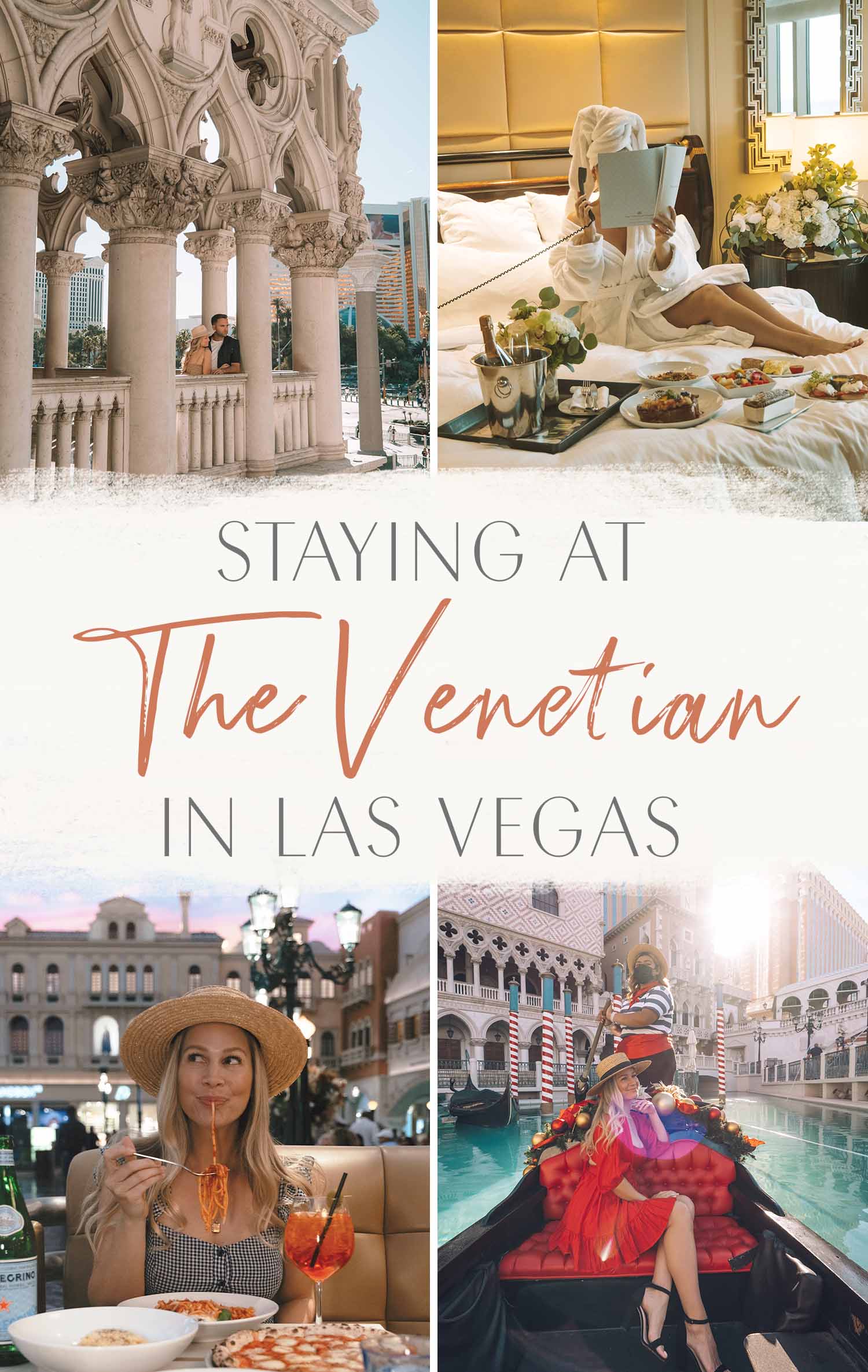 Italy, but make it stateside! From pasta and pizza galore to taking a ride in the gondola to lounging by the pool with a spritz, it's all about experiencing la dolce vita at The Venetian.
 The only thing better than a romantic escape to Italy? Not having to travel 13 hours to get there. 😉
I've been going to Las Vegas since I was a kid and love how multi-dimensional it is. You can have a family-friendly vacation, a wild weekend partying until the sun comes up, or a super luxurious romantic getaway. It really has it all!
I've stayed at The Venetian twice now, and both times I was thoroughly impressed! I went right before the holidays for a quick girls' getaway, and a few months later, I surprised my husband for Valentine's Day!
I booked us a suite at The Venetian for the weekend, we ate at some of the best restaurants in town, saw Andrea Bocelli in concert, stayed up (well past our normal bedtime) playing blackjack, and relaxed at the spa!
If you're looking for a fun weekend getaway, The Venetian Resort is not only beautiful but it's also a foodie's dream! 
Here's what it's like to stay at The Venetian in Las Vegas!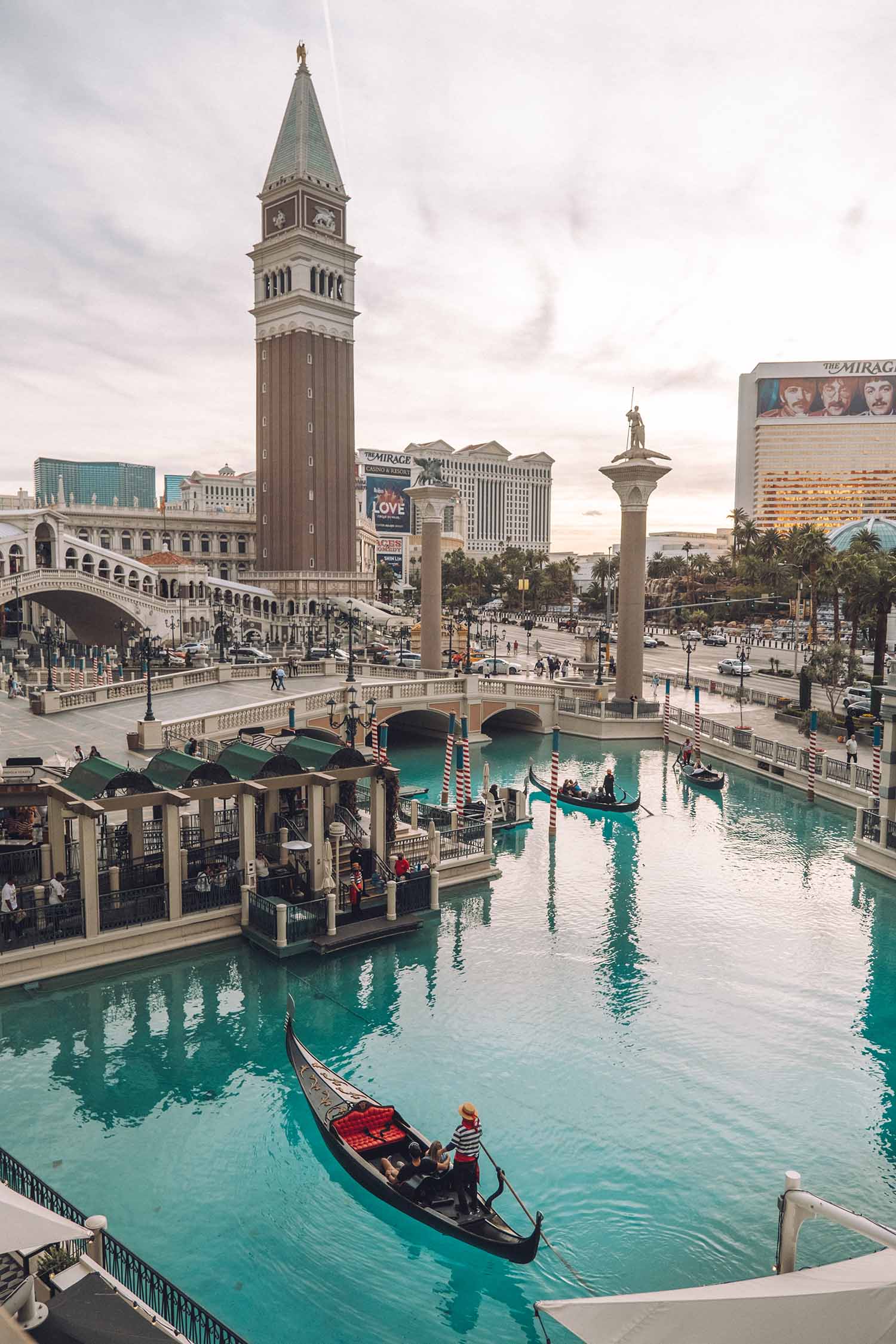 Getting There
While Italy is one of my favorite places, I could do without the 13+ hour flight to get there.
So, The Venetian in Las Vegas is a nice taste of "something different" that's only a 45-minute flight from Southern California!
The Venetian is situated almost center of the Strip — and there are many walkable destinations nearby; do be aware that the crosswalks may be quite bustling at peak times!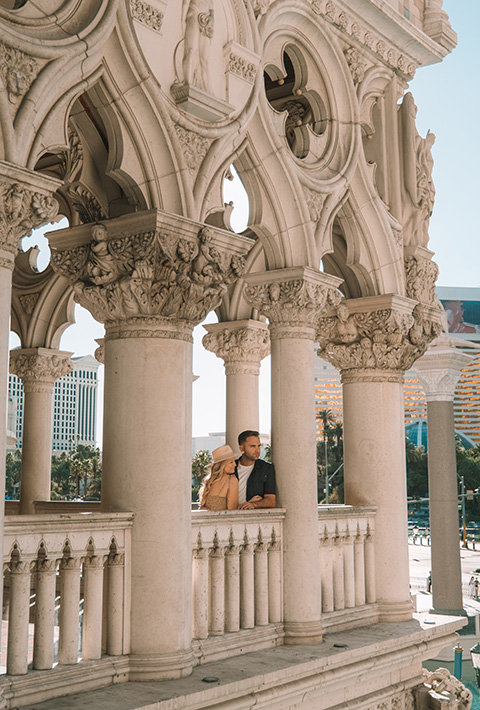 About  the Property
The Venetian might just be the most romantic hotel in all of Las Vegas (or so says USA Today), and honestly, I don't disagree!
Bringing all of the Italian Renaissance vibes to the desert, the Venetian does not disappoint. Every key unlocks a gorgeous suite featuring Italian-marble baths and the coziest of beds.
The property itself is decked out with so many foodie experiences, entertainers, shopping, and amenities. You truly don't have to leave The Venetian and you'll have a wonderful getaway simply within the property.
Curious about its origins? While honeymooning in Venice, the founder's wife, Dr. Miriam Adelson, suggested, "If you can bring the romantic atmosphere of Venice with all the luxuries that can only be found in Las Vegas, then it can be a winner."
In order to make sure every detail of the hotel respectfully paid homage to Venice, the artists and architects traveled to Venice to study the iconic landmarks and charms of the romantic city.
The frescoes that adorn the ceiling throughout the hotel were hand-painted by Italian artists, and the pattern on the floor of the Grand Colonnade is a replica of the floor in the Church of Santa Maria del Rosario.
How cool is that?!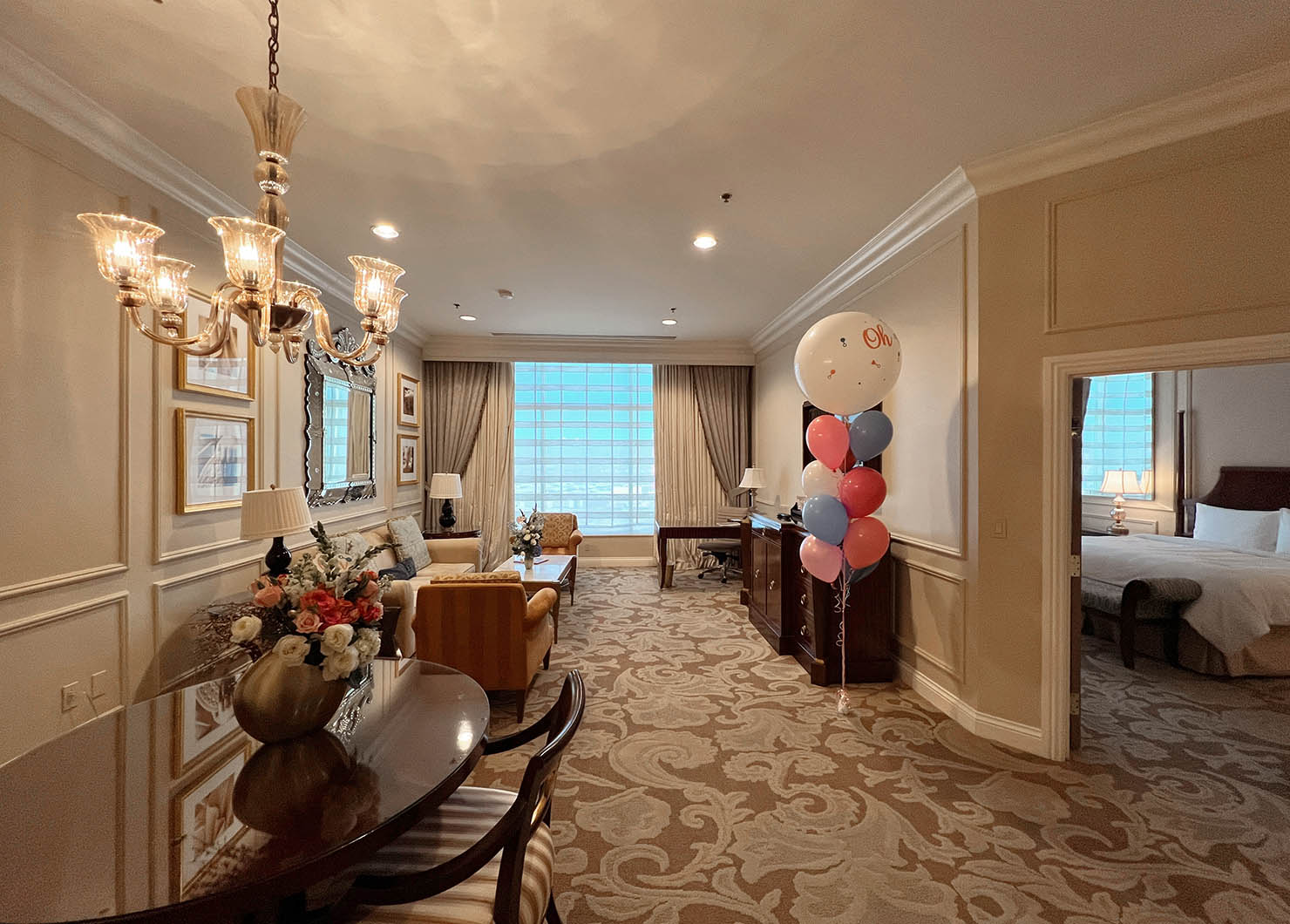 The Rooms
The philosophy about the rooms at The Venetian is that every room is a suite. And they're not kidding! Their standard suites have everything you need and more, and are nearly double the size of your average Las Vegas hotel room.
Yep, they hook you up here!
The suites are a steal at the price they're offered at! We're talking ultimate luxury at a fraction of the price a suite elsewhere would cost.
Oh, and how does an indulgent breakfast with sparkly mimosas and a fabulous in-suite view sound? The Venetian Resort's room service menu looked SO good and I couldn't decide…so I pretty much ordered one of everything!
For those who are looking to splurge a little, upgrading to the Club-Level will allow you access to the Prestige Club Lounge.
Enjoy a private check-in with complimentary Prosecco, a daily Continental breakfast, happy hour, and stunning views of the Strip.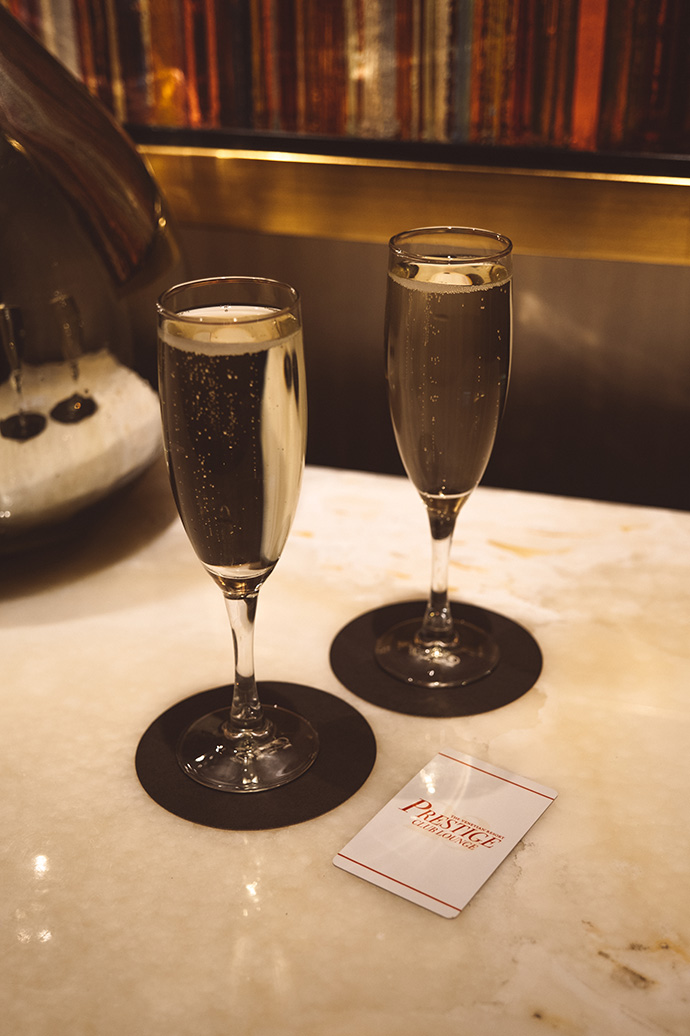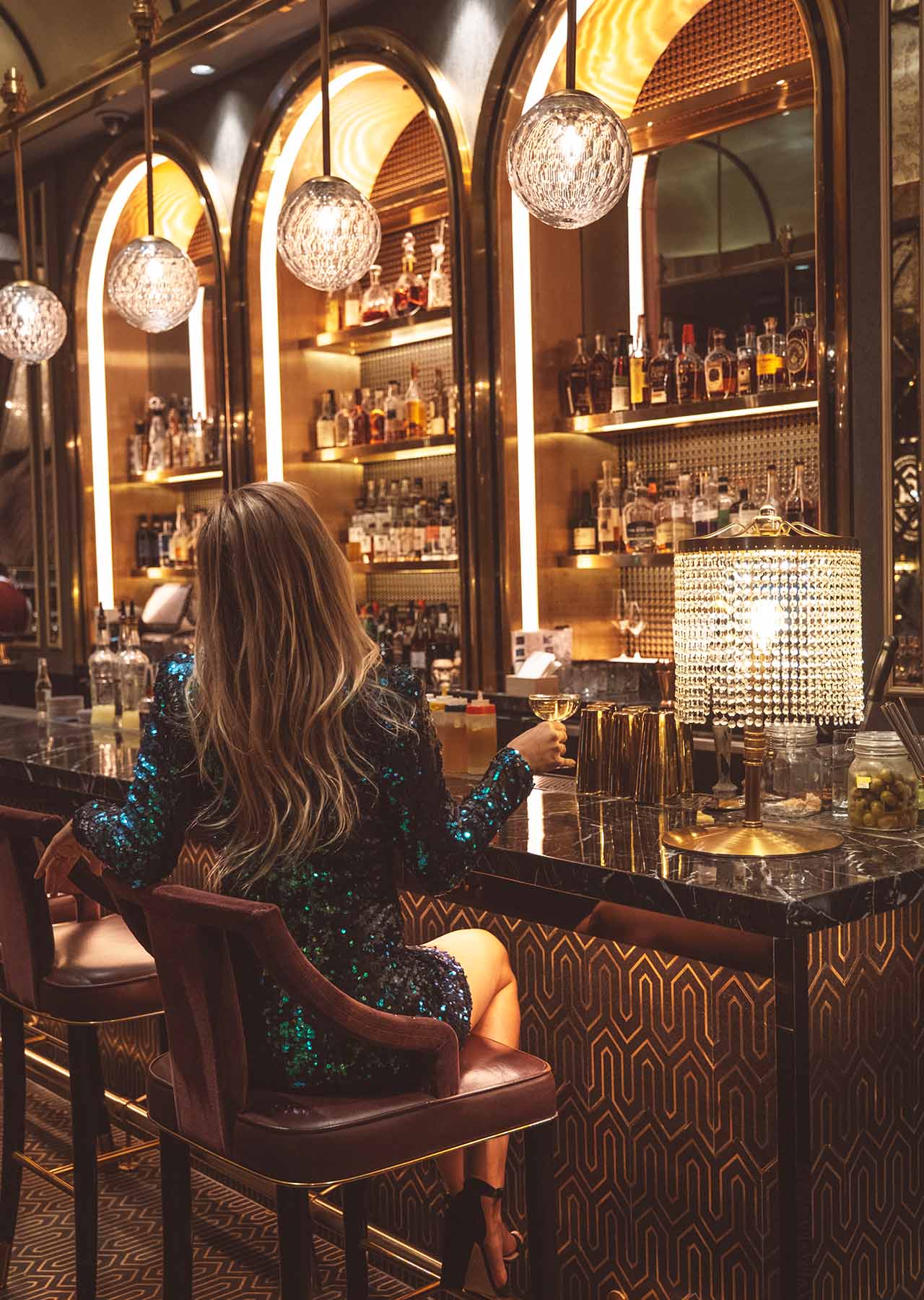 Drinks & Dining at The Venetian
The restaurants at The Venetian are a foodie's dream! While there are some seriously incredible foodie experiences to be had all over Vegas, did you know that The Venetian has more signature and James Beard Award-Winning Chefs than anywhere in the world?
There are countless dining options at The Venetian. You could truly spend a matter of weeks here and not be able to enjoy them all.
It's pasta-tively amazing!
There are so many good restaurants to try and only so much time…but these are the few I sampled:
Mott 32 which has an incredible Chinese-inspired menu, the French restaurant of Bouchon, Yardbird Estiatorio Milos which features a Greek/Mediterranean menu—plentiful with fish-focused dishes!, Matteo's for pasta, and BRERA Osteria for Italian.
In my opinion, Mott 32 was the star of the show!  Their dim sum and smoked black code in life-changing, they also have an entirely plant-based menu.
In addition to the fine dining options, cocktail bars are all over! I particularly liked the 1920s-inspired Rosina Cocktail Lounge.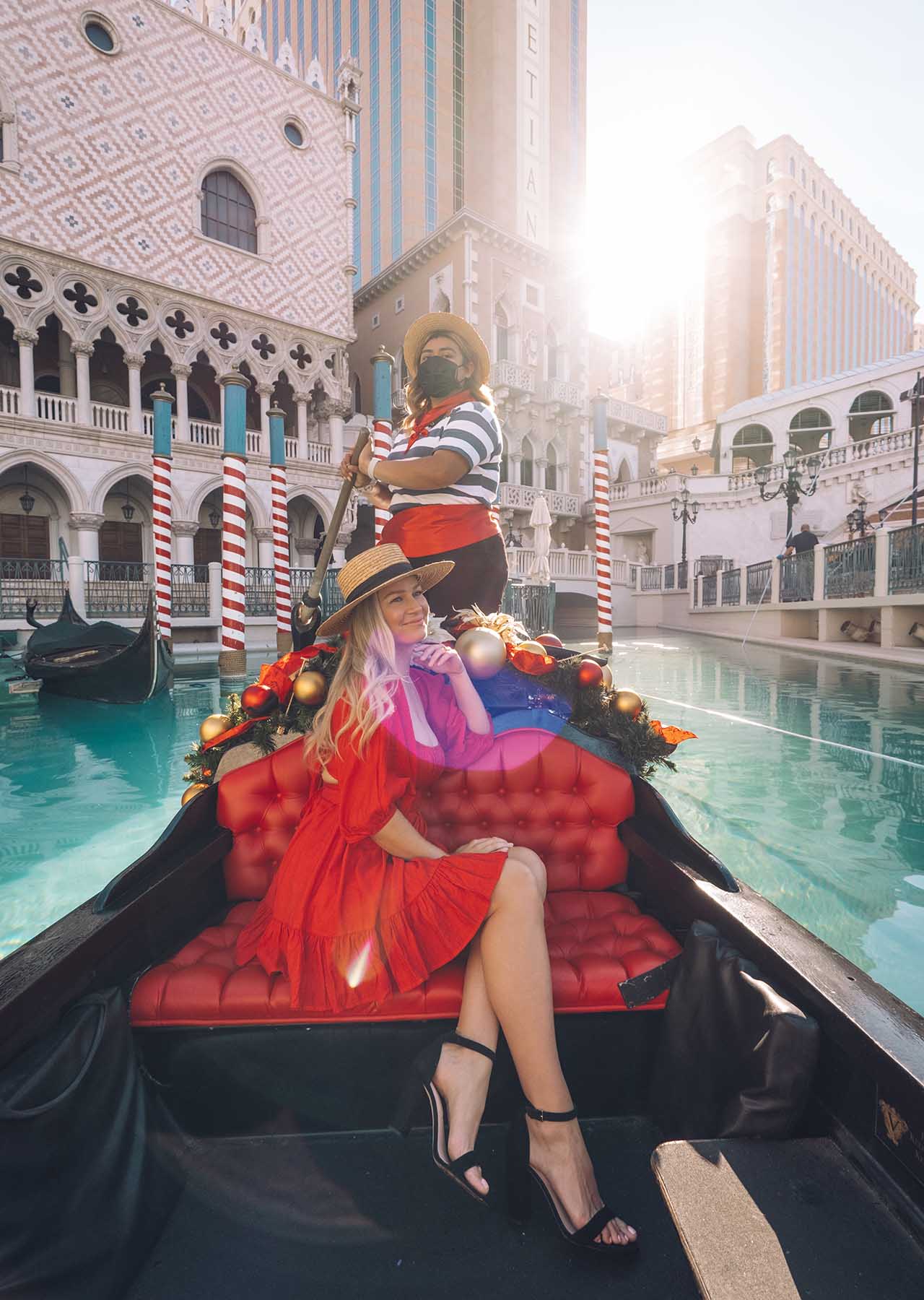 Activities
From rock climbing to gaming lessons to an ice bar — The Venetian has it all. I was particularly fond of the gondola ride (best taken at sunset, in my opinion).
A major part of The Venetian's appeal is the gorgeous canals around the property. Within the interior, you'll find countless shops and boutiques, eateries, and experiences — making wandering around an activity in and of itself.
Meyer and I even participated in an Escape Room at Paniq and had a blast attempting to figure out the puzzles.
Pools & Spa
I love a good massage and their spa did not disappoint! While I didn't have time to hang out at the pools (so many other fun things to do!), they look lovely.
In case you're curious, they have four large pools spread across two acres, a splash pad for kids, upgraded pool chairs, in-pool ledge loungers, and daybeds.
Casino
Obviously, the casino is here! I'm not a big gambler, but it's got all of the things for a typical Vegas casino experience!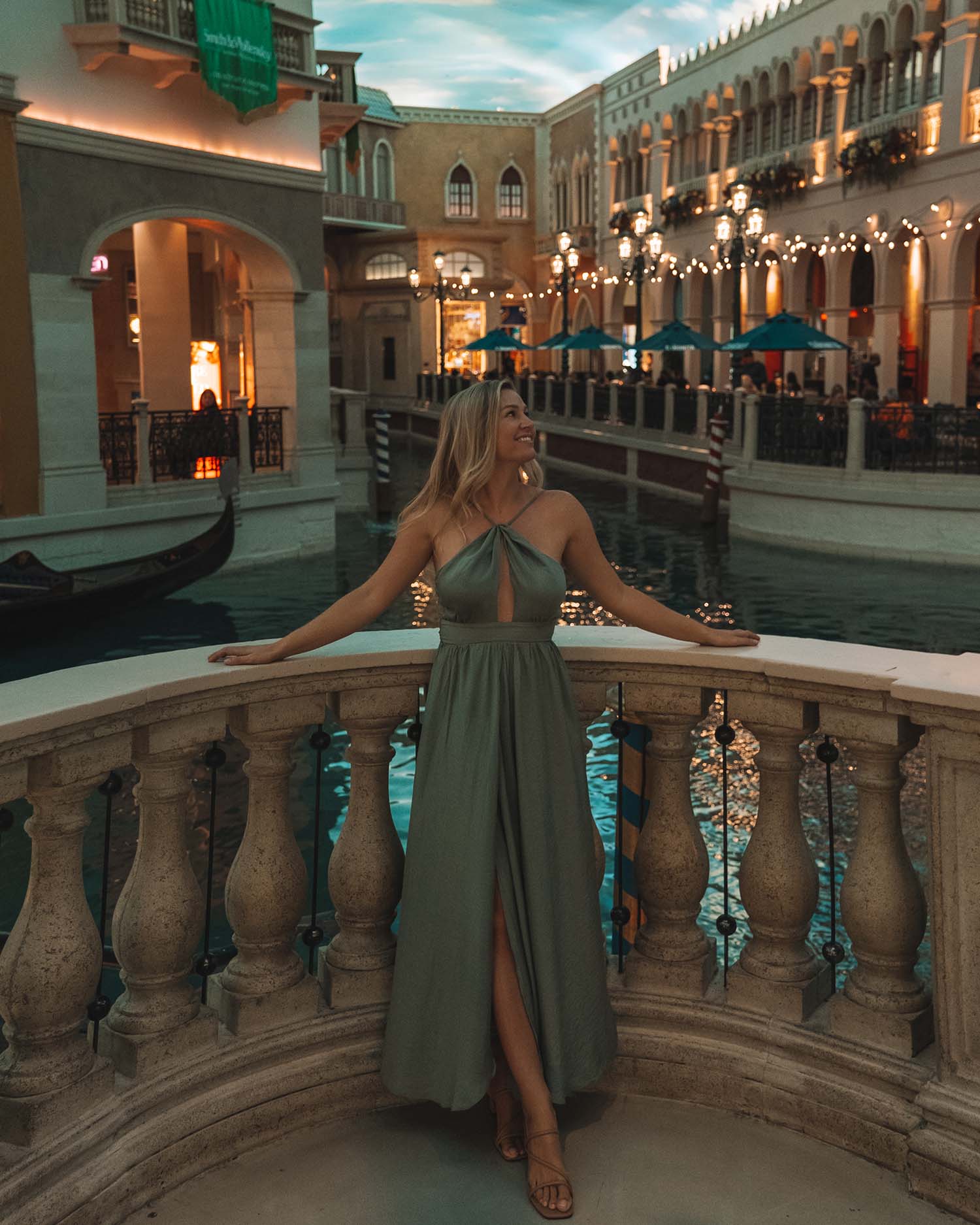 In My Opinion
The Venetian is such a fun "Ode to Italy" without having to fly to Venice. Whether you're coming for a girls' getaway, romantic vacation with your honey, or just for fun — The Venetian is a fantastic place to stay in Las Vegas.
The lobby is a serious work of art with its Renaissance-inspired artworks…er, masterpieces! While it's a themed resort, there's something about The Venetian that feels classic and timeless.
Take in the gorgeous architecture, stroll along the canals, and dance the day (or night) away.
Make sure to find the cake vending machine — while I cannot attest to the freshness of said cake, it was really fun to see something like that!


More Information
Hotel: The Venetian Resort Las Vegas
Location: Las Vegas, Nevada
Accommodation: Luxury Resort
Price Range: $-$$