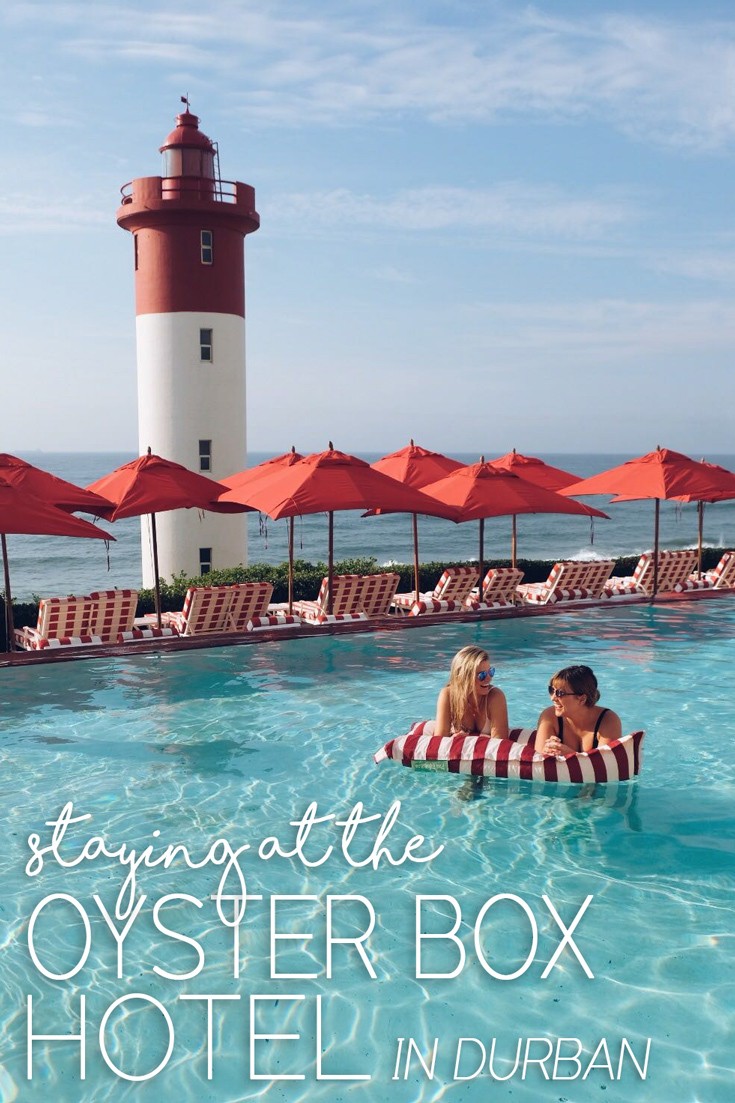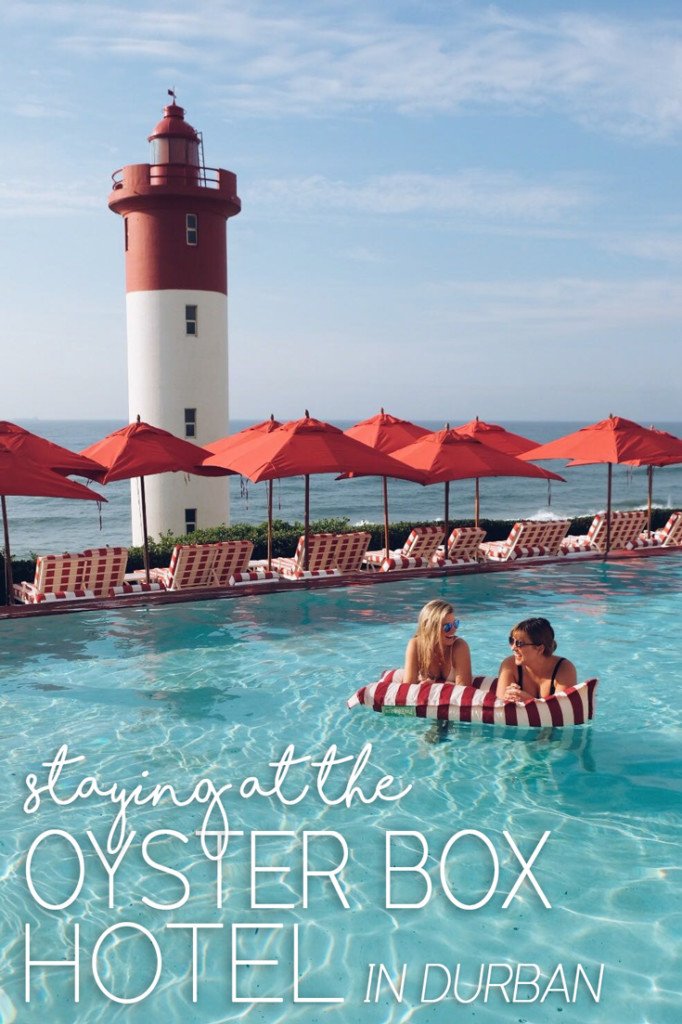 I always love to get insider tips from locals when I travel. It's so fun to see my friends' hometowns and check out all of their old hangouts, especially in South Africa! I just had the chance to see where my friend Natalie, from Tails of a Mermaid, used to take vacations when she was a kid, and it was incredible.
The Natal south coast of South Africa is full of gorgeous beaches, and it's a must-see for any visitor to the country. Set on the south coast's beautiful Umhlanga Beach, the iconic Oyster Box Hotel is widely considered to be one of the best hotels in the country, and it is a great base for exploring the area.
Just a short flight into Durban from Cape Town, you've got to see this iconic, red and white slice of heaven. And luckily, this region stays pretty warm year-round, so you can jump into the pool upon arrival 😉
Here's my experience staying at The Oyster Box Hotel & exploring the south coast!

Getting There
It's handy to have a car when you're traveling around the south coast, and South Africa in general. Of course, you'll want to keep in mind that drivers primarily use manual cars and drive on the left, like in the UK and most Commonwealth countries.
It takes a little getting used to, but improving your driving skills will open up a world of traveling opportunities.
The Oyster Box is just a twenty-minute drive from Durban, which is the third largest city in South Africa after Johannesburg and Cape Town.
If driving really isn't your thing, you can catch one of the daily flights out of Cape Town direct to Durban. Durban is a cool and cosmopolitan city with a lot to offer, so it's worth spending some time there before heading off to Umhlanga Beach.

The Hotel
The Oyster Box has won tons of awards, including the all-important TripAdvisor Travelers' Choice Award that named the hotel the number one hotel in South Africa. As soon as you walk in the door, you'll know why Oyster Box is so beloved.
This place has a dream location with timeless glamour and charm.
There are eighty-six rooms and suites, including the ultraimpressive presidential suite. There are stunning panoramic views throughout, like the Indian Ocean. If fact, you can just sit on the terrace or at the bar and watch dolphins swim by.
When you are ready to get off your feet and out of the sun for a bit, there's plenty to do inside. The Oyster Box Hotel has an award-winning spa with a Turkish Hammam and a very cool twenty-four-seat cinema with complimentary treats.
You might even see monkeys playing around the property!

The Rooms
The Oyster Box Hotel has a range of twin, king, and family rooms that can sleep up to four. The rooms come in a diverse array of styles with an option to face the garden or the sea.
The standard rooms feature all the bells and whistles you'd expect like luxe bathrobes, free Wi-Fi, and satellite TV. There's also a handy stock of beach gear, including sun umbrellas, beach bags, balls, bats, and sunblock.
We stayed in a Garden Villa, which had its own pool and downstairs lounge.
Want to treat yourself? You can upgrade to the luxury suites for an amazing sea view, private plunge pools, separate lounge areas, and terraces. For the crème de la crème, the lavish presidential suite will make you feel like royalty.
This hotel is simply put as laid-back luxury, with super friendly staff!

Food & Drink
There are two restaurants and three bars/lounges at the Oyster Box Hotel. The Grill Room is all about fine dining, and it is the spot to check out the famous curries and steak. The Ocean Terrace is the place to go for a view and super-fresh seafood.
The "Extraordinary Breakfast Buffet" was to die for– delicious waffles, a variety of hot & cold dishes, and bottomless oysters. PLUS lots of champagne! On nice days, they offer the breakfast on their terrace as well.
The Oyster Box is also famous for its indulgent High Tea in The Palm Court– and it was one of my favorite parts of the stay! You can break from getting a sun tan, dress up a bit, and sip out of beautiful china.
If you have a sweet tooth, you feel like you've died and gone to heaven here.

The Spa
Another perfect spot to indulge, the award-winning spa at the Oyster Box Hotel is incredible. You can get the ultimate spa experience with a hydrotherapy bath, rain shower, sensation shower, hammam, tranquility lounge, and health bar.
The spa offers B|Africa signature products and a range of holistic treatments, so you'll definitely want to spend at least a couple of hours unwinding here before you move on with your South African adventure.

In My Opinion
This iconic hotel really is as stinkin' cute as it looks. Every detail at the hotel, from the pool to the theater room, is oozing with nostalgia and charm.  It's an absolute MUST stay when visiting Durban!
The hotel is a local hotspot on the weekends and for nightlife. It also gets packed on school holidays and during the hot summer months. Plan accordingly!


More Information
Hotel: The Oyster Box Hotel
Location: Umhlanga, South Africa
Accommodation: Luxury
Price Range: $$$

Thank you to The Oyster Box for hosting me during my stay. As always, thoughts and opinions expressed here are entirely my own.
Want to earn points for your hotel stays and earn miles toward your next adventure?