You find love when you are least expecting it, or so they say. For me, that was certainly the case in South Carolina. Exploring the Low Country for the first time, I discovered what I'd been missing out on all this time.
Spending lazy summer afternoons on the swing hanging from the centuries-old live oak tree, it was the ultimate getaway.
Watching the Spanish moss gently swaying in the breeze overhead, the incredible natural beauty of this area was nothing short of overwhelming in the best way possible.
Craving an escape from the everyday? Here's what you need to know about staying at Montage Palmetto Bluff in South Carolina.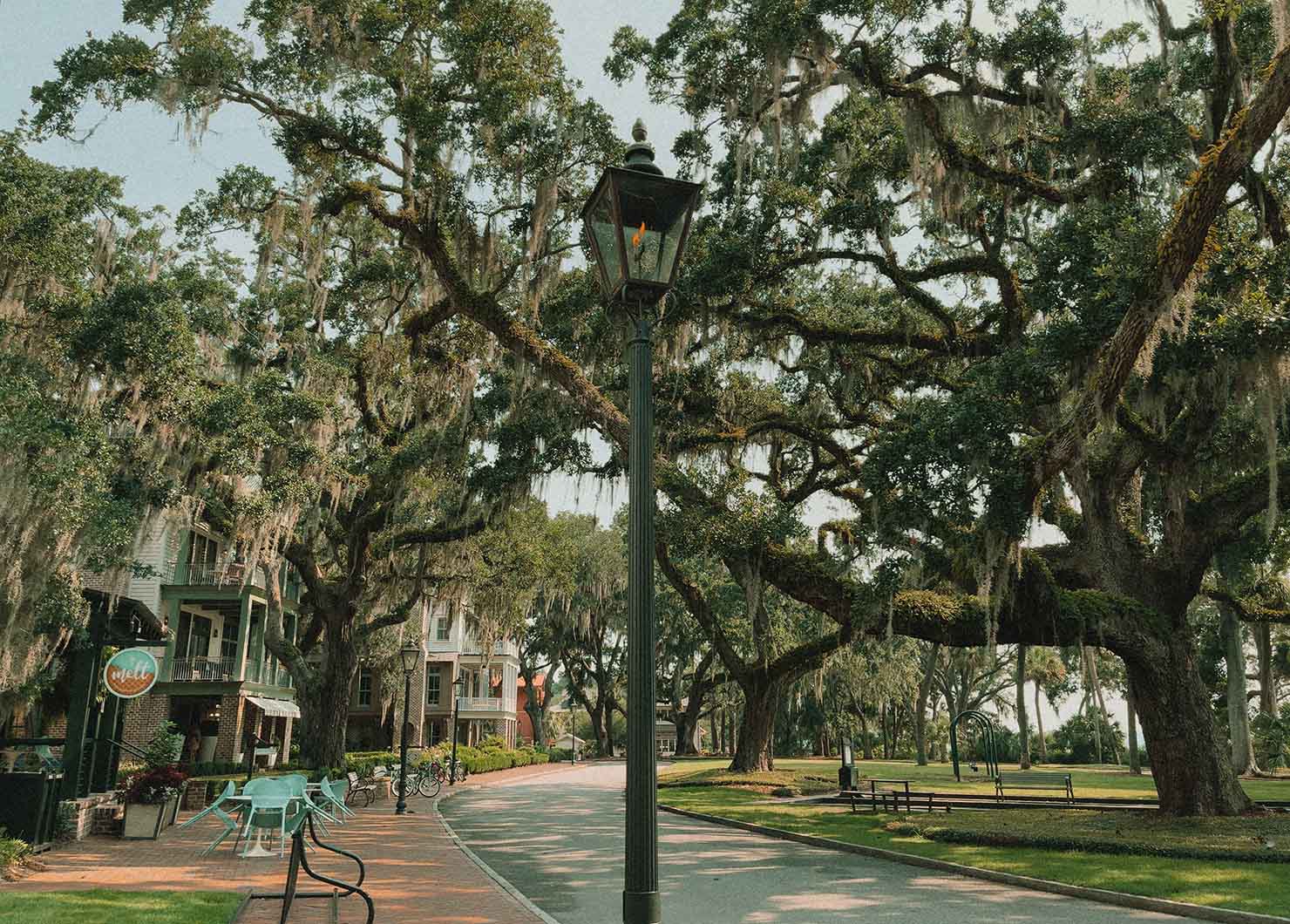 Getting There
I drove there from Savannah and it was a 45-minute trip. Just over the border of South Carolina, ​​Montage Palmetto Bluff is a luxury area west of Hilton Head Island.
It was a perfect stop on my adventure from Savannah to Charleston.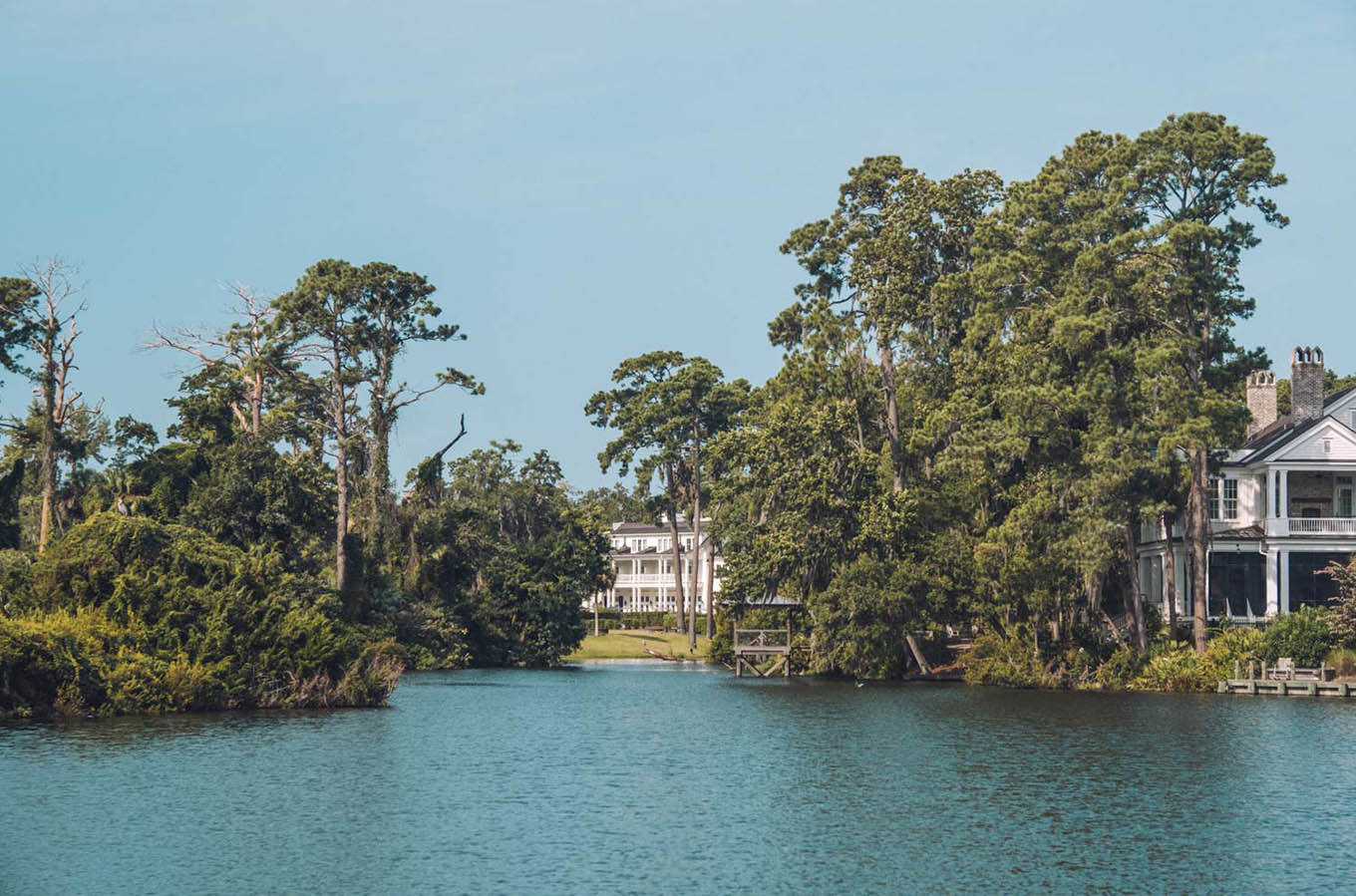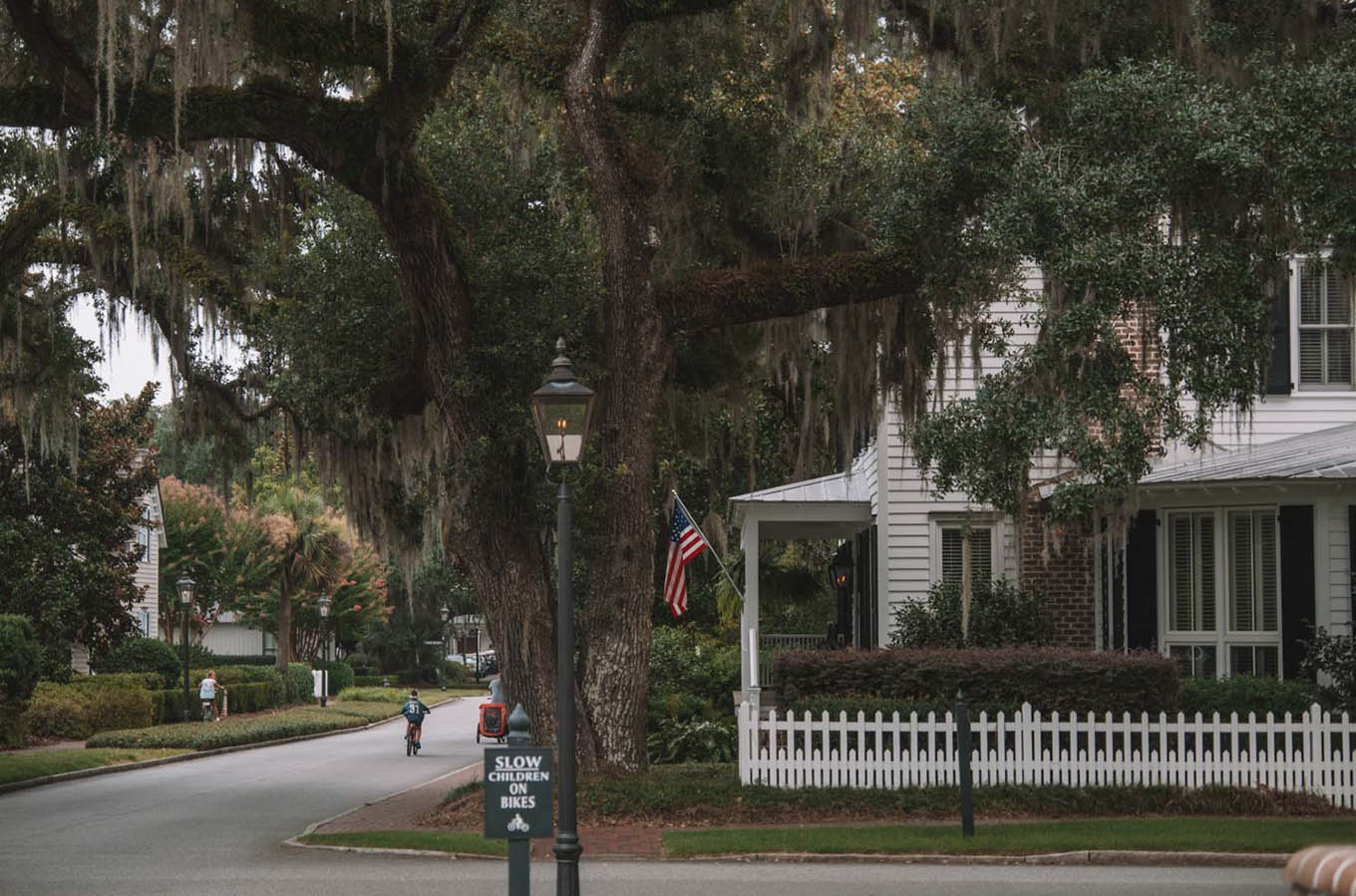 The Inn Library Lounge
About  the Property
Located just outside of Bluffton, Montage Palmetto Bluff Town is a small gated residential and resort community largely built by the resort.
This 20,000-acre community is part of an extensive nature preserve with residences spread out over two picturesque villages.
As you arrive through a security gate and make your way down the oak alley, the space splits into the Montage resort property with its main inn, along with single-family homes that house longer-term residents.
Let me tell you, it's stunning!
Located on May River, there's a diverse array of wildlife and birds that call the area home. Wandering around the lush property, you'll find foxes, deers, and even the occasional alligator.
The history and natural beauty of this area are preserved on an unprecedented level.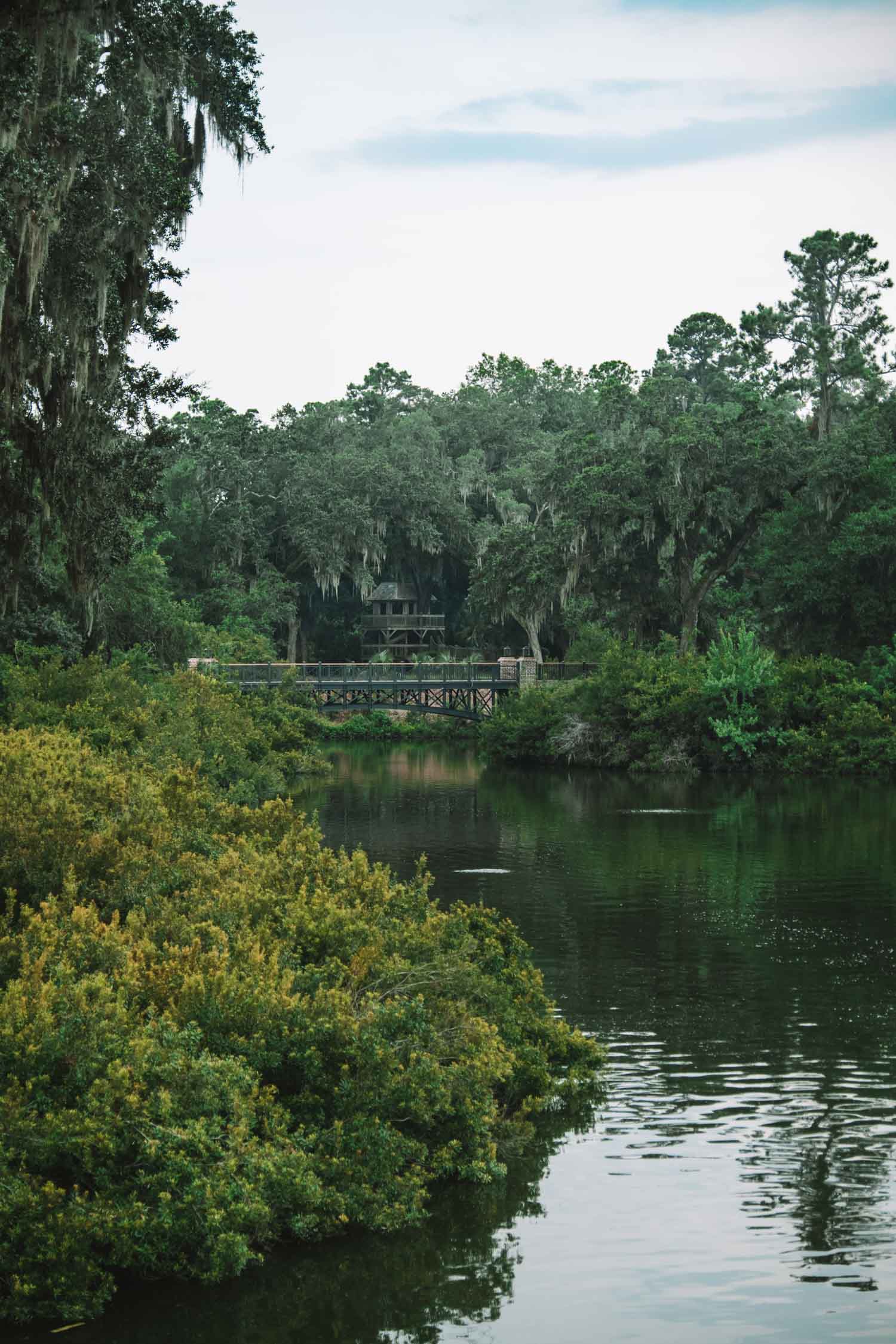 For the past two decades, a staff of archaeologists, as well as the Palmetto Bluff Conservancy, have worked together to maintain the ecological and historical integrity of the space.
Around the globe, Montage Hotels & Resorts is known for being exceptionally luxurious. Amongst the most illustrious collections of property in the world, I've been lucky enough to experience The Montage Deer Valley in Utah as well as Montage Laguna Beach.
While those were both stunning, their South Carolina property is truly on another level.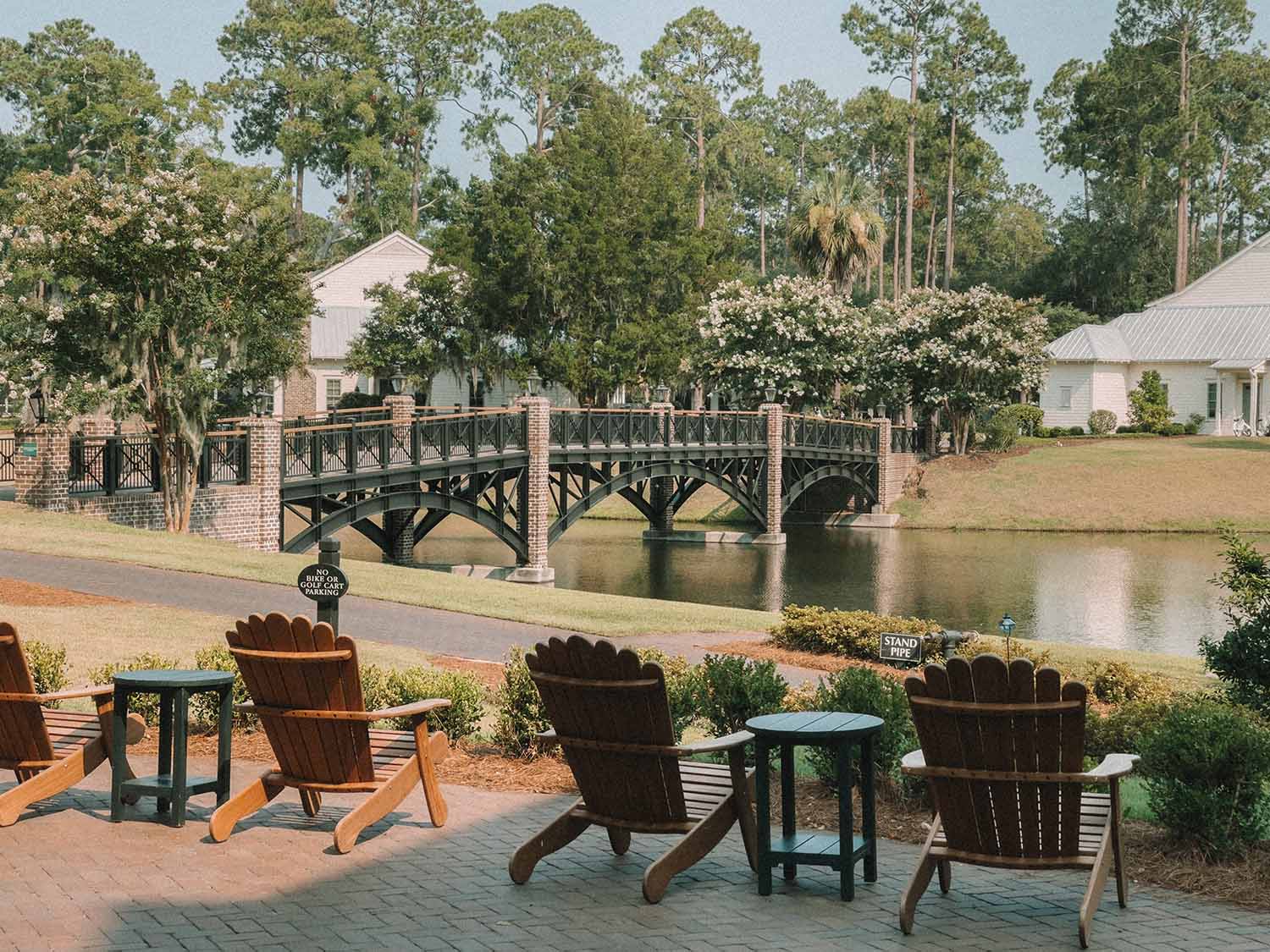 Getting Around the Property
To get around the expansive property, they offer a text service that will bring you around to anywhere that you want to go.
You just send them a message and they are on their way. While I didn't use it much, I did take advantage of the service on check-in. They picked me and my luggage up at the reception and delivered me right to my door.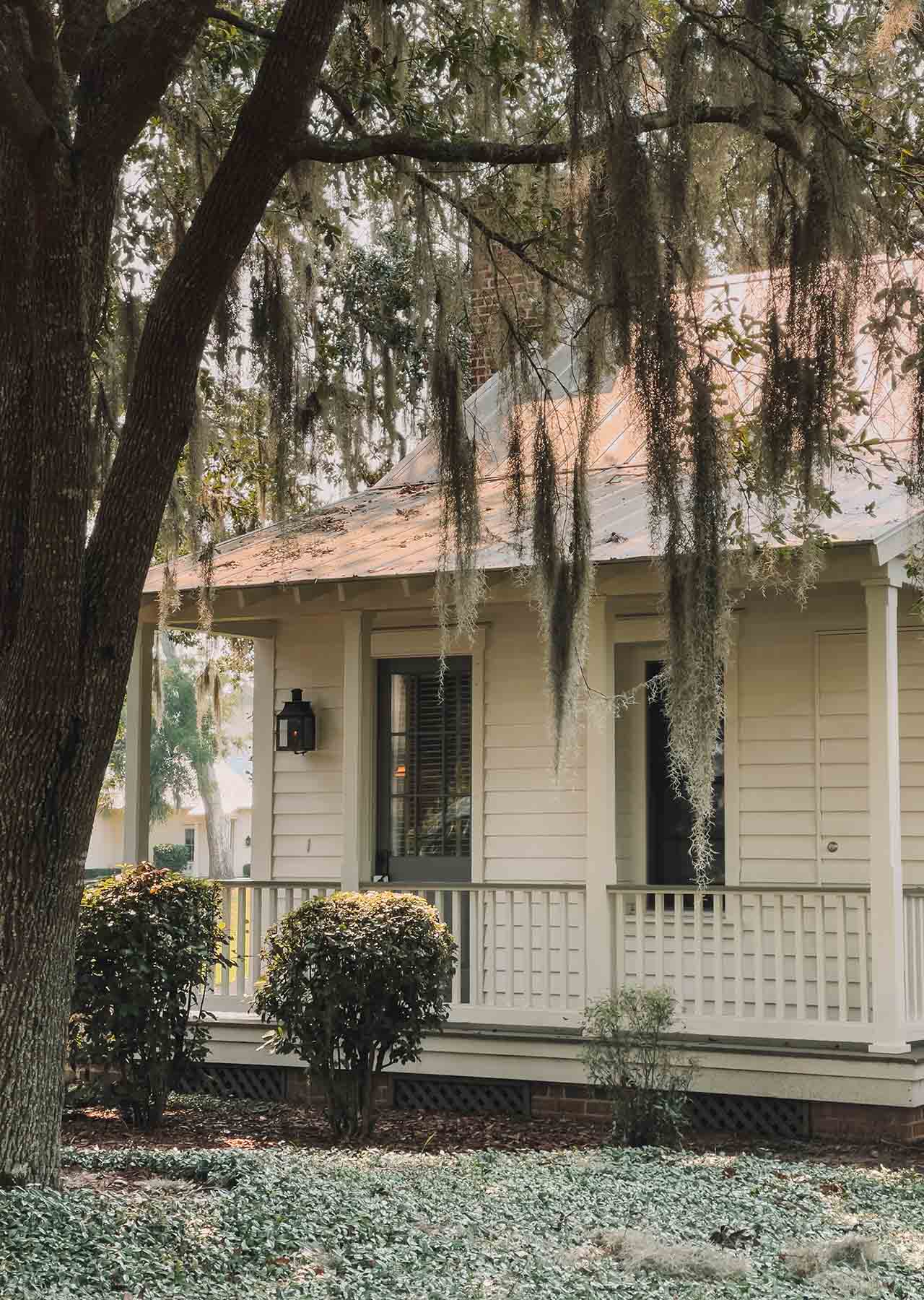 The Rooms
I spent three nights in one of the cottages and absolutely adored it. Upon arrival, they had an amazing crudité board and salted shortbread cookies with a bourbon jam.
It was actually so tasty that I asked for more to take home with me…but sadly it's an onsite-only offer.
Daily room cleaning and turn down are available. While that is nice for a longer stay and possibly bigger groups, I liked that they gave the option to put out a little dolphin to opt-out of having the sheets changed.
I try to travel as sustainably as possible, so green considerations like this are always appreciated.
Room / Cottage
The cottage has an enclosed patio overlooking the May River and a fireplace in the room for cozy winter stays.
The oversized closet and double vanity were nice added touches, plus that tub was a dream. And I absolutely adored the massive walk-in shower that doubled as a steam room!
I used these spa-worthy features daily and loved them.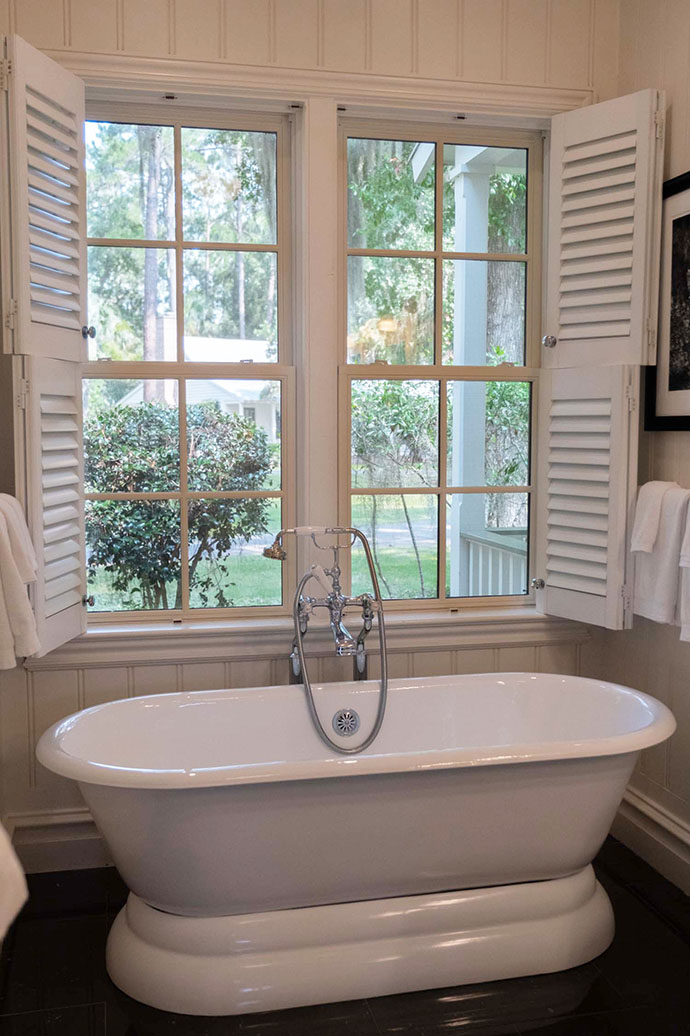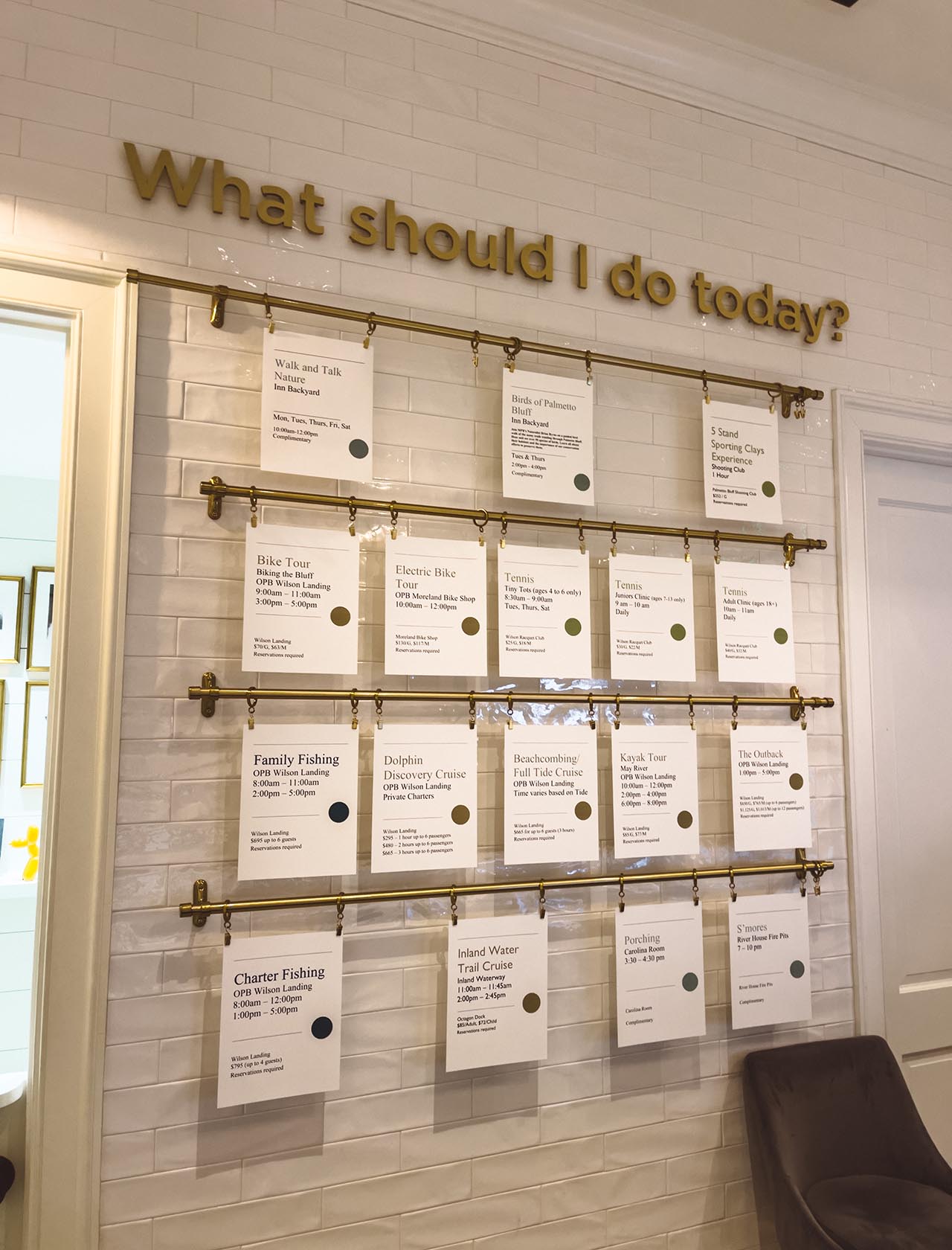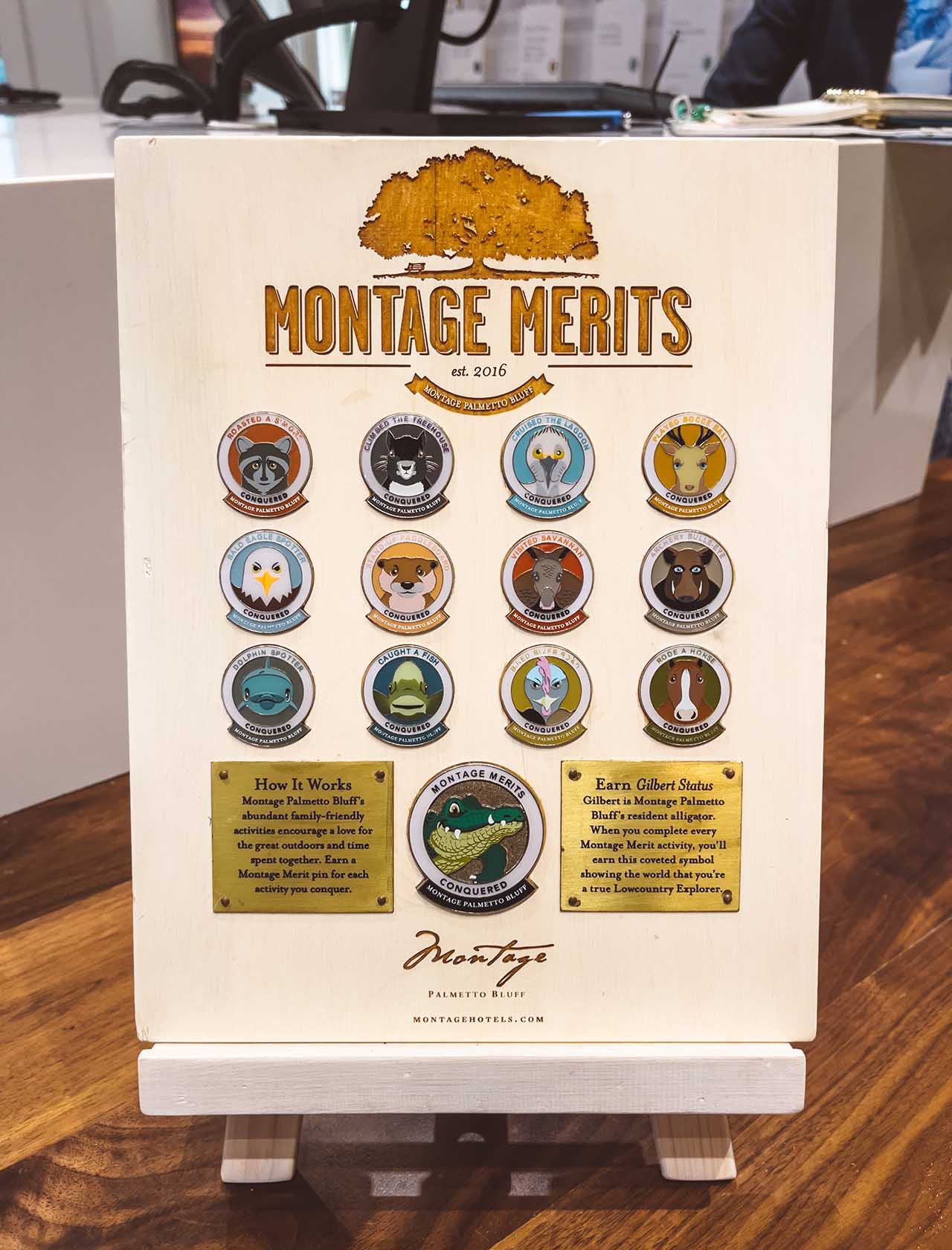 Activities 
The property is romantic yet family-friendly.
I could see coming back with my future little ones and exploring the beautiful space.
While I had a marvelous solo stay, this luxe escape is ideal for family and four-legged visitors. With endless expanses of wilderness to explore, kids can earn badges as they complete certain activities for an extra-special stay.
Like a luxurious summer camp stay, minus the summer camp. 😉
Every guest also receives a bicycle on arrival, which I loved.
It was the perfect way to get around while enjoying the scenery along the way. I had a great time cycling around the post office, local boutiques, and restaurants.
There was a property pup who lives in his own special room in the center with an adorable doggie door. As a dog lover, it was great to have an on-site canine and I would definitely bring my own pooch on future visits.
When it comes to outdoor activities, you are spoiled for choices. Play a game of pickleball, tennis, or golf. Take a hike or get out onto the water.
With 32 miles of coastline, this is a perfect place to rent a kayak or canoe…or use that bicycle!
You'll find countless options without ever leaving the property. In fact, I didn't have time for it all. While other guests said that dolphin tours are a must, I'll have to check it out next time.


The Pools
There were multiple pools around the property and you can choose between the adults-only or family-friendly pool.
Near the main check-in area, the family pool area offered live music and pool service.
I loved that the pool service offered Coola Suncare — which is a natural and organic brand from San Diego that I adore!!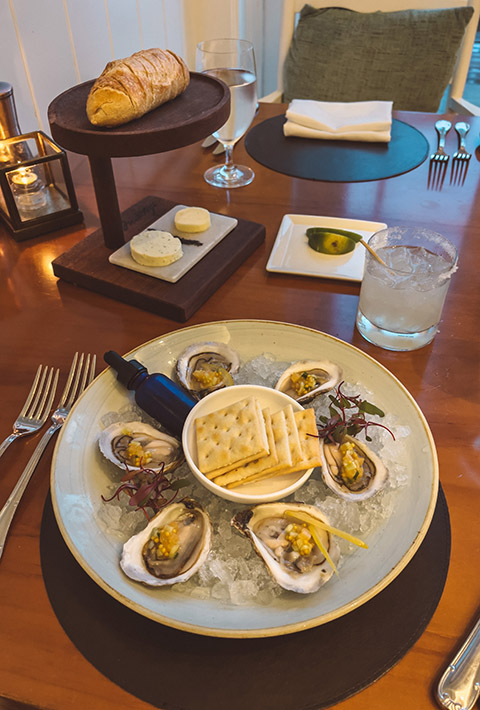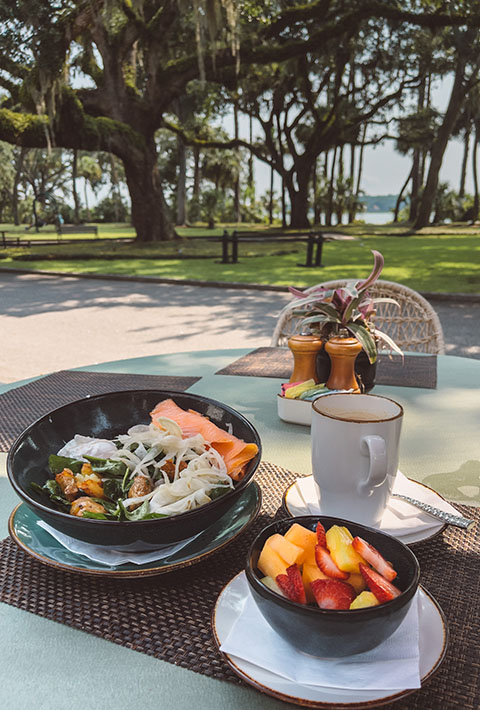 Dining
The dining options here are second to none. On top of the in-room and private dining options, there are seven restaurants on-site.
Even though I had four days to explore, I wish I'd had more time to eat my way around!
The shrimp and grits I had at the Octagon Restaurant were the best I've ever had in my life.
And that's saying A LOT because I had them nix one of the key ingredients: bacon. The fact that they were able to create such an incredible dish without it just speaks to how talented their chefs are.
You can find fine dining and seafood in the Canoe Club. I dined there a couple of times and fell in love with it — it's fine dining food, but refreshingly casual (which was a pleasant surprise!).
For breakfast, you can go to Octagon Restaurant inside the inn or over to Buffalo's for southern Italian-inspired dishes. I opted for Buffalo's one morning and found a nice array of light breakfast options.
I had planned to go over to Fore & Aft for some Mexican food one afternoon, but the property was so big and there were so many places to go, I didn't even end up passing by it!
Within the property, there's a little town where you can find an ice cream parlor called Melt serving up small-batch ice cream along with a French-inspired market with boutiques.
Again, so many delectable food choices!



In My Opinion
Montage Palmetto Bluff in South Carolina is an incredible property across the board.
It is one of those places that is a destination in and of itself. While I often stay in accommodation options where I leave in the morning and come back after dark, I never wanted to leave here.
It is one of those rare accommodations where you will likely (and willingly) spend your entire holiday on the property.
Come prepared to relax and indulge, but also explore the stunning scenery.


More Information
Hotel: Montage Palmetto Bluff
Location: Bluffton, South Carolina
Accommodation: Luxury
Price Range: $$-$$$

Thank you to Montage Palmetto Bluff for hosting me during my stay. As always, thoughts and opinions expressed here are entirely my own.