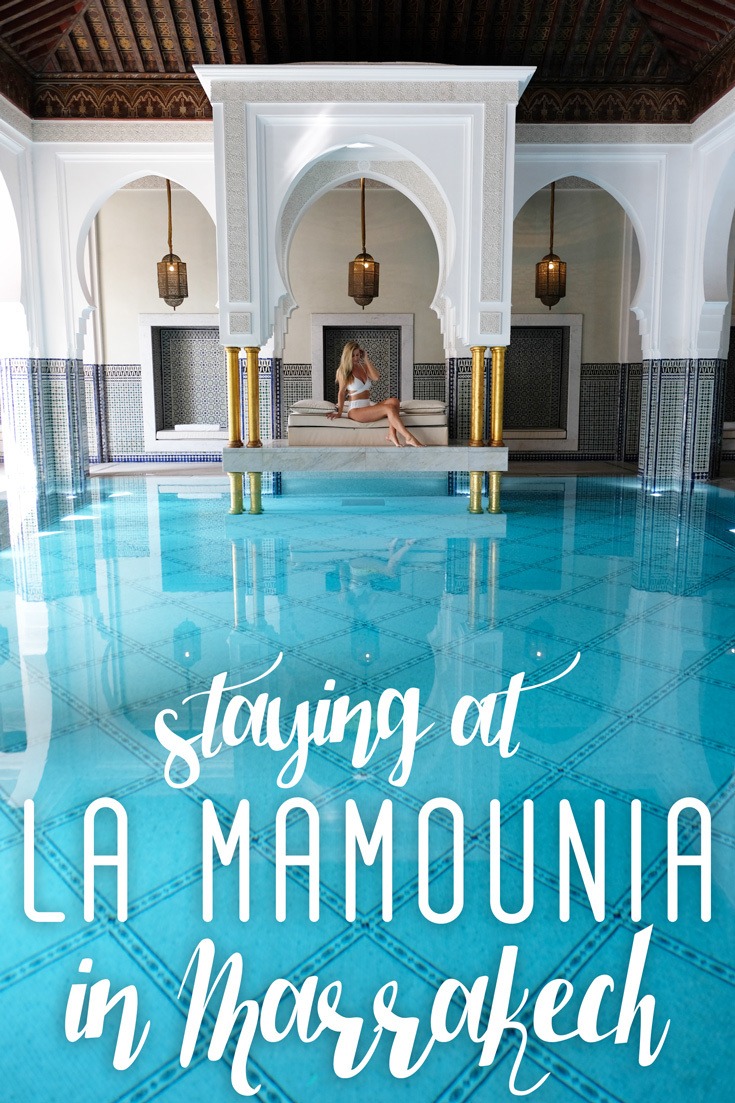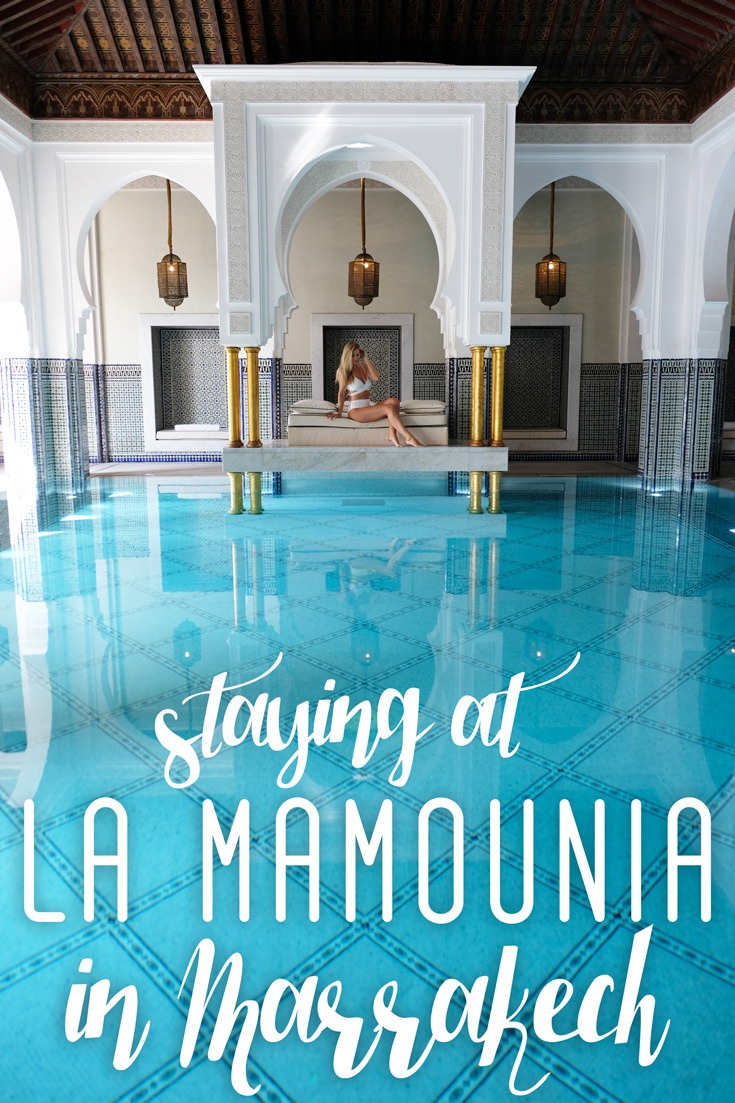 Want to live like a Moroccan royal for a day? Get to La Mamounia Marrakech. This palace-hotel is a heady wonderland. With lush textiles, exotic tile-work, sparkling fountains, and gorgeous woodwork, this is a place you'll want to explore every inch of.
And it's more than just a visual experience. La Mamounia has the scents of jasmine, cedar, date, and orange blossom around every corner. (You can literally buy the fragrance of the hotel in their gift shop—I would know because I bought the infuser!)
Basically, it's every chic Moroccan daydream you've ever had rolled into one.
Not only is La Mamounia a visual treat, but it's also historical. Since 1923, the hotel has welcomed guests from around the world. Everyone from Winston Churchill to Franklin Roosevelt has come to admire the beauty of this Art Deco-meets-Imperial-Morocco hotel.
Here's my experience staying at La Mamounia in Marrakech!

The Hotel
The hotel is located within seventeen acres of a gated garden, and you'd never know you were in the center of Marrakech here. During the day, you're surrounded by opulent gardens. At night, the place transforms into a magical garden lit by Moroccan lamps.
La Mamounia Marrakech has all of the amenities you'd expect from a luxury resort, like tennis courts, a fitness center, a luxe spa, and outdoor and indoor pools.
Unlike in most hotels, however, the gift shop is definitely worth noting here.
This place is all about "Morocco's refined art of living." It has sumptuous perfumes made exclusively for La Mamounia along with a line of accessories created for the hotel by French designer Barbara Rhil. As I mentioned, I brought home an infuser that literally smells like heaven.
Be sure to check out some of its tasty treats made with local olives, argan, and honey too!

The Rooms
La Mamounia is one of the world's most iconic luxury hotels, and you can feel it in all the rooms. They have marble bathrooms, ornate Moorish-inspired title work, and impressive views, and I fell in love the first time I turned the key.
This hotel really isn't overhyped. It's a work of art.
You can choose from standard rooms, suites, exceptional suites, and riads. Every pick has its own personality and perks. Some of the upgraded rooms include views of the Atlas Mountains, offer 24/7 butler service, and have private pools.

The Food
You'll never go hungry here. La Mamounia features three restaurants (Italian, French, and Moroccan) and a pastry shop with homemade goodies. Be sure to check out the Moroccan restaurant, Le Marocain. It was one of my favorite traditional dining experiences in Morocco and is the perfect spot to get an authentic tajine.
The ambiance is amazing, and the veggies come fresh from the garden right outside of the door.
After you've filled up, check out the impressive section of wines at one of the four bars. From the poolside lounge to the swanky Le Churchill, each place has a different vibe, so let your mood guide you.
Built around a pool, Le Pavilion de la Piscine is the place to be for Sunday brunch. If you're lucky enough to spend the weekend here, you can enjoy a gourmet buffet and a couple of glasses of bubbly. Le Pavilion de la Piscine runs through the week as well, and it's a good spot to lounge in the sun and have a light meal.
Helpful Tip: As a note to future visitors, the price of food at La Mamounia is pretty high. Prepare to pay top dollar for your meals and beverages.

The Spa
No visit to La Mamounia is complete without a trip to its massive wellness center. With signature Moroccan treatments, traditional hammams, a Kinetic exercise room, a gym, and a Jacuzzi, this is the place to indulge.
It has an extensive spa menu that uses a range of high-quality, local Moroccan products.
Of course, the argan oil treatments are incredible. I highly recommend checking out the ghassoul treatments. Ghassoul is a natural mineral clay that only comes from the Atlas Mountains of Morocco. It's been a local beauty secret for centuries, and it's incredible for your skin and hair.
Helpful Tip: Morocco is one of my favorite spots to find natural beauty products. Save room in your suitcase for kohl, musk, ghassoul, Savon noir, rose water, argan oil, and Berber cosmetics.

Don't miss my Morocco travel video!


More Information
Hotel: La Mamounia Marrakech
Location: Marrakech, Morocco
Accommodation: Historic, Luxury
Price Range: $$$

Thank you to La Mamounia for hosting me during my stay. As always, thoughts and opinions expressed here are entirely my own.