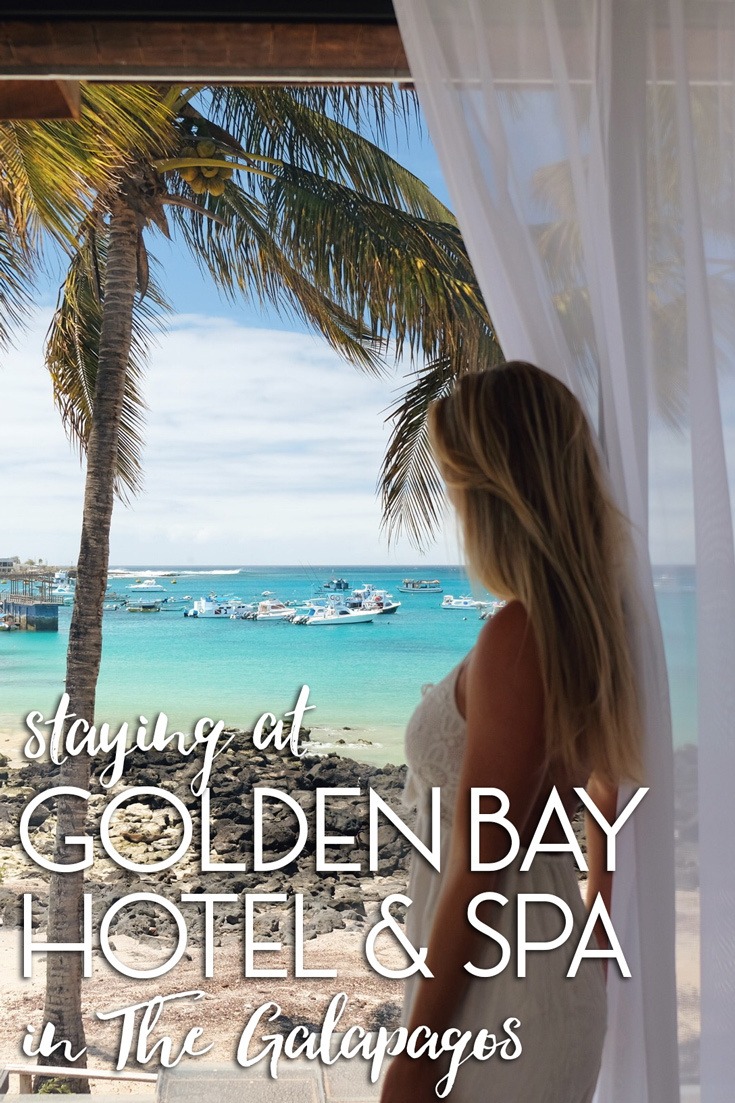 With some of the best beaches in the world and fascinating wildlife, the Galápagos Islands have always been a dream destination for me. They are one of the very few places left that are still pristine and untouched by major development. 
Sitting alone in the Pacific Ocean, this archipelago is 600 miles from the coast of Ecuador and a world away from anywhere I've ever seen.
The Galápagos Islands are made up of sixty-one different islands and, while they are all worth exploring, the island of San Cristobal is the most traveler friendly.
Here's my experience at Golden Bay Hotel & Spa on San Cristobal island in the Galápagos!

The Resort
The Golden Bay Hotel & Spa is located in the very small and quaint town of Puerto Baquerizo Moreno on the island of San Cristobal. It's totally walkable so you can easily explore anything and everything in the area.
Hello, eco-luxury!
The island's newest luxury hotel is chic, cozy, and the perfect base for exploring the area. There are only twenty-one rooms at the hotel, so there's never a crowded area, and you always get rock star treatment.
There is a rooftop Jacuzzi with a world-class view, an incredible restaurant, and everything else that you need for a dream stay on the islands.

The Rooms
Stylish and chic, the rooms here overlook the harbor. You can look out your window and spot one of the local sea lions pretty much any day of the year.
Like the rest of the Golden Bay, each room has a clean white and shabby chic vibe. Far from the sterile feel that some luxury places have, this place is effortlessly cool.
…and can we talk about that bath tub?!

The Diving
There are tons of dive sites off of the island of San Cristobal. The most famous site of all is Kicker Rock, a.k.a. León Dormido. This site is the remains of a volcanic cone, and its formation of monolithic rock jets up an amazing 500 feet above the ocean.
Home to abundant wildlife, this spot is stunning both above and below sea level.
I went out to the spot with a team from Scuba Eden Dive Shop. I was really impressed with the crew, which had bilingual dive masters who showed us exactly where to go. The area is teeming with hammerheads, eagle rays, reef sharks, and the Galápagos sharks, so there's a lot to see in the area.
Definitely a top diving destination in my book!

The Food
Golden Bay has an amazing restaurant on property, which is always a perk when you aren't in a major city. A mix of Ecuadorian and traditional island cuisine, the food here is fresh and original. Be sure to try the ceviches Galapagueños.
They're a local specialty and crazy tasty.
Best of all, the restaurant caters to any sort of food requirements. Whether you're vegan or have a food allergy, it has you covered. Just let the restaurant's staff know when you book, and it will make sure that you've got an expansive menu to choose from when you arrive.
The Panoramic Terrace Snack Bar is a great spot to catch a sunset and chill after a long day of diving and sightseeing. They've got freshly baked pizza and a range of other quick eats. It's definitely the kind of place where you'll want to lounge long after you're done eating.

Activities
San Cristobal is the best island for solo exploration. Unlike most of the Galápagos, you don't need a tour guide to get around here. There are definitely some great local tours, but it's nice to be able to just wander around and take pics of the gorgeous scenery.
If diving isn't your thing, make sure to check out a snorkeling day trip!
On top of natural beauty, the area has an interesting culture.
You won't want to spend much time indoors, but do be sure to check out the San Cristobal Interpretation Center. It's a free attraction and there's so much there to see. Learning about the history and ecosystems of the island makes all of the sites much more meaningful!


More Information
Hotel: Golden Bay Hotel & Spa
Location: Puerto Baquerizo Moreno, San Cristobal, Galápagos
Accommodation: Eco, Luxury
Price Range: $$$

Want to earn points for your hotel stays and earn miles toward your next adventure?

Don't miss the video from my experience in the Galápagos!