Dreaming of a desert getaway in Joshua Tree? We found the perfect pad for a family staycation with some of our friends and I wanted to share it with you!
With an infant and a dog, rental homes are our new jam. As a San Diego local, we love planning trips closer to home (there are so many things to do in Southern California), and Joshua Tree is a prime example.
We booked Casa Blanca by

Fieldtrip

for a weekend with our friends and their kiddos and had a blast. 
My friends at Fieldtrip have extended a sweet discount code for TBA readers — use "TBAFIELDTRIP" to get $150 off a booking.
With six bedrooms, a plunge pool, a jacuzzi, a fire pit, and breathtaking views, it's the perfect destination for a group of friends or family! It would also make an awesome location for a bachelorette party or girls' trip!
Here's what it's like staying at Casa Blanca by Fieldtrip in Joshua Tree!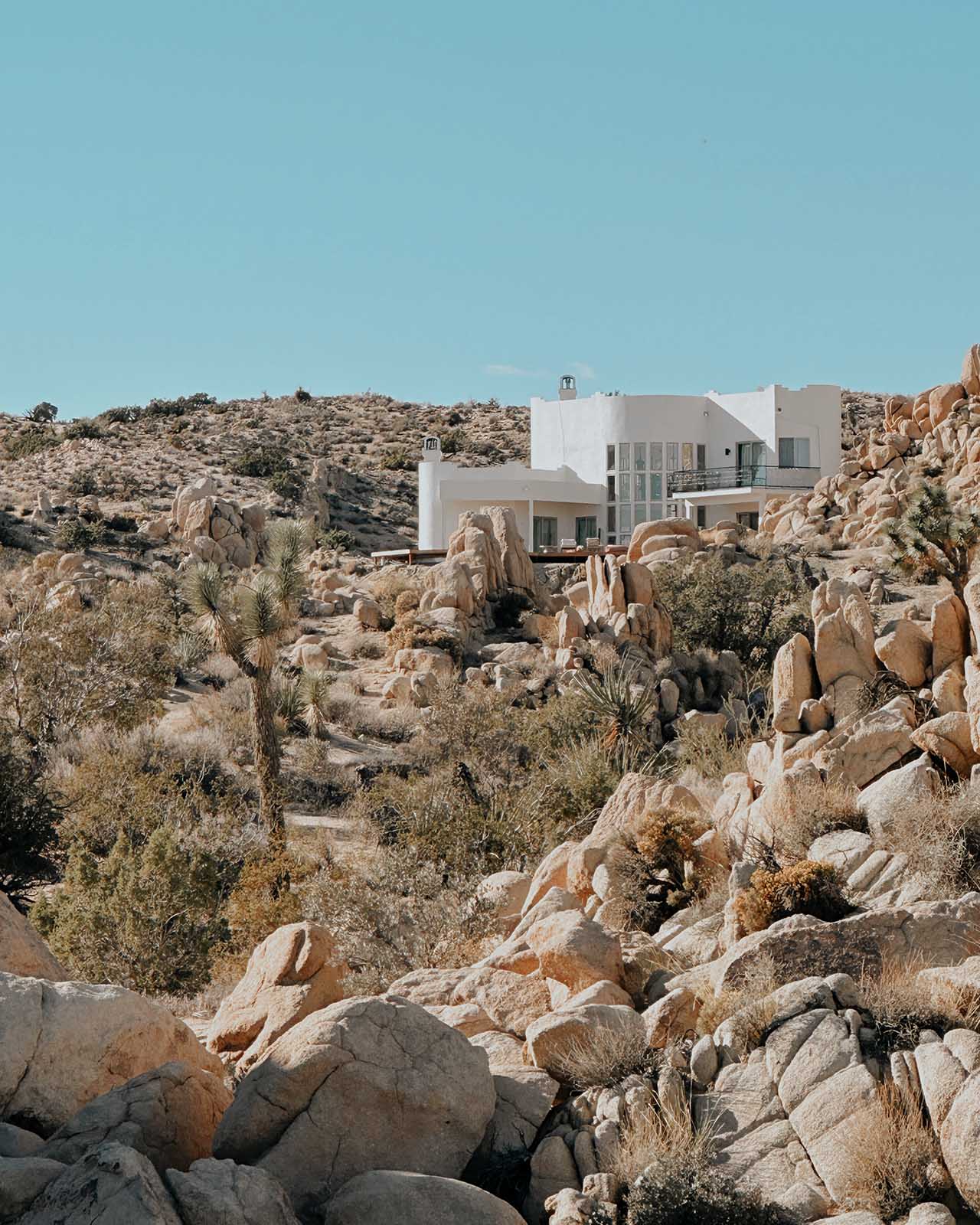 Getting There
Like I mentioned earlier, we've been planning some trips closer to home and Joshua Tree was the perfect getaway. From San Diego, it's about a 3-hour drive to Joshua Tree.
If you're located in Southern California, it's a great weekend getaway destination. If you're planning a California road trip, Joshua Tree is definitely an iconic place to visit to get a taste of the desert.
If you're flying, the closest airport is in Palm Springs, and from there, you'll want to rent a car. Joshua Tree is a very big place and transportation is essential.

About  the Property
I don't think I've ever gotten so many messages asking about the house we stayed in, but 10/10 can confirm we will be renting Casa Blanca by Fieldtrip again!
It's a gorgeous (and secluded) architect's dream; the custom-built home features a two-story atrium and let me say…the views from the floor-to-ceiling windows are seriously breathtaking.
You can take in the sunset of Joshua Tree or get clear views of the night sky — and maybe even a shooting star (or three!).
Because of the open floor plan with a spacious living room and 30-foot curved sofa, it really is a great place for friends and family to gather in comfort.
For those who want to soak in the sunshine and immerse themselves in nature, the outdoor deck has an oversized soaking pool, jacuzzi spa, outdoor shower, large fire pit, and dining area — all surrounded by boulders and a cactus garden. We're talking 2 acres of desert terrain as far as the eye can see.
It's desert meets luxury with high-end design details, appliances, and amenities. And, for those who need to pop onto their laptop to get some work done while on the road (like me!), there are two dedicated workstations.
I loved that it came with a fully stocked kitchen and outdoor grill, too. Perfect for slowing down, relaxing, and enjoying an evening in. Did I mention there's even a terrace perfect for yoga and it comes with yoga mats?
Bonus: It's dog-friendly and so much fun for kiddos!

The Rooms
If you're wondering about the six (!!) bedrooms, here's the lowdown on the configuration:
 Bedroom 1: King bed, ensuite bathroom with walk-in shower and separate bathtub, private balcony. (Second floor)
 Bedroom 2: Queen bed, ensuite bathroom, private balcony. (Second floor)
Bedroom 3: Queen bed, ensuite bathroom, desk. (Ground floor)
Bedroom 4: Queen bed, jack-and-jill bathroom. (Ground floor)
Bedroom 5: Queen bed, jack-and-jill bathroom. (Ground floor)
Bedroom 6: Queen bed.
Common Area Sleeping or Additional Sleeping: Roll away beds (x2)
I'm telling you, this could be a great location for a family getaway, bachelorette party, or staycation with friends.

Activities
I  have a whole guide on what to do in Joshua Tree.
As for the property, the pool, jacuzzi spa, fire pit, and desert trails are all ideal things to partake in for a relaxing desert getaway.
Quick Note:
A word of caution with anyone with young kids, the pool doesn't have a gate around it — and the deck doesn't have a fence, so it's family-friendly in that it's huge and has a lot of rooms but there are some safety things to be aware of if you're there with young kids.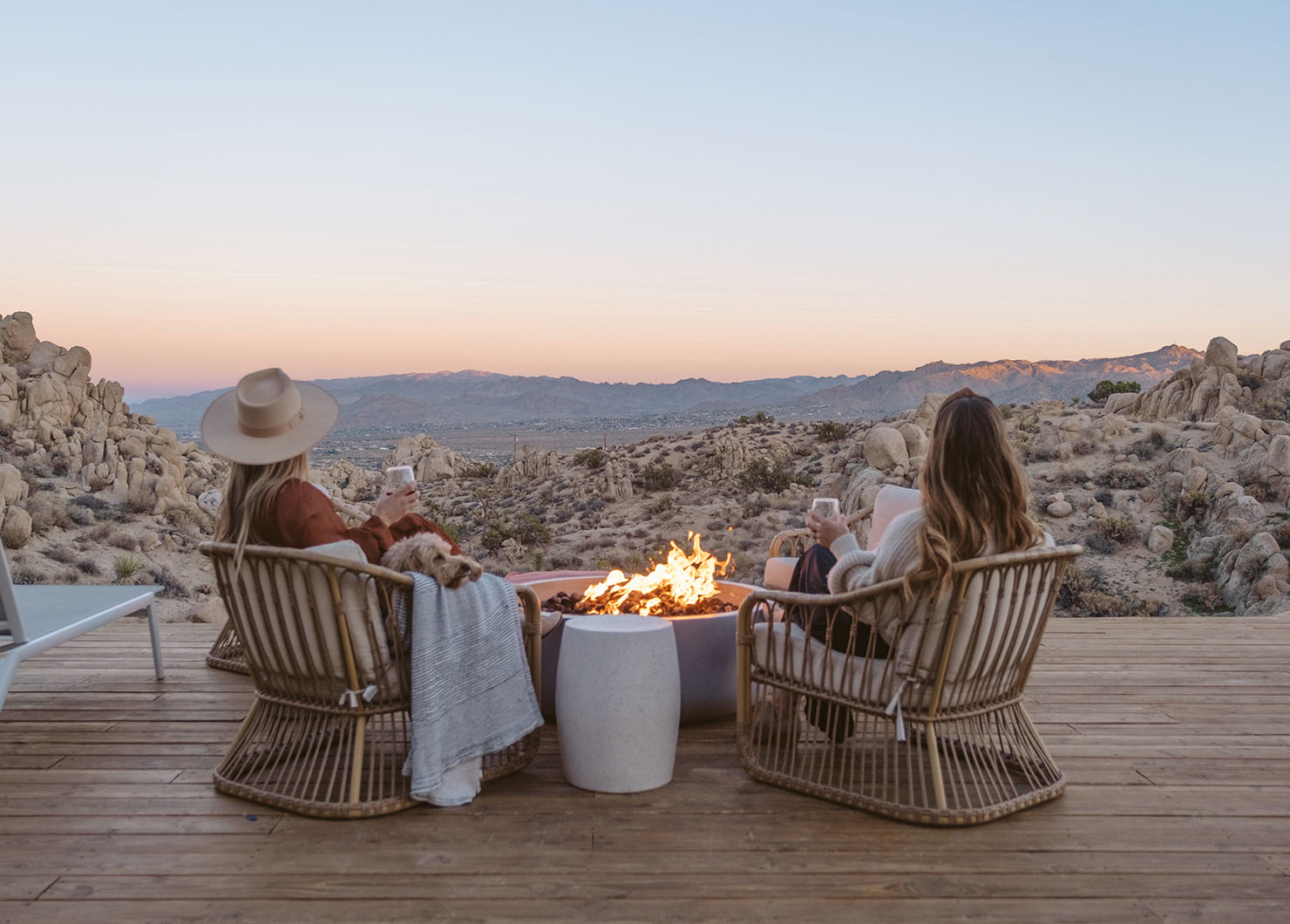 In My Opinion
I would absolutely stay here again! We so enjoyed our time, how spacious the property was, and that it came stocked with everything we needed.
It felt like our own private oasis out in the desert, and I can see us coming back time and time again — with friends and family.
If you're looking for a high-end and beautiful place to stay in Joshua, Casa Blanca is where it's at!

More Information
Hotel: Casa Blanca by Fieldtrip
Location: Joshua Tree, California
Accommodation: Boutique
Price Range: $$$

Fieldtrip has a discount code for TBA readers — use "
TBAFIELDTRIP" to get $150 off a booking.