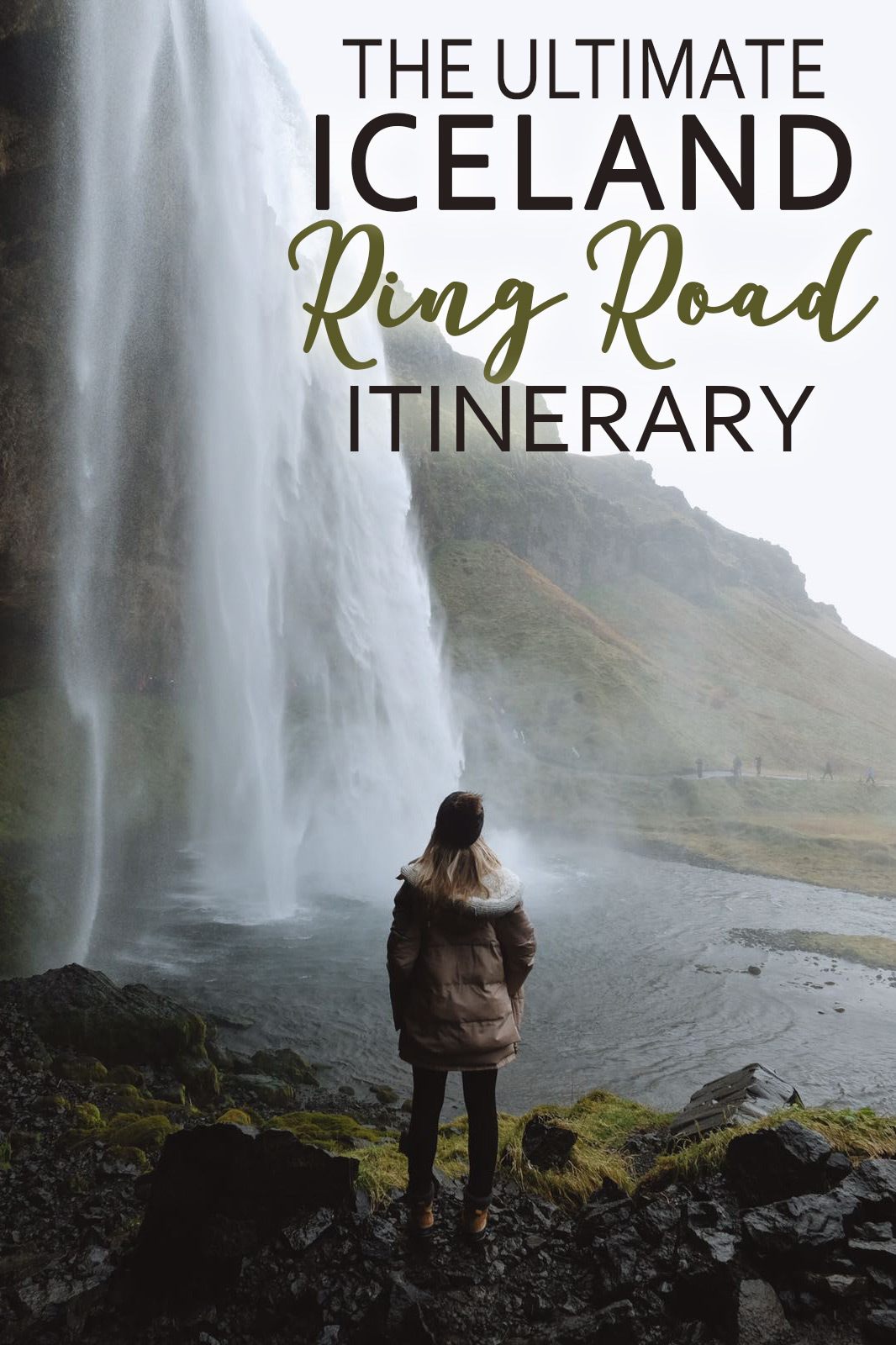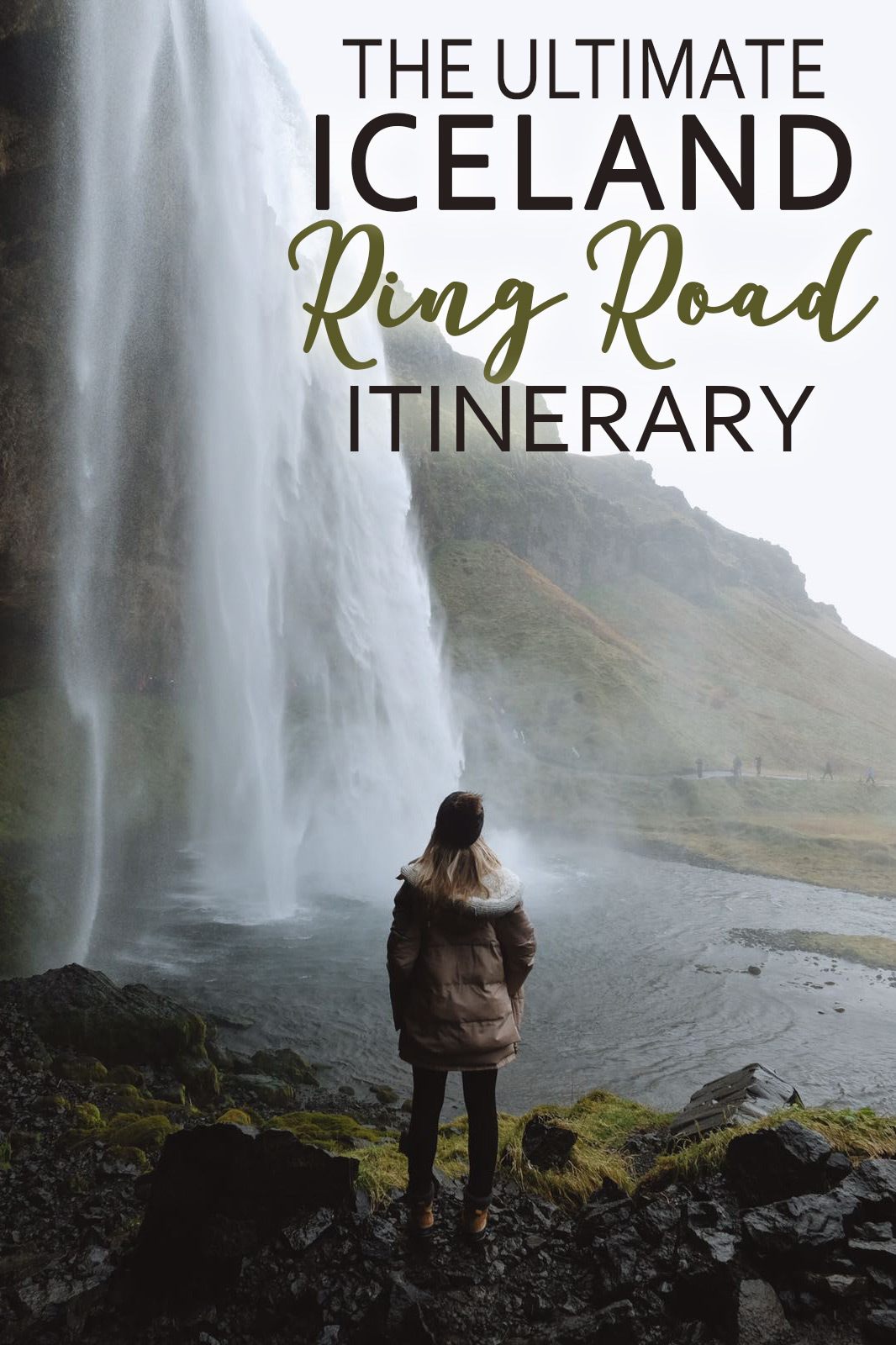 Ready for the adventure of a lifetime? Welcome to Iceland. One of Europe's most magical and unforgettable spots; Iceland is the ultimate road trip destination.
The Ring Road, or Route 1, is the prime Icelandic route, and along with a few essential detours, it will show you the best of my favorite Nordic country. We drove the Ring Road road trip in 10 days and journeyed around the entire island — don't miss my tips for driving the Ring Road and how to survive in a camper van for ten days before taking your adventure!
Here's my ultimate 10-day Iceland Ring Road itinerary!

The Best Time to Drive the Ring Road
No surprises here, but Iceland is a cold country. Very cold. Temperatures are in the twenties to thirties (fahrenheit) in the winter; even the warmest summer afternoons rarely reach sixty degrees.
July and August are the best time to visit because you'll have ample sunshine and fairly good weather. Consider September and October too because the prices are lower, and you'll have a better shot of seeing the Northern Lights.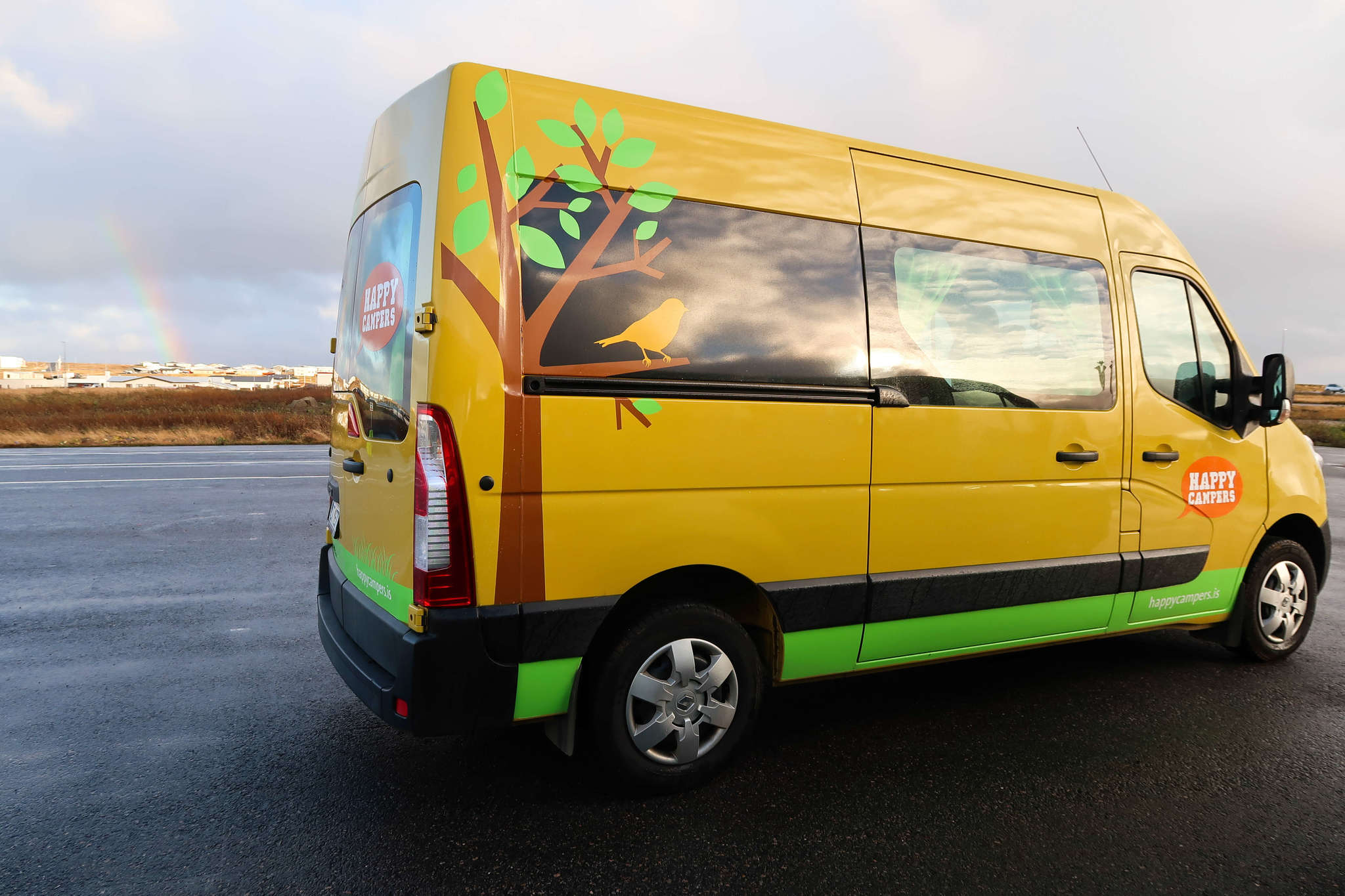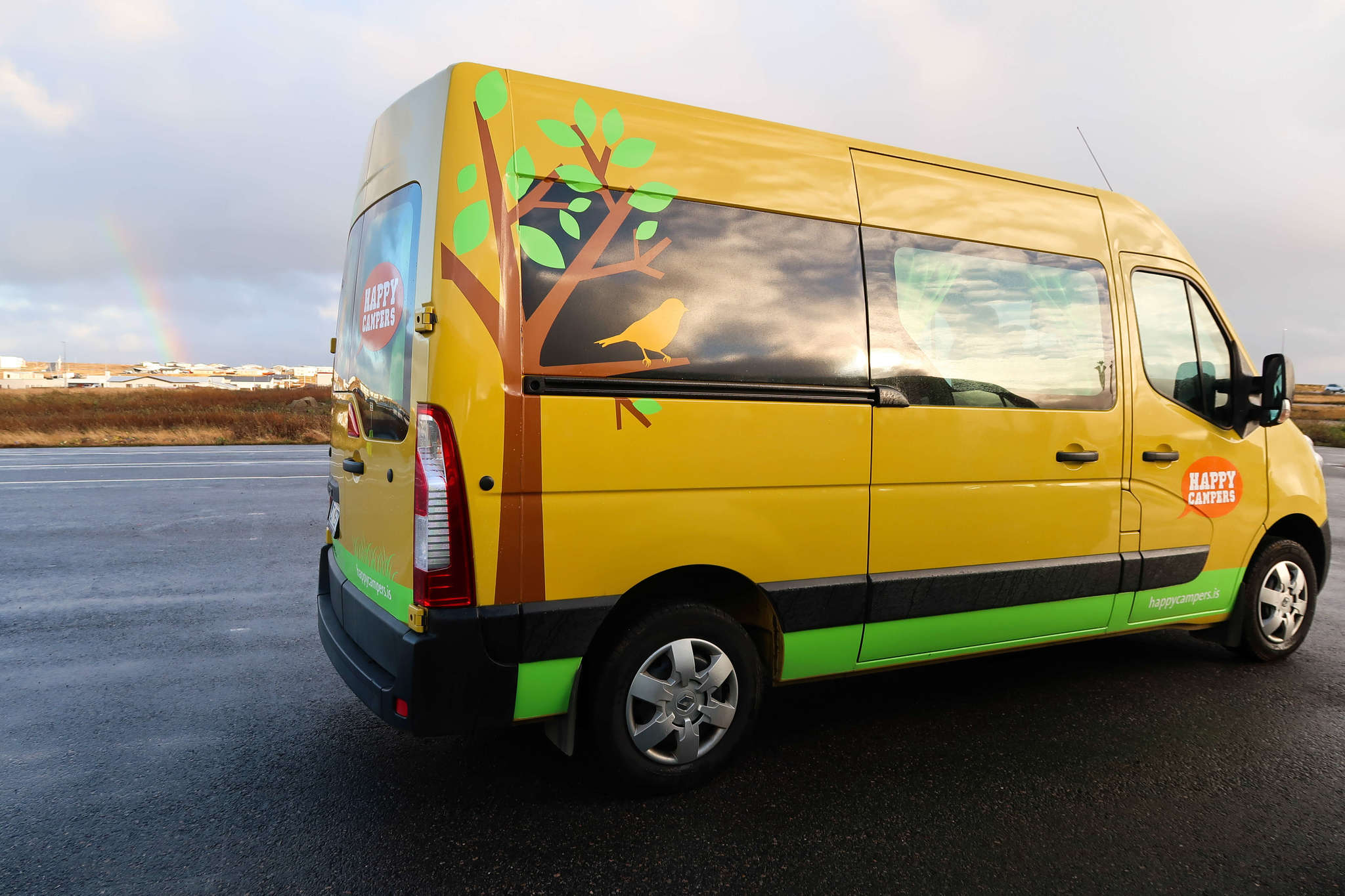 Get Prepped
Camper Van: We picked up our 5-person camper van from Happy Campers. If you're planning to travel the Ring Road in a camper van, keep in mind that size matters! When we are talking about comfort and gas consumption (gas is expensive!), the size of your camper van is important, so you will want to give some real consideration to which camper you choose.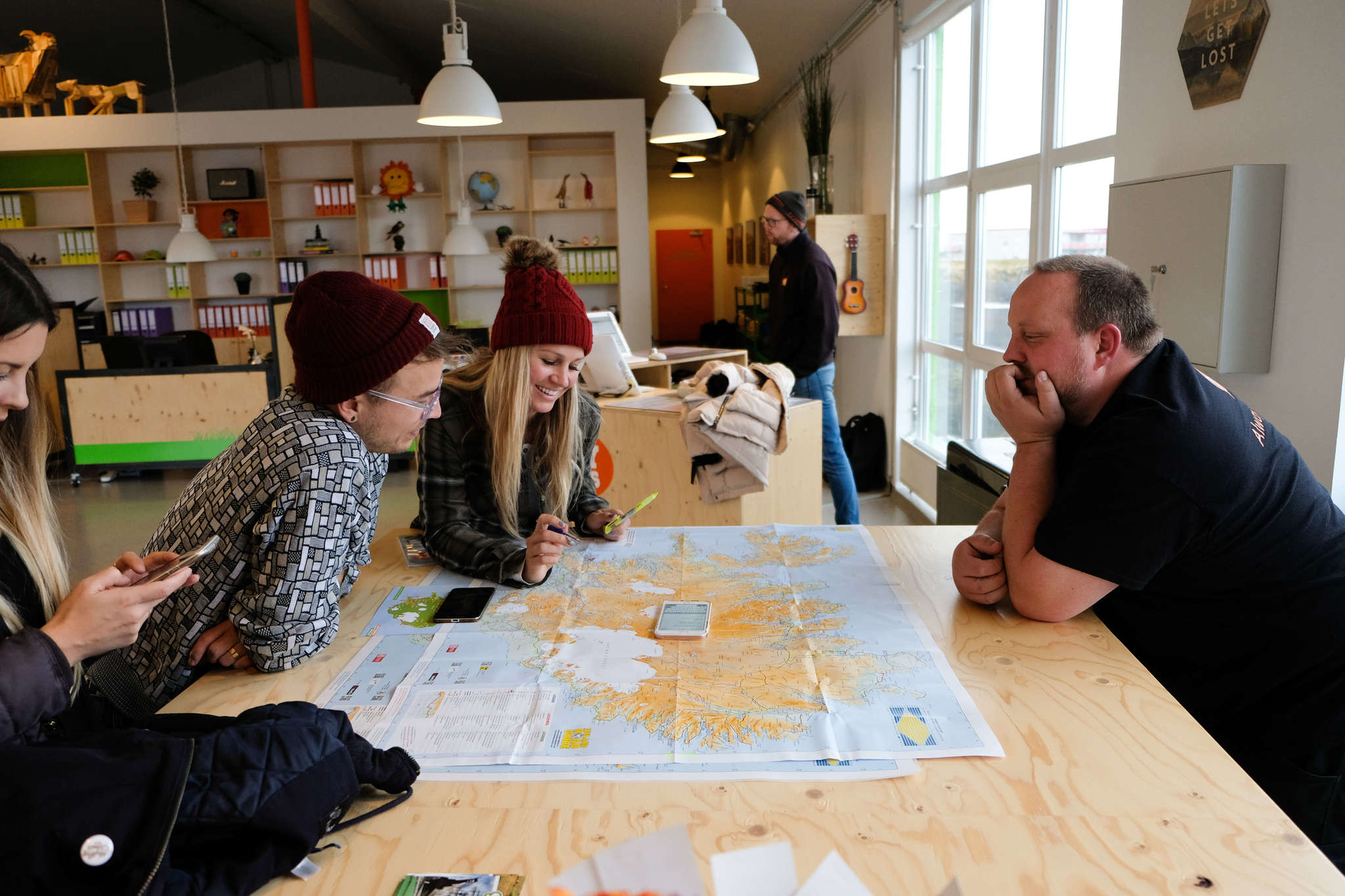 Day One
Reykjavik to Hellishólar // Without Stops: 1 hour 30 minutes (111 km) via Route 1
After picking up our campervan in Reykjavik, we stopped at a grocery store to stock up on food for the trip, then hit the road!
Stop at Hveragerði (30-minute drive): Located less than thirty miles to the east of Reykjavík, Hveragerði is the first place to brake for. Thanks to its amazing geothermal pool, this little town is one of Iceland's most popular tourist destinations.
There's hiking, geothermal pools, and horseback riding.
Stay at Hellishólar Campground (1-hour drive): This campground is first class. It has full toilets, hot showers, and even Jacuzzis. If you're in the mood for a more luxe night, you can stay in one of the cottages and, during the summer, check out the restaurant!
Hellishólar is just a 30-minute drive to Seljalandsfoss, so you can get an early start in the morning!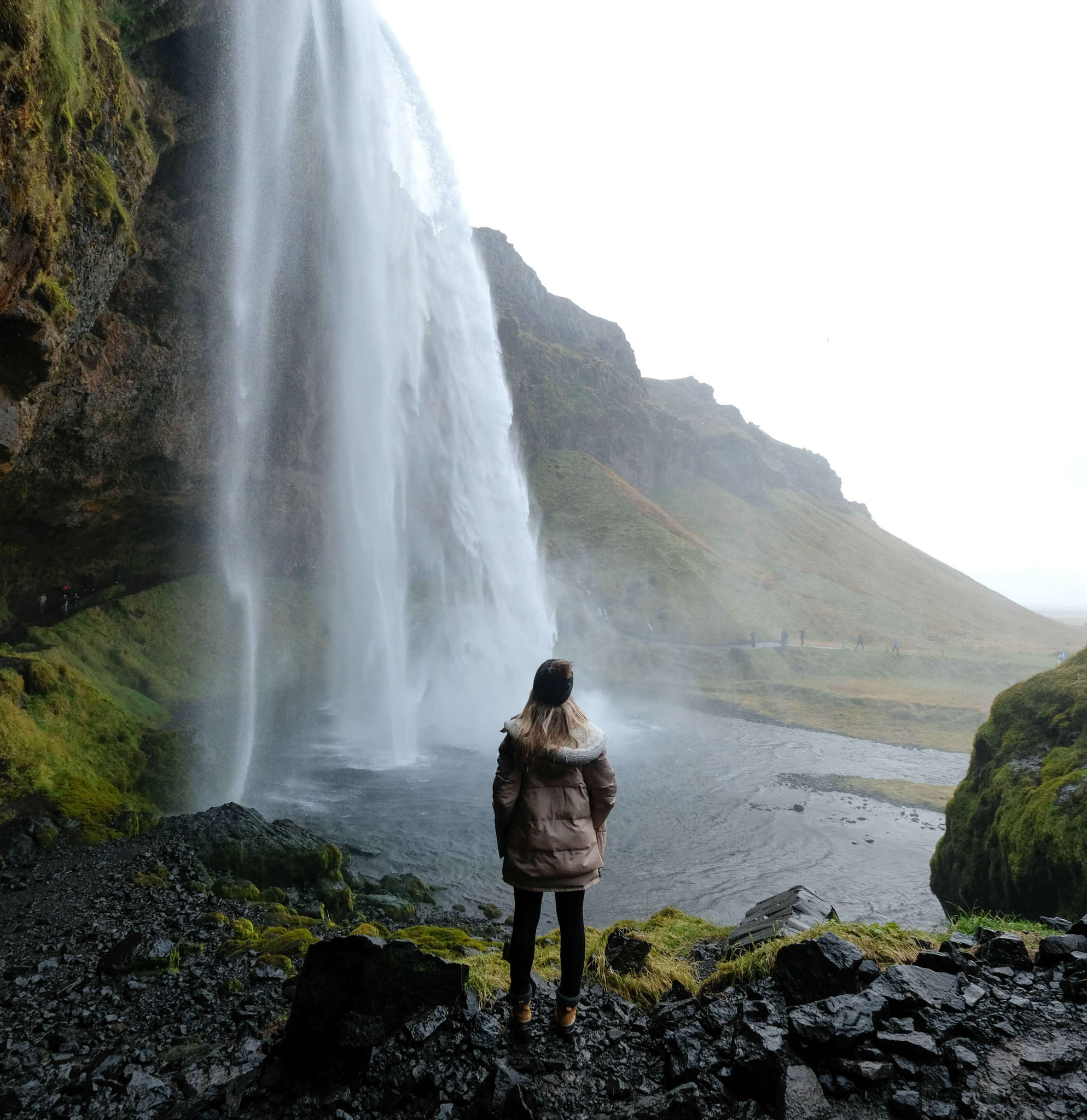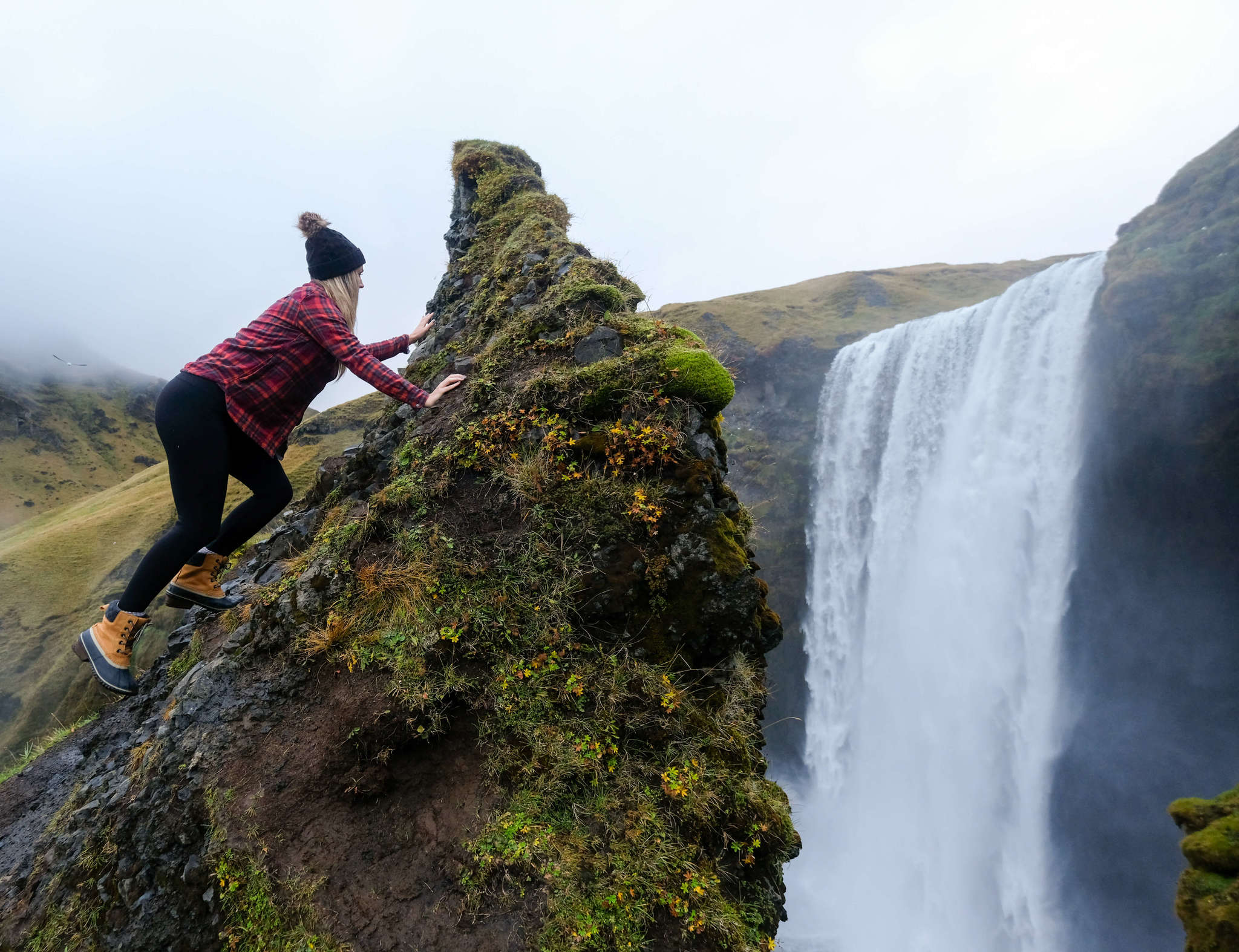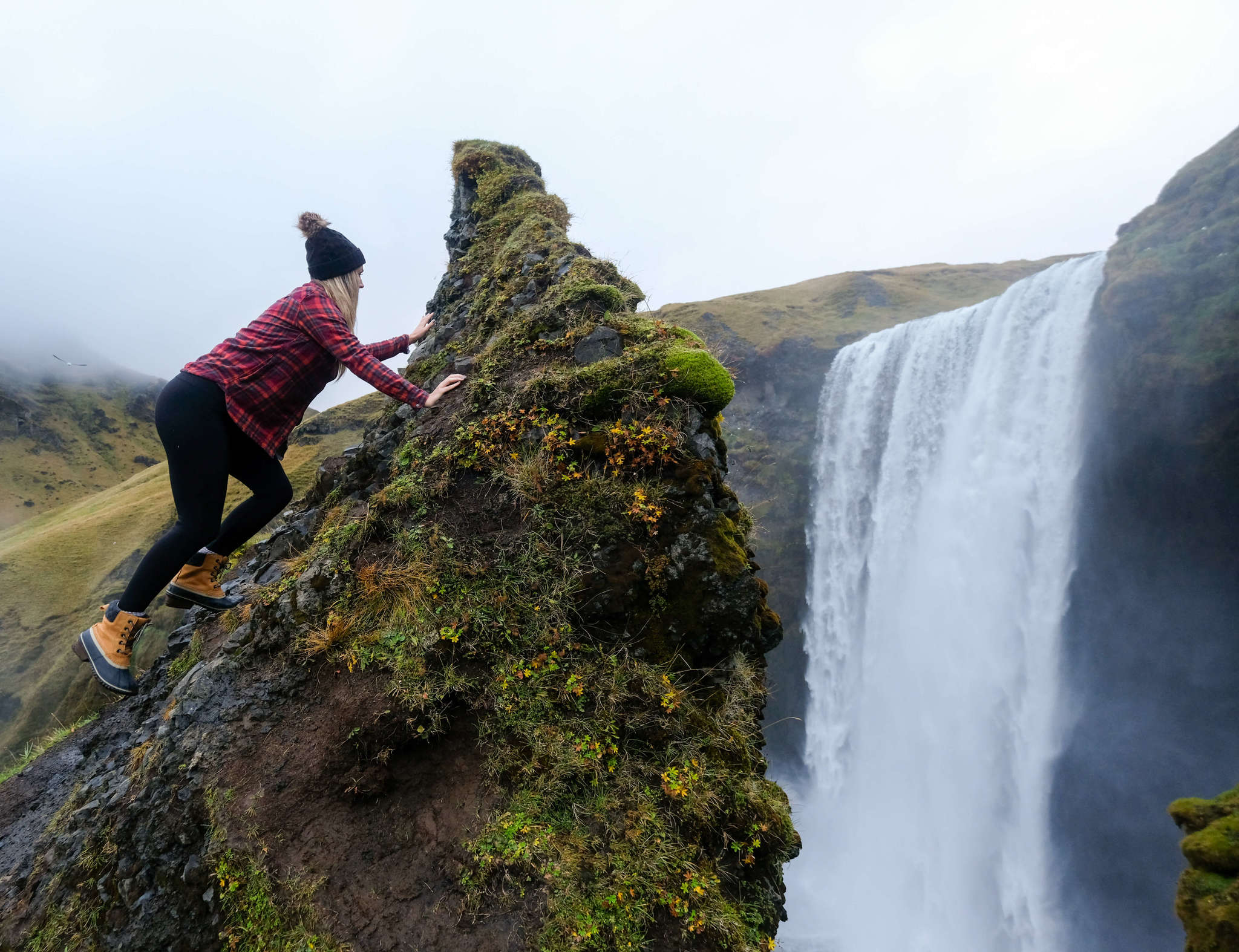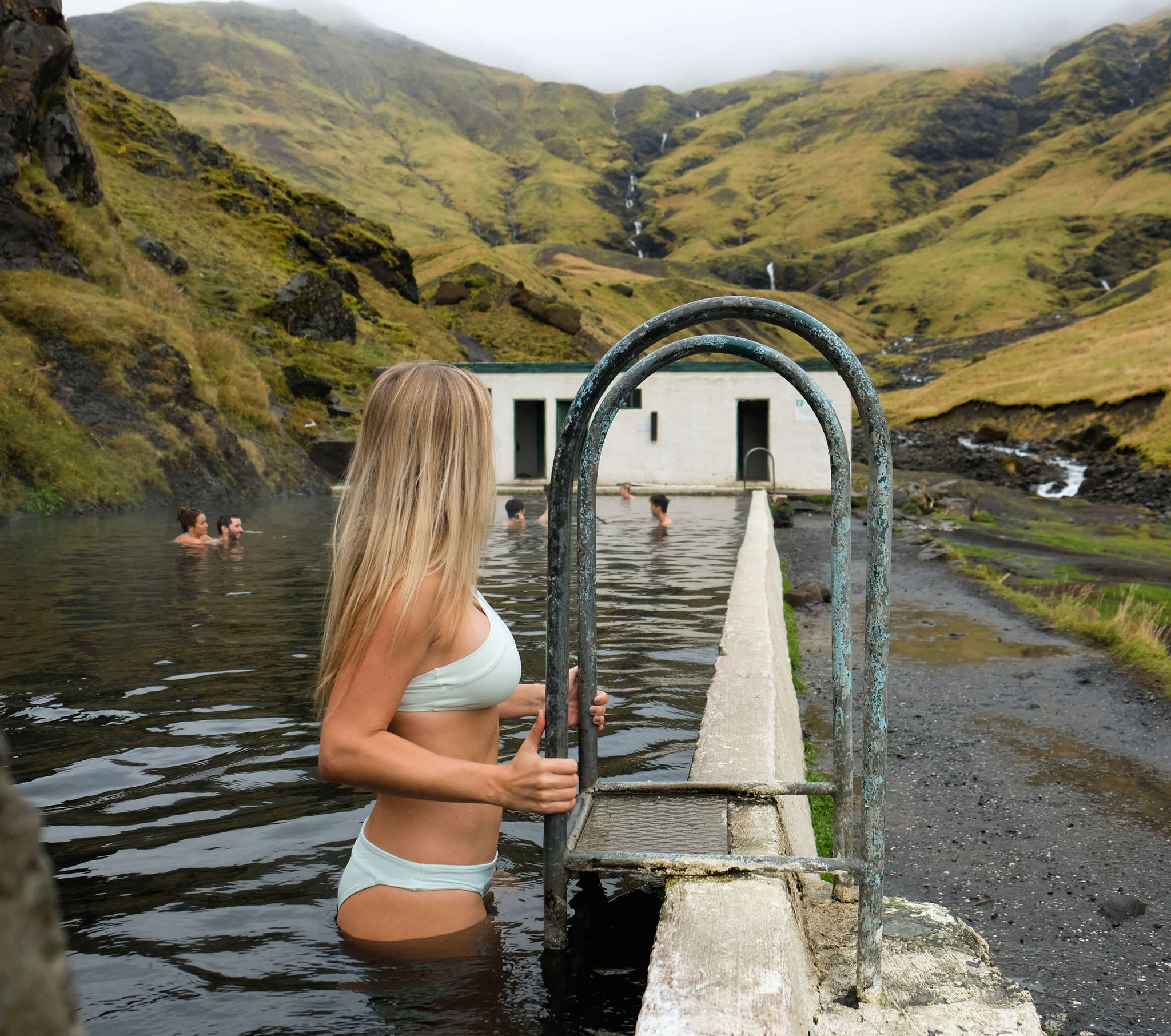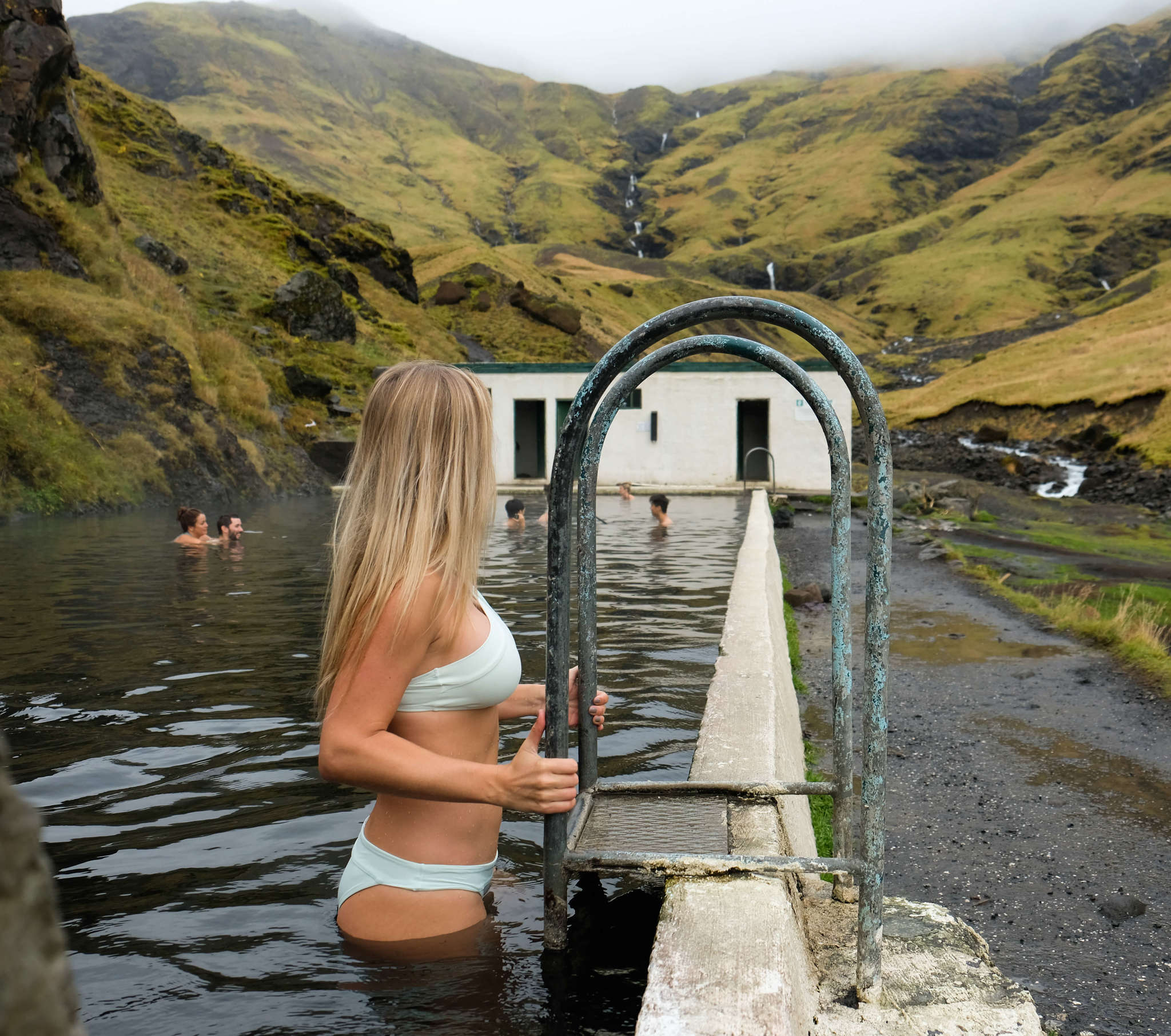 Day Two
Hellishólar to Vik // Without Stops: 1 hour 30 minutes (91 km) via Route 1
Stop at Seljalandsfoss Waterfall (30-minute drive): This waterfall originates from the volcano glacier Eyjafjallajökull and falls 200 feet. You can walk into a cave behind the waterfall to take pics of this impressive waterfall. There's another smaller waterfall about 650 feet off to the left, so spend your time exploring.
Swim at Seljavallalaug (20-minute drive): Take a detour off of Ring Road toward Seljadalur, the oldest swimming pool in Iceland. Turn off of the main road onto Road 242 (marked Raufarfell). It is located right after Þorvaldseyri, so keep your eyes peeled when you see that sign.
Stop at Skógafoss (10-minute drive): Walk to the top of Skogafoss waterfall for incredible views of one of Iceland's most famous waterfalls.
Trek to Solheimasandur Plane Crash (allow a few hours to visit): The Solheimasandur plane crash is the remains of a disaster from the 1970s, and it has some amazing photo ops. It's an extra two to three hours off of the main road and requires an 8km/5 mile walk round trip. Because it is no longer accessible by car and conditions were cold, windy and rainy, we decided to skip it.
Sunset at Reynisfjara Black Sand Beach (30-minute drive from Skógafoss): About half a mile off the main road in the remote seafront village of Vík, you'll find the striking basalt columns lining the Reynisfjara black sand beach.
Stay in Skógar at Skógafoss: The campsite in Vík is only open 1 May – 31 October (and is usually crowded), so depending on what time of year you are visiting and what time of day you finish at the black sand beach, it might be worth driving back to Skógafoss. It's a pretty basic campsite for 1,000 króna ($10 USD) per person overnight. There are toilets and showers you can use for 300 króna ($2.80 USD) for five minutes. The biggest benefit of camping here was being able to wake up just before sunrise and be the first people at the waterfall!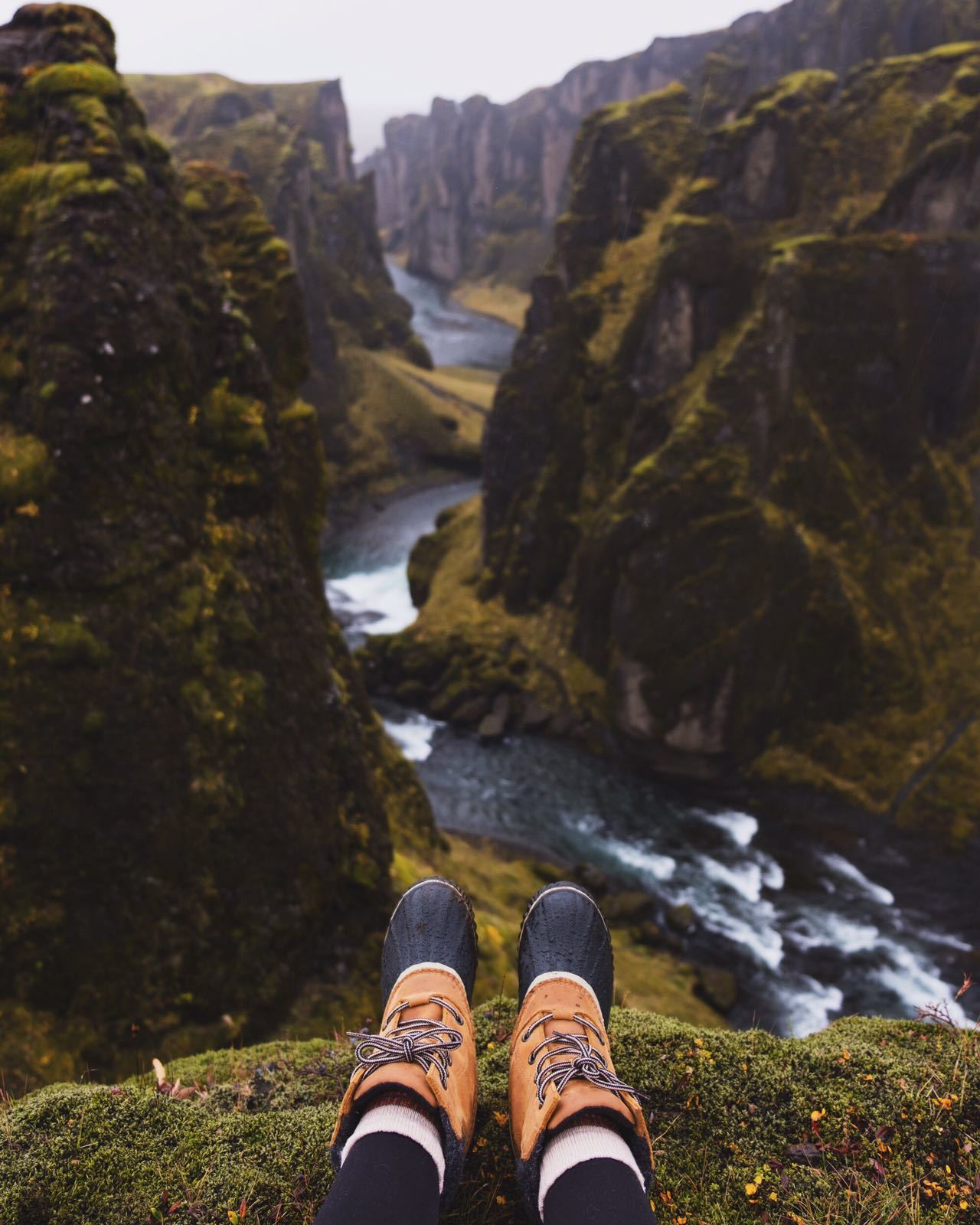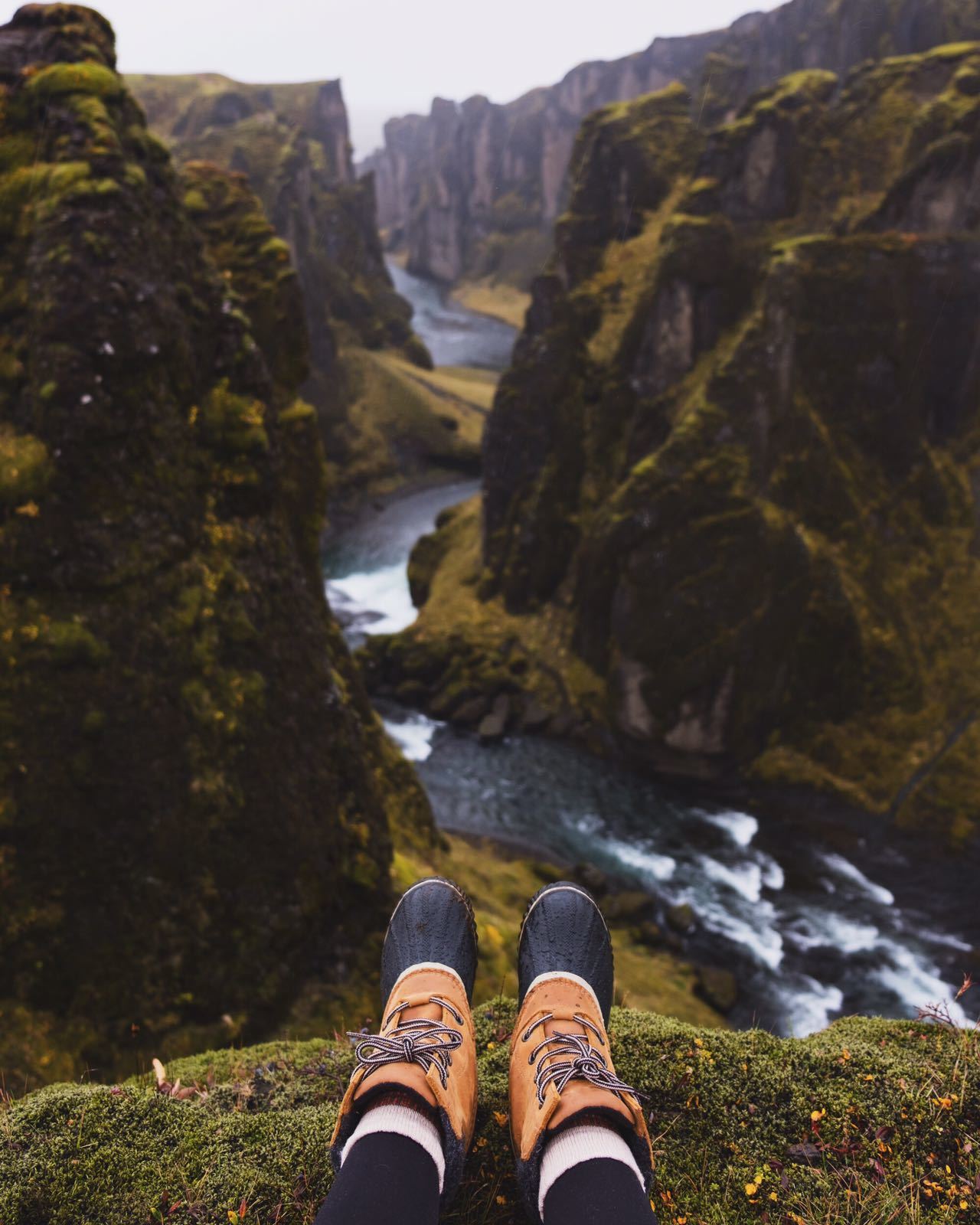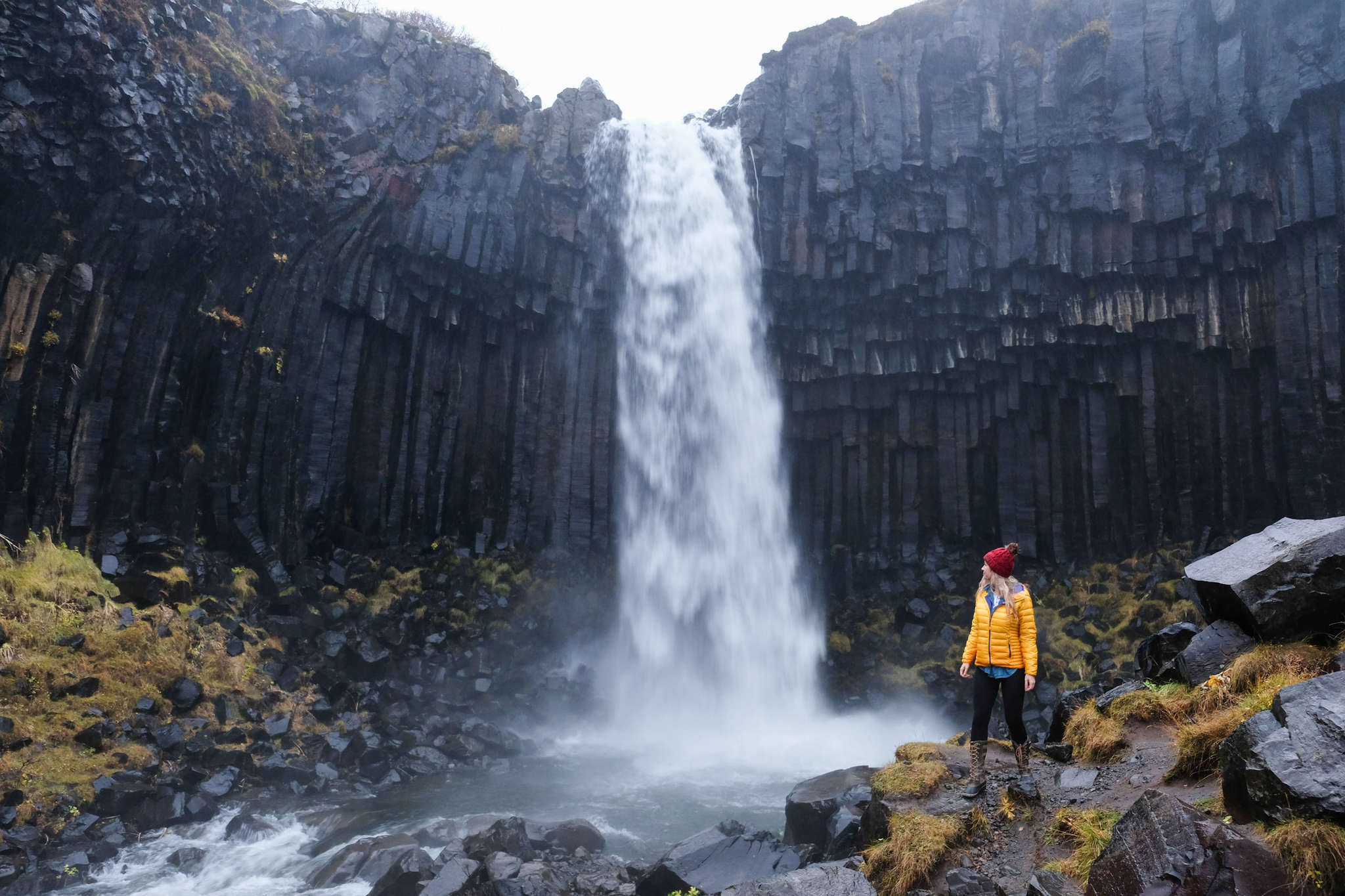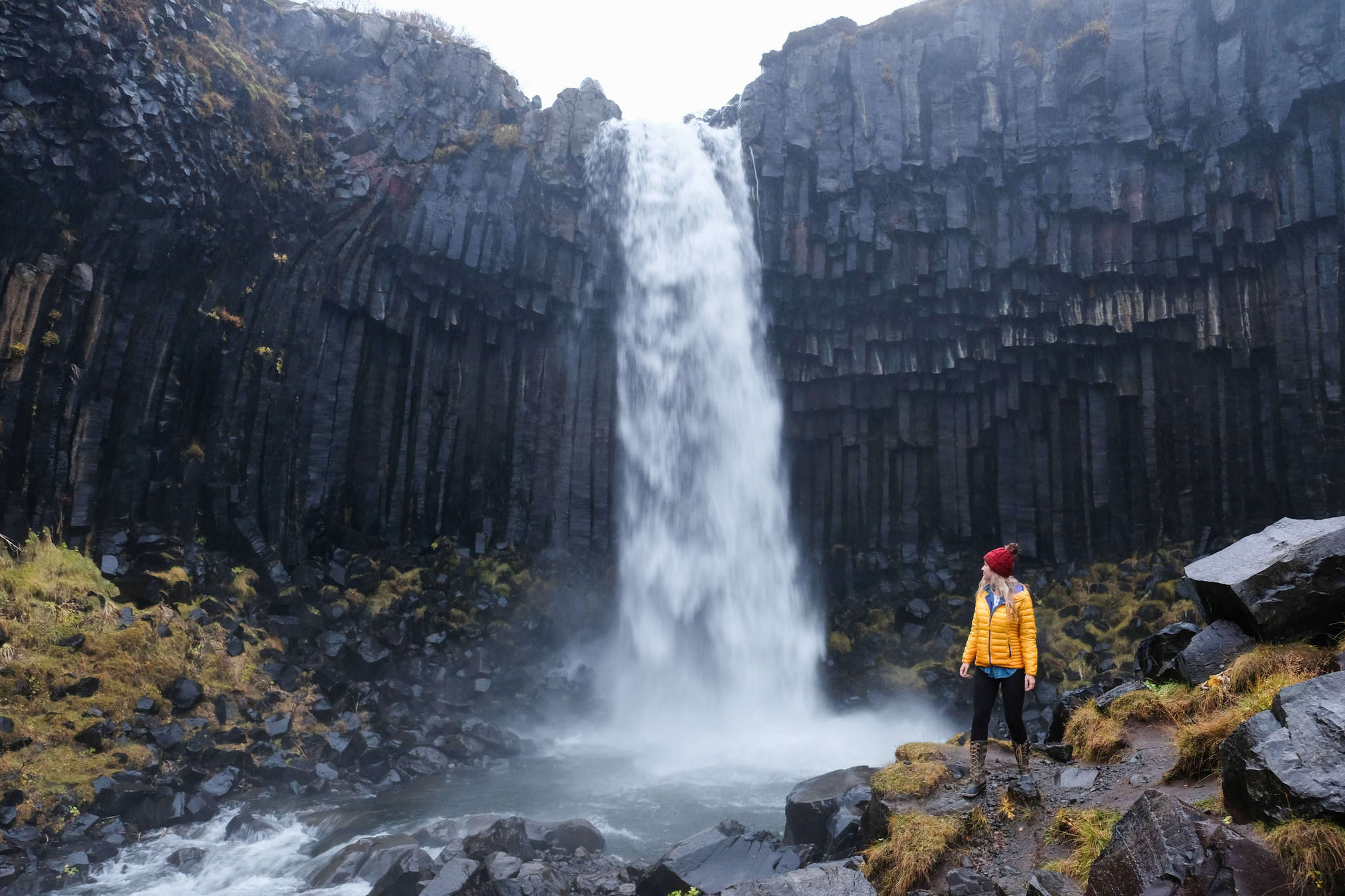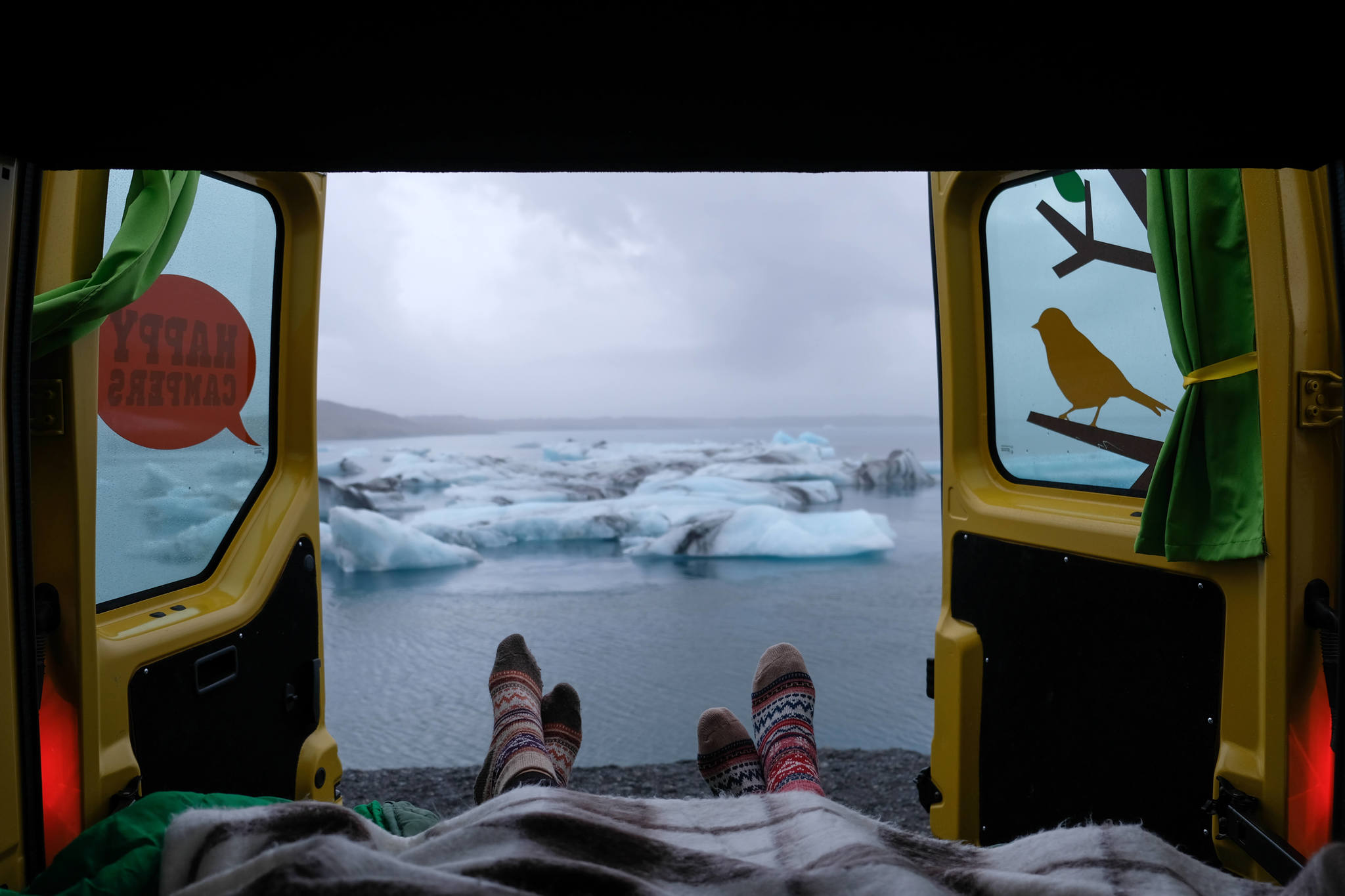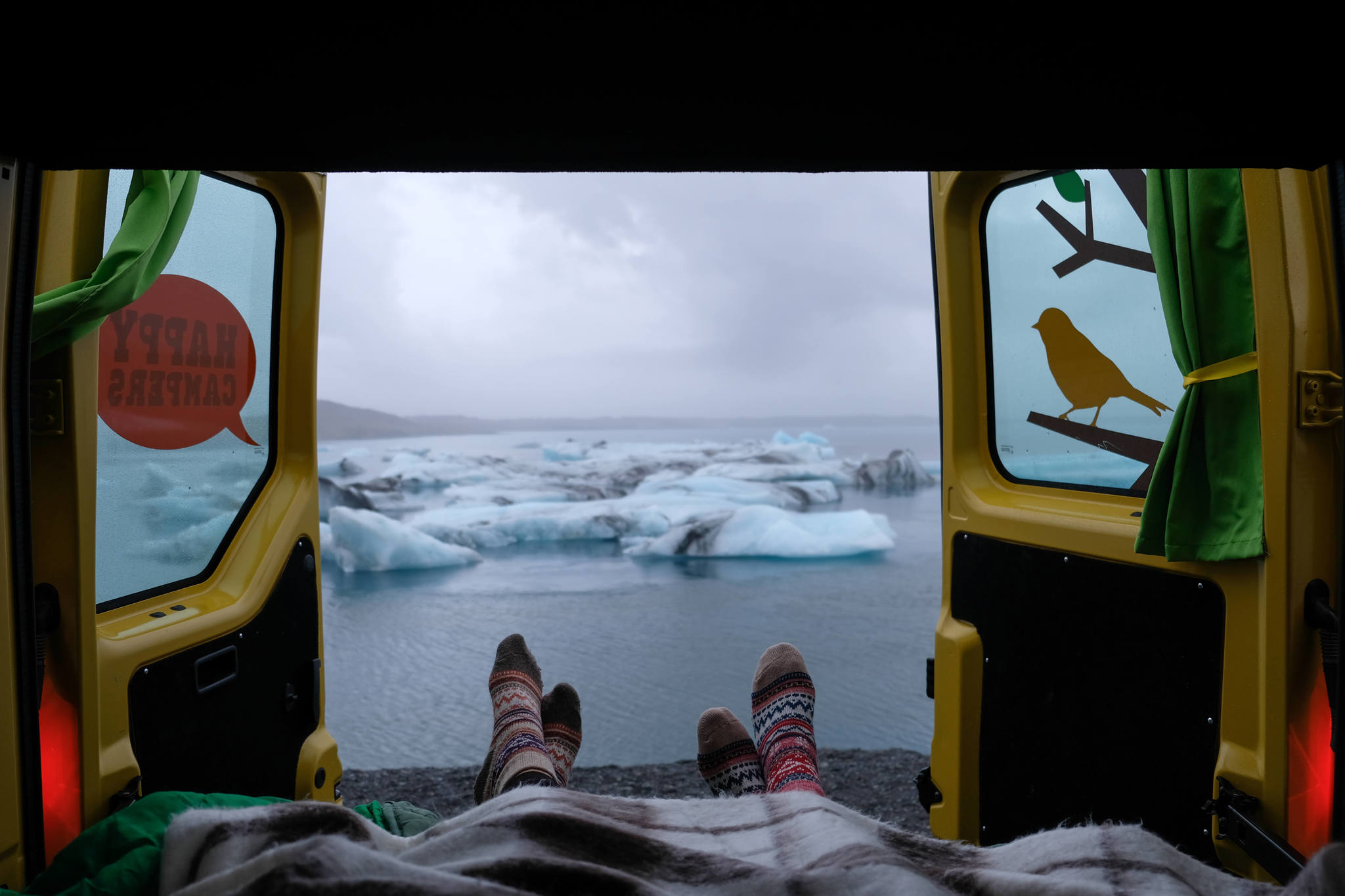 Day Three
Skógar to Jökulsárlón // Without Stops: 2 hours 50 minutes (226 km) via Route 1
Stock up: We stopped back in Vík to get supplies and restock everything. There's a grocery store called Kjarval, a liquor store and a couple of wool shops.
Helpful Tip: When you're in Iceland, never wait to stock up. Amenities can be few and far between, so you never want to be down to your last liter of gas or morsel of food. Keep a steady supply of the essentials. Also, Iceland has some of the BEST water in the world, so refill your bottles at every campsite!
Stop at Fjaðrárgljúfur Canyon (50-minute drive from Vík): This absolutely stunning site is only a couple minutes off the main road. Follow Road 206, and turn before the village of Kirkjubæjarklaustur. Plan plenty of time to take pics!
Hike to Svartifoss (1-hour drive): This black waterfall is located in Vatnajökull National Park. There is a year-round visitor center in Skaftafell, and it has information on how to make your way to the waterfall. There's also a nice cafeteria. Allow a couple hours to visit because it requires a hike to get to the waterfall.
You'll also find Þjófafoss (Thieves' Fall), Hundafoss (Dogs' Fall), and Magnúsarfoss (the Falls of Magnús).
Explore Breidamerkurjokull Glacier: You will see this glacier just outside the Svartifoss visitor center! With an otherworldly beauty, this "glacial tongue" extends into the glacier lagoon Jökulsárlón from the southern part of Vatnajöku National Park. In the Winter, you can explore incredible ice caves here with guided tours.
Sunset at Jökulsárlón Glacier Lagoon (45-minute drive from Svartifoss): Jökulsárlón is located on the southeastern coast just beyond Vatnajöku National Park, and the sunsets here are mesmerizing. Keep in mind, though, that they can be as late as midnight during the summer.
Stay at Jökulsárlón Glacier Lagoon: You can do wild (free) camping here and wake up with an epic view. Camping is only allowed in camper vans and there are no toilets. Waking up at sunrise to a view of the glacier lagoon was one of the biggest highlights of the Ring Road for me!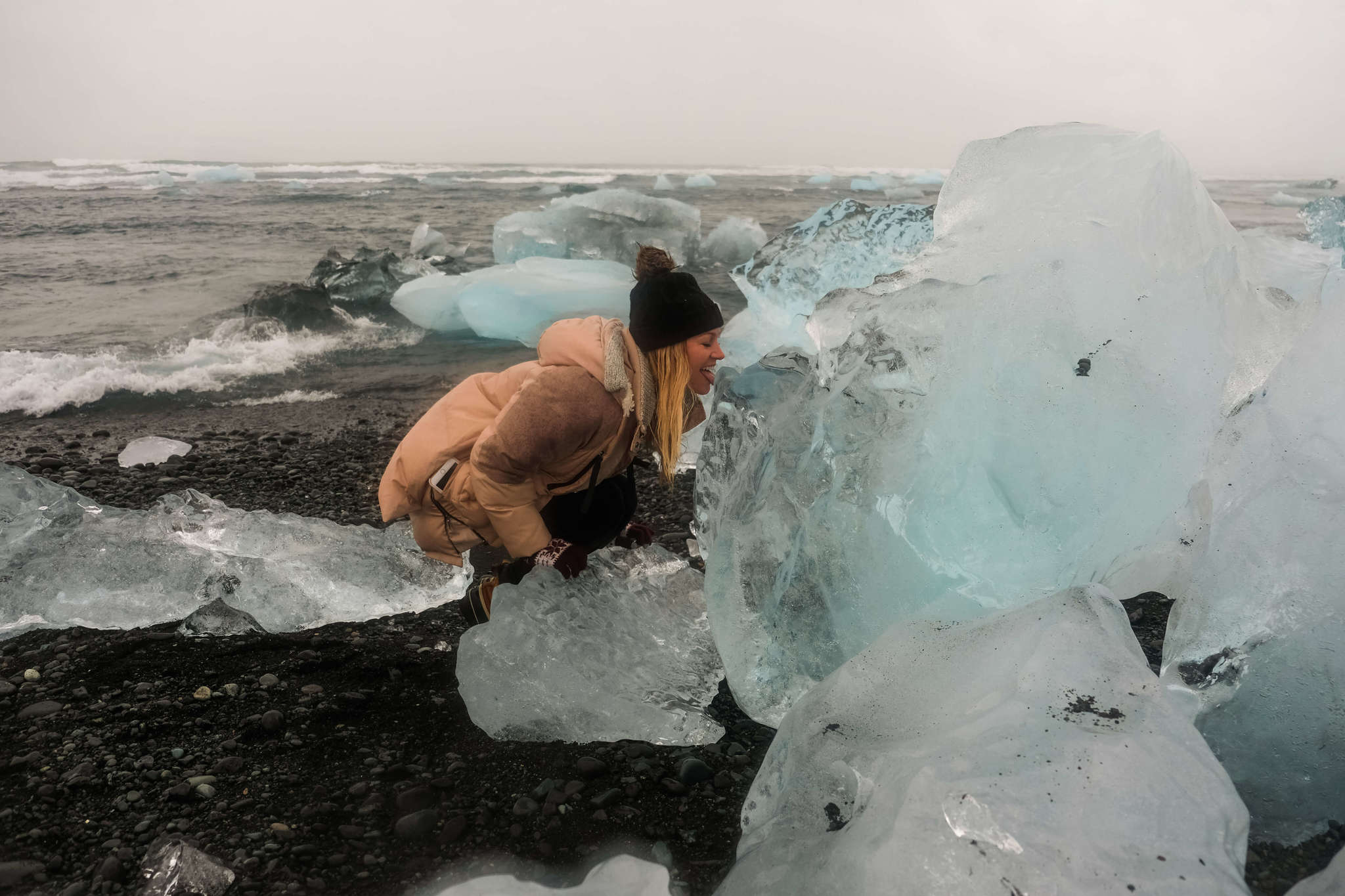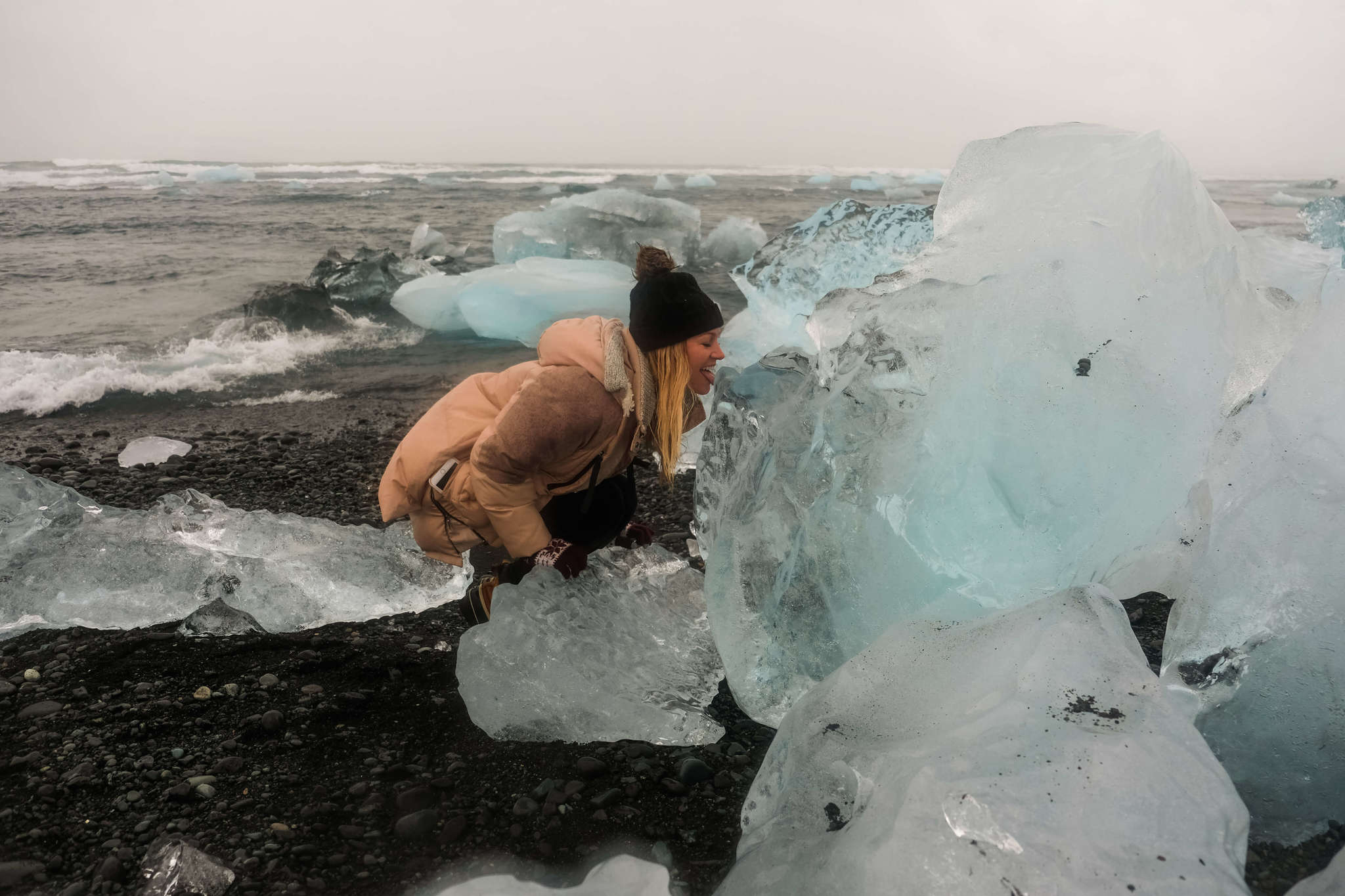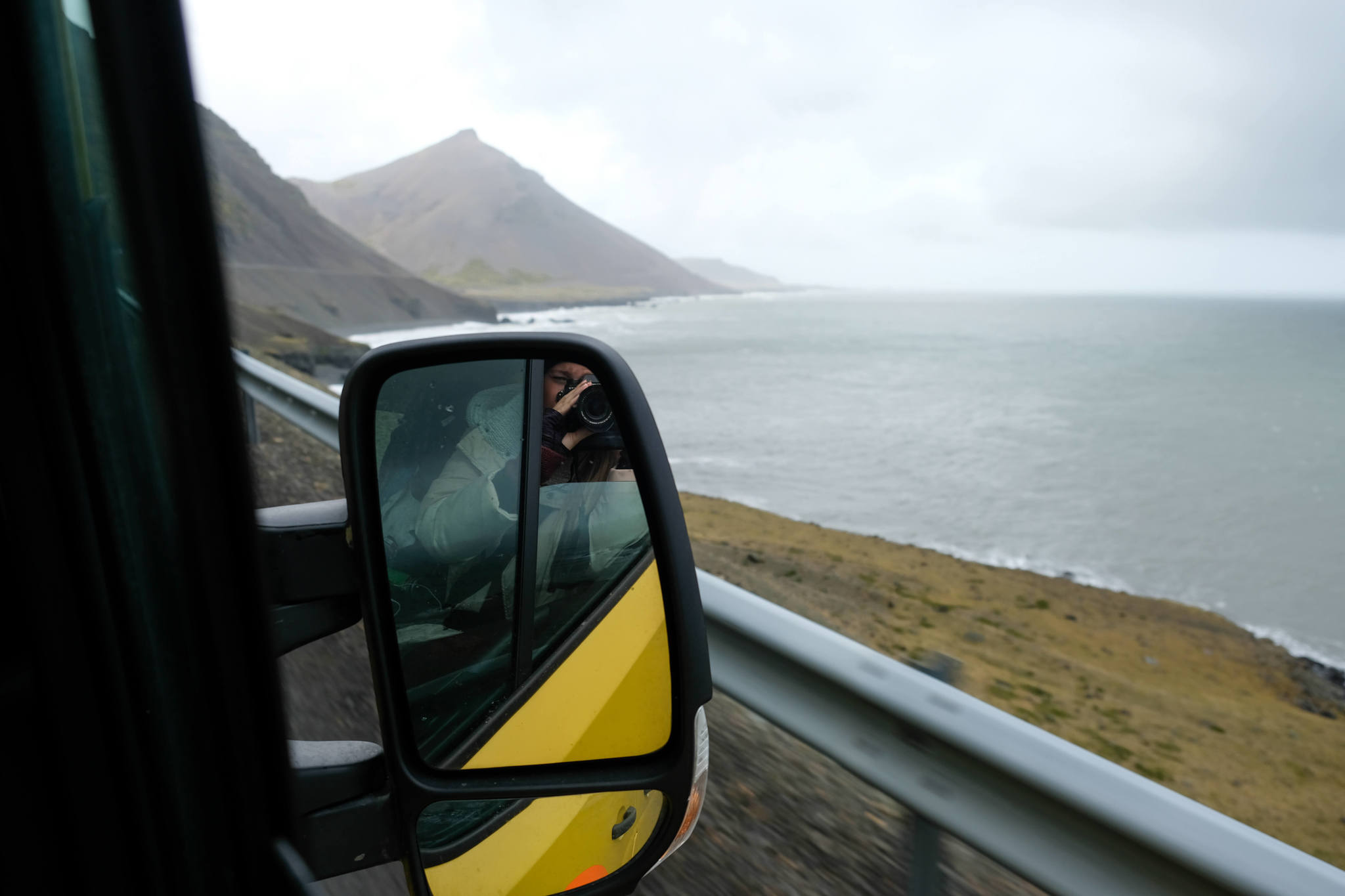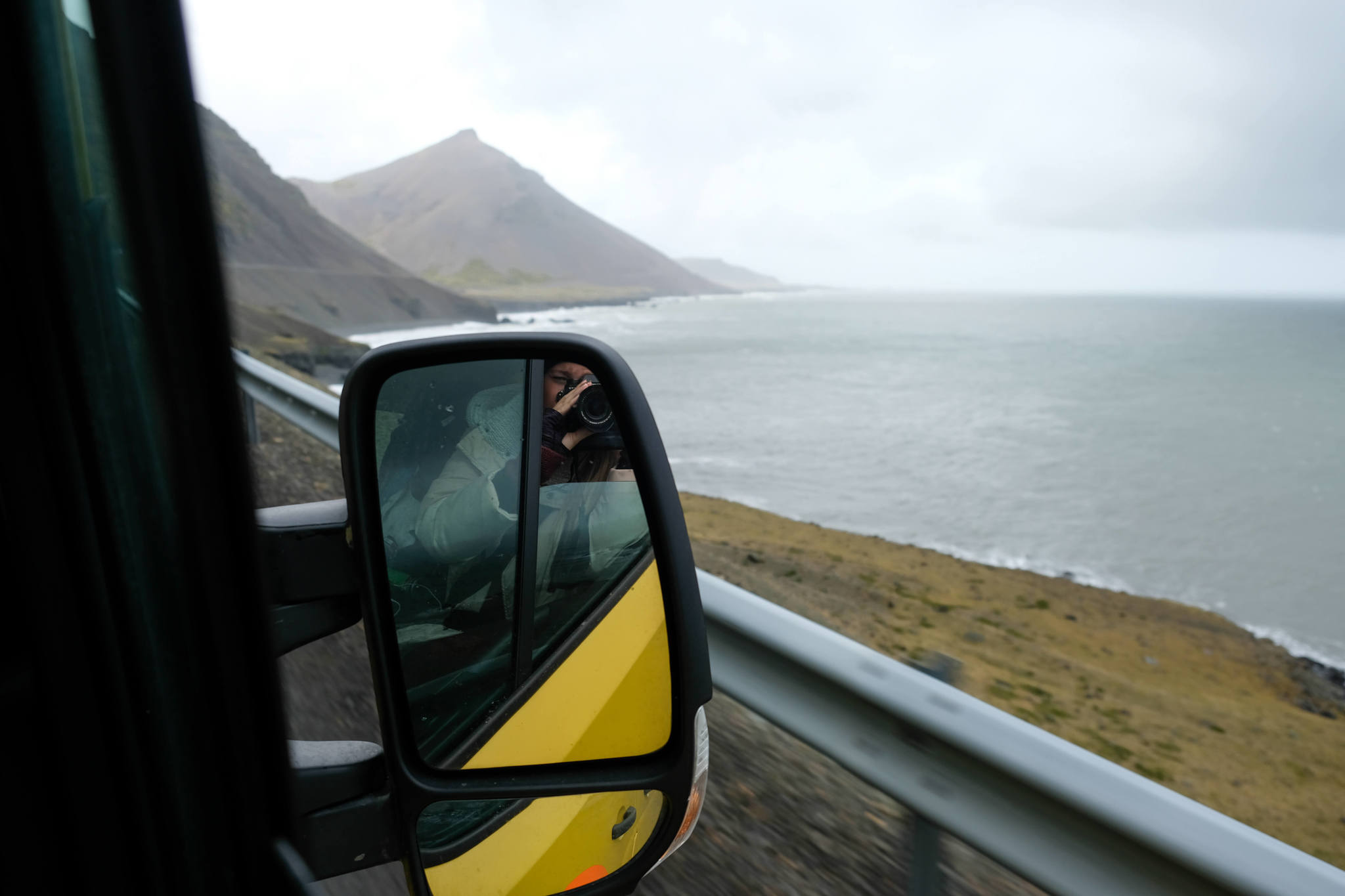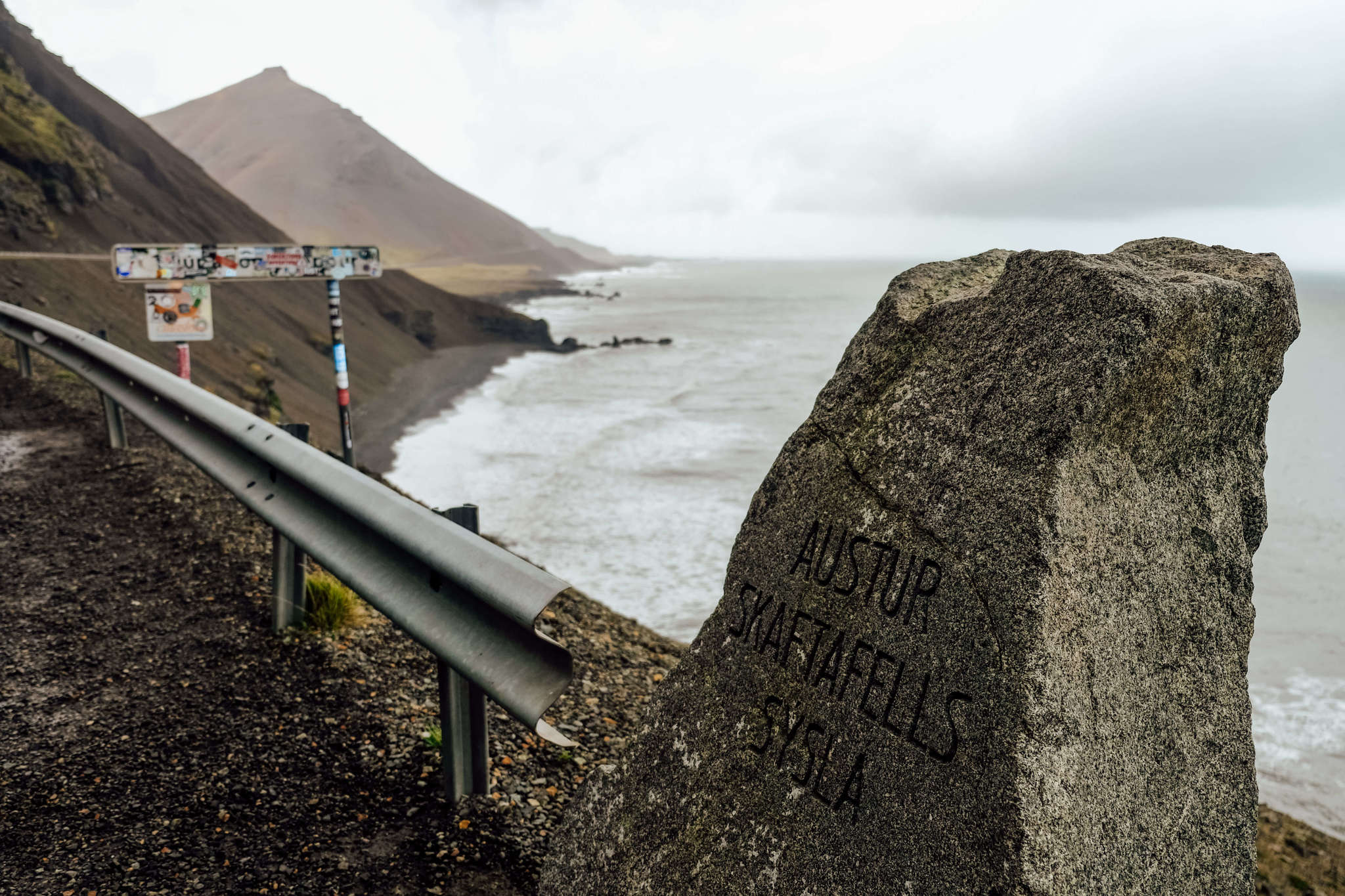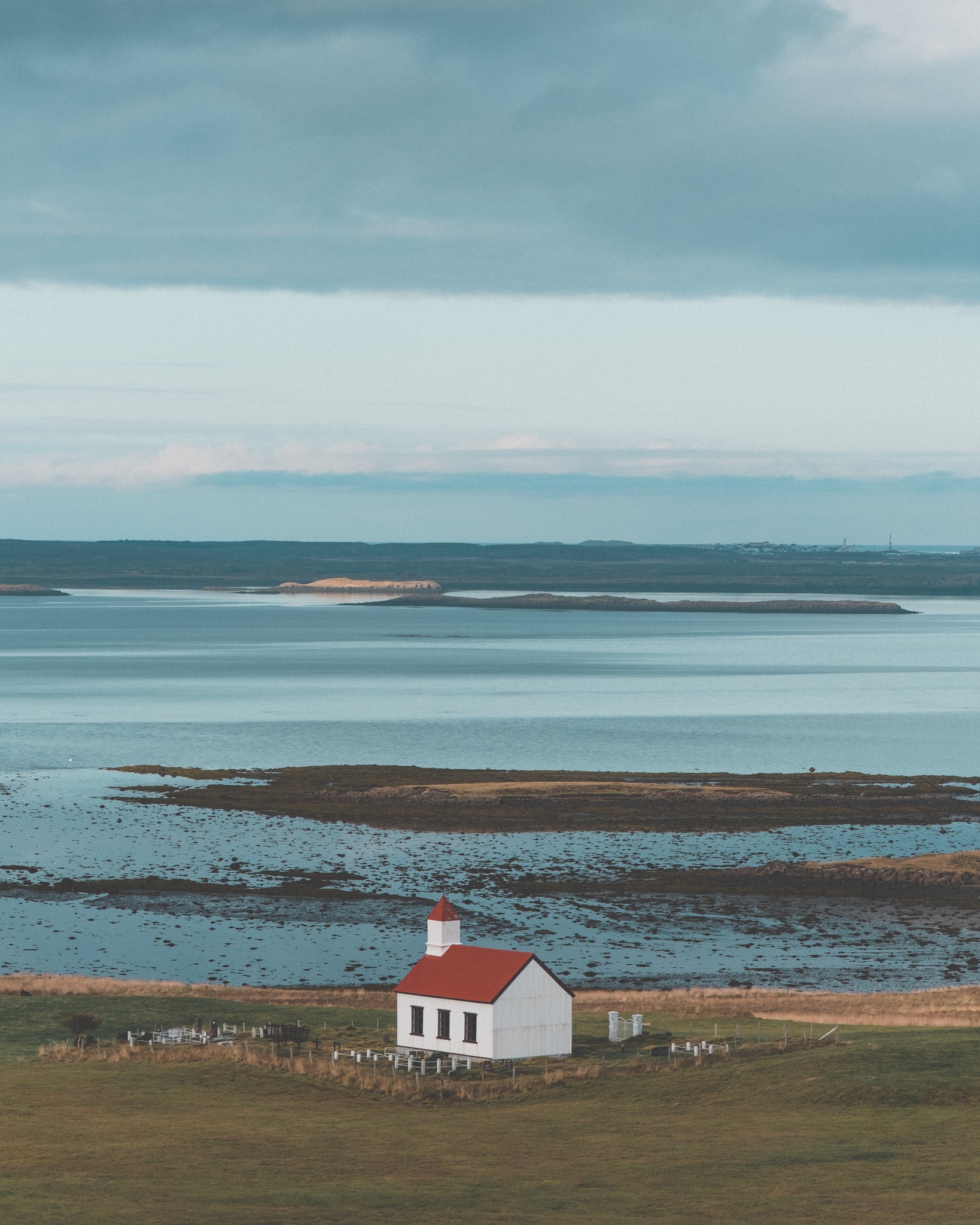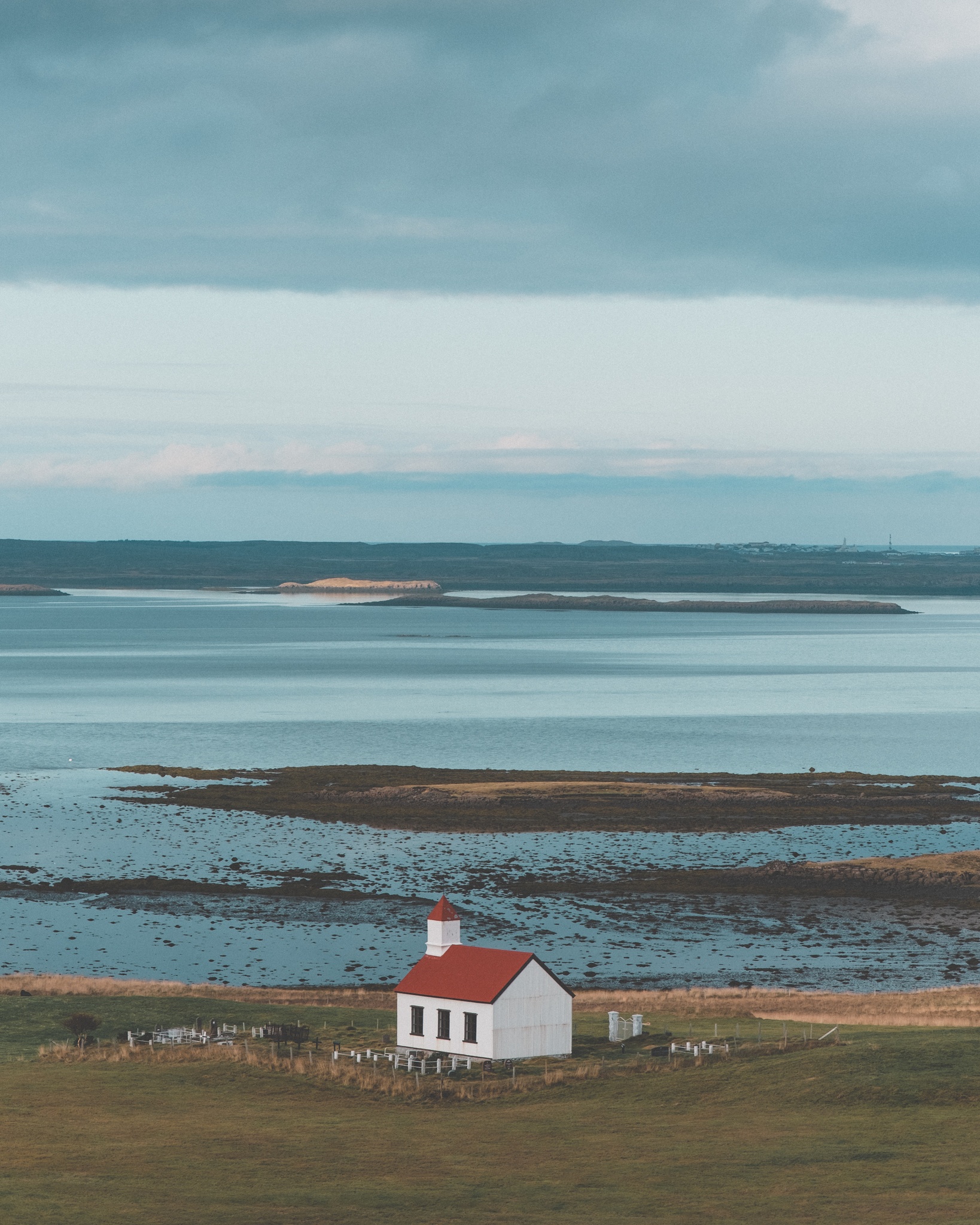 Day Four
Jökulsárlónt to Egilsstadir // Without Stops: 4 hours 30 minutes (335 km) via Route 1
Stop at Iceberg Beach: After you pack up to leave Jökulsárlón Iceberg Lagoon, be sure to cross Route 1 to explore the iceberg beach.
Stop at Höfn (1-hour drive): A few minutes off the Ring Road, the quaint little fishing village of Höfn has been the set of some famous Hollywood movies. It has some interesting museums and of course, ultra fresh seafood.
Drive the Coast: The Ring Road runs right along the eastern coast of Iceland and offers some of the most impressive views of the journey. You'll find stunning mountains all around, including the Vesturnhorn Mountain right off the road.
This drive is VERY windy so be cautious when opening your car doors and peeing outdoors 😉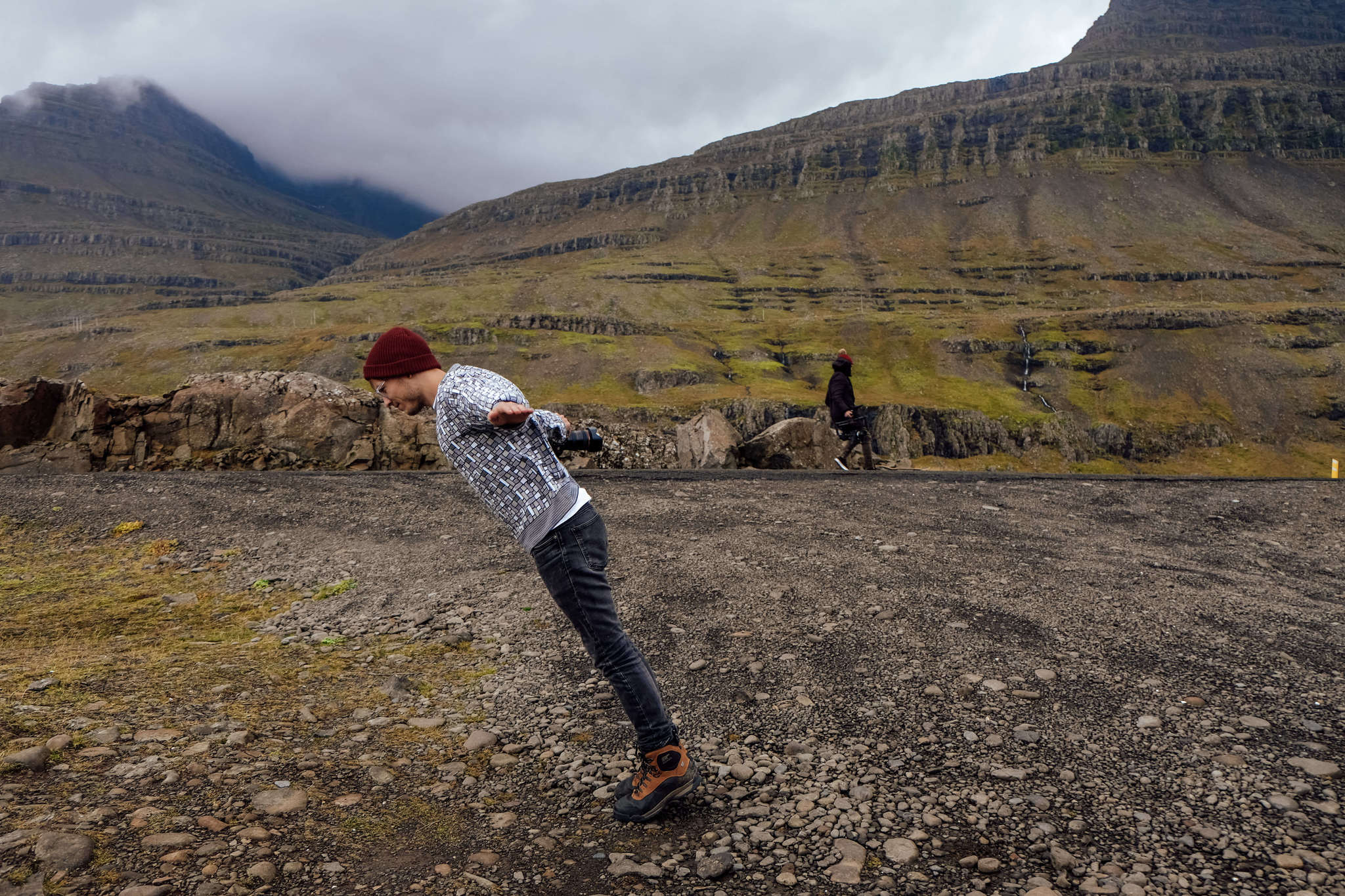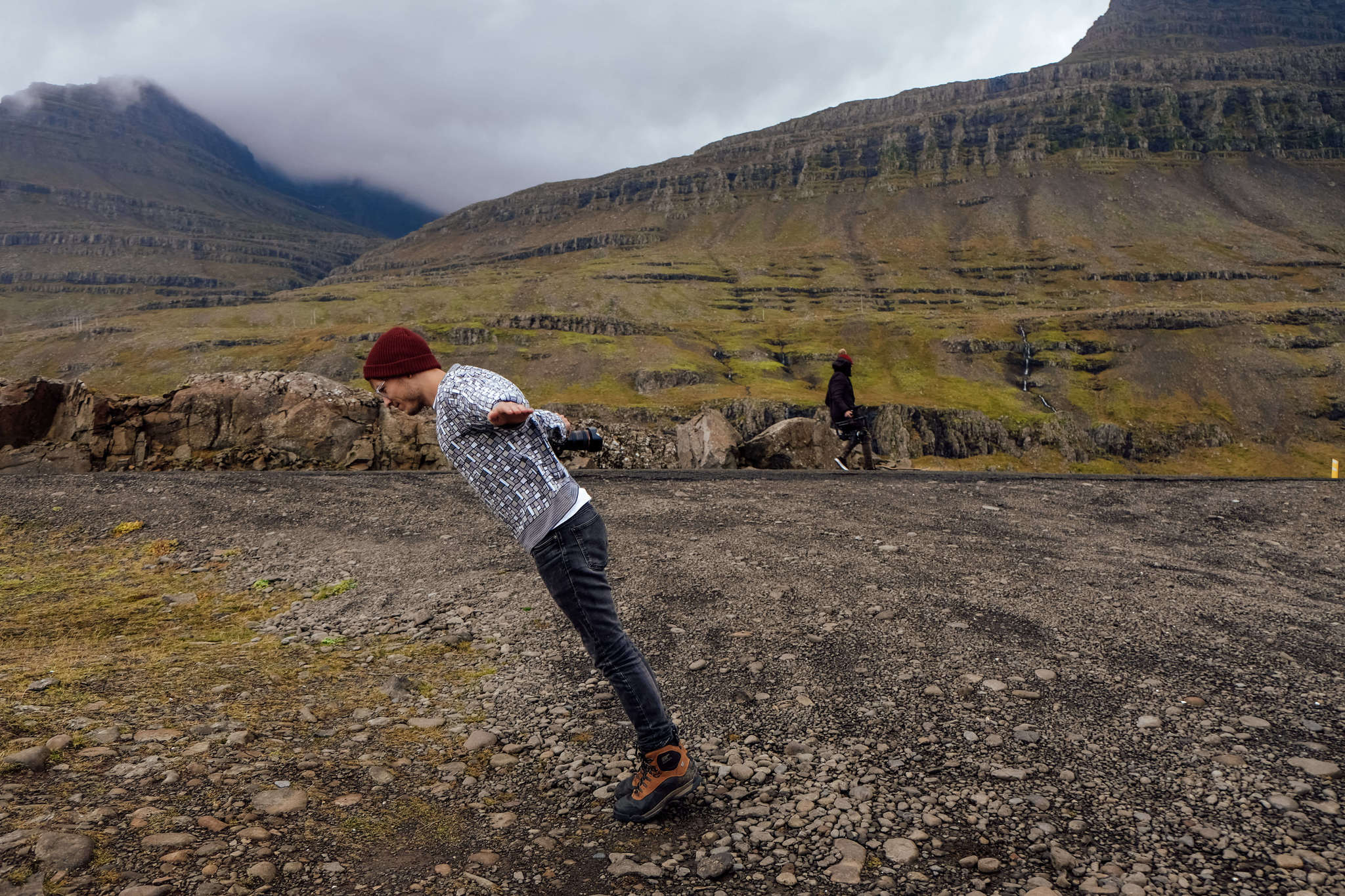 Stop at Egilsstadir (3 hours 30 minutes drive from Höfn): Route 1 becomes very steep and isn't paved, so I suggest taking the 92/96 coastal drive instead. Be sure to check road conditions to determine the best road to take.
Optional: Hengifoss Waterfall (allow a few hours to hike): We didn't make it to the Hengifoss waterfall, but if you want to, you can take the 931 southwest from Egilsstadir on about an hour drive. The hike to the waterfall from the road is about two hours, so plan accordingly.
Stop at Seyðisfjörður Village: East of Egilsstaði, this village is a twenty-five-minute drive down road 93. The little town is full of colorful wooden houses and has a thriving arts scene.
Dinner at Salt Café & Bistro: Get to Egilsstadir for this tasty spot with good variety. There aren't really any other restaurants in town, but Netto is an excellent place to shop and do some stocking up.
Stay at Egilsstaðastofa Campground: This campground is located in the center of town and has hot showers and laundry facilities for 1,500 króna ($14 USD) per person per night. It's a good spot to refresh!
Helpful Tip: Eastern Iceland is home to many sheep and reindeer, so pay attention to the road!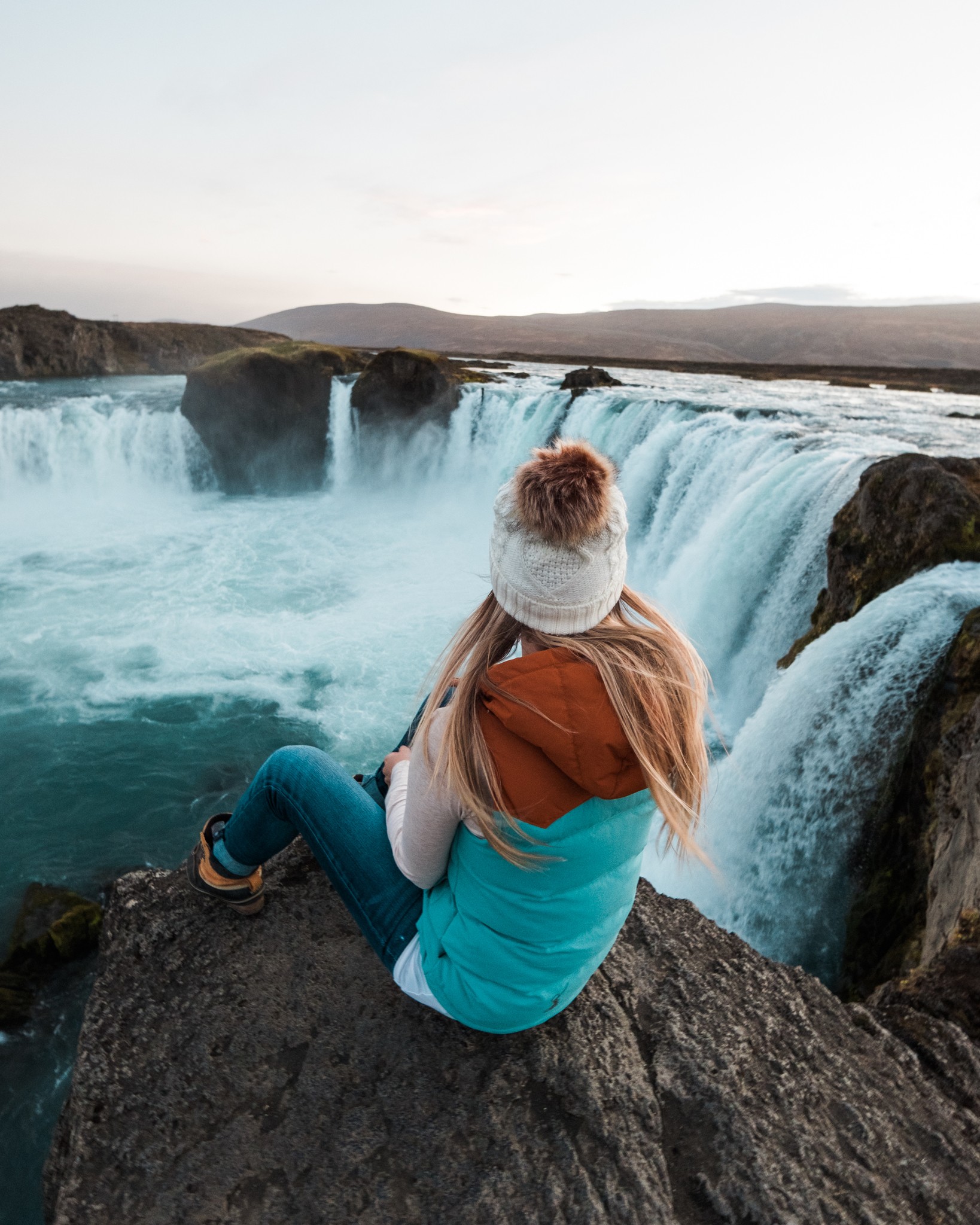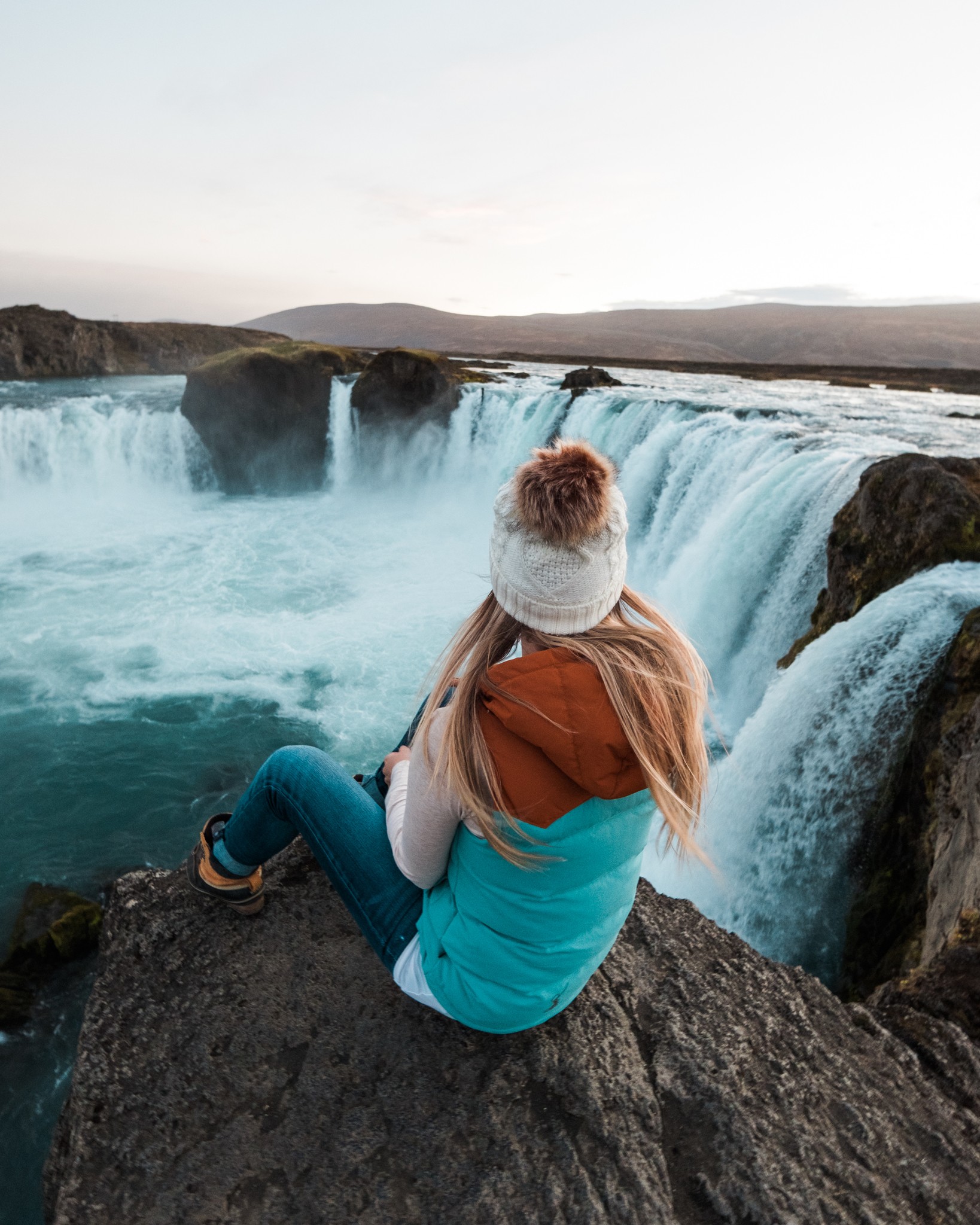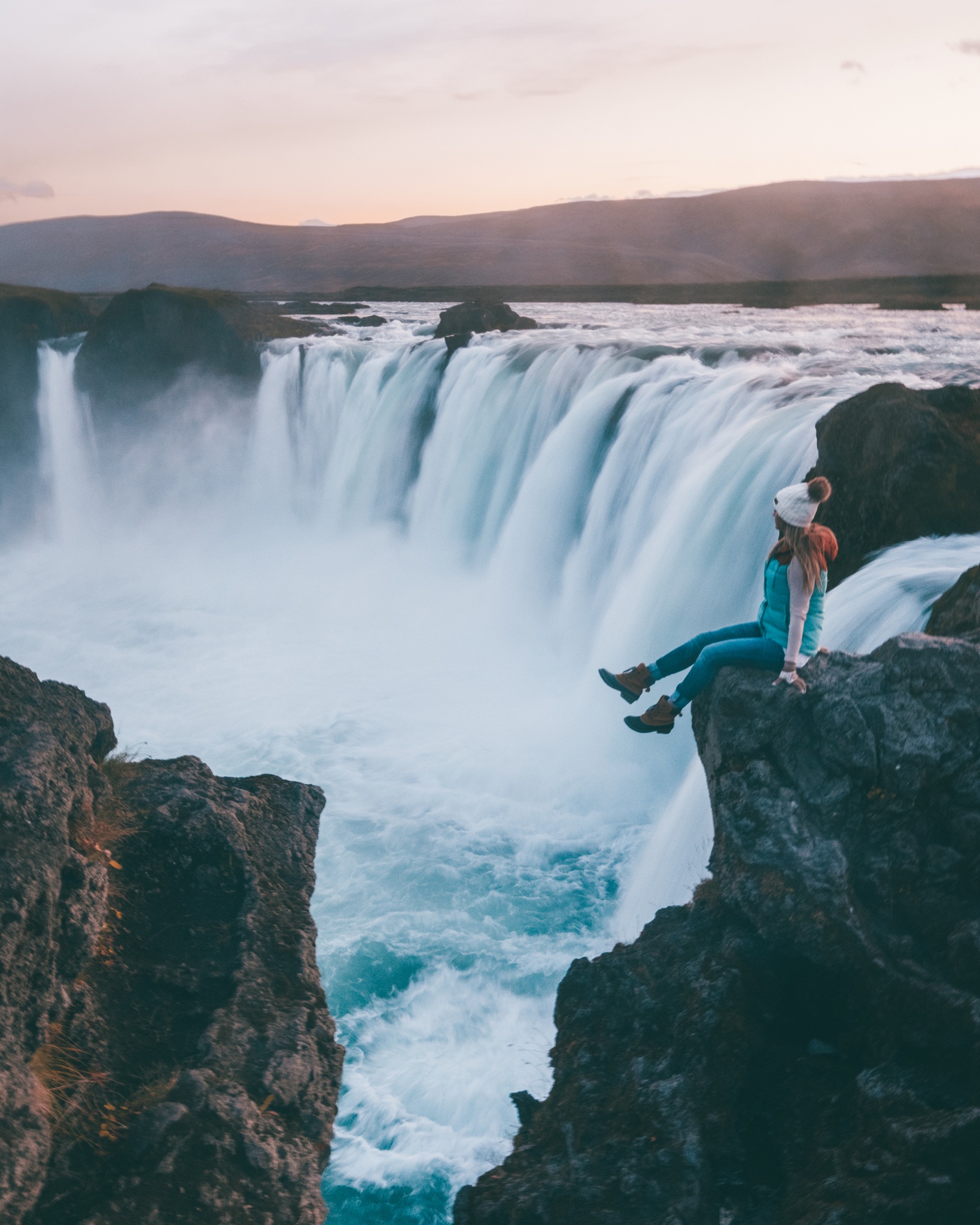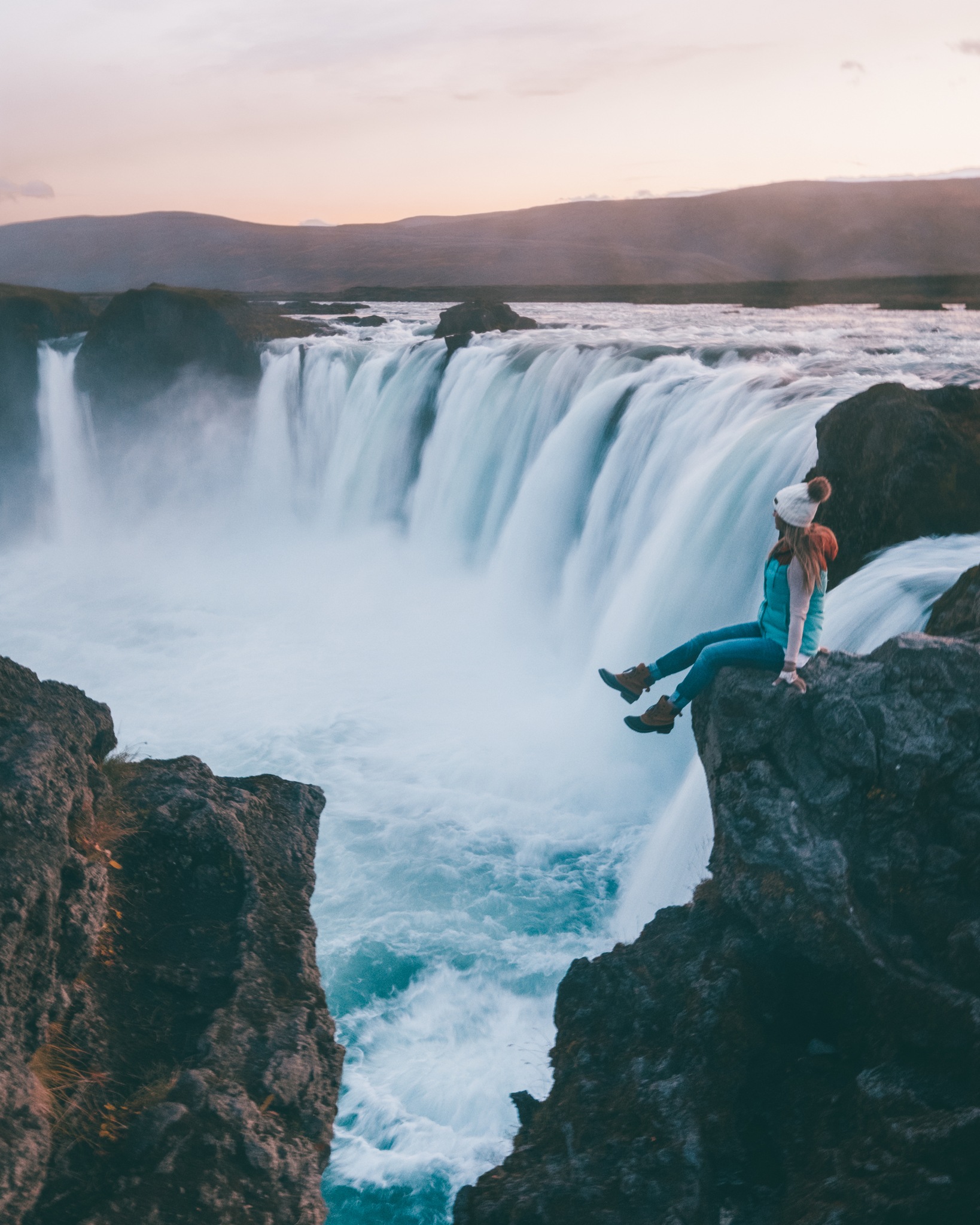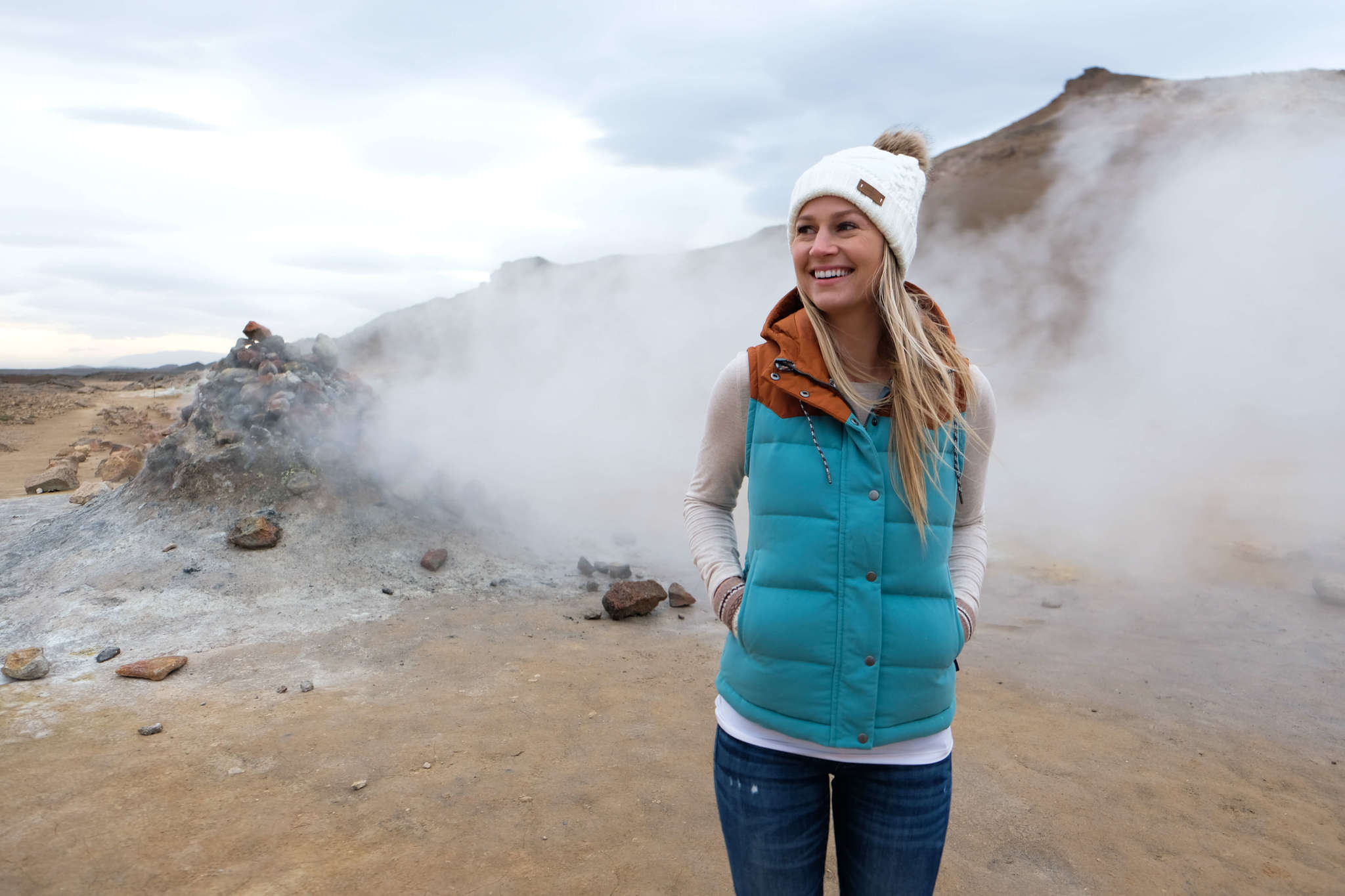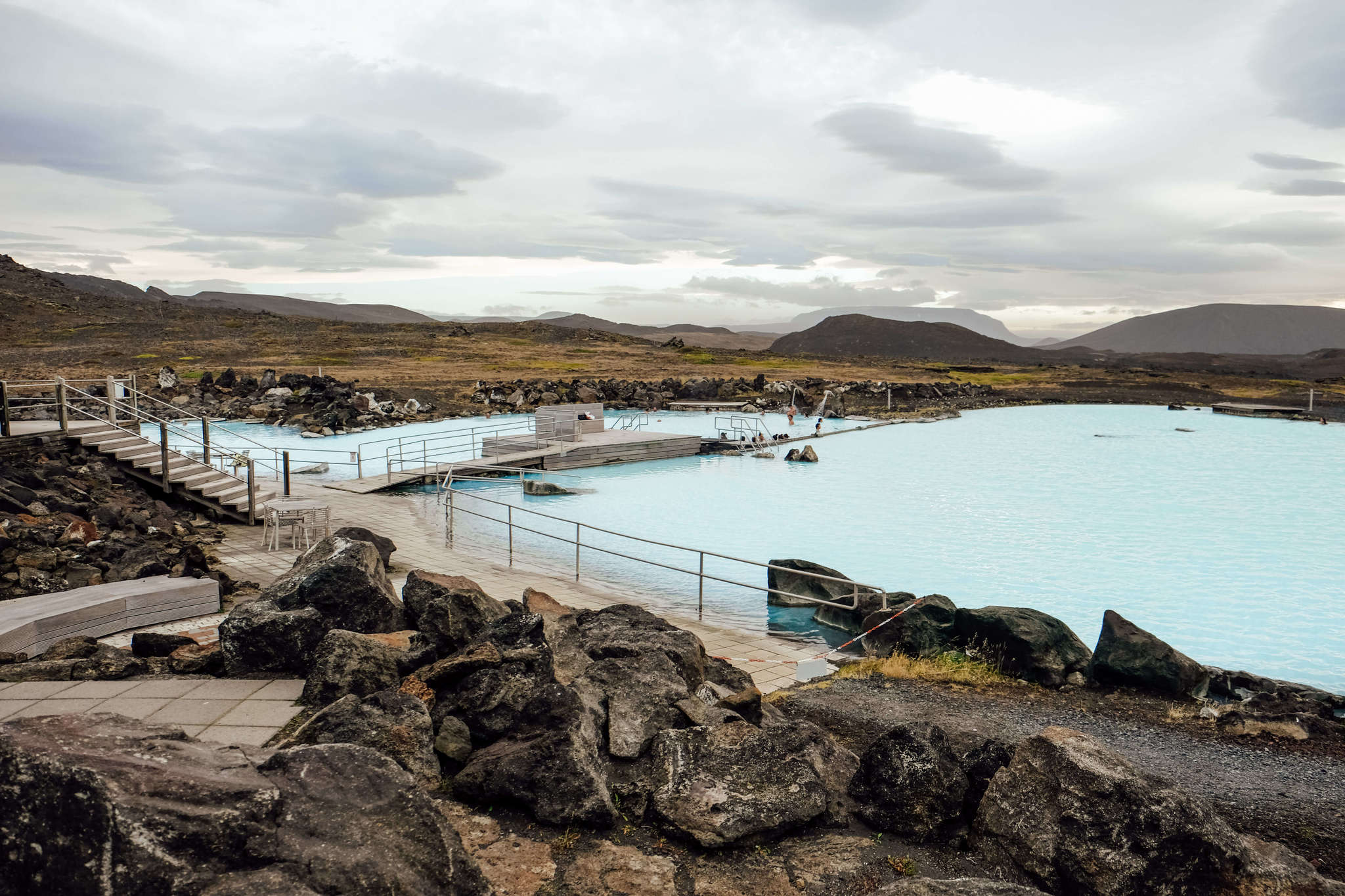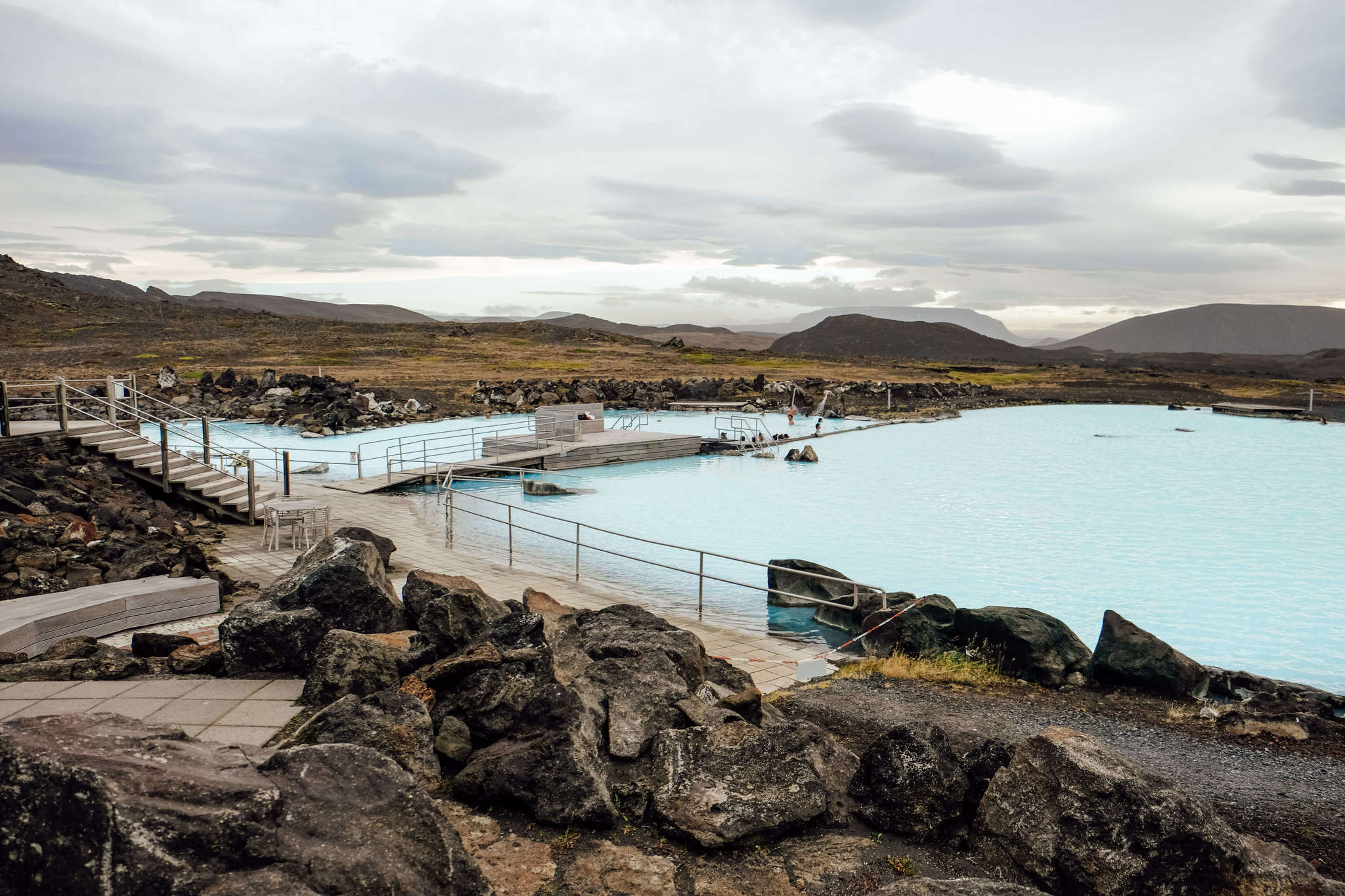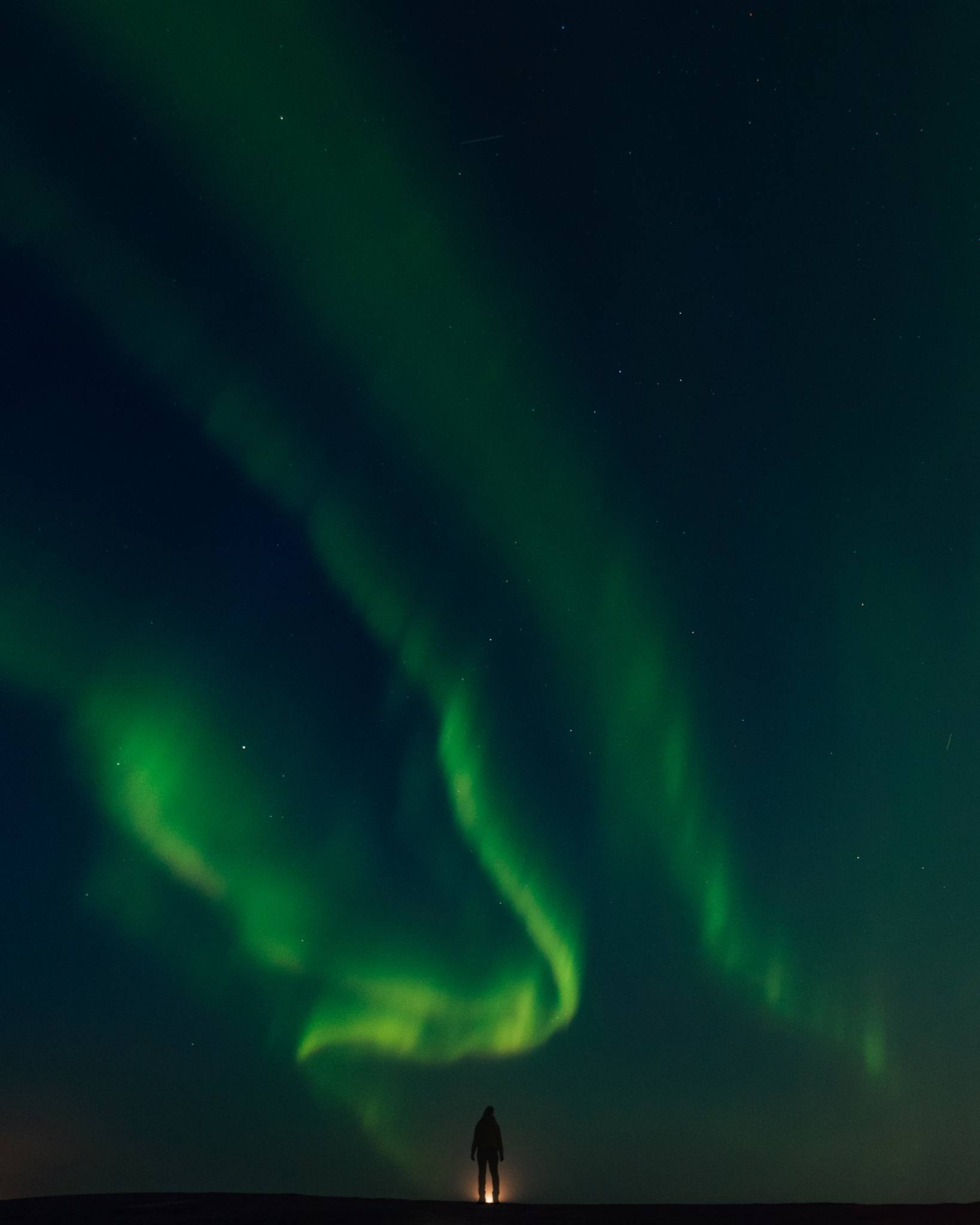 Day Five
Egilsstadir to Akureyri // Without Stops: 4 hours 30 minutes (330 km) via Route 1
This is a long day that you could break up into two more relaxed days if you wanted to spend more time in Myvatn.
Stop at Dettifoss (2-hour drive): After two hours of driving, we got to Vatnajökull National Park in Northeast Iceland to visit Dettifoss, which is the most powerful waterfall in Europe. It's a forty-mile round-trip detour from Route 1, but it was worth it!
Stop at Namafjall (1-hour drive): We made a quick stop at the Namafjall geothermal field, located east of Lake Myvatn, to check out the mud pools and steams.
Explore Myvatn (10-minute drive): There is a lot to see in the area, from lava fields to nature baths. Plan ample time to explore the lava fields of Dimmuborgir, the Grjótagjá Cave from Game of Thrones, and the Hverir and Hverarond geothermal sites as well as the Myvatn Nature Baths.
The Myvatn Nature Baths are cheaper and less crowded, but just as beautiful as the famous Blue Lagoon in the south!
Sunset at Goðafoss (40-minute drive): Goðafoss is also one of Iceland's most famous waterfalls, and it has a neat history. According to local legend, when Iceland became a Christian country, all the statues of the Norse gods were thrown into this waterfall, hence the translated name of "Waterfall of the Gods."
We arrived before sunset and stayed well into the evening as the Northern Lights showed up and gave us an incredible show!
Stay in Akureyri (45-minute drive) OR Stay in Myvatn (40-minute drive): About forty-five minutes from Goðafoss, there's a quiet little camp in Akureyri that is open until October 15 each year. If you show up late (like we did) and there's no attendant, simply read the instructions or give the camp a call with any questions. You'll also find lots of guesthouses and hostels around Akureyri.
Helpful Tip: The northern lights are visible anywhere on the Ring Road, but I had the best luck along the north side of the country. Be on the lookout!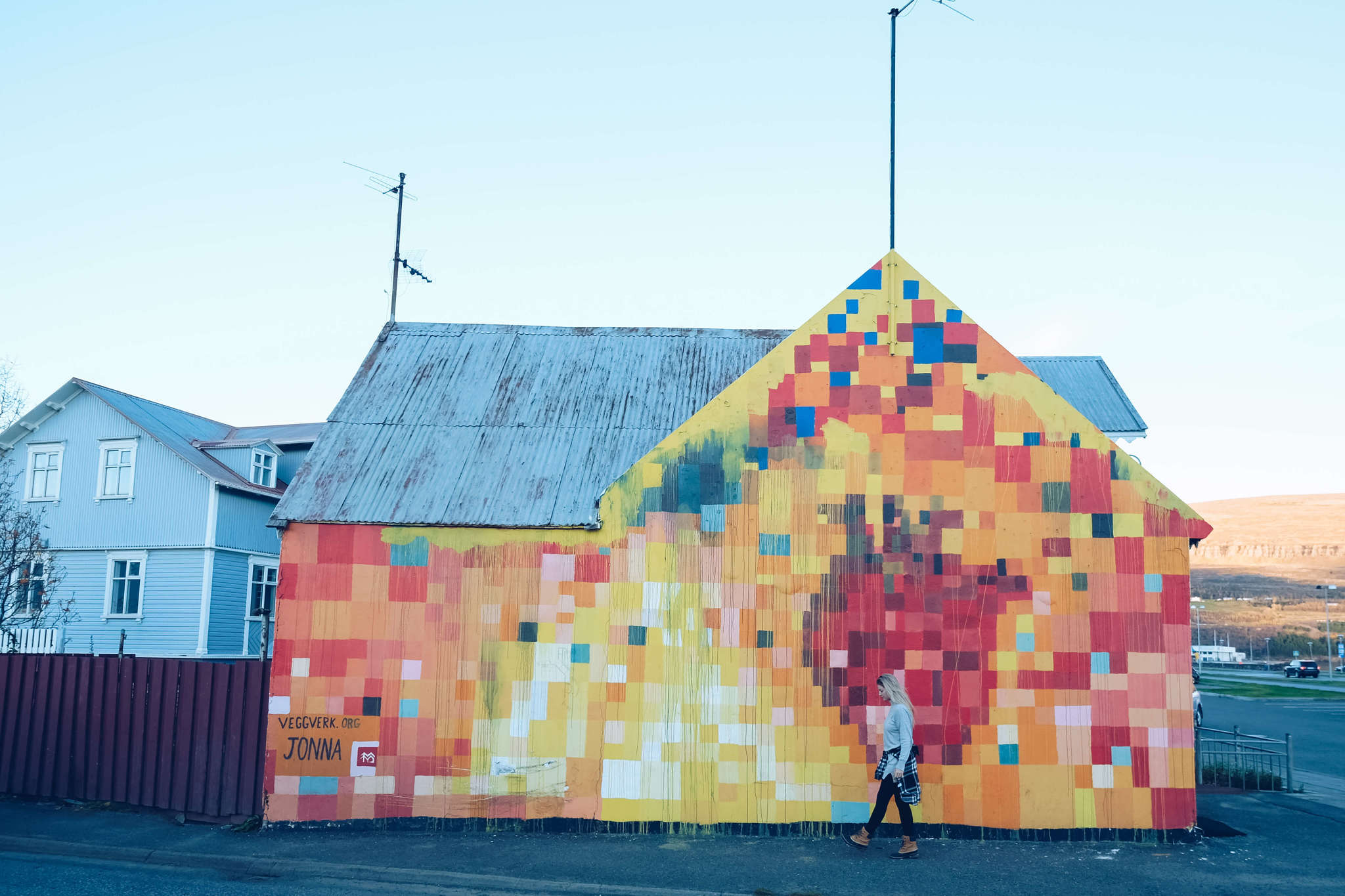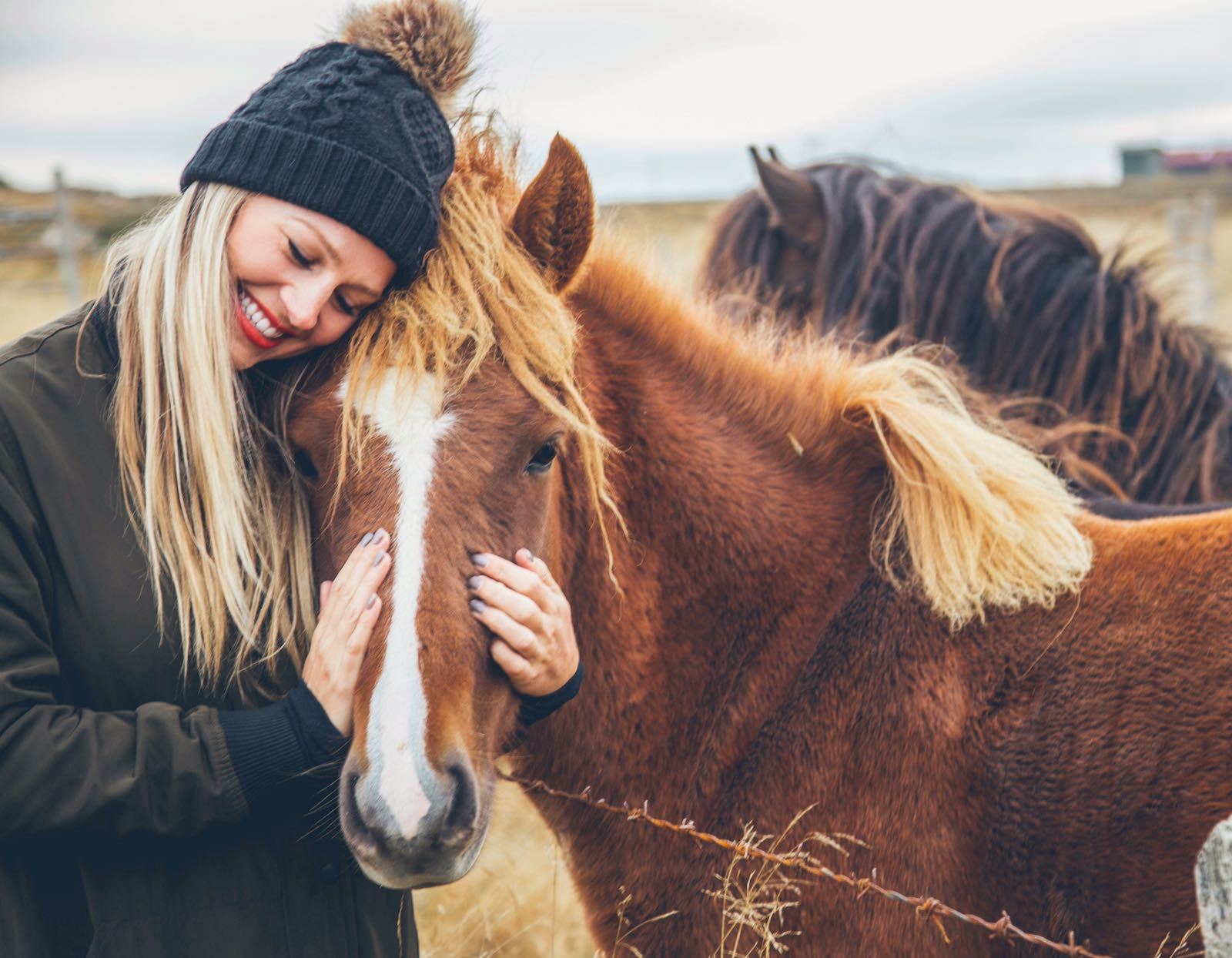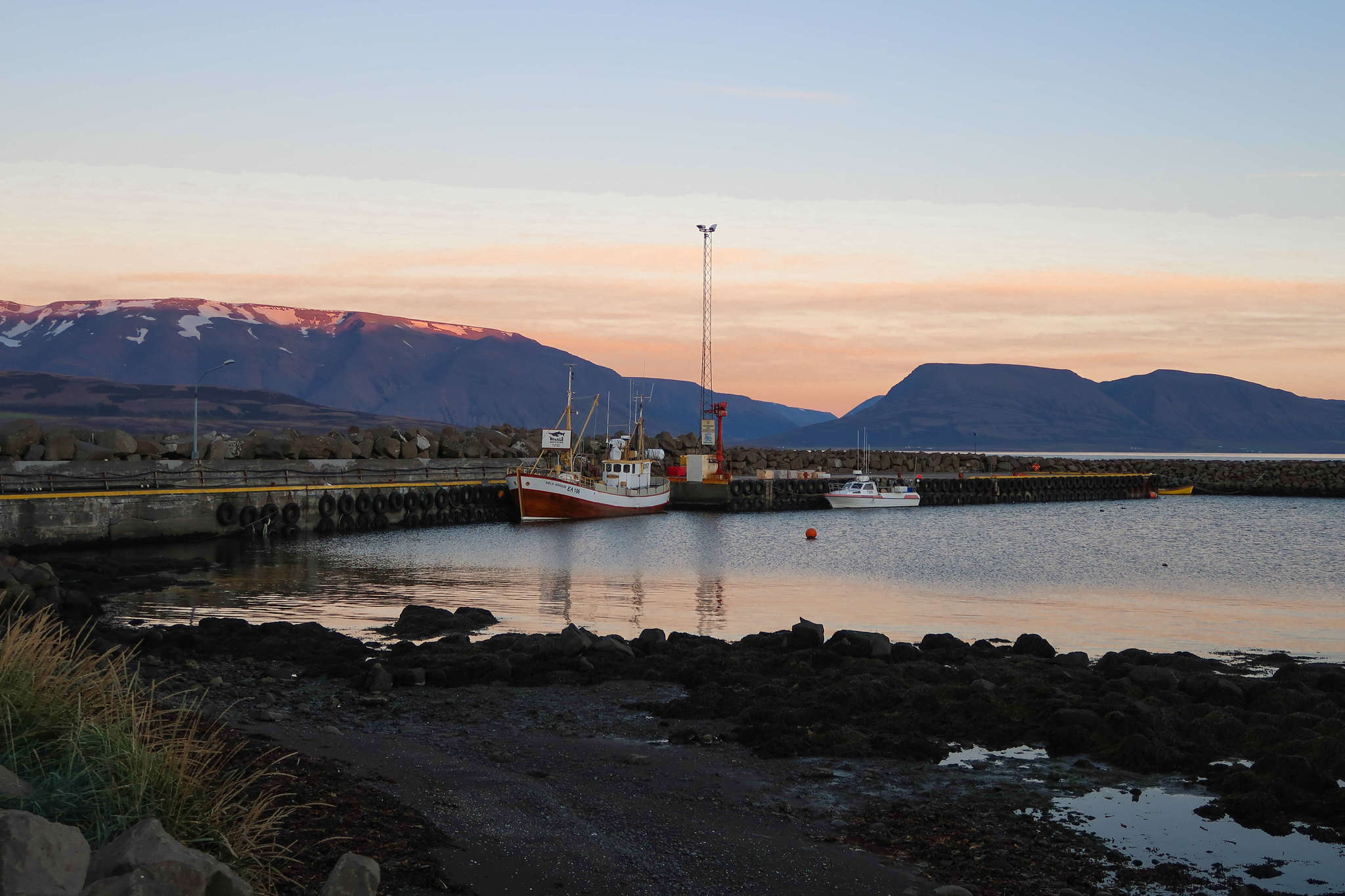 Day Six
Akureyri to Blönduós // Without Stops: 2-3 Hours (141-218 km) via Route 1 or the Coast
Explore Akureyri: This was our day to relax, so we lingered in town to explore. It's a lovely little town with museums, galleries, and exhibitions. The available volcano flights and whale-watching tours out of Akureyri can also make for perfect day trips.
We went for breakfast at Cafe Berlin and tried the quiche with avocado. It's a tasty spot and you'll want to be sure to grab something you can put jam on—you'll find delicious local spreads there!
I had to make a stop at the doctor in town. If you happen to be in need of medical attention, stop at Akureyri Primary Health Care Centre at Hafnarstræti 99, third to sixth floor; Phone: +354 460 4600.
Helpful Tip: Iceland is a captivating country, but it's not known for smelling great. The natural phenomena that make the country remarkable are often rich with sulfur, which smells like rotten eggs. And, while we had a blast in Akureyri, be forewarned that the place smells like cows.
There are a few routes to get to Blönduós from Akureyri—along Route 1, or the coastal highway past Siglufjörður.
Coastal Route: You'll need to leave Akureyri earlier in the day to make the most of this route.
Try Rotten Shark at Ektafiskur (20 minute drive): Kæstur hákarl aka "Rotten Shark" is a traditional Icelandic delicacy that dates back to the time of the vikings. Since vegetation is sparse in Iceland, locals have had to get "creative" with where and how they find food. Ektafiskur is owned by a hilarious Icelandic guy and makes the entire experience super fun!
Visit Bruggsmidjan Brewery (5-minute drive): It's thirty minutes north of Akureyri in Dalvik, and it's a detour you can't miss. Take the time for a beer bath if you can.
Stop at Siglufjörður (1-hour drive): It was too late for us to stop in this super cute fishing town, but it's a place to consider for your trip. You could spend a day in this haven for winter sports skiing, slaloming, skating, or snowmobiling.
Stay in Blönduós (2-hour & 30-minute drive): We decided to make the long haul drive after dark so we could get an early start the next morning. It's a long drive to Arnarstapi, so I suggest breaking up the drive by staying in Blönduós. The campground here has showers and toilets; you can also upgrade to the Gladheimar Cottages.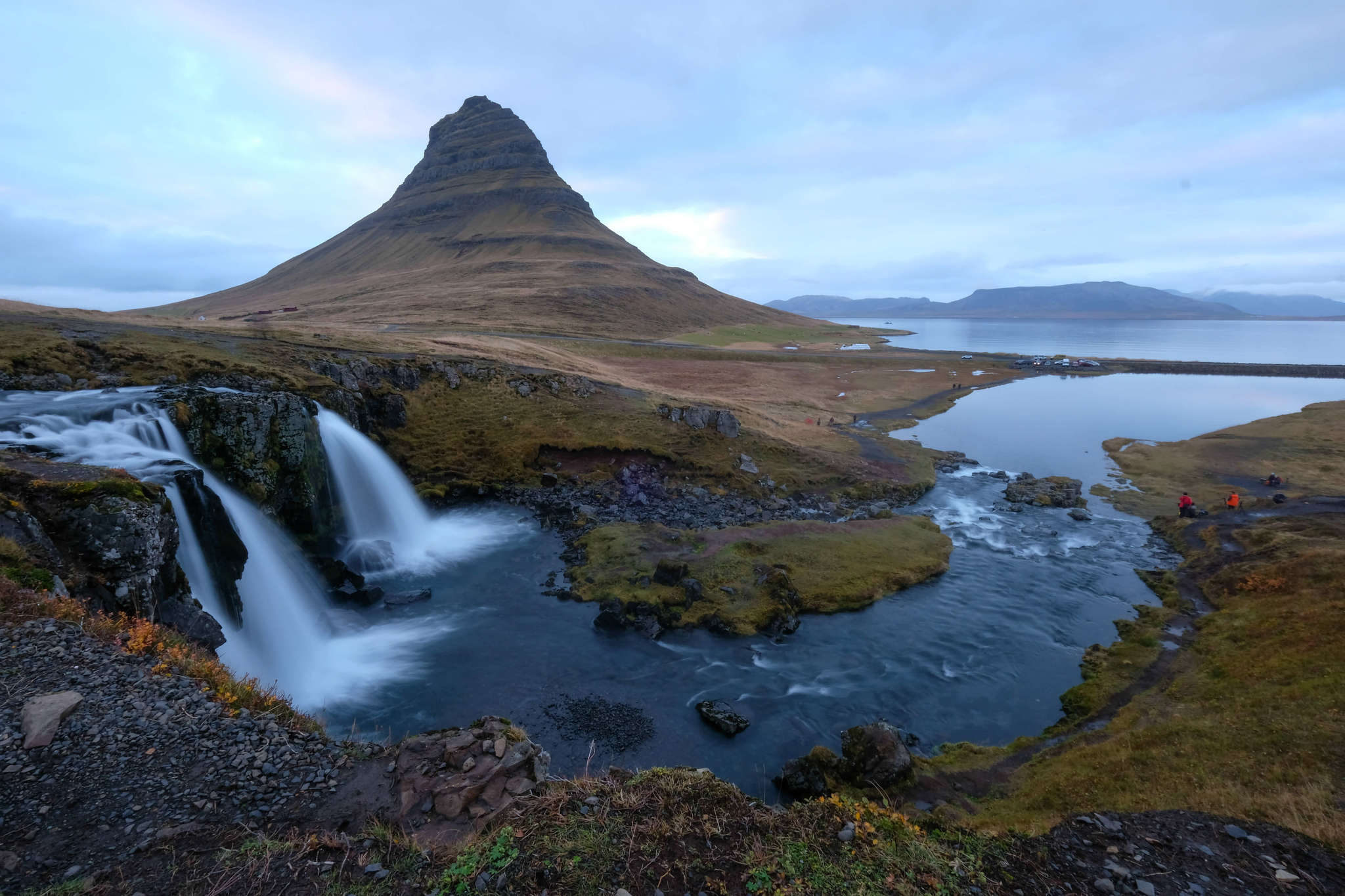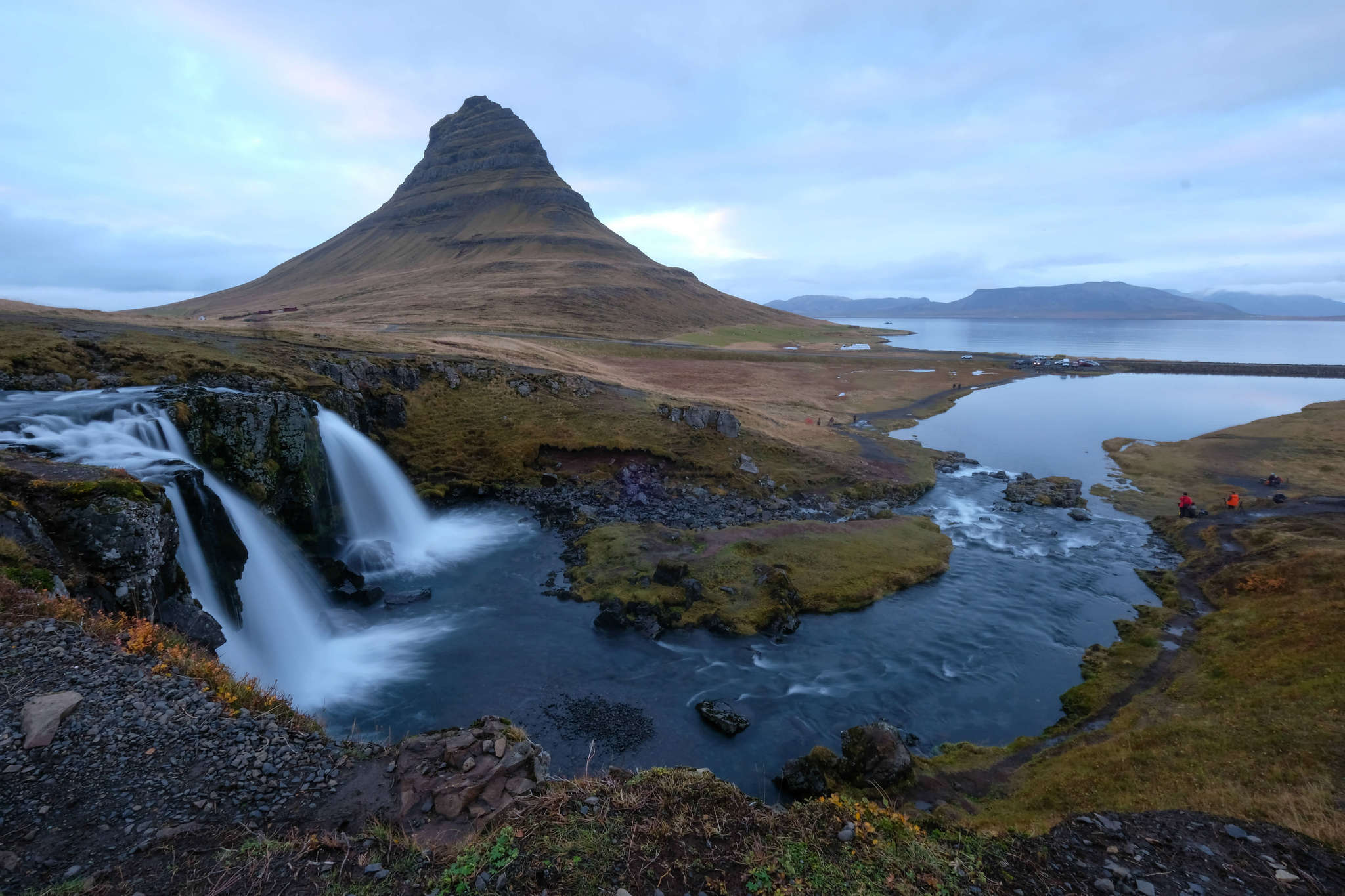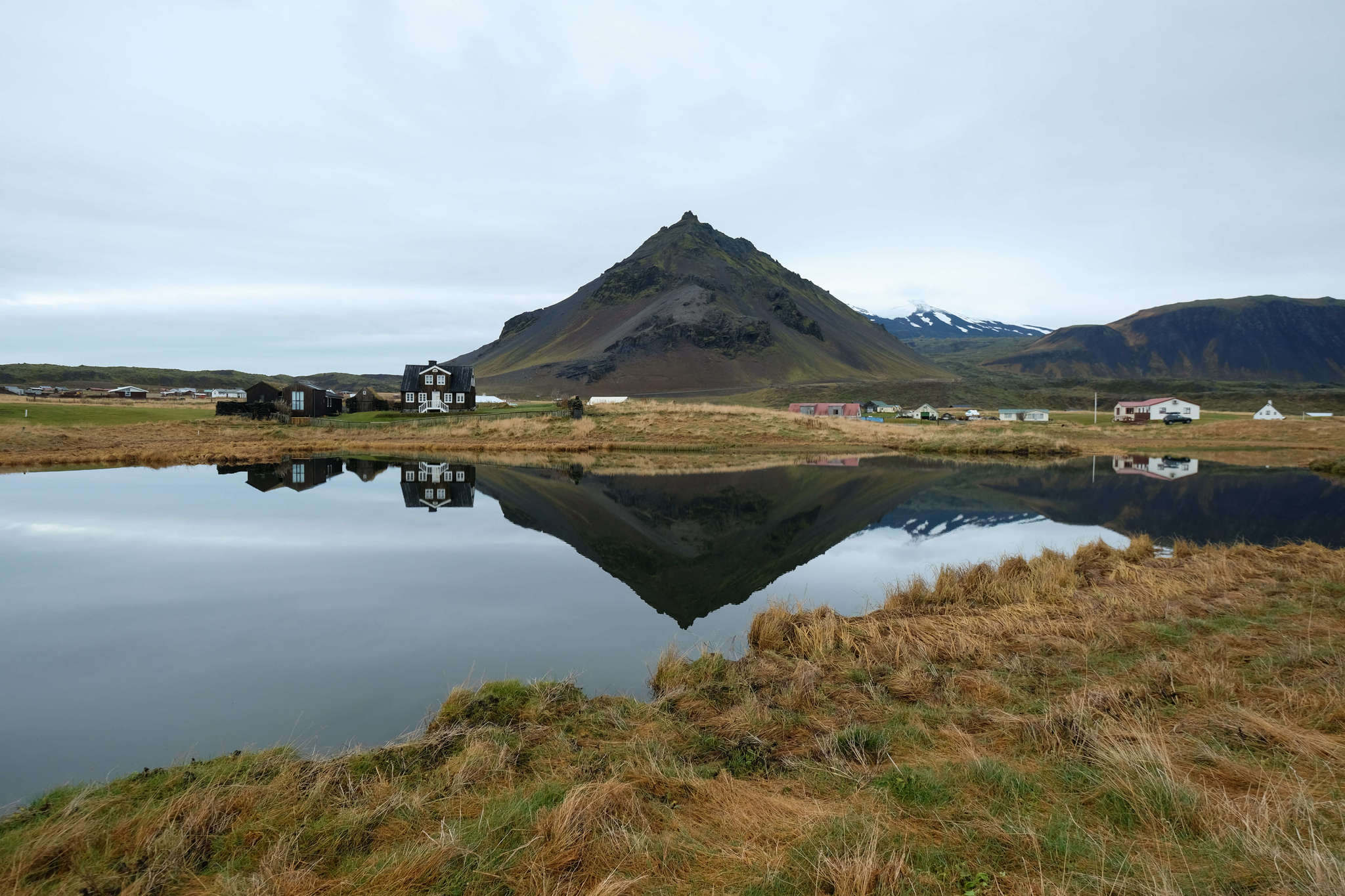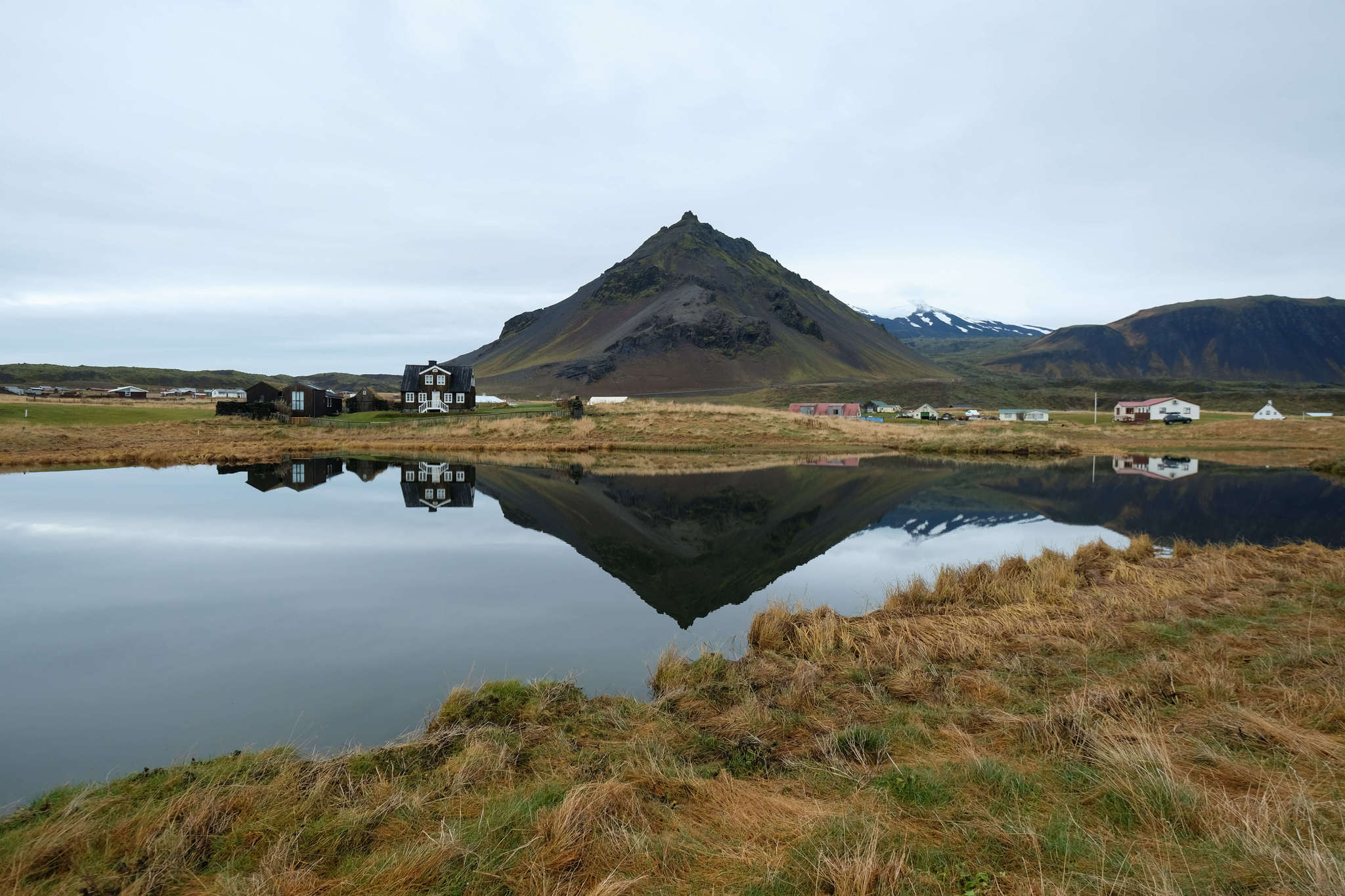 Day Seven
Blönduós to Arnarstapi // Without Stops: 3 hours 20 minutes (285 km) via Route 1 and 54
Stock Up: Get your gas and food in the morning before you start the drive to Arnarstapi. There are no toilets, gas, or shops here, so you'll want to be 100 percent prepared on arrival.
Road Trip Games: We chose to take the coastal drive west from Blönduós, which was a fairly dull route. It's mostly gravel roads across a flat and bare terrain. Bring your best road trip games or podcasts to keep it lively.
Seal Watching: The two-and-a-half-hour trip to Grundarfjörður is a scenic coastal route, and you'll want to look for seals as you go along.
Sunset at Kirkjufellsfoss: In the north, you'll see the mountain peak Kirkjufell, and just off the main road, there's another famous waterfall, Kirkjufellsfoss.
Stay in Arnarstapi: We parked here for a free night of wild camping. There's also a guesthouse nearby along with a restaurant that is open during the summer.
Detour to the Westfjords
If you want to expand your trip, spend a few days exploring this remote area. There's rough hiking near the Dynjandi waterfall and you can bundle up for a long walk along the red beach of Rauðasandur.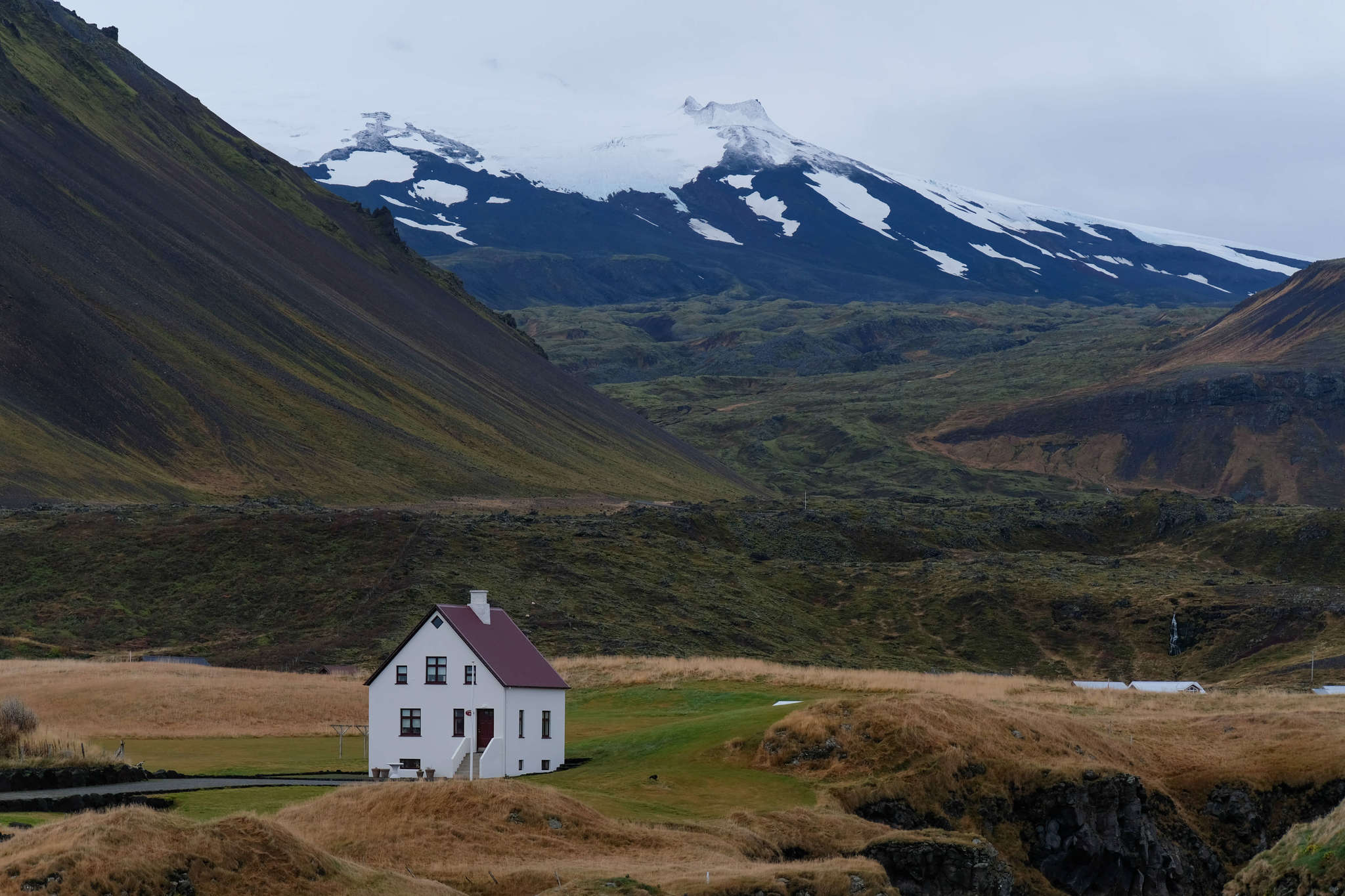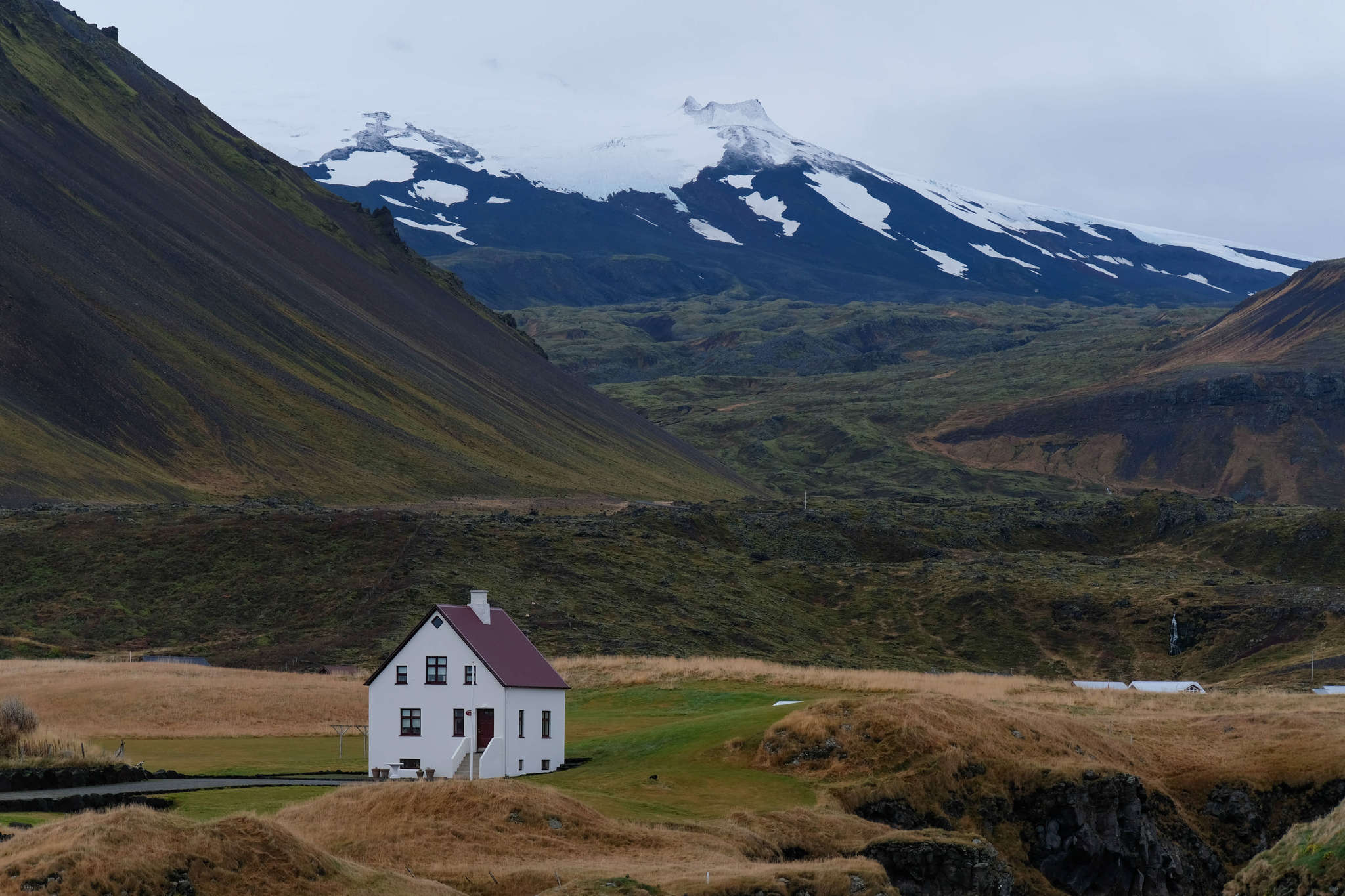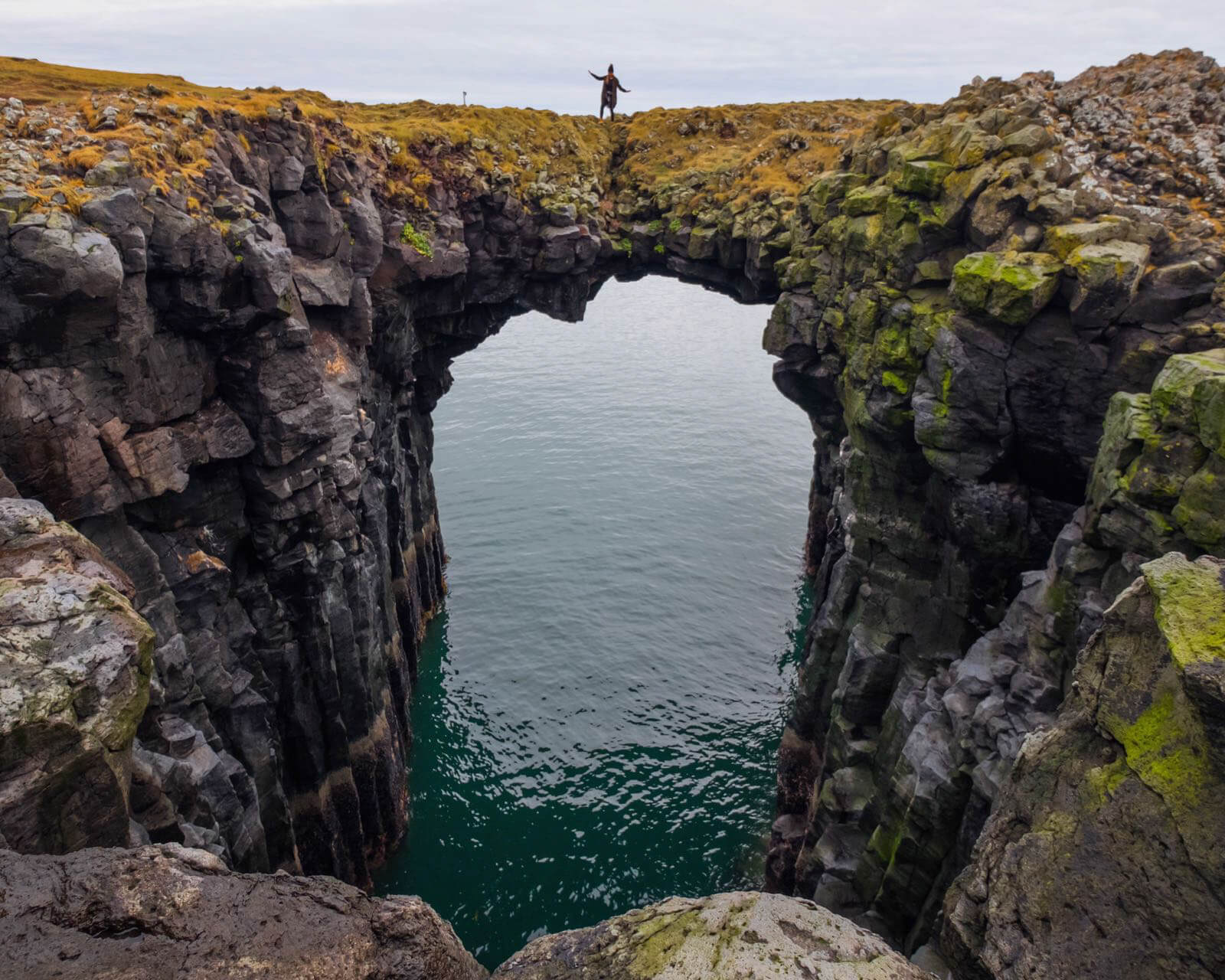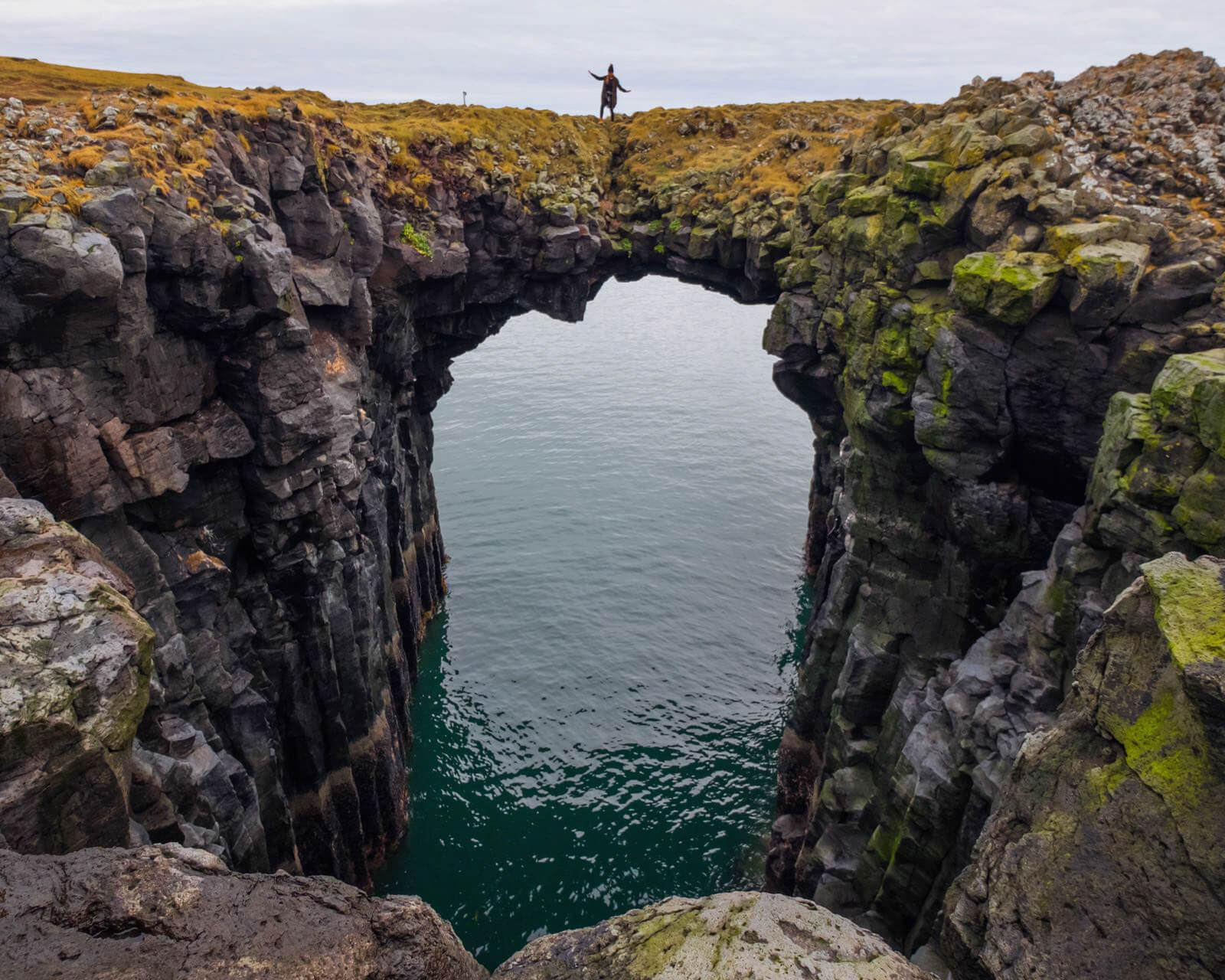 Day Eight
Arnarstapi to Reykjavik //  Without Stops: 2 hours 30 minutes (226 km) via Route 54 and 1
We spent the morning exploring Arnarstapi, and it has some dream photo ops. The Gatklettur Arch Rock and statue of Bárður Snæfellsás make this little town one of a kind. The photo of me walking on the sea arch is a different arch from Gatklettur Arch Rock. Start your walk at the main visitor's center and you'll eventually stumble upon it.
Once you're ready to hit the road, you'll return to Route 1 to finish the Ring Road to Reykjavik
Optional — Snæfellsnes Peninsula: If you have the time to explore, this peninsula is home to the Snæfellsjökull volcano, a powerful symbol of Iceland, as well as some extraordinary lava fields and waterfalls. You'll want to take your time wandering through this area.
DETOUR — Chasing Waterfalls (2-hour drive): Iceland has an insane amount of waterfalls, and each one is more beautiful than the last. Hraunfossar, a series of waterfalls, and Barnafoss, a legendary spot in Icelandic folk tales, are must-sees.
Optional — Stay in the Bjarteyjarsandur Campsite: After a chill day of wandering the peninsula, you can spend the night beside the Bjarteyjarsandur Farm, which is the ultimate place to have the real Icelandic sheep-farming experience.
Return to Reykjavik (2-hour & 30-minute drive from Arnarstapi): We made the full drive back to Reykjavik and camped at the Reykjavik Campsite. It's a really nice campsite two miles from the center of the city. It's 2,200 króna per person ($20 USD or less if you stay longer). It is indeed pricey for a campsite, but you can use the Wi-Fi, a kitchen, a shower, and the laundry facilities.
Helpful Tip: Unfortunately, in the safest country I've ever been in, I had my camera stolen from the bathroom at the Reykjavik Campsite while I was showering. This is a great campsite but do not leave your camper unlocked or belongings unattended. This incident is also NOT a reflection of Iceland and I take responsibility for being an easy target by leaving my items outside of my shower stall. Always be responsible!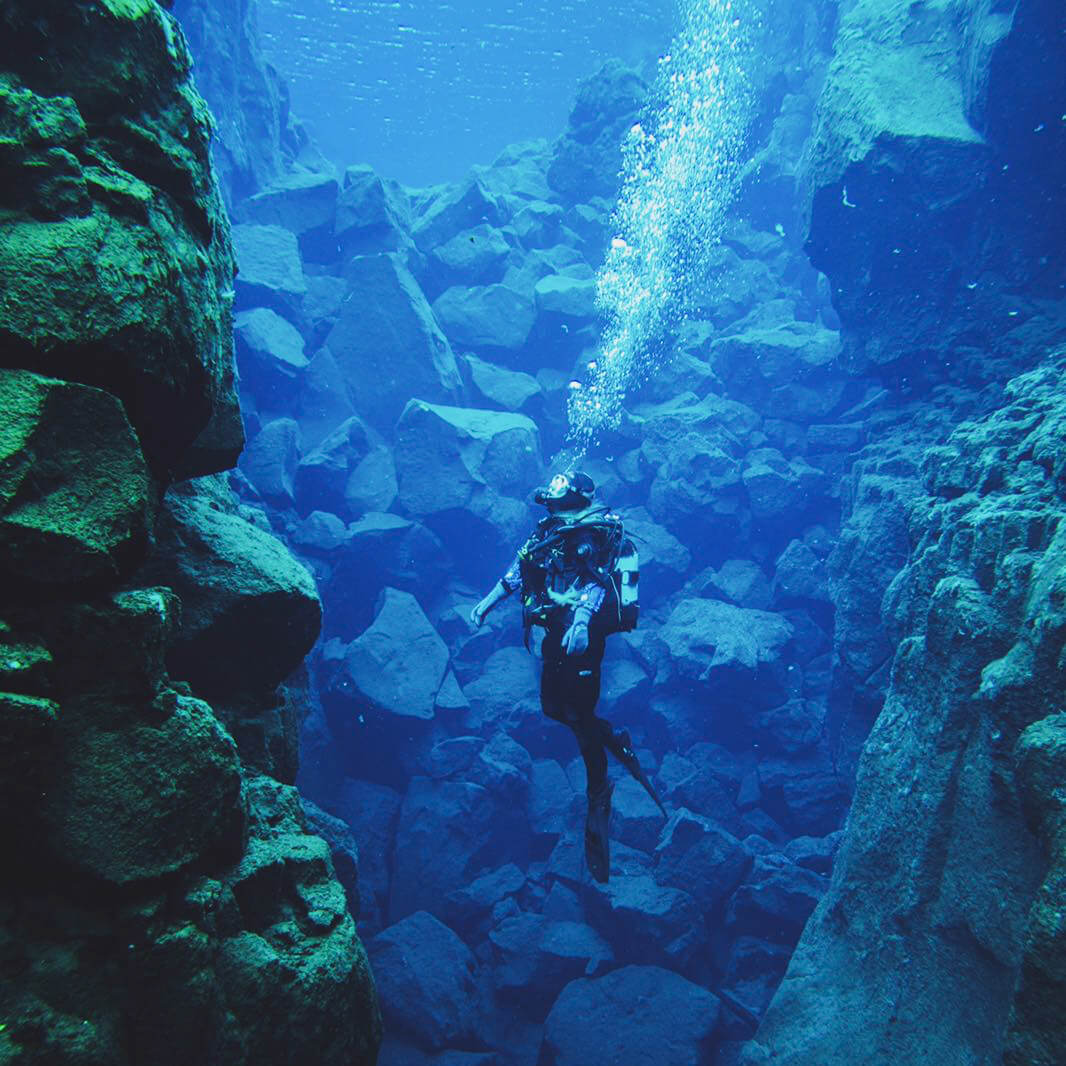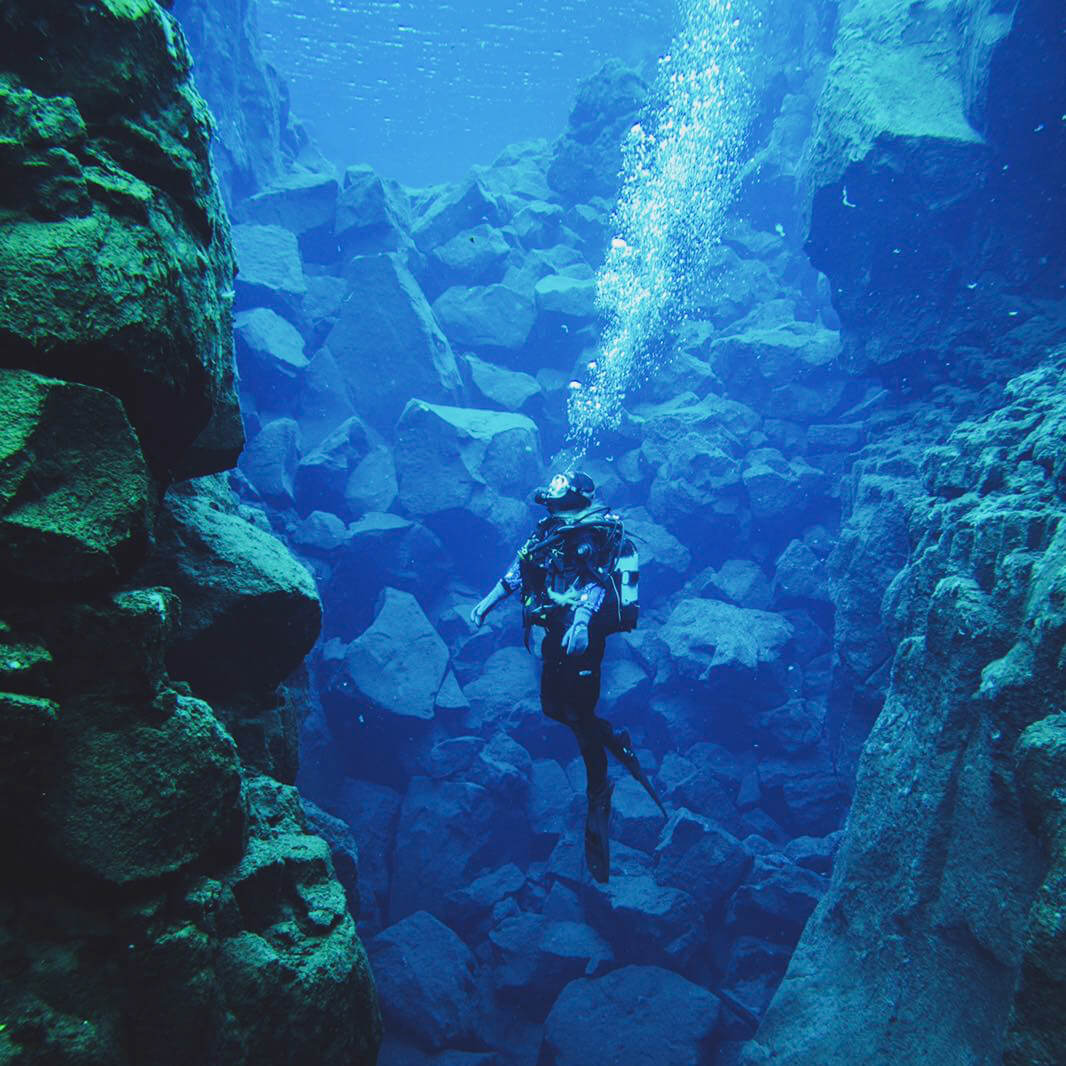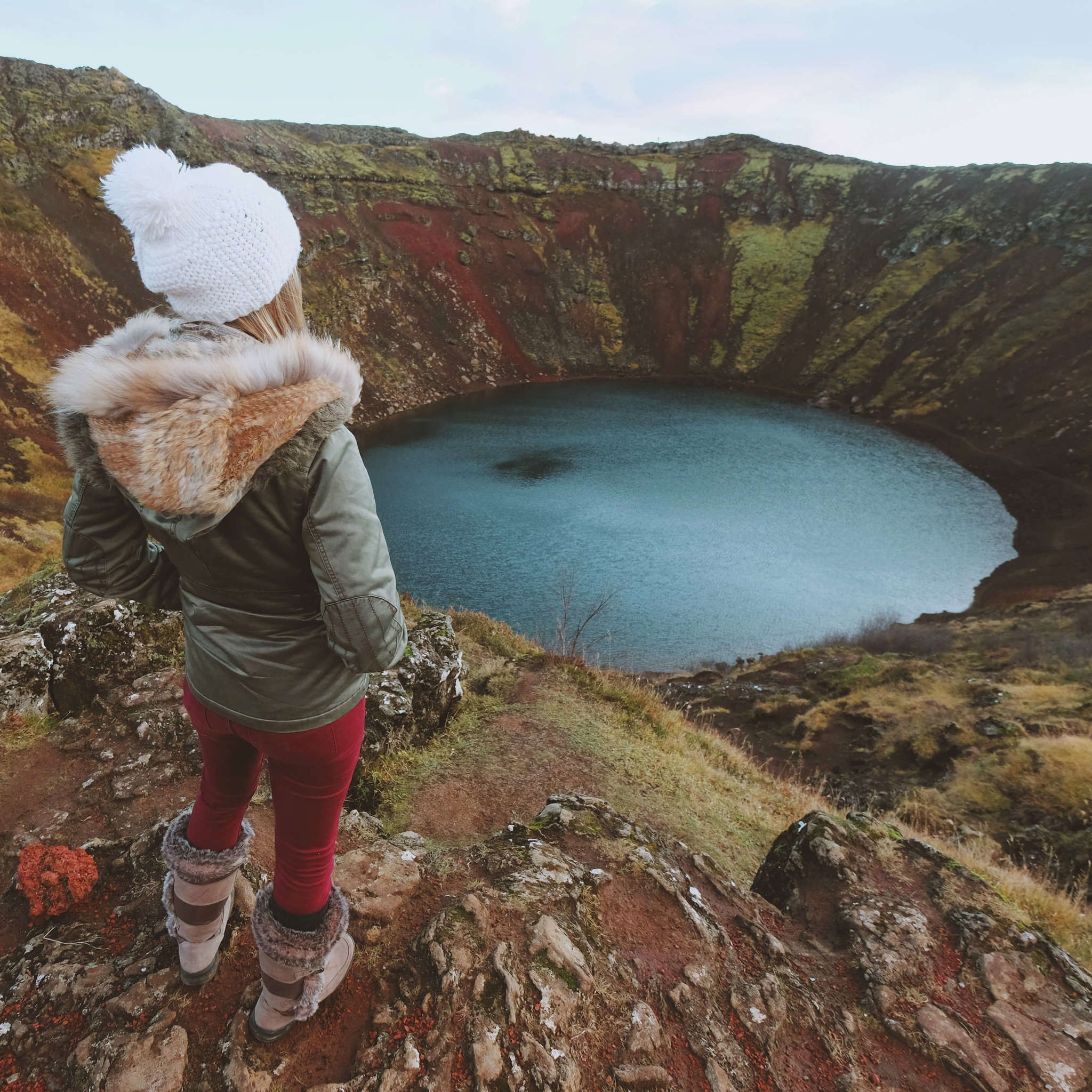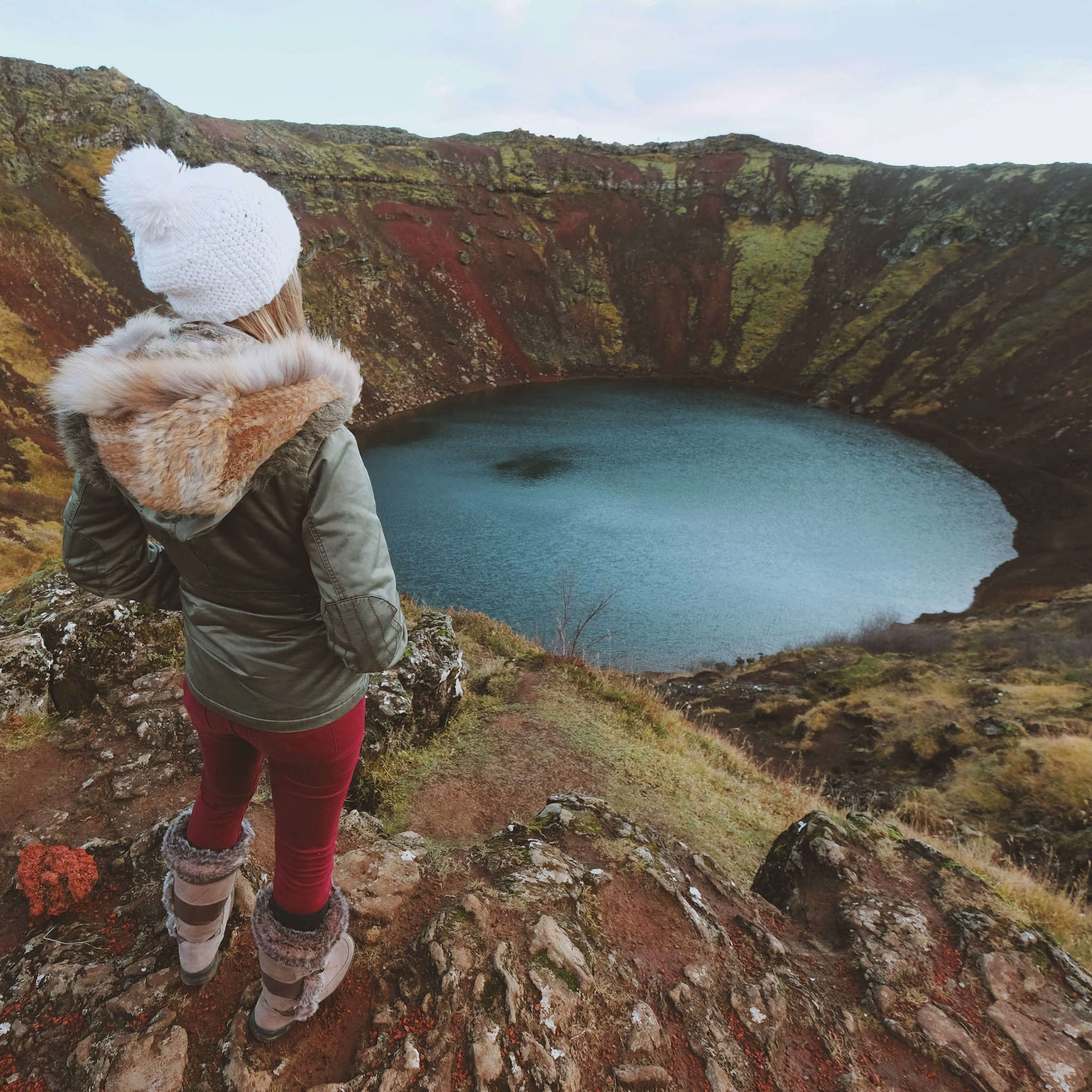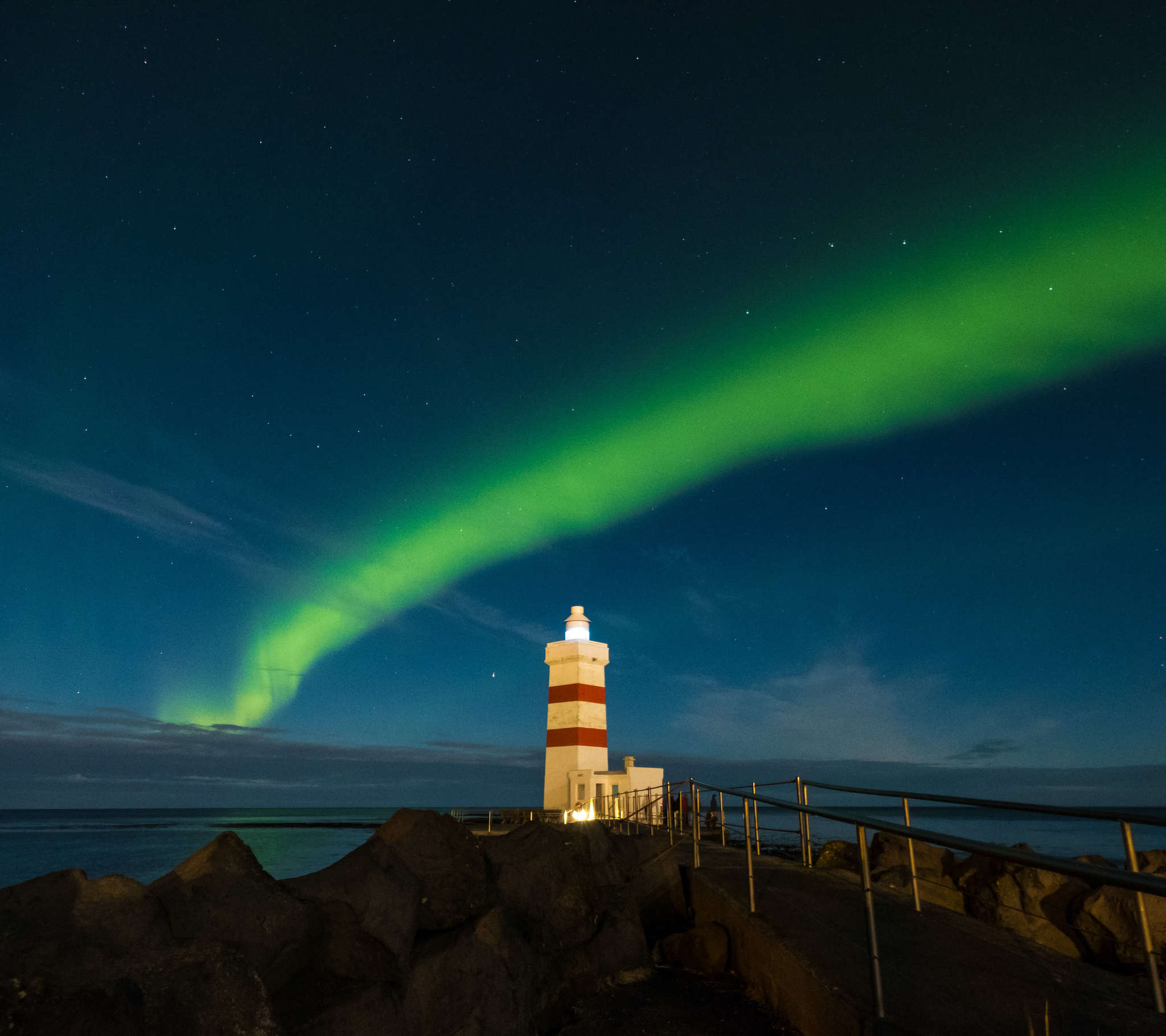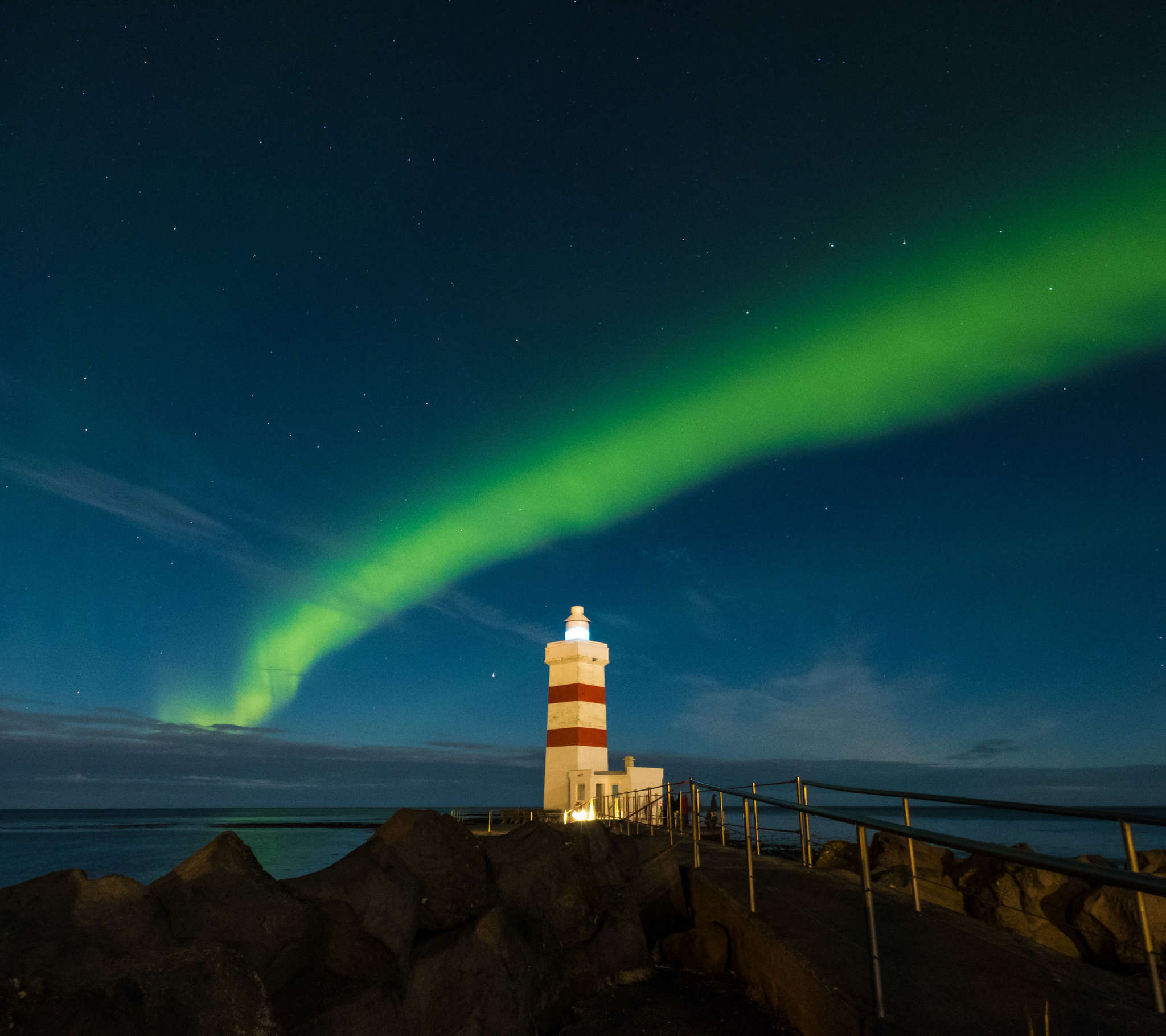 Day Nine
The Golden Circle // Without Stops: 3 hours 30 minutes (240 km)
The Golden Circle: This is a smaller day-trip you can take out of Reykjavik but you could spend a good week checking out this fascinating part of Iceland too. I've done two trips to Iceland, and I'm still in awe.
Go diving, take in the geysers, stop at the Kerið Crater Lake, and see the Icelandic horses throughout Thingvellir National Park. Also known as Þingvellir, or Thingvellir, this park sits in a rift valley and is the former home to Iceland's parliament.
Visit Garður Lighthouse (1-hour drive from Reykjavik): The Folk Museum in Garður & Lighthouses is a gorgeous site and is a good spot to find insight into the local culture and lore.
Stay in Garður at the Gardskagi Campsite: The site offers toilets and sinks (but no shower) for 1,000 króna per person ($9 USD). The sunsets and sunrises are incredible here. We also got lucky and saw an incredible display of the Northern Lights!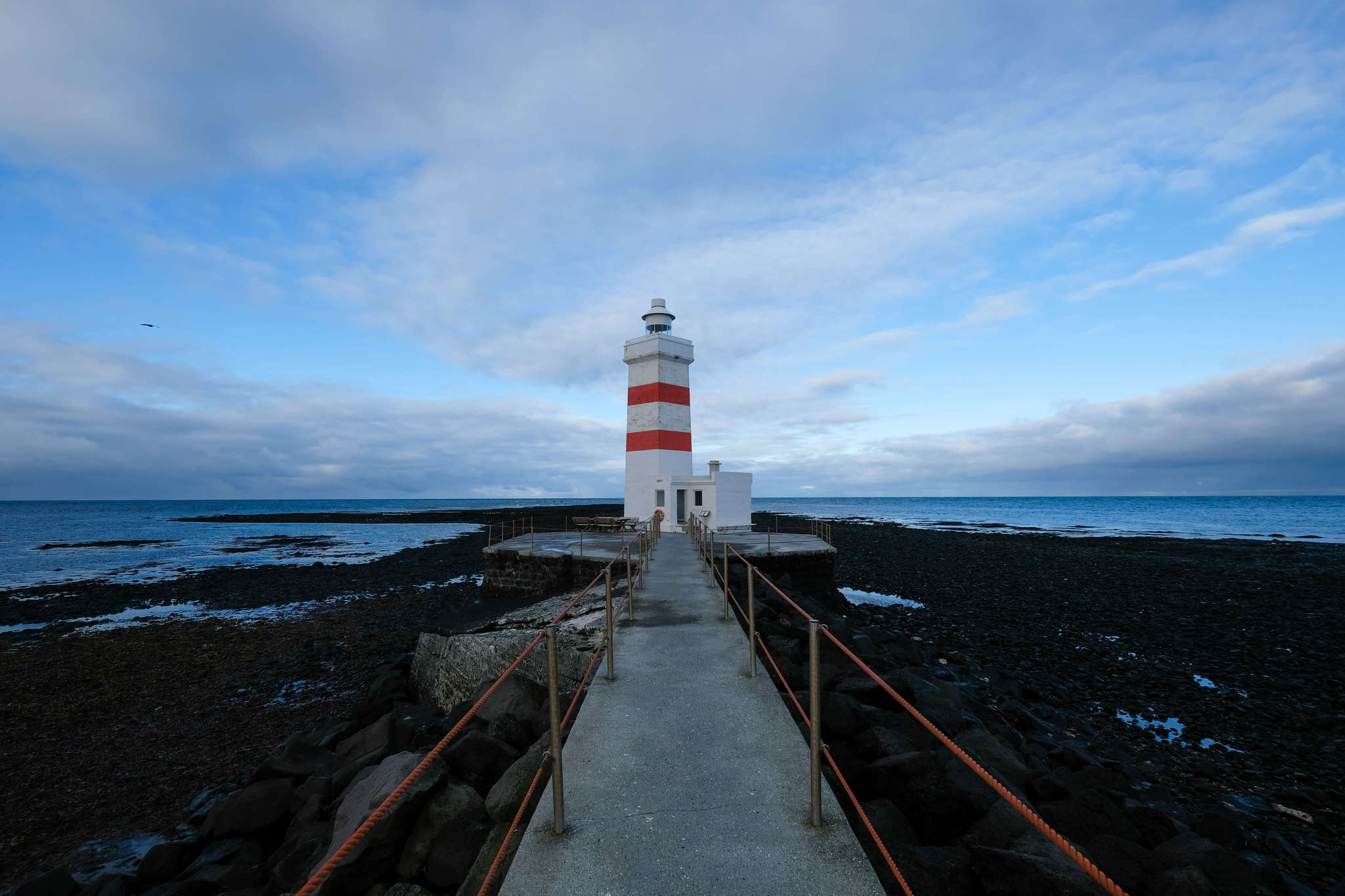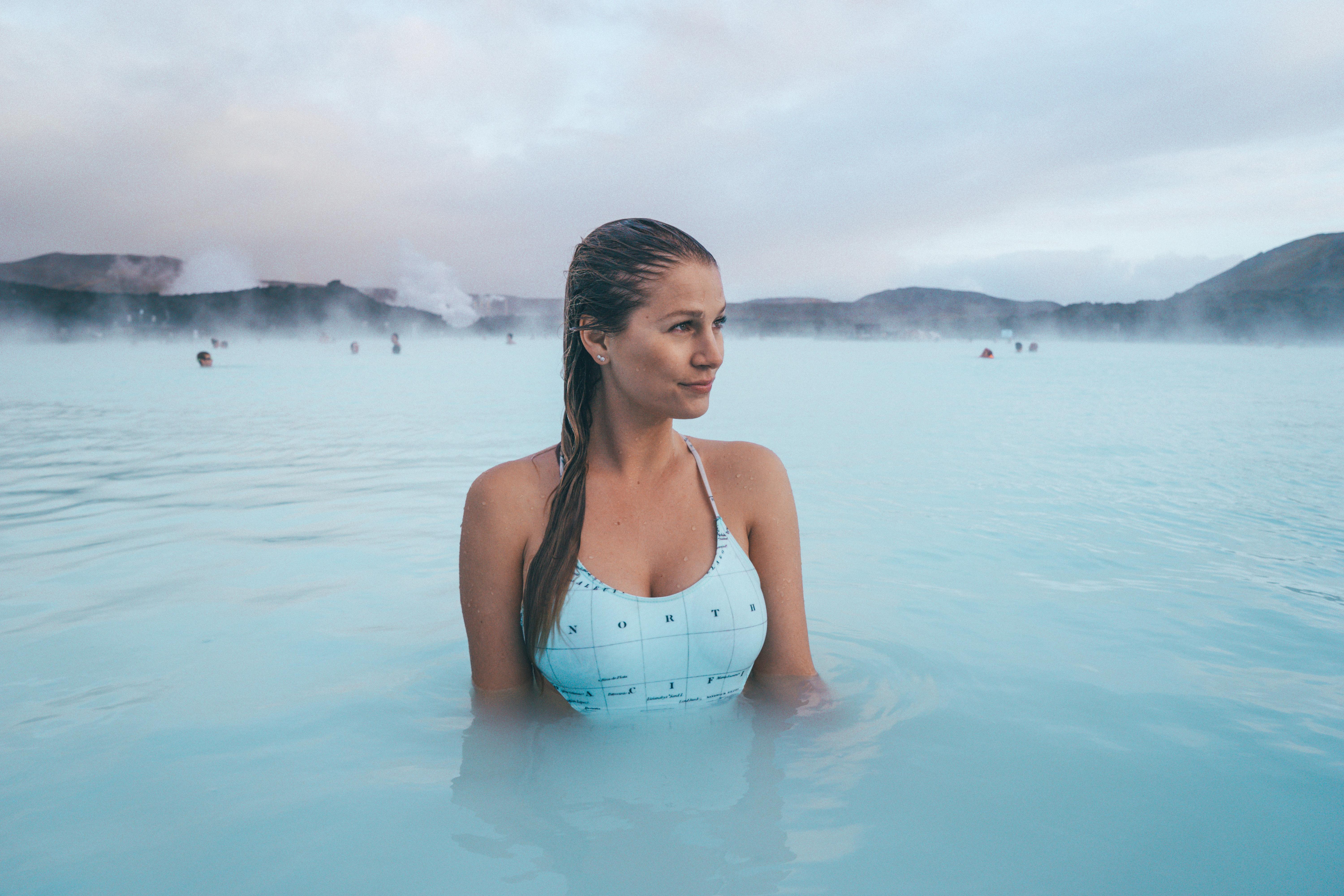 Day Ten
Gardur to The Blue Lagoon // Without Stops: 1 hour 15 minutes (57 km)
Tea at Garður Lighthouse: Head inside the lighthouse in the morning and request a cup of tea and a seat at the top of the light in the lighthouse!
Blue Lagoon: Fifteen minutes from the international airport and forty-five minutes from central Reykjavík, the Blue Lagoon is one of Iceland's greatest treasures and the BEST place to finish your epic Ring Road road trip in Iceland. If you're flying out this day, you can return your camper and spend the rest of the day at the spa before taking a shuttle to the airport.
I always leave the Blue Lagoon for my very last day in Iceland and spend the ENTIRE day there relaxing and reflecting on my incredible adventures. I highly recommend enjoying lunch in the spa restaurant and soaking up the healing benefits of the geothermal pools.

If I learned anything during my trip to Iceland, it's to keep it flexible. Let the sights (and the weather!) guide your days. Use a physical map to stay on track, and bring your list of must-sees. Then just go where the road takes you!