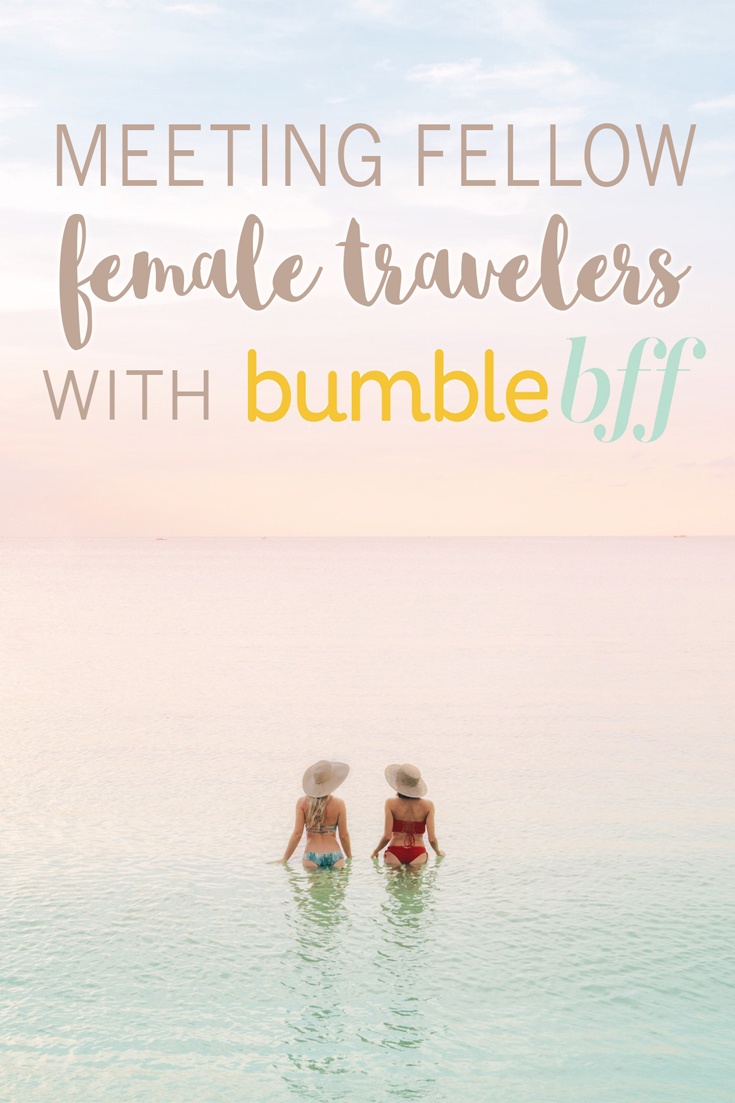 There are a million apps and websites for meeting guys; but what about meeting a new BFF abroad? When you are traveling solo, there's nothing more fun than connecting with other female travelers and sharing experiences on the road.
Fortunately, there's an app for that. Meet Bumble BFF.
Yes, you've probably heard of Bumble. It's one of the newer and more popular dating apps, but did you know they also have a feature, Bumble BFF, for connecting you with other girlfriends? As a solo traveler, it's a great tool for meeting like-minded travel buddies!

About Bumble BFF
Bumble is the new app that's making the world a smaller place. I was really excited to learn about the BFF feature on Bumble because its more than just a dating app. It lets you meet interesting new people anywhere, anytime!
As a traveler, I was surprised to meet a lot of female travelers that used dating apps to connect with people on the road– it's just not something I had ever thought about doing! It can definitely be challenging to find like-minded women to travel with, or even to meet up with cool locals while traveling.
However, Bumble BFF is a section just for girls to make new friends.
You can connect with other female travelers in new cities, or find a travel buddy to hop on a train with to your next destination. It doesn't have to be just about traveling either. You can use Bumble BFF to strike up friendships with people in your hometown too!
When I first moved to LA after college, it was really hard to make new girlfriends. Once you get into your mid-twenties, people are starting families, and our social groups are usually pretty tight. Sure, you'll always keep meeting new acquaintances and you might make a few meaningful connections at work, but things are definitely different.
Bumble is a great solution for girls looking to make new friends in new cities– whether you're traveling or new to the neighborhood.
That's why I love the idea of making new besties at any age. There are so many cool and fascinating people out there that you shouldn't leave to a chance meeting. Expand your horizons and start making new friends all over the world with Bumble BFF.

How to Use Bumble BFF
If you've used Tinder before, you'll find the setup of Bumble to be pretty familiar. In fact, Tinder co-founder Whitney Wolfe is behind this new app. The main difference between the two apps is how you connect.
If you both decide you want to connect and your swipe right on each other's profile, your potential travel partner-in-crime has twenty-four hours to start chatting before your connection expires.
Of course, if you are both ladies, either of you can choose to start talking.
To get started, just download the Bumble app. Link it to your Facebook, and it'll make a profile for you, just like Tinder. You can then write a quick intro for yourself so people know who you are and what you are looking for in a new friend. Once you've got that settled, add some pics.
At the moment, you use the same profile for dating and meeting friends but that is set to change in the future. In the meantime, if you are using the app for both purposes, people will be labeled as potential BFFs or possible love connections.
Tip: Setting up your profile might feel a bit awkward, but just keep it simple. The best thing that you can do is add fun pics. Show shots of you skiing or diving somewhere that you love. Include photos of you trying to learn to hula or snuggling your puppy. Whatever you are into, show it in your shots.
It's a great way to give an idea of your personality and it'll help start conversations.

Download
Feeling inspired? You've got nothing to lose!
The Bumble app is free for Android and iPhone. And, who knows? You might be hanging out with your new BFFs this weekend.
This post was written in partnership with Bumble. As always, ideas and opinions expressed in this post are entirely my own.