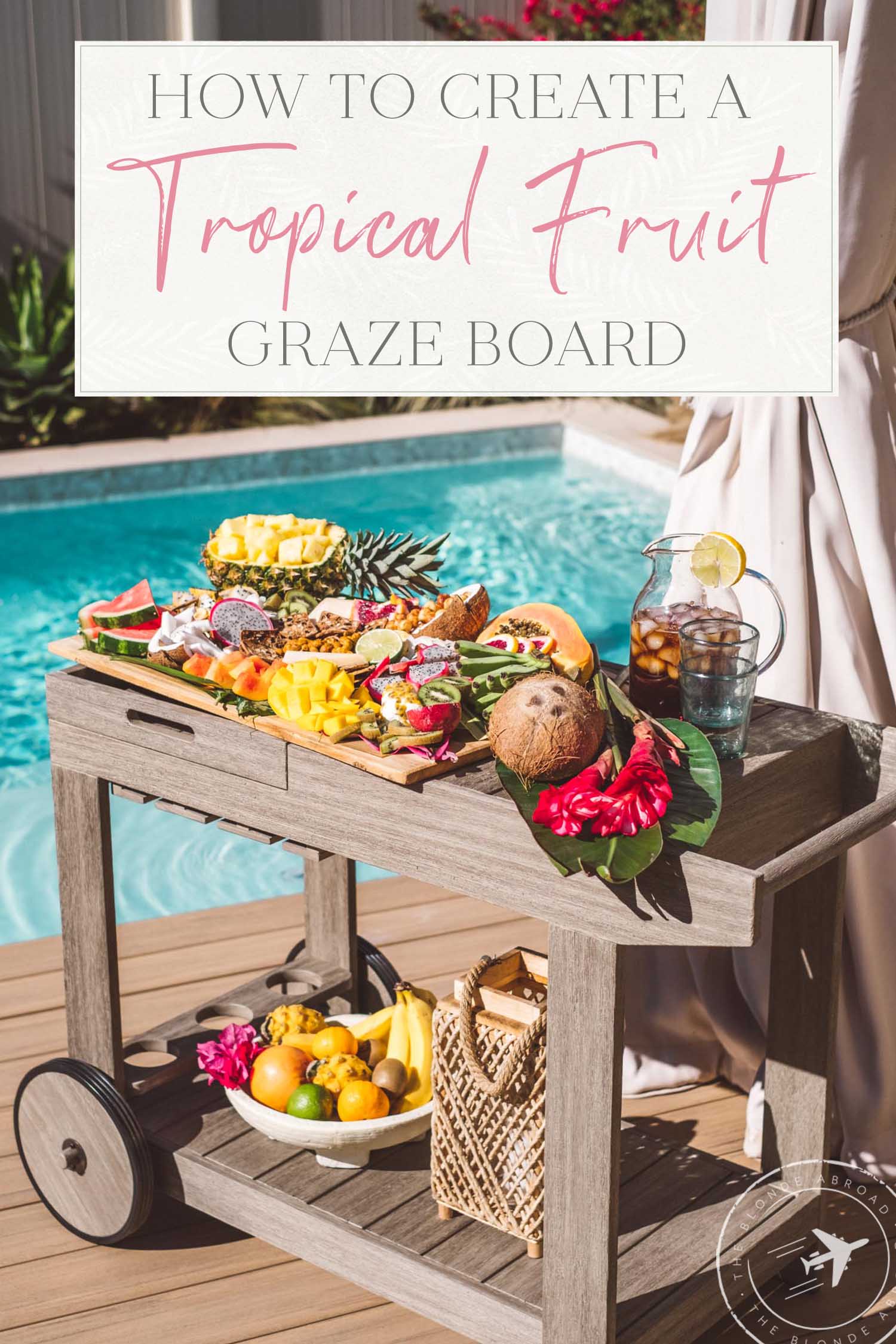 Who says salami and spreads get to have all the fun?
As much as I love a charcuterie board, I definitely crave a fruit platter when the weather warms up!
Replete with tropical goodies, cheeses, and nuts — this fruit graze board is perfect for spring and summer and best served with a side of sunshine.
My feeling is this: If you can't go to Hawaii…why not bring the vacation to you?
Let this serve as an inspiration and a baseline for the tropical fruit board of your dreams. But remember, you can absolutely change out the fruits to whatever is in season near you! You don't even have to go tropical — you could focus more on berries and other fruits. Heck, even add in some veggies!
If you're looking for inspiration and guidance to create your very own, picture-perfect, tropical fruit graze board, this is for you!


Gather the Ingredients
Like I mentioned above, if you don't have tropical fruits available, you can easily swap in other items. However, I was definitely aiming for sweet fruits you can find closer to the equator and channeling all the summery vibes.
What You'll Need for a Tropical Fruit Platter:
Large Cutting Board/Charcuterie Platter (The bigger the better!)
Parchment Paper: Just in case — don't want any of the fruits to stain your board, especially berries
Tropical Florals: To use as the base
Different Types of Cheeses: Goat Cheese, Parmesan, Cheddar
Crackers: Fruit Crackers and Seeded Crackers
Nuts: Macadamia Nuts, Cashews
Large Fruits: Coconuts, Papaya, Pineapple, Watermelon, Bananas, Mango
Smaller Fruits: Dragon Fruit (Yellow & Pink), Kiwi, Passionfruit, Blood Orange, Lime
Dried Fruits: Coconut Chips, Banana Chips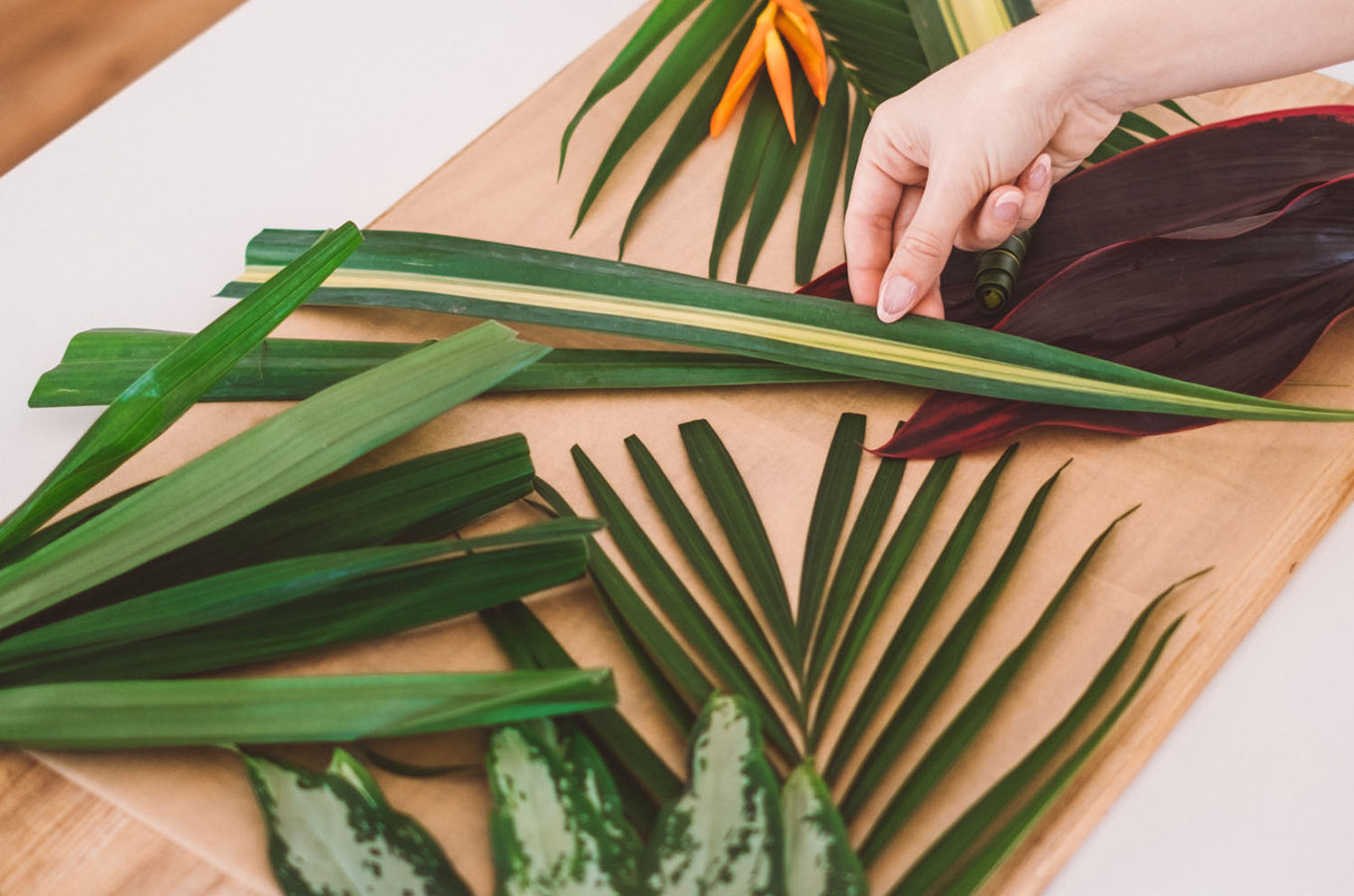 Tropical Florals and Bigger Fruits First!
Start by laying out some tropical florals like banana leaves or palm fronds as the base. Then, add in large fruits — primarily around the edges. These bigger pieces will help ground your board and provide structure, as well as add fun pops of color.
Check Trader Joe's for a tropical flower arrangement! I got all of these florals (complete with baby bananas) for less than $10!  
If you don't have anything in stock locally, you can find some pretty good faux monstera and palm leaves on Amazon that would work well!

Pro Tip: Hollow out your pineapple to create a pineapple "boat." Now, here's the trick — also buy some pre-cut pineapple or a second pineapple (that you can cut into neat bites). It's MUCH easier than trying to salvage the pineapple you scoop from the boat.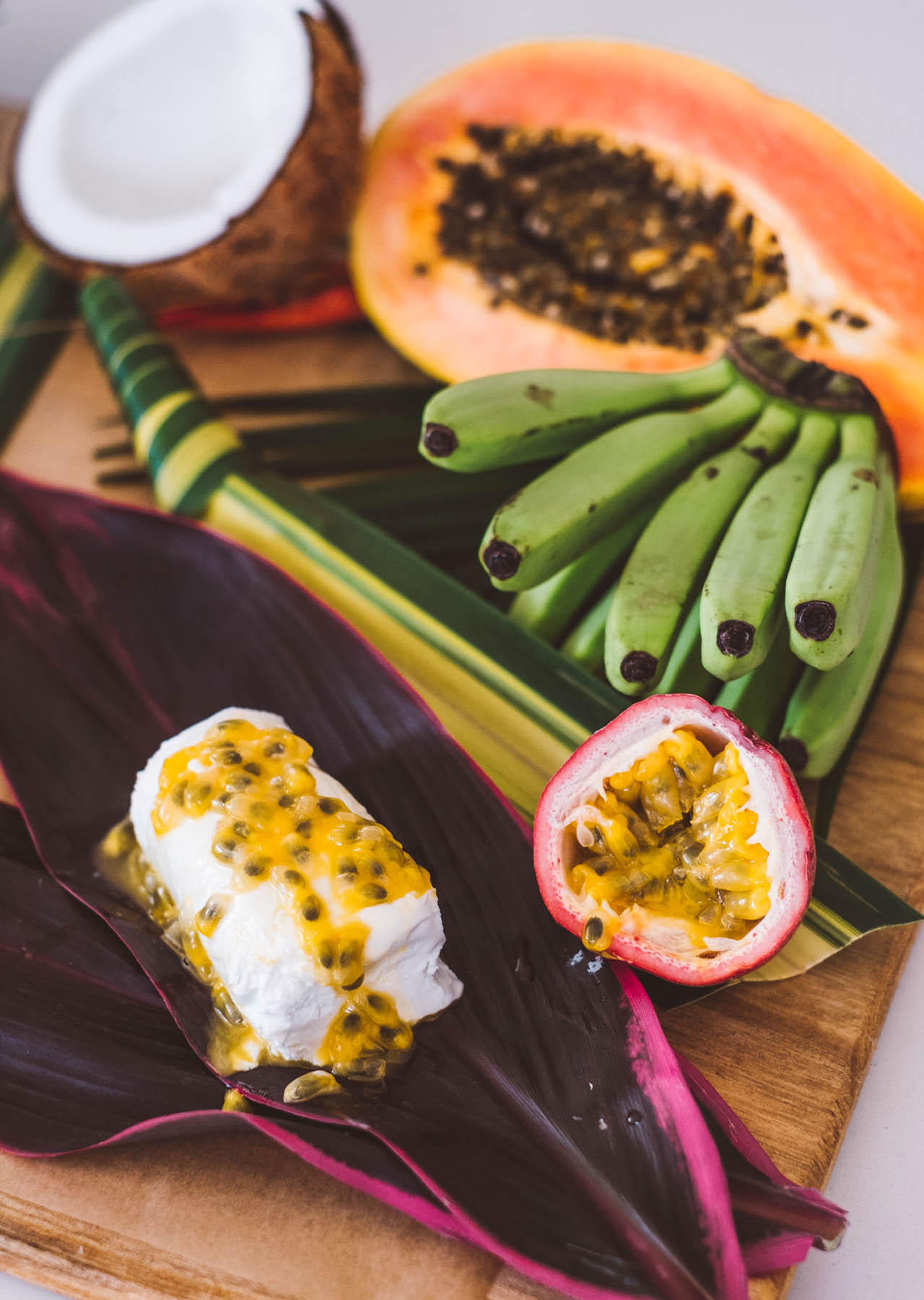 Say Cheese!
I've never met a cheese I didn't like 😉
For this board, I picked out a raspberry ale cheddar, a wedge of parmesan, and a log of goat cheese. Goat cheese pairs well with most fruit and adds a lovely tang, without it overwhelming the fruit (or adding in a funky flavor).
If you'd really like to find some unique pairings — you may want to find a dedicated cheese shop or check your farmers market to see if there is a cheesemonger with recommendations for cheeses that pair well with fruit. Trader Joe's and Whole Foods usually have a pretty decent selection of cheeses to choose from!
Common cheese and fruit pairings that are tried and true:
Peaches and Mozzarella: If you want to grill the peaches before laying them out, or cut them into small chunks, and pair with fresh mozzarella, it's a real showstopper.
Apples and Cheddar or Gouda: Tart green apples tend to pair well with Gouda, and ones that are sweeter are quite nice with cheddar.
Mango or Passionfruit with Goat Cheese: The tangy goat cheese blends beautifully with either of these tropical fruits. You can also top goat cheese with honey and some honeycomb for a beautiful presentation.
Helpful Tip:
A few things to keep in mind: I'd generally avoid garlic or onion-seasoned crackers for a more fruit-based board. The cheese and fruit combo is usually enough on its own and you don't need to add in any savory elements.

While I added a few citrus fruits to this platter (mainly for color), these tend to be best-enjoyed solo and don't usually complement cheese all that well.

Layer in Smaller Fruits and Slices
I know that creating a grazing board like this might seem really intimidating, but fear not! My best advice is to create "color blocks" by cutting up fruit into bite-size pieces, and getting creative with fruit rinds for color and texture.
For example, I added passionfruit seeds over the goat cheese, and then added half of the fruit in the rind next to it for a pop of color. It's all about creating visual interest.
You could choose to create an ombré effect on your board with similar colors in one area, or just fill in spots however you desire. There's no right or wrong way to do this — have fun with it!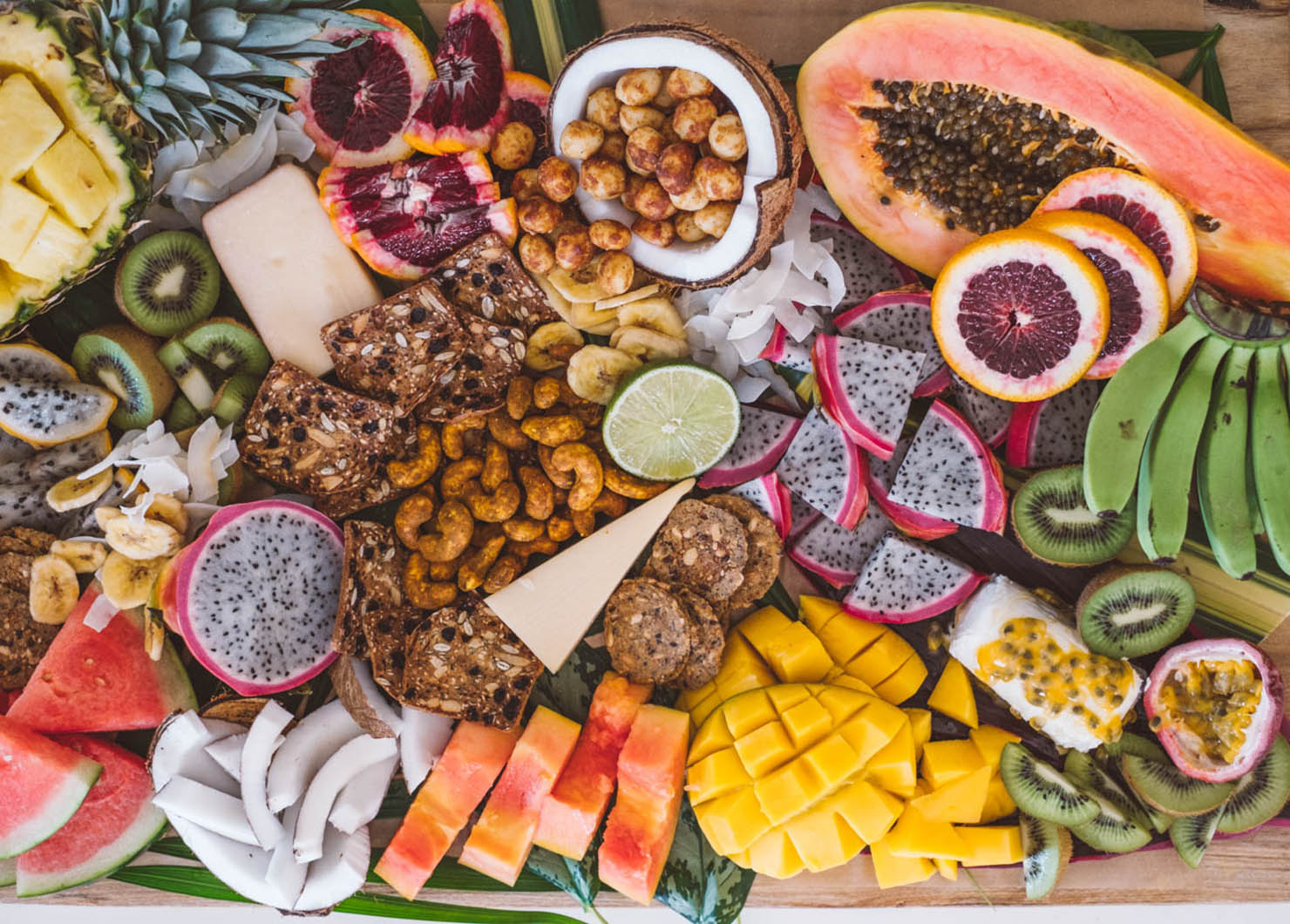 Fill in with  Textures
Now, wherever there are empty spots on your board, fill those in with dried fruits, seedy crackers, and nuts. This is the time to add in texture and overflow your board with goodies!
I used a real coconut as a bowl for nuts or fruit, but you can also use these coconut bowls!


Style & Serve
Et voilá! For a final touch, pour up your beverage of choice (I opted for iced tea) and add in a few extra tropical florals and whole fruits as you see fit.
Whether you want to set this up as a picnic spread on a low table to the ground and have everyone sit around, OR you want to elevate it on a bar cart next to the pool — it's entirely up to you.
My one piece of advice: this is best served with a side of sunshine and summer tunes! 


What goodies would you include on a tropical fruit and cheese graze board? I'd love to hear in the comments below!