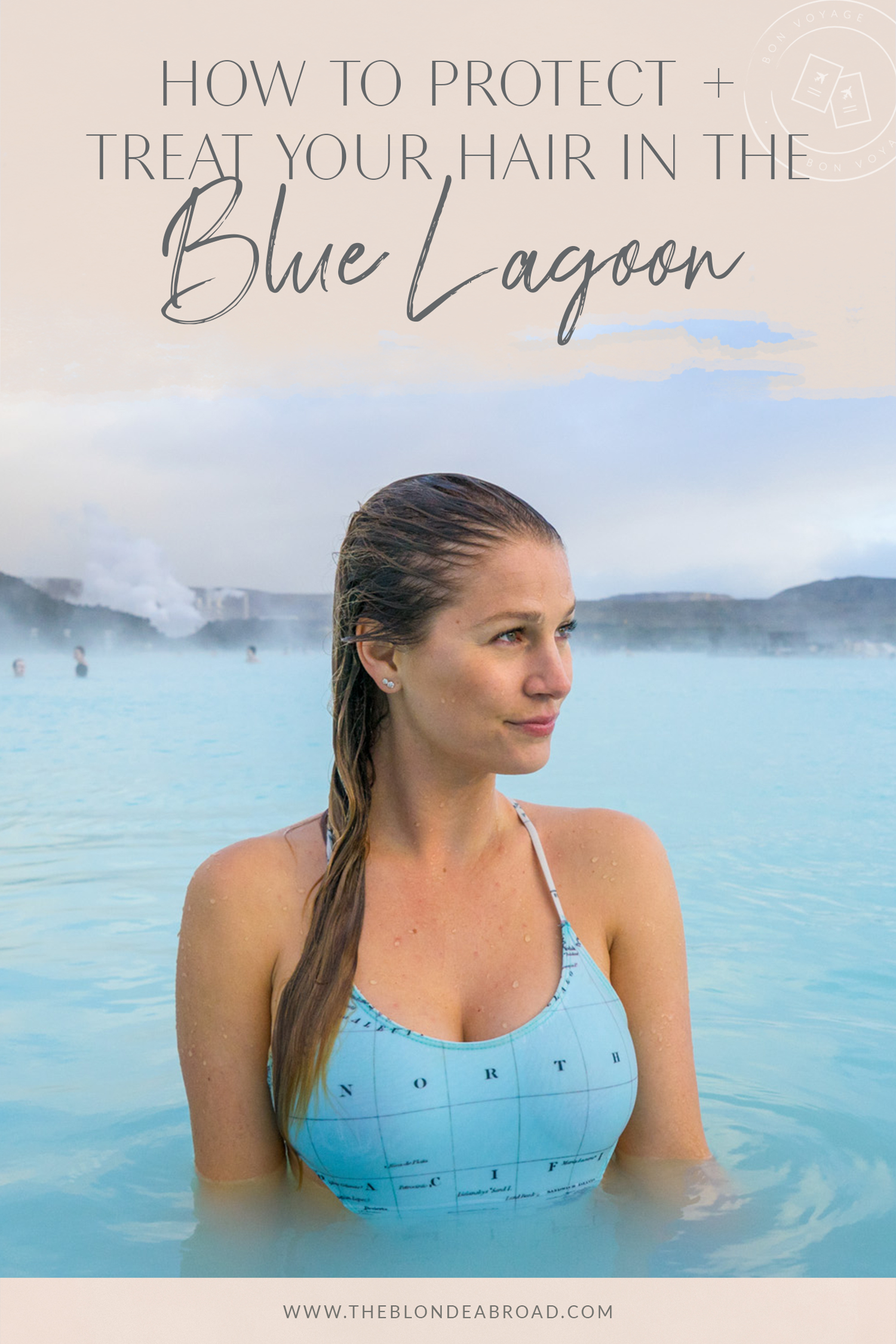 Updated: April 2023
For travelers visiting Iceland, the Blue Lagoon is high on almost everyone's bucket list. Its warm, milky blue water and otherworldly appearance are like something out of a dream. On my last trip to Iceland, I took the day to relax and play around in the lagoon, and it was magical!
While the silica and sulfur in the water of the Blue Lagoon are amazing for your skin, beware. Geothermal water can have negative effects on hair, especially for women!
As a blonde, water is my hair's worst enemy. I've definitely had issues with everything from green hair problems after a swim in a pool to breakage from too much ocean water, so I was worried.
The geothermal water at Blue Lagoon has high levels of silica, and while silica is not harmful to hair (I repeat, NOT harmful to hair—don't panic!), it can become stiff and difficult to manage once wet. You will feel the mineral buildup and you will need to treat it.
I've gotten asked quite a few times, how the heck to avoid this issue, so I've put together some of the tips that worked best for me.
Here's how to protect and treat Blue Lagoon hair!

Before You Go: Pack a Clarifying Shampoo and Conditioner: To prevent that mineral buildup, pack a clarifying shampoo and a deep-conditioner that doesn't contain protein. After swimming in the Blue Lagoon, you'll need to clarify the mineral buildup from your hair and then recondition it.
1. Rinse Your Hair Before Entering
If you rinse your hair with mineral water before entering the geothermal water, your hair will absorb less silica, resulting in less of that feeling of mineral buildup!
2. Apply Conditioner BEFORE Getting in the Water
Lather up your hair in your deep conditioner, and leave it in while you bathe! (Remember, you want a deep conditioner that doesn't contain protein — just pure moisture!) The Lagoon also offers a complimentary conditioner in the shower area if needed.
3. Splash Around
Many girls had their hair up in buns and swim caps, but I was adamant about getting an epic shot in the Lagoon, so I went all in. Don't be afraid!
4. Wash Your Hair
When you get out of the water, immediately wash your hair with your clarifying shampoo 2-3 times. There's also complimentary shampoo in the shower areas if needed.
5. Rinse
Rinse thoroughly then towel blot out some of the water and put your deep conditioner on the mids and ends of your hair.
6. Deep Condition Overnight
If you need to rinse your hair out before you leave the spa, let the conditioner really soak in, and don't rinse until you're ready to leave. Then, do an overnight deep condition when you're able. Repeat the shampooing and conditioning process the next day if you still feel the buildup.
After washing with a clarifying shampoo and an overnight deep condition, my hair was 100% back to normal!

I hope these tips help you enjoy your trip to the Blue Lagoon in Iceland! If you have any questions, please comment below.