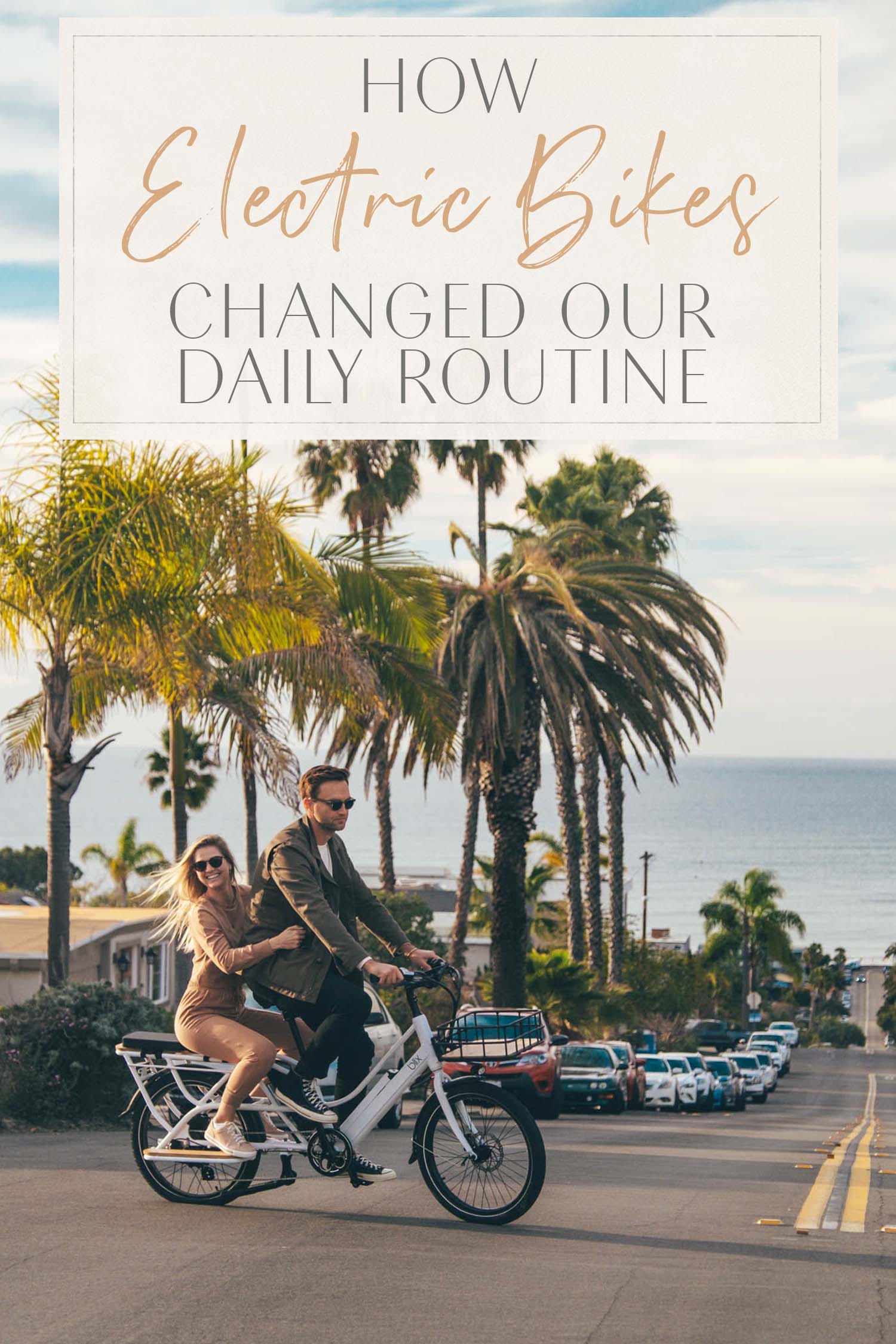 What's the best thing about living in Southern California? The fabulous weather, of course! When I'm soaking in the sun on a 70-degree day in January, I know just how lucky I am to call this place home.
While we don't have much to complain about here, we do have one big problem: car culture.
After years of living in a very walkable neighborhood in Cape Town, coming back to a state where it's normal to hop in the car to buy a loaf of bread has given me a bit of reverse culture shock.
All of the sudden, I'm having to plan outdoor time.
With quarantine keeping all of us at home more than ever, I sometimes find myself going back and forth from my house to my car in an endless loop—without spending more than a few minutes outside.
For a hearty dose of vitamin D and a break from the sofa, I wanted to make cycling part of my routine…until I realized that it's not all that practical.
My neighborhood is packed with steep hills, so getting around on my own (let alone bringing our dog, Bailey, along for the ride) was a big enough effort to avoid it altogether.
When winter rolled around and with my old fashioned bicycle just now doing it for me, all I wanted for Christmas was an electric bike.
After tons of research on the best electric bikes for our lifestyle, we found the perfect pair from Blix.
Here's how our Blix electric bikes changed our daily routine!

What is Really Special About an Electric Bike
I am absolutely in love with our new Blix e-bikes for so many reasons! I no longer make excuses to skip the bike because, thanks to the high-capacity battery, you always have a little help with pedaling!
You can even use the throttle for full-electric power to sit back and cruise without pedaling—like you're on a low-speed motorcycle.
How cool is that?!
The electric bikes also make longer trips easier — we can go pretty much anywhere in our area of Southern San Diego with no problem. Cycling 15 miles roundtrip to grab brunch.
While it'd normally be a strenuous trip and I'd end up a sweaty mess, it's now something fun that I look forward to!
And, it's more than just the motor! Thanks to carefully crafted luxe cushions and so many options for accessories (like a bike seat for my four-legged travel companion), Bailey and I ride in style and comfort.

Our Blix Electric Bikes Set-Up
We have two bikes: my Blix Sol in Sky Blue and Meyer's Dual Battery Packa in White.
One of the best things about the bikes is that they're built to customize! Whatever your lifestyle is like or whatever your needs are, there are so many optional gear additions to make the bike work for you.
For those that are blessed with seriously tall genes (*ahem,* Meyer), it's usually quite difficult to find the right bike… but Blix designed the Packa to be adjustable (it can work well for someone who is 5'1″ or 6'3″), and Meyer is loving how comfortable it is!
And, the Packa has a total loading capacity of 400lbs so we can even fit on a single bike as an entire family!
Meyer's Packa has so much cargo space that when we one day grow our family, we can fit up to TWO child's car seats on the back. Right now, we have cushions on the back of his, which is awesome as I can hop on the back of his bike and it can power him, me, and Bailey!
One of the things that really appealed to me about the Blix electric bikes is that they are literally built to accessorize! You can customize your bikes with baskets, platforms, and extra seats to make them fit your lifestyle.
For $50 off your purchase of a Blix eBike, use the code 'TBA50'! *Limit to one use per customer*
Here is a list of all our Blix accessories:
For My Sky Blue Sol:
1 x Blix Sol in Sky Blue
1 x Sol Fender Set
1 x Sol Rear Rack
1 x Large Basket (on the back)
1 x Black Front Basket — this is wonderful and it's got a little cupholder, too. It's a smaller basket than the larger one we have on the back.
The Sol
Growing up in Southern California, I'm a big fan of the beach cruiser, and how comfortable this one is! It's got a super cushy seat, wide handlebars, and fat tires for a smooth ride. It's also got a low step-through frame, making it easy to hop on and off.
For Meyer's White Packa:
1 x Dual Battery Packa in Bright White
1 x Front Rack (to support the large basket)
1 x Large Basket (on the front)
1 x VIP Section (handlebars so kids can ride on the back — not pictured yet!)
2 x Rear Cushions (cushions for the back)
The Packa
The Packa is the ideal "cargo" bike and is built to handle almost anything. Not only can it hold a total of 400lbs — making it ideal for picking up groceries, and we can both ride on it at the same time, but it also has a dual battery so you can go further for longer (up to 70 miles per charge!).
Other Accessories We Have
We also got a few more accessories that work perfectly with our Blix bikes! 
Like I mentioned above, the beauty of these bikes is how customizable they are! Blix has a ton of their own accessories, but you can also find third-party accessories for things they don't carry — like dog seats and car racks.
Bike Rack for Car
Bicycle Pet Seat
Since we are always traveling around, we got this bike rack that's designed to carry two large cargo e-bikes. Being able to pop it onto the back of the car and go or stick our shopping into a basket makes the bikes way that much more useful.
Even with two electric bikes, we have no problem transporting them on the back of our car for bigger adventures. We have the Hollywood Racks Sport Rider SE for Cargo Bikes.
The Packa has a deeper wheel well than most bikes due to the wooden footrests for anyone riding on the back. So this works perfectly! We just need to remove the batteries so it's not too heavy, and then we can take our bikes anywhere!
We got the Buddyrider Bicycle Pet Seat and two mounts, so we keep a mount on each bike and can easily switch up who is cruising with Bailey. The max weight for the dog seat is around 25 pounds, so it's perfect for smaller dogs.
Bailey absolutely LOVES it and we're able to fully harness him in, so it's really safe.
Battery-Powered Lights
The Sol doesn't have built-in lights, so I bought some battery-powered bike lights on Amazon. Our E-Bikes Get Us Outdoors More
From weekend bike rides to quick trips to the store, we sometimes find the car keys left untouched for days. Fitting in more outdoor time is easy all of the sudden.
And I'm feeling it!
Getting more time in the fresh air has given me such a boost. With all of the time that I spend in front of my computer, getting outside is key to my mental wellness. It is one of those things that you don't even realize you're lacking until you add it back into your routine.
These days, we're now jumping on our Blix e-bikes for trips to the grocery store or grabbing a coffee!
Rather than having the world fly by in a blur out the car window, we're actually getting to see a lot more of our neighborhood. Living in an incredibly hilly area, having an electric bike really makes all the difference.
Not only are we checking out our area more and enhancing our staycations, but we're taking our e-bikes on the road with us. These days, when we go up to Los Angeles for a day trip, we bring the electric bikes.
It makes it SO much simpler to get around. Thanks to our cute Blix e-bikes, we're getting fresh air after a long drive, and we don't have to worry about parking!
Living in a beach city, there are a lot of benefits to having an electric bike!
For one, parking in the summer is a nightmare anywhere close to the sand and surf, but with an electric bike you can easily lock your bike up without having to wind through the streets looking for a spot.


Making Environmentally-Conscious Choices
Of course, there's the bigger picture too.
I've committed to reducing my environmental impact while traveling, and that means at home too. I'm a big believer that wasting less doesn't have to mean doing with less. With our Blix electric bikes, I actually feel like we're getting an elevated form of transport.
Electric is the future and it's down to us to make conscious lifestyle choices. The less we rely on our cars, the brighter our future is.
Rather than adding to the pollution, you can do something for your body, mind, and planet. Sure, that's always been the case with bikes but it's just so much easier with an e-bike.
Jumping on my Blix doesn't feel like work. While it can definitely be a workout if I want it to be, it can also be a quicker and easier alternative to driving. An easy economical choice with less pollution and noise is such a win-win.



Thinking about upgrading your ride?
For $100 off your purchase of a Blix eBike, use the code 'TBA'!
*Limit to one use per customer*