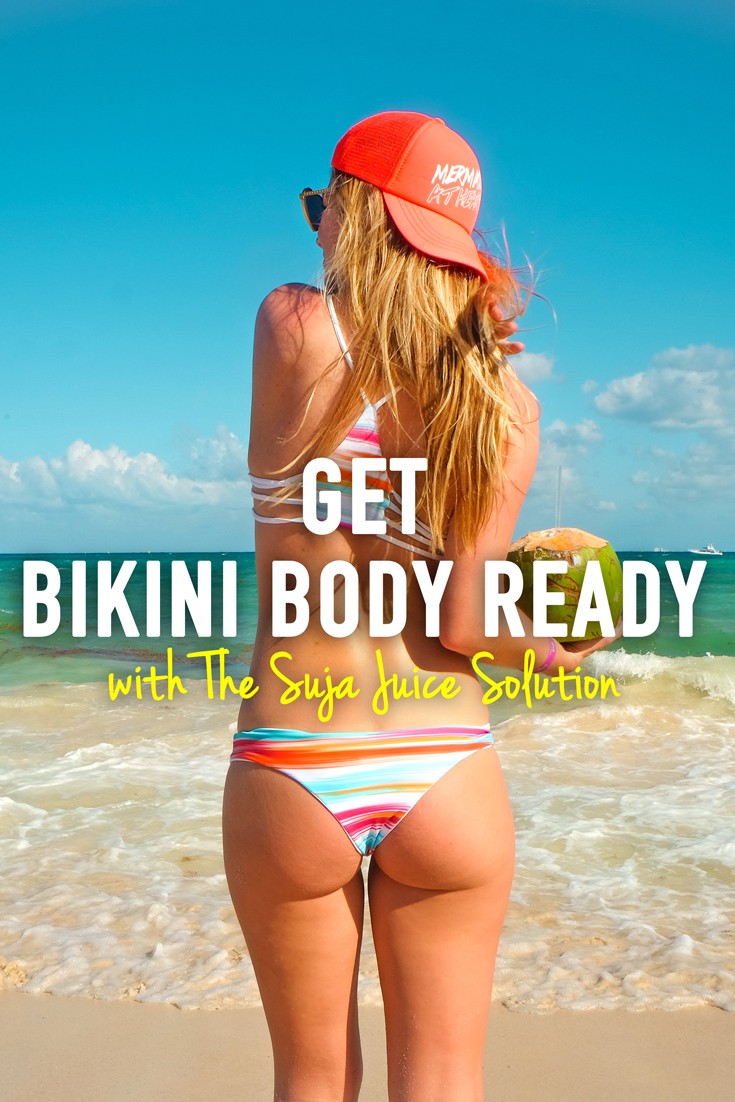 One of the most common reader questions I get is how to stay in shape when traveling. In truth, I don't "diet" in the sense that I don't restrict myself from food or count calories.
There are countless ways to stay in shape while traveling, but the most important factor is making a healthy diet a lifestyle.
I've written about how I juice cleanse with Suja between trips to help reset my body, and I also try to drink as much fresh juice and eat as many raw vegetables as possible while I'm on the road.
But, I firmly don't believe in crash dieting and know first hand just how pointless it can be when you travel.
Does this sound familiar? You restrict your eating and feel great about yourself before taking a vacation, then eat and drink like a gluttonous Greek God for a week, and return home feeling particularly horrible? Probably not the best plan…

Introducing The Suja Juice Solution
If you're looking for a quick 7-day diet to shed a few pounds, this book isn't for you. But, if you're ready to make a lifestyle change and feel and look amazing, The Suja Juice Solution may be perfect for you.
The Suja Juice Solution was written by mega-hottie, Annie Lawless, co-founder of Suja Juice (the #1 cold-pressed juice brand in the US). Not only is she a San Diego native like myself, but she's a blonde, ass-kicking, 27-year old entrepreneur and certified health coach. Already listed as a New York Time's Best Seller, The Suja Juice Solution really is a solution… not a diet.
Now that's what I call street cred!
The book features an easy-to-follow plan that combines fresh, nutrient dense juices + delicious, whole food meals. The best thing with The Suja Juice Solution is that you'll never count calories or feel deprived. The book includes over 75 mouthwatering, original Suja recipes, weekly shopping lists and mix-and-match meal plans.

The Suja Juice Solution is as easy as 1, 2, 3
1 Week: See results in as little as seven days!
2 Steps: Crowd IN nutrient-dense juices and fresh, whole foods and crowd OUT difficult to digest, processed foods, irritants and unhealthy cravings.
3 Juices: Enjoy 3 delicious juices a day in addition to 3 satisfying, quick and easy, whole food meals.

Maintaining a Lasting Balanced Diet
This program teaches people HOW to eat correctly as a maintainable lifestyle rather than how NOT to eat for a short period of time. Juice is not magic nor is "fasting" or "cleansing" something you can rely on for all of your nutritional needs on a long-term basis.
The secret to a great bikini body is not in dieting, but making healthy lifestyle decisions that don't feel like torture. Besides, who doesn't want to feel bikini ready year round?! If you're interested in boosting your energy, improving your skin, feeling more satisfied (and losing excess weight as an added bonus!), order your own copy of The Suja Juice Solution.

Shop Products Below
Disclosure: Please note that some of the links above are affiliate links, and at no additional cost to you, I earn a commission if you make a purchase. I recommend Suja because I have read The Suja Juice Solution first-hand and believe it is a great program. I would never recommend anything I don't personally love. If you would like to try The Suja Juice Solution and would like to support this website in some way, using these links will help do exactly that. If you have any questions about the book, please e-mail me. I'm always happy to answer questions!