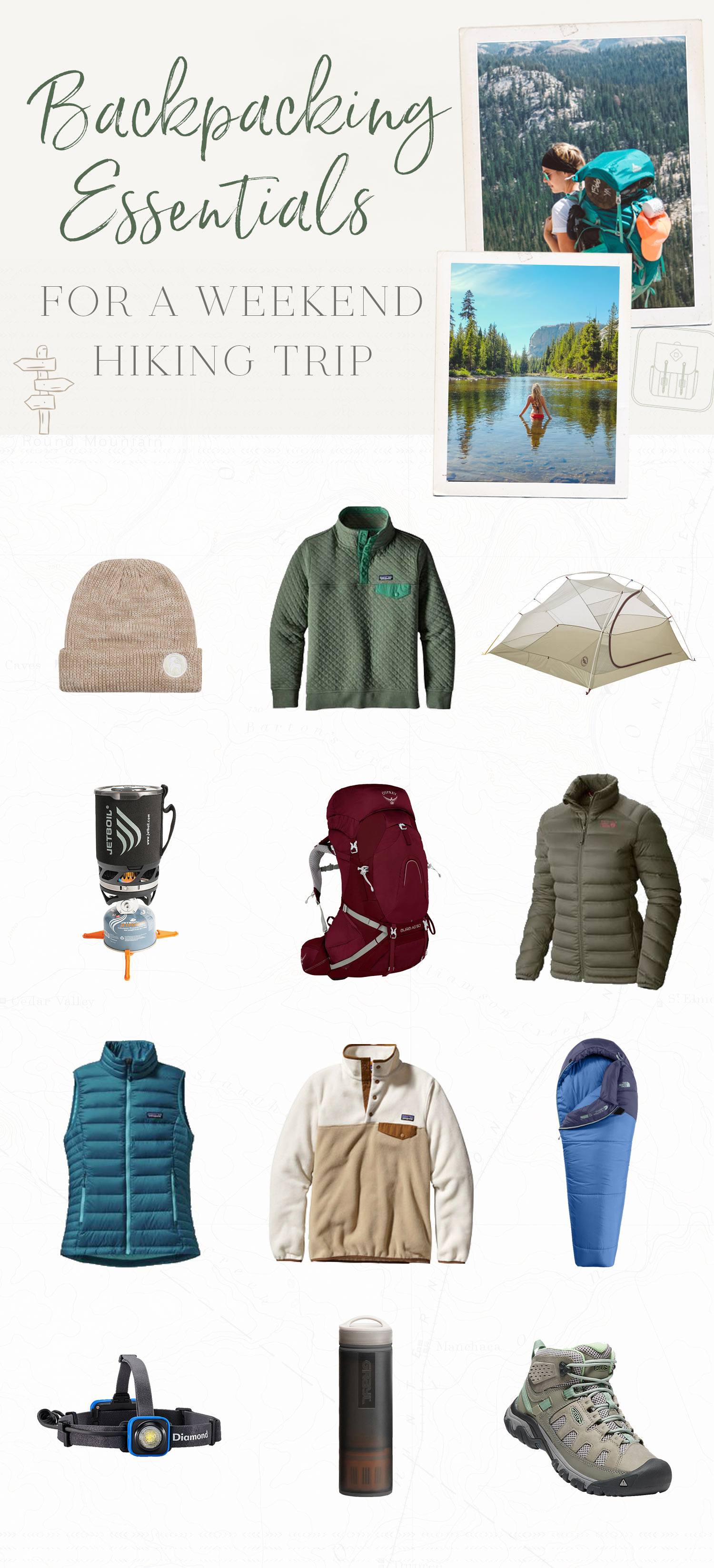 A few years ago, I backpacked into the Yosemite backcountry on my first real backpacking trip, and since then I've made a point to explore the outdoors whenever possible.
Having the right gear makes all the difference for multiple days of hiking and camping!
Whether you're backpacking and camping for one night (or three), use this packing list to plan out everything you'll need for your backpacking trip. You'll most likely be carrying everything you need for your hiking trip on your back, from food to your tent, so it's important to pack smart.
Here's my packing list of backpacking essentials for a weekend hiking trip!

Backpacks + Hiking Boots
Having the right backpack is one of the most important things to consider. There's no "one backpack fits all" when it comes to carrying a backpack with all your essentials for hours at a time! It depends on your body build, size, and length of the trip. This article has some awesome information on finding the right backpack for you.
The above also applies to hiking boots! For those that have seen the movie "Wild", you'll know the importance of comfortable and durable shoes (let's not go throwing our boots off the cliff, if you know what I mean). This article is a good resource if you need to learn more about finding the right hiking boot.
I've had my Gregory Packs Cairn 68L (which is no longer available) for as long as I can remember and used it on the Inca Trail and on my Yosemite backpacking trip. I'd recommend something with an aluminum frame to help support the weight!
For hiking boots, I'm honestly still looking for my Cinderella fit. I have the Danner Mountain Light Cascade, which I love for short hikes, but I'm not sure I'd trust them on a multi-day trek. Hiking boots need to be broken in so you have to trust that what you buy is gonna be comfortable in the long-term.
Some of my favorite backpacks for women:

Some of my favorite multi-day hiking boots for women: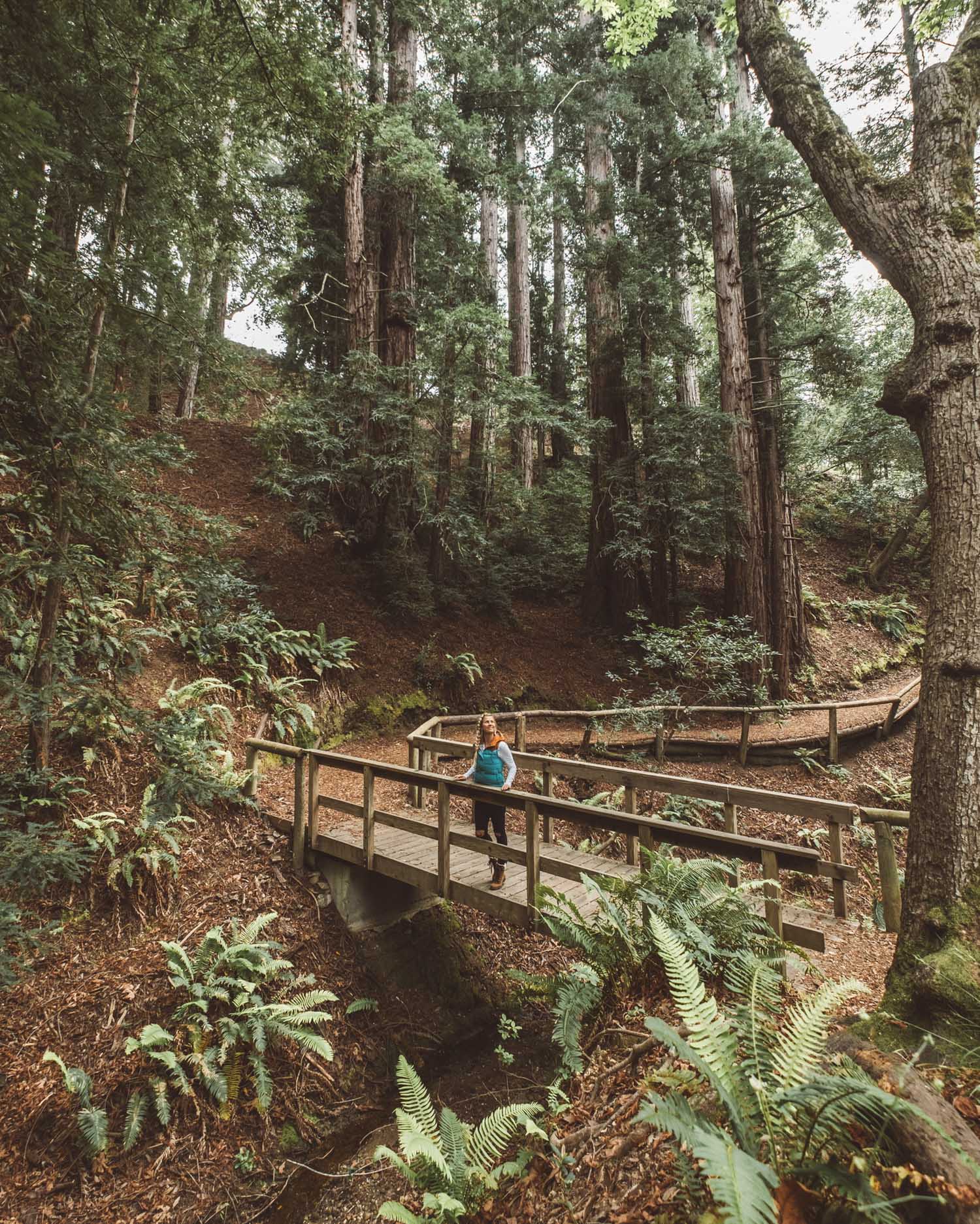 BIG SUR
Overnight  Backpacking + Camping Gear
These are the basic items you'll need to comfortably backpack and camp overnight out in the wilderness. If you're hiking with others, consider sharing a tent to lighten the load!

Tent

Tent Footprint—not necessary, but highly recommended to protect the bottom of your tent.
Rain Fly for Tent—you never know when a downpour is coming, and hiking with sopping wet gear is never fun!

Headlamp (+ batteries)
Solar Charger (if you want to charge your phone, GoPro, etc.)
Trash Bags
Please, please, please practice "Leave No Trace" when backpacking and hiking outdoors. That means don't litter—whatever trash you take in, pack back out and dispose of in established trash receptacles—so be sure to bring along a bag to collect your trash and leave room in your pack to bring it with you.


Backpacking Food + Drink
Food and drink while backpacking is up to personal preference. Some hikers prefer dehydrated meals, and just using a Jet Boil to heat water for them—others prefer to bring energy bars (ProBars are very popular) and lots of snacks depending on the length of the trek. Be sure to account for all the calories you'll be burning, and bring enough to keep your blood sugar and energy levels up!

Camp Stove and/or Jetboil (or some other way to cook your food, if needed)
Fuel Canisters (for your stove or Jet Boil, if needed)
Snacks, Dinner, and Breakfast (Dehydrated or Non-Refrigerated Items)
Sugary Treats
Tea or Coffee
Hopefully, this goes without being said, but clean water supply is the MOST important thing to consider before going out on a multi-day backpacking trip. Since you won't want to carry gallons of water, you'll need to invest in a filter and pouch or bottle to keep your clean water supply in.
You also may want to pack along a bear can, depending on where you'll be hiking, so plan accordingly! You can typically rent bear cans from major trailheads or National Parks but check before you go.

Backpacking and Hiking Apparel
Depending on what the temperatures will be where you'll be hiking and camping overnight, you may need to add or remove some of these clothing items! For colder climates, you'll want warm, down layers. For warmer temps, you can swap out some items for breathable, moisture-wicking layers.

Warmer Destinations
Colder Destinations

Warm Layers!
Bikini for a quick dip!

1-2 Sports Bras
Underwear
Clean/Comfy Set of Clothes for Sleeping
I'll typically hike in the same pair of leggings if it's a 2-day trek, and just swap out the other layers each day, but if you're heading out for longer you may want a change of leggings as well!

YOSEMITE NP
Backpacking Extras
I'd recommend bringing all of these extras, but plan out what you'll be able to fit depending on how many other essentials you need to pack, the size of your backpack, and weight you're willing to carry. TP or baby wipes are a must (obviously)!

Backpacking with  Photography Gear
This isn't a priority for everyone, but I bring my photography gear everywhere with me! If you want to document your trek, but don't want the weight, consider bringing along a small action camera, like a GoPro HERO9 Black.
SLR Camera or GoPro (if you don't want to carry a heavier camera)
Extra Batteries
Extra SD Cards

Where are you planning to backpack this year?