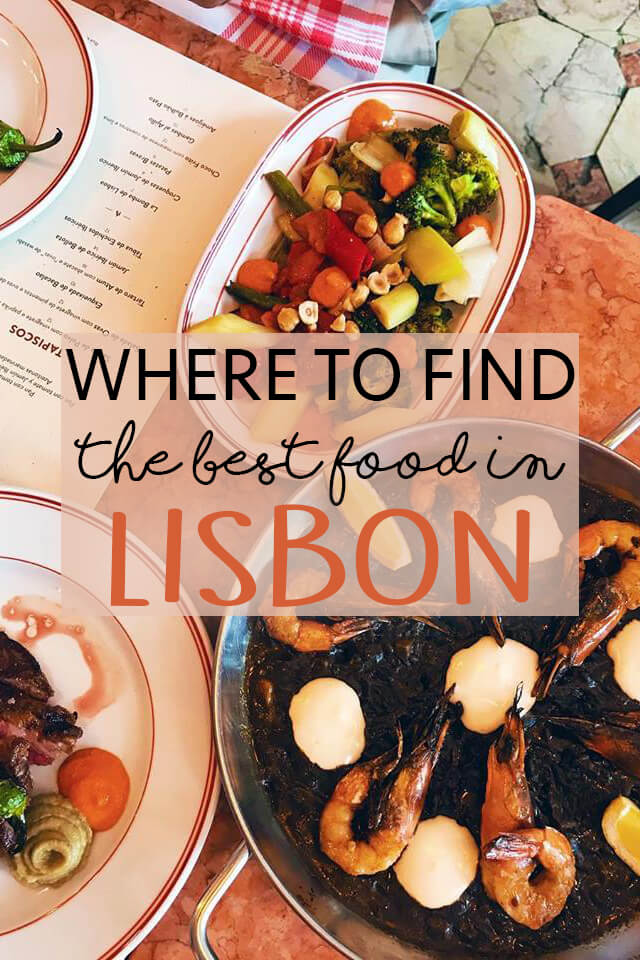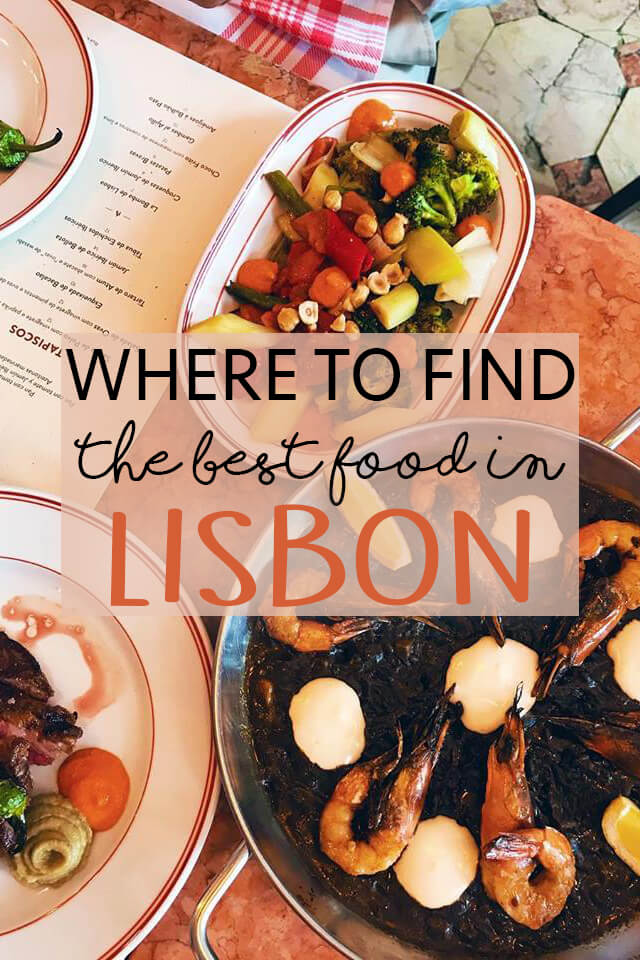 This Lisbon Foodie Guide was written by our International Food Expert, Kate, from We Travel We Eat!
I am overwhelmed with how much love I felt for the colorful, charismatic, and endlessly charming city of Lisbon. I went for the first time in 2009 when I was 27 but discovered a whole new appreciation for what the "seven hills" had to offer this time around.
Maybe I am a more efficient, more researched, more sophisticated traveler at this point in my life or I just explore with a different persistence and fervor than I used to, but certain destinations really get to the core of me these days.
Lisbon has without a doubt jumped toward the top of my list in terms of favorite European cities. The people are genuine and kind, sparking blue water and endless, captivating views are everywhere you turn. The colors and radiance of so many of the buildings are bright and beguiling.
My last venture to the no–longer-hidden gem of Europe came out of nowhere. Minimal preparation, maximum spontaneity and adventure. To say I packed things in during my four day visit is an understatement.
I easily put a week's worth of activities into just a couple of days, walking nearly thirty miles up, down, and around the cascading cobblestone streets during this time.
I spent much of my stay weaving in and out of cafés, stores, bookstores, and restaurants as I went. Here is where to find the best food in Lisbon, Portugal.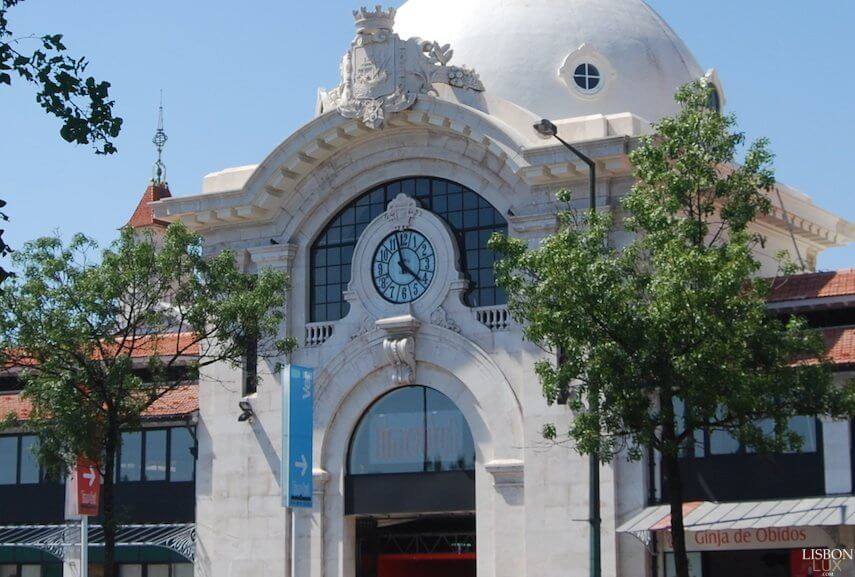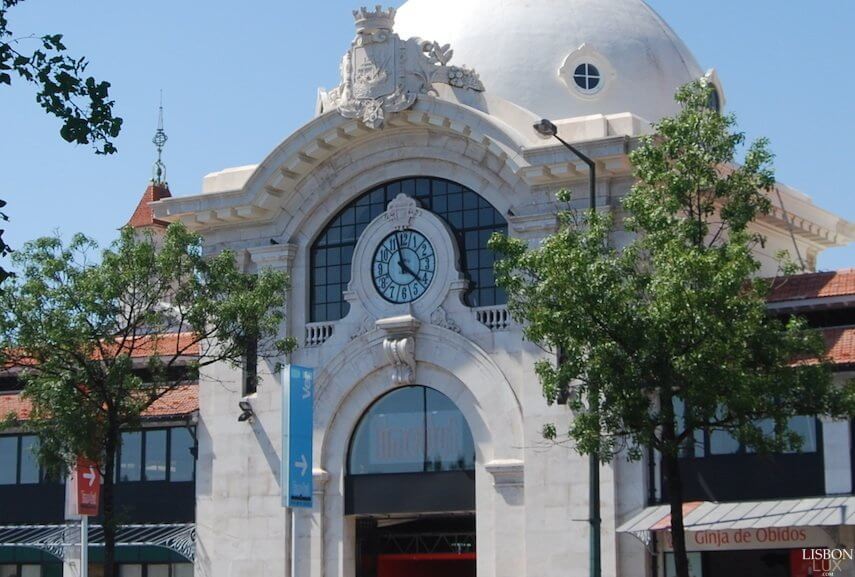 Mercado de Ribiera (Time Out Market)
When you land at six a.m. after taking a red eye, there aren't a ton of options as to where your day can start. Meals begin later in Lisbon, even breakfast, which is why the famous Time Out Market is the perfect place to kick off your time here.
Markets aren't always my favorite; they can seem super contrived and very much cater to a foreign, rather than local audience. Going here in the morning before most stalls were even open was the way to do it.
You can grab a coffee and pasteis de nata (egg tart pastries) if you'd like and watch the older generation of Lisbonites pick up its day's fruits and veggies as the sun is coming up.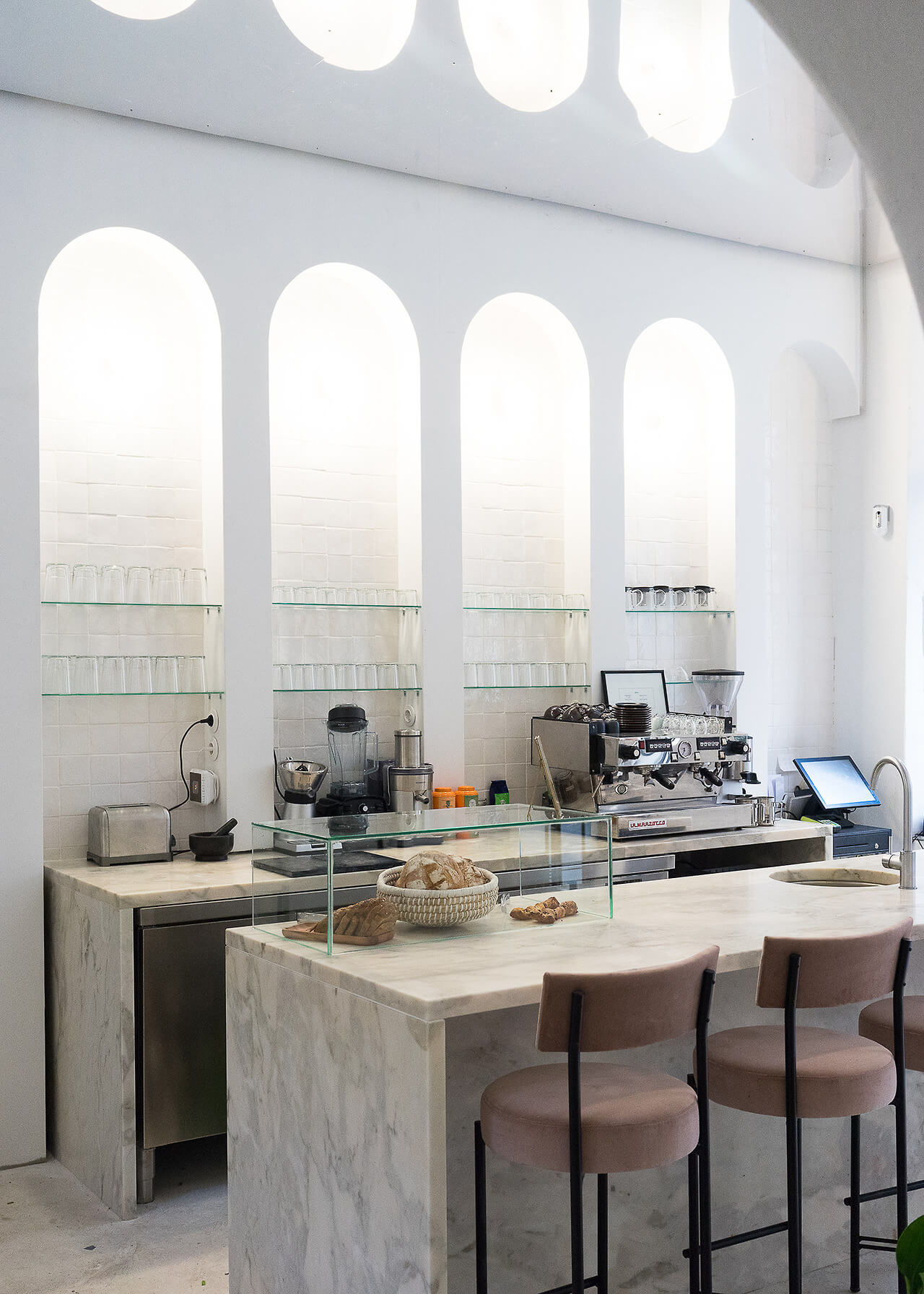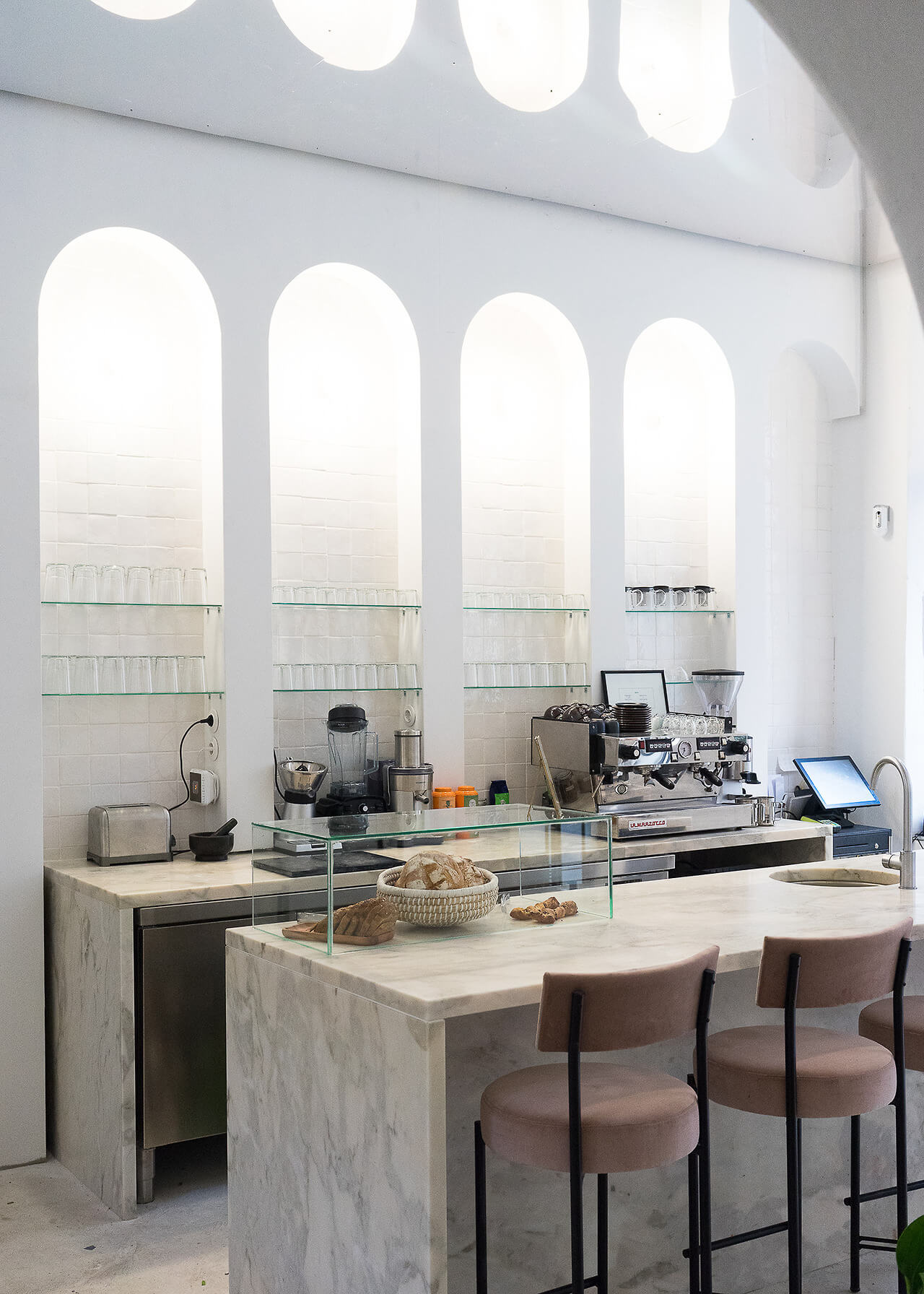 Dear Breakfast
Dear Breakfast, as the name signifies, really does feel like a love letter to this very important part of the day. White washed and airy, this is the calming oasis you want to eat a leisurely breakfast in.
The dark ceramic plates are gorgeous, and the food is meticulously arranged. Get the scrambled eggs with scallions and black truffles, grab a magazine from the wall, and ease into day one in Lisbon.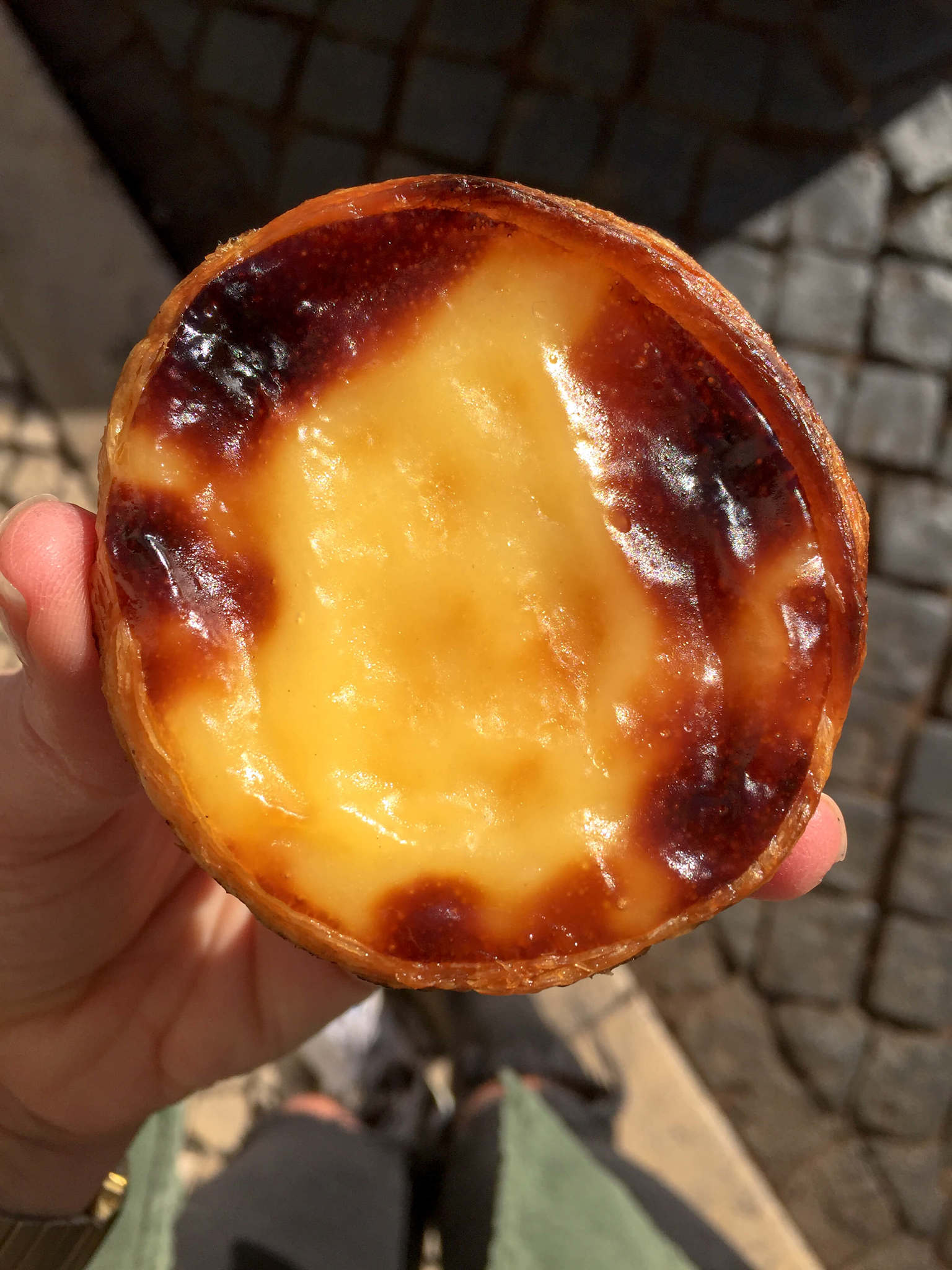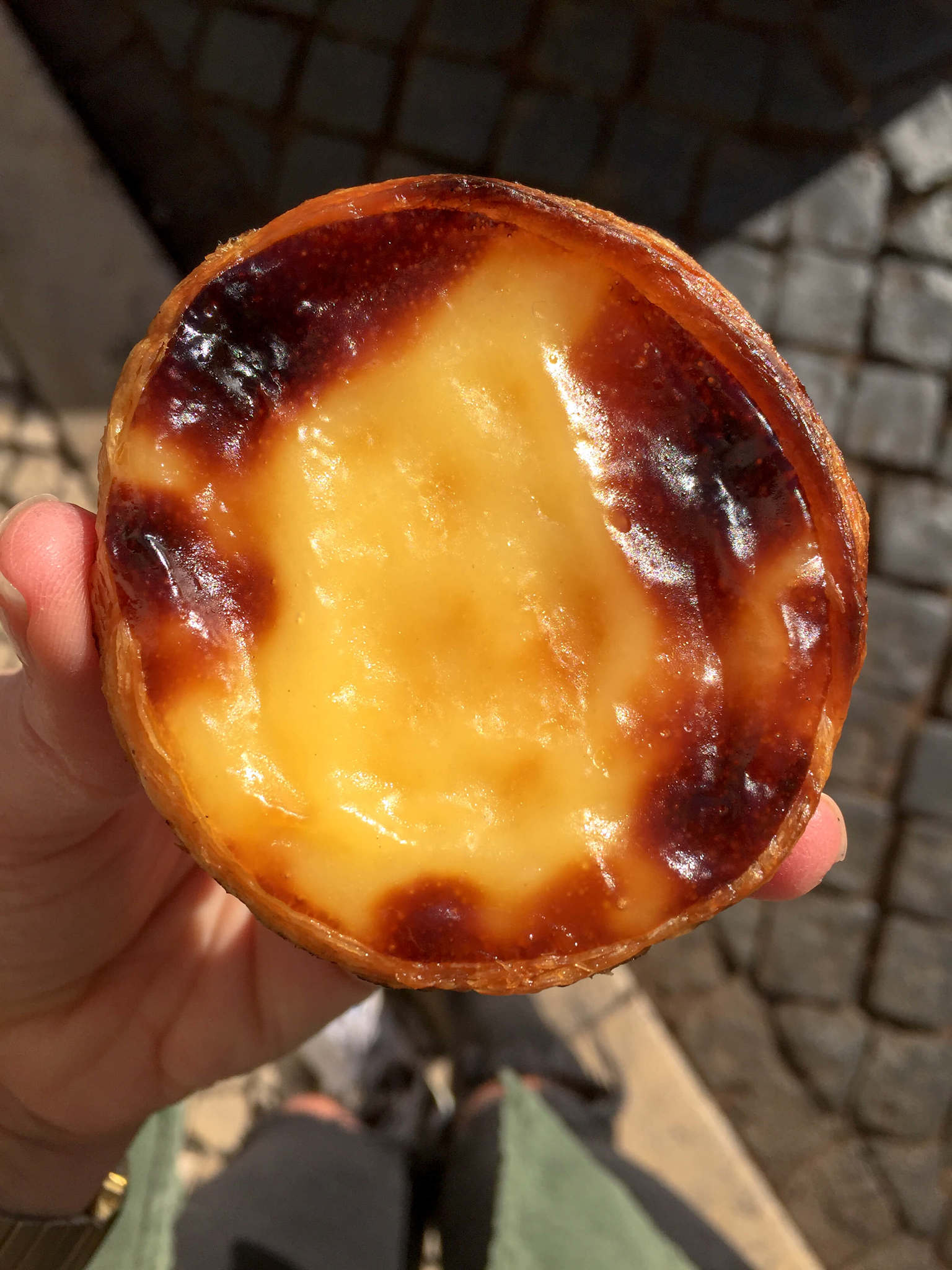 Manteigaria
Manteigaria is the clear winner for pasteis de nata.
Located off a square in Chiado, Manteigaria is a tiny storefront where you can see locals stopping by for a quick espresso, having a chat with a friend, or getting lost watching the production of these ridiculously tasty little treats.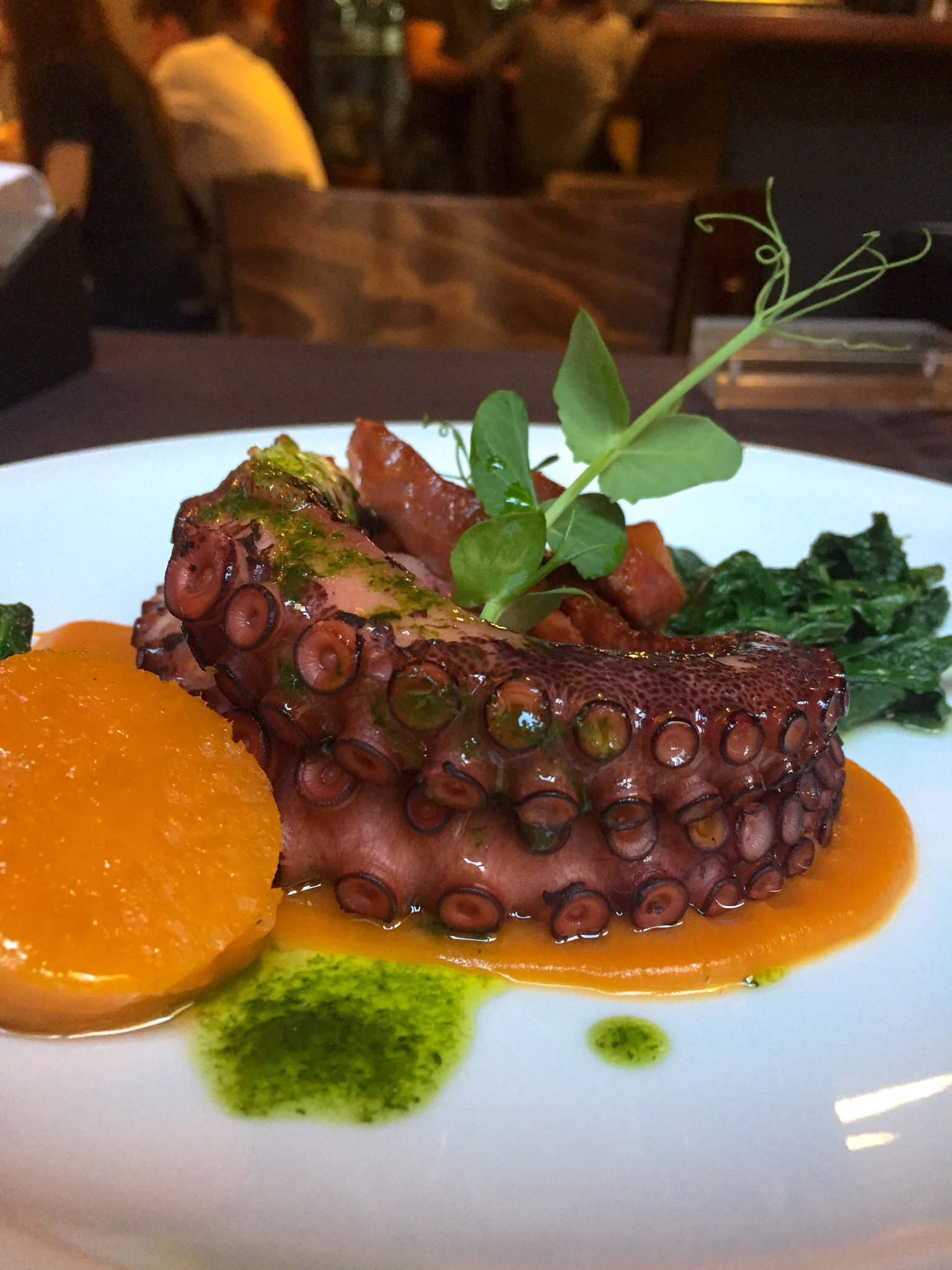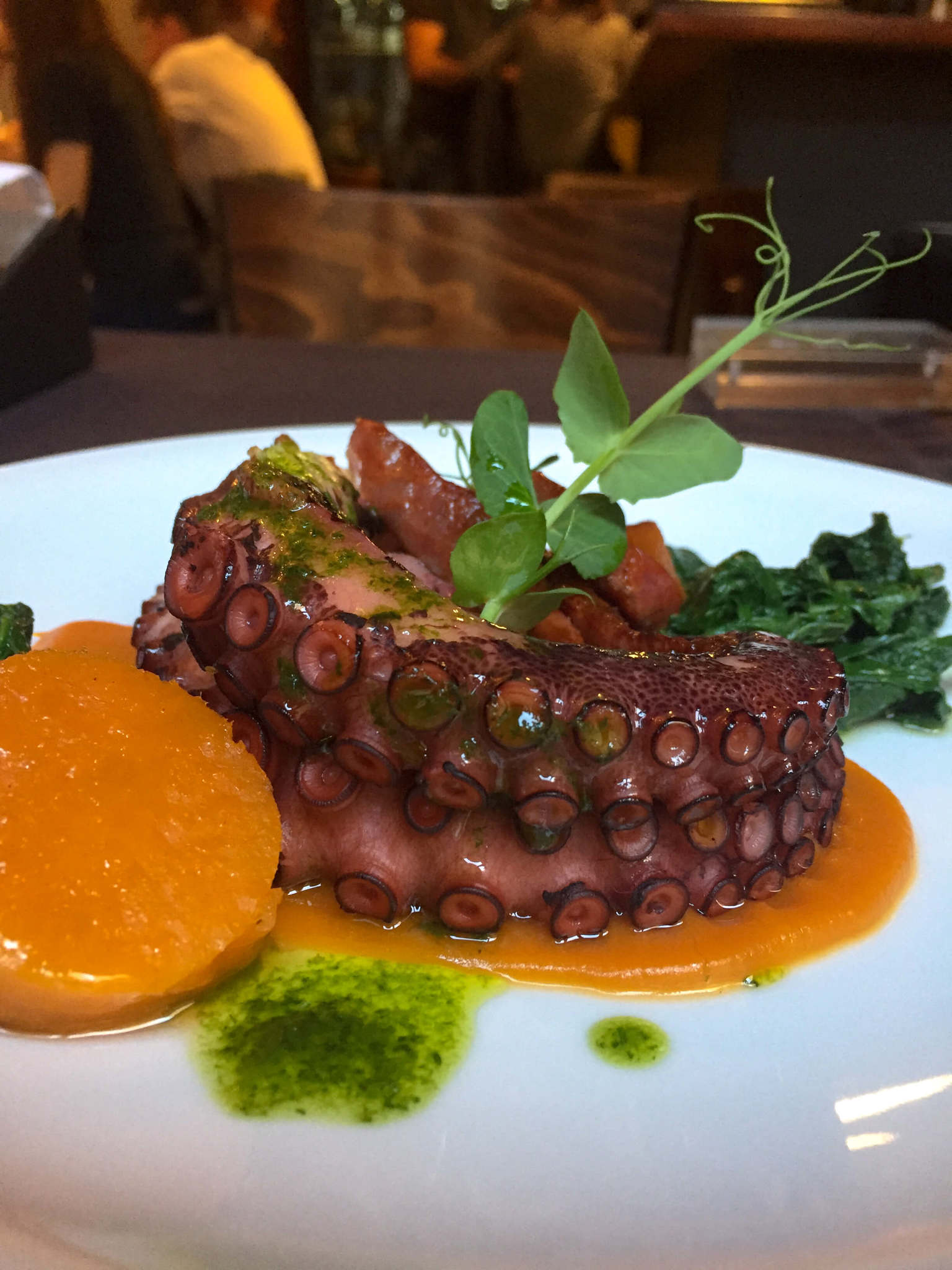 Enoteca de Belem
I had heard good things about Enoteca de Belem. Walking in, I will admit, I was not actually sure if I was in the right place. The aesthetics were underwhelming, and this small place had only a couple of tables.
Within one moment of eating, it was established that yes, I most certainly was right where I was supposed to be.
The salmon tartare in a sort of miso sauce was outstanding, followed by one of the most tender pieces of octopus I've ever come across. It was laid on top of a sweet potato mash along with spinach and a light pesto sauce.
First impressions most certainly are not always the right ones.

Pasteis de Belem
People flock to Pasteis de Belem for the famous Portuguese pasteis de nata; the line was wrapped around the corner when I went.
Go here just to go, as this is a longstanding Portuguese institution (the real standout for pasteis de nata , though, is Manteigaria, like I said above).
Pasteis de Belem should be part of an afternoon spent in Belem, walking the water, relaxing at the MAAT museum, and eating said octopus at Enoteca de Belem. The two spots are right around the corner from one another.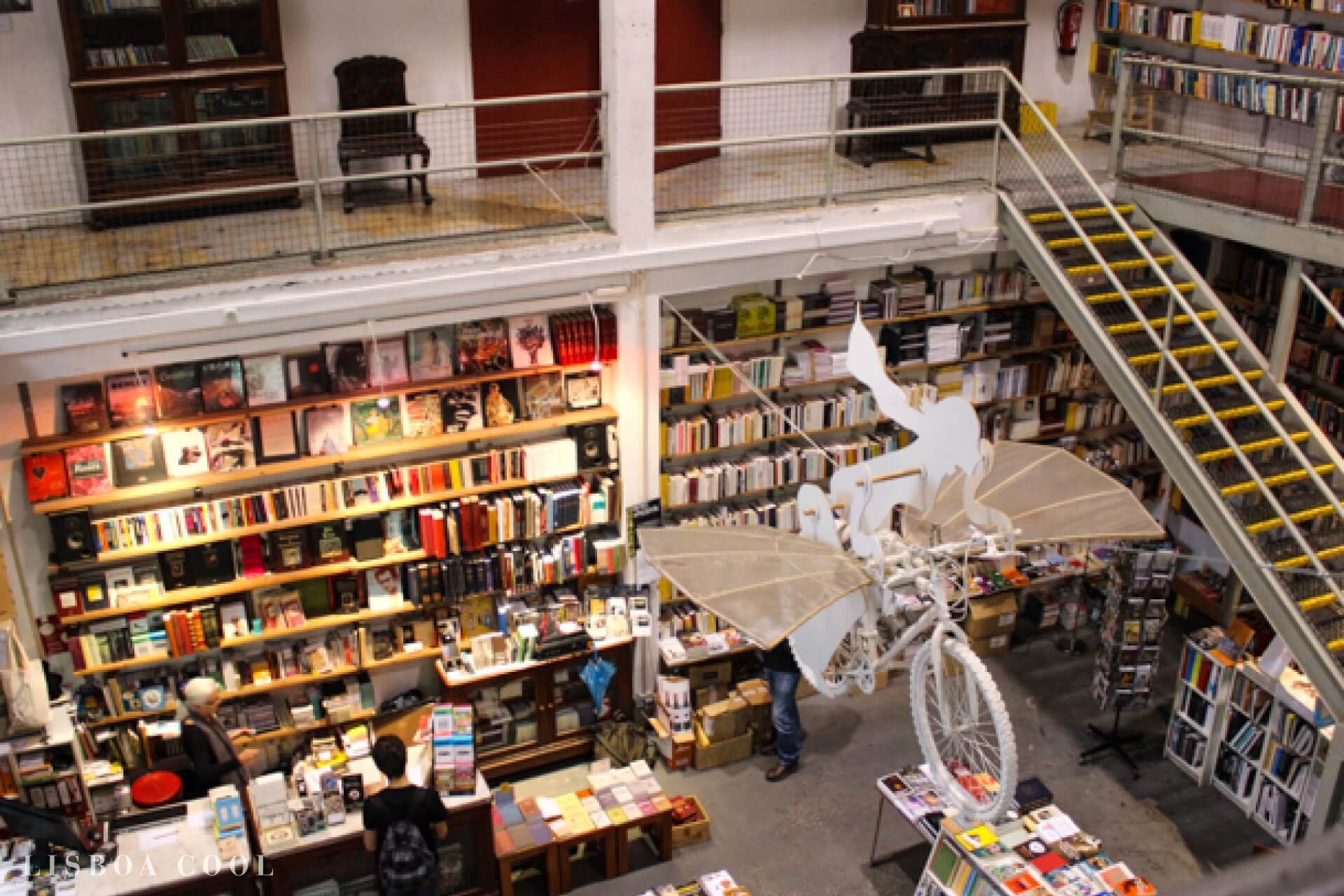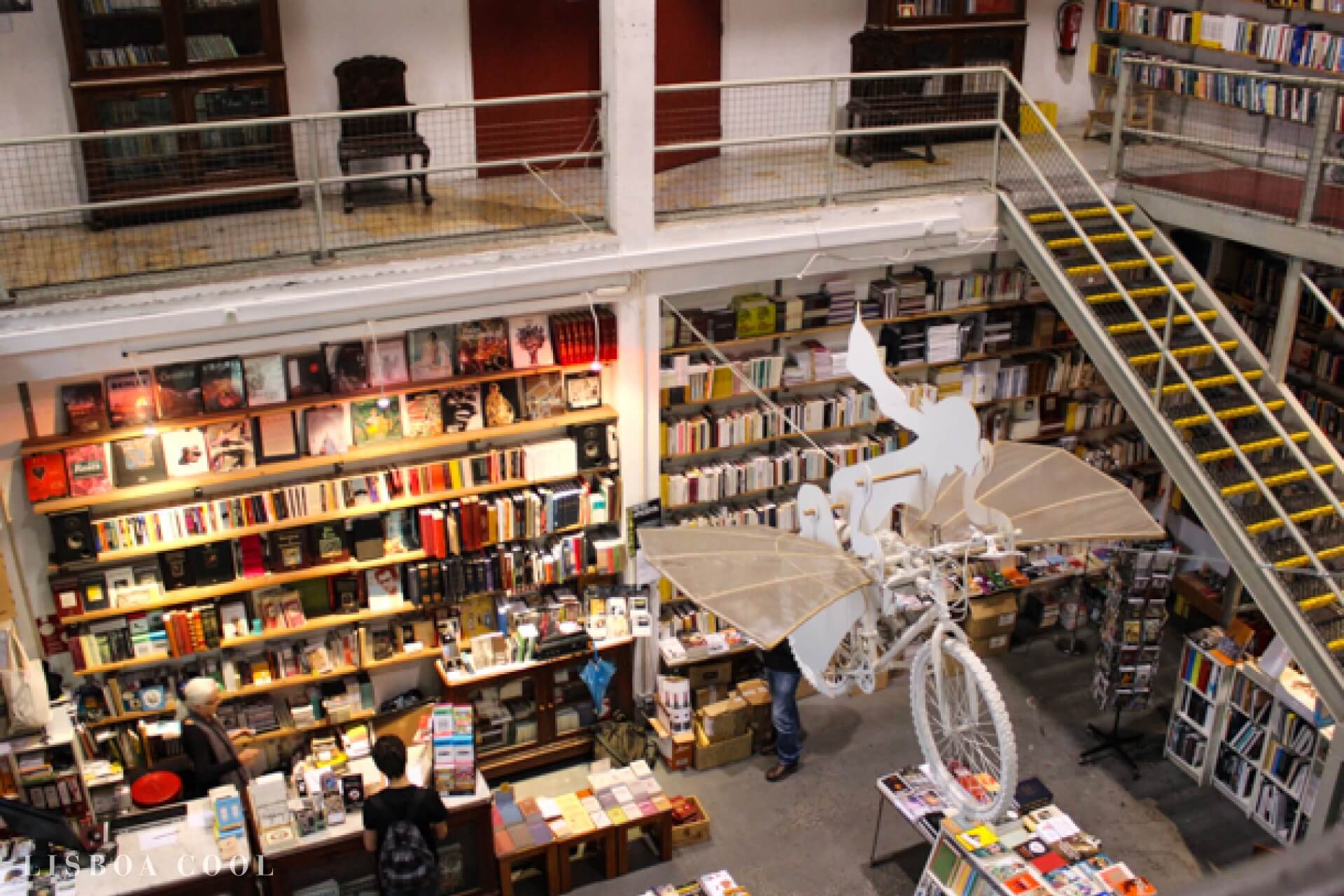 Lx Factory
The Lx Factory, set beneath the Ponte 25 de Abril (April 25th Bridge), is a combination of photography studios, freelance work spaces, coffee shops, bookstores, and eateries.
The bookstore housed here, Ler Devager, is worth visiting in its own right. The ceilings are high, and the walls are filled with colorful books arranged behind crisscrossing staircases and moving mobiles that give the illusion of the machine work on the inside of a clock.
It was late afternoon when I went; the sun was setting and young patrons were settling into their weekends, gathering with friends over a drink or catching the last of the day's warmth on their own.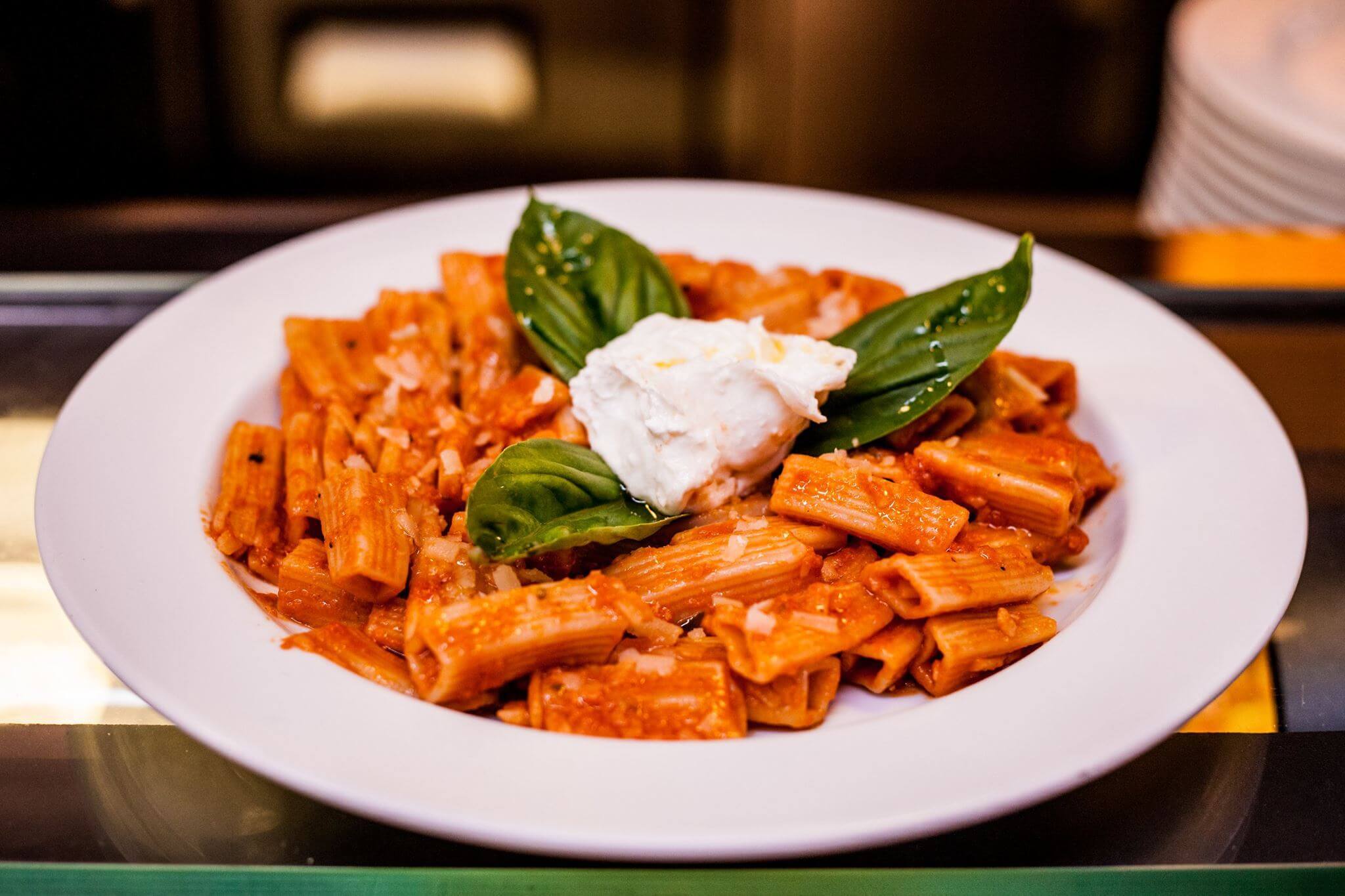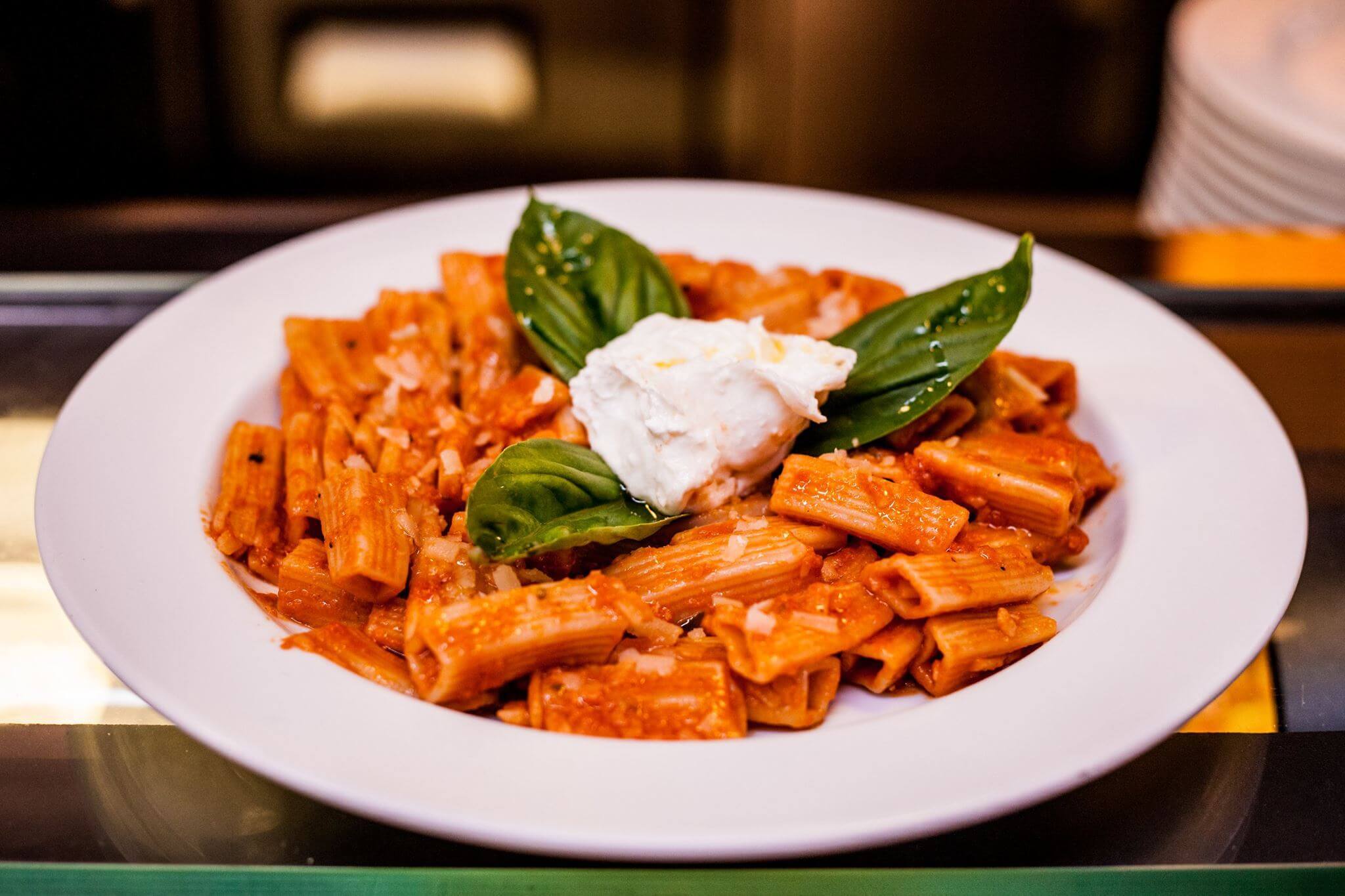 Mercado de Campo de Ourique
Located a bit out of the way, or at least outside of the normal tourist circuit in the upscale white-washed Ourique neighborhood, this venue felt warmer and more intimate than the better-know Time Out Market.
I went for dessert and indulged in the chocolate pie from Depois. You can find whatever you want here though, from desserts to tapas.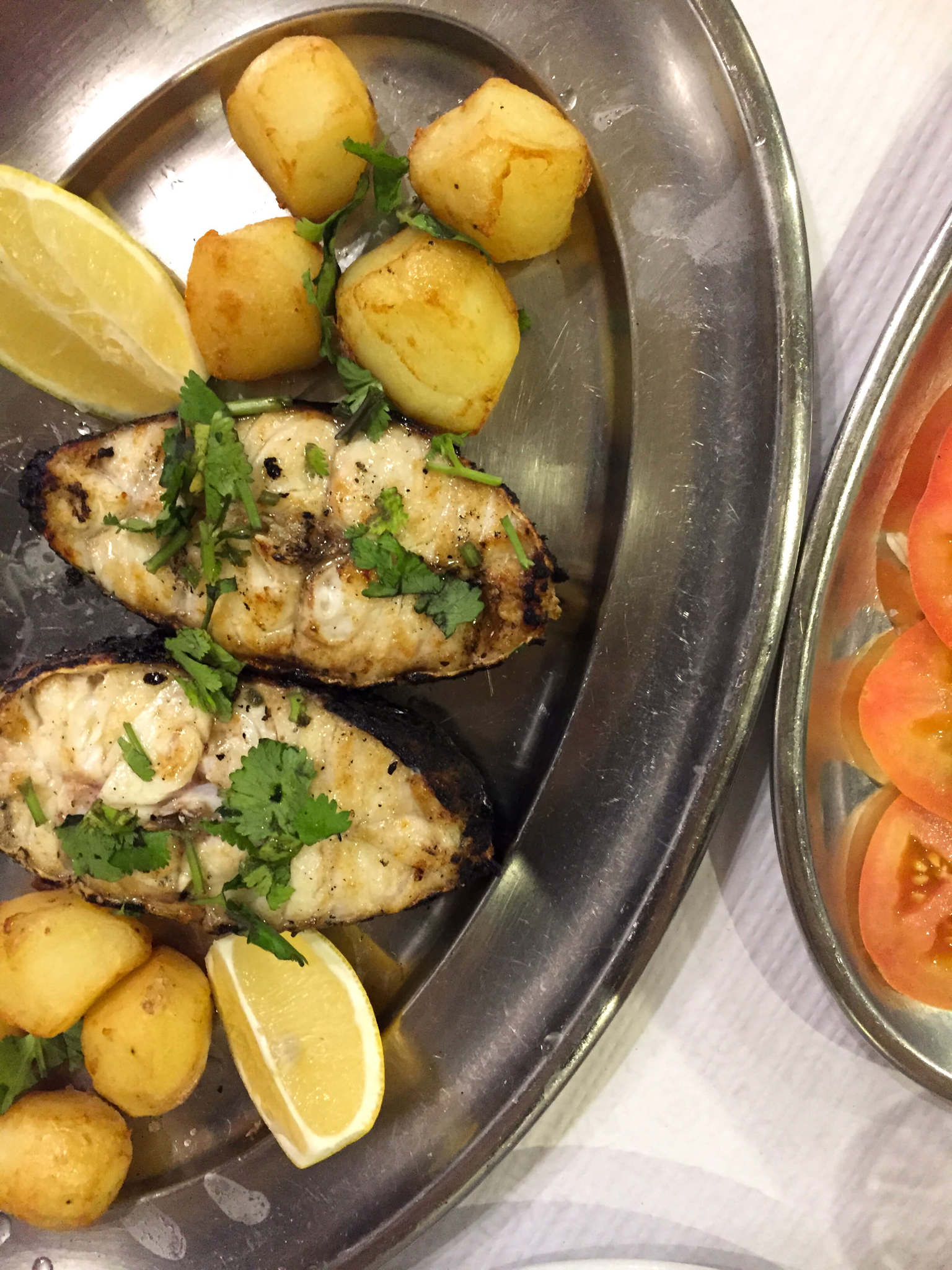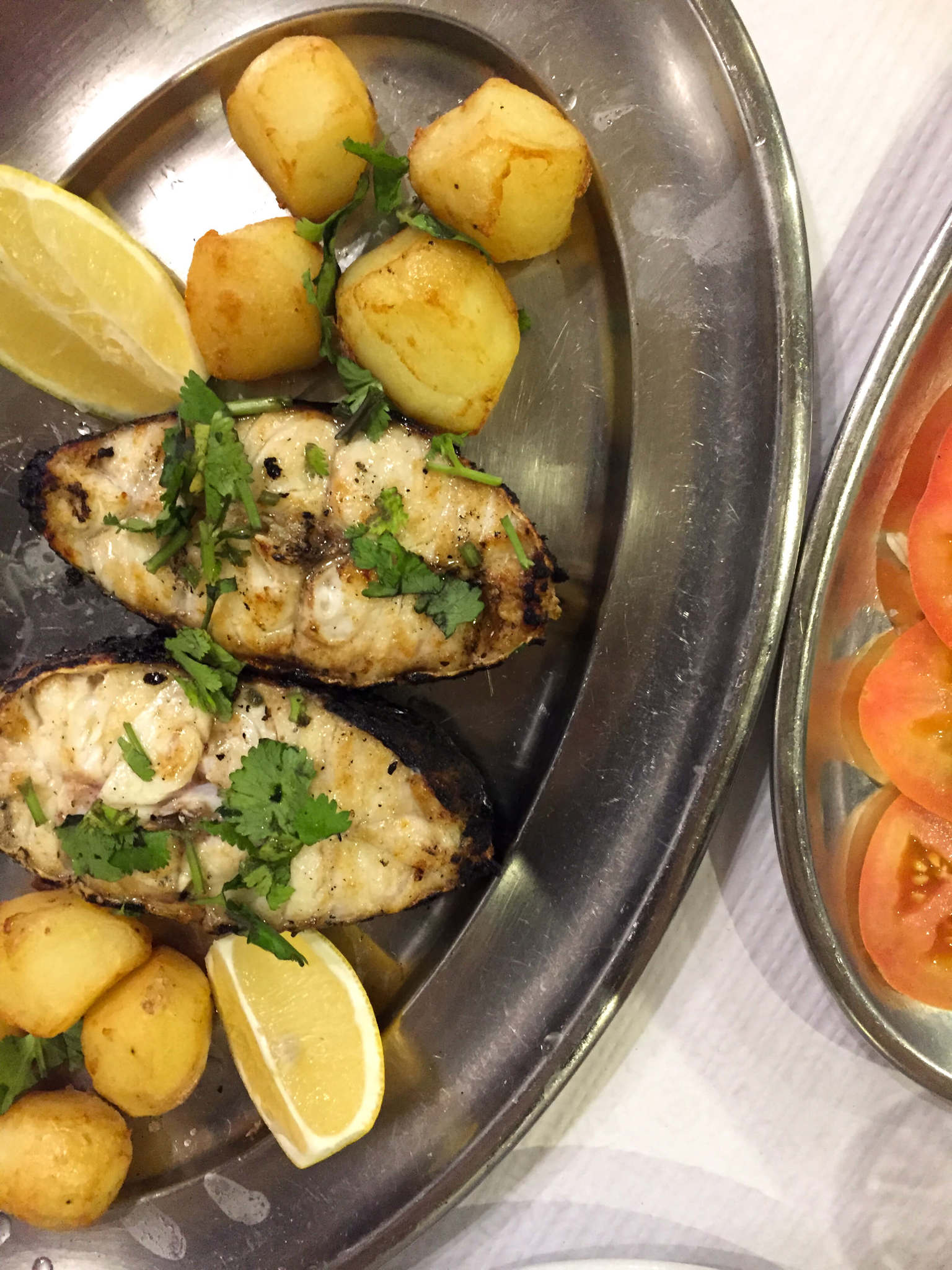 Tapisco
I'm not sure I ever would have believed that I'd a.) be talked into ordering cuttlefish and b.) like these fried critters so much that I almost went twice in one trip for them, but that was the case for me at this tapas + petiscos (Spanish + Portuguese) restaurant, aptly named Tapisco.
Tapisco felt super casual in the best way possible; it's a no-fuss space with smiling staff you kind of want to be friends with, serving high quality food. Start your night off with the specialty cocktail, the Principe, made with Gin Nordés, Cucumber, Mint, and Vermouth Yzaguirre Blanco.
Follow it up with paella negra or Tapisco's version of bacalhau and, of course, the cuttlefish. You'll be happy you did.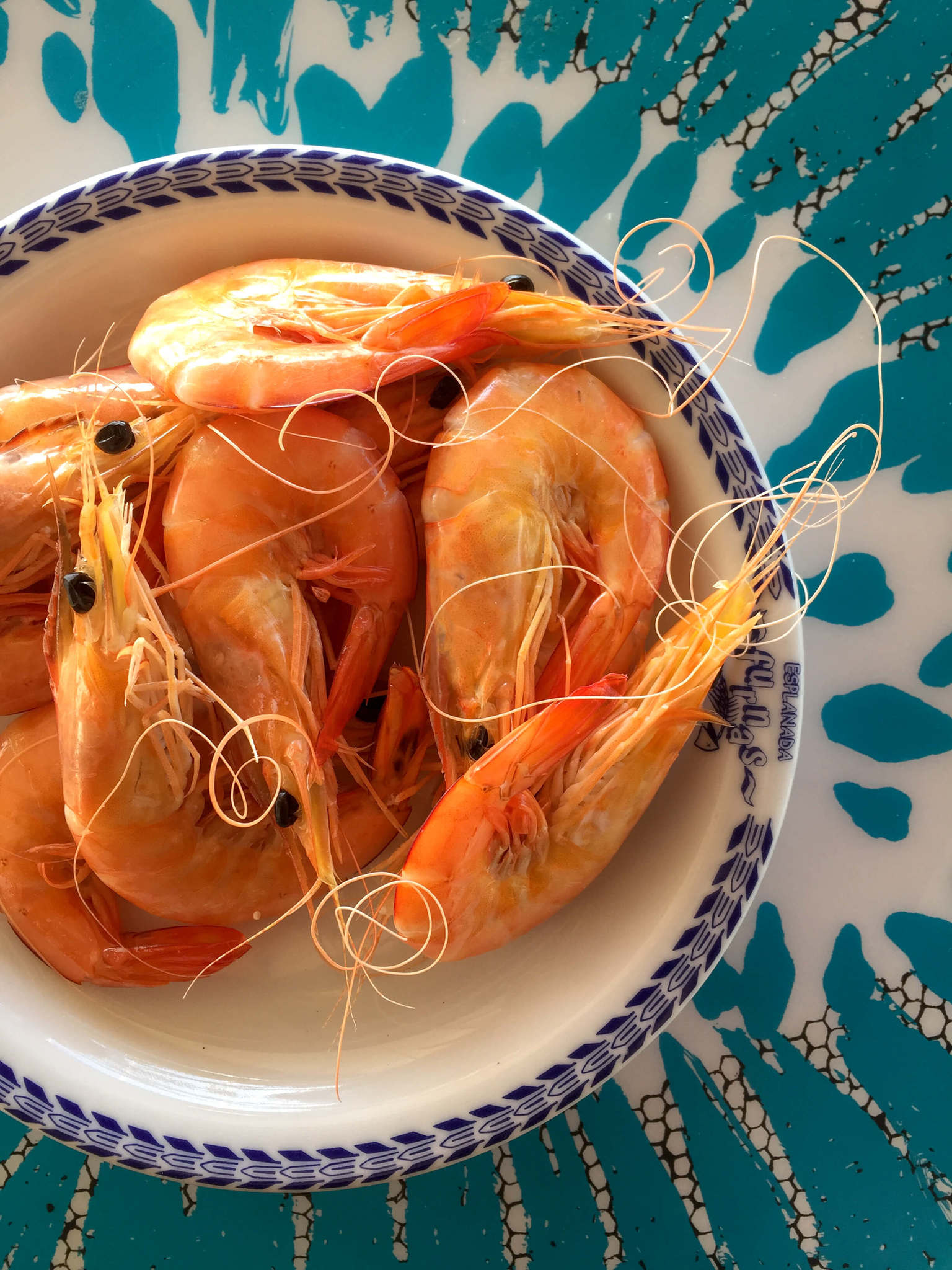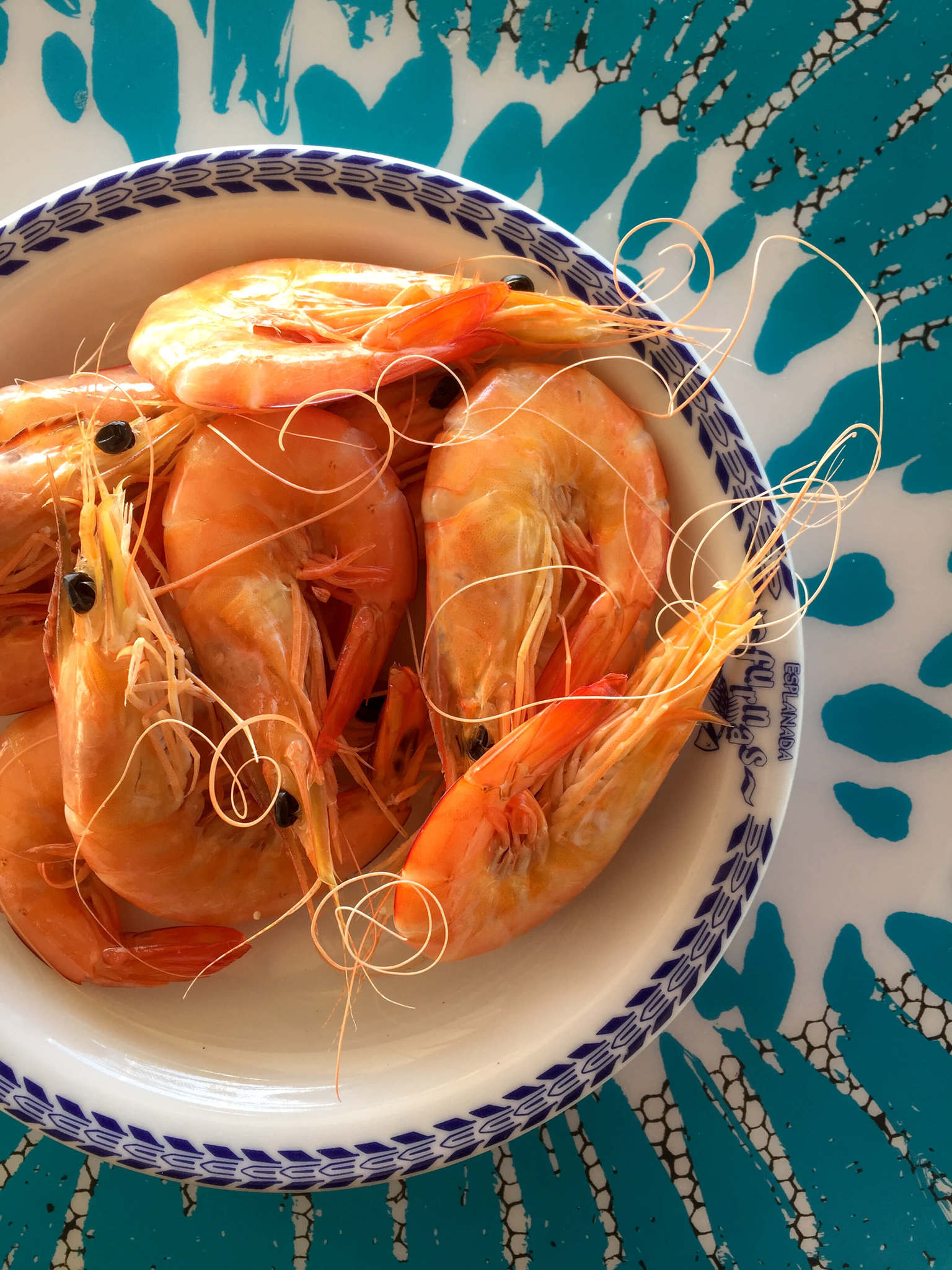 Cervejaria Ramiro
Cervejaria Ramiro is the epitome of simplistic seafood. Everything is absurdly fresh, and also incredibly uncomplicated. Seasoning is key, with most dishes having only butter, garlic, white wine, salt, or pepper as the central flavor.
Established in 1956, this well-known haunt is both a local as well as an Anthony Bourdain favorite. It is also famous for its wait at all hours of the day. I went off hours at 3:30 p.m. on a Sunday and miraculously waited only about ten minutes (clearly this is the time to make the attempt).
The move is to get the bread doused in butter, using it to dip in all of the sauces the dishes come in. The grilled shrimp sautéed in garlic were exceptional, and the giant tiger prawns were equally a stand out item.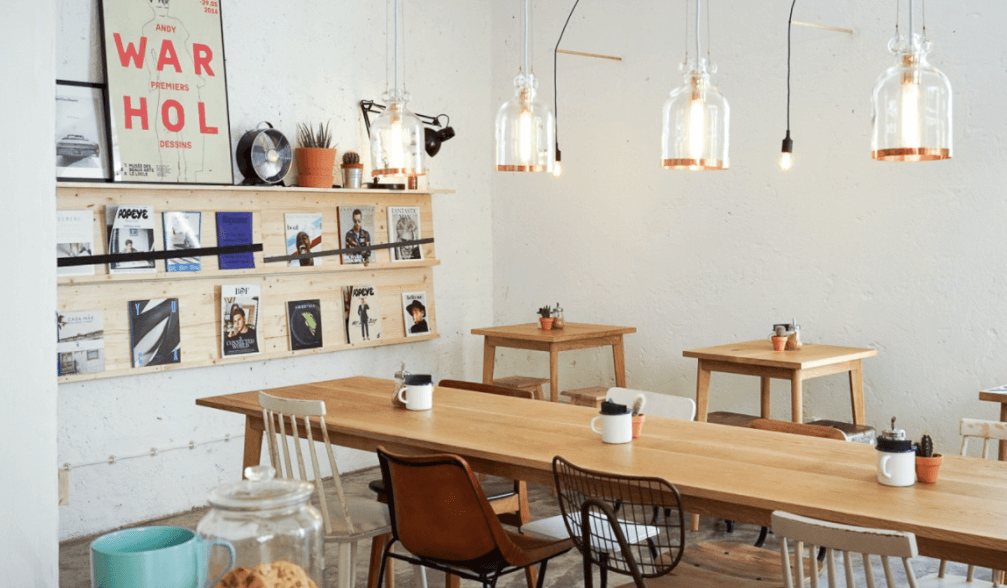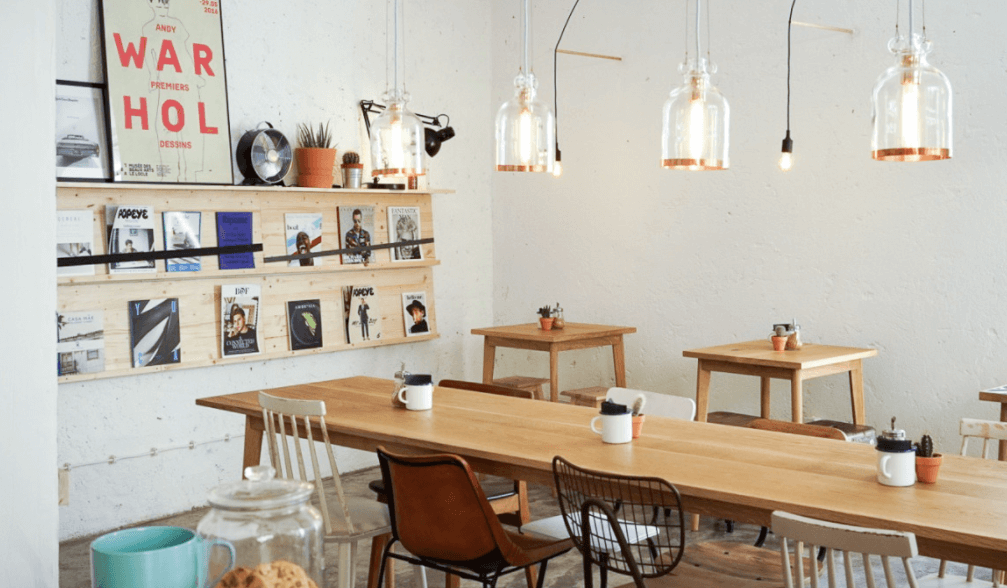 Hello, Kristof
My favorite of all the coffee shops and cafés that I went to, Hello, Kristoff is a small space with a lot of heart. Owned by a coffee aficionado who doubles as a magazine publisher, this shop shows off these combined talents everywhere you look.
It might look more Brooklyn than Lisbon inside as it churns out things like acai bowls and lattes with almond milk, but Hello, Kristof is a great place to sit for a moment, enjoy the quiet, and think about how you're going to spend the rest of your day.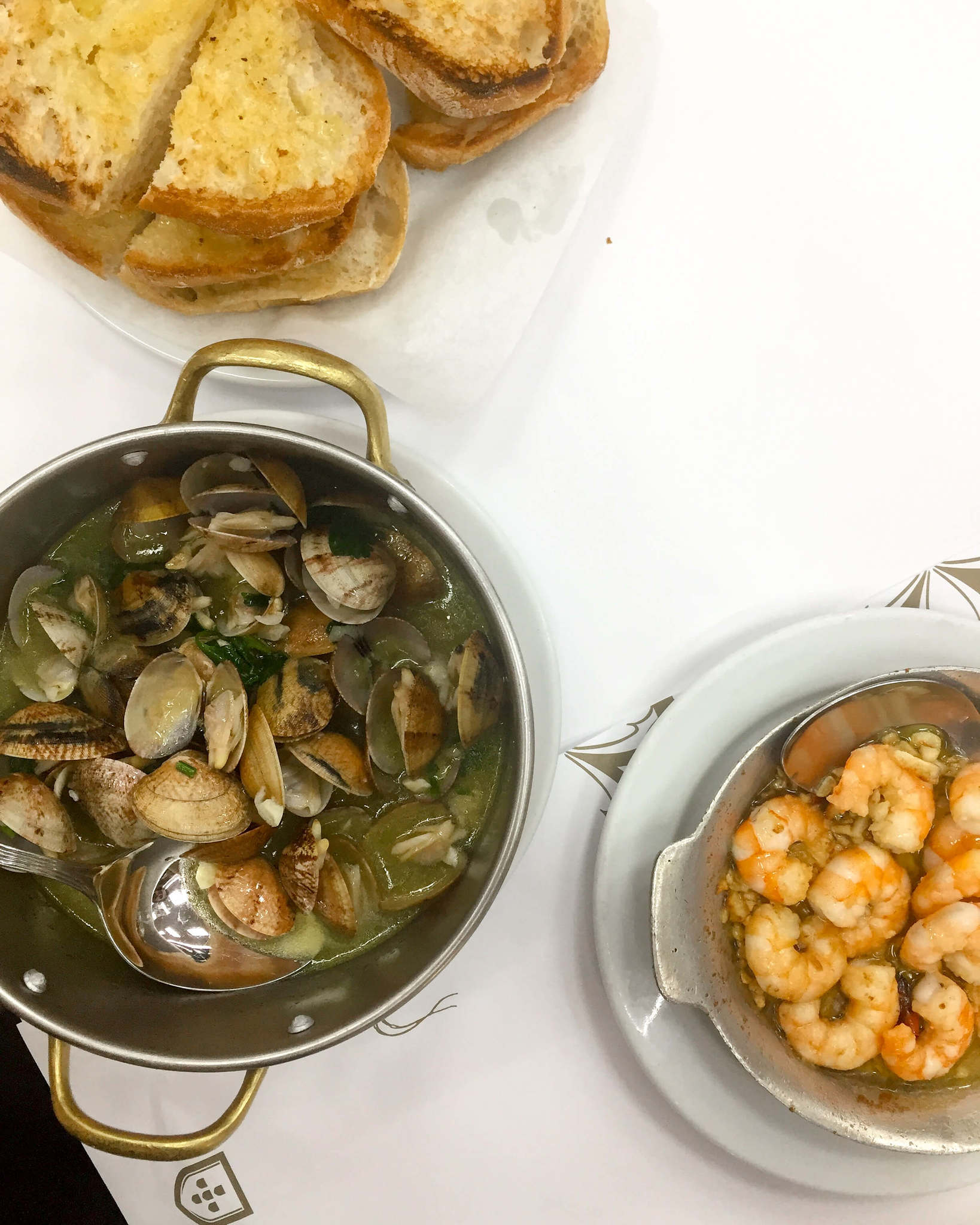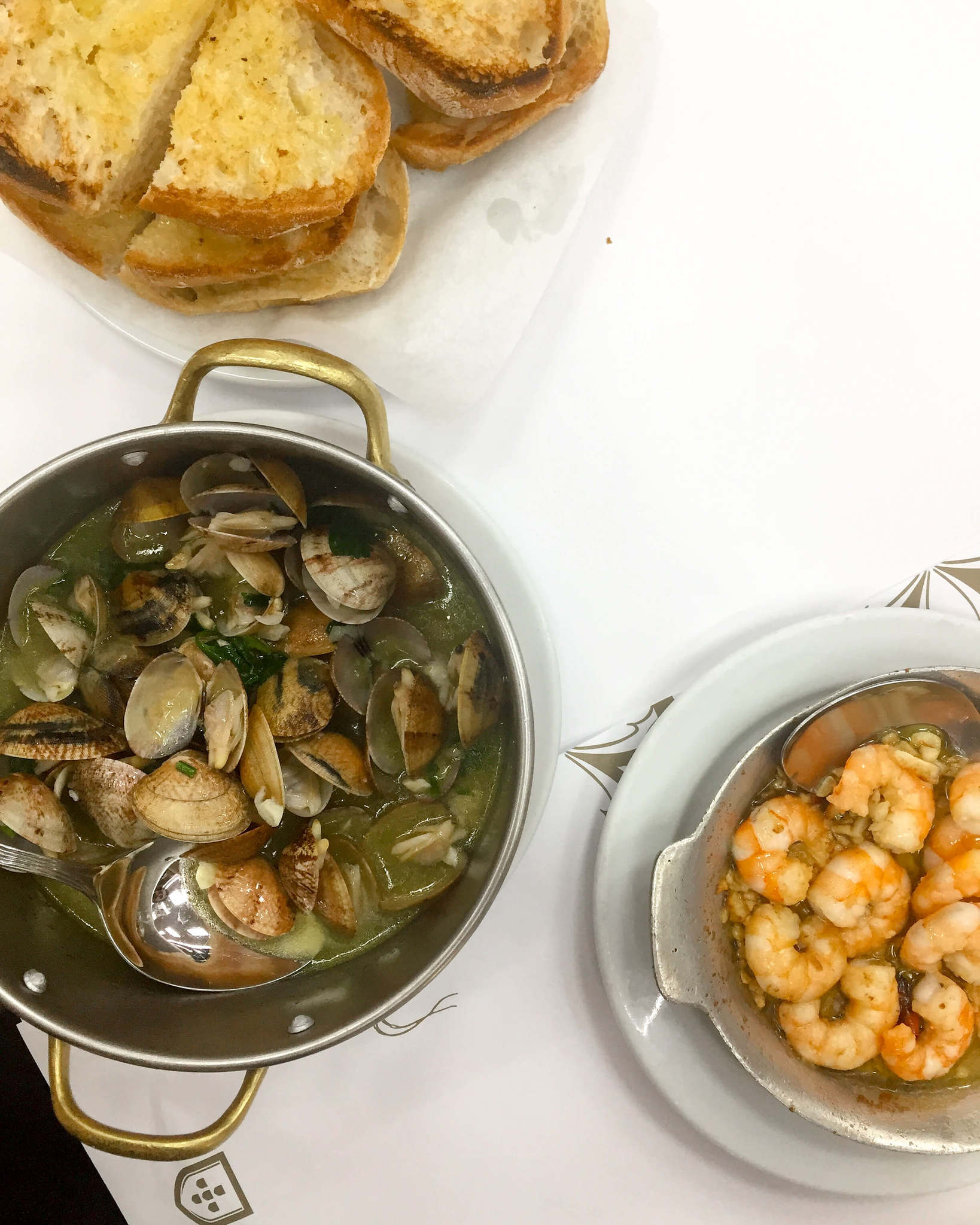 Restaurante Esplanada Furnas
About half an hour outside of Lisbon lies Ericeira, a charming Portuguese fishing town and one of the world's top surfing reserves.
Restaurante Esplanada Furnas was a major added bonus to this easy day trip. It offered a view of the Atlantic to die for and some fish to match. The restaurant is built right into the cliffs and the main dining area has only glass walls.
Upon entry, you are greeted by the owner, an older man who asks that you pick out what you'd like to eat and talks you through how it will be served. Don't forget to order a starter of shrimp too.

Restaurante Ze da Mouraria
Restaurante Ze da Mouraria was a total last-minute decision, and it was one of the better meals I had during my time here. It is located in the old Moorish section of Lisbon, and the menu changes daily and serves lunch only.
Local businessmen will likely be dining around you, sipping red wine and chatting as they indulge in this midday meal.
Many Portuguese meals begin with an optional starter of things like bread, olives, or cheese (servers will often set it down on your table, and you have to say yes or no).
Nod your okay to the bread in olive oil as well as the Portuguese nisa sheep cheese here, and then choose from the daily fish with broiled potatoes or the grilled meat.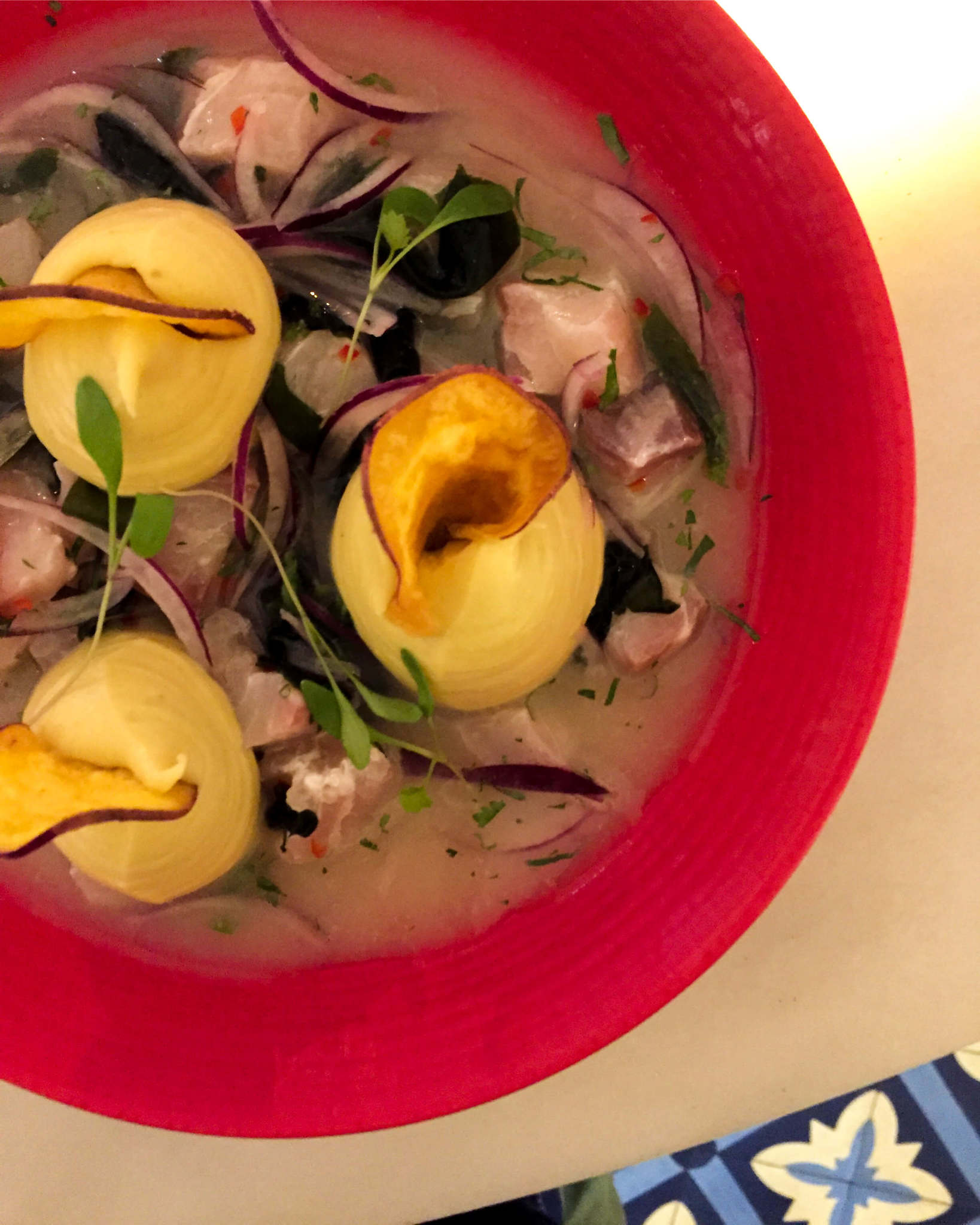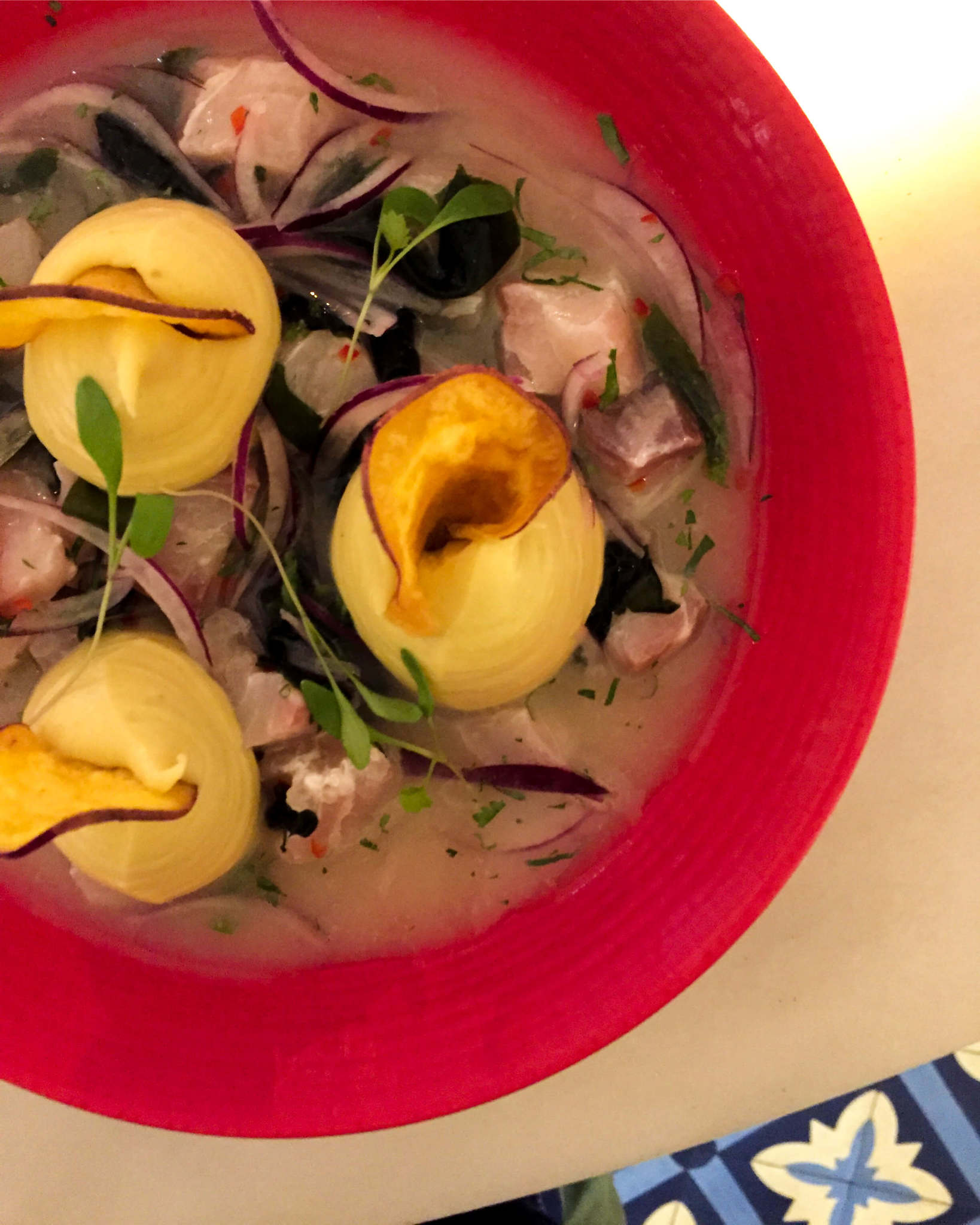 A Cevicheria
Peruvian-style ceviche has been my favorite for years, ever since my trip to Lima in 2012. When I realized this was the version I'd be getting at A Cevicheria, I was extremely excited.
A Cevicheria is fun, and it feels different. There's a window at the front where those waiting for a table can order drinks from the street.
The servers are likely to be dancing to the music in the background. And the food, specifically the puro ceviche served on top of sweet potato and leche de tigre, will leave you speechless.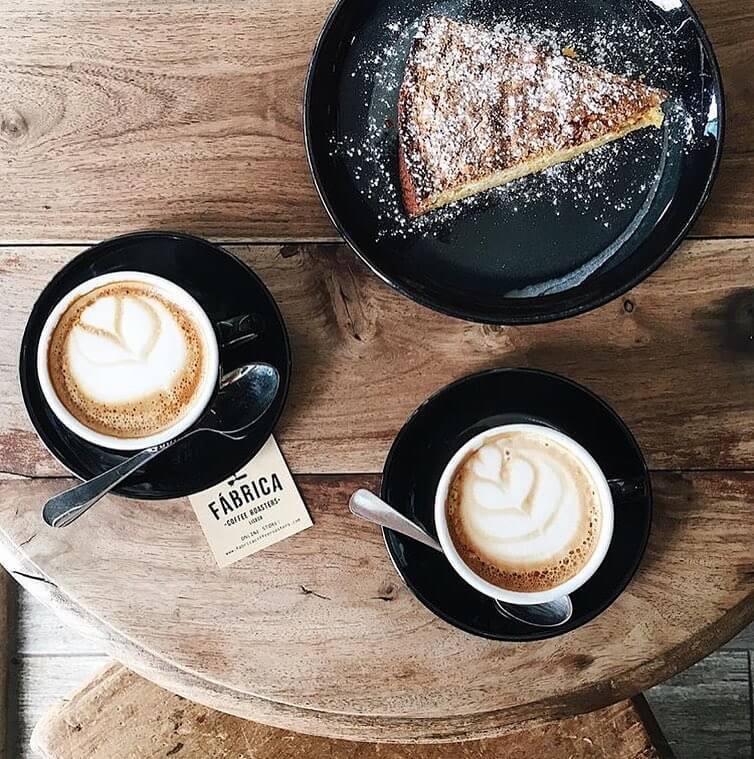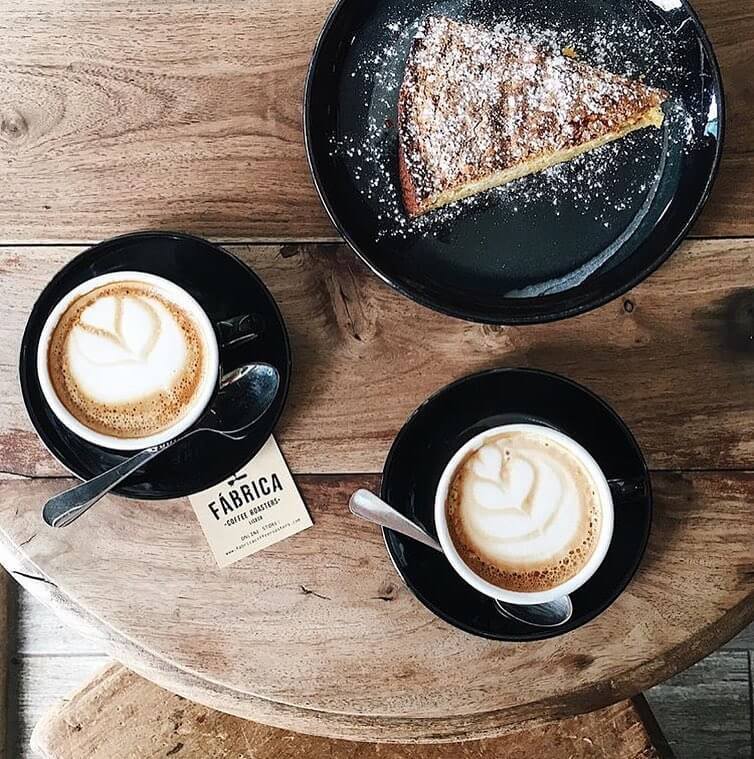 Fabrica Coffee Roaster
Fabrica is a funky little space run by a mix of Brazilians, Aussies, and Portuguese. With no available Wi-Fi and hardly any accessible cell service at all, Fabrica is a specialty coffee shop that wants to stay true to just that. The blends here are from Ethiopia, Brazil, Guatemala, and Rwanda.
There are a couple of food items too, like its take on a pasteis de nata or a prosciutto, cheese, and arugula sandwich.

Tartine
While it may not look like much right when you step in, Tartine was pleasantly surprising, especially its breakfast. Really good sourdough is pretty hard to come by, and Tartine's excels.
This coupled with simple scrambled eggs served as a perfect start to the day.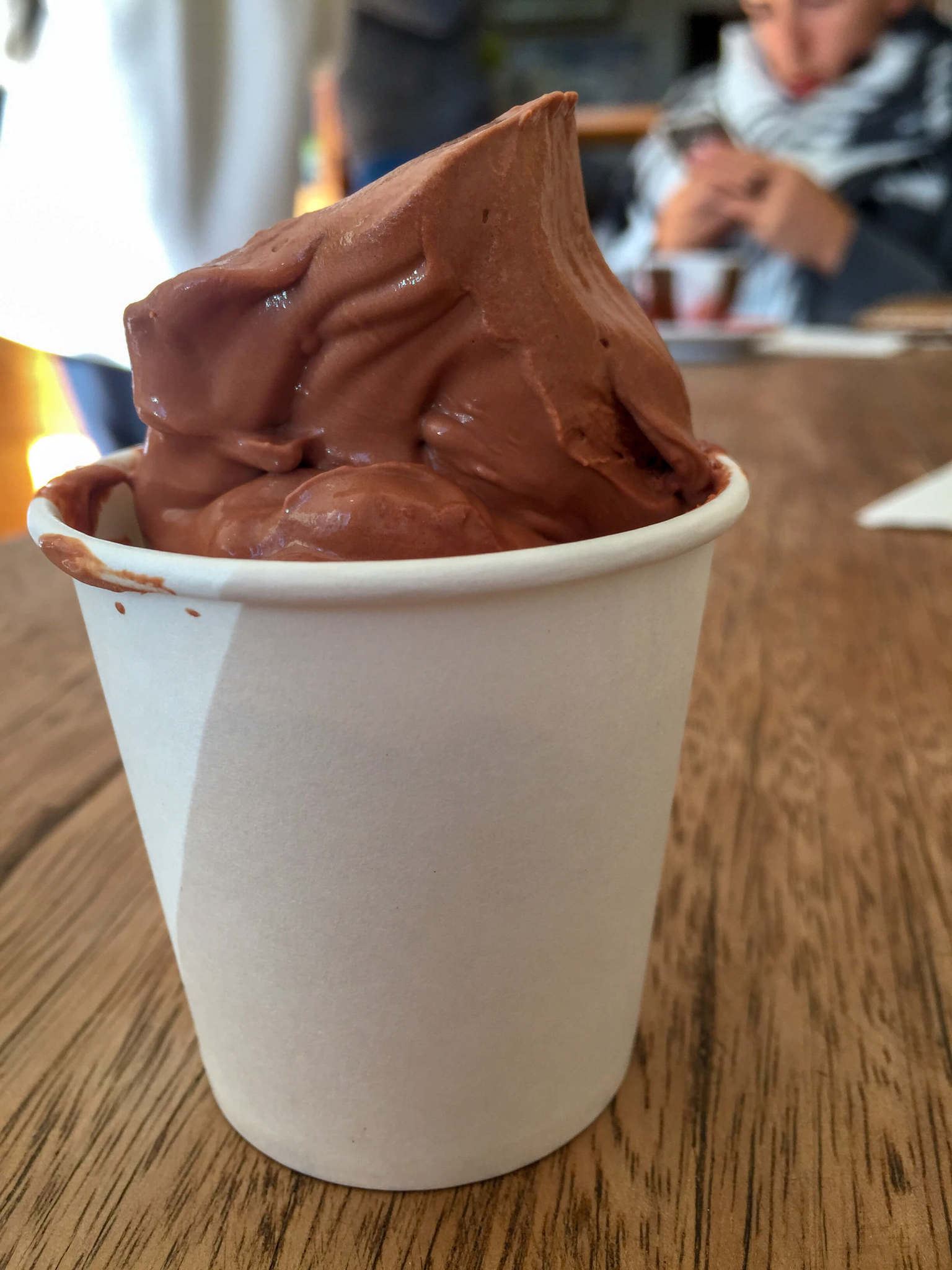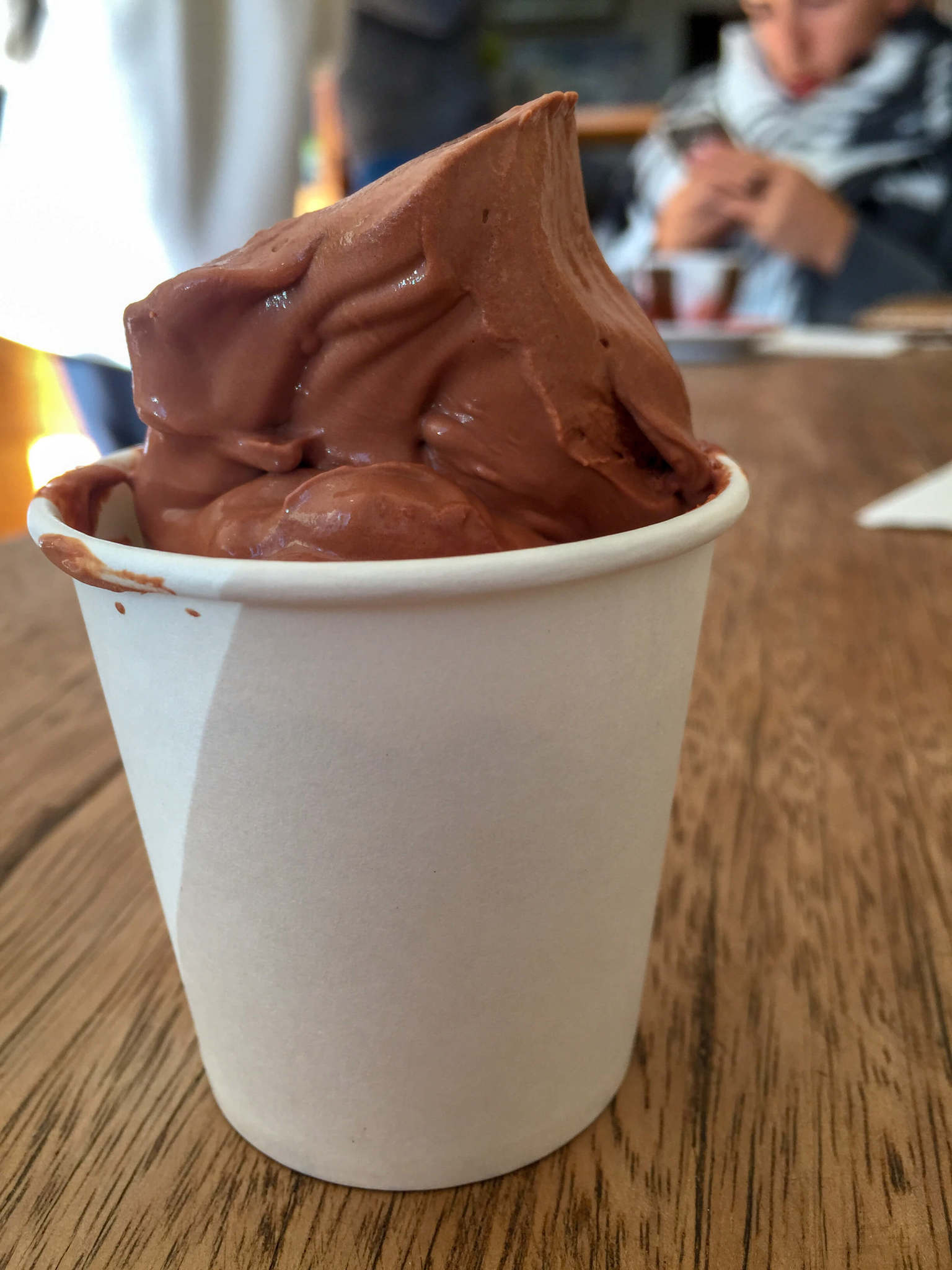 Bettina & Niccolo Corallo
I'm pretty certain that Bettina & Niccolo Corallo Chocolate Café produces the best chocolate I have ever had. The sorbet is an absolute must, with a texture so airy and a flavor so rich that it feels and tastes like a dark chocolate mousse.
Made only of water, sugar, and cocoa beans, this is truly a step above the rest.