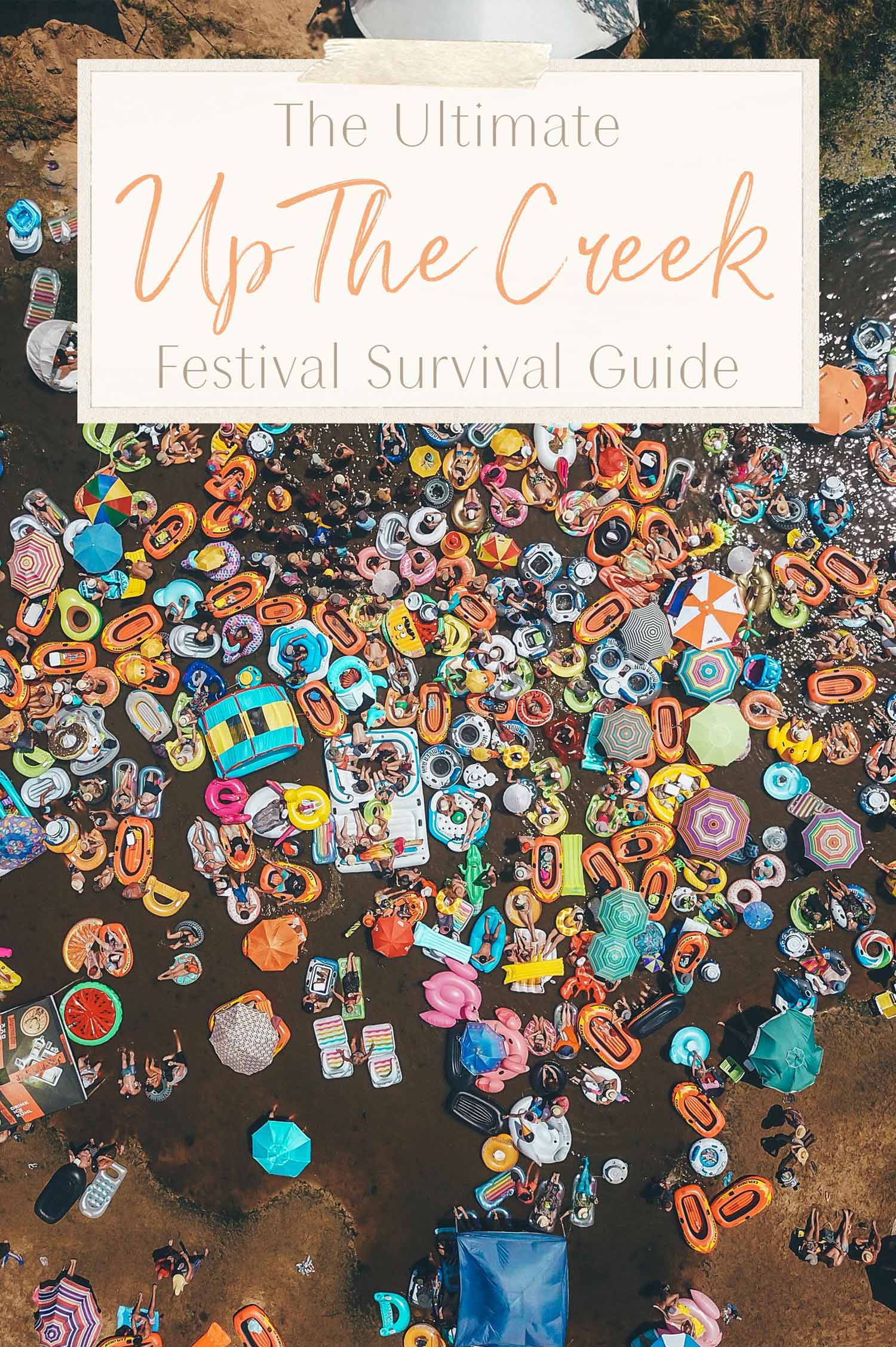 I recently got the chance to experience one of Cape Town's best boutique music festivals – Up The Creek! It's South Africa's second longest running festival, and it's one of the most unique events you'll ever attend.
For four days, you can watch over 50 local acts perform from the comfort of your lilo. It's the ultimate outdoor music celebration, and it's only 3-hours from Cape Town!
If you have South Africa on your bucket list, I highly recommend adding this festival to your itinerary. 
Before you go, check out my ultimate Up The Creek Festival survival guide!

What is Up The Creek Festival?
Every year, around 2,500 people gather just outside of Swellendam for a 4-day music festival that is perched on the banks of the Breede River. It takes place every year around the end of January or the beginning of February.
Annie Sowden, the festival founder, established Up The Creek in 1990. It's a proudly South African event that has only featured local artists for the past three decades.

Tickets for Up The Creek
There are only 2,500 tickets available for Up The Creek, and they sell out fast. If the festival is something you'd like to do while in South Africa, it's a good idea to buy tickets as soon as possible.
There is also only one ticket type – the full weekend pass. It gives you access to the festival from Thursday through Sunday and free self-camping.

Cashless System
Up the Creek is a cashless festival which means none of the food stalls, bars, or merchandise will be able to accept card or cash. Once you've purchased your ticket, head over to the Howler tent to create an account using your ticket number.
You can load it up with an amount that makes you feel comfortable. It makes it easy to enjoy the festival without having to worry about losing any of your cards or cash!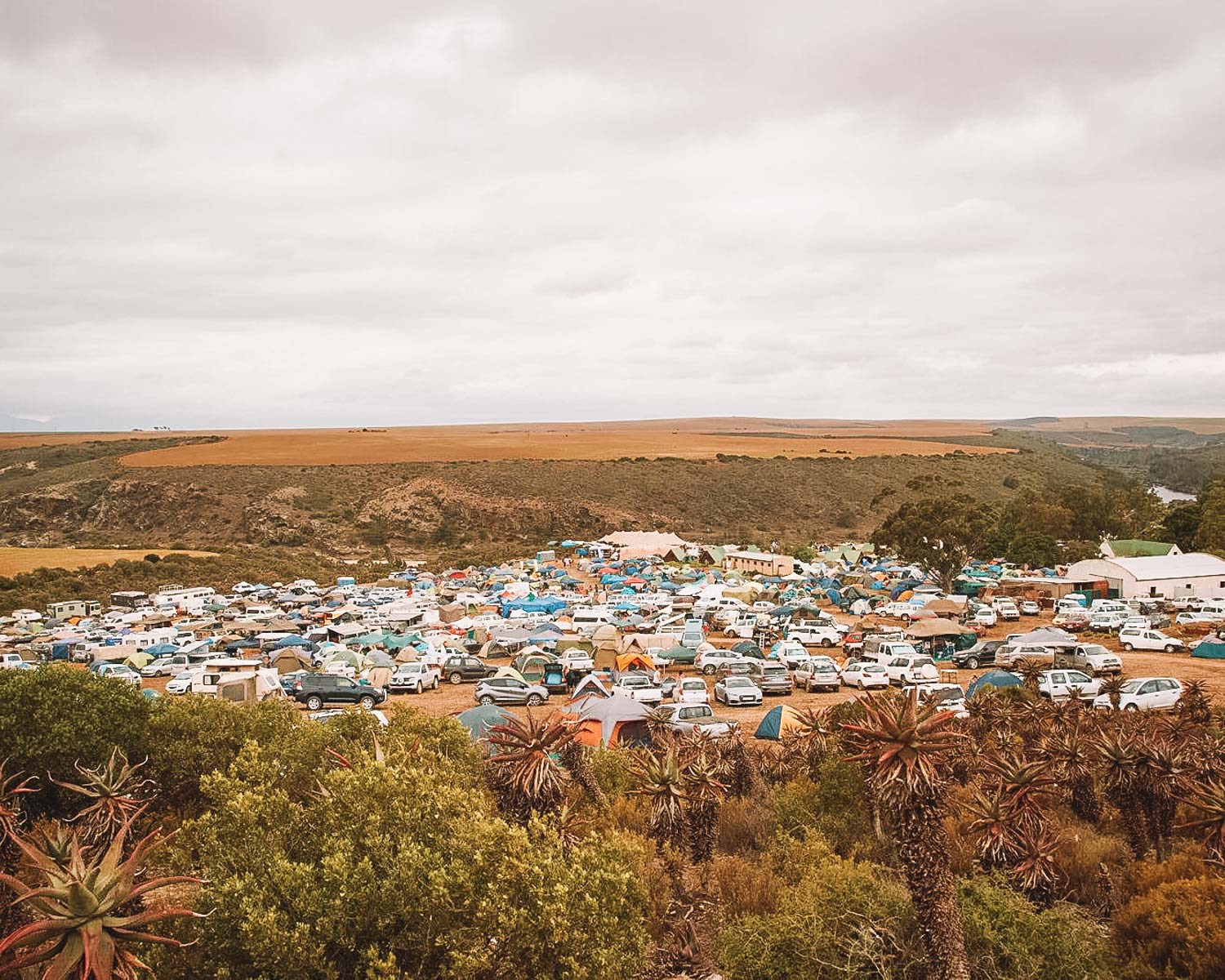 Where to Stay at Up The Creek
Camping
Your Up The Creek festival ticket includes access to four different campgrounds: Hillbilly, The Hilton, Ellis Park, and Country Club. They work on a first come, first serve, so if you want a good spot, you'll need to arrive as early as possible.
If you're looking to camp near your car, stay at the Hillbilly campsite. The other three are a bit further away from the car park, but you'll be closer to the river and the stages.
You'll have access to two ablution blocks of indoor hot showers and toilets. There are also outdoor showers (both hot and cold) that are available, along with port-o-potties around the festival grounds.
Heartbreak Motel
I decided to splurge on the glamping option for Up The Creek. We were only arriving late on Friday night, and I didn't want to waste any time setting up a tent in the dark.
You can choose from two different glamping sites: The Graceland Tent and The Cadillac.
The Graceland Tent sleeps one to two people and comes with a carpet, linen, plug points, and ceiling lights. The Cadillac Tent also sleeps two people and lacks creature comforts like plug points and ceiling lights.
Both tent options come with breakfast each morning, a private shower and toilet block and 24-hour security.
Even though the Graceland Tent might seem a little expensive, it's definetly where I'd choose to stay next year. My friends that self-camped had to wait in long lines for showers, so it was a huge relief to have private bathrooms that weren't used by so many people.
Plus, after a full day out on the river, it was so nice to get a good night's sleep on a proper bed, rather than on a blow-up mattress.

What to Pack
Depending on your camp setup, these are some of the most vital things you will need to survive out at Up The Creek!
Camping Essentials
Umbrella
Pool Floats
Charcoal
Fire Lighters
Ice
Outdoor Essentials
Your Festival Ticket
Wallet
Towels
Personal Hygiene
Toilet paper
Other Toiletries

Food and Drink
There are a lot of food stalls at Up The Creek. Whether you're vegan, gluten-free or an omnivore, you'll find delicious options like pizza, salads, sandwiches, and other fast food options to suit your tastes.
The food stalls are open from 9:00 AM to late into the night, so you'll always have access to a bite to eat.
As for drinks, it's one of the few festivals that you can bring in your own. So stock up on water and alcoholic drinks of your choice to help save money, or you can buy drinks from one of the bar areas.
I honestly didn't pack a thing for the festival and found the cocktails inexpensive as well as the food. We ate the included breakfast at Graceland and then had lunch and dinner at the food trucks.

Overall
The Up the Creek festival is truly a one-of-a-kind experience that everyone should experience at least once. It's an incredible event that's worth planning your trip to Cape Town around!