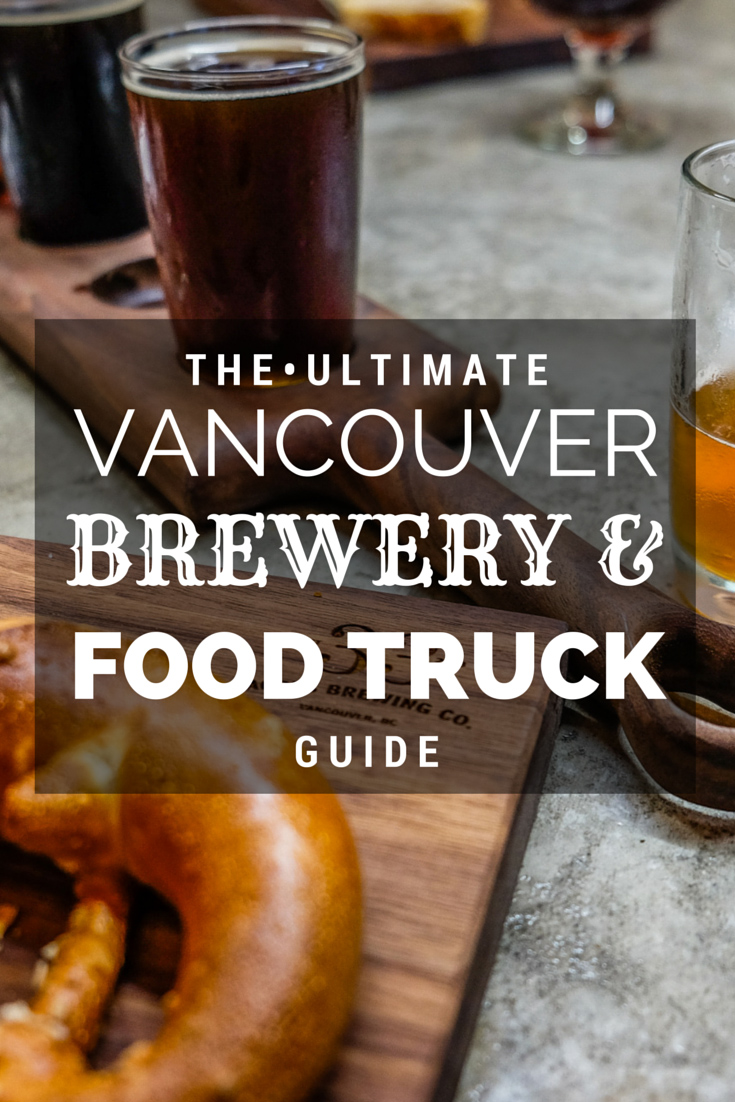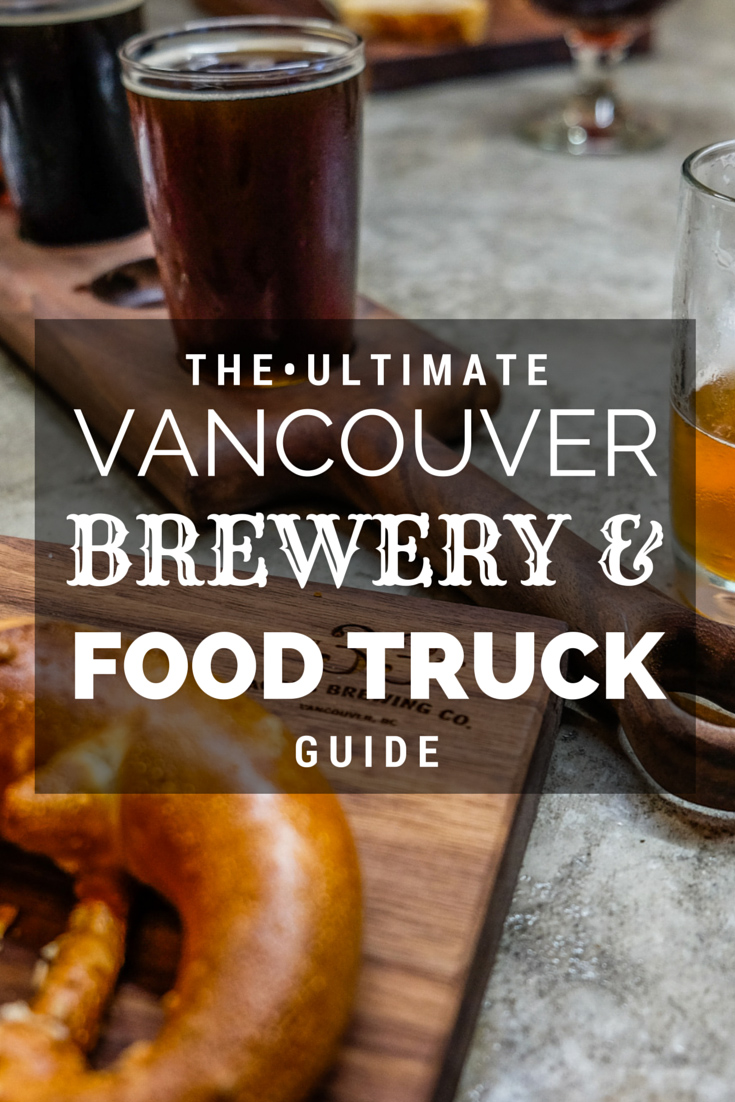 One of my favorite things to do in my travels is keep an eye out for microbreweries and awesome street food. Vancouver is the ultimate destination to sample the "best of the west" in Canadian microbrews.
There are literally countless options for brews and food in the city, so I did the investigative work for you (twist my arm). With the help and recommendations of my friends in Vancouver, I ate and drank my way through the city to put together The Ultimate Vancouver Brewery and Food Truck Guide!
[youtube id="IfnMFeCZMZ8″ width="712″ height="401″ autoplay="no" api_params="" class=""]

Breweries
Vancouver has countless breweries, making it the ultimate destination for craft and micro brew aficionados. While you might not get to every brewery during your stay in the city, here are some of the best breweries in Vancouver to wet your whistle!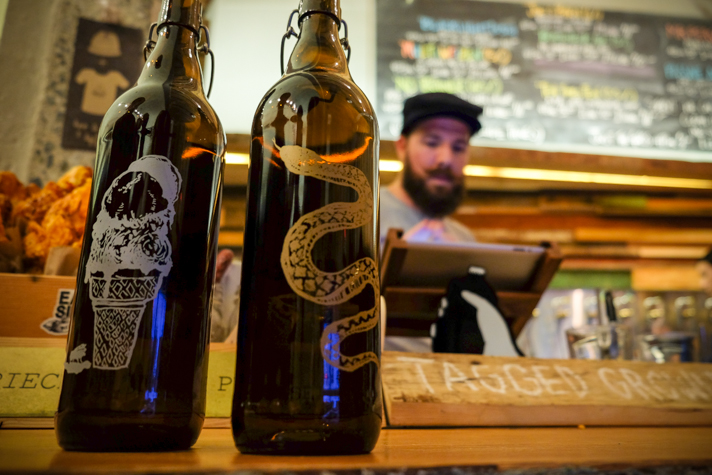 Granville Island Brewing opened the doors to Canada's first microbrewery in 1984. With premium, natural and unpasteurized beer, GIB is an iconic brewery in Vancouver.
What to Order: Winter Ale (Seasonal)
Family owned and operated, 33 Acres has become one of the most popular breweries in Vancouver. While they offer great ambiance, beer and food, they also bring in food trucks daily to serve up some convenient eats.
What to Order: Seasonal beer tasting flight with fresh sourdough bread & butter
The public space at Brassneck, "The Growler Shop & Tasting Room," is designed to have patrons feel as though you are part of the brewing process. The brew house & cellar wrap around the tasting room & growler shop putting you in the very heart of the Brewery.
What to Order: Offerings vary seasonally, but grab a seat or a growler-to-go!
Tucked away in an industrial part of town, Parallel 49 features an array of rotating beer selections in a great tasting room. It's a popular spot that's almost always "hoppin" (pun intended)!
What to Order: Gypsy Tears Ruby Ale
Despite the name, Urban Winery is a great place for not only wine, but beer and even cider. Locals love it for its awesome vibe, craft beer and delicious food.
What to Order: Come on a weekend for delicious brunch offerings and a beer tasting paddle
Serving up tasty microbrews and locally sourced organic food, Main Street Brewery is a fast favorite. Main Street Brewing Co. also resides in one of Vancouver's few surviving industrial heritage buildings, the "Vancouver Breweries Garage" (1913), in the historic Brewery Creek district.
What to Order: A Golden Kellerbier and an open faced grilled cheese
Postmark is another great brewery that offers a full-experience. In true West Coast fashion, you can grab a great beer, some delicious food and even some cute brewery-inspired swag.
What to Order: A West Coast Pale Ale, brunch and a blue floral snapback (<– so cute!)
For fresh local food handcrafted using local ingredients and Canada's largest selection of fresh local draft beer, Craft Beer Market is your spot!
What to Order: With over 100 beers on tap it's best to let your imagination run wild
Local's Tip: Happy Hour is Monday-Friday from 3-6 pm for $5 draft beer
As their website describes, Storm Brewing is a local craft brewery, unfashionably situated on gritty East Vancouver's Commercial Drive. Stop in for a brewery tour and, keep in mind, there's no food served here!
What to Order: Highland Scottish Ale
Strange Fellows Brewing offers "far from ordinary" beer inspired by the Old World, but brewed on the Canadian West Coast.
What to Order: Jongleur Belgian Style Wit

Food Trucks
Vancouver is the ultimate city for food truck fare! Whether you're craving something sweet, salty or savory, here's a list of some of the best food trucks in Vancouver to get your "om nom nom" on!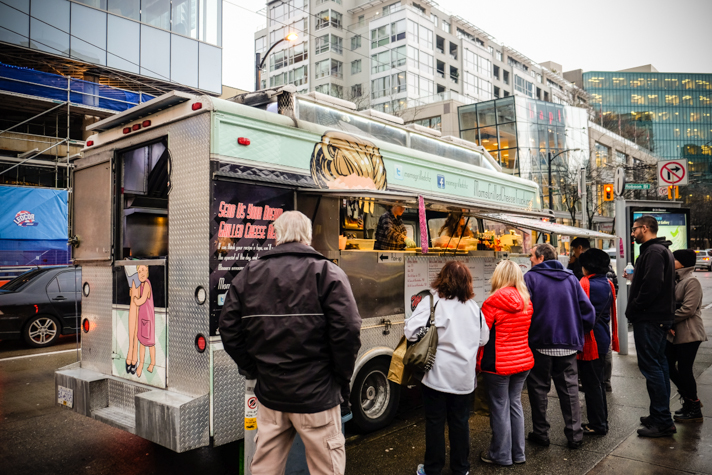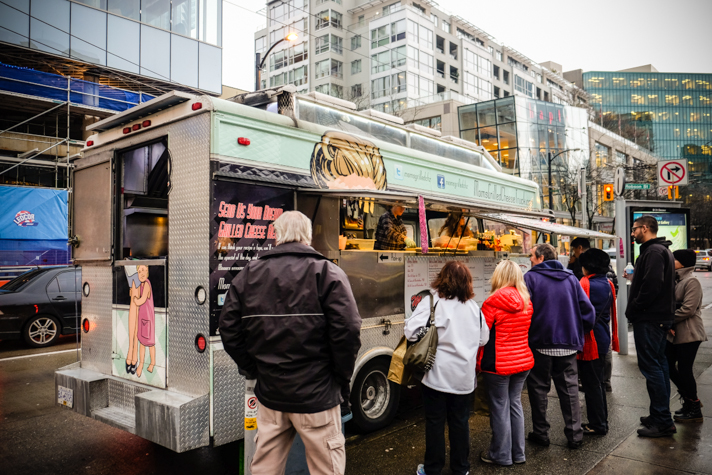 Yolk's Breakfast
Yolk's serves up a delicious breakfast from a charming trailer. All of their food is locally sourced & seasonal and will have your mouth watering!
What to Order: Free-range egg sandwich with aged white cheddar on truffle-lemon hashbrowns Location: Various locations but mostly at 500 Burrard St @ West Pender St Hours: 8 am – 2 pm Tuesday – Friday
The Juice Truck
The Juice Truck serves up gourmet, fresh pressed, organic juice and smoothies! It's the perfect pick-me-up while you're out exploring the streets of Vancouver.
What to Order: The Avocado Pineapple smoothie Location: Corner of Water & Abbott St. in Gastown Hours: 12 – 5 pm Monday – Saturday
Community Pizzeria
Community Pizzeria is an authentic Neapolitan-style wood-fired pizza truck. Yes. Wood-fired pizza… from a food truck! Using traditional locally-sourced Italian ingredients and made from scratch dough, it's some seriously good pizza.
What to Order: Pizza Margherita Location: Various locations Hours: Various times
Tacofino
Described by media reviewers as "possibly the best Mexican, or at least the best fish tacos in BC", Tacofino's offerings are made from scratch with love!
What to Order: Fish Tacos Location: Dunsmuir & Burrard Hours: 11:30 am – 3 pm Monday – Friday
Aussie Pie Guy
From traditional meat pies to vegetarian options, Aussie Pie Guy has an Australian-style handheld pie for everyone!
What to Order: Keep your eye out for the rotating special and don't hesitate to "make it epic" with mashed potatoes, mushy peas and gravy! Location: Various locations Hours: Various times
Mom's Grilled Cheese
Nothing puts a smile on my face quite like a grilled cheese! Mom's Grilled Cheese Truck serves gourmet grilled cheese, soups and other comfort foods… just like mom makes 'em!
What to Order: The Jackson 3 (best for sharing!) Location: Corner of Howe Street & Robson Street Hours: 11:30 am – 3:00 pm Monday – Friday
Pig on the Street
Achin' for some bacon? Look no further than Pig on the Street with locally sourced ingredients and an environmentally-friendly menu.
What to Order: The PigLT Location: Various locations Hours: Various times
Triple O's On-the-Go
Described to this California girl as the "In-N-Out" of Vancouver, for classic burgers, fries and shakes, Triple O's is the way to go!
What to Order: Burger, fries and a shake. Obviously! Location: This truck can be a bit elusive as they're typically at event locations only Hours: Various times
Earnest Ice Cream
For some of the best ice cream in all of Vancouver, keep your eye out for an Earnest Ice Cream cart. Small batch artisan ice creams range in unique flavors from Tahitian Vanilla to Whiskey Hazelnut.
What to Order: A pint of Salted Caramel Location: Various (Don't worry! If you can't find the cart, there are two store locations in the city!) Hours: Various times
JAPADOG
What may appear like your average hot dog stand on a city sidewalk is actually a Vancouver institution. While JAPADOG isn't quite a "food truck," they've been serving up Japanese street-style hotdogs since 2005.
What to Order: Terimayo (JAPADOG's Signature Hot Dog) Location: Multiple locations around Vancouver Hours: Various times

Helpful Tip:
Download the Food Truck Vancouver App for real time locations and opening times for food trucks and street food around the city.