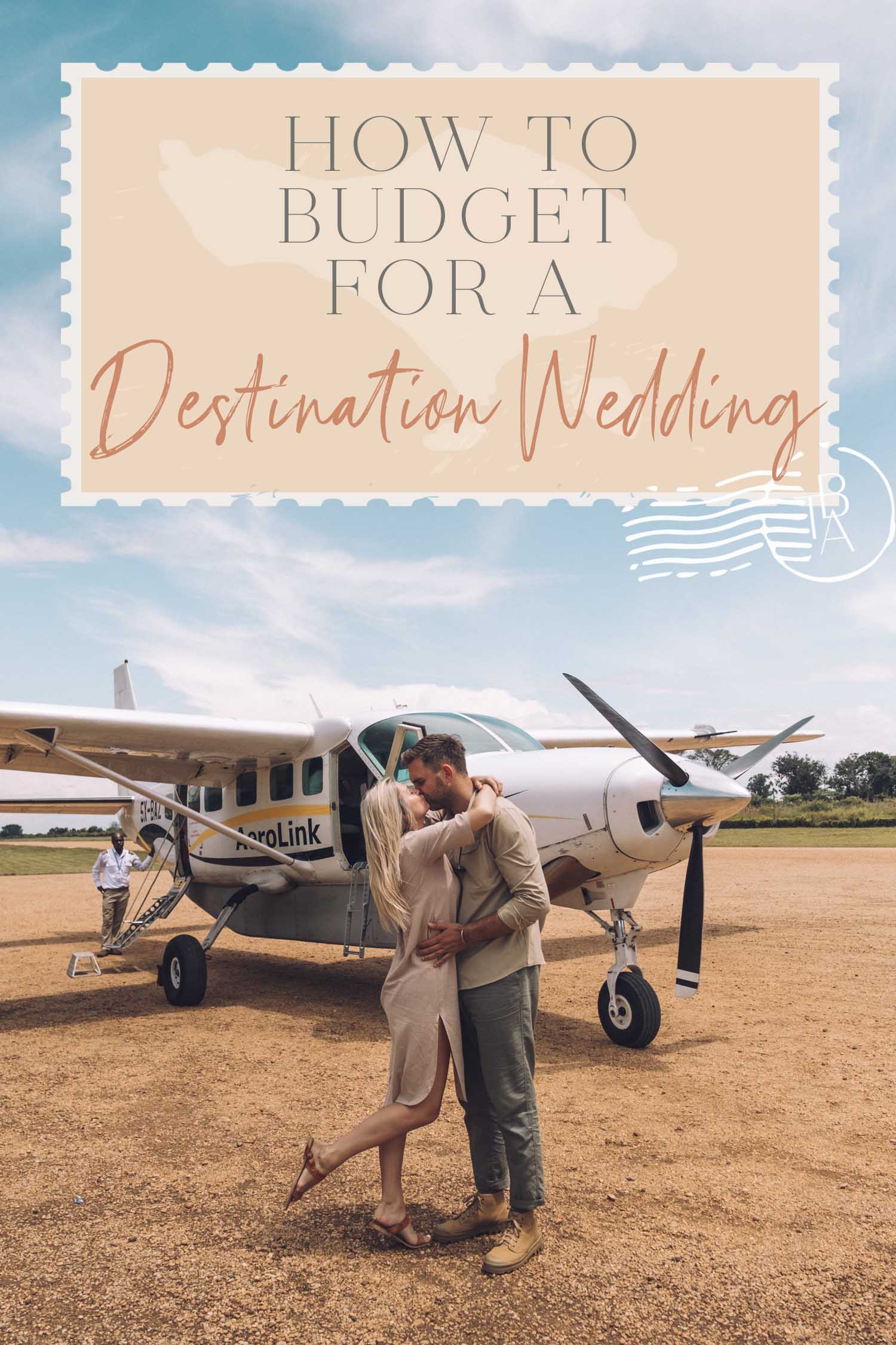 This post was written in partnership with You Need A Budget — as always, thoughts and opinions expressed here are entirely my own.
I've talked extensively about traveling on a budget — since starting this blog right after college and exploring the world on mere pennies, planning out my finances has been a critical part of doing what I do.
I scrounged up every dollar and took whatever jobs I could to fuel my next trip—so I know a thing or two about budgeting and saving up for bucket list things.
While it's not a bucket list destination I'm currently budgeting for, it's a bucket list thing for me…
Meyer and I are planning a destination wedding!
Given all the circumstances with COVID-19, we haven't pinned down all the details, but we're working together to budget out our dream destination wedding back in South Africa.
Are you recently engaged or trying to figure out how to make a destination wedding possible?
With the help of YNAB (You Need A Budget), I'm sharing all my tips for how to budget for the big day!



How Much Will a Destination Wedding Cost?
First things first, you need to know how much your destination wedding will cost, in order to save up for it!
While you might not know what exact costs will be just yet, try to give yourself ballpark estimates so that you can start saving up early.
This number will differ based on your destination (and the exchange rate to your local currency), the type of venues you're interested in, the type of food you'd like to serve, and other costs like flights, guest transportation, and accommodation.
According to Brides.com, the average estimated baseline cost of a destination wedding hovers around $35,000 USD — not including the rings!
While I think that's a good baseline to give you a general idea, this is an extremely fluid number and truly depends on the location, how many guests are attending, and how many days wedding events are spread across.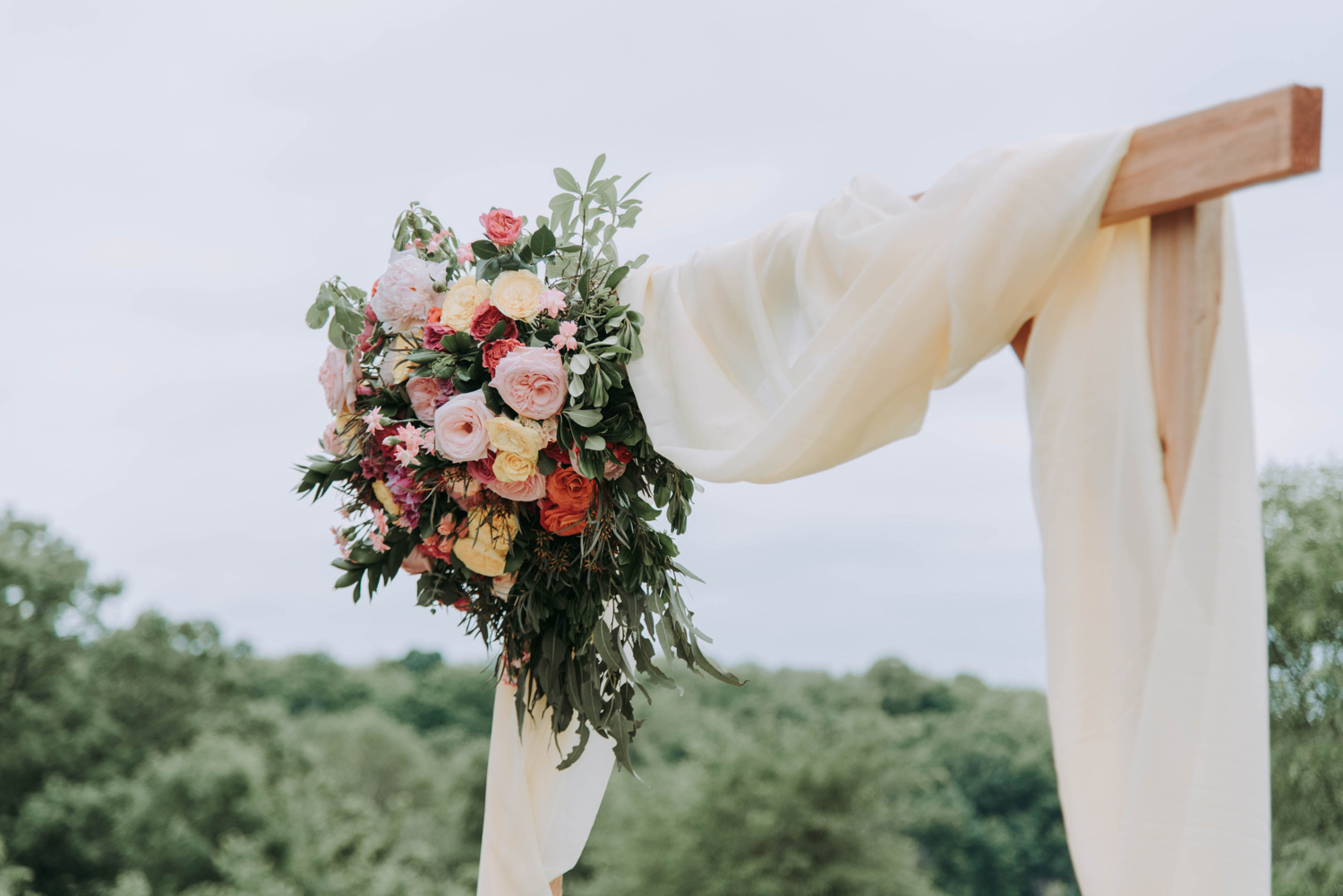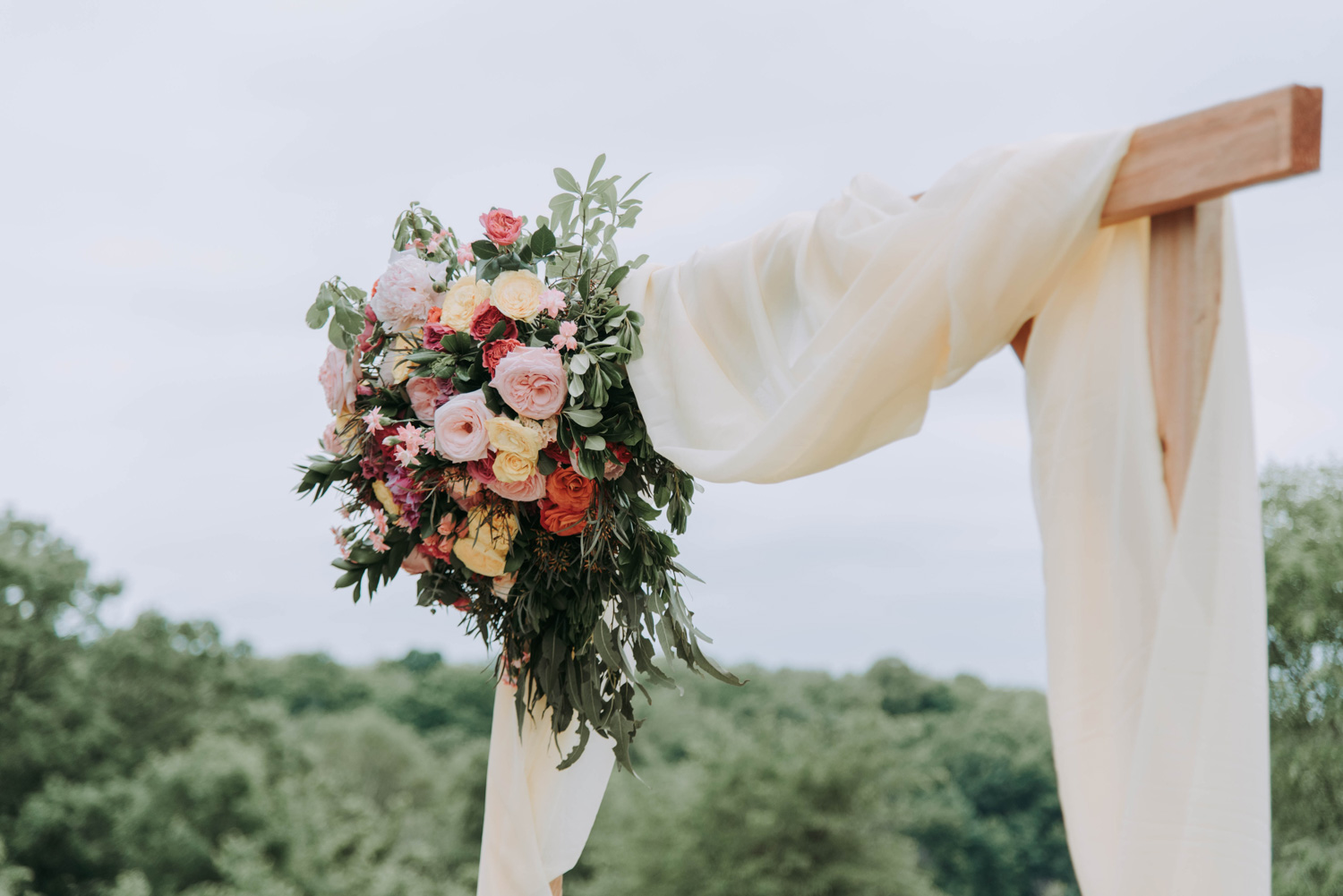 That said, here are a few baseline percentages to give you a general idea of how to price things out for a destination wedding:
Food: 50%
Bar: 10-20% (Are you doing an open bar or is it a cash bar?)
Venue + Planner: 15%
Decor and Florals: 8-10%
Photography: 5-7% ($3000-$8000)
Travel Costs: 10% (Getting to and from, along with personal accommodations)
*Note: You'll find a lot of variation in these numbers wherever you travel. My suggestion is to figure out what things are most important to you and prioritize those (for instance, splurge more on good photography and maybe a little less on a DJ, or vice versa!).
What kind of experience do you want and what do you want for your guests?
Other Costs to Consider
Wedding Attire (Dress, Tux, Rings, Etc.)
Hair and Makeup the Day Of (Is it just for you or are you covering the cost of bridesmaids, too?)
Invitations, Thank You Cards, and Postage
Bridal Party Gifts or Favors
Do you want a videographer?
What About Packages?
Many hotels and places offer packages which drastically vary in price — these can often be around $90 per person to $150 per person, depending on the location (and most of the time, the bar). Some venues will require you to spend a minimum on food and beverages, which counts towards your per-person price.
Packages can be a fantastic option if you want the venue to tackle everything and just focus on relaxing and enjoying your time.
However, I personally like to customize all the aspects and look to local vendors who create and design (or cook) things that I love. It really boils down to personal preference and what's important to you!

What Do I Ask My Guests to Pay For?
Typically, the travel arrangements (flights and accommodations) are your guests' financial responsibility — but with most of your guests being from out of town, you may want to host a welcome dinner, cocktail hour or group activity outside of the actual wedding ceremony and reception — so you'll want to account for those costs as well.
We will get into more of the finer details below!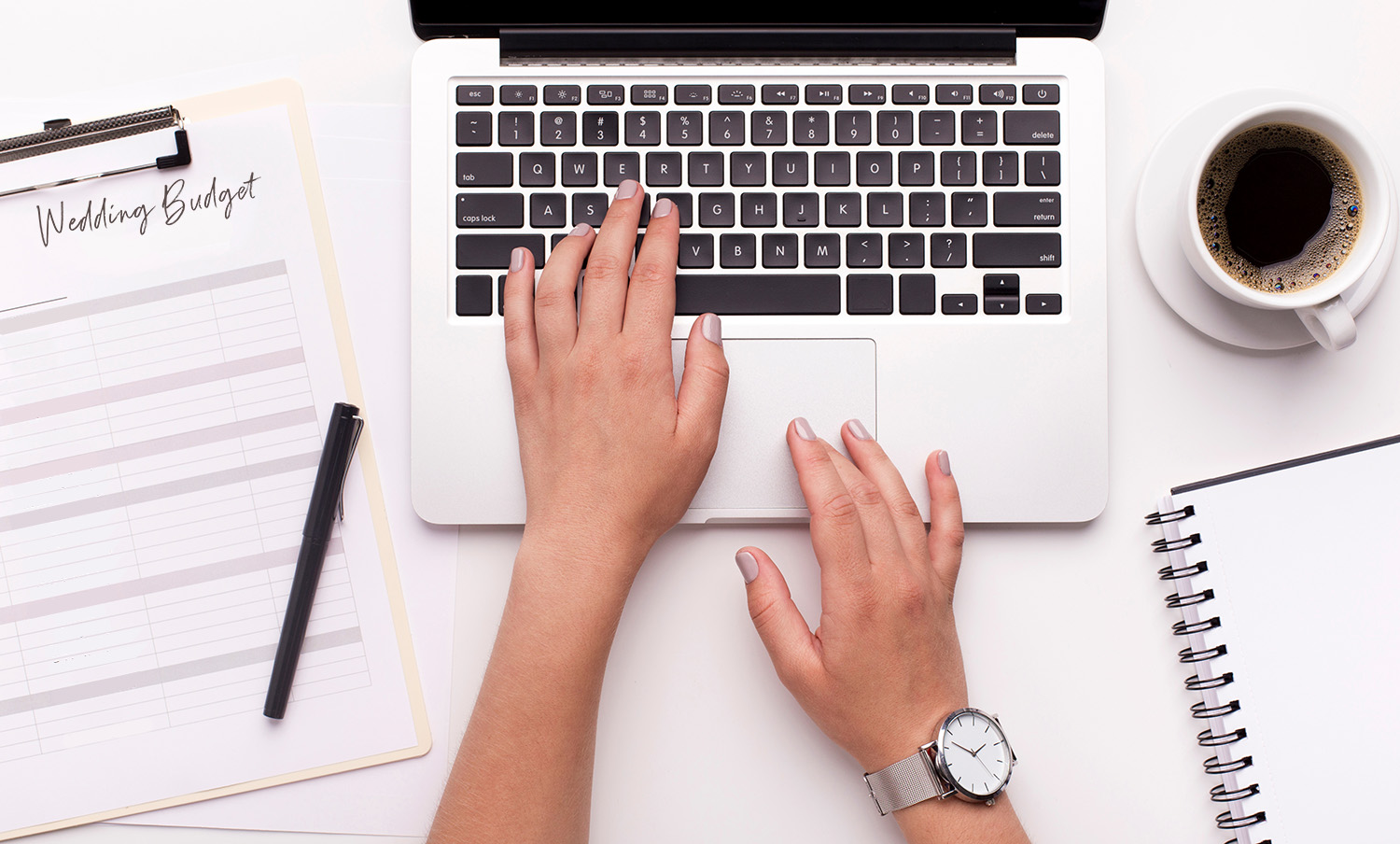 Make a Budget
Because these are large expenses you're working with, along with all the time it takes to plan a wedding (let alone a destination wedding), planning early is crucial.
Meyer and I started using You Need A Budget to create a spending plan for our day-to-day lives. We just moved back to California from South Africa, the travel industry is at a standstill (so work is super volatile), AND I bought my first home — so things have been a little crazy financially for us this year.
YNAB teaches four simple rules that show you how to stop living paycheck-to-paycheck, get out of debt, and save more money so that you can spend it on the things that matter most to you.
We're using YNAB to come up with a spending plan and to create a special savings fund for our future wedding (and eventually honeymoon!).
First, we figured out what our monthly expenses are—mortgage, groceries, transportation, fun, etc. Then, we plugged that into the YNAB software to figure out just what we can set aside each month.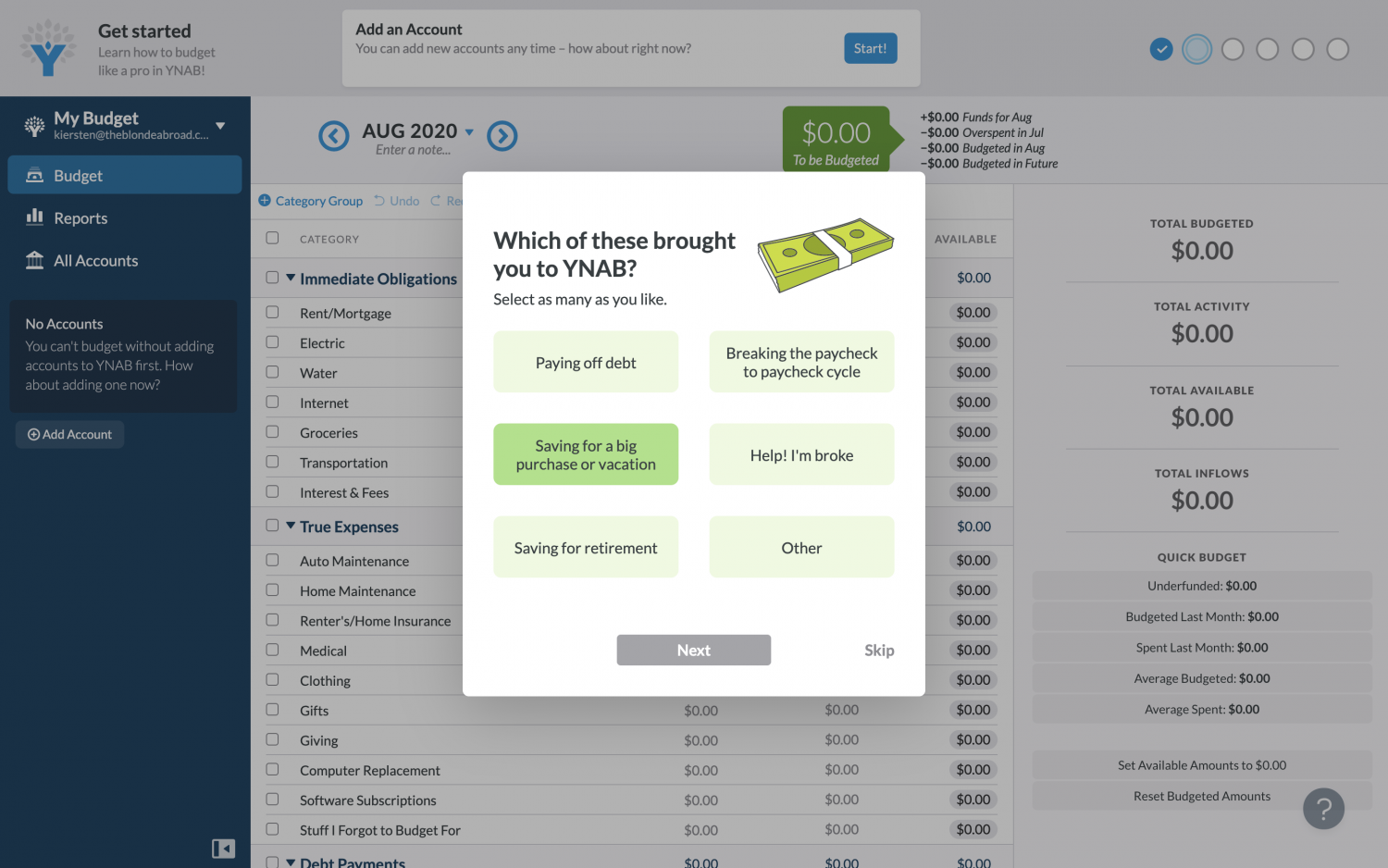 It was so easy to connect our accounts and start making a plan!
They also offer free video training and live workshops. The best part is you can sign up for a free 34-day trial (no credit card required) to see if it would be a good fit for your lifestyle!
Come Up With a Spending Plan
Again, even if you don't have *exact* figures for things, rounding up or having a general ballpark estimate will help you figure out where your priorities are and how to plan for the wedding costs.
I really like using YNAB's Four Rules to help figure out how to prioritize and budget successfully:
Give Every Dollar a Job — Know exactly how you want to spend the money you have available before you spend a dime. This will ensure that you have money for the things that matter most to you.
Embrace Your True Expenses — Figure out what you really spend and treat those infrequent expenses (like annual car registration, insurance every 6 months, or replacing your phone every few years) like monthly expenses in your monthly budget. Breaking big or uncommon expenses down means you won't be surprised by them later on!
Roll With the Punches — Accept that things change and your budget should be flexible. You won't spend the same amount on all categories every month, so be prepared to move money around. Moving money around doesn't mean you are budgeting wrong, it means you are actually budgeting!
Age Your Money — Break the paycheck-to-paycheck cycle by aiming to reach the point of using the money you earned last month to pay this month's expenses and don't go over that amount! This margin will create more peace of mind than you can even imagine.

Consider the Destination
Now that you've got a general idea of your budget—there are ways to stretch your money further!
Consider the destination.
Is This a Place Where Your Dollars Go Further or Not?
If you can get a foreign exchange rate to work in your favor, this is a huge win! Since we're planning a wedding in South Africa, the US Dollar gets some serious bang for buck against the local Rand. That means that, on top of general costs being lower, the favorable exchange rate means money will go farther.
Is Your Honeymoon Included?
Whether you're eloping or planning a large wedding in this destination — is this the place you'll be honeymooning as well?
If not, factor in flights to and from both your wedding AND your honeymoon destination. However, if you're already having a destination wedding, one way to extend your funds is to loop your honeymoon into the same destination or a nearby area.
What Time of Year?
If you're staying in the destination during its peak season, take into account that many hotels and airlines might have higher prices. Another thing to consider during peak season is that it may be more difficult to find accommodations for all your guests under one roof.
Can you switch to a "shoulder season" or opt for another time of the year that might reduce costs?
A shoulder-season like spring or fall time will probably have the best prices for your guests' airfare, stays, and lower rates at your preferred venues.

Let  the Location Shine
To save some money, if you can cut back on decor and florals, and let the destination you choose *SHINE*—do that!
You picked a destination wedding for a reason, right?
Go Local with As Much as Possible
Choose local for your food, florals, cake, and minimal decor — usually, your venue can recommend the best options and vendors to you. This will save you the hassle of flying in things, and also helps bolster the local economy!
Win, win!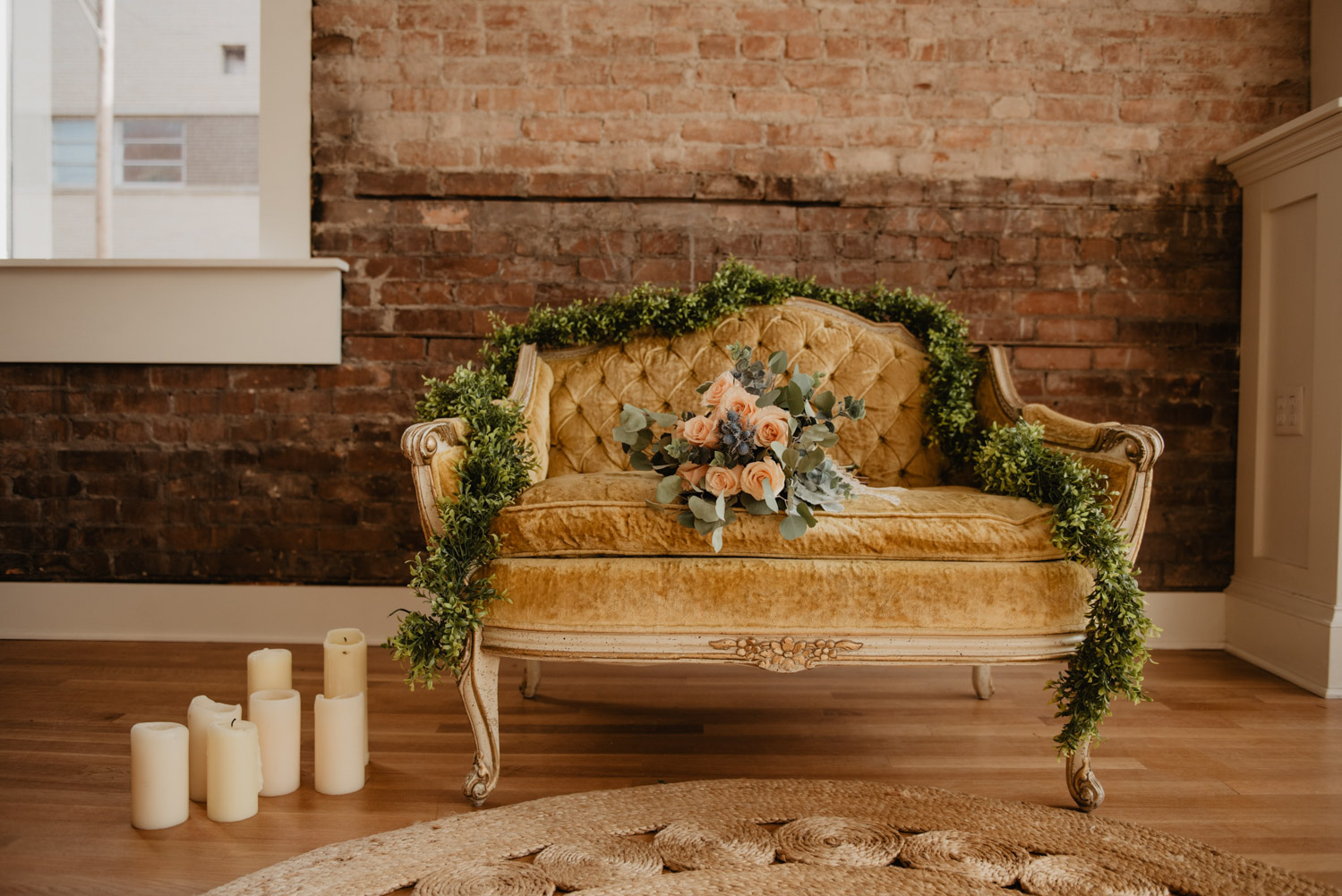 Hire a Planner
Weddings can be quite stressful—especially if you don't live in the country you're saying your vows! If you can, budget to hire an experienced destination wedding planner to help organize everything from meeting with vendors to menu tastings, to coordinating decor with the venue, which takes a load of stress off your shoulders.
Personally, I will be using a local wedding planner — the cost outweighs the stress and time it will take to manage an event for 100+ people traveling from all over the world.
It can be a big part of your budget, depending on the services they can offer and how many meetings you need them to attend on your behalf. Do your research and find the best option for your wedding and preferences!
Opt for local if you can — they have local knowledge of the area, speak the local language (if needed), and know where to get things or run errands when last-minute issues arise. When It Comes to Gifts
Instead of physical gifts, consider asking for contributions to your "honeyfund", aka a monetary gift towards your honeymoon. There are many websites out there that allow you to set up this option.
If your honeymoon is going to be in conjunction with the destination wedding, that will help you cover costs for the whole trip!
When thinking about what to expect in terms of gifts, also consider the expenses your guests will have in order to attend your wedding. If you don't feel that your guests should give anything further, perhaps let them know that their "presence is your present" and that gifts are not expected.
Of course, it's your special day — so, you can always mention that gifts are welcome, but ask that they are sent to your home address, rather than given to you at the wedding (and then worrying about how to transport them home).


Should I Use Credit to Pay?
Personally, I'm a big believer in travel reward credit cards if you are in a position to pay off the balance every month.
Because a destination wedding charges will be classified as a travel purchase, most cards give you 5x the points to the dollar — which can help you rack up a lot of points, especially if you sign up for a new card and earn the bonus.
If you plan ahead and put most of the wedding expenses on the cards, you'll most likely earn enough points to pay for you and your partner's flights, or your honeymoon accommodation! So this is something to think about!