Manhattan Beach is one of my favorite LA beach cities because of its beautiful coastline, great shopping and delicious restaurants. Nothing is better than enjoying a lazy brunch on a Saturday morning before hitting the beach. Manhattan Beach Post is a favorite locals' spot that boasts an incredibly yummy brunch, so I was thrilled to dine there for the first time.
Brunch is my favorite day of the week!
First up: A delicious Bloody Mary to nurse my Friday night hangover. The "Coughlin's Law" blends vodka and pilsner with the perfect blend of tomato juice and spices. Every aspect of the cocktail was delicious- even the smoked salt rimmed mason jar!
Next up: MB Post's famous cheddar and bacon buttermilk biscuits. Normally, I don't eat meat, but these biscuits are ranked in the top 20 biscuits in the entire country. There was no way I was passing up a food experience like that.
And an experience is exactly what these biscuits are.
After smothering the biscuit with their homemade whipped maple butter, I took a big bite and flavors of salty caramelized bacon, savory cheddar, spicy chives and sweet maple butter danced on my tastebuds.
Let's just say, they were insanely good!
The rest of the meal starred some of MB Post's best dishes:
Thick cut caramelized bacon
An iced-coffee (gotta get my caffeine fix)
Fresh fruit salad with mint & honey
A veggie-friendly burrata and red-pepper sandwich with house chips the size of my head
Corned beef cheek hash topped with a fried egg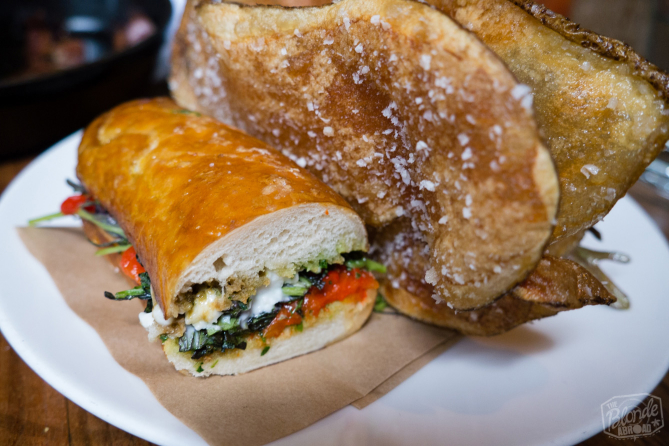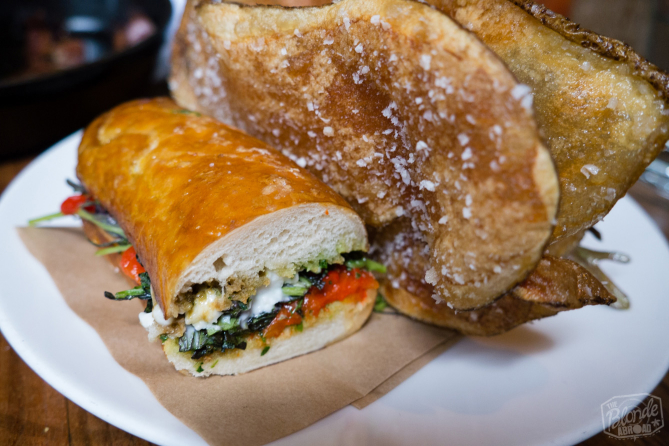 Despite attempting to order all of the best dishes off the menu, I couldn't try everything in my first go. MB Post is also famous for their truffle honey laced fried chicken.
As I mentioned, I'm not much of a meat eater but, a girl at the table next to me ordered the chicken and it took everything in my power not to ask her for a bite.
Anything fried with truffle oil has to be heaven!
The entire experience from the staff to the delicious food was top-notch. (Those biscuits, though…) I'll definitely be back for more!
If you're a big "brunch"er like me, don't miss Manhattan Beach Post!