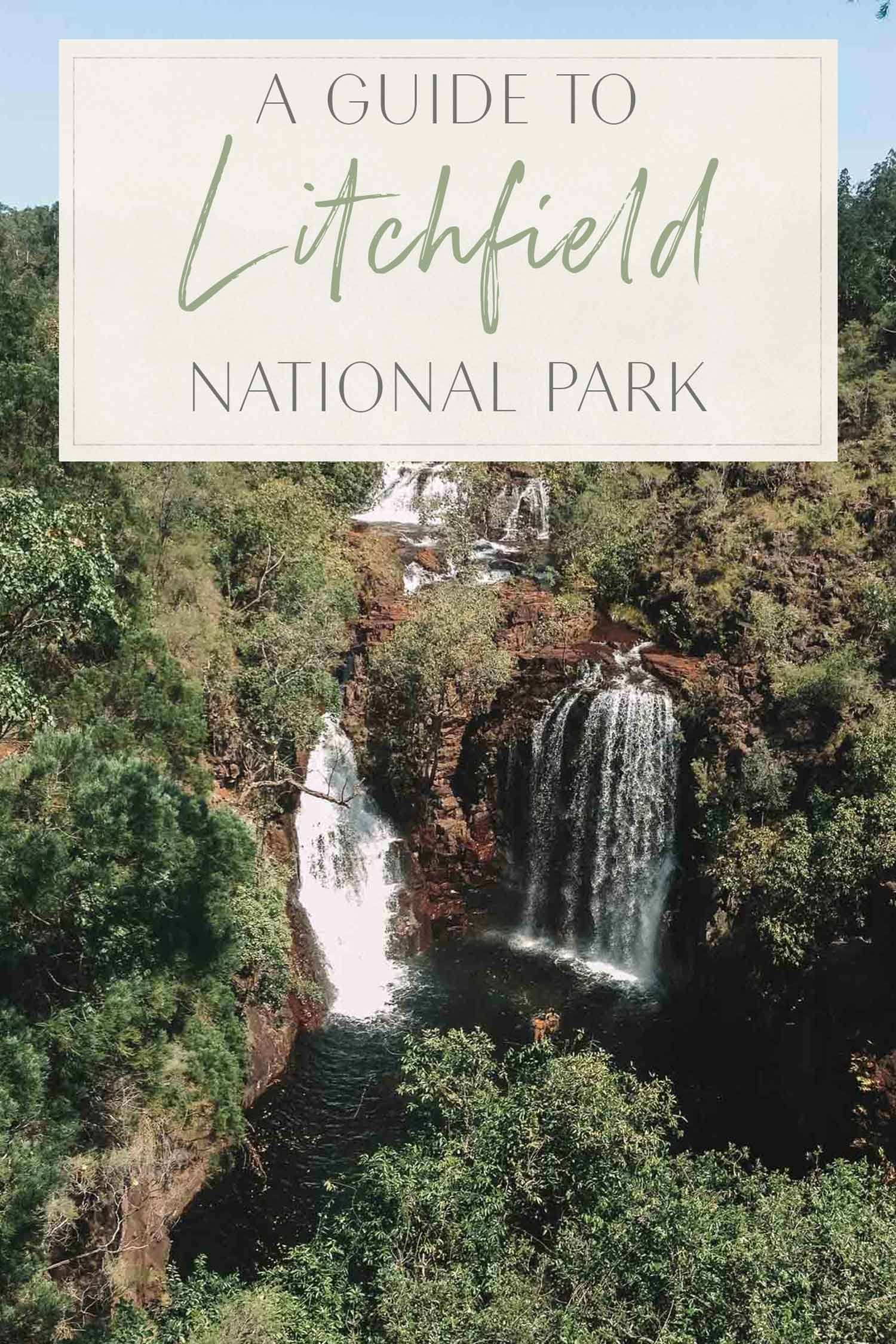 Litchfield National Park is one of the top attractions in the Top End. It's home to stunning waterfalls, crystal clear pools and sandstone pillars at the Lost City.
While its a popular day trip from Darwin, I recommend staying overnight at the campgrounds. You can explore the many trails in the park and take your time exploring the park's beautiful natural wonders.
Here is my guide to Litchfield National Park!

Getting to Litchfield National Park
Litchfield National Park is located two hours south of Darwin, Australia and is easily accessible by car. The main route is along the sealed Stuart Highway via Batchelor, but before you go, you'll want to check the road conditions.
Many of the 4WD tracks close during the wet season (November to March). During the dry season, you can also drive to Litchfield National Park via Cox Peninsula Road and the 4WD Reynolds Track from Daly River Road in the south.

Best Time to Visit
Much like the rest of Australia, the best time visit Litchfield National Park is during the dry season (May through September). While this means less humidity, it's also high season for the park, and you can expect larger crowds at the waterfalls.
The campsites fill up quickly during these months, especially over the school holidays. 
During the wet season (November to March), the waterfalls are their most impressive though there is a chance for flash floods which do cause the areas to close. Like anywhere else, the weather can be unpredictable so you'll want to come prepared!

Where to Stay in Litchfield National Park
Litchfield National Park has a wide variety of accommodation options for every type of traveler. Whether you're a backpacker, family, couple, caravanner, or camper, there is an option to suit your style and budget.
The Homestead
The Homestead is for private use only and is perfect for larger groups. It sleeps up to 15 people and is made up of 2 air-conditioned rooms with queen beds, a dorm area with one double bed and nine single beds, a lounge, kitchen, a dining room, and an outdoor seating area complete with a barbeque.
Ringer's Cabins
Set amongst the trees, the Ringer's Cabins allow you to experience the wilderness of the Northern Territory. The standard cabin can sleep up to five people, and the larger cabin can sleep six. Each cabin comes with a bathtub, indoor and outdoor showers, air conditioning, satellite TVs, a kitchen, a BBQ, and an outdoor seating area.
Stockman's Cabins
Hidden among tropical gardens, the Stockman's cabins are perfect for traveling couples or solo travelers. There's a single queen bed, an ensuite bathroom, TV, a small kitchen, and a BBQ on a big verandah.
Camping
There are six different campsites within Litchfield National Park. They include 2-WD camping, 4-WD camping, and walk-in camping. All campsites are paid for on arrival and work on a first come, first serve basis.
If you're looking to stay for an extended period, Wangi Falls (a 2-WD campsite) is the only one that offers camping for caravans and showers for visitors. The camping fees are either $3.30 pppn or $6.60 pppn, depending on whether or not the campsite has showers or not.
Outside the Park
If you don't want to stay inside the national park, there are tons of nearby accommodation options. One of the closest hotels to the park is the Litchfield Motel. It's an affordable option that will give you easy access to the park and the surrounding area for day trips.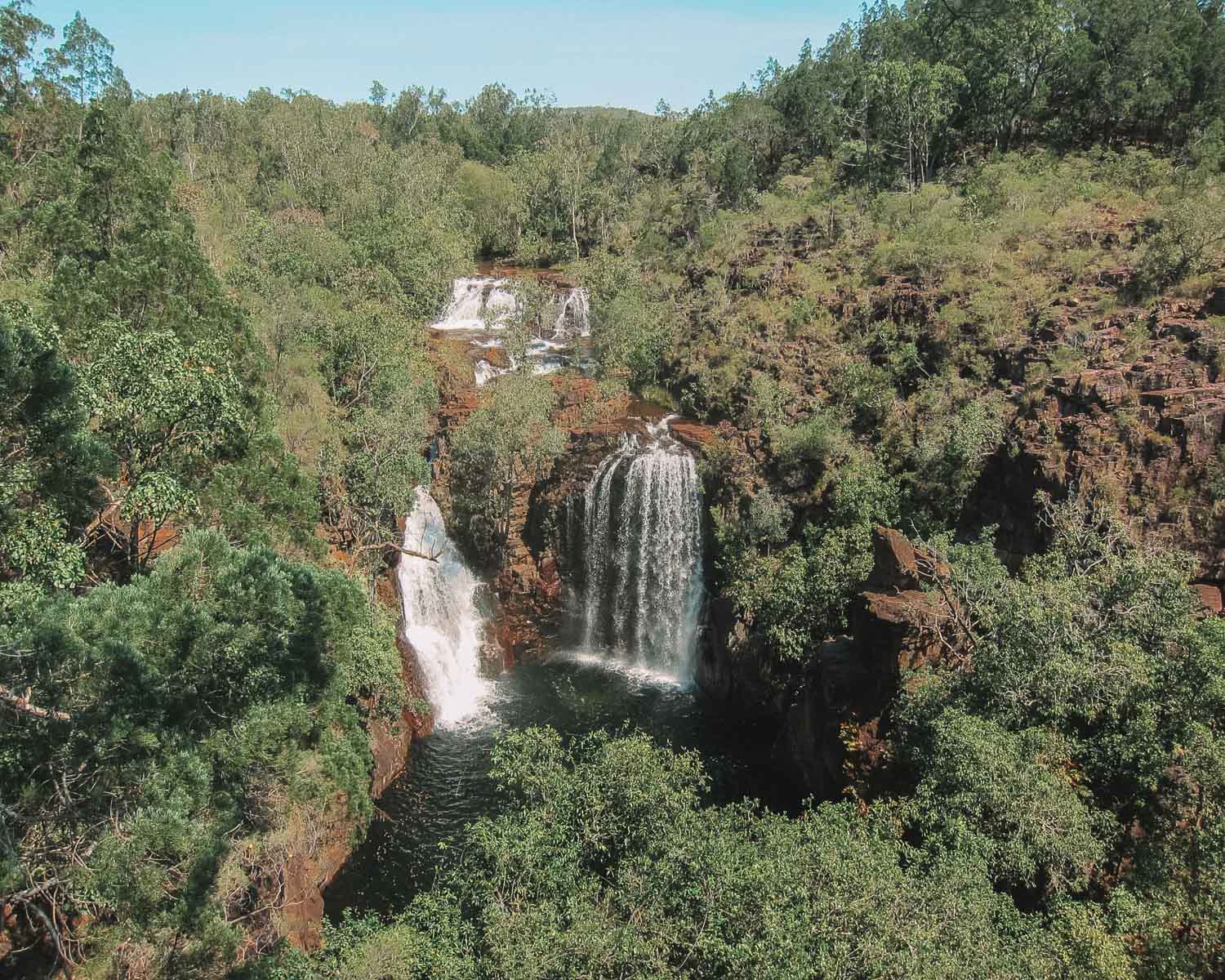 Things to See in Litchfield National Park
Tolmer Falls View Point
Located just a short drive off of the main road, Tolmer Falls Viewpoint is hidden away in a narrow gorge yet offers views of arguably one of the most gorgeous falls in the park. The drop-off at the falls is roughly 102 meters and is absolutely picturesque. I highly recommend visiting at sunset! The sun lights up the rocks, and they change from a magnificent orange to a soft red as the day comes to an end.
Buley Rockhole
If Australia's heat is getting to you, spend a few hours cooling off at the Buley Rockhole. There's a series of cascading waterfalls that create small swimming pools along the stream.
Wangi Falls
The Wangi Falls is one of the most popular waterfalls in Litchfield National Park. There is a massive plunge pool to help you beat the heat, and you can also tackle the 3km loop trail that will take you to the top of the waterfall for a spectacular view of the landscape. Keep in mind that the pool by the falls isn't always open as it depends on how much rainfall the area has had that year.
Magnetic Termite Mounds
Litchfield National Park is full of termite mounds. With some of them standing at over 2m high, you'll easily see these unusual hills from the park's main road. It's definitely one of the park's most unique and bizarre attractions!
Florence Falls
Florence Falls is where two waterfalls meet and create a series of small rock pools. You'll find plenty of underwater rock formations and a few fish in the river to keep you company. If you want to get a good spot, come here early!
Book a Helicopter Flight
One of the best ways to see Litchfield National Park is with a scenic helicopter flight over the Lost City. The ride will also take you past Wangi Falls, and the  Tjaetaba and Tolmer waterfalls.

Overall
If you're heading to the Top End anytime soon, I highly recommend adding a trip to Litchfield National Park on your itinerary. With stunning waterfalls, beautiful natural pools, and bizarre termite mounds, it's a one-of-a-kind experience!

Do you have any tips for visiting Litchfield National Park? Let me know in the comments!