It had been a perfect week of sailing the gorgeous glass-surfaced waters of the Mediterranean; between the French island of Corsica and the Italian island of Sardinia. The last possible thing I could have imagined was an end to our trip…
by shipwreck.
[youtube id="http://youtu.be/qIjhtIN5Cys" width="669″ height="375″]
It was the second to last day of our sailing trip and our entire crew was excited to spend some time on the mainland exploring the cultural bits of Sardinia. We anchored in a small bay off the coast of Palau- a popular port destination. The weather was cloudless, hot, and sticky with humidity.
We had organized that evenings dinner at a family-owned farm and restaurant, Lu Branu, and made plans to spend the following day exploring the regional wineries. Dinner that night was a feast of traditional Sardinian deliciousness; pastas, cured meats, suckling pig, regional cheeses and bottomless vino rosso.
Life was good.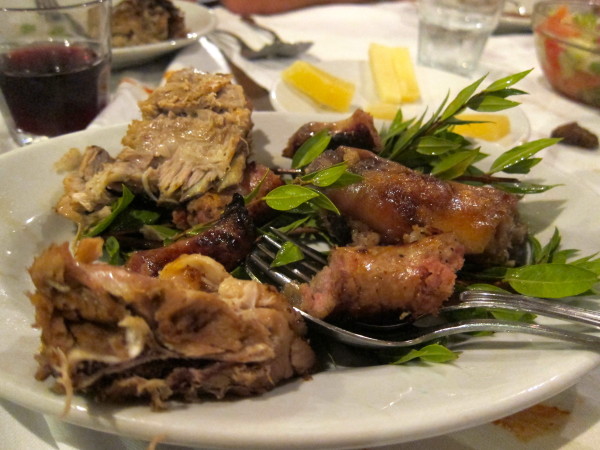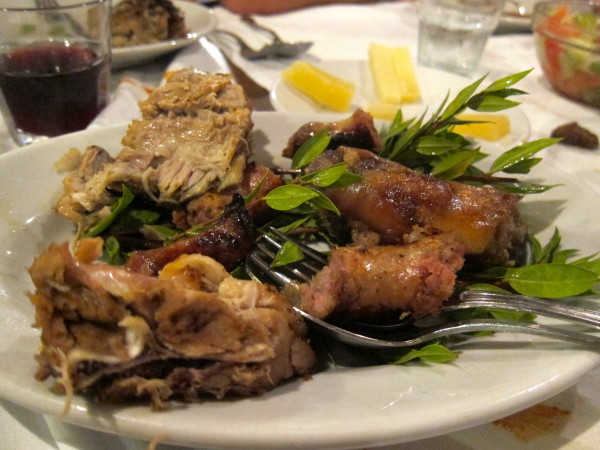 After a four hour-or-so dining experience, we caught a ride back to port and returned to our boat. We found a note from a stranger that initially caused no alarm, but after attempting to start the engines (unsuccessfully) and watching dark clouds loom over us, the fear sunk in.
"Hi, I had to move your boat as she had dragged her anchor
and was in danger of being hit by the ferry!
Sorry if she's a bit further out.
Please check your anchor again to be sure
you get a good nights sleep.
Hope all's well."
We soon realized that, while the kind act of this stranger saved our boat from death-by-ferry, our troubles were far from over. While attempting to save our boat, they had accidentally sucked a stray rope into the starboard prop. Since the engine wouldn't start, we also established that they blew the starter engine trying to repeatedly turn on the boat with the prop tangled.
No engine = No anchor power
We continued to try and start the engine, but with no luck. And because our starboard engine was out, we had no power to lift or let out the anchor. Our anchor was stuck, yet not let far enough out to hold the boat. The rain had begun to pour down heavily, wind thrashed at our boat, thunder boomed in the night sky and lightening lit the entire horizon.
The boys hopped in our dinghy and arrived at the nearest sailboat to get help. A smaller, single prop sailboat came to our rescue! We tied our boats together and the sailboat began to tow us to safety. As soon as a glimmer of hope had appeared, it was washed away with the worsening of our storm. If the sailboat continued to tow us, it would capsize and we would both be, well, screwed.
They cut their rope and we were on our own.
Our catamaran was quickly being swept directly into the massive rocks that lined the bay and there was nothing to do but wait until we hit. Just moments later, the deafening crash of the cat against the rocks made my stomach sink and panic immediately ensued.
While we wouldn't be stranded on a Komodo Dragon infested island like fellow travel blogger, Kate, had been in Indonesia, her frightening story of jumping overboard from a sinking ship immediately came to mind.
I ran to pack all of our belongings into waterproof bags and prepared to abandon ship. My Swedish friend onboard came to me, grabbed my shoulders, and said, "Now is not the time to panic. We are in no danger. We are fighting to save this boat. You panic when I panic. Now go to the front and help."
Perhaps, I was a bit overdramatic.
She was right, though. Regardless of whether we were in danger ourselves, if we didn't save this $1M yacht, someone would have our necks.
I got to the front net of the catamaran just as the Italian Coast Guard arrived. Only problem, nobody on their boat spoke English and none of us spoke Italian. They shouted two questions in English, "Are you taking on water?" and "Is anyone overboard or injured?" Our answer was, "no." They turned their boat around and sailed off into the distance.
Strike 2. Still no help.
When things felt like they couldn't possibly get worse, out of nowhere, a stealthily disguised black hybrid of dinghy and speedboat pulled up to our catamaran. I barely made out the silhouette of the boat before about 5 Italian men, dressed in full black wetsuits (that may as well have been tuxedos), masterfully 007'd their way onto our boat. With cigarettes resting on their lips, they effortlessly overtook our ship and very cool-calm-and-collectedly began a plan to save us.
It was a real life James Bond moment that will forever remain emblazoned in my memory.
Our new Italian secret agents began sawing off our anchor. While this is obviously a solution to part of our problem, our captain wasn't too keen on letting a $5k essential boat part sink to the bottom of the ocean. But, it had to be done.
Bye bye anchor.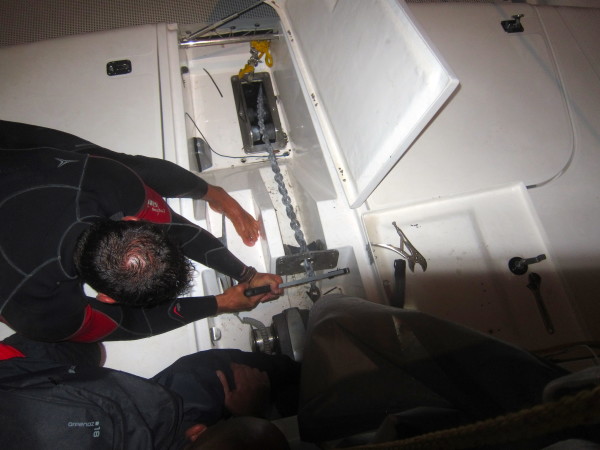 We were now dealing with an anchor-less and starboard engine-less catamaran. *Awesome* The plan? To crank the port side engine and get us to safety. With only our left engine working, our cat would, no doubt, veer right as we attempted to sail straight. So, the Italian secret agents rammed their boat against the starboard side of our boat to keep us on course.
After nearly 30 minutes of sailing, and at about 4 am, we arrived at an unfamiliar port. We would be staying at a Naval base on the nearby island of La Maddalena. Our boat was safely and securely tied up to the dock as our new Italian friends reassured us they we would be back in the morning to help us assess the damage to the boat.
I fell asleep that night (or I suppose in this case early morning) with the sound of hail tapping above my cabin. I hoped to wake up and realize the whole thing had been a dream. At least, for a few hours, I could rest easy knowing that it was all over.
And we were safe.