New York is one of the most iconic holiday destinations in the world and rightfully so! I had never been to New York, but my love of the holiday season finally inspired me to plan a trip. 
I had always dreamed of admiring the beautifully decorated windows of 5th Avenue, ice skating in Central Park, tasting the roasted chestnuts of a street vender and feeling the cold kiss of a snowflake while standing in Times Square.
My best friend and I were in our last year of college so, as with most "struggling students," we had no idea how we could possibly afford a trip to New York at Christmas. We planned well ahead of time and made two money-saving decisions; we booked our flights months in advance and decided to get a discount city pass.
I'm not a fan of sightseeing tours and typically prefer to get lost in a city in order to discover its charm. But, for a first time trip to NY during the holidays, I highly recommend consider getting a discount pass, especially if you plan on doing a lot of sightseeing.
We had a blast being tourists and went to almost every famous attraction in the city! Here's how we managed to spend Christmas in New York on a budget!

Discount Cards
New York CityPass: If you only want to see the main sites or only have 1-2 days to sightsee, I recommend getting the New York CityPass

. It's $89 and grants you admission to 6 must-see attractions like the Metropolitan Museum of Art and the Empire State Building Observatory.
The New York Pass: If you are a super-sightsee-er like me and have a week to explore the Big Apple, I recommend The New York Pass

. The 3-day and 7-day passes provide some great savings. The pass grants you entry to over 70 attractions around New York. 

In order for this pass to actually you money, you've gotta put it to work!

Which is exactly what we did. We got the three day pass with a discount for $150 and planned ahead for our week long stay. 
Be sure to keep your eye out for discounts on these cards!

Day 1 in New York
The Museum of Sex
(Free with pass. Normal Entry Price: Adult: $17.50)
I think it goes without saying that the Museum of Sex is for mature audiences only. "The mission of the Museum of Sex is to preserve and present the history, evolution and cultural significance of human sexuality." Definitely one of the most unique museums I've ever been to!
Open Sunday – Thursday: 10am–8pm Friday & Saturday: 10am–9pm
The Empire State Building Observation Deck
(Free with pass. Normal Entry Price: Adult: $25)
Head up to the 86th floor of the Empire State Building for an incredible view of the city. It gets really windy up there so be sure to dress warm if you're there during the holidays!
Open from 8:00 am to 2:00 am daily
Ride a Bike through Central Park
(3-hour bike rental free with pass)
Take a ride through the snow-kissed sidewalks of Central Park. Central Park is  2.5 miles long by o.5 miles wide. It is absolutely huge! Go ice skating, hop a horse drawn carriage or simply take in your surroundings from a park bench.
Christmas Shopping at Macy's
Put on your helmet and visit the World's Largest Store. Macy's Herald Square is absolutely packed during the holidays, but a trip to New York just wouldn't be complete without a visit to this iconic store. Built in 1902, this store offers history and great shopping!
151 West 34th Street, New York, NY 10001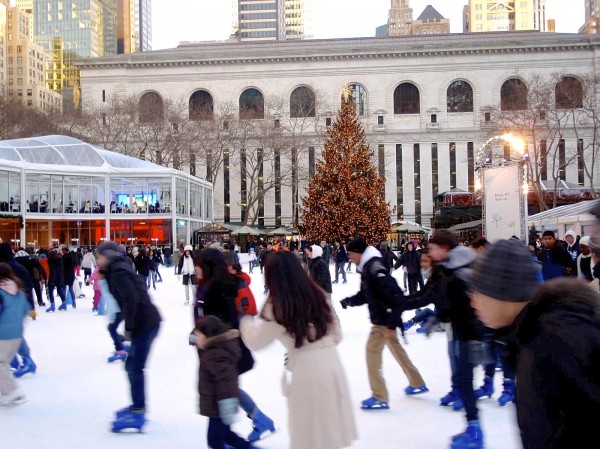 The Rink at Rockefeller Center
($25 session + $10 skate rental)
This activity is not exactly budget friendly. We skipped the skating, grabbed a coffee and did some people watching. The Rockefeller Christmas tree and the ice rink make the whole setting absolutely magical.
Open from 7:00am to midnight daily
Top of the Rock
(Free with pass. Normal Entry Price: Adult: $25)
Visiting the top of Rockefeller Center was also one of my favorite things I did while on my trip. The view from the top was absolutely breathtaking. There are three levels of viewing from the top that offer 360-degree views of the city. You can even spot The Empire State building lit up in red and green holiday spirit.
Open daily from 8am to 12 midnight

Day 2 in New York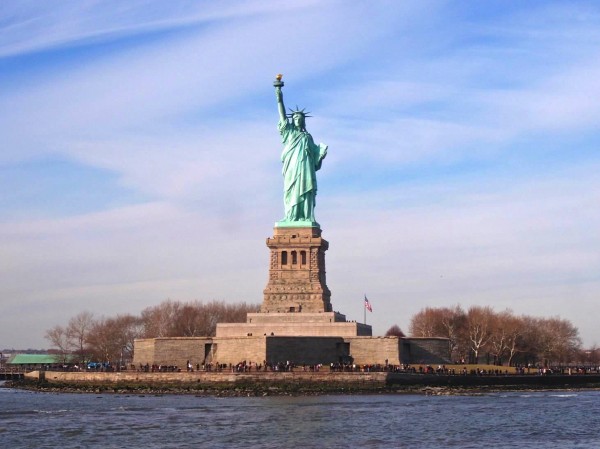 The Statue of Liberty Harbor Ferry
(Free with pass. Normal Price: Adult: $17)
There's no better way to view the Statue of Liberty than from a ferry. The ferry takes you through the harbor giving you an audio tour of the history of the Statue of Liberty.
You can hop off on the famous Ellis Island where Lady Liberty is located and visit the Ellis Island Immigration Museum. (Note: Ellis Island is currently closed due to the devastation of Hurricane Sandy)
Ferry boat sailings: Daily: 9:00am – 3:30pm.
Ellis Island Immigration Museum
(Free)
Take the ferry over to visit "America's Golden Door" that welcomed millions of immigrants in search of a better life. "Four in 10 Americans can trace their ancestry back to Ellis Island, which between 1892 and 1954 processed more than 12 million new immigrants."
Come to learn about the history of the American Dream. The view of the Manhattan skyline from Ellis Island is also fantastic. (Note: Ellis Island is currently closed due to the devastation of Hurricane Sandy)
Statue of Liberty and Ellis Island Daily: 9:30am – 4:30pm
9/11 Memorial and Tribute Center
(Free with pass. 9/11 Memorial: free. Normal Entry Price to Tribute Center: Adult: $15)
Be sure to reserve your free pass to the 9/11 Memorial before your plan your visit to New York. Pay tribute to the remembrance and honor of the men, women, and children killed in the attacks of September 11, 2001.
 9/11 Memorial open daily 10:00am – 6:00pm
Tribute Center open Monday – Saturday 10am – 6pm Sunday 10am – 5pm
Stroll Lower Manhattan
(Free-tivities)
Be sure to explore lower-Manhattan and see the famous bull statue of Wall Street. Also, be sure to visit the Trinity Churchyard and famous gravestones.
Snack from a Street Vender
A trip to New York would not be complete without visiting a street vender. Grab a hotdog or freshly roasted chestnuts while you're strolling the streets of Manhattan. (You may even run into Santa!)
Radio City Christmas Spectacular
(Tickets from $40+)
The Rockettes holiday show was one of the most exciting things I got to see in New York during Christmas. The show itself is phenomenal and really gets you in the holiday spirit! Save money on tickets by getting same day tickets through a discount broadway show ticket website. You can also find many of these discount ticket sellers around the city.

Day 3 in New York
Food on Foot Tour
(Free with pass. Normal Entry Price: Adult: $49)
The best way to experience New York culture is through food! We went on the World Famous Sweet Tooth Tour which let us all over Manhattan tasting some of the most delicious treats around.
The tour guide is fantastic and you learn a lot about some historical food spots around the city. Be sure to book in advance to reserve your spot! Also, the food is not included but they're small treats. We split each treat and only spent an additional $10 on the tour)
Visit website for times and reservations
Grand Central Station
(Free-tivies)
Be sure to stop in the beautiful Grand Central Station while you're taking the subway around Manhattan. It is the largest train station in the world by number of platforms.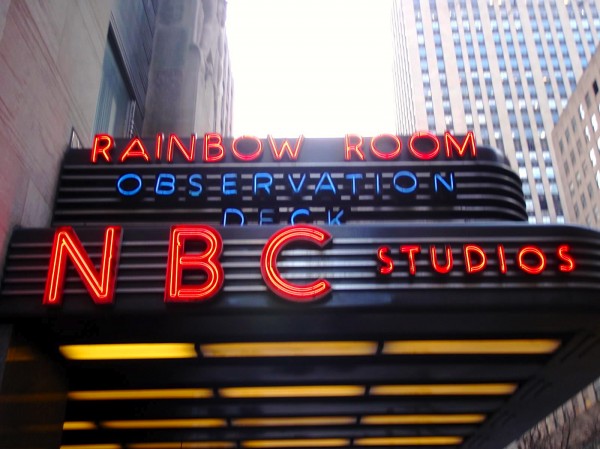 NBC Studio Tour
(Free with pass. Normal Entry Price: Adult: $24)
This is a fun tour where you will have the opportunity visit famous NBC studios like Saturday Night Live. Be sure to book in advance. It is really popular!
Mon-Thurs 8:30am-5:30pm, Fri-Sat 8:30am-6:30pm, Sun 9:15am-4:30pm.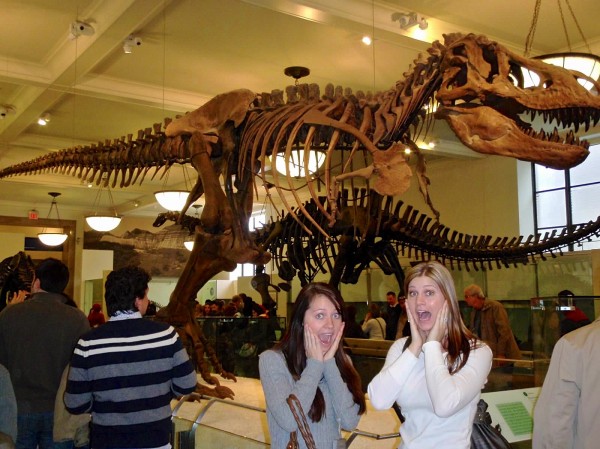 American Museum of Natural History
(Free with pass. Suggested admission $19)
I am obsessed with museums. Travel through time and come face-to-face with dinosaurs and learn about the native fauna and flora of different regions of the USA.
Be sure to download the Explorer iPhone app to help you find your way around the museum.
Open daily from 10am – 5:45pm
The MET Metropolitan Museum of Art
(Free with pass. Suggested admission $25)
The MET is New York's most-visited attraction. Check out world-famous collections from around the globe. It's easy to spend the entire day here with over two million works of art spanning 5,000 years of culture.
Friday & Saturday: 9:30am – 9pm Sunday, Tuesday–Thursday: 9:30am – 5:30pm Closed: Mondays
Times Square
Last but not least, be sure to visit Times Square at least once during the day and once at night. Your senses will be overwhelmed but the sights and smells of this famous square. Times Square is also famous for its New Years Eve celebration.

Other Recommended Attractions:
Madame Tussauds
(Free with pass. Normal Entry Price: Adult: $36.00)
Madame Tussauds, the world-famous wax attraction, is located in the heart of Times Square. See if you can fool your friends with a photo with one of over 225 incredibly life-like wax stars and icons.
Monday through Thursday: 10:00am – 8:00pm Fridays, Saturdays 10:00am – 10:00pm
Solomon R. Guggenheim Museum
(Free with pass. Normal Entry Price: Adult: $22.00)
This museum is a work of art in itself! "You'll see masterpieces by such noted artists as Chagall, Kandinsky, Picasso, and van Gogh." It's one of my favorite museums in the entire world!
Sunday-Wednesday: 10:00am–5:45pm Thursday: CLOSED Friday: 10:00am–5:45pm Saturday: 10:00am–7:45pm
See the full list of 70+ activities included with The New York Pass

So as you can see, there's never a dull moment in the City that Never Sleeps! It's definitely possible to do New York on a budget without the discount card, which is why I included the adult entry price.
Budget your trip out ahead of time, book activities in advance and have a very merry Christmas and a happy New Year!